9 hr 14 min ago
Key takeaways from primaries in Georgia, Alabama, Arkansas and Texas
From CNN's Eric Bradner, Dan Merica and Gregory Krieg
Republican voters in Georgia on Tuesday showed there are limits to how seriously the party will entertain former President Donald Trump's grievances.
Election deniers endorsed by Trump were trounced in a series of primaries against Republican officials who had rejected the former President lies about the 2020 election being stolen — but had otherwise enacted conservative policies popular with GOP voters.
Tuesday's primaries in Georgia, Alabama and Arkansas and primary runoffs in Texas were overshadowed by the deadly shooting at an elementary school in Texas.
But the results could have implications across the Republican Party — forcing Trump to recalculate his involvement in intra-party contests, giving candidates who aren't endorsed by the former President a roadmap to winning without his support, and offering, if only briefly, a glimpse at a party in which Trump's fights aren't the only things that matter.
Here are key takeaways from Tuesday's elections:
Georgia Republicans reject Trump's bids for vengeance
Trump spent more than a year vowing payback and promising to recruit and support primary challengers, after Georgia Republican state officials rejected his lies about fraud costing him the 2020 election there.
On Tuesday, those Republicans targeted by the former President didn't just win — they crushed their Trump-backed opponents.
Gov. Brian Kemp beat his challenger, former Sen. David Perdue, by 50 percentage points. Secretary of State Brad Raffensperger fended off a stronger challenge from Rep. Jody Hice. And Attorney General Chris Carr easily dispatched attorney John Gordon.
It was the most embarrassing primary showing for Trump yet, and demonstrated that while Trump remains the GOP's dominant figure, capable of steering outcomes in some open-seat races, there are limits to his influence — and many Republican voters are willing to ignore the former President's wishes.
"Conservatives across our state didn't listen to the noise," Kemp said at his victory party at the College Football Hall of Fame in Atlanta on Tuesday night. "They didn't get distracted. They knew our record of fighting and winning for hard-working Georgians."
Georgia to be the center of the political universe once again
A hotly contested gubernatorial rematch and a star-studded Senate showdown: Tuesday's primaries made clear that, much like in 2020, Georgia will be the center of the political universe in 2022.
Kemp is set for a rematch against Stacey Abrams, the former state legislative leader who rose to national prominence during and after her near-miss against Kemp in the 2018 governor's race.
The pressure is on Abrams, who now must prove that her strong showing in 2018, in a favorable year for Democrats, was not the high-water mark of her political career. She surprised some with her strength four years ago —something that won't happen this November after four years on the national scene — but her political operation is more developed, too.
Meanwhile, now that former football star Herschel Walker is officially the Republican Senate nominee in Georgia, he'll square off against Democratic Sen. Raphael Warnock, whose election in an early 2021 runoff helped give Democrats their thinnest of Senate majorities.
The race will be expensive — Warnock has turned into a fundraising powerhouse and Republicans have shown they are willing to spend millions on Walker — but will go a long way to determining which party controls the Senate for the next two years.
Alabama Senate race advances to runoff
The Alabama Senate candidate that Trump backed away from is advancing to a runoff.
In the Republican primary to replace retiring Sen. Richard Shelby, former Shelby chief of staff and Alabama Business Council chief executive Katie Britt led the pack, but fell short of the 50% required to avoid a runoff.
In second place, and set to square off with Britt in the runoff, is Rep. Mo Brooks — the staunch conservative congressman whom Trump had previously endorsed. But when Brooks dropped in the polls months before the primary, Trump rescinded his endorsement.
Trump claimed he had withdrawn his support for Brooks because he had gone "woke" by suggesting Republicans should look forward to 2022 and 2024, rather than focusing on Trump's grievances about the 2020 election. However, anti-abortion rights organizations and other Republicans, including Texas Sen. Ted Cruz and Kentucky Sen. Rand Paul, stuck with the Alabama congressman.
The winner of the June 21 runoff is all but certain to win in November in the deep-red state.
Read more takeaways below:
15 hr 9 min ago
CNN Projection: Brad Raffensperger will win the Georgia GOP secretary of state primary
From CNN's Eric Bradner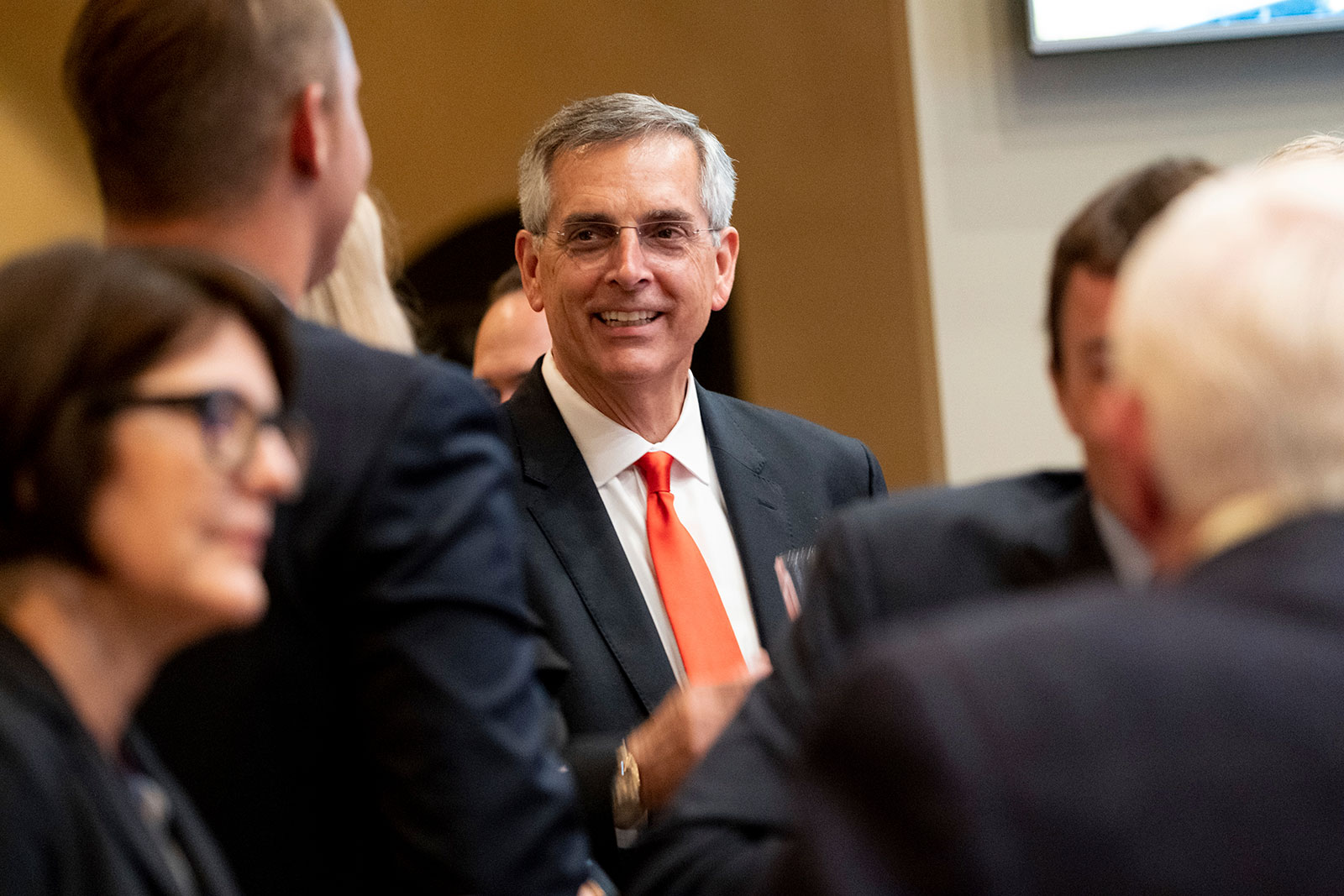 Georgia Secretary of State Brad Raffensperger will overcome a Republican primary challenge from Rep. Jody Hice, a Donald Trump ally whose campaign was centered on false claims about the 2020 election, CNN projects.
Raffensperger's victory caps a Georgia primary election in which Republican voters roundly rejected Trump's attempts at retribution against the state officials who refused to back his lie that the 2020 election was stolen.
In the early hours after polls closed in Georgia on Tuesday, Raffensperger was the only one of the former President's targets in Georgia facing any doubt about his reelection bid. He held a clear lead over Hice, but the presence of two other Republican candidates threatened to keep the incumbent's total support below the 50% threshold needed to avoid a runoff.
The Democratic primary to take on Raffensperger will head to a runoff, with state Rep. Bee Nguyen advancing and several candidates battling for the second spot as ballots continued to be counted.
Raffensperger emerged as a national figure in the aftermath of the 2020 election, following the revelation of an early 2021 call with Trump in which the then-President urged Georgia's chief elections officer to "find" enough votes to overturn the state's election results after Joe Biden had defeated Trump by nearly 12,000 votes. That call now is part of a special grand jury investigation into whether Trump or his allies committed any crimes in their quest to overturn the election results.
Read more about this race here.
CNN's Fredreka Schouten and Kelly Mena contributed reporting to this post.
14 hr 32 min ago
CNN Projection: Mo Brooks and Katie Britt will advance to a June runoff in Alabama Senate GOP primary
From CNN's Dan Merica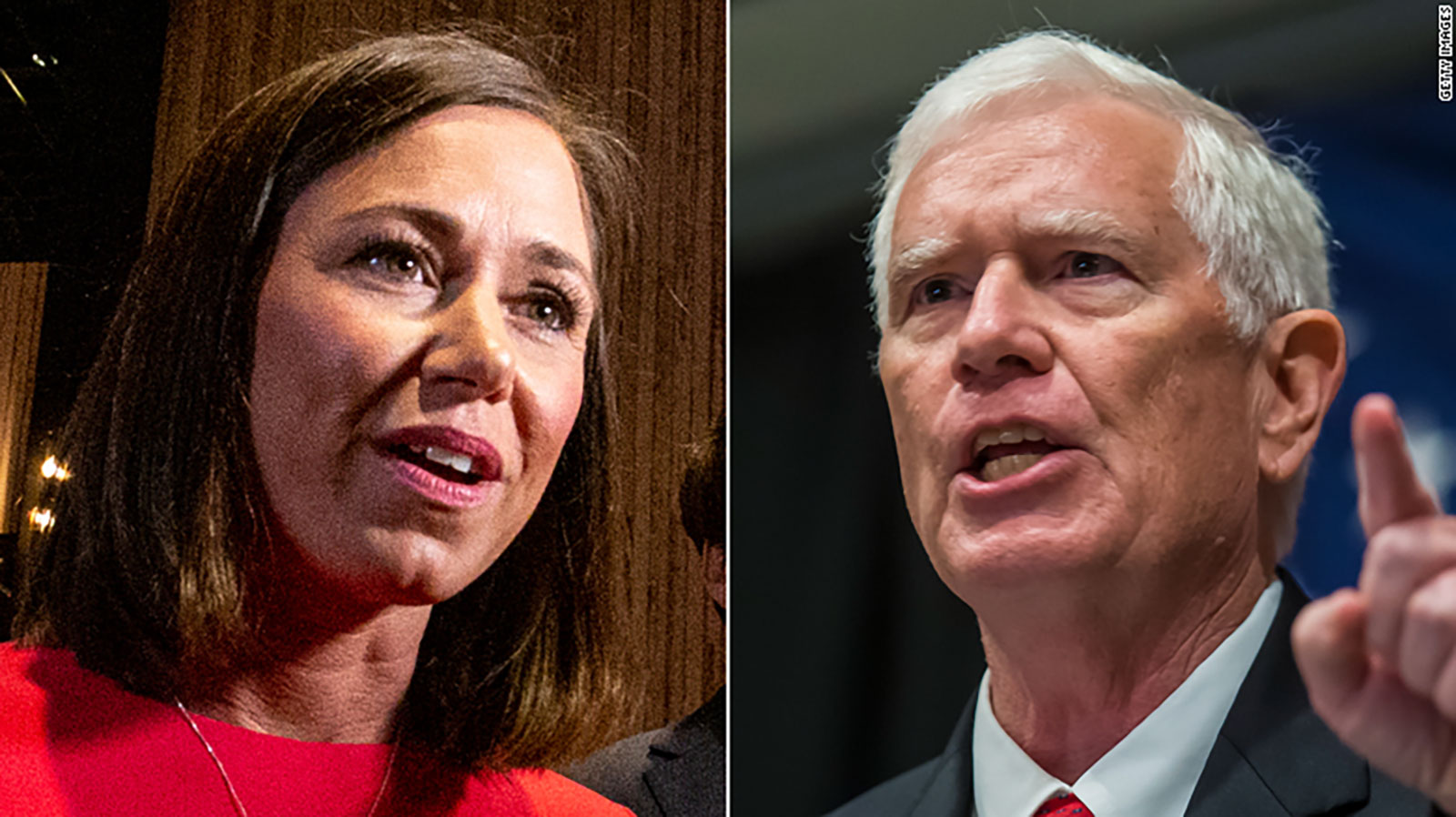 Rep. Mo Brooks will face Katie Britt in a runoff for the Republican Senate primary in Alabama, CNN projects.
The race is headed to a runoff after none of the candidates hoping to succeed retiring GOP Sen. Richard Shelby were able to win more than 50% of the vote. Brooks and Britt, a former Shelby aide who later led the Business Council of Alabama, both finished ahead of Army veteran Mike Durant.
Making the runoff caps a topsy-turvy few months for Brooks, who initially won former President Donald Trump's endorsement in the race, only to lose it after he said it was time to look ahead to the 2022 and 2024 elections, and not at Trump's 2020 presidential loss.
"Mo Brooks of Alabama made a horrible mistake recently when he went 'woke' and stated, referring to the 2020 Presidential Election Scam, 'Put that behind you, put that behind you,'" Trump said in a March statement, rescinding his endorsement.
But Brooks benefited from campaigning in obscurity, which allowed him to earn a burst of momentum in the final days of the campaign.
"Just call me a modern-day Lazarus," Brooks told CNN's Gabby Orr on Sunday, joking that his late-stage surge "makes me kind of wonder if Donald Trump was planning it from the beginning."
Still, Brooks will finish significantly behind Britt in Tuesday's first round, signaling the congressman has work to do in the runoff.
What Trump does next will also be of interest. Since un-endorsing Brooks, the former President has not publicly weighed in on the race.
Despite losing Trump's endorsement, Brooks continued his campaign with the support of the Club for Growth and prominent conservative backers such as Texas Sen. Ted Cruz, who vouched for the congressman's conservative bona fides at a campaign rally on Monday.
Read more about this race here.
CNN's Maeve Reston contributed reporting to this post.
15 hr 48 min ago
CNN Projection: Katie Britt will advance to GOP Alabama Senate runoff
From CNN's Ethan Cohen and Melissa Holzberg DePalo
Katie Britt will advance to a runoff in the Alabama Republican primary for Senate, CNN projects, but who she'll face isn't yet known.
If no candidate in a race in the state gets 50%+1 vote, the top two finishers advance to a runoff on June 21.
More on the race: Sen. Richard Shelby announced in early 2021 he would retire at the end of the term, setting up a Republican primary that will likely determine who the next Alabama senator will be.
Shelby endorsed his former chief of staff, Britt, early in the race, at one point setting up a proxy battle with former President Donald Trump who had endorsed Rep. Mo Brooks.
However, Trump withdrew his support in March after Brooks struggled to take command of the race. The former President had yet to weigh in further on the race, but he met with both Britt and retired Army pilot Mike Durant before announcing he would take back his endorsement. Durant's Army story of being taken hostage in 1993 was depicted in the book and movie "Black Hawk Down". 
14 hr 42 min ago
CNN Projection: Gov. Kay Ivey will win Alabama's GOP gubernatorial primary
From CNN's Ethan Cohen and Melissa Holzberg DePalo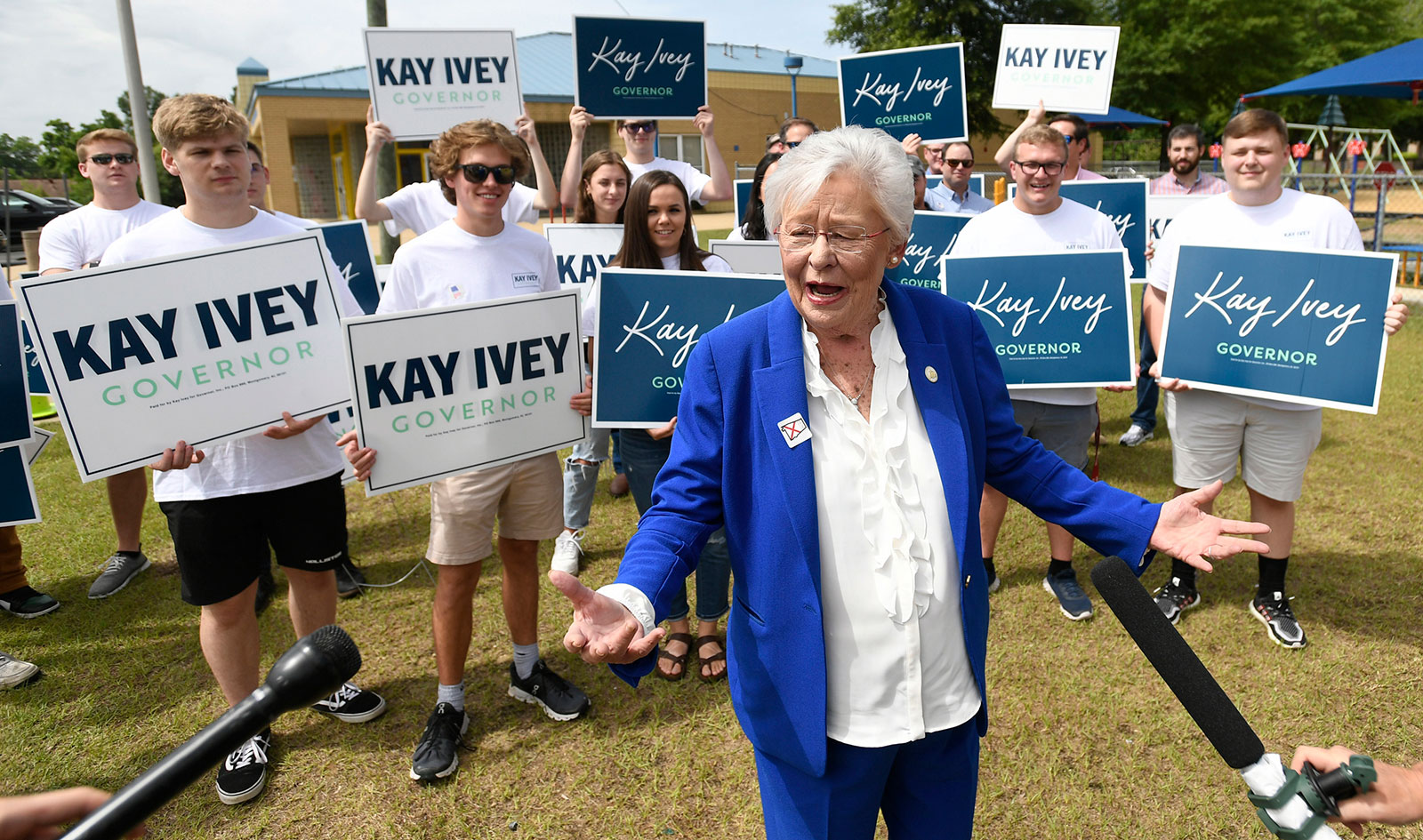 Incumbent Kay Ivey will win the Republican primary in the Alabama governor's race, CNN projects.
Ivey was facing off against several primary challengers. One of the most well-known was Lindy Blanchard, the former US ambassador to Slovenia during the Trump administration.
16 hr 20 min ago
Former aide says Trump will need to recalculate strategy after Kemp primary victory
From CNN's Gabby Orr
A former top campaign aide to Donald Trump says the former President will need to recalculate his 2022 strategy after incumbent Georgia Gov. Brian Kemp soundly defeated his Trump-backed challenger David Perdue on Tuesday in Georgia's GOP gubernatorial primary. 
"The same formula can't be applied to each state. His record is still really good, but I don't think he'll stick his neck out for the remaining big races this primary [season] unless there are clear front runners," the ex-Trump aide said. 
Trump has "to look at races from a local and state level, not just 40,000 feet," this person added. "Going after an incumbent in a southern state like Georgia is fraught with danger. Local politics matter and dominate." 
The same former Trump aide said the former President may have miscalculated in thinking his influence over GOP voters in Georgia would be enough to propel insurgent candidates to victory over their popular incumbent opponents.
"Some states are so insular politically that voters take exception to anyone trying to come into their state and tell them what to do," the aide said.
Meanwhile, the former head of Trump's 2016 Georgia campaign operation had some choice words for MAGA candidates who centered their campaigns around the former President instead of local and statewide issues. 
"So come to find out, running an issueless campaign … isn't a winning strategy," tweeted Seth Weathers, a Georgia Republican strategist who oversaw Trump's field effort in Georgia during his first presidential run. 
Weathers also criticized Rep. Jody Hice, who is running against Secretary of State Brad Raffensperger and closely aligned himself with Trump in the race. Raffensperger is currently leading his opponent in the vote count.
"He seemed to take the same bad strategy, just not as bad as Perdue," Weathers said, adding that Raffensperger "also ran nonstop ads trashing [Hice] and I didn't see him respond in kind." 
Trump boasted about "record turnout" in Georgia earlier Tuesday on his Truth Social website, but has not yet commented on Perdue's loss or the win by Herschel Walker, another candidate backed by the former President, in his Senate primary. 
16 hr 53 min ago
CNN Projection: Bee Nguyen will advance to runoff in Georgia Democratic Secretary of State race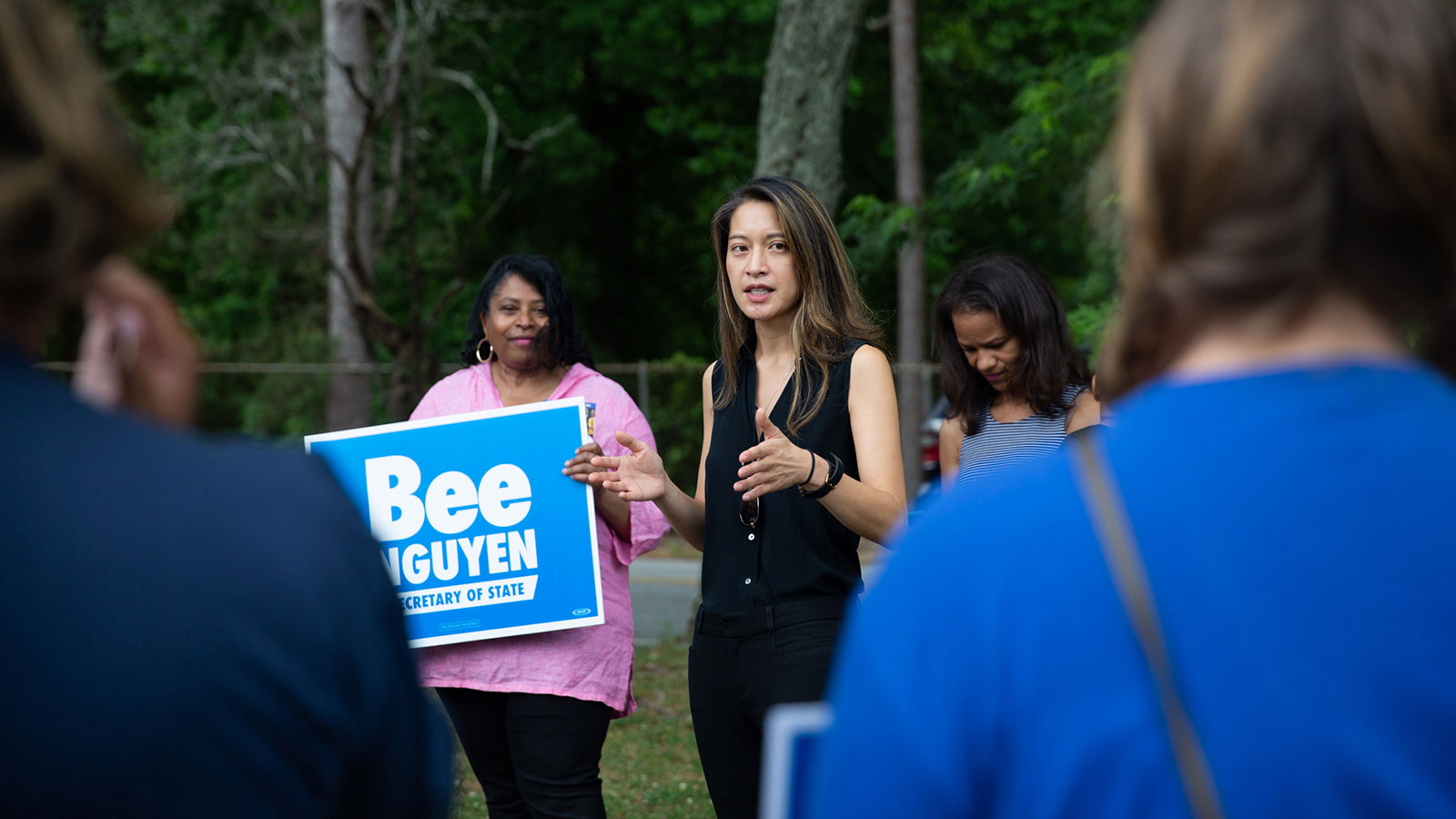 Bee Nguyen is advancing to a runoff in Georgia's Democratic Secretary of State race, CNN projects. The second candidate is too early to call.
If no candidate in a Georgia race gets 50%+1 vote, the top two finishers advance to a runoff on June 21.
Nguyen has helped lead the fight against Republican efforts to restrict voting in this presidential battleground.
More on this race: The battle to become Georgia's next secretary of state and preside over the 2024 presidential election here has emerged as one of the most hotly contested fights for election chiefs this year.
The job has taken on new weight after repeated attempts by former President Donald Trump and his allies to overturn his 2020 loss in the state. In the aftermath of that election, the Republican-controlled legislature passed sweeping changes to voting rules — actions that critics say are aimed at dampening the record turnout from 2020 that helped President Joe Biden become the first Democratic presidential contender in nearly 30 years to win the Peach State.
Republicans are facing a contentious primary of their own on Tuesday, with the incumbent, Brad Raffensperger, who famously rebuffed Trump's request to "find" votes, facing several challengers including Rep. Jody Hice. Hice, one of the 147 House Republicans who voted against certifying Biden's win on January 6, 2021, won Trump's backing in the race as the former President seeks to exact revenge on Raffensperger and other Republicans he views as disloyal.
CNN's Fredreka Schouten contributed reporting to this post.
17 hr 15 min ago
As he accepts resounding victory, Kemp ignores Trump and lauds Georgia GOP voters for tuning out the "noise"
From Jeff Zeleny and Mike Warren
Gov. Brian Kemp may have had plenty of reasons to gloat tonight as he scored a resounding triumph in his Republican primary for a second term, but he made no mention of former President Donald Trump and looked ahead to his rematch with his Democratic rival, Stacey Abrams.
"Even in the middle of a tough primary, conservatives across our state didn't listen to the noise," Kemp said. "They didn't get distracted, they knew our record of fighting and winning for hard-working Georgians."
As he has done throughout his campaign, Kemp ignored Trump – making only a passing reference to the "noise" from the extraordinary GOP primary campaign that the former President orchestrated by recruiting former Sen. David Perdue into the race. Kemp struck a modest tone, considering his wide margin of victory.
In the speech to supporters at the College Football Hall of Fame in downtown Atlanta, Kemp thanked Perdue for a gracious concession call and his pledge to work together to keep the governor's office in Republican hands.
Kemp devoted the majority of his victory speech to assailing Abrams.
"Our battle is far from over," Kemp said. "Tonight, the fight for the soul of our state is to make sure that Stacey Abrams will not be our next governor or next President."
It was a theme Kemp repeated again and again as he implored Georgia voters to stop Abrams' political rise. He also sought to tie her to the political challenges facing President Biden and other Democrats.
"She has embraced the disastrous Biden agenda," Kemp said, adding that her "far-left campaign for governor is only a warm-up for her presidential run in 2024."
Former Sen. Saxby Chambliss told CNN at Kemp's party in Atlanta that he's "not surprised at all" by Kemp's victory over David Perdue in the primary.
Chambliss, a Republican, said the results of the primary show that GOP voters appreciate Kemp's accomplishments in his first term. He also said the results demonstrate the limits of Trump's ability to influence GOP voters as he backed Perdue in the race.
"Georgia Republicans have spoken about how they feel about Trump," said Chambliss, who served two terms in the Senate. Perdue was elected to succeed Chambliss in 2014 and served one term in the Senate before losing reelection in a 2021 runoff to Democrat Jon Ossoff.
17 hr 48 min ago
CNN Projection: Lucy McBath will win the Democratic primary for Georgia's 7th Congressional District
From CNN's Ethan Cohen and Melissa Holzberg DePalo
Rep. Lucy McBath will win the Democratic primary for Georgia's 7th Congressional District, CNN projects.
McBath became active in the gun control movement after her son was fatally shot in 2012 and since being elected, she's become one of her caucus' foremost voices on the issue.
Georgia hosted the first Democratic member vs. member primary with McBath and Carolyn Bourdeaux running in the new 7th Congressional District. Both Democrats flipped suburban districts in their respective first elections (McBath in 2018 and Bourdeaux in 2020). While most of the new congressional district includes residents Bourdeaux represented, McBath has been able to outraise and outspend the first-term member.