1 min ago
Conservative GOP senator says he would have a harder time supporting Trump in 2024
From CNN's Lauren Fox and Ali Zaslav
Conservative North Dakota Sen. Kevin Cramer, an ally of the former President, said Wednesday "it would be harder" for him to support Donald Trump for reelection in 2024 "given what's happened."
"It would be harder for me given what's happened, that has got to be part of what weighs on me," Cramer told CNN.
Meanwhile, GOP Sen. Bill Cassidy said there was a "very mixed" reaction to his vote Tuesday calling Trump's impeachment trial constitutional. "Some folks incredibly positive, some folks very negative," he said Wednesday.
The Louisiana Republican said he replied to negative responses explaining that "this is a constitutional question and clearly it had been established that it is constitutional … it is Constitution and country, over party." 
"For some they get it, and for others they're not quite so sure," he added.
Cassidy also noted that his vote Tuesday on the constitutionality of the trial "does not predict my vote on anything else."
9 min ago
Lead impeachment manager opens second day of trial: Trump became the "inciter in chief"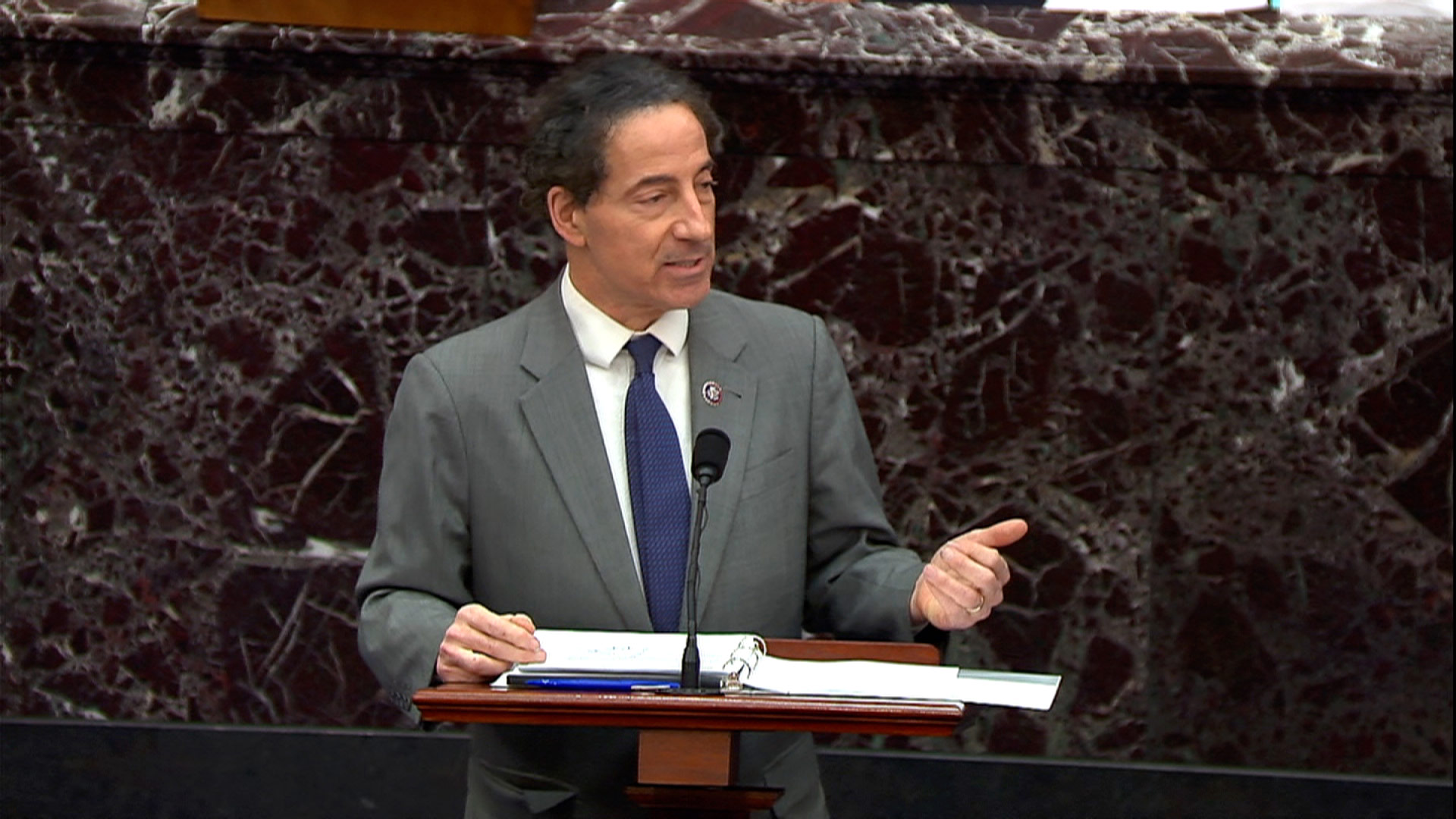 Rep. Jamie Raskin, the lead House impeachment manager, opened up the second day of trial proceedings by detailing what the prosecution hopes to lay out for senators.
"The evidence will be for you to see and hear and digest. The evidence will show you that ex-president Trump was no innocent bystander," Raskin said in his opening remarks on the Senate floor.
"It will show that Donald Trump surrendered his role as commander in chief and became the inciter in chief of a dangerous insurrection, and this was as one of our colleagues put it so cogently on January 6 itself, the greatest betrayal of the presidential oath in the history of the United States," he added.
Raskin said the evidence will show that the former President "clearly incited" the insurrection at the Capitol and "he saw it coming and was not remotely surprised by the violence."
The lead impeachment manager pointed to some of Trump's tweets and highlighted parts of his speech moments before the mob moved to the US Capitol.
"He watched it on TV like a reality show. He reveled in it," Raskin said. "He did nothing to help us as commander in chief. Instead, he served as the inciter in chief sending tweets that only further incited the rampaging mob."
Watch:
30 min ago
The second day of Trump's impeachment trial just started. Here's what you need to know about today's events. 
From CNN's Jeremy Herb, Manu Raju, Lauren Fox and Caroline Kelly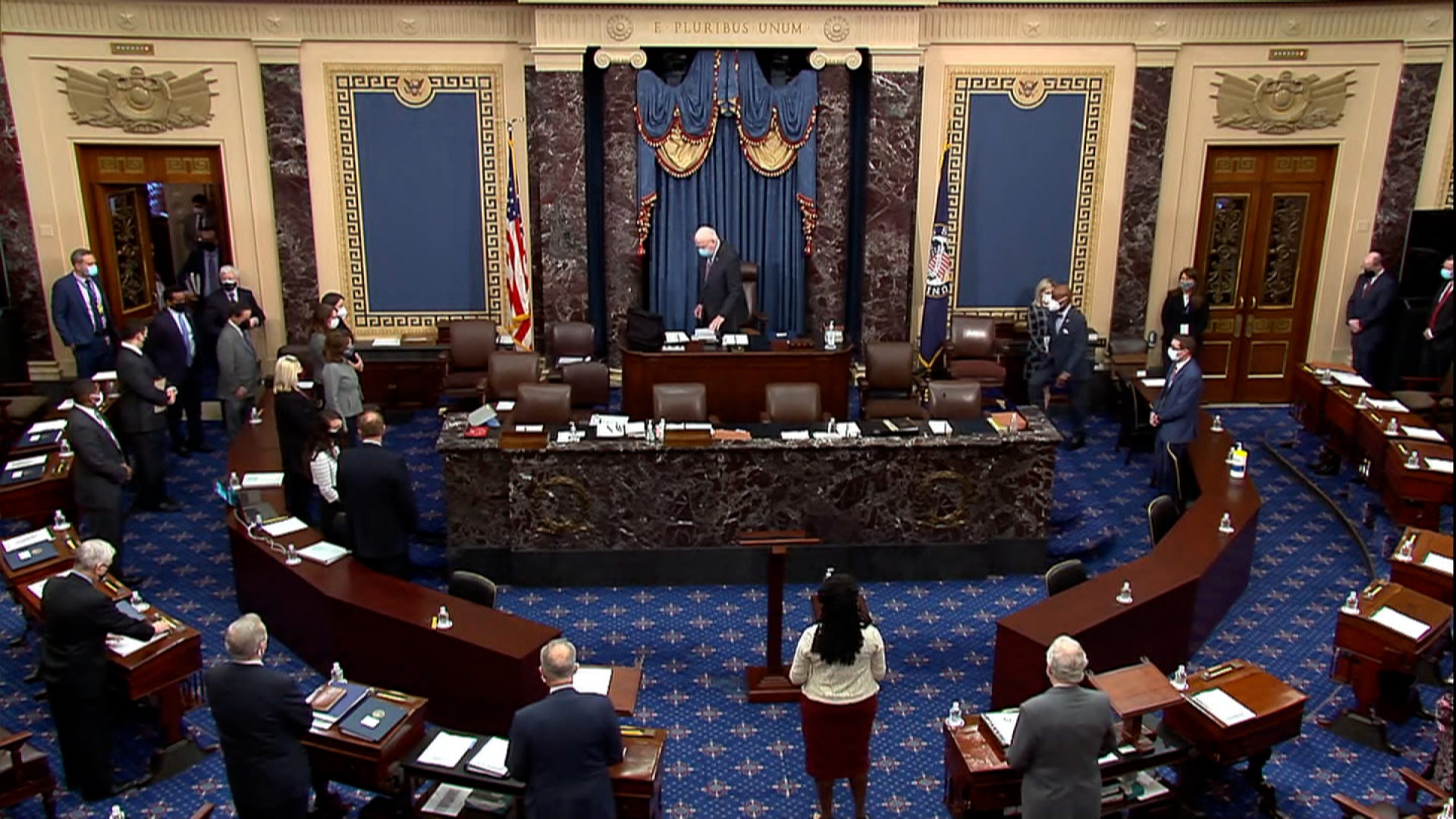 The second day of former President Trump's impeachment trial has begun in the Senate.
The House impeachment managers will be front and center today, as they look to convince skeptical Republican senators that Trump was responsible for the deadly Jan. 6 riot at the Capitol. 
Today's schedule: The managers will have up to 8 hours to make their case today. They are expected to show never-before-seen Capitol security footage during their presentation to demonstrate the extent of the violence that occurred and the threat the rioters posed to everyone in the Capitol.
The managers' role: The select group of House Democrats known as impeachment managers will act as prosecutors and were selected by House Speaker Nancy Pelosi. They have a chance to argue their case before the full Senate with the senators acting like jurors. Read more about them here.
The impeachment managers are:
Rep. Jamie Raskin of Maryland (lead manager)
Rep. Diana DeGette of Colorado
Rep. David Cicilline of Rhode Island
Rep. Joaquin Castro of Texas
Rep. Eric Swalwell of California
Rep. Ted Lieu of California
Rep. Stacey Plaskett of the US Virgin Islands
Rep. Joe Neguse of Colorado
Rep. Madeleine Dean of Pennsylvania
The charges against Trump: Democrats in the House of Representatives charged Trump with "incitement of insurrection." You can read the full impeachment article here. The House voted last month to impeach Trump for a second time in a swift and bipartisan condemnation of his role inciting the Capitol riot. After the House impeachment managers finish presenting their case during their allotted time, Trump's defense team will also have the opportunity to argue their case for up to 16 hours spread over two days.
51 min ago
Trump attorney Bruce Castor says Trump did not express his displeasure to him
From CNN's Manu Raju
CNN just asked Bruce Castor if former President Trump expressed his displeasure yesterday to him about his performance. 
"Far from it," Castor said. 
Asked what he thought about his own performance, Castor said: "Only one person's opinion matters." Asked if there would be any changes to the strategy, Castor said: "Not at all."
Also asked if he would take the lead in the case now, David Schoen said: "Mr. Trump always gives good advice."
Schoen would not say if Trump was upset but said that he did speak with him yesterday.
Some context: Two people familiar with Trump's reaction told CNN that the former President was unhappy with Castor's opening argument on the Senate floor Tuesday. 
Castor delivered a meandering argument during the first day of the Senate impeachment trial, including praise for the House impeachment managers for a presentation that he said was "well done."
31 min ago
Senate GOP leader has not yet made up his mind on impeachment vote, source says
From CNN's Jeremy Herb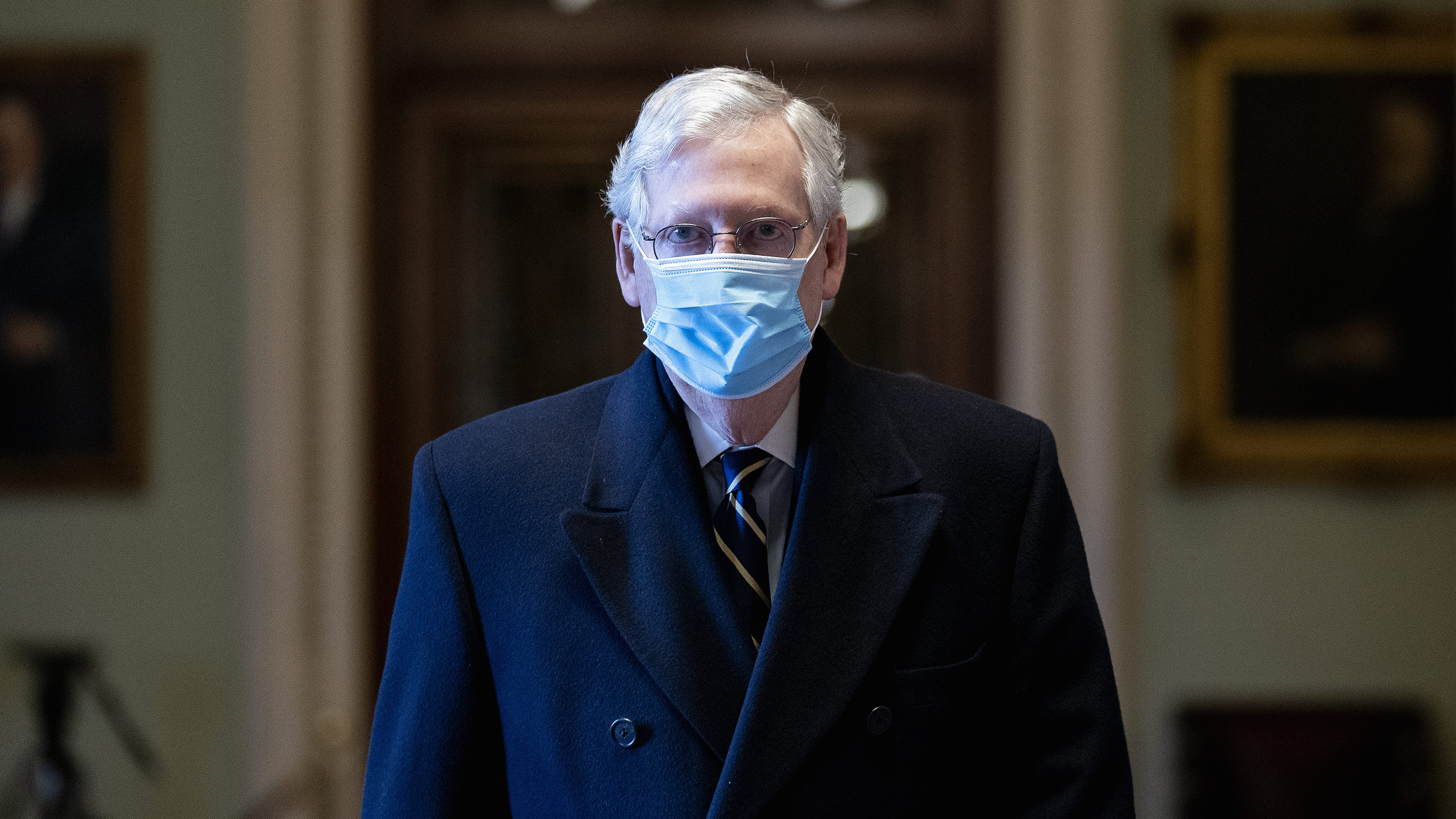 Senate GOP Leader Mitch McConnell wouldn't answer CNN's questions about the trial or if he's open to conviction still. 
Asked how he was doing, he said "I'm feeling great" as he got on the Senate subway. 
Someone familiar with McConnell's thinking said, "He is leaving the door open. Just compare his comments and posture this time to last impeachment."
This person also said McConnell is openly signaling this.
Some background: Earlier this year, McConnell indicated that he believes that impeaching former President Trump will make it easier to get rid of Trumpism from the Republican Party, according to a source with knowledge of the matter. 
Watch:
34 min ago
These are the key players of Trump's second impeachment trial 
From CNN's Caroline Kell, Zachary B. Wolf and Devan Cole
The second Senate impeachment trial of former President Trump is underway, and multiple key players will take the spotlight throughout various moments of the trial. 
These are the key people to watch:
House impeachment lawyers: House Speaker Nancy Pelosi named nine members of her caucus to be impeachment managers to argue the Democrats' case in the Senate. They will have up to 8 hours to make their case both today and tomorrow. Read about them here.
The impeachment managers are: Reps. Jamie Raskin of Maryland (lead manager), Diana DeGette of Colorado, David Cicilline of Rhode Island, Joaquin Castro of Texas, Eric Swalwell of California, Ted Lieu of California, Stacey Plaskett of the US Virgin Islands, Joe Neguse of Colorado and Madeleine Dean of Pennsylvania.
Trump's lawyers: David Schoen and Bruce L. Castor Jr. head the legal team for former President Trump. Schoen was on the team of lawyers representing Roger Stone in the appeal of his conviction related to issues the former Trump adviser took with the jury. Castor, meanwhile, is a well-known attorney in Pennsylvania who previously served as Montgomery County district attorney. Trump's defense team will also have the opportunity to argue their case for up to 16 hours spread over two days.
Senator presiding over case: Sen. Patrick Leahy is presiding over the trial, and is expected to adhere largely to the script of Chief Justice John Roberts. But unlike when the robe-clad Roberts oversaw then-President Trump's 2020 trial, Leahy will routinely slip into his senator role for votes, including on whether to convict or acquit the former president of inciting the deadly Jan. 6 insurrection at the Capitol.
The 80-year-old Vermont Democrat — who is the chamber's president pro tempore, or the longest serving senator of the majority party — could also end up voting on knotty motions related to evidence and witnesses.
Jurors: The senators are serving as the jury and they will deliberate whether to convict or acquit the former President. Conviction requires two-thirds of senators present to offer "guilty" votes. Two-thirds is 67 senators, which would require 17 Republican votes. If Trump is convicted, there would be a subsequent vote on whether to bar him from further office. This would require only a simple majority — that's 50 votes.
47 min ago
Schoen now expected to be the face of Trump's legal team after Castor's panned performance, source says
From CNN's Pamela Brown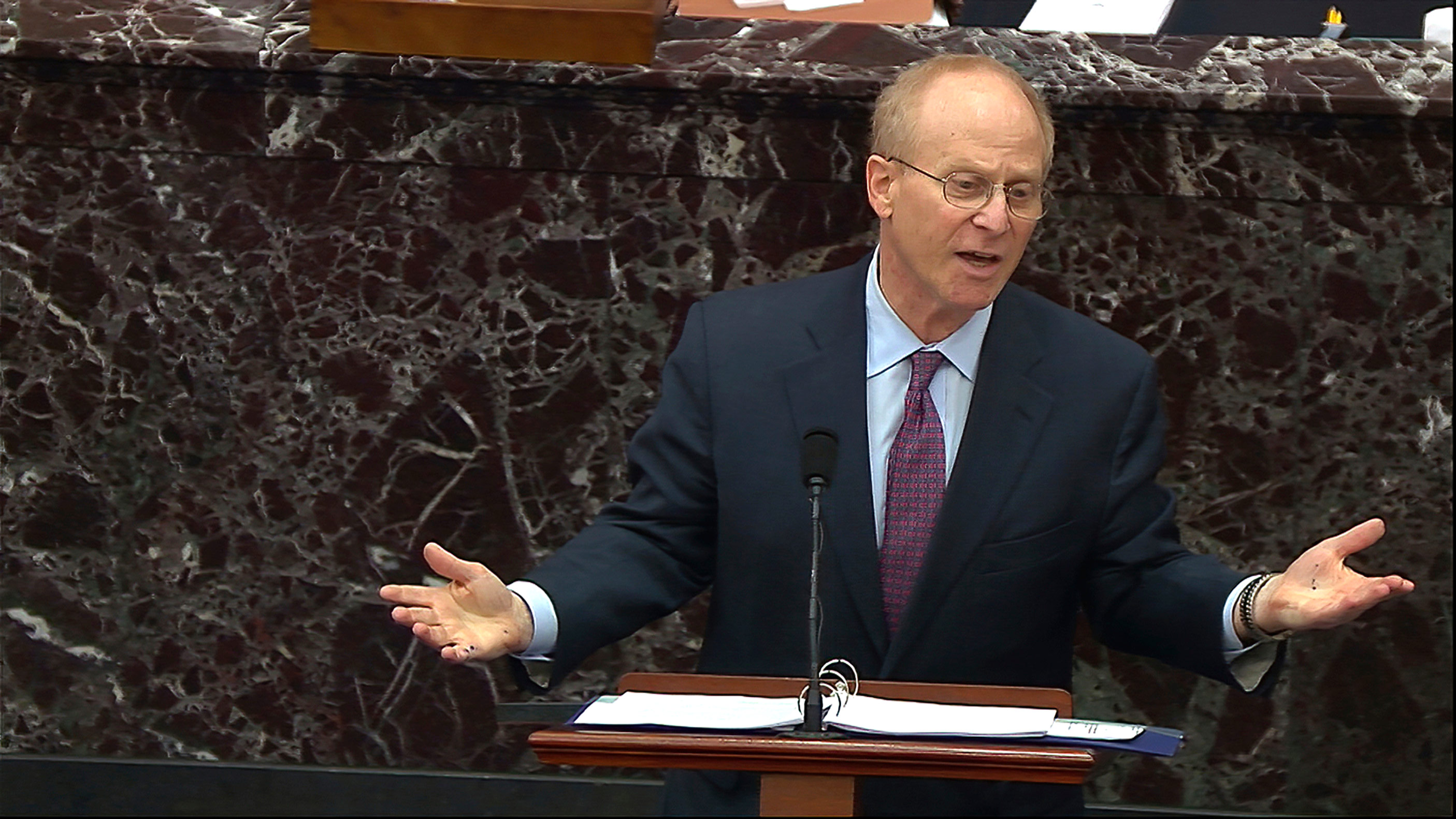 Trump attorney David Schoen will be the face of Trump's legal team publicly, a person familiar with the team's internal deliberations tells CNN. 
There was a push for him to do Hannity last night to take the attention away from Castor's widely criticized performance, according to this person.
"The rebuke from Dersh and the first impeachment team really stung," this person said, referring to Alan Dershowitz who helped defend Trump during his first impeachment trial and criticized Castor's performance.
Trump's team will try to maximize Schoen as the face of the legal team until Friday evening when he will observe the Jewish Sabbath.
That leaves the Trump team choosing between Michael van der Veen, who sued Trump last summer over mail-in ballots, or Castor — who was widely panned by Republicans for his performance yesterday — to represent the team into Saturday.
As CNN's Dana Bash reported, there is a scramble to produce more videos of Democrats to take the place of the lawyers when they go back to argue on Trump's behalf on Friday.
There's also a widespread desire among Republicans to get the trial over as quickly as possible.
CORRECTION: A previous version of this post misspelled Michael van der Veen's name.
2 min ago
Trump's impeachment defense team is scrambling to collect new videos to bolster case
From CNN's Dana Bash, Pamela Brown and Kevin Liptak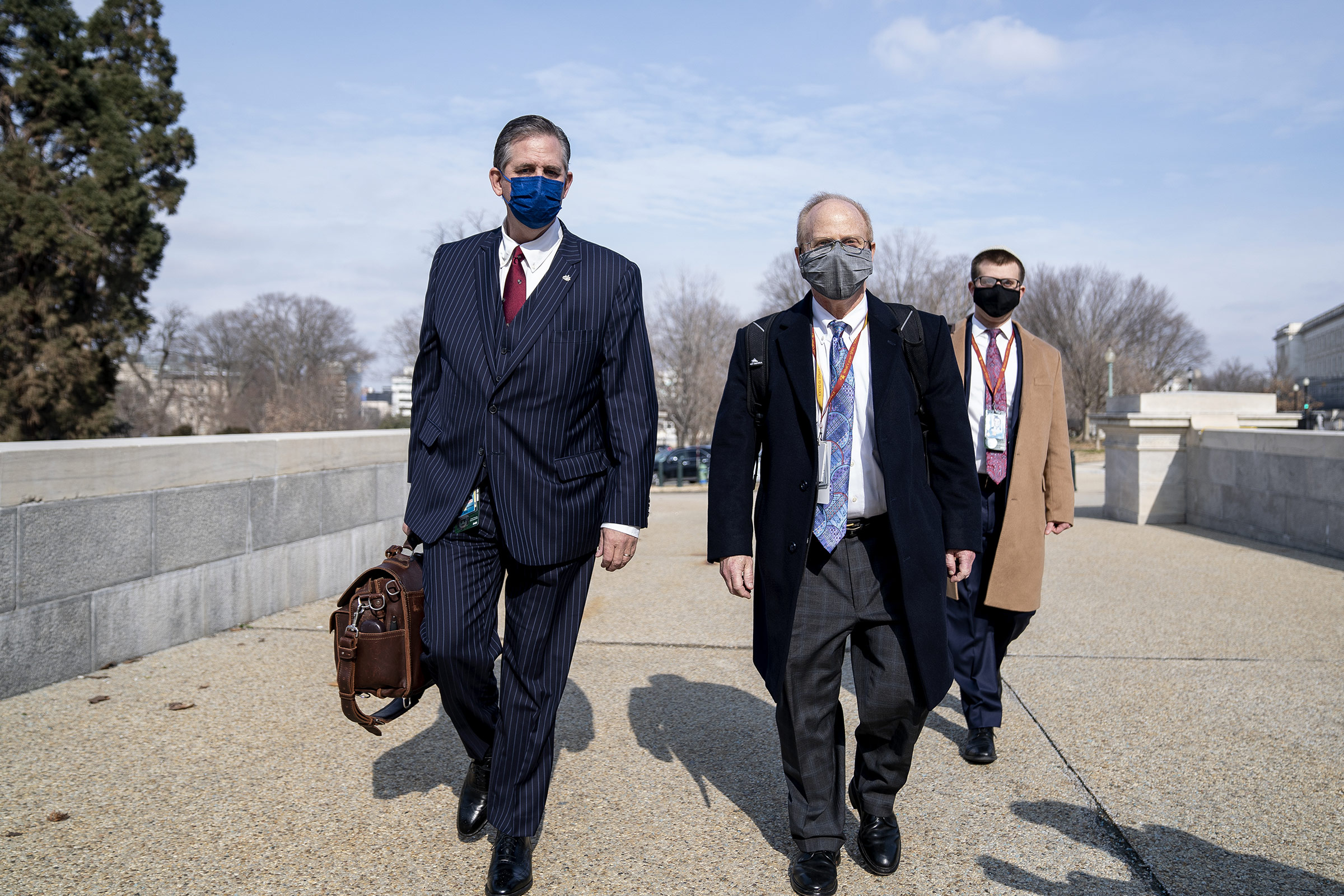 Former President Trump's legal team is scrambling to collect and produce more videos to bolster their impeachment trial arguments after a rambling debut performance that enraged the former President and dismayed Republicans, according to a person familiar with the discussions.
The move to use more videotape – and lean away from in-person arguments – amounts to a tacit acknowledgment that the lawyers Trump has enlisted to defend him during his second impeachment trial are failing to inspire confidence.
Among the tape Trump's team is now scrambling to assemble are clips of Democrats who also lost elections but declined to immediately concede. The former president's legal team hopes to argue Trump was doing something similar when he cast doubt on the 2020 election results using false claims of voter fraud.
The videos could also help expedite the proceedings. After Tuesday's meandering and widely panned performance, Trump and some of his fellow Republicans are hoping more than ever to conclude the trial as quickly as possible. With few Republicans signaling a willingness to change their minds on the case, he is widely expected to be acquitted.
Trump's reaction: The disorganized condition of Trump's legal defense sent the former President into rage as he watched the proceedings unfold from his Mar-a-Lago estate in Florida.
Amid his frustration, advisers told Trump he could hardly expect more from his legal team after more competent lawyers were dissuaded from participating, either because of his reputation for not paying or because Trump pushed them to use false or misleading claims.
Bruce Castor, the lawyer who spoke first in a digressive opening bid, caused Trump to vent at his television set because he felt the performance was ineffective and embarrassing. He was more tempered in his reaction to David Schoen, who spoke after Castor.
CNN's Dana Bash reports:
1 hr 24 min ago
GOP senators signal they won't vote differently on the merits of the case against Trump
From CNN's Manu Raju
House Democrats are urging Senate Republicans to solely consider the merits of the case that former President Trump incited the Jan. 6 mob that ransacked the Capitol — and separate out their concerns about whether the trial is constitutional.
But many GOP senators publicly and privately are signaling to CNN that they won't do that, the latest sign of the high hurdles Democrats face in getting to 67 votes to convict Trump for inciting an insurrection.
Texas Sen. John Cornyn, a member of Senate GOP leadership who voted that the trial proceedings are unconstitutional, said that his position on the process will weigh on his final vote on deciding whether to convict Trump.
"As I understand, we have one vote it's guilty or not guilty at the end," Cornyn told CNN. "So it has to be a combination of those two factors."
GOP Sen. Marco Rubio of Florida said bluntly "no" he would not judge the merits of the case separately from whether the proceedings are constitutional, something the Senate affirmed in a bipartisan vote on Tuesday.
"No, I don't think that's the job of the Senate: To be trying to remove a President who is not in office," Rubio said when asked if he would judge the case solely on the merits, also pushing back on the idea of barring Trump from ever running for office again. "It's not about Donald Trump — it's about the future."