CNN  — 
Shortly after Benjamin Cuevas and his family moved into their new home three years ago in Tooleville, California, he realized something was horribly wrong.
In the middle of the day, the water pressure would drop completely. Cranking up both hot and cold could only coax a little drip out of the faucet.
Then there was the water itself, contaminated with chemicals from agriculture runoff and treated with so much chlorine that it turned his family's black clothing gray in the wash. His daughter and her baby live in the house, and Cuevas's wife only bathes her granddaughter in the bottled water they receive from the county for drinking.
Cuevas is not alone; the entire town of under 300 people faces the same water crisis. In many rural parts of the state, faucets and community wells are running dry after years of drought and heavy agriculture use pulls more water from the same groundwater residents use.
One local nonprofit told CNN that about 8,000 people in the San Joaquin Valley need thousands of gallons of hauled water just to keep their taps flowing – and that number is growing.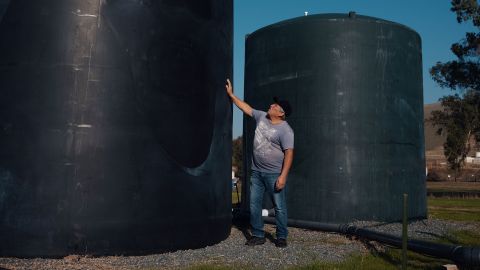 Newly elected House Speaker Kevin McCarthy has represented Tooleville for the past decade – though the small town is just outside his newly redrawn congressional district. The Republican lawmaker has long represented Kern and Tulare counties, and his redrawn seat adds portions of Fresno County.
Throughout his tenure, this region of California has spent more time than any other part of the country in exceptional drought – the US Drought Monitor's most severe category – a drought scientists say has been made more intense by human-caused climate change. Recent rainfall has put a dent in the region's surface drought, though experts have told CNN it will do little to solve the ongoing groundwater shortage.
Tulare, Kern and Fresno counties have endured more than 200 weeks in exceptional drought over the past decade, according to Drought Monitor data.
Multiple people CNN spoke to for this story said McCarthy and his office don't often engage on this issue in the district, especially compared with neighboring members of Congress. And they wish he would do more with his power in Washington – especially now that he holds the speaker's gavel.
McCarthy proposed an amendment this past summer to set up a grant program to help connect small towns like Tooleville with larger cities that have better water systems. The measure passed the House but died in the Senate. But as more and more wells go dry, McCarthy has made a point to vote against other bills addressing climate change and drought, including the Inflation Reduction Act and the bipartisan infrastructure law.
"In my experience, he has never engaged with us on any of these kinds of emergencies," said Jessi Snyder, the director of community development at local nonprofit Self-Help Enterprises, who focuses on getting hauled water to entire communities that have gone dry.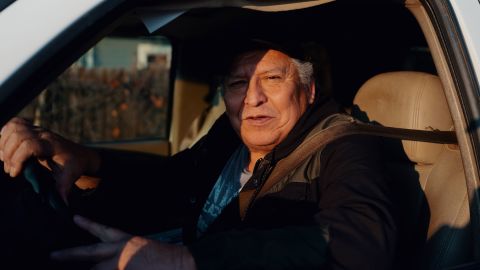 In a statement to CNN, McCarthy's office said he has been "a staunch advocate on water issues in the Central Valley and California" since he was first elected to the House. McCarthy has joined his colleagues to "introduce broad legislative solutions every Congress related to this topic since our water situation continues to worsen," his spokesperson Brittany Martinez said.
But McCarthy does not mention climate change when talking about his district's drought, and his office did not respond to questions from CNN about whether he believes climate change is playing a role. Instead, he often blames the drought on state mismanagement of water and has called for new and larger dams and reservoirs to be built to capture rainwater during wet years.
Water experts in California say that's missing the new reality.
"Part of what's happening now is the reality that there is no more new water," said Peter Gleick, co-founder and senior fellow of California-based water nonprofit Pacific Institute. "The knee-jerk response of politicians has always been build another dam; find more water. There is no new reservoir that's going to magically solve these problems. It's now a question of managing demand."
When a call comes in from yet another community whose well has run dry, it's a race against time for the staff at Self-Help Enterprises.
The Visalia, California-based nonprofit has a self-imposed deadline of just 24 hours to drive out to the impacted community with emergency tanks to keep water flowing for showers, laundry and cleaning, as well as with five-gallon jugs of higher-quality water for drinking.
"The team goes all hands-on deck," Tami McVay, Self-Help's director of emergency services, told CNN. "Everybody knows what their role is, and they just go get it done. And we move forward to the next one."
These days, there's always a next one. Snyder said the summer of 2022 marked "a new level of crisis" as entire small communities of 80 to 100 homes started running out of water, in addition to individual homes.
"It's been a real struggle because it's hard to provide a backup source of water to a whole community instead of one household," she said.
More than 1,400 wells were reported dry last year, according to the state of California, a 40% increase over the same period in 2021. Self-Help staff see this in person on the ground. New families are flowing into their hauled water program, but none are leaving. During the dry, warm-weather months, McVay estimates her nonprofit fields around 100 calls a day, dropping down to about 30 per week in the winter months.
The punishing multi-year drought is what Brad Rippey, a meteorologist at the US Department of Agriculture, calls California's "latest misery." California has spent eight of the last 11 years in drought, with the last three years being the driest such period on record, state officials said in October. Human-caused climate change – which is raising global temperatures and making much-needed rain and snow less frequent in the West – is contributing to the severity, Rippey said.
"The impacts are multiplying. You have these droughts piling on top of droughts with cumulative impacts," including wildfires, he added.
To supplement the dwindling groundwater supply in Tooleville, officials in Tulare County and nonprofits like Self-Help deliver five-gallon water jugs to the residents for drinking and 16,000 gallons of hauled water into tanks for washing their clothes, doing dishes and taking showers.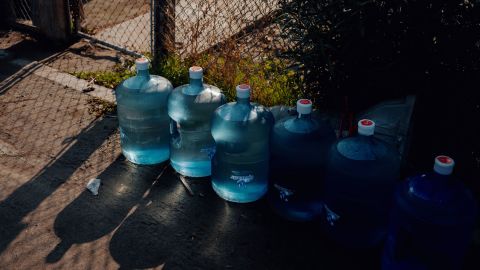 There's so much demand in the warm months for the hauled water that a 16,000-gallon delivery lasted some communities just a few hours before needing to be refilled, Snyder said.
"We literally cannot pump the water out of the tanker trucks fast enough to fill the storage tanks," she added. "We can't ever get ahead of it; physics is against us. It's nuts and really stressful."
California's extreme heat wave this summer pushed water usage even higher as residents watered grass and farms pumped more for crops. In Tooleville, Cuevas watched as the orange and lemon trees in his yard withered and died. Outdoor watering restrictions meant he couldn't save his trees, even as some of his neighbors flouted the restrictions with noticeably green lawns.
"Everything just perished," Cuevas said. "It's not a good feeling to see other people enjoying [the water], while you're doing your part."
Seeing the nearby Friant-Kern Canal every day – which carries melted snowpack water from Northern California to Central Valley farms – is a nagging reminder of what his family doesn't have.
"It's terrible," Cuevas told CNN. "Just joking, I'd say I'll go out there and put a hose [in it] running right back to my house."
Tooleville resident Maria Olivera has lived in town since 1974.
Olivera cooks with bottled water.
As Cuevas's own trees died, commercial farms in the area were still producing – although their future is also uncertain. Farms are also having to drill deeper wells to irrigate orange groves and acres of thirsty pecan and pistachio trees.
With this rush on groundwater, shallow residential wells don't stand a chance. In West Goshen, a small town that sits outside McCarthy's district in Tulare County, resident Jesus Benitez told CNN he burned through three well pumps – costing $1,200 a piece – during the warmer months when his neighbor, a farmer who grows alfalfa and corn, started irrigating his crops.
"They've got the money to go every time deeper and deeper in the ground; we don't have that luxury," Benitez said.
Two town wells in nearby Seville nearly ran dry this summer, said Linda Gutierrez, a lifelong resident who sits on the town's water board. Across the street from the town's wells is a pistachio farm, and when they start irrigating, the groundwater level plummets, she said.
But she doesn't blame the farmers. Like many who live in the area, her husband is a farm worker. There's a lot of pride in the region's far-reaching agriculture, and many feel it should be sustained.
"You can't not have farmers because you need food, but we have to have water in order to survive," Gutierrez said. "There's a very tricky balance to establish. Right now, if they don't irrigate, we have water, but also a year from now we have no food."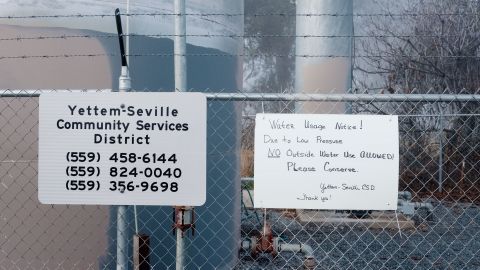 As big of a societal problem as drought and water shortages are, they are also intensely personal. Self-Help's McVay gets emotional when talking about school children in the area getting beat up because they don't have clean clothes or ready access to a shower.
"They don't have water in their homes to take baths, or brush their teeth, or have clean laundry, and they're getting bullied," she said. "Being made fun of because they're taking baths at the local gas station bathroom. It's not fair – the stress that it causes the parents because [they] start to feel like they're failing as a parent."
Multiple local and state elected officials and leaders of nonprofits focusing on water delivery in the San Joaquin Valley said McCarthy isn't engaged enough on what they consider one of his district's most dire crises.
McVay said outreach from McCarthy's office on dry residential wells is "slim to none, and I am not saying that to discredit them at all."
"I have had more conversations, more engagement and just more wanting to know how they can assist from Congressman Valadao and his office than probably any other on the federal side," McVay added.
Snyder said Rep. David Valadao, a Republican representing neighboring Kings County as well as portions of Tulare and Kern, and his staff "will show up in a community at the time of a crisis" and are actively engaged on how they can support efforts to get people water.
Other members of Congress, including Democratic Rep. Jim Costa and Republican Connie Conway, who left office earlier this month, have also been more accessible and engaged on the issue, Snyder said.
"Kevin McCarthy, no," Snyder added.
While McCarthy is popular in his district and influential among California and Central Valley Republicans, California state Sen. Melissa Hurtado, a Democrat who represents parts of the San Joaquin Valley plagued by drought, told CNN there are concerns that McCarthy's ambition for House speaker has superseded his district's needs.
"He's focused on that leadership position instead of actually working on issues to address the impacts of his district," Hurtado told CNN. "Quietly, the word out there is it's been a while that he's actually delivered something for the region, given his focus on the leadership position. Maybe that's part of his greater vision for helping this region out."
McCarthy's office did not respond to questions about how he'll use his position as House speaker to address climate change-fueled droughts in California and around the nation. Nor did it respond to the critiques about his lack of engagement.
"The Leader has consistently worked in a bipartisan, bicameral fashion to deliver this life-giving resource for the families, agriculture producers and workers, and communities in the Central Valley and throughout California, and our Republican congressional delegation heavily relies on his steadfast leadership and decades of expertise when crafting their own pieces of water legislation," McCarthy's spokesperson Martinez told CNN in a statement. "When Democrats have held the majority, they time and time again blocked the progress and innovation of their House GOP colleagues."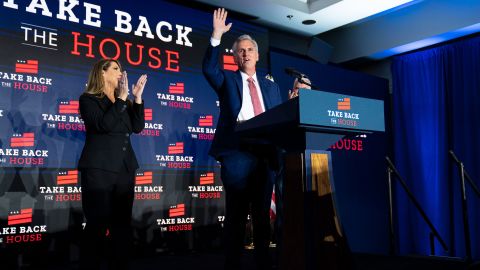 In July, McCarthy spoke on the House floor about Tooleville's plight, seeking to set up a federal grant program to help connect it and other small towns to larger cities' water supply.
"In our district, the community of Tooleville has run out of water as the groundwater table drops and aging infrastructure fails or becomes obsolete," McCarthy said at the time. "Tulare County advises me that if California's droughts continue, more small and rural communities in our district with older infrastructure could meet the exact same fate."
McCarthy's measure authorized a grant program but didn't contain any funding. And even though the bill passed the House, it died in the Senate, and it's unclear whether it will come up again in the new Congress.
Connecting Tooleville's water infrastructure with that of nearby Exeter has been a decadeslong pursuit that is finally close to happening thanks to a state mandate and funding. The project will mean more reliable and cleaner water for residents like Cuevas. But it's expected to take eight years for the two systems to fully merge.
McCarthy is also co-sponsoring a bill with Valadao that would enlarge certain reservoirs and kickstart construction on a new reservoir in the Sacramento Valley. But some nonprofit leaders and local officials say these solutions would prioritize agriculture over residents.
"We need more solutions beyond storage and dams," said Susana De Anda, executive director of the San Joaquin Valley-based environmental justice nonprofit Community Water Center. "[McCarthy] lacks understanding of the real critical problems we're experiencing around the drought and our communities."
Seeking to attract younger voters concerned about climate change to the Republican Party, McCarthy last year convened a Climate, Energy and Conservation Task Force to develop the party's messaging and policies around the issue. And House Republican delegations have attended the last two United Nations climate summits.
But all indications suggest that addressing human-caused climate change is not going to be a focal point of McCarthy's now that he has the speaker's gavel. McCarthy and House Republicans have shown they don't want to move away from planet-warming fossil fuels, and few in the party are willing to connect global temperature rise to worsening droughts and extreme weather.
McCarthy dissolved Democrats' Select Committee on the Climate Crisis, and he has vowed to investigate Department of Energy grants for electric vehicle components, as well as alleged "collusion" between environmental groups and China and Russia to "hurt American Energy," according to a recent statement.
"Our representatives don't talk about climate change; it's a real problem," De Anda said. "Climate change is real. Our communities are the canaries in the coal mine. We get hit first."
It's part of the reason Cuevas is hoping to move away in a couple years. He's hopeful the water situation will improve by connecting Tooleville to a larger town's water system; otherwise, he's afraid he won't be able to entice another buyer due to the water issues.
"I'm happy I had a chance to buy it, but we are planning to move," Cuevas told CNN. "Right now, if I try, I ain't going to get nothing, not even what I paid for the home."