1 min ago
Garland calls body cameras "very important tool" to protect citizens and law enforcement
From CNN's Josh Campbell
Merrick Garland, President Biden's nominee for attorney general, said Monday that he strongly believes in the use of body cameras by law enforcement officers in the United States. 
In response to a question from Sen. Chris Coons, a Democrat from Delaware, about whether he would support the deployment of more police body cameras for police officers, Garland said he would welcome more resources from Congress, calling body cameras important tools for accountability. 
"I personally think body cams are a very important tool, both to protect officers and to the protect the citizens," Garland said.
During his answer, Garland made reference to the Jan. 6 insurrection at the US Capitol, noting that the public knows about the valiant acts of so many officers largely because of images captured on video.
"The fact that we were able to see exactly what was happening to the officers and the way in which they were carrying about their duties in the best way they could, is only possible to be captured because of the body cameras," Garland said.
Watch:
22 min ago
Some Senate Judiciary Republicans say they're impressed with Garland so far
From CNN's Ali Zaslav and Ali Main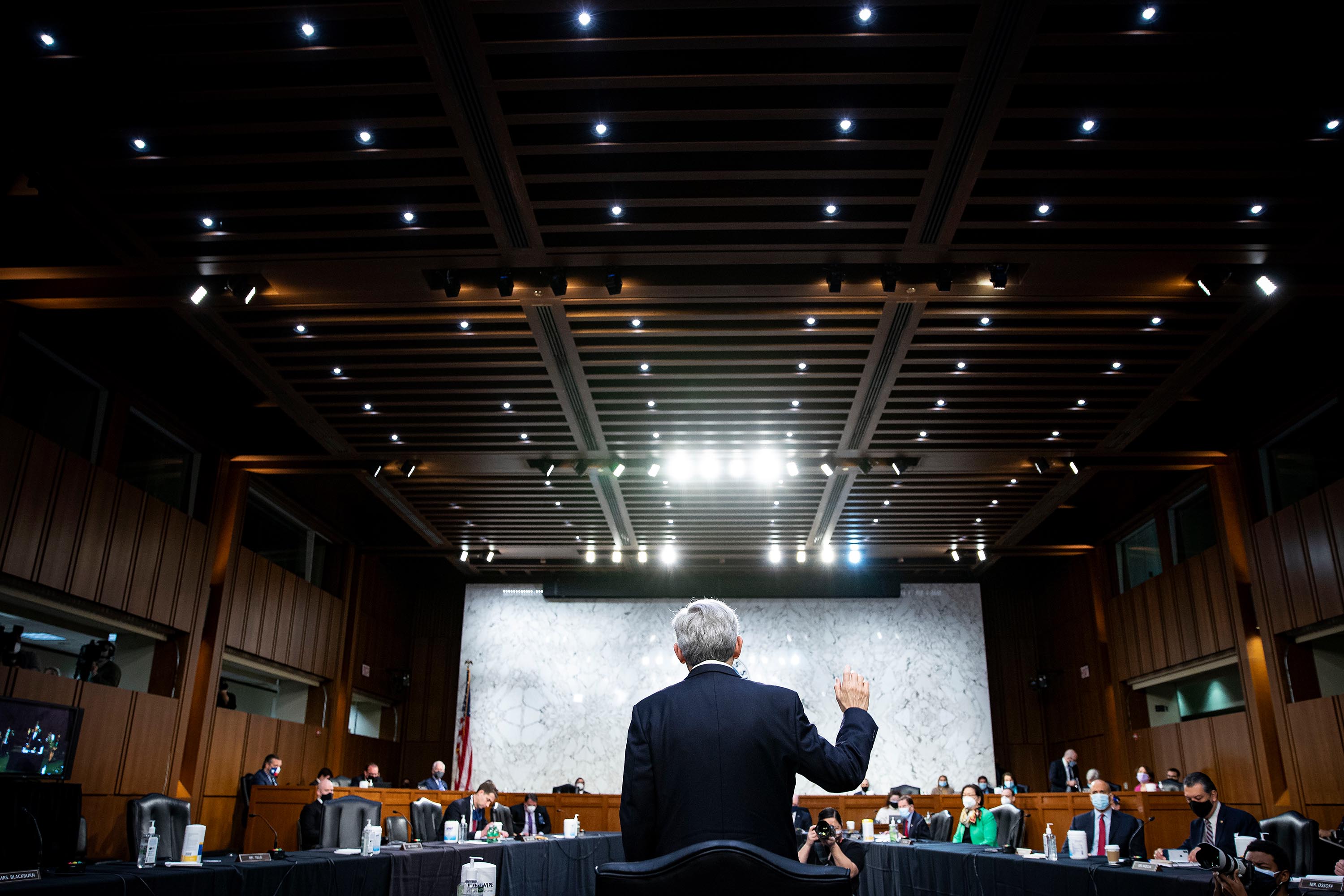 Some Republicans on the Senate Judiciary Committee signaled openness to Merrick Garland's nomination to be attorney general in the first break of his confirmation hearing on Monday.
Sen. John Cornyn said he's "impressed" with Garland's experience, temperament and commitment to equal justice. 
"One of the commitments I've asked him to make is no politics at the Department of Justice … and he made that commitment," the Texas Republican said. 
Asked about Garland's response to a question about former FBI Director James Comey's news conference on Hillary Clinton, Cornyn said, the nominee "wasn't comfortable answering that question, but made it clear that's inappropriate for a prosecutor to do."
Cornyn added that he is glad that Garland "is for restoring the reputation of the department, I think that's very important for public confidence and something that I think we need sorely."
Asked about any concerns with the nomination, Cornyn argued that Garland "has a lot to learn about what's going on in the world," pointing to how he said he hadn't been to the US-Mexico border.
Sen. John Kennedy of Louisiana called Garland a "very bright person" and said he has some "pretty direct" questions to ask of the nominee.
When asked about the pointed questions Garland has already received from Senate Judiciary Republicans, Kennedy said Garland "has a reputation of being a person of integrity, and I believe that until he proves otherwise," adding he believes a "reasonable person" can't read DOJ Inspector General Michael Horowitz's report on the FBI's Russia probe or look at Comey's "antics" around the 2016 election without being concerned about politicization.
Asked about Biden nominees Neera Tanden for head of the Office of Management and Budget and Xavier Becerra for health and human services secretary, Kennedy answered "I don't know yet how I'm going to vote on those." 
Tanden's confirmation is on the brink of collapse after two key Republicans, Susan Collins and Mitt Romney, announced Monday that they will vote against her nomination, citing her past social media behavior.
38 min ago
Garland says DOJ's pardon attorney is supposed to prevent corrupt pardon decisions by the president
From CNN's Christina Carrega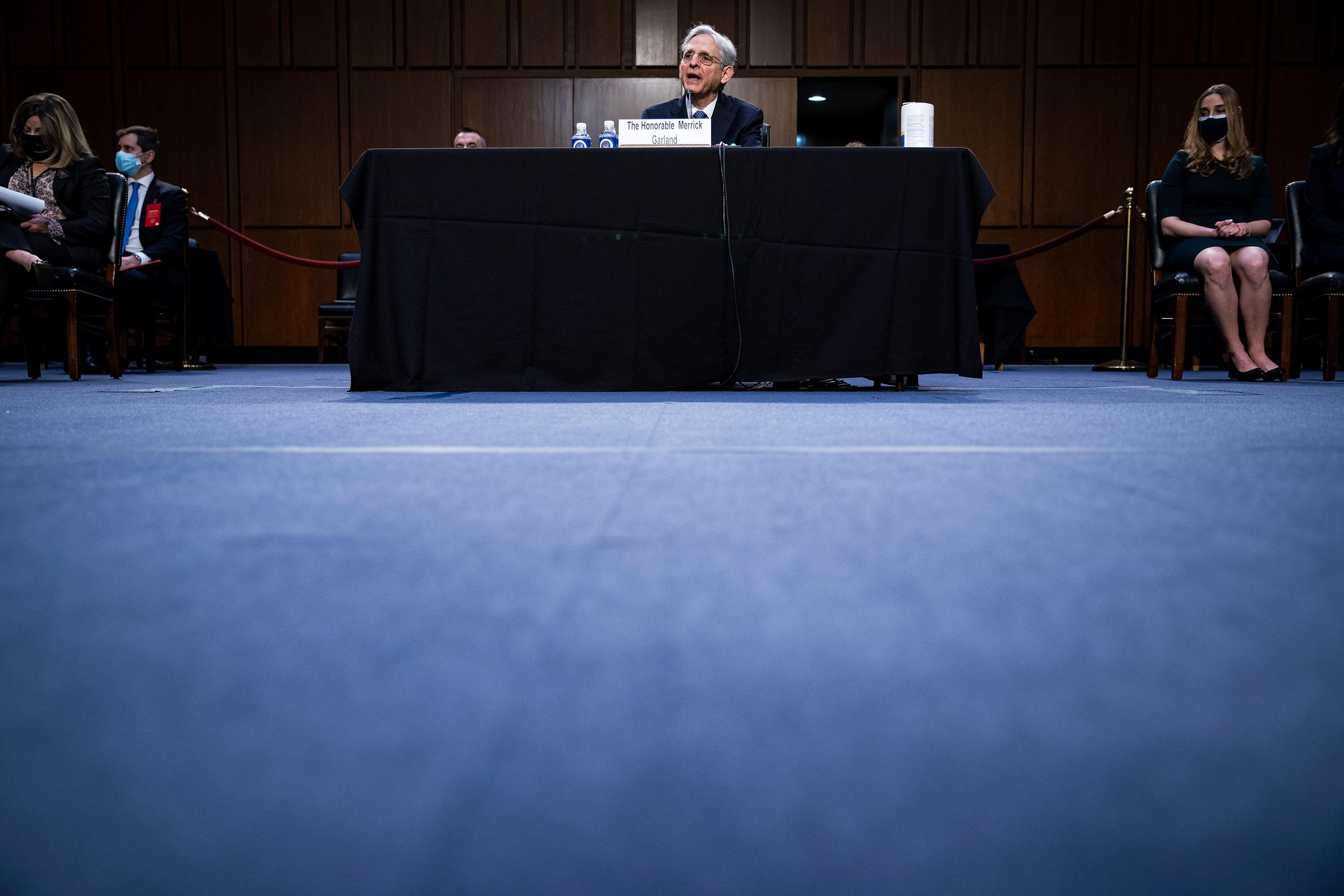 Attorney General nominee Judge Merrick Garland on Monday said the Justice Department's pardon attorney plays a large role to "protect the president from improper influence" when it comes to granting pardons to applicants. 
During the Trump administration, "88% of the pardons that he granted had some sort of personal or political connection to the former president," Minnesota Sen. Amy Klobuchar said during the confirmation hearing on Monday. 
Some more context: By the end of Trump's presidency, he issued 237 clemency and commutations that included rappers and political strategist. Dozens of those who were granted clemency or commutation did not go through the proper channels through the Justice Department's pardon attorney. There are over 14,000 pending clemency requests.
"What do you think we need to do to restore integrity to the pardon process? Obviously, it's an important power of the president, what do you think you could do from the attorney general's position?" Klobuchar asked.
 Garland responded by saying, "Well, senator, you're right."
"This is a power granted by the constitution to the president. I think the role of the Justice Department through its pardon attorney is to provide a careful and visualized examination of the people who are asking to be pardoned," he continued. "The office has a set of very detailed regulations which describe when people are appropriate for pardons and when they are not. It provides an important screen that not only yields who maybe should be pardoned but also protects the president from improper influence."
53 min ago
The hearing is back after a short break
From CNN's Jeremy Herb
The Senate confirmation hearing for President Biden's attorney general nominee Merrick Garland has resumed after a short break.
The senators will now continue to question Garland. Garland is expected to face more questions about politically charged investigations and the prosecution of the Jan. 6 Capitol riot.
In his testimony so far, Garland vowed to prosecute the "heinous" crimes committed in the attack on the Capitol and to redouble the Justice Department's efforts to provide equal justice amid heated policy debates over race and the criminal justice system.
50 min ago
Garland lays out how he plans to investigate the Capitol riot
From CNN's From Christina Carrega
Sen. Sheldon Whitehouse, Democrat from Rhode Island, asked Merrick Garland if he'd be willing "to look upstream" from the Jan. 6 rioters and investigate the "funders, organizers, leaders or aiders and abetters" of the Capitol attack.
Garland said that while the investigation has begun with "the people on the ground," as attorney general he will pursue any and all leads.
Here's how Garland laid out the investigation:
"We begin with the people on the ground and we work our way up to those who are involved and further involved and we will pursue these leads wherever they take us. That is the job of a prosecution."
Answering a question from California Sen. Dianne Feinstein, Garland also said he plans to get a briefing "on the progress of this investigation" and give the career prosecutors "who are working on this matter 24/7, all the resources they could possibly require to do this."
To date, more than 230 men and women have been charged in connection to the attack that left five people dead, and several others, including law enforcement officers, injured. The riot was an attempt to stop the Senate from counting the electoral votes that confirmed President Biden's win.
Watch:
1 hr 15 min ago
Garland says he has not discussed the Hunter Biden investigation with the President
From CNN's Aditi Sangal
At his Senate confirmation hearing, Attorney General nominee Merrick Garland told GOP Sen. Chuck Grassley that he had not discussed the federal investigation into Hunter Biden with President Biden.
"The President made abundantly clear in every public statement before and after my nomination that decisions about investigations and prosecutions will be left to the Justice Department. That was the reason that I was willing to take on this job," he told lawmakers on Monday.
Some background: Federal investigators in Delaware have been examining multiple financial issues involving the younger Biden, including whether he violated tax and money laundering laws in business dealings in foreign countries, principally China, two people briefed on the probe told CNN in December.
The President has made a point of distancing himself from the decision-making at the Justice Department, and as questions about his son swirled earlier this winter, he pledged to install independent leaders at the agency.
These questions were expected at today's hearing as GOP senators had already signaled that they would try to draw out Garland on how he'll handle his full plate of political problems.
CNN's Evan Perez and Pamela Brown contributed reporting to this post.
Watch:
1 hr 45 min ago
Biden's attorney general nominee calls Trump-era policy that separated migrant families "shameful"
From CNN's Priscilla Alvarez
Attorney general nominee, Merrick Garland, called the controversial Trump-era policy that led to the separation of thousands of families "shameful" during his confirmation hearing Monday. 
"I think that the policy was shameful. I can't imagine anything worse than tearing parents from their children. And we will provide all the cooperation that we possibly can," Garland said in a line of questioning from Senate Judiciary Chair and Democratic Sen. Dick Durbin.
The Justice Department played a critical role in the policy, known as "zero tolerance." A recent government watchdog report found that former Attorney General Jeff Sessions knew early on migrant families would be separated when the Trump administration implemented the "zero tolerance" policy and still proceeded to push for the policy. 
Former President Trump ended the policy in June 2018 after mounting criticism, but last month, the Justice Department moved to rescind it altogether.
1 hr 52 min ago
If confirmed, Garland says he will supervise the prosecution of rioters who stormed the US Capitol
From CNN's Aditi Sangal
In his opening remarks at his Senate confirmation hearing, President Biden's Attorney General nominee Merrick Garland said he would supervise the prosecution of the White supremacists and others who stormed the US Capitol on Jan. 6.
"If confirmed, I will supervise the prosecution of White supremacists and others who stormed the Capitol on January 6 — a heinous attack that sought to disrupt a corner stone of our democracy, the peaceful transfer of power to a newly elected government," he told the Senate Judiciary Committee on Monday.
He added that it is critical work that is part of the broad scope of the Department of Justice's responsibilities
"The attorney general takes an oath to support and defend the Constitution of the United States against all enemies, foreign and domestic. I am mindful of the tremendous responsibility that comes with this role," Garland said.
More on today's hearing: Garland is testifying before the Senate Judiciary Committee today, the first day of a two-day hearing where he's expected to face pointed questions from senators about politically charged investigations and the prosecution of the Jan. 6 riot.
CNN's Jeremy Herb contributed reporting to this post.
Watch:
2 hr 29 min ago
Senate Judiciary Chair would want Garland's DOJ to focus on Capitol riot probe, not Trump
From CNN's Aaron Pellish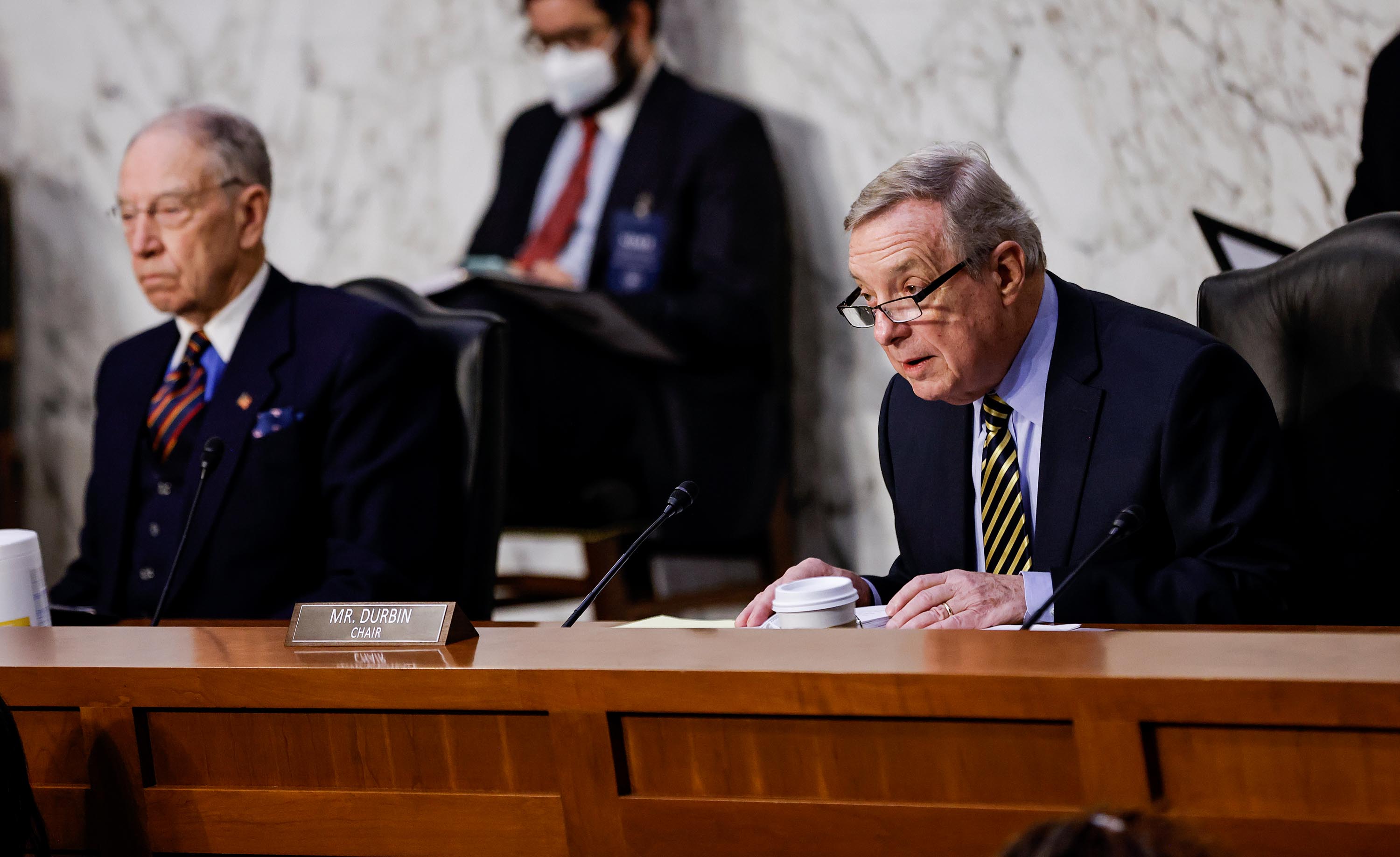 Senate Judiciary Chair Dick Durbin told reporters he thinks Judge Merrick Garland's first priority as attorney general should be the investigation into the Jan. 6 attack on the Capitol. 
In response to a question about the possibility of Garland investigating former President Trump, Durbin said "I think that will not be his priority."
"There are many people who want him to engage in a political agenda," Durbin said. "I think that will not be his priority. His priority is first, the investigation in the January 6th mob invasion of this Capitol."
During is opening statement during Garland's confirmation hearing, Durbin also stressed that the nominee would be tasked with investigating and prosecuting individuals responsible for the Capitol attack to "prevent future attacks driven by hate, inflammatory words, and bizarre conspiracy theories."