CNN  — 
About two weeks before the Biden administration approved the Willow oil drilling project – slated to extract millions of barrels of oil from Alaska's National Petroleum Reserve – Interior Secretary Deb Haaland held a meeting with key environmental advocates and Indigenous groups that opposed the project.
Those constituents prevailed on her to reject the massive ConocoPhillips drilling venture. Haaland explained that the agency had to make difficult choices, much to the dismay of the people she was meeting with.
Haaland did not explicitly say which way the department was leaning on the decision at the time. Sources in the meeting said that she got choked up about it, which they took as an indication that she was personally not in favor of the project.
"It was evident physically how hard this position was for her to be in," one source said.
After months of internal deliberations, the Biden administration officially greenlit the massive oil drilling project on Monday amid fierce pressure from the state's congressional delegation and major pushback from environmental groups, the latter of which will now attempt to stop the project in court.
On Monday night, Haaland posted a video on Twitter calling Willow a "difficult and complex issue that was inherited" from the Trump administration, which originally approved a larger version of it in 2020.
For weeks, White House press secretary Karine Jean-Pierre publicly insisted the final decision on Willow would be an "independent decision" made by Haaland and the Department of Interior. But multiple sources told CNN it was anything but.
Willow's approval was largely a political and legal decision, they suggested – not a decision about the environment or climate crisis.
"We realized some time ago this was going to be a decision that was ultimately made at the White House level – not only by senior leaders, but actually with the president's direct involvement," Republican Sen. Lisa Murkowski of Alaska told CNN Monday. "This was not something that was ultimately going to reside with the secretary of interior; I think a decision had been made some time ago that this was at the highest political level."
An administration official said that while the White House was consulted, met with Alaska lawmakers at their request and worked through legal constraints with the Interior Department, the ultimate decision was made by Interior.
While Haaland spoke extensively with Alaska Natives and other groups on both sides of the project and called lawmakers in the weekend leading up to the announcement, the secretary's name was conspicuously absent from the final document that solidified its approval.
Instead, Interior Deputy Secretary Tommy Beaudreau's name was on the document; Beaudreau acted as the point person on the project for Interior, according to Alaska lawmakers.
Willow "doesn't track with Haaland's leadership at all," one environmental advocate said. "I think it's an incredibly myopic mistake they've made for not letting her lead with her ferocity on everything."
For a president that campaigned on a pledge to ban new fossil fuel drilling on public land and has been hyper-focused on the effect of the climate crisis and the country's clean energy transition, sources said the Willow decision was fraught within the Biden administration – even within the White House itself.
"Were there people within the administration that were working to actively kill this? Absolutely, positively," Murkowski said. Up until the moment the decision was posted, "I think there were still folks working to kill this."
Around the same time Haaland was meeting with advocates, President Joe Biden and a small group of his senior advisers met with three members of the Alaska congressional delegation for over an hour, who all urged him to swiftly approve the project.
Speaking to reporters on Monday, Republican Sens. Murkowski and Dan Sullivan and Democratic Rep. Mary Peltola said they waged a multi-pronged pressure campaign during the meeting with Biden.
"We tag-teamed it really well," Sullivan said. "There was no issue we did not press on."
Sullivan brought a map showing the impacts of 45 executive orders Biden had already taken that Sullivan characterized as "locking up" Alaska's economic development.
Peltola told the president she believed Willow was an example of a managed, just transition from fossil fuel to clean energy, and that it would benefit impoverished communities on Alaska's North Slope. The lawmakers underscored the project could produce more than 180,000 barrels of oil per day, which could help keep Americans' gas prices low and reduce the country's dependence on foreign oil.
"I am very much supportive of transitioning away from fossil fuels and to alternative energies; that process is not going to happen in a snap," Peltola said. "And this project is a key piece of transitioning, at least for Alaska."
But of all the arguments they made, Murkowski said one that could have had the most impact was the fact that ConocoPhillips had existing leases in the area, presenting thorny legal challenges for the administration.
"There was no way around the fact that these were valid existing lease rights," Murkowski said. "The administration [was] going to have to back reality, whether they wanted to or not."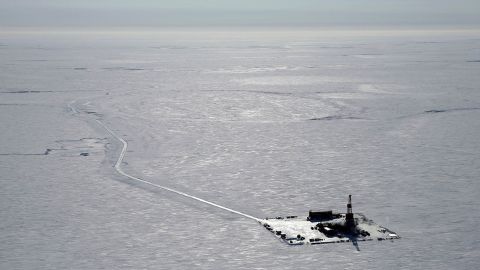 The administration felt its hands were tied, two government sources told CNN. The Biden administration determined that legally, courts wouldn't have allowed them to fully reject or drastically reduce the project, the sources said. If they had pursued those options, they could have faced steep fines in addition to legal action from ConocoPhillips.
Inside the White House and the administration, the feeling was that the Interior Department had been given a difficult choice; if they tried to stop ConocoPhillips, they could have lost in court, ended up with fines in the billions and the oil company would still have been allowed to drill, an administration official said. The prevailing sense was that they should instead try to shape the project in other ways by adding more protections to federal land and water in Alaska.
On Sunday and Monday, administration officials stressed additional actions they were taking to try to minimize the impact of the project, including moving to protect up to 16 million acres in the National Petroleum Reserve and off the northern Alaska coast from future fossil fuel drilling.
While the administration pointed out it had reduced the size of the project by nearly 70,000 acres, ConocoPhillips and the Alaska delegation still notched a major win by getting three drilling pads approved, meaning they can extract over 90% of the oil they sought.
The fight on Willow isn't over. All sides are now anticipating a legal challenge from environmental groups, which plan to sue to try to stop the project.
Earthjustice, an environmental law group, has been preparing a complaint against the project. Even as Earthjustice lawyers are examining the decision, they have already started laying out their legal rationale. The group's lawyers say the Biden administration's authority to protect surface resources on Alaska's public lands includes taking steps to reduce planet-warming carbon pollution – which Willow would ultimately add to.
Environmental groups and ConocoPhillips are each racing against the clock. Willow can only be built during the winter construction season, which depending on the weather could end sometime in April. If groups can get an injunction to stop or delay the project, it could delay construction for at least a year.
The administration will likely soon find itself forced to defend the Willow project in front of a judge, alongside ConocoPhillips and Alaska state lawyers, Murkowski told reporters.
"Even with the modifications, I think it's fair to say that the work from [Interior], working with the other agencies and Conoco – I'm told that everyone feels that we've got a very strong case that will withstand the legal challenge," Murkowski said. "But we've got to get moving to the court."
This story has been updated with additional information.
Clarification: This story has been updated to clarify that Haaland did not explicitly say in the meeting with environmental advocates whether she supported the Willow Project.