former President Donald trump looms large over the early stage of the campaign — among admirers and detractors alike." data-duration="03:00″ data-source-html="
– Source: CNN
" data-fave-thumbnails="{"big": { "uri": "https://media.cnn.com/api/v1/images/stellar/prod/230309162929-donald-trump-iowa-file.jpg?c=16×9&q=h_540,w_960,c_fill" }, "small": { "uri": "https://media.cnn.com/api/v1/images/stellar/prod/230309162929-donald-trump-iowa-file.jpg?c=16×9&q=h_540,w_960,c_fill" } }" data-vr-video data-show-html="
The Lead
" data-check-event-based-preview data-network-id data-details data-freewheel-lede="true">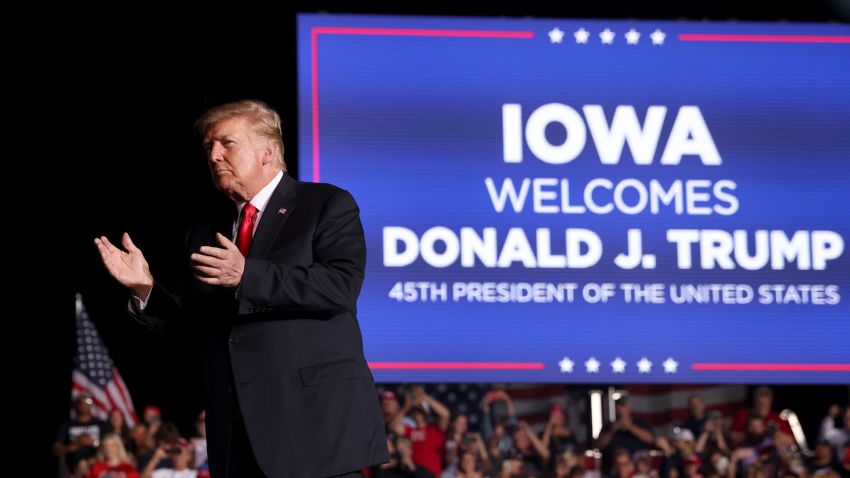 'Trump-fatigue' has set in among some Iowa Republicans
03:00 – Source: CNN
Urbandale, Iowa CNN  — 
The Republican presidential race is just getting started, but Kim Schmett said he and his fellow conservatives are spending more time thinking about the end of the 2024 campaign and trying to answer one question above all.
"We like him," Schmett said. "The question is can he win?"
He, of course, is former President Donald Trump, who was squarely at the center of the discussion among Republicans this week at a breakfast meeting of the Westside Conservative Club. Admiration for Trump's policies was clear in one conversation after another, but so was fatigue with the former president's personality – and intrigue about a certain Florida governor.
"We have to get a candidate who is going to be a winning presidential candidate," said Schmett, a longtime Republican activist. "That's not excluding President Trump – right now, he's closer to getting that majority in the party than anyone else – but it didn't work last time and we're concerned about that."
In less than a year, the Iowa caucuses will open the Republican presidential nominating season in a contest with a storied history of humbling frontrunners and elevating alternatives.
It's an open question how the 2024 race will be influenced by Trump, who finished second in the state in 2016 before going on to win it in the following two general elections. But for now, he looms large over the early stage of the campaign – among admirers and detractors alike.
"Donald Trump is the only one who can lead us back to where we were in 2020," said Terry Pearce, a retired general contractor who wore his red "Make America Great Again" hat to the gathering of conservatives at the Iowa Machine Shed Restaurant. "He's got the experience and he knows how to solve these problems that we're having right now, such as the war in Ukraine."
The Republican field is slowly taking shape here, with Florida Gov. Ron DeSantis traveling to Iowa for the first time Friday, followed by a Trump visit on Monday. Former South Carolina Gov. Nikki Haley is on a three-day tour this week.
"It's not a two-man race at all," said Mary Ann Hanusa, a former GOP state legislator from Council Bluffs who chatted with Haley after a stop Wednesday night in western Iowa. "I think it will be a wide-open field – not necessarily in terms of 15 or 16 people running – but I think everybody's got a chance at it."
At least a half-dozen other prospective contenders have also passed through the state, including former Vice President Mike Pence, former Secretary of State Mike Pompeo and South Carolina Sen. Tim Scott, with several others making inquiries to local Republican operatives and officials.
But many Republican voters, although happy to see other candidates visiting, suggested they had no plans of abandoning Trump.
"I especially like Ron DeSantis. I think he's a lot like Trump in a lot of ways," Pearce said. "However, I think his time is down the road a little bit yet. Donald Trump has the experience."
In conversations with more than two dozen voters, volunteer activists and officials this week in Iowa, DeSantis' name came up again and again as one of the alternatives to Trump.
A strong sense of curiosity is palpable for the Florida governor – whose policies have become a fixture of conservative television programming – but for most Republicans, it is far too soon to commit to someone – other than Trump.
"I'm open to other people, but I'm a Trump supporter," said Brad Boustead, who helps organize the bi-weekly conservative breakfast. "If he's not on the ballot, I'm going to write him in."
Kelley Koch leads the Republican Party in Dallas County, the fastest-growing in Iowa, and said interest in the presidential race is intensifying as voters search for a contrast to President Joe Biden. She strongly admires Trump, but intends to stay neutral, even as she braces for sharpening attacks among GOP rivals.
"We don't want two strong candidates to shred each other and duke it out in the boxing ring and see the best man standing," Koch said. "Hopefully grace, dignity, poise, smarts, calculation – because in the end we're all wanting to support the nominee."
David Oman, a Des Moines businessman and former party official, said Republicans needed a fresh start and it is time to move beyond Trump.
"Donald Trump's message is getting a little stale, a little old, looking backwards more than forwards," Oman said. "We feel like a new generation of leadership is good for the party. And if that's good for the party, it could be good for the country."
The Republican Party is at a crossroads nationally and across Iowa, with simmering tensions among those eager to turn the page from Trump and supporters who are unwavering stalwarts of the former president.
Bob Vander Plaats, president of an influential Christian group, The Family Leader, said he senses a strong willingness among his network to find an alternative to Trump. The Iowa caucuses could be even more important in the Republican nominating process than in previous campaigns, he said, with a large Republican field playing to Trump's benefit.
"If it stays this big, Trump will be your nominee. If Trump wins in Iowa, I don't see anybody stopping him after that," Vander Plaats said. "But there is an appetite for somebody other than Trump. If you're going to beat him, it has to get to one-on-one or two-on-one."