1 hr 4 min ago
Warnock to Georgia Tech students: "It all comes down to this. We need you to show up"
From CNN's Pamela Kirkland and Eva McKend in Atlanta
At his second event of the day, incumbent Democratic Sen. Raphael Warnock implored Georgia Tech students in Atlanta to spread the word about getting their friends and family out to vote — and vote themselves if they hadn't already.
"I want you to know that your assignment, if you've already voted, your assignment is not yet done. Your assignment is to get some more your friends," he said. "Call Lottie, Dottie, and everybody. Tell them it's time to vote."
Warnock joked that he wasn't "worried about anybody in the room," saying he knows many of those who came to hear him speak plan to vote or already have voted. He added that no movement in the US has happened without "the energy and enthusiasm from young people." He also said he had heard from a number of college students and their parents, thanking him for suing to allow for counties to allow Saturday early voting.
"It all comes down to this. We need you to show up," Warnock said.
Asked by CNN why he was putting such an emphasis on younger voters, Warnock answered, "Young people have little tolerance for inauthenticity. They want to know that you mean what you say and they want to see you're showing up and they have a way of holding us all accountable."
In his pitch to get the young electorate to the polls, the incumbent senator was introduced by incoming congressman Maxwell Frost, the first Gen-Z member of Congress.
"We know that young people don't make up the biggest voting bloc right now, but we are the bloc that matters," Frost said.
Warnock narrowly leads his Republican opponent Herschel Walker among likely runoff voters in the latest CNN polling, but he says this race isn't over.
"There is still a path for Herschel Walker to win this seat," Warnock said. He went on to say that event though this election won't determine who controls the Senate, it's still of great importance to voters here.
"This is a Georgia seat. It matters to Georgians. This is about who is going to represent 11 million people for six years. I think that matters," he said.
2 hr 33 min ago
What we know about Georgia voters ahead of tomorrow's Senate runoff
From CNN's Christopher Hickey and Nicholas Anastacio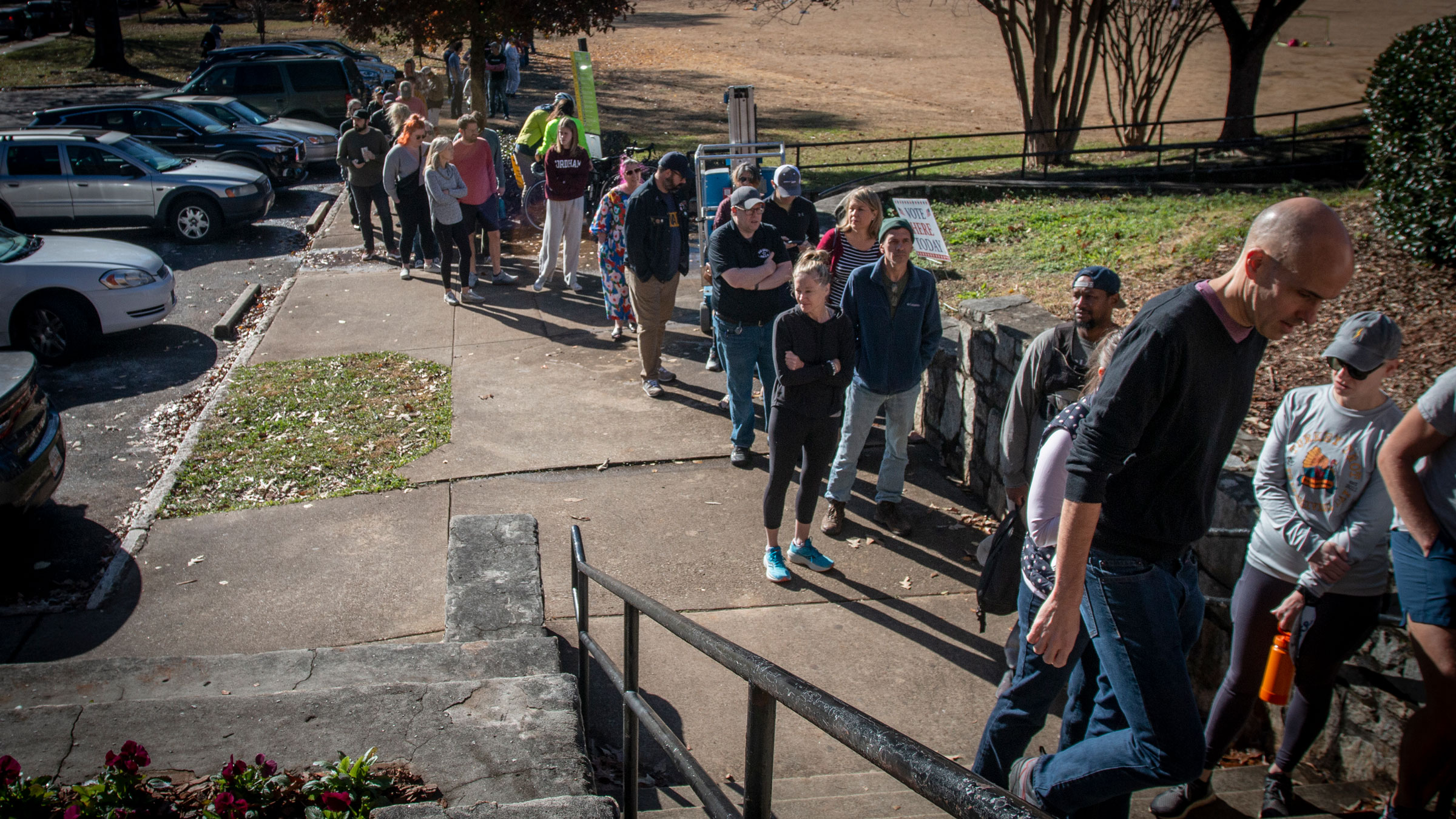 For the past two years, the eyes of the political world keep turning back to Georgia.
And for the second time in two years, voters in this key state will choose their senator in a runoff election, which this time will determine whether Democrats expand on their 50-50 majority.
Early data shows voters are not tired of their civic duty:
Heading into Tuesday's Senate runoff between Democratic Sen. Raphael Warnock and Republican challenger Herschel Walker, more than 1.8 million Georgians have voted early after only about a week. Black voters have made up nearly a third of the early electorate so far, while more than a quarter of voters so far are under 50.

About 300,000 Georgians have voted early each day this week – setting records for the largest single-day early voting turnout in state history. Early voting for the runoff ended on Friday.
Georgians had only five mandatory days of early voting this year, compared with three weeks during the last runoff and for last month's general election. All but 22 counties chose not to allow early voting last Saturday and Sunday as well.
Overall, 2022 midterm turnout was slightly up from the 2018 midterms but down more than 21% from the 2020 general election.
While midterm voters typically skew older and Whiter, turnout data from the Georgia secretary of state's office shows that in 2022, midterm voters in Georgia were older and Whiter than they have been in the past four elections, including the 2018 midterms. Those voters tend to lean Republican. The fact that Warnock not only forced a runoff but also narrowly led Walker in the first round of voting last month suggests he had the support of independent and some Republican voters, political scientists told CNN.
"The key to Warnock was that according to the exit polls, he won the independent vote by a pretty big margin," said Alan Abramowitz, a political scientist at Emory University in Atlanta. "And that was enough to pull him through. In the runoff, I think he'll need to do that as well."
CNN exit polls of Georgia voters in the November election show that the share of independent voters shrank 4 percentage points compared with 2020. However, independent voters were 24% of the electorate, which Warnock won by 11 points, according to CNN exit polls.
2 hr 33 min ago
Walker implores Georgians to vote: "You know you got a champion in Herschel Walker"
From CNN's Jeff Zeleny in Ellijay, Georgia
At his third campaign stop of the day, Republican Senate nominee Herschel Walker spoke for about two minutes as he implored voters to have his back in Tuesday's runoff election against Democratic Sen. Raphael Warnock.
"Get out and vote! Tomorrow is the big day," Walker told a crowd Monday of cheering supporters in northern Georgia. "Who has voted already? And who all has to vote tomorrow?"
His remarks were short, and he repeatedly asked people to help get others to the polls on Tuesday. He spent far more time taking pictures individually with his admirers who gathered at the Engelheim Vineyards outside Ellijay, a town near the beginning of the Appalachian Trail. 
"You know you got a champion in Herschel Walker," he said. "You always have a champion in me because I love y'all and we are going to win this election and get Georgia back together." 
Walker is scheduled to make five stops today, focusing on rural Republican-rich counties, before his final rally in Atlanta's northern suburbs. It's the biggest burst of campaigning, holding nearly as many events in the final day as he has often held in a week.
3 hr 45 min ago
A second runoff victory for Warnock could once again hinge on Black voter turnout
From CNN's Nicquel Terry Ellis and Brandon Tensley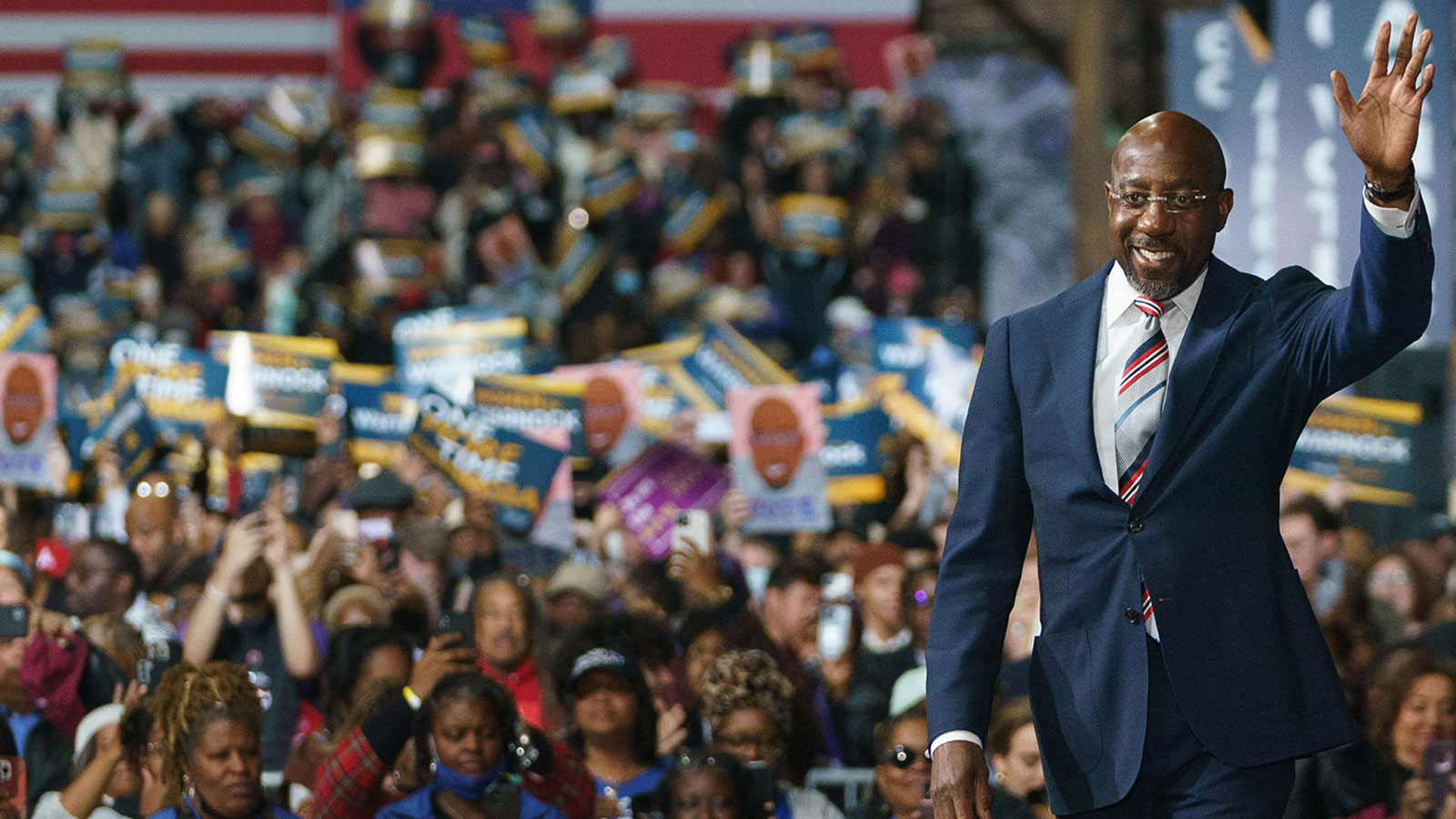 Former UN Ambassador Andrew Young rode his scooter alongside Democratic Sen. Raphael Warnock, Martin Luther King III and a fervent crowd of marchers on a recent Sunday through a southwest Atlanta neighborhood.
The group stopped at an early polling location to vote, forming a line with some waiting as long as one hour to cast their ballots.
At the age of 90, Young says he is selective about public appearances but felt the "Souls to the Polls" event was one where he could motivate Black voters in Tuesday's hotly contested US Senate runoff between Warnock and Republican challenger Herschel Walker — a historic matchup between two Black men.
Community leaders and political observers say the Black vote has consistently played a pivotal role in high-stakes races for Democrats, including in 2021, when Warnock defeated then-Sen. Kelly Loeffler in a runoff.
A key demographic for Democrats: Black voters likely to cast a ballot are near unanimous in their support for the Democrat (96% Warnock to 3% Walker), according to a CNN poll released last week that showed Warnock with a narrow lead.
A second runoff victory for Warnock could once again hinge on Black voter turnout in a consequential race. If Warnock wins, it would give Democrats a clean Senate majority — one that doesn't rely on Vice President Kamala Harris' tie-breaking vote and allows Majority Leader Chuck Schumer more control of key committees and some slack in potentially divisive judicial and administrative confirmation fights.
Voting, Young said, is the "path to prosperity" for the Black community. He noted that Atlanta's mass transit system and economic growth have been made possible by voters.
"Where we have voted we have prospered," Young said.
The rally led by Young, King and Warnock seems to have set the tone for many Black voters in Georgia. Early voting surged across the state last week with long lines reported across the greater Atlanta area. 
Early voting numbers look promising: As of Sunday, more than 1.85 million votes had already been cast, with Black voters accounting for nearly 32% of the turnout, according to the Georgia Secretary of State's Office. The early voting period, which was significantly condensed from 2021, ended on Friday.
Billy Honor, director of organizing for the New Georgia Project Action Fund, said the Black turnout so far looks promising for Democrats.
"When we get Black voter turnout in any election statewide that's between 31 and 33%, that's usually good for Democrats," Honor said. "If it's between 27 and 30%, that's usually good for Republicans."
Honor added: "This has an impact on elections because we know that if you're a Democratic candidate, the coalition you have to put together is a certain amount of college-educated White folks, a certain amount of women overall, as many young people as you can get to turn out – and Black voters. That's the coalition. (Former president) Barack Obama was able to smash that coalition in 2008 in ways we hadn't seen."
Read more here.
4 hr 41 min ago
How 2022 Georgia midterm voters compare with the state's previous elections 
From CNN's Christopher Hickey and Nicholas Anastacio
A slightly larger share of White voters and smaller shares of Black, Asian and Latino voters cast their ballots in 2022 compared with Georgia's previous three midterm elections and runoffs. The share of Black voters was the lowest of any Georgia election since the 2018 midterms.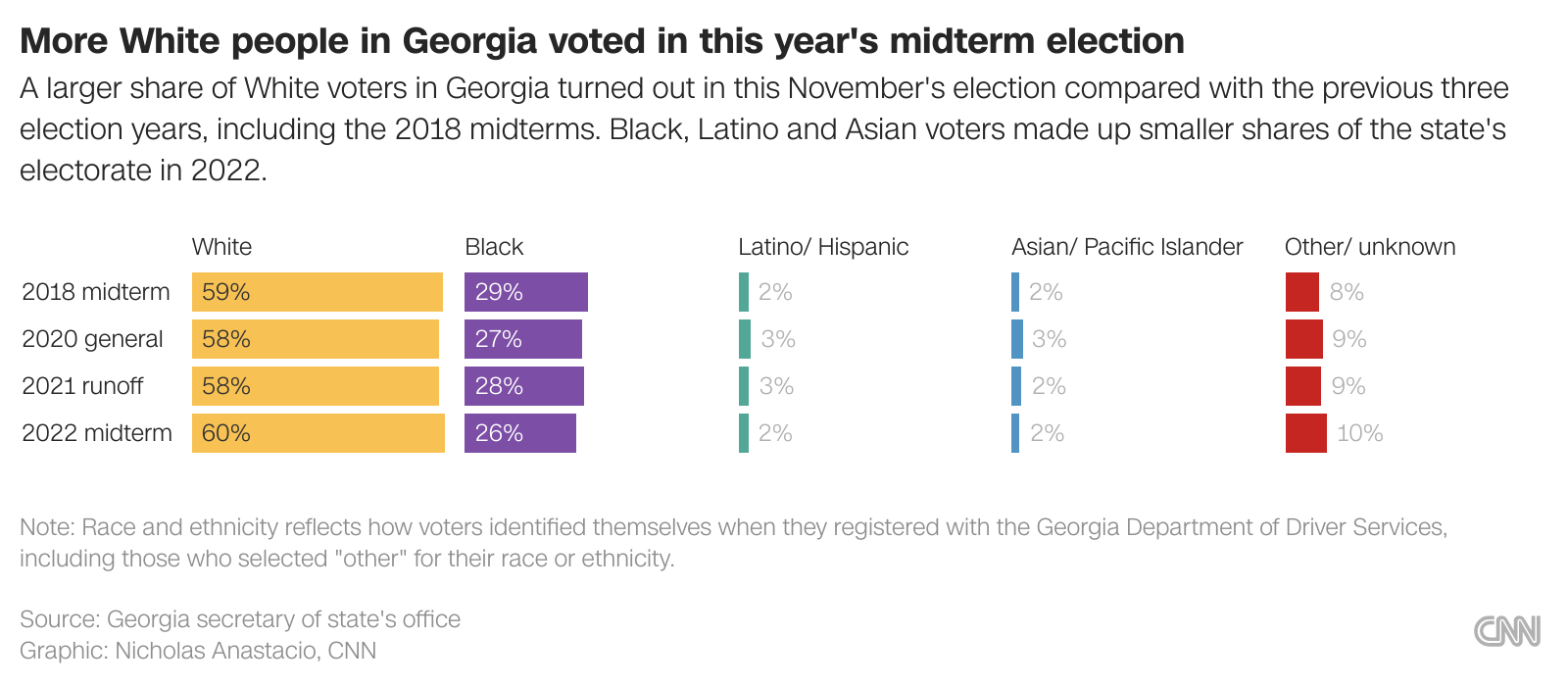 A CNN exit poll from 2021 showed that Democratic Sen. Raphael Warnock won 93% of Black voters in Georgia's last runoff election, a 6-point improvement from the general election held in November 2020.
Black voters' share of Georgia's electorate increased in the 2021 runoff election when Warnock faced Sen. Kelly Loeffler after neither took a majority of the vote in the 2020 general election. Black voters made up 28% of the Georgia electorate in that runoff, slightly higher than their share in the 2020 general election. Black voter turnout was highest when Stacey Abrams, a Democrat, first ran against now-Gov. Brian Kemp, a Republican, for governor in 2018.
Voters in the 2022 midterms were also older. Georgians over 50 represented 59% of the electorate this year, a new high since 2018. The share of voters under 30, meanwhile, shrank to 11%, its lowest point since 2018.

Exit polls show Warnock was able this year to sustain the improvements he made in the 2021 runoff election with the youngest voters and those in urban areas. He won 68% of the 18-24 vote in the 2021 runoff – a 16-point improvement over Democrats in the 2020 general election. He also won the support of 67% of urban voters in the 2021 runoff, 4 points more than Democrats' share in 2020. Warnock won 69% of 18-24 year-olds and 68% of urban voters in last month's general election.
Last month's election was unusual in that more than 17,000 Georgians skipped the Senate race at the top of the ballot but did vote for governor.
"We aren't entirely sure, but it is highly likely that those voters are probably Republicans," said Amy Steigerwalt, a political science professor at Georgia State University.
There were also Kemp voters this year who crossed the aisle to vote for Warnock and then voted for the rest of the Republican ticket, Steigerwalt said. Kemp received 2.1 million votes, roughly 200,000 more than Republican challenger Herschel Walker.
The big question for this runoff is how Walker does when he runs on his own and without a chance of Republicans regaining control of the Senate, Abramowitz told CNN.
5 hr 5 min ago
Trump will host virtual rally for Walker on eve of Senate runoff
From CNN's Gabby Orr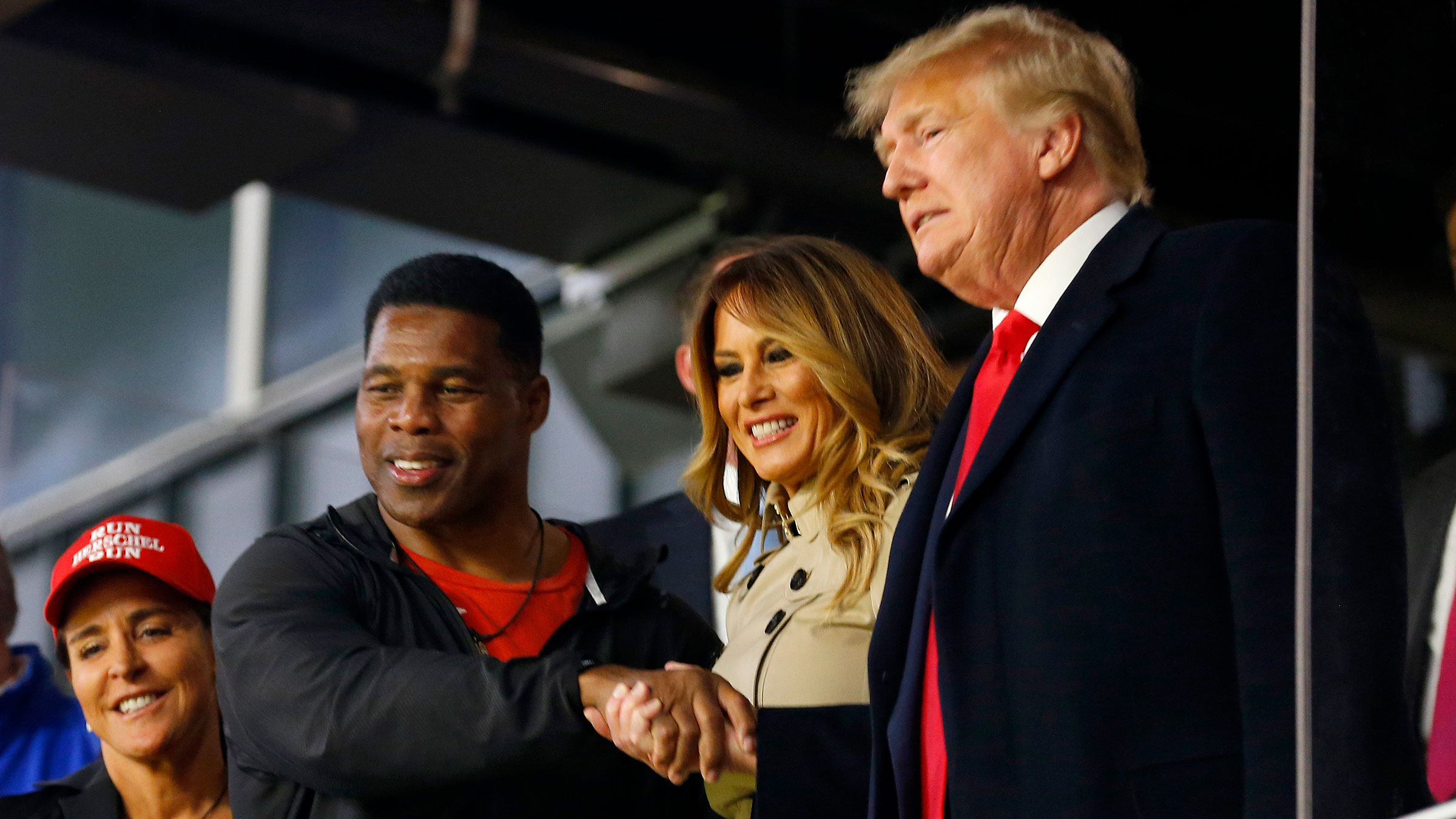 Former President Donald Trump will host a "tele-rally" for GOP candidate Herschel Walker on the eve of the Georgia Republican's runoff contest, according to a source involved in the planning.
The virtual rally, something Trump previously did for other 2022 midterm candidates, comes as the 2024 contender has kept his physical distance from Georgia in the lead up to the Dec. 6 runoff contest. Advisers to both Trump and Walker believed it would do more harm than good for the former president to hit the campaign trail for Walker, the same source said. 
Trump also did not campaign for Walker ahead of the Nov. 8 midterm election, when the Republican Senate hopeful and his Democratic opponent Sen. Raphael Warnock both failed to cross the 50% threshold needed to avoid a runoff.
6 hr 18 min ago
We're one day away from the Georgia Senate runoff — here's what you need to know about the race
From CNN's Melissa Holzberg DePalo and Ethan Cohen
Georgia will host a Senate runoff election on Dec. 6 between Democratic Sen. Raphael Warnock and Republican Senate nominee Herschel Walker, a former football player.
Warnock and Walker first faced each other in the Nov. 8 general election, but neither of them received more than 50% of the vote, forcing a runoff election.
The candidates: This is Warnock's fourth campaign in two years. He first ran in 2020 against appointed GOP Sen. Kelly Loeffler to finish former Sen. Johnny Isakson's term. That race went to a runoff election in Jan. 2021 which Warnock won. Warnock and Democratic Georgia Sen. Jon Ossoff's wins gave Democrats control of the Senate in 2021.
Republican football player Herschel Walker easily won the GOP nomination earlier this year. While Donald Trump's endorsement helped Walker secure the nomination, the former president did not campaign for the former football star in the runoff amid concerns a visit could turn off independents and suburban women, critical voting blocs in the state.
What votes looked like on Nov. 8: In the November general election, Warnock led with 49.4% of the vote and Walker had 48.5%. The libertarian candidate, Chase Oliver, carried 2.1% of the vote.
Poll and voting information: Any registered voter can vote by mail or vote early in person. Voters did not have to participate in the November general election to participate in the runoff election. Polls open Tuesday at 7 a.m. ET and close at 7 p.m. ET. The last day to vote early was Friday.
6 hr 39 min ago
Analysis: How Georgia's looming Senate runoff election evokes America's segregationist history
From CNN's Brandon Tensley
Another year, another Georgia Senate race that's headed to a runoff election.
Neither Democratic Sen. Raphael Warnock nor his Republican challenger Herschel Walker, a former football star, crossed the 50% threshold necessary to win outright in November. In consequence, they must battle at the polls on Tuesday.
But like last year's races, the upcoming contest has sparked conversations about the troubling history of the runoff system, which some states began using in the final decades of the 19th century to quash Black political power.
Speaking with CNN, Gerald Griggs, the president of the Georgia NAACP, made plain some of his concerns about the state of voting rights ahead of next month's runoff election.
In particular, he criticized SB 202, the wide-ranging elections law Georgia Republican Gov. Brian Kemp signed last year, after Democrats, propelled by Black voters, triumphed in both of the state's US Senate runoff elections.
Racial justice advocates condemned the law, saying that certain elements of it target Black voters.
"(Georgia Republicans) shrunk the time for runoff campaigns (from nine weeks to four weeks). And voter registration for the runoff ended the day before the election," Griggs explained. "These are attempts to condense the amount of time people have to vote, and thwart mobilization, especially mobilization of African American voters."
He added, "Politicians need to speak to voters – not try to suppress them."
To give a little bit more historical context to the runoff system, I spoke with Cal Jillson, a political science professor at Southern Methodist University, in Texas. Our conversation has been lightly edited for length and clarity.
What are the origins of runoff elections? The origins of runoff elections go back to the 19th century, when, particularly, they were used in the South. The idea was that the South was only one party, the Democratic Party. There was no effective, competitive second party.
Most of the states in the South decided that democracy among White men required having a majority to win an election. And since you didn't have a natural two-party system that would produce a winner with 50%-plus-one of the vote, they had a first election in the Democratic primary and then a runoff if no one got 50% or more, so that the person who took office would've gotten a majority vote in that second election.
Read the full analysis here.
6 hr 45 min ago
CNN's latest poll shows Warnock holds a narrow edge over Walker in final undecided Senate contest
From CNN's Jennifer Agiesta and Ariel Edwards-Levy
In the final undecided Senate contest of 2022, Democratic Sen. Raphael Warnock of Georgia holds a narrow lead over Republican challenger Herschel Walker among those likely to vote in a runoff election Tuesday, according to a new CNN Poll conducted by SSRS.
The survey shows that Walker faces widespread questions about his honesty and suffers from a negative favorability rating, while nearly half of those who back him say their vote is more about opposition to Warnock than support for Walker. Voters' modestly more positive views of Warnock and a firmly committed base of supporters appear to boost the incumbent in the new poll.
Overall, 52% of likely voters say they plan to support Warnock in Tuesday's runoff and 48% pick Walker. Partisans on both sides are deeply entrenched, with nearly all Democrats (99%) behind Warnock and 95% of Republicans backing Walker. Independents break in Warnock's favor, 61% to 36%, but make up a relatively small slice of likely voters, 17%, compared with 24% in a CNN exit poll of voters in the first round of this contest last month. (Warnock finished narrowly ahead of Walker in November but without the majority of the vote needed to avoid a runoff.)
White voters remain broadly behind Walker ahead of Tuesday's election: 69% support him, with 30% backing Warnock, in the new poll, while Black voters likely to cast a ballot next week are near unanimous in their support for the Democrat (96% Warnock to 3% Walker). Those divides are similar to the racial split in the 2021 runoff during which Warnock initially won his seat, when 93% of Black voters backed him while 71% of White voters favored his Republican opponent, then-Sen. Kelly Loeffler, according to CNN's exit poll.
There is also a wide age gap in the upcoming contest, with voters under 35 sharply behind Warnock (74% to 25%), while those 65 or older break in Walker's favor by 26 points (63% to 37%). Younger White voters are far more closely divided than older White voters (52% Walker to 48% Warnock among White voters younger than 45, while 75% of White voters age 45 or older say they back Walker). Support for Warnock is about the same among younger and older Black voters.
White voters without college degrees are heavily behind Walker – 83% support him – while White voters with four-year degrees are closely divided, 51% Walker to 47% Warnock. White women with degrees tilt toward Warnock (53% Warnock to 44% for Walker) while White men with degrees break in Walker's favor (58% Walker to 42% Warnock).
Read more about the poll here.