1 min ago
Nevada's Clark County registrar says there are more than 50,000 ballots that still need to be counted
From CNN's Christina Maxouris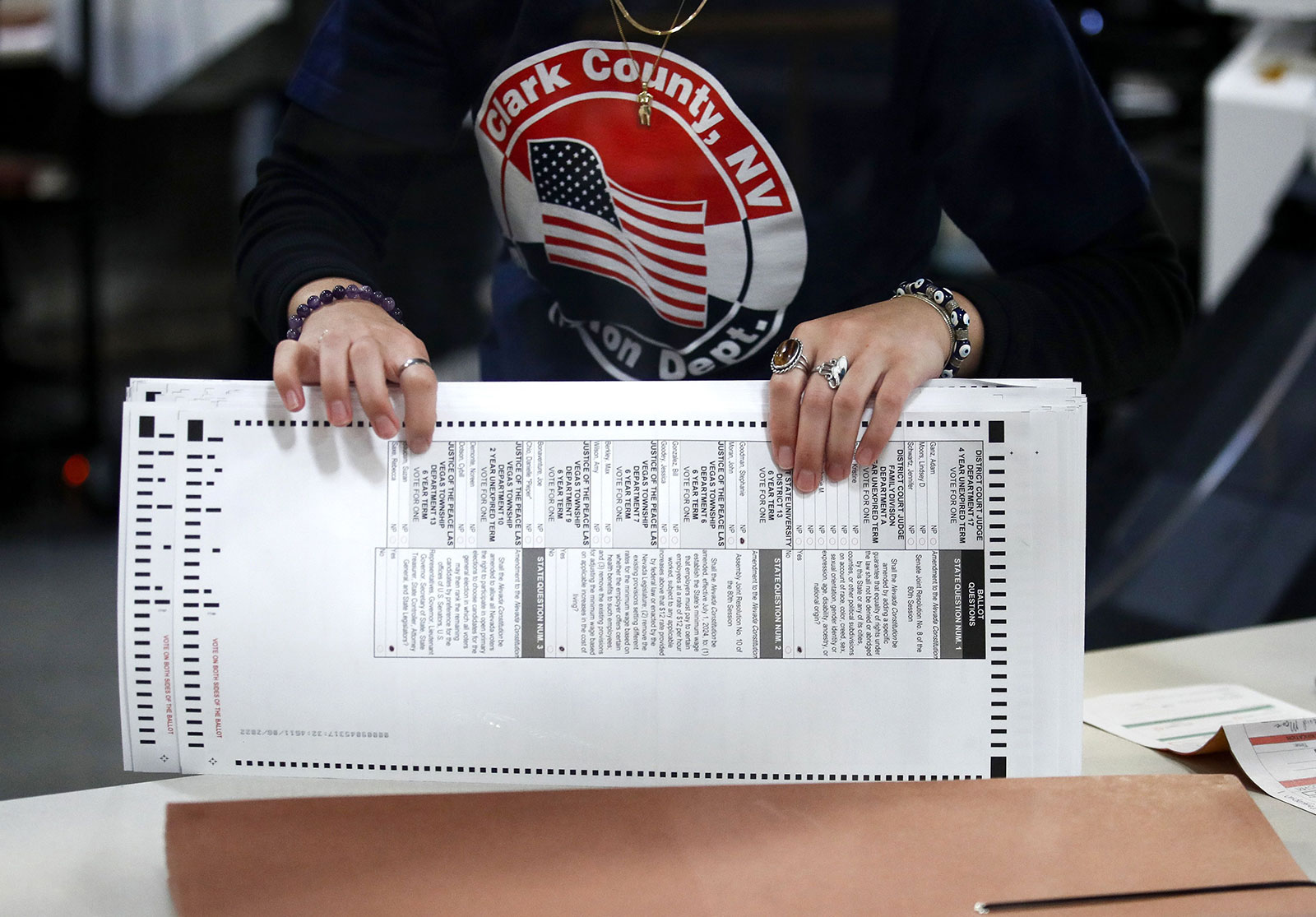 There are more than 50,000 ballots that need to be counted in Clark County, Nevada, which are in "various stages in the process of validation," county registrar Joe Gloria said in a Thursday update.
Clark County is home to Las Vegas, is the most populous county in the state, and contains the bulk of the statewide electorate.
"Of all the ballots that we received, whether it was the US Postal (Service) pickup yesterday or the mail ballot dropoffs that we pulled from all the boxes for Election Day, we currently have approximately 50,000 ballots that still need to be counted," Gloria said.  
A day earlier, Gloria said county officials received more than 12,700 ballots from the USPS on Wednesday and collected roughly 56,900 mail ballots from Election Day drop boxes. 
On Thursday, election officials received another 626 ballots from the postal service, Gloria said. The county will continue to receive ballots from the postal service through Saturday, as long as they were postmarked by Nov. 8. 
Election officials will continue "curing" mail ballots through Monday. "Curing" is when election officials contact voters to fix mistakes on their ballots, like if information is missing.
On Thursday, Gloria said there were more than 7,100 that have not been "cured."
There are also roughly 5,555 provisional ballots from in-person Election Day voting in Clark County, Gloria has said. Officials won't be able to count those ballots until next week.
Gloria expects the majority of the county's ballots to be reported on by Saturday, with the exception of ballots that need to be cured and provisional ballots.
"People have been processing ballots here in Clark County for about 18 days. We're working all of the hours that we can work," he added. "We can't move any faster than what the law currently allows us to do."
Clark County officials told CNN's Gary Tuchman that they do expect a large update in vote totals tonight. They did not provide a time for the update, however. 
What is at stake in Nevada: A crucial Senate race between Republican nominee Adam Laxalt and Democratic Sen. Catherine Cortez Masto has not been called. The contest could help determine which party controls the Senate.
15 min ago
Arizona's Maricopa County will release more election results at 10 p.m. ET tonight
From CNN's Jason Kravarik and Jeremy Herb
Maricopa County — the most populous county in Arizona — said it will release more election results at 10 p.m. ET tonight. 
County officials are holding a news conference at 6 p,m. ET, but results are not expected to be released then.
Why is the vote count taking so long? The biggest reason for the delay is the way that each state handles the ballots outside of those cast at polling places on Election Day, including both early votes and mail-in ballots.
In Arizona, there are still roughly 600,000 ballots to be counted. The majority of those, about 400,000 ballots, are in Maricopa County.
Of those ballots, about 290,000 were dropped off at vote centers on Election Day, Bill Gates, the Maricopa County Board of Supervisors chairman, said on CNN Thursday. Those ballots have to be processed before they can be counted, leading to a lag time in tabulating.
In addition, Maricopa County has about 17,000 ballots that were attempted to be counted on Election Day but were not read by the tabulator because of a printer error, and those ballots still need to be counted, too.
Why Arizona is key: The race between Democratic Sen. Mark Kelly and Republican nominee Blake Masters — one of the contests that could help determine which party controls the Senate — is yet to be called in the state.
22 min ago
Nevada's Clark County rejects false claim from Trump: "Obviously he's misinformed"
From CNN's Daniel Dale
As Clark County, Nevada, continued to count votes on Thursday, the county registrar rejected former President Donald Trump's latest effort to raise suspicions about its elections — saying Trump is obviously "misinformed."
Trump falsely claimed on his social media platform on Thursday that Clark County "has a corrupt voting system," warning Republican Senate candidate Adam Laxalt to "be careful."
There is simply no basis for Trump's claim. And the claim followed Trump's numerous false allegations about the 2020 election in Clark County, a Democratic stronghold that is home to Las Vegas.
On Thursday, Clark County Registrar of Voters Joe Gloria told reporters: "Obviously he's misinformed, two years later, about the law and our election processes which ensure the integrity of elections in Clark County and the state."
Gloria explained that state law requires counties to receive mail-in ballots until Saturday (if they were postmarked by Election Day) and gives voters until Monday to fix issues with their signatures. He also noted that the county isn't yet allowed to process provisional ballots.
"My staff has been working very diligently, we've been here from early in the morning until late at night, we've been fully staffed, we're working as hard as we possibly can in order to get the ballots counted," Gloria said. "But whether we like it or not, there's no way that we can move any faster than we're currently moving."
Nevada has tight races for the US Senate, governor and other offices.
32 min ago
"A strong night for Democrats": Biden touts midterm results and the future of democracy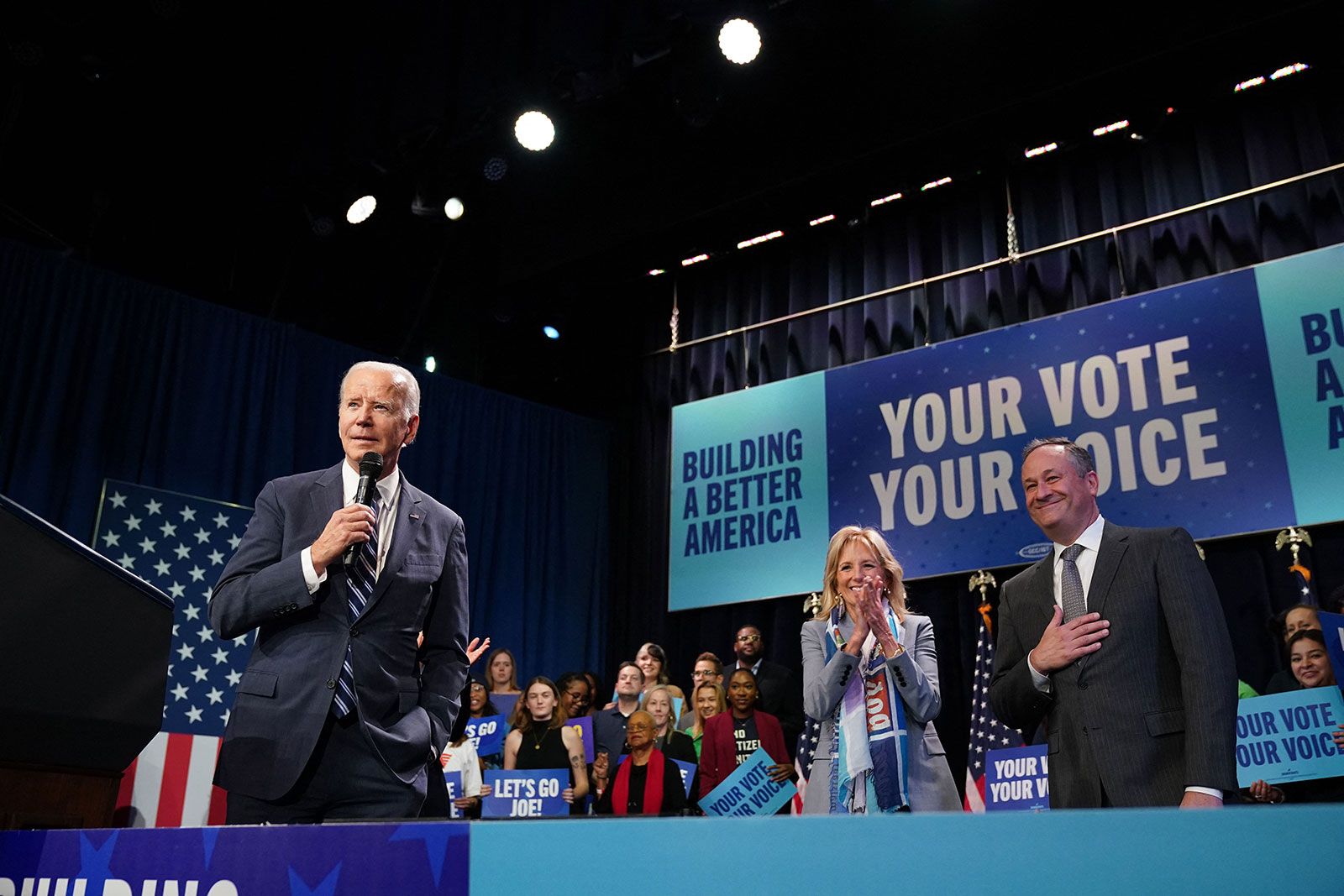 In remarks Thursday at a DNC event, President Joe Biden reiterated that Election Day was a "good day for America" and "a strong night for Democrats."
"Tuesday was a good day for America, a good day for democracy. And it was a strong night for Democrats," Biden said, speaking to a room of DNC campaign workers and volunteers in Washington, DC. He thanked them for believing in the country and for fighting to make sure there was a "free and fair election."
CNN is yet to project which party will win the House and the Senate as several key races are too early to call.
The president noted polls predicting big losses for his party before the election, saying, "folks that didn't happen," touting the success of Democrats holding on to House seats and winning governorships across the country.
"We did beat the odds," the president said.
"It was the first national election since Jan. 6 and there were a lot of concerns about if democracy would meet the test — it did, it did, it did," he said referring to the 2021 insurrection at the Capitol. The future of democracy itself was a common message for Biden on the campaign trail ahead of Election Day.
Vice President Kamala Harris, who was also speaking at the event, echoed the president's message, saying "as we gather here votes are still being counted, but it is clear your work sent a message to the entire world: democracy is intact."
She said some Democrats and some Republicans won and "that's what happens" when millions of people vote in "free and fair elections"
The vice president said voters across our country knew what they stood for, so they knew what to fight for, pointing to states where voters approved ballot measures aimed at protecting abortion.
Harris argued that people do not need to abandon their beliefs to agree that "the government should not be telling a woman what to do with her body," she said.
"This president understands democracy is only as strong as our willingness to fight for it," Harris said, adding that what they saw this week is that "when we fight, we win."
10 min ago
Arizona's Coconino County has less than 15,000 ballots left to be counted
From CNN's Annie Grayer
Coconino County, Arizona, has about 14,896 ballots left to process and count, county recorder Patty Hansen told CNN Thursday. Coconino is in the north-central part of Arizona.
Here's how that breaks down:
Early ballots left to process: 12,630
Provisional ballots left to process: 1,000
Ballots that have been processed and are ready for tabulation: 1,266
Why Arizona is key: The race between Democratic Sen. Mark Kelly an Republican nominee Blake Masters — which could help determine the balance of the Senate — is yet to be called in Arizona. It is also too early to call the gubernatorial race between Democratic nominee Katie Hobbs and Republican nominee Kari Lake.
53 min ago
GOP Rep. Bob Good: McCarthy "has not done anything to earn my vote"
From CNN's Melanie Zanona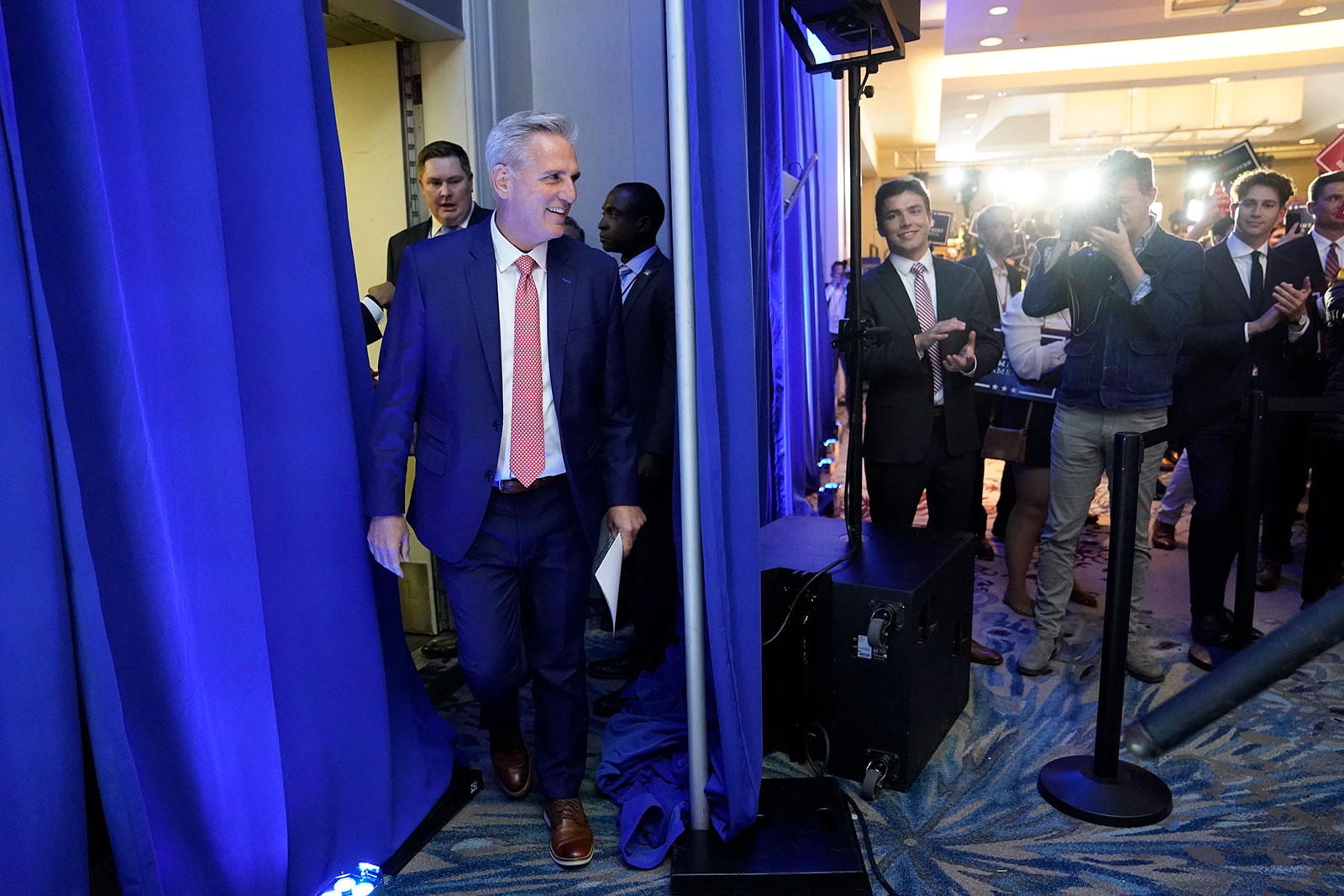 Rep. Bob Good, a member of the hardline House Freedom Caucus, told reporters that House GOP Leader Kevin McCarthy "has not done anything to earn my vote" for speaker.
The Virginia Republican also predicted that "there will be a challenge to (McCarthy) as a speaker candidate," a possibility that CNN first reported was under consideration by the group.
Such a challenge would be more of a protest candidate than a serious one. It would be an attempt to show McCarthy during next week's internal GOP leadership elections that he doesn't have the floor votes for speaker, in hopes of forcing him to the negotiating table.
Meanwhile, Rep. Chip Roy of Texas told reporters that "no one currently has 218" votes for speaker, which is the magic number McCarthy would need to secure the speaker's gavel on the House floor in January.
The House Freedom Caucus has been meeting all day for its new member orientation, where their strategy in the leadership fight has come up, according to a source familiar with the conversations.
McCarthy has spent the last two days working the phones and has been hearing out potential holdouts and critics, but so far not making promises or caving into their hardline demands, sources said.
2 hr 6 min ago
Georgia secretary of state chooses his own race for mandatory statewide audit
From CNN's Jason Morris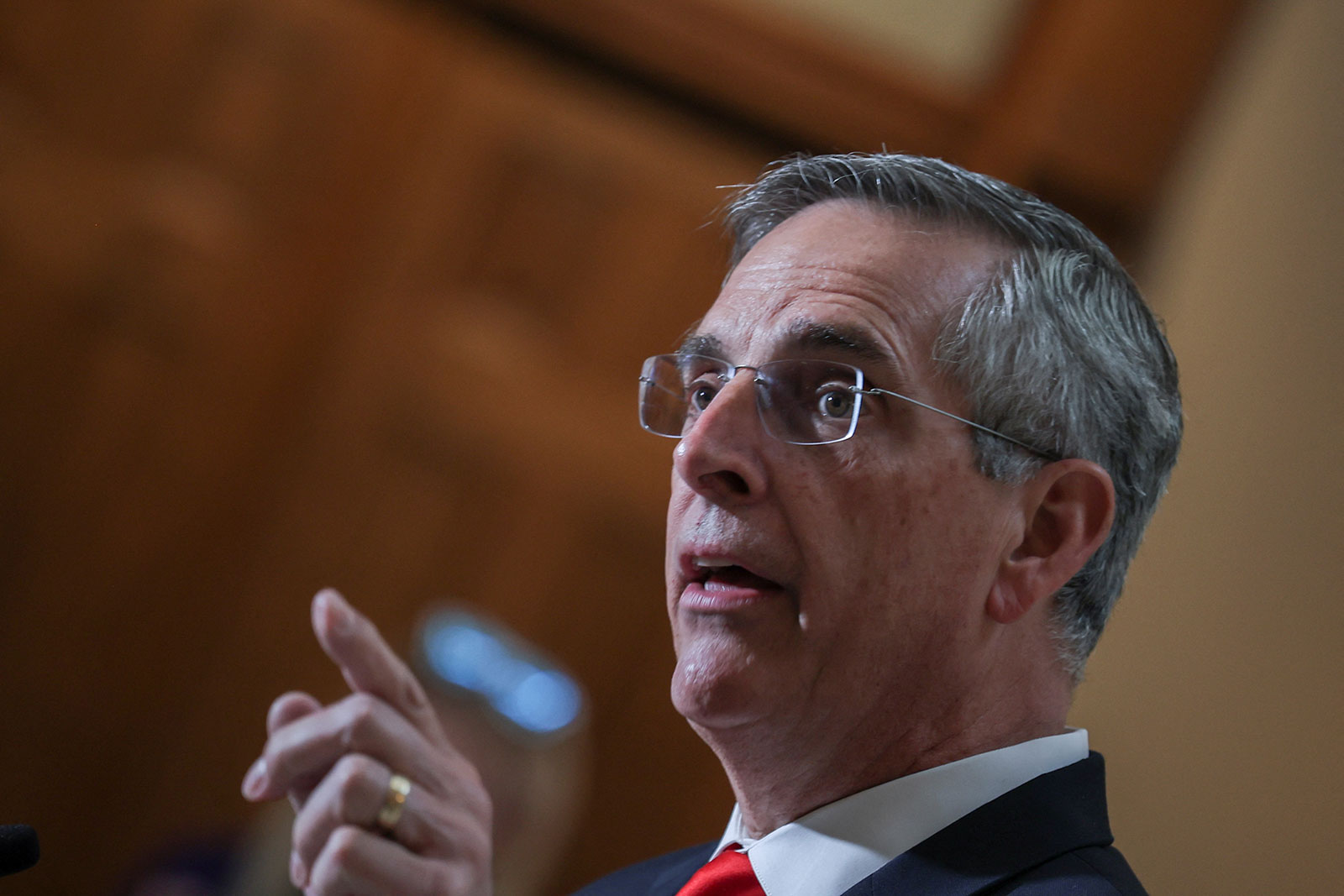 Georgia Secretary of State Brad Raffensperger picked his own race as the focus of a required statewide audit for 2022 election results.
Raffensperger, a Republican who refused former President Donald Trump's request to "find" votes needed to overturn his 2020 loss in the Peach State, defeated the Democratic nominee this week.
A Georgia law passed in 2019 requires the secretary of state to choose one race every two years to conduct a risk-limiting audit of the results. 
Georgia election officials estimate that 5 to 7% of ballots from the secretary of state race will be recounted for the audit. They say the results will prove "statistical confidence" that the election's outcome is correct.  
How the audit works: Georgia's 159 counties will be required to conduct a hand recount of a batch of results from the race.
On Nov. 16, election officials will roll a twenty-sided dice to determine which random batches of ballots will be counted and then each county election office will start their hand-counting on Nov. 17. They are expected to share the results by the following day.     
Blake Evans, the elections director with the secretary of state's office, will spearhead the audit.
"I think it's a very honorable thing for the secretary to choose his own contest, because we have a high degree of confidence in it," Evans said during a Thursday press conference. "We want folks to know that we are trustworthy."
State leaders said they also chose the race to try to ease the burden on busy county election workers: The large margin of victory for Raffensperger makes the audit easier to conduct. That's important, given the impending Senate runoff that will keep them busy.
Raffensperger's only function in the audit is to select the race which will be examined, according to his office.
2 hr 15 min ago
Warnock kicks off runoff campaign: "Are you ready to do this one more time?"
From CNN's Dan Merica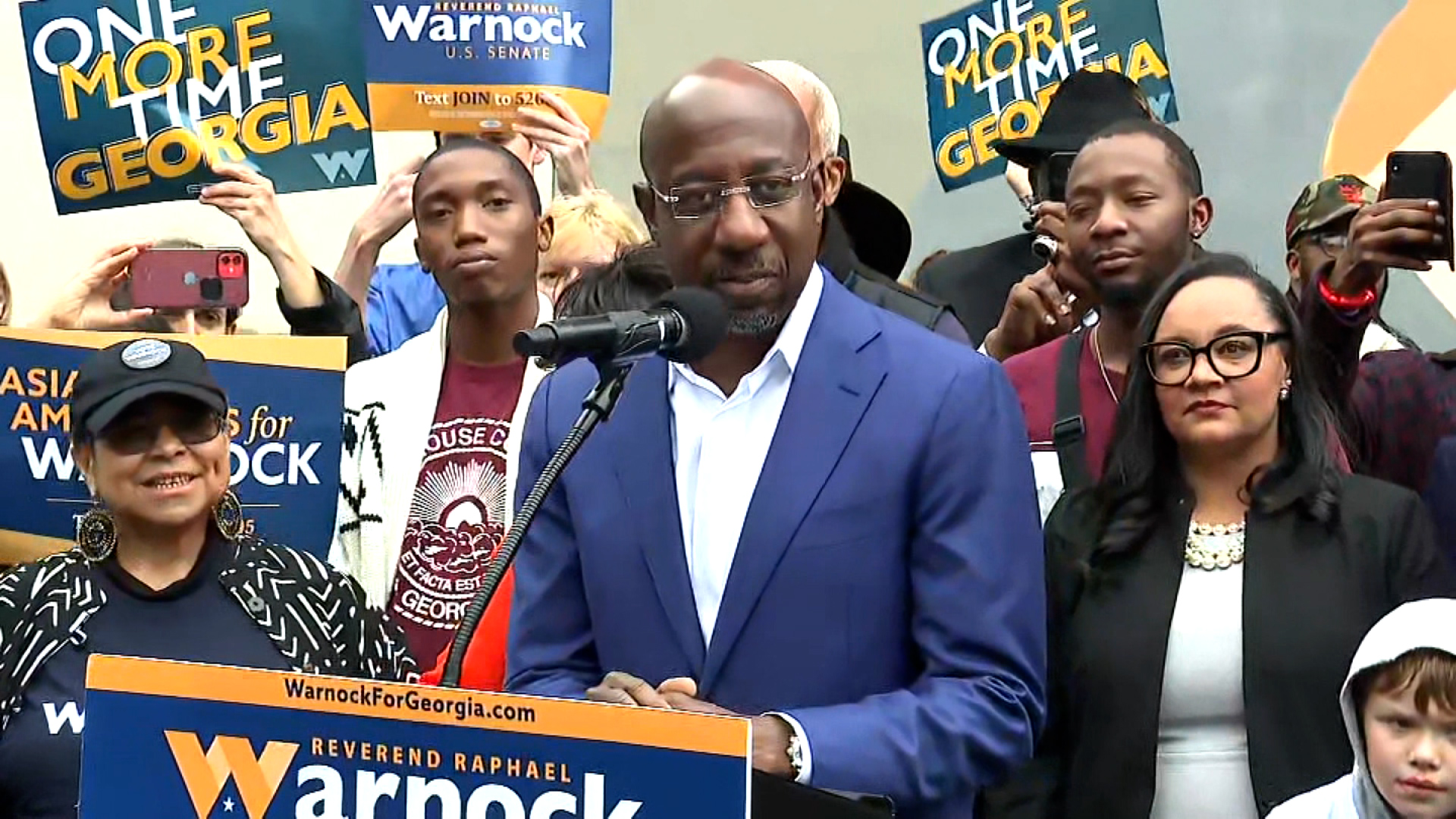 Democratic incumbent Sen. Raphael Warnock kicked off his runoff campaign against Republican Herschel Walker on Thursday in Atlanta, arguing his second runoff Senate election in as many years is about "competence and character."
Remember: CNN projected on Wednesday that the hotly contested Senate contest in Georgia will advance to a runoff between Warnock and Walker on Dec. 6. Depending on how Senate races in Arizona and Nevada are decided, the race could be determinative in control of the currently evenly divided Senate.
"I came really to ask you one question: Are you ready to do this one more time," Warnock said to cheers, a nod to the successful runoff election he ran against Republican Kelly Loeffler in 2020. "Let's get it done."
Warnock looked to avoid this scenario in the final weeks of the campaign, running ads warning Georgians that all the attack ads they have seen for months would continue through Thanksgiving if the state had a runoff.
"Now, you have to admit that I did warn you all that we might be spending Thanksgiving together," Warnock said. "And here we are. So, I am going to need you to stick with me for four more weeks. Can we do that? Because we've got some unfinished business."
Warnock only glancingly acknowledged the potential national ramifications of the race — "I need you to fight like the future of Georgia and the future of America depends on it, because it does," he said — and instead used his speech to speak directly to the Georgians who didn't vote for him on Tuesday night.
"For those of you who made a different choice this time, whether for Herschel Walker or someone else, I want to speak directly to you: Over the next four weeks, I hope you will give me the opportunity to earn your vote," the Democratic senator said. "Every day I have served in the Senate, I have been thinking about the people of Georgia and that is what I will do the next six years."
2 hr 16 min ago
Official: Arizona's Maricopa County hasn't started counting 290,000 early ballots dropped off on election day
From CNN's Ellie Kaufman
Arizona's Maricopa County has not started counting 290,000 ballots that were dropped off at voting sites on election day — a critical batch of ballots that could help determine who wins the uncalled Senate and governor's races in the state, Bill Gates, chairman of the Maricopa County board of supervisors, told CNN Thursday.
Maricopa County has about 400,000 ballots left to count, and 290,000 of those are early ballots that were dropped off at voting sites Tuesday, Gates told CNN's Sara Sidner.
The 290,000 ballots that were dropped off on election day "was a record," he said.
About 70% more people chose to vote by dropping off their early ballots on election day than they have at any point in the past, breaking the previous record, Gates said. 
Those ballots must have signature verification review before they can be counted he told CNN.
"If you drop off an early ballot, it means it has to come in on Wednesday and start the process of being signature verified," Gates said, which is a process that takes longer than voting in person on election day and having your vote counted through the tabulator immediately.
"We have experts here who go through, compare the signature on the outside of the ballot envelope with the signature that we have in our voter registration file, so that takes a while, cause we gotta get that right," Gates said.
Maricopa County had "big voter turnout" throughout the whole election, with about 230,000 people voting in person on election day, in addition to the ballots that were dropped off, Bill Gates, Chairman of the Maricopa County Board of Supervisors said.