1 min ago
Trump indicates he still plans to make 2024 announcement next week
From CNN's Kristen Holmes
In an interview with Fox News Digital Wednesday, former President Donald Trump said that reports he was "furious" following the midterm results were not true.
"It is just the opposite," Trump said, "The people I endorsed did very well. I was batting 98.6% in the primaries, and 216 to 19 in the general election — that is amazing."
Trump went on to praise several of the candidates that he endorsed including Iowa Sen. Chuck Grassley and Florida Sen. Marco Rubio, both of whom Trump rallied for. Grassley and Rubio were both strongly favored to win before Trump appeared along side them. 
Trump also had favorable words for celebrity Dr. Mehmet Oz who lost his senatorial bid in Pennsylvania to Lt. Gov John Fetterman.
"Oz worked very hard, but there were forces against him," Trump said. "Oz is a great guy. He had a lot of immovable forces against him."
Asked if the lackluster results would change Trump's decision to announce a third presidential run next Tuesday, the former president indicated he would be forging ahead with that plan.
"We had tremendous success…. Why would anything change?" Trump said.
3 min ago
Biden says he is "prepared to work with my Republican colleagues" as he discusses midterm results
From CNN's Clare Foran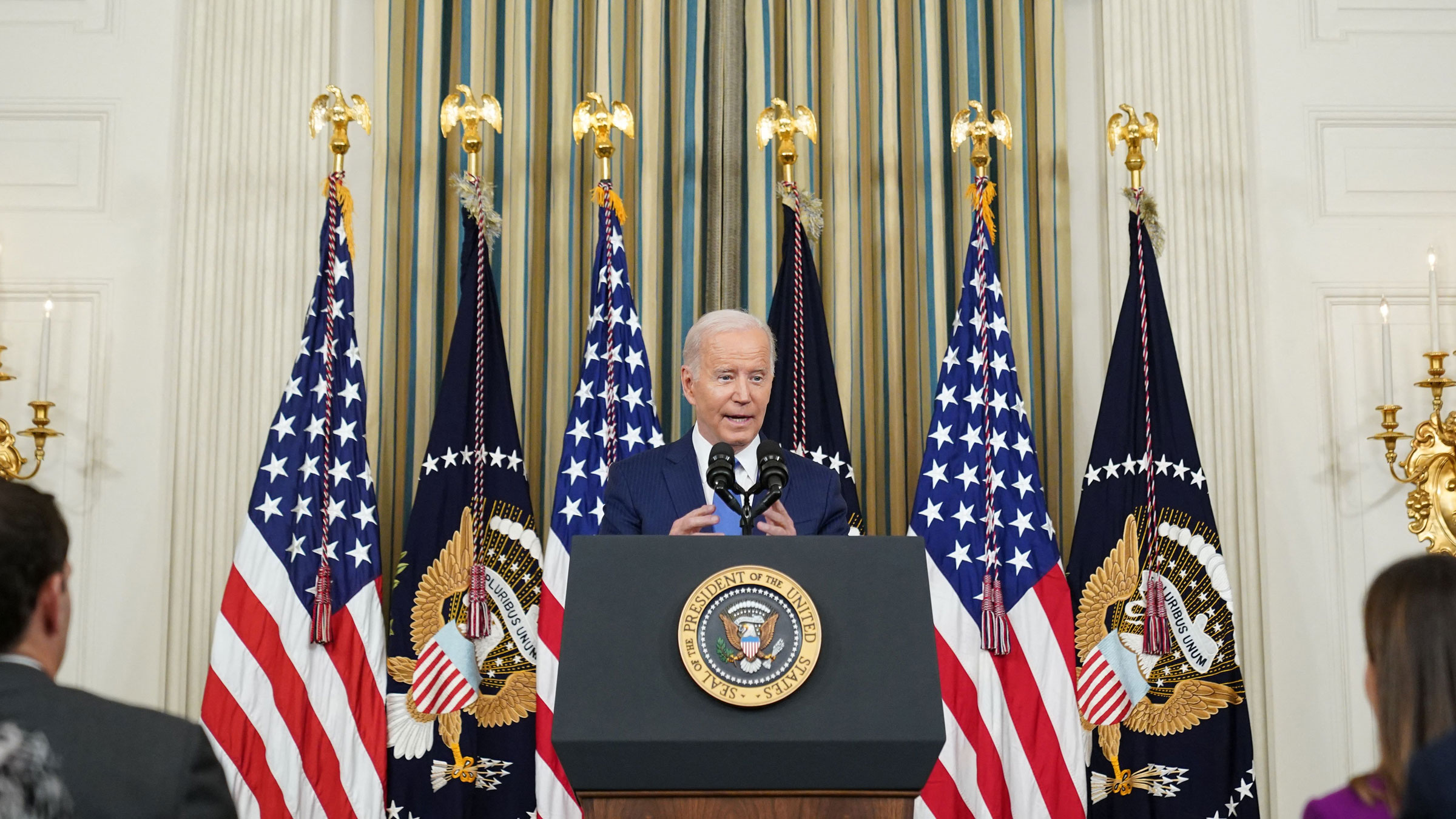 President Joe Biden signaled on Wednesday how he would try to work across the aisle if Republicans win the House, but made clear there are some issues he won't compromise on. CNN has not yet projected control of the House.
"I'm prepared to work with my Republican colleagues," Biden said. "The American people have made clear, I think, that they expect Republicans to be prepared to work with me as well."
Biden indicated he hopes there will continue to be cooperation across the aisle to deliver aid to Ukraine. "In the area of foreign policy, I hope we will continue a bipartisan approach of confronting Russia's aggression in Ukraine."
Biden also outlined what he does not want to see happen. "I'm not going to support any Republican proposal that's going to make inflation worse," and "I'm not going to walk away from historic commitments we just made to take on the climate crisis."
Winning the House majority would give Republicans power to set the agenda in the chamber. House Republicans would also have subpoena power and control over powerful committees – and they have made clear they would make investigations into the Biden administration a top priority. 
On the legislative front, there would be some must-pass policy issues – like funding the government – that would test the ability of Republicans and Democrats to work together if the GOP controls the House.
2 min ago
Biden on voter frustration: "I get it"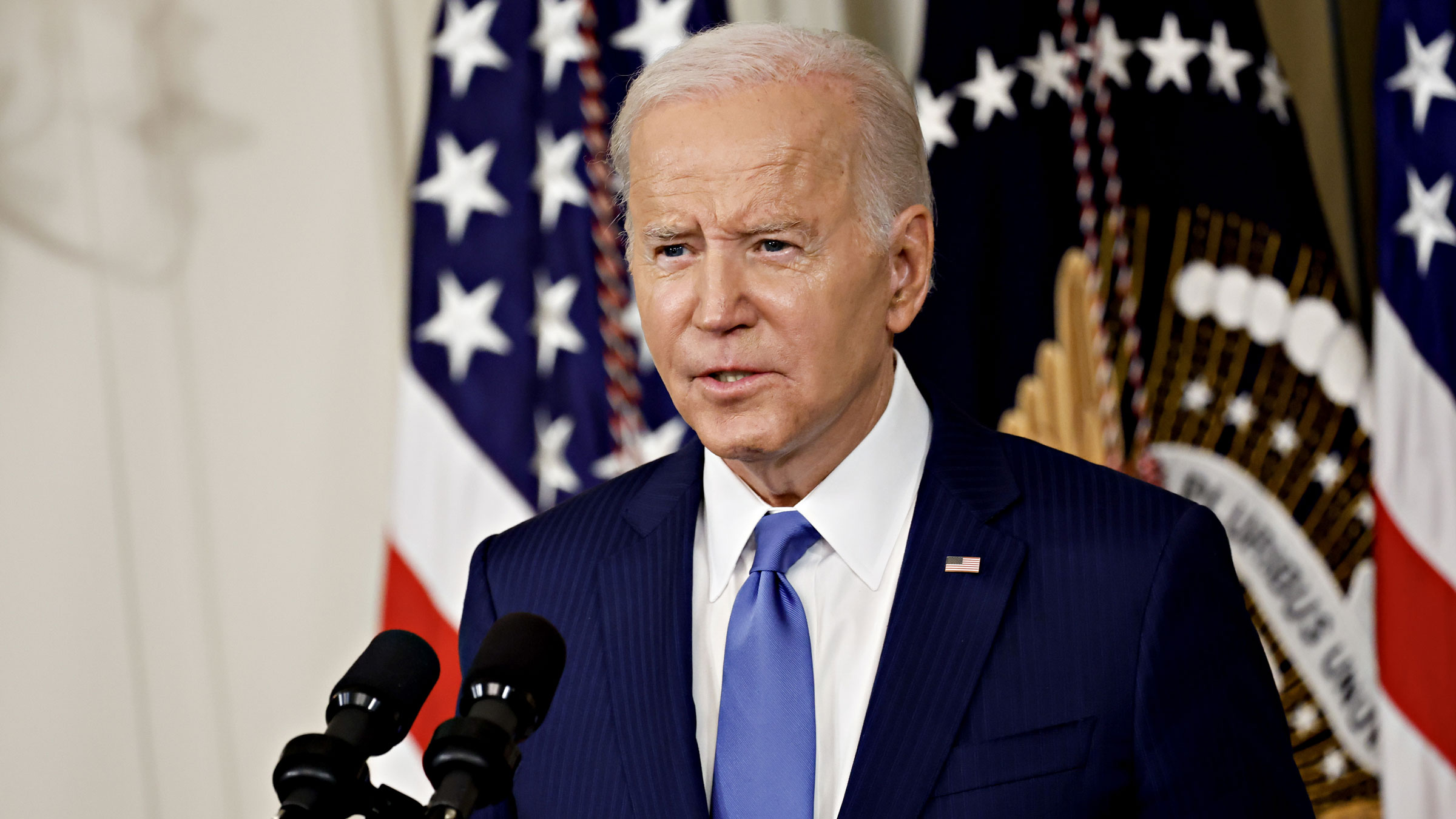 President Biden addressed voter frustrations, despite Democrats performing better than expected this election season, during his remarks from the White House saying, "I get it."
"The voters were also clear that they're still frustrated. I get it. I understand it has been a really tough few years in this country for so many people," Biden said.
He went on to list the ways his administration is tackling obstacles like the Covid-19 pandemic and a reeling economy.
"And we're just getting started. The interesting thing is that this is all going to really come into clear view for people in the month of — in the months of January, February, March of next year. It's just getting underway. So I am optimistic about how the public is going to be even more embracive of what we've done," the president said.
11 min ago
President Biden says the "giant red wave" that was predicted didn't happen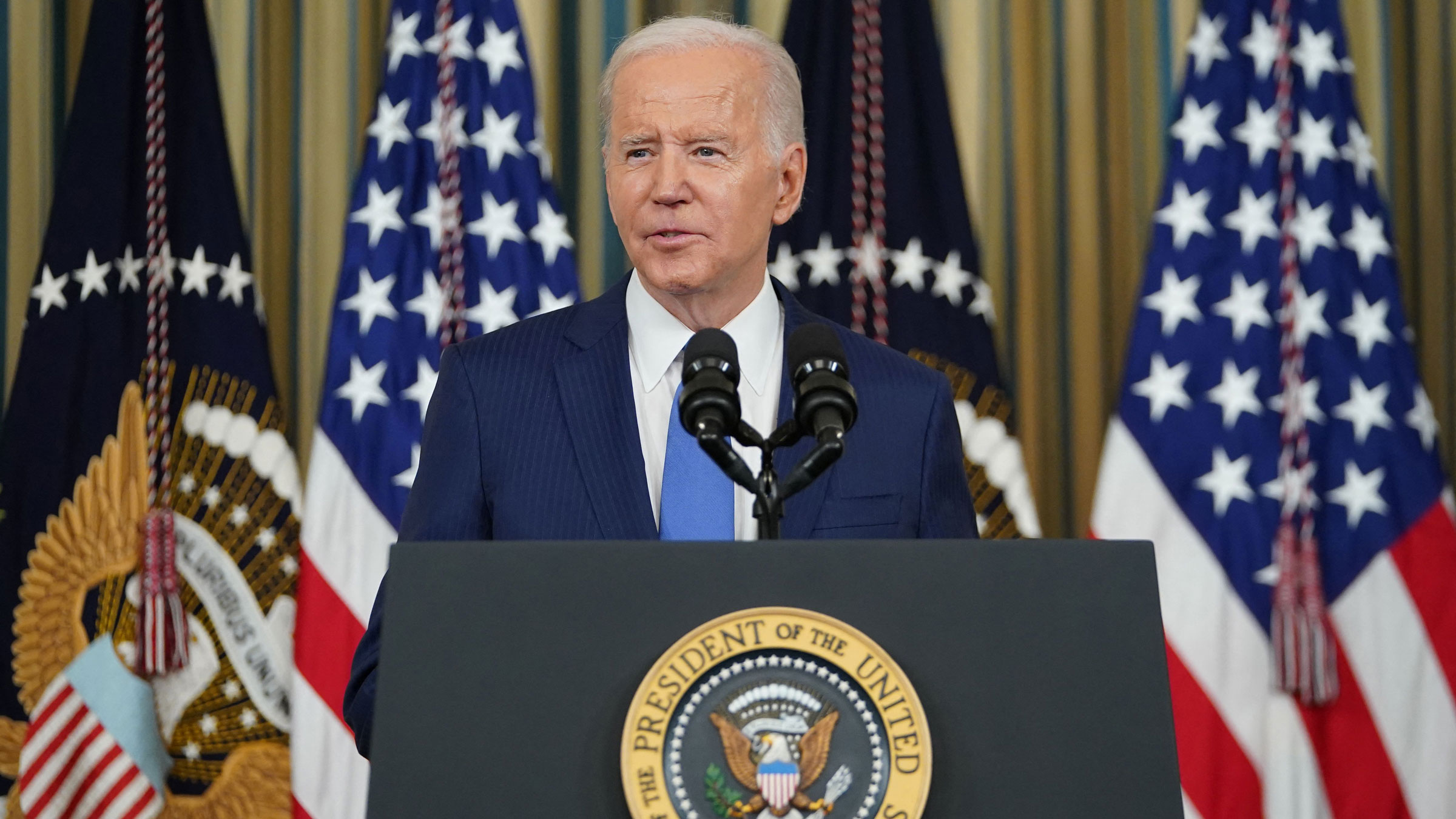 President Joe Biden opened his remarks this afternoon by calling Tuesday's midterm elections "a good day, I think, for Democracy" and a "good day for America." 
"The American people have spoken, it shows that Democracy is who we are," the President said. He added that the election happened "without much interference at all or any."
While acknowledging that all the results are not in, Biden went on to discuss the results that we do know at this stage.
"While the press and pundits are predicting a giant red wave, it didn't happen," he said. "I know you were somewhat miffed by my obsessing optimism, but I felt good during the whole process."
Biden said that any seat lost by his party is painful. But he pointed out that his party "lost fewer seats in the House of Representatives than any Democratic presidents' first midterm election in the last 40 years."
CNN's Kevin Liptak contributed reporting to this post.
24 min ago
NOW: President Biden speaks as control of Congress is still undecided
From CNN's Kevin Liptak
President Biden is addressing reporters from the White House as the control of Congress still hangs in the balance.
Biden appeared to withstand historic and political headwinds in the midterm elections, staving off resounding Republican wins even as his presidency is now likely entering a new period of divided government.
The results were neither the "thumping" George W. Bush described during his own post-midterms press conference in 2006 nor the "shellacking'" Barack Obama said Democrats endured in 2010.
Instead, the failure of a so-called "red wave" to materialize Tuesday night had Democrats, including those inside the White House, feeling enthused and vindicated following an election season where Biden's political aptitude was questioned.
The results appeared more likely to prompt soul-searching among Republicans than Democrats, as former President Donald Trump teases an imminent announcement that he is running for the White House again. Many of the candidates Trump endorsed in toss-up races lost or were locked in contests that were too early to call.
Still, Biden and his team still face the prospect of a difficult two years of governing should Republicans seize control of the House of Representatives. The president's agenda would likely be sharply curtailed without a Democratic majority. And Republicans have promised investigations into Biden's administration and family.
Watch Biden's remarks in the video player above our live updates.
55 min ago
CNN Projection: Republican John James will win Michigan's 10th District  
From CNN staff
Republican John James will win Michigan's 10th District, CNN projects, defeating Democrat Carl Marlinga.
This is a Republican pick up.
Here's where things stand in the House:  
Current total of House races called for Democrats: 187
Current total of House races called for GOP: 204
Number of uncalled House races remaining: 44
Remember: In the House, the party with at least 218 seats has the majority and, assuming it can unite behind one candidate, selects the Speaker of the House
CNN's Melissa Holzberg DePalo contributed reporting to this post.
56 min ago
Maricopa County election official disputes fraud and incompetence
From CNN's Christina Zdanowicz
Maricopa County Board of Supervisors Chairman Bill Gates disputed incompetence in the 2022 election process, as levied by Arizona Republican gubernatorial candidate Kari Lake, he told CNN Wednesday afternoon. 
"I do not believe that what happened yesterday can fairly be called incompetence or corruption in any way," Gates said. "Did we have some issues? Yes," he continued. 
Gates referenced voting tabulators running into issues at 20% of voting locations on Tuesday — something that was resolved by the afternoon.
"If people have instances or proof of fraud, we want to hear that," Gates said. "But up to this point we have not. And right now, we are laser focused on getting through this count and doing it in an accurate way."
Asked by CNN's John King about which way the uncounted mail-in ballots will break, Gates said it's too early to tell.
"In the last couple of cycles, we've tended to see more Republicans showing up on Election Day of course to vote a ballot and run it through the tabulator, but also at the early ballot," Gates said. "I think it's too hard at this point to try and estimate exactly how those early ballots are going to break."
Gates reiterated, as he said Tuesday as well, that they expect more than 95% of the votes will be counted by Friday evening.
1 hr ago
Amid midterm letdown, Trump grapples with political future
From CNN's Gabby Orr and Kristen Holmes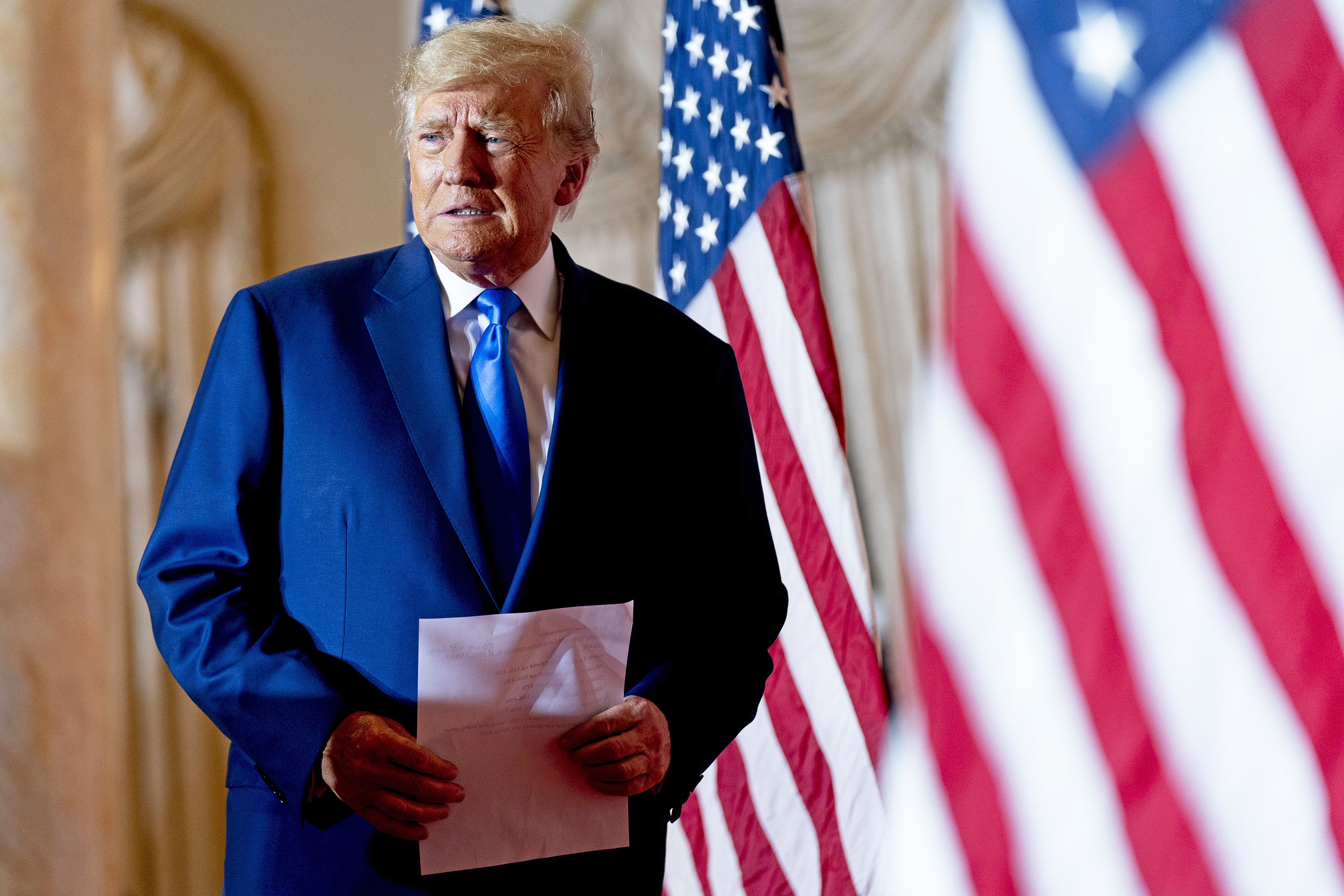 Donald Trump wanted to catapult himself into a third presidential campaign with a wave of Republican midterm gains behind him. Instead, he emerges from Tuesday's underwhelming election night facing questions about his political future and with momentum behind Florida Gov. Ron DeSantis — his potential chief nemesis in a 2024 primary. 
With key races still too early to call in Arizona and Nevada, and with Georgia heading to a Senate runoff, Trump entered Wednesday with few victories to tout and the possibility that they might soon be overshadowed by further losses.
His chosen candidates for open Senate seats in Ohio and North Carolina prevailed, as did incumbent Republican Sen. Ron Johnson in Wisconsin. But he lost a critical Senate contest in Pennsylvania, where Mehmet Oz, whom he backed in the primary despite widespread concerns about his electability, was defeated by Democratic Lt. Gov. John Fetterman.
In Michigan, Trump's candidate in the governor's race failed to unseat Gov. Gretchen Whitmer. And while Republicans still appear to be on track to capture a House majority, it is likely to be far slimmer than initially thought. 
"As powerful as Trump is in the Republican party, we learned that he cannot anoint anyone a winner. You still need candidates who have the fundamentals," said Bryan Lanza, a longtime Trump adviser. 
Others were more blunt in their assessment of Tuesday's known outcomes. 
Rep. Troy Nehls, a Texas Republican who won reelection and was endorsed by Trump, appeared to cast the former president as a drag on other GOP candidates in a radio interview Wednesday. 
"There's just a lot of negative attitudes about Trump," Nehls said.
In the early hours of Wednesday morning, a current Trump adviser, who requested anonymity for fear of retribution, conceded that Trump "is in a tough spot coming out of tonight." 
"Two narratives are going to take hold over the next week and neither one is going to be easy to dispel," the adviser said.
Acutely aware of his unprecedented involvement in Republican primaries earlier this year, this adviser and other Trump allies said they expect the former president will be blamed for elevating flawed candidates in some of the party's most important contests — especially Oz, a daytime talk show host who had barely resided in Pennsylvania before launching his Senate campaign there. 
Trump's disappointment was palpable inside the gilded ballroom at his Mar-a-Lago estate, where he gathered with dozens of aides, allies and donors to watch returns on Tuesday evening. When he returned to the party halfway through the night following a private dinner, his mood had visibly shifted. 
"Interesting evening," he shouted to reporters before taking the stage for brief and unenthused remarks.
As the crowd dwindled, Trump sat at a table in front of a television tuned to Fox News with just a handful of advisers. Meanwhile, several guests whose names appeared on a VIP list that one Trump adviser circulated to reporters were nowhere to be found, including some who apparently decided to skip the event — surfacing as television pundits throughout the night from studios elsewhere in the country. 
The end result was the exact scenario Trump's advisers had hoped to avoid: an election where his top recruits fizzled or flopped and his primary Republican rival soared to new stardom. 
Read more here.
26 min ago
Georgia's secretary of state details plans for Dec. 6 Senate runoff and upcoming midterms audit
From CNN's Ella Nilsen
Georgia's top elections official detailed plans for early and absentee voting for the upcoming Dec. 6 US Senate runoff between Democratic Sen. Raphael Warnock and Republican challenger Herschel Walker.
Secretary of State Brad Raffensperger, who won reelection last night, said in a news conference Wednesday that counties are already preparing and voters can request absentee ballots starting today through Monday, Nov. 28 on the state's portal. Early voting must begin by Nov. 28 in all counties, but Raffensperger said his office anticipates some counties could have early voting on Saturday, Nov. 26 or Sunday, Nov. 27.
"We are working with the counties to find out what their plans are on this front," Raffensperger said.
The 2022 midterm election results must be certified by Nov. 25 — the day after Thanksgiving. Before that can happen, officials need to conduct an audit of the election. Raffensperger said officials would announce Thursday at 11 a.m. ET which race from the 2022 Georgia midterms they will perform an audit on, as required by state law. 
Raffensperger said the audit is a "lot of work" but added, "we welcome it, because we know at the end of the day, everyone wants to know we have honest and fair elections – and we do." 
What the campaigns are saying: Top aides for the Warnock and Walker campaigns came out with tough words for each other, perhaps previewing the campaign road ahead.
Quentin Fulks, campaign manager for Warnock, tweeted Wednesday morning, "Last night, Herschel Walker significantly underperformed in an environment that set him up for success," he said. "Walker not only underperformed Kemp, he earned fewer raw votes than every other statewide Republican on the ballot."
Republican incumbent Gov. Brian Kemp sailed to victory last night in his defeat of Democrat Stacey Abrams. Fulks argues Walker also underperformed former president Donald Trump's vote share in rural, suburban, and urban counties.
Meanwhile, Scott Paradise, campaign manager for Walker, tweeted in response, "More than 50% of Georgians voted against the incumbent that spent more than $100 million. If you think that's a 'good night,' I've got a penthouse apartment in Columbia Towers to sell you." 
CNN's Eva McKend contributed reporting to this post.