9:08 a.m. ET, May 11, 2022
Key takeaways from the Ohio and Indiana primaries
From CNN's Eric Bradner, Dan Merica and Gregory Krieg
Ohio's Republican Senate primary was the first major midterm test of former President Donald Trump's enduring influence over the Republican Party — and Trump's candidate won.
J.D. Vance, the venture capitalist and "Hillbilly Elegy" author, emerged from a well-funded field of Republicans vying to replace retiring Sen. Rob Portman.
It was the marquee contest of primaries in Ohio and Indiana on Tuesday in which incumbents and establishment-backed figures otherwise largely prevailed. Ohio Gov. Mike DeWine easily bested Republicans who had criticized his handling of the coronavirus pandemic, while Democratic Rep. Shontel Brown cruised to victory in her Cleveland-area congressional district in a rematch against progressive Nina Turner.
Here are key takeaways from Tuesday's primaries:
Trump is still the GOP's primary mover: Vance was languishing in the polls and written off by several of his rivals — until Trump stepped into the race. With his mid-April endorsement, the former President delivered Vance what nearly everyone else in the race had coveted and built their campaign around trying to secure.
The shift was immediate. At Vance's campaign stops, some attendees said they were persuaded by Trump. At his rivals' events, voters said they had planned to vote for someone else — but Trump's endorsement had given them pause.
Vance's victory underscored the former President's role as the kingmaker in the Republican Party. Though it's not clear whether Trump will succeed in his effort to oust incumbent Republicans he believes have wronged him, Ohio's results demonstrated that in open-seat races, his endorsement might be the most important factor.
The political press, Vance said at his victory party Tuesday night, "wanted to write a story that this campaign would be the death of Donald Trump's 'America First' agenda. Ladies and gentlemen, it ain't the death of the 'America First' agenda."
How Vance did it: Vance tapped into an anti-establishment message, taking constant aim at China and slamming Democrats over border security problems that he blamed for Ohio's opioid crisis. He also copped to his biggest liability in the primary, telling Republican crowds bluntly that his past criticism of Trump had been wrong.
It didn't hurt that the Republican primary was a months-long demolition derby. At an early debate, former state treasurer Josh Mandel and businessman Mike Gibbons — who at the time were jockeying for first place in the polls — nearly fist-fought. No one consistently topped 30% in the polls, and a huge portion of the primary electorate was undecided.
Vance's ready-for-television personality and ease at the microphone were obvious. He had the backing of billionaire tech mogul Peter Thiel, who pumped millions of dollars into a television advertising campaign to boost Vance. And he had already won over Trump's GOP acolytes — he campaigned with Florida Rep. Matt Gaetz, Georgia Rep. Marjorie Taylor Greene and Donald Trump Jr.
But all of that wasn't enough to overcome his previous critiques of the former President — until Trump himself endorsed Vance and said at a rally in Delaware County last month that he didn't mind that Vance had once "said some bad sh*t about me."
"I want to pick somebody that's going to win, and this man is going to win," Trump said at the rally.
Ryan and Whaley look to turn things around for Dems in Ohio: Rep. Tim Ryan did what was expected on Tuesday — he won the state's Democratic Senate primary. Now comes the hard part.
The longtime congressman from Youngstown is the Democratic Party's last and best hope in Ohio, but his odds of winning in November are long. The state that has shifted away from the party over the last dozen years: Other than Sen. Sherrod Brown, no Democrat has won a nonjudicial statewide office in the Buckeye State since 2008, and former President Donald Trump carried the state twice. And this midterm year, Democrats face both historical and economic headwinds.
Ryan looked to address these odds on Tuesday, urging his supporters to stop "looking at each other and seeing a Democrat or seeing a Republican" and to be open to "heal," to "come together" and to "forgive each other" for decisions that others may have made. It's a message aimed squarely at winning back voters who may have left the Democratic Party and voted for Trump.
Nan Whaley, the former mayor of Dayton who won the Democratic primary for governor on Tuesday, did the same in her victory speech, specifically reaching out to voters who backed Republicans in the past.
"Ohio isn't a red state or blue state," Whaley said. "It's a frustrated state that has been ignored by politicians from both parties for too long."
Read more takeaways: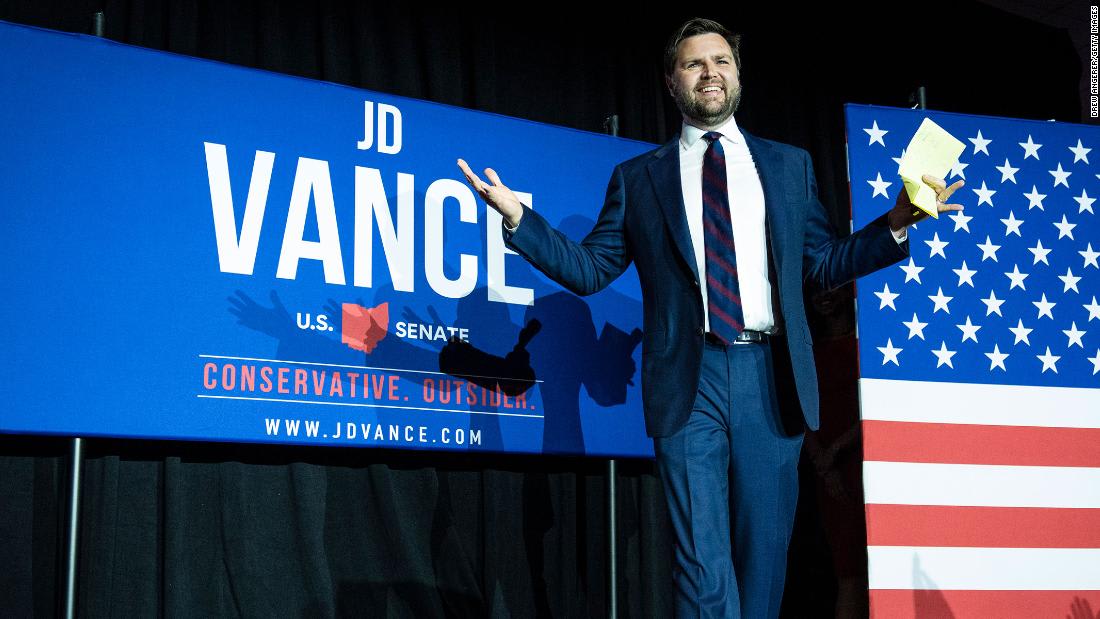 11:03 p.m. ET, May 3, 2022
Vance thanks Trump and calls Ohio Senate primary a "referendum on what kind of a Republican Party we want"
From CNN's Eric Bradner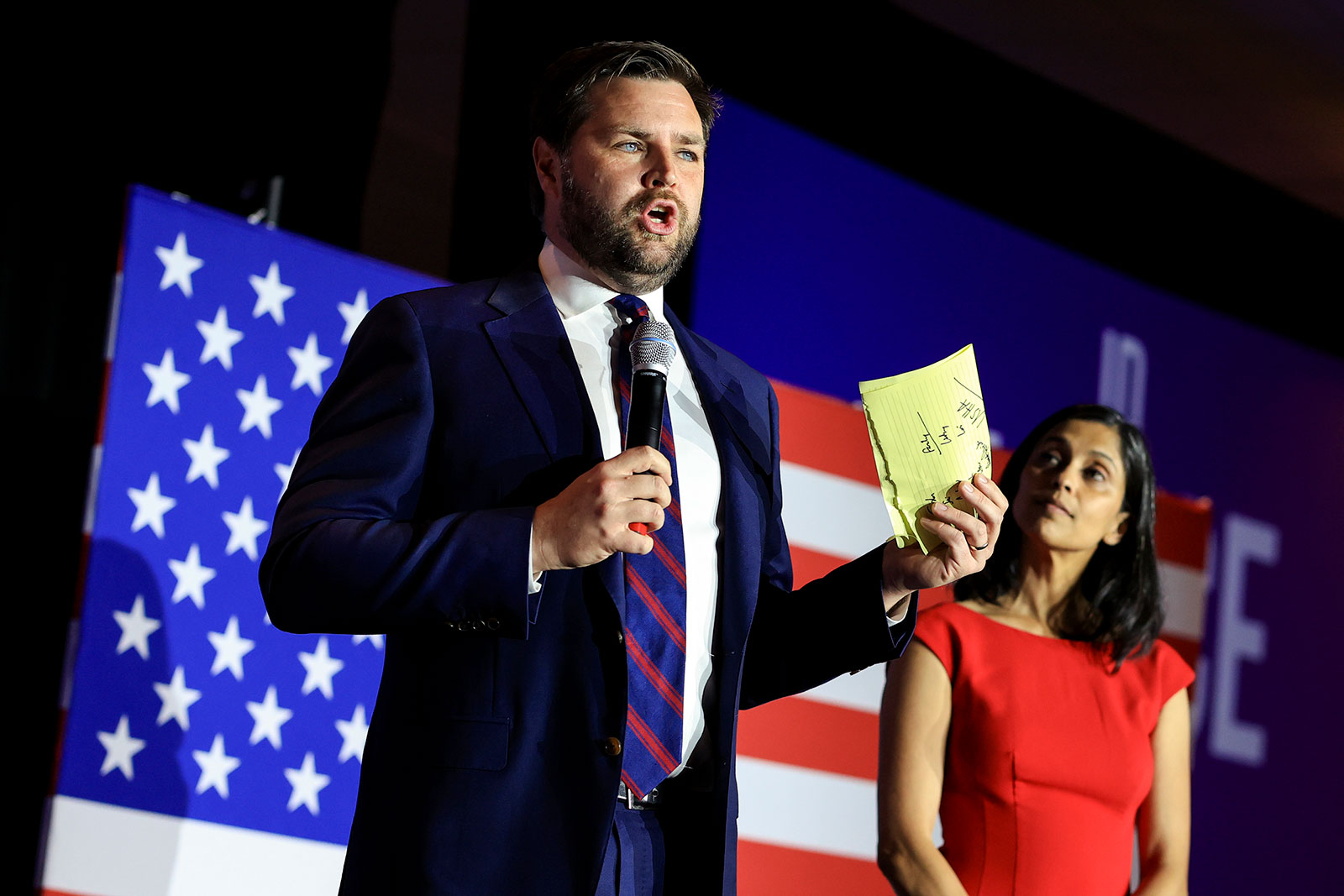 J.D. Vance thanked former President Donald Trump for his endorsement Tuesday night as he celebrated winning the Republican Senate nomination in Ohio's race to replace retiring Sen. Rob Portman.
The political press, Vance said, "wanted to write a story that this campaign would be the death of Donald Trump's 'America First' agenda. Ladies and gentlemen, it ain't the death of the 'America First' agenda."
Vance rocketed from the middle of the seven-candidate pack in polls to the front after Trump endorsed him late in the race and visited Delaware County to hold a rally for him.
Trump's endorsement came despite Vance's sharp criticism of him in 2016 — which Vance has since renounced.
Vance used a portion of his victory speech to express his gratitude to Trump, saying "I absolutely got to thank the 45th."
He said Tuesday night that the primary was "a referendum on what kind of a Republican Party we want and what kind of a country we want." 
Vance didn't criticize his primary competitors, noting that "it was tough" and that there were "a lot of negative ads." But he praised his top four rivals by name, thanking state Sen. Matt Dolan, businessman Mike Gibbons, former state GOP chairwoman Jane Timken and former state treasurer Josh Mandel.
However, he did lambast the Club for Growth — a prominent conservative growth which funneled millions of dollars through its political arm into ads taking aim at Vance and bolstering Mandel. Vance called it "one of the grossest organizations in professional establishment Washington, called the Club for Growth — and I call them the Club for Chinese Growth."
Vance also offered a preview of his general election message against the Democratic nominee, Rep. Tim Ryan, casting doubt on Ryan's moderate bona fides and saying that he's a consistent vote for President Biden's agenda. 
"Tim Ryan says he's tough on China, and yet he's voted 100% of the time with Joe Biden, the weakest-on-China President in the history of this country. He says he wants to fight inflation, yet he has voted 100% of the time with the president who has caused the worst inflation in the last 45 years of American history," Vance said. 
Vance also thanked his family and team, saying they have "the best campaign team in the country."
CNN's Maureen Chowdhury contributed reporting to this post.
8:56 a.m. ET, May 11, 2022
CNN Projection: Rep. Shontel Brown will win Democratic primary in Ohio's 11th district
From CNN's Decision Desk
Rep. Shontel Brown will win the Democratic Primary in Ohio's 11th congressional district, CNN projects, defeating Nina Turner.
Brown won the support of President Biden as well as some moderate-aligned outside groups, but Turner, a former Ohio state senator who was a key player on the presidential campaign of Vermont Sen. Bernie Sanders, had hoped to galvanize progressives to carry her to victory in the newly drawn district.
10:49 p.m. ET, May 3, 2022
Trump allies believe Vance win could boost other Trump-backed candidates
From CNN's Gabby Orr
Some of former President Trump's closest allies believe J.D. Vance's win in the Ohio GOP Senate primary could have a ripple effect on other May primaries featuring Republican candidates who are backed by Trump. 
Pointing specifically to North Carolina and Pennsylvania, one Trump ally predicted that Senate candidates Ted Budd and Dr. Mehmet Oz may see a boost now that Trump has momentum behind him. 
"People want to be on the winning team, and I think you'll see voters coalesce behind other candidates now that Trump has proven that his guys win," said the Trump ally. 
"Winning begets further winning," added former Trump campaign official Bryan Lanza. 
Despite Vance's victory tonight, it is worth noting that at least two Trump-backed candidates in other races this month face uphill climbs against incumbents they are challenging: gubernatorial hopefuls David Perdue in Georgia and Janice McGeachin in Idaho.
8:21 a.m. ET, May 11, 2022
Vance's win was "expected" given Trump's endorsement, CNN's Abby Phillip says
Analysis from CNN's Abby Phillip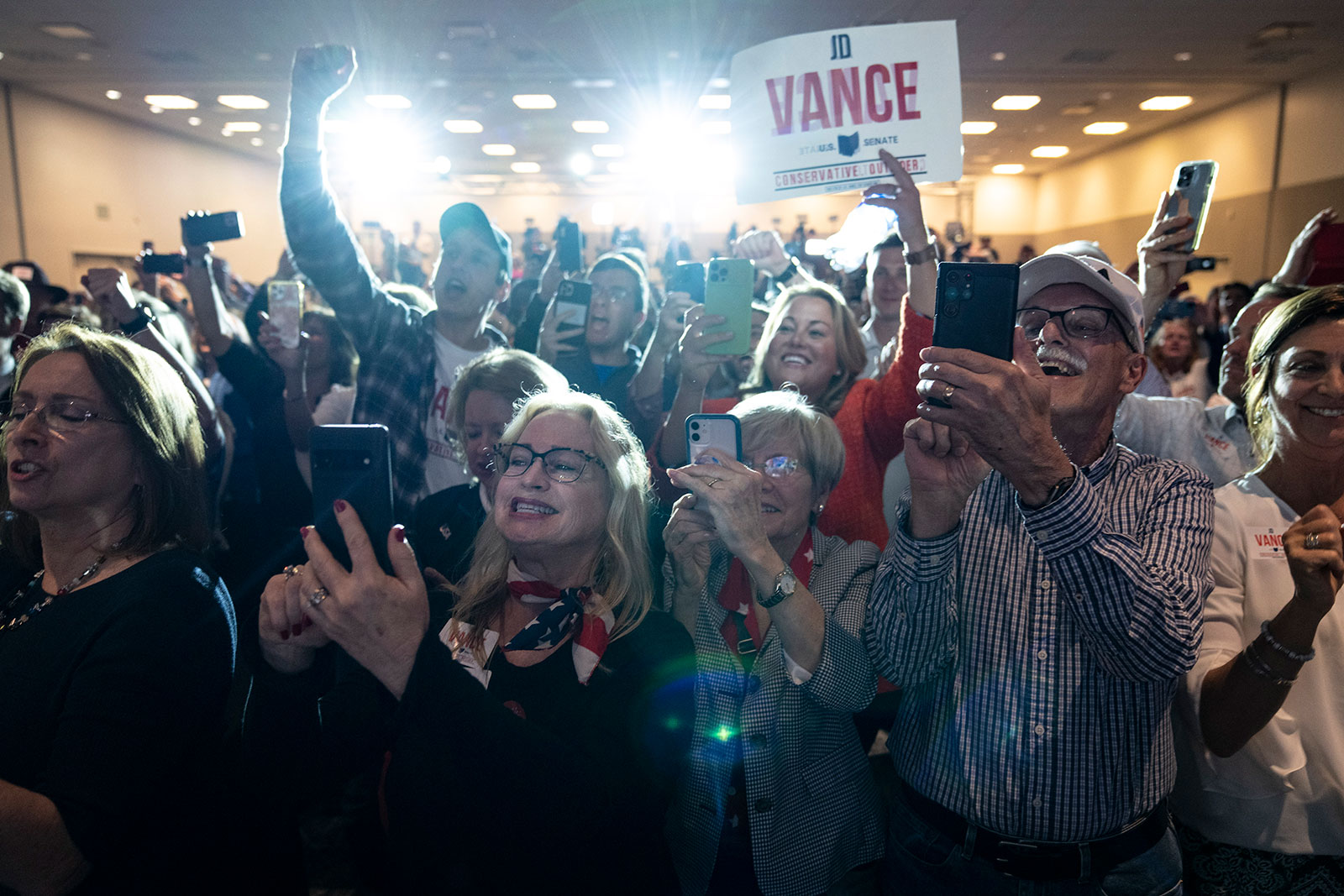 CNN's Abby Phillip said that J.D. Vance winning the Ohio GOP Senate primary race was "expected, given the Trump endorsement."
"Of all the candidates in the Trump wing of the party, I think Vance is one that the establishment thinks they can live with," Phillip said on CNN after CNN projected his win.
She continued, "He made a sharp turn towards Trump in order to run this race but I think, by and large, many Republican establishment types from what I've heard they feel like he can run a general election effectively in that state."
Phillip noted that as the results keep coming in, Vance is not only doing well in the more rural areas, but also performing "ok" in suburban areas as well, which are two factors Phillip says Republicans are going to keep an eye on "to see how he might perform in a general election."
"Not to mention the fact that Ohio has just become a much more conservative state. And so this is going to be an uphill battle for Democrats. It almost doesn't matter who the Republican nominee ends up being," she added.
8:56 a.m. ET, May 11, 2022
CNN Projection: Trump-backed J.D. Vance will win the Republican primary for Senate in Ohio
J.D. Vance will win the GOP primary for Senate in Ohio, CNN projects. Former President Donald Trump had endorsed him.
Ohio State Senator Matt Dolan has conceded to Vance, writing in a statement, "Ohio Republicans have spoken and now it's time to look forward, united in our conservative convictions to make our state and nation a better place to live, work, and raise a family."
Read more about Vance and his campaign here.
10:04 p.m. ET, May 3, 2022
Democrat Tim Ryan appeals to Republicans and independents in Ohio Senate primary victory speech
From CNN's Dan Merica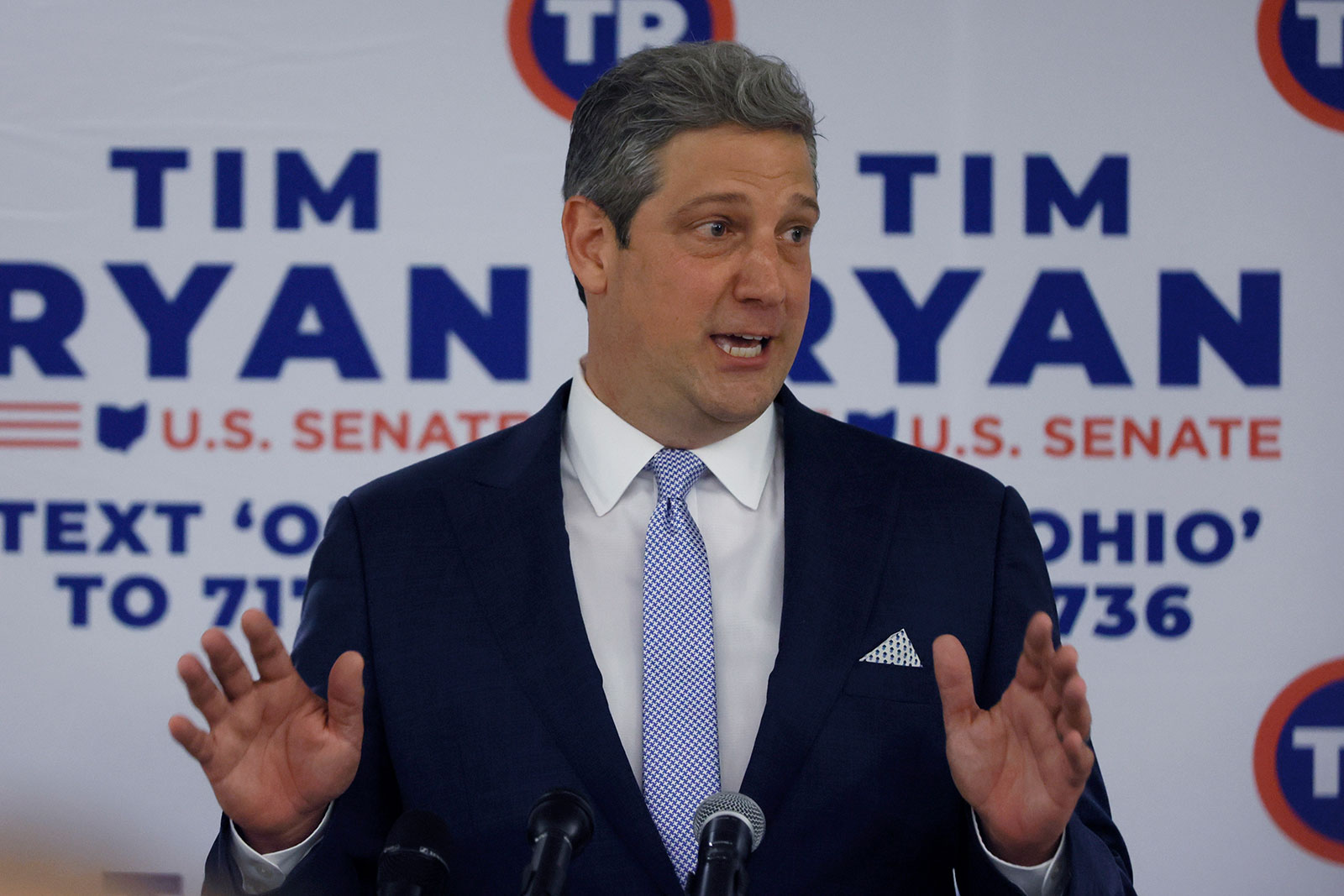 Democrat Rep. Tim Ryan stressed the need to come together as a state and country in his Ohio primary night victory speech Tuesday, telling supporters that doesn't mean "looking at each other and seeing a Democrat or seeing a Republican."
Ryan, who CNN projects will win Ohio's Democratic Senate primary, will now have to convince several Republicans and former Democrats to vote for him if he is to have any chance in winning Ohio's Senate race in November.
The state has moved away from the party in recent years — former President Donald Trump won the state twice and no Democrat other than Sen. Sherrod Brown has won nonjudicial statewide office in Ohio since 2008.
"Look, I'm not here to get in a fight, I'm not going to win on election day and try to punish 50% of the people that are living in this state or in this country," Ryan said on Tuesday. "We are here to heal, we are here to become Americans, we are here to come together."
He added: "We can do it, by coming together. … I am certain, I am absolutely in my bones certain that we can do this — if we come together. And it's not about finding our differences, it's not about hate. We have to love each other, we have to care about each other, we have to see the best in each other, we have to forgive each other, we have to show some grace."
Ryan's message appears to be squarely focused on Democrats who are skeptical in the ability of a voter who backed Trump twice to come back to the Democratic Party — or whether it is even worth Democrat's time to attempt to win back that voter.
Ryan said in a recent interview with CNN that winning back a two-time Trump voter is "completely doable."
"Clearly there are going to be people who support Trump and they will do whatever he says and vote for whoever he says, but Ohio voters, they don't necessarily want to be told who to vote for," Ryan said.
Because Ryan's primary has been largely a forgone conclusion, he has been trying to do just that for months, including in his paid media.
In one ad, Ryan blames "both parties" in Washington for "wasting time on stupid fights." In another ad, Ryan — standing in a bar and playing darts — says, "Defunding the police is way off the mark. We need more cops—not less. My party also got it wrong on the trade deals that sent your jobs overseas."
Both ads are meant to distance Ryan from national Democrats at a time when the perception of the national party in Ohio is increasingly negative.
"I want you to bring Republicans to our events, I want you to bring independents to our events, because this is a special movement happening here in Ohio," Ryan said Tuesday. "We hear it all over."
Read more about Ryan and his campaign here.
8:56 a.m. ET, May 11, 2022
CNN Projection: Frank LaRose will win GOP primary for secretary of state
From CNN's Decision Desk and Gregory Krieg
Trump-backed incumbent Ohio Secretary of State Frank LaRose will win the Republican primary in his bid for a second term as the state's top elections officer, according to a projection from the CNN Decision Desk.
He defeated conservative challenger John Adams and will face Democrat Chelsea Clark, who ran unopposed, in the general election this fall.
LaRose, a former state senator, initially criticized Trump and other Republicans who claimed the 2020 election had been stolen, calling it "irresponsible" to make the charge without evidence.
But LaRose, like so many others in the GOP, yielded in the face of political expediency and began to parrot alarmist rhetoric about the security of the elections he is tasked with overseeing.
He said in a tweet that "President Trump is right to say voter fraud is a serious problem" and suggested Democrats would undermine election security if the party gained control of his current office.
"(LaRose) presented himself as above petty, partisan politics," David Niven, a political scientist at the University of Cincinnati, told CNN's Fredreka Schouten. "To go from that to playing footsie with election deniers is a real transformation."
Read more about LaRose here.
8:57 a.m. ET, May 11, 2022
CNN Projection: Greg Pence, the Trump-endorsed brother of Mike Pence, fends off GOP primary challenge
From CNN's Eric Bradner
Indiana Rep. Greg Pence, the older brother of former Vice President Mike Pence, easily fended off a Republican primary challenger Tuesday, according to a CNN projection. 
Pence, 65, who is seeking a third term representing southeastern Indiana's 6th congressional district, was endorsed forre-election by former President Donald Trump on Friday, despite Trump's feud with the congressman's brother over whether then-Vice President Pence could have attempted to thwart the 2020 election results.
Greg Pence holds the congressional seat that Mike Pence held until 2012, when he was elected Indiana governor. He faced a challenge from James Alspach, a contractor who aligned himself with Trump.
The elder Pence has not gone as far as his brother Mike Pence in issuing warnings against Republicans who argue that a vice president can refuse to certify electoral college votes and thwart the will of voters.
"I'll stand by my brother now and forever. I love my brother. I'll stand by him," Greg Pence told CNN in February, after Mike Pence had said in a major speech that Trump was "wrong" on the issue.
Hours after the Capitol insurrection on .ary 6, 20— — during which a violent mob chanted "hang Mike Penc— — Greg Pence stood with Trump and voted against certifying Pennsylvania's electors. 
Trump, in his endorsement of Greg Pence, made no mention of the former vice president. He praised Greg Pence for battling President Biden on inflation and border security.