2 min ago
Harris says the Biden administration is not currently discussing using federal lands for abortion services
From CNN's Jasmine Wright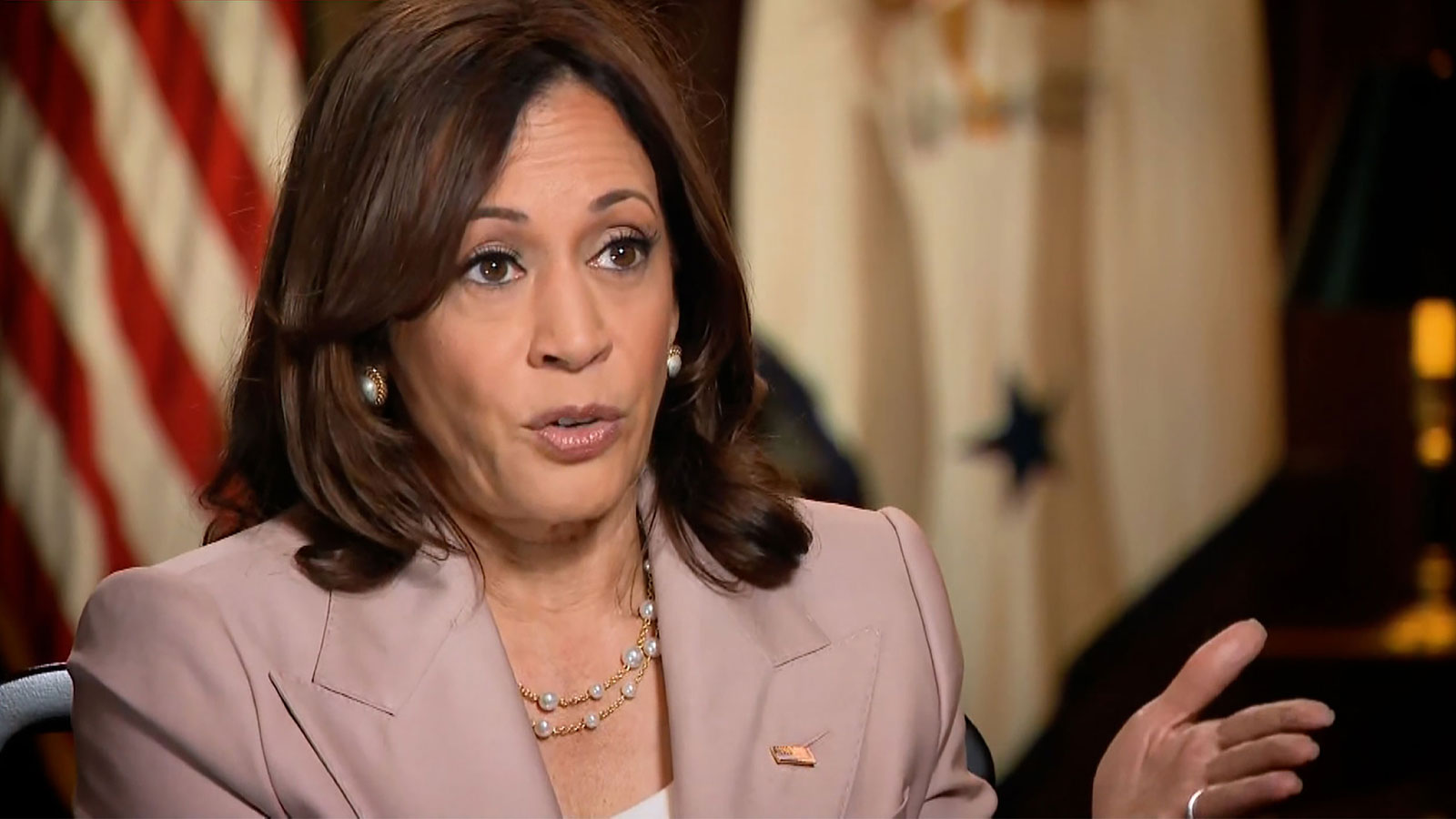 Vice President Kamala Harris said the Biden administration was not currently discussing using federal lands for abortion services in and around states that will ban the procedure, appearing to reject a growing request from Democratic lawmakers who are pressuring the administration to be more aggressive in its efforts to combat the overturning of Roe v. Wade.
"I think that what is most important right now is that we ensure that the restrictions that the states are trying to put up that would prohibit a woman from exercising what we still maintain is her right, that we do everything we can to empower women to not only seek but to receive the care where it is available," Harris initially said to CNN's Dana Bash in an exclusive interview, when asked if that was a possibility.
Pushed to clarify if those options the use of federal land, Harris said, "Not right now."
"I mean, it's not right now what we are discussing," Harris said. 
A White House official told CNN after the interview that "the administration is looking at everything we can do to protect women's rights." 
In conversations with advocates since the draft leaked in May, the White House has heard a range of options to provide more protection to women, not all of which officials believe are tenable or would withstand legal scrutiny. For example, calls for Biden to allow abortion providers to work from federal property have raised concerns among some lawyers. And providing federal funding for women to travel out of state has the potential of running afoul of the Hyde Amendment, the law that prohibits federal funding of abortions in almost all cases.
A White House official on Monday made a similar argument, saying, "While this proposal is well-intentioned, it could put women and providers at risk. And importantly, in states where abortion is now illegal, women and providers who are not federal employees could be potentially be prosecuted." 
1 min ago
Harris says more rights are at risk as Justice Thomas "said the quiet part out loud"
From CNN's Jasmine Wright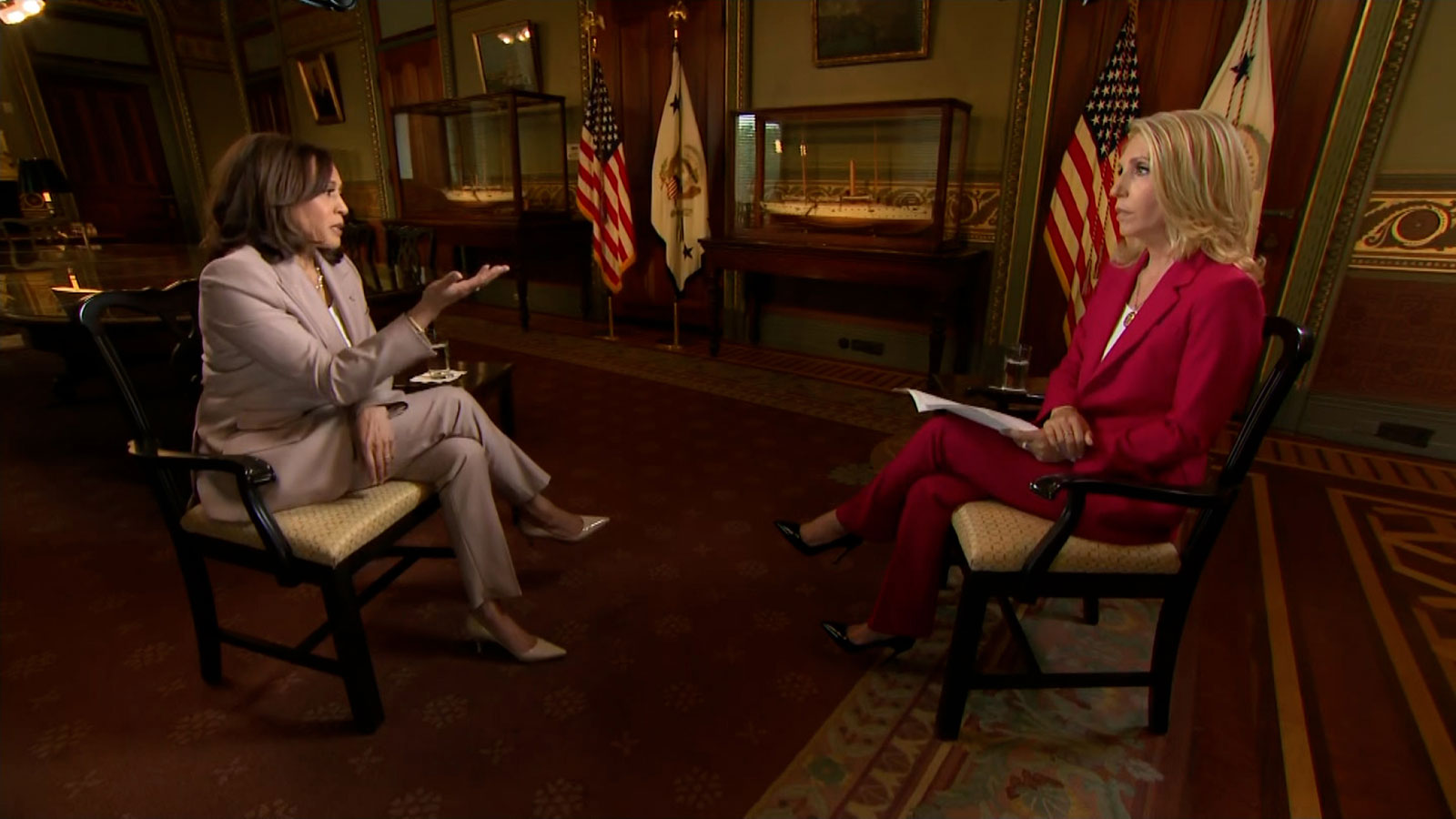 Vice President Kamala Harris predicted Americans will see more of their rights at risk, telling CNN's Dana Bash that Justice Clarence Thomas, "said the quiet part out loud," when he called on the Supreme Court to reconsider its rulings striking down state restrictions on contraceptives, state sodomy bans and state prohibitions on same sex marriage in a concurring opinion. 
"I definitely believe this is not over," Harris said in an exclusive interview with CNN. "I think [Thomas] just said the quiet part out loud. And I think that is why we all must really understand the significance of what just happened. This is profound."
The vice president argued that the discussion of abortion has been driven largely by politics instead of what she said is at the core — freedom, liberty and the right to privacy.
Harris noted that many states are set to ban abortion outright, even in cases of incest and rape. 
"As a former prosecutor who specialized in crimes of violence against women and girls, in particular child sexual assault, and rape, the idea that after a woman has endured such violence to her body, that she would not have the freedom and authority to decide whether she wanted to continue with a pregnancy that is a result of an act of violence is absolutely unthinkable," Harris said. 
The vice president has sought to shed light on the wider ramifications of Roe v. Wade being overturned, in the weeks after the draft opinion leaked. In meetings, Harris has heard from privacy experts about how law enforcement could use period tracking apps to monitor for abortions and the possibility that embryo destruction could become more difficult for those who have in vitro fertilization.
See Vice President Kamala Harris' reaction to the concurring opinion authored by Justice Thomas:
3 min ago
Harris tells CNN she was "shocked" when the Roe v. Wade decision came down
From CNN's Jasmine Wright
Vice President Kamala Harris on Monday said she "was shocked" when the Supreme Court overturned Roe v. Wade.
"It's one thing when you know something's going to happen. It's another thing when it actually happens," Harris told CNN's Dana Bash in an exclusive interview which was her first since the landmark ruling came down.
Harris was flying on Air Force Two from Washington, DC, to Illinois to unveil the Biden administration's latest strategy to improve maternal health in the US Friday when the decision came down. Her official account tweeted a photo of the vice president watching the decision unfold on CNN, appearing to be in disbelief. 
"I just actually turned to CNN and I couldn't believe it. I couldn't believe it," she said. "Because they actually did it."
Harris slammed the conservative leaning Supreme Court for taking away "a constitutional right that has been recognized for half a century and took it from the women of America. That's shocking."
The vice president has assumed a leading role on abortion in the Biden administration since a draft decision leaked this spring showing the court was poised to overturn Roe v. Wade. 
And on Monday, the first female vice president elected to the role in the US, said she was thinking about the impact of the ruling in personal terms.
"I thought about it as you know a parent," Harris said, referring to her stepchildren Cole and Emma Emhoff. 
"I thought about it as a godparent of teenagers. I thought of it as an aunt of preschool children," Harris said. "And a woman myself, and the daughter of a woman and a granddaughter of a woman."
Harris said she thought about how her 23-year-old daughter will not know the same rights as her 80-year-old mother in law. And she beckoned those who are the parents of sons to realize how this decision will impact them.
3 min ago
Pelosi outlines legislation Democrats are considering in wake of Roe v. Wade decision
From CNN's Annie Grayer
House Speaker Nancy Pelosi sent a letter to her House Democratic colleagues on Monday that outlines legislation they are looking at in light of Roe v. Wade being overturned.
Pelosi said the caucus "has been exploring avenues to protect the health and freedom of American women."
Among the options, she writes, is legislation that:
"Protects women's most intimate and personal data stored in reproductive health apps. Many fear that this information could be used against women by a sinister prosecutor in a state that criminalizes abortion.
Makes clear that Americans have the Constitutional right to travel freely and voluntarily throughout the United States.
Once again passes the Women's Health Protection Act: landmark legislation to enshrine Roe v. Wade into the law of the land."
Pelosi also noted in the letter that it is "essential that we protect and expand our pro-choice Majorities in the House and Senate in November so that we can eliminate the filibuster so that we can restore women's fundamental rights – and freedom for every American."
1 hr 11 min ago
G7 leaders "very sad and very worried" following rollback of Roe vs Wade, EU Commission chief tells CNN
From CNN's Emmet Lyons and Henry Hullah  
EU Commission chief Ursula von der Leyen said on Monday that "many voices" at the G7 summit were left "very sad and very worried" by the US Supreme Court decision to reverse Roe vs. Wade. 
"We have discussed gender equality and indeed, there were many voices, very sad and very worried," von der Leyen said when asked by CNN's Christiane Amanpour about the Supreme Court decision, which repealed a constitutional right to abortion in the US. 
Von der Leyen, the only woman leader at the G7 leadership meetings taking place in Germany, called the decision a "setback." 
Watch European Commission President Ursula von der Leyen react to the US Supreme Court's abortion decision:
1 hr 46 min ago
Louisiana judge temporarily blocks state's "trigger" abortion ban
From CNN's Tina Burnside 
A Louisiana judge has blocked the state's "trigger" law on abortions — which took effect on Friday — just days after the United States Supreme Court overturned Roe vs. Wade.  
Orleans Parish Civil District Court Judge Robin Giarrusso issued the temporary restraining order in response to a lawsuit filed Monday morning by the Center for Reproductive Rights and Boies Schiller Flexner LLP on behalf of Hope Medical Group for Women and Medical Students for Choice.
The lawsuit, which was filed on behalf of Hope Medical Group for Women in Shreveport, Louisiana, and Medical Students for Choice, argued that the trigger bans are unconstitutionally vague. 
"Because the Trigger Bans lack constitutionally required safeguards to prevent arbitrary enforcement, they are void for vagueness, and they, therefore, must be struck down for this separate and independent reason" the suit stated. 
The temporary restraining order prohibits the state's Attorney General and Secretary of the Louisiana Department of Health from enforcing or implementing the trigger ban legislation for now until a hearing scheduled for July 8. 
CNN is continuing to read through the 22-page petition for more details. 
2 hr ago
Massachusetts governor encourages companies to relocate to his state following SCOTUS abortion ruling
From CNN's Claudia Dominguez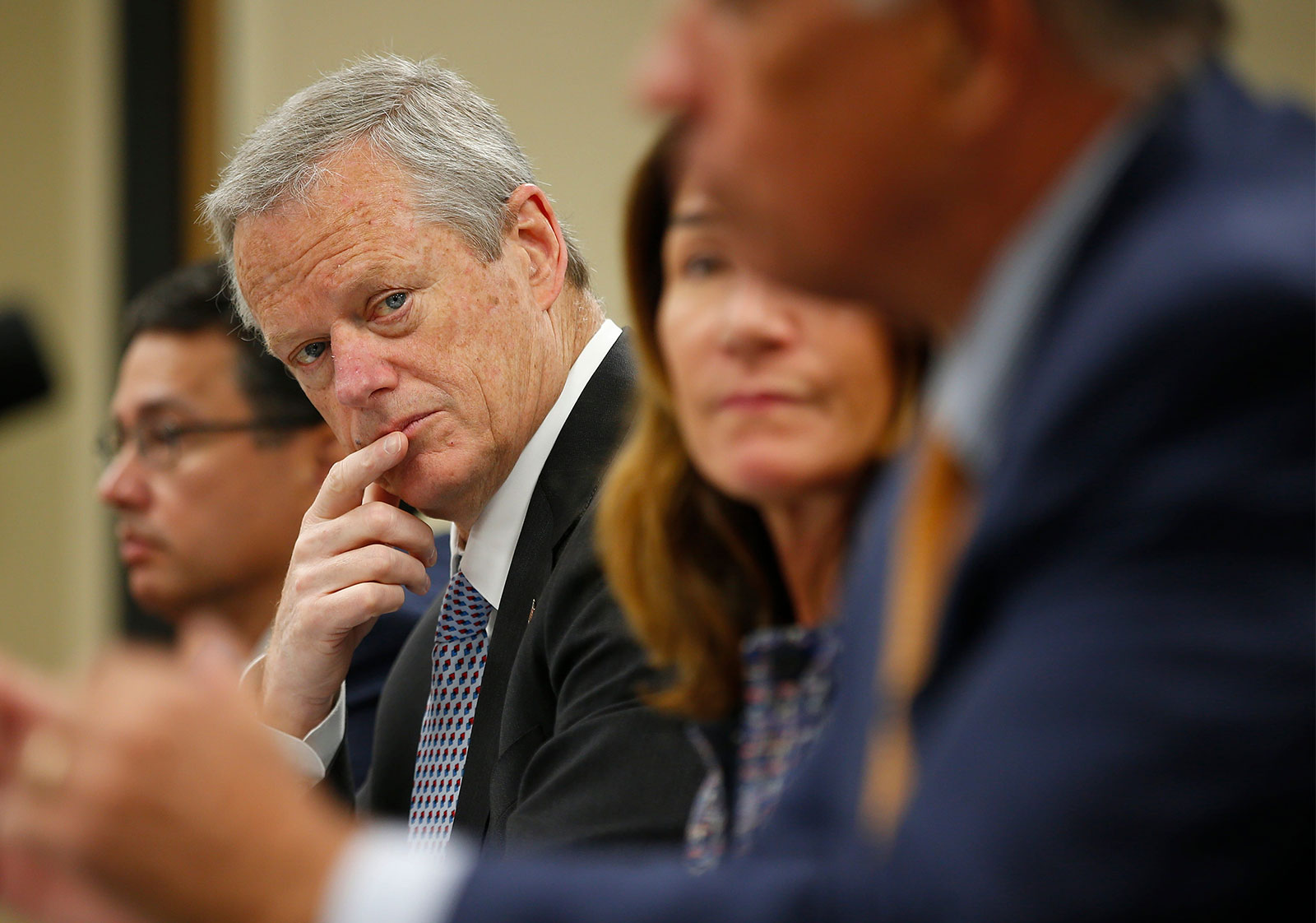 Republican Gov. Charlie Baker is encouraging companies across the US to either move to Massachusetts or expand their business in the state, following the Supreme Court's decision to overturn Roe v. Wade.
"There may in fact be a big opportunity here for Massachusetts to encourage some employers to either come here or expand their footprint here, because we are a state that takes this issue seriously and will be there for their employees when they need those kinds of reproductive services," Baker told members of the press on Monday.
Baker said that from the time the draft decision was leaked until the ultimate decision was made public, the goal was to "come up with a plan to keep providers here in Massachusetts safe and would provide relief to people from other states who came here seeking those services as well."
Baker, who said he was disappointed with the Supreme Court's decision, issued an emergency order Friday "to protect access to reproductive health care services in the Commonwealth," he said in a tweet.  
2 hr 30 min ago
This telehealth company is seeing more than double the demand for medication abortion since SCOTUS ruling
From CNN's Jen Christensen
Traffic to the website Hey Jane, an organization that provides medication abortion in some states through telehealth, grew almost 10 times and patient demand has more than doubled following the US Supreme Court decision to end the nationwide right to abortion, according to CEO Kiki Freedman. 
"More generally, over the past few months, we've seen an increase in patients reporting that they're coming to Hey Jane because of longer-than-expected appointment wait times, which suggests to us that bans in places like Texas were already having a ripple effect in states with abortion access," Freedman said in an emailed statement to CNN. "In fact, we're treating 25x more patients daily than we were 15 months ago (and 4x as many patients since the same time last year)."
Hey Jane serves people in New York, California, Washington, Illinois, Colorado and New Mexico. Patients who are medically eligible and at least 18 years old can get the pills up to 10 weeks into their pregnancy. To get the pills, patients consult with a licensed medical provider through secure text chat. Hey Jane also offers a phone or video visit as well, but it is not required. After the consultation, the pills arrive in the mail in an unmarked box.
Medication abortion, also known as abortion with pills or medical abortion, is a method by which someone ends their pregnancy by taking two pills, rather than having a surgical procedure.
3 hr 43 min ago
22 attorneys general reaffirm commitment to supporting and expanding access to abortion care in their states
From CNN's Kristina Sgueglia
Twenty two attorneys general reaffirmed their commitment to expanding access to abortion care in their states in a joint statement issued Monday.
The coalition – comprised of the attorneys general of New York California, Colorado, Connecticut, Delaware, the District of Columbia, Hawaii, Illinois, Maine, Maryland, Massachusetts, Michigan, Minnesota, Nevada, New Jersey, New Mexico, North Carolina, Oregon, Pennsylvania, Rhode Island, Vermont, and Washington – said that "when it comes to abortion care, it's your body and your right to choose."
"Nobody else gets to make those decisions," the statement added.
The officials said "broad access to abortion remains protected in states that recognize reproductive freedom," including in their states.
"For those unable to make the journey, laws banning abortion in their home states will lead to poorer health outcomes and reduced socioeconomic opportunities," they said.
"Those harms will fall disproportionately on people of color and people with fewer resources, further perpetuating our nation's historical inequities," they continued.