1 min ago
Here's how the new congressional map shifts voting power in New Jersey
From CNN's Janie Boschma, Renée Rigdon, Byron Manley and Ethan Cohen
New Jersey's congressional map was drawn by the state's redistricting commission, though Republicans and Democrats on the commission proposed their own versions. The commission's tiebreaker, former New Jersey Supreme Court Justice John Wallace, chose the Democrats' map.
Republicans appealed his decision to the state's Supreme Court, because Wallace said his choice came down to having had a Republican-drawn map in effect for the last 10 years. The court ended up dismissing the case.
The new map gives most of the state's Democratic incumbents safe seats, but makes Democratic Rep. Tom Malinowski's 7th District more competitive for Republicans.
How the new map shifts voting power by demographic: New Jersey will continue to have 12 seats in the House. In seven of those districts, White voters represent the majority. Hispanic voters continue to represent the majority in New Jersey's 8th District, which includes parts of Newark and Jersey City. There will continue to be four districts where no demographic group represents the majority.
CNN's Melissa DePalo and Eleanor Stubbs contributed to this post.
34 min ago
This billionaire developer has surged to the top of the polls in L.A.'s mayor's race
From CNN's Maeve Reston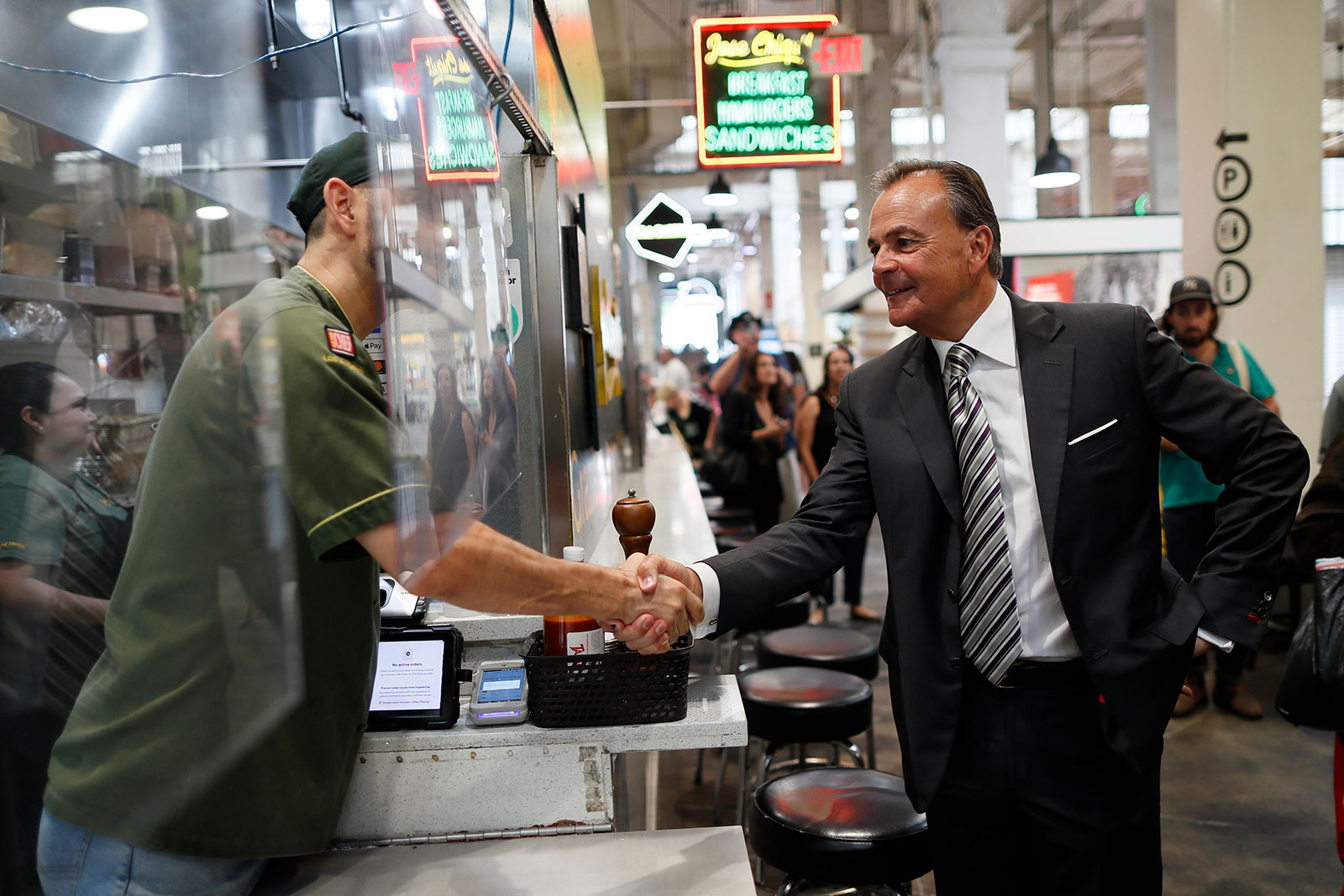 Over coffee at Siren's Java & Tea after a walking tour of the San Pedro neighborhood near the Port of Los Angeles, billionaire real estate developer Rick Caruso couldn't stop marveling over the cleanliness of the streets as he listened to Yolanda Regalado's story of starting her coffee shop in this tidy corner of Los Angeles.
For months, Caruso — the Republican shopping mall magnate turned Democratic mayoral candidate — has been traveling the city, fielding the frustrations of LA business owners as they deal with the city's rise in crime and its staggering homelessness crisis, with more than 41,000 people living on the streets. They have told him stories about stepping over needles and human waste in the gutters; tent encampments that have overtaken the city's parks; and police officers too spooked by potential lawsuits to force people to move and clear entryways.
But here — in a part of the city where City Councilman Joe Buscaino has been unapologetically vigilant in his drive to clear tent encampments and enforce the city's anti-camping law — Caruso sees an example of what the city can be: "The minute you allow people to start taking back the community, it just continues," Caruso says to Regalado. "It becomes contagious."
At a moment when Angelenos are unnerved by the rise in violent crime and eager to reclaim trash-strewn public spaces, the simplicity of that argument has found an audience. Caruso has surged to the top of the polls in the mayoral race by presenting himself as an optimistic Mr. Fix-it.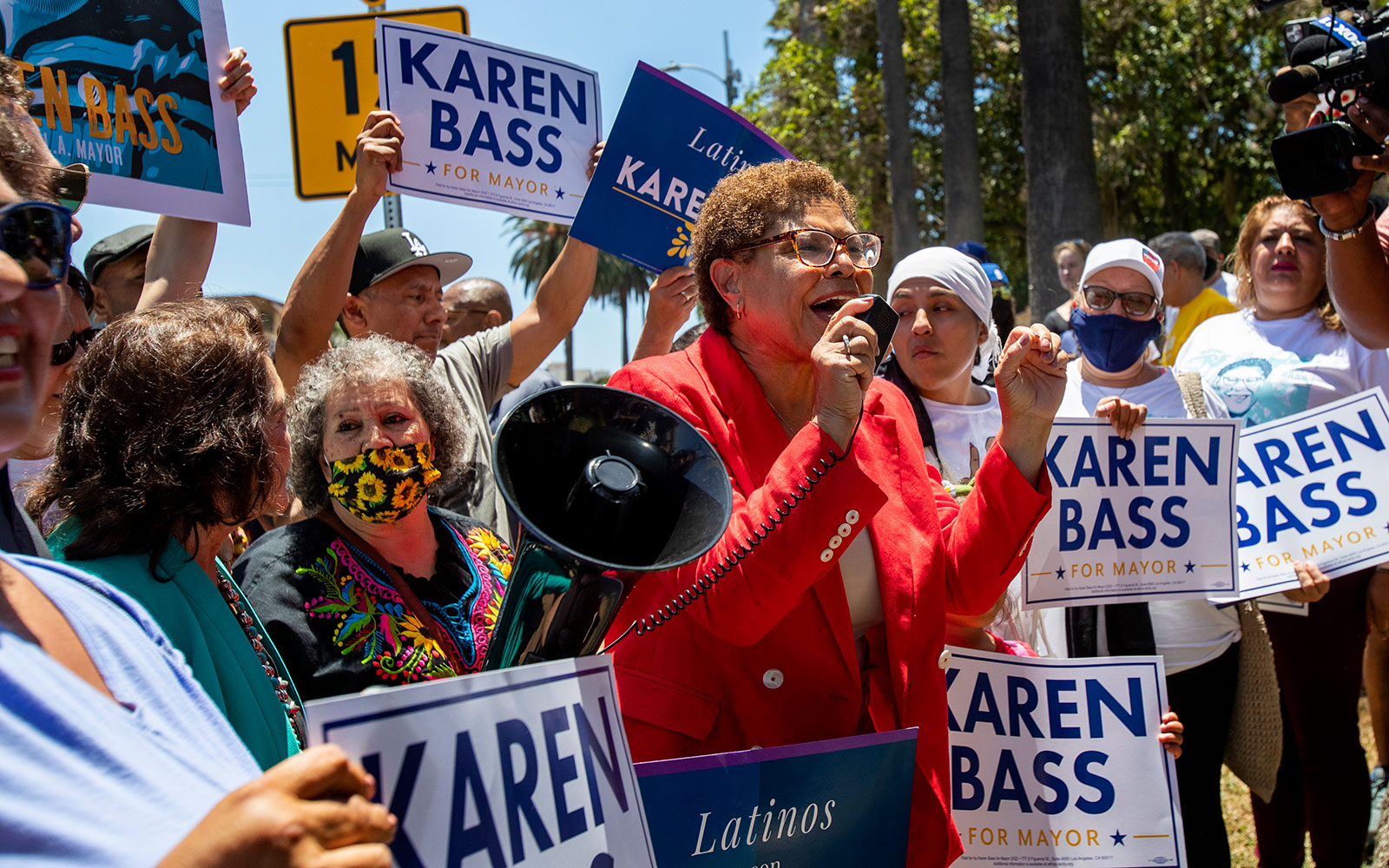 He quickly caught up with Democratic Rep. Karen Bass, the front-runner, by pouring a stunning $34 million into his bid by mid-May, mostly financed by his loans to his campaign. His ads and mailers have blanketed the city, presenting him as a kind of superman in an impeccably tailored blue suit and striped tie.
"Who can curb crime?" his website blares as huge white letters flash across the screen, "Caruso Can!"
Having served in other civic roles as a former city police commissioner and the former head of the USC Board of Trustees, he's long eyed the mayor's race, all while donating generously to both Republicans and Democrats. But he is best known for the meticulously groomed, open-air malls that he has built in Los Angeles that are awash in 1950s Americana, with splashing fountains, trolley cars, valet parking and a seemingly unending loop of Frank Sinatra.
In this overwhelmingly Democratic city, political strategists point out that Caruso might have struggled in previous cycles given that he is a former Republican.
His political affiliations have changed over time: He became an independent in 2011 while weighing a mayoral run. Later, he told LA Magazine in 2016 that he had reregistered as a Republican to support former Ohio Gov. John Kasich for president, but stated that "under no circumstances" would he support Donald Trump, adding that he "couldn't think of anything more horrifying" than putting Trump in charge of his future.
Then, he said he was registering as a "pro-centrist, pro-jobs, pro-public safety" Democrat a month before he announced his mayoral candidacy in February.
While Bass and other rivals have accused him of trying to "buy" the office — with her campaign putting out a digital ad in the final weekend comparing him to Trump — his outsider argument has proven effective at a time when confidence in elected leaders has plummeted.
He and Bass are headed into the city's mayoral primary on Tuesday as the likely top-two vote getters who would advance to the November ballot if no candidate wins a majority outright. Bass, Caruso and LA City Councilman Kevin de León are the three most prominent candidates vying to replace term-limited Mayor Eric Garcetti.
Keep reading about the race here.
1 hr 20 min ago
Montana has a new congressional district. Here's what to know about the key candidates fighting for it.
From CNN's Ethan Cohen and Melissa Holzberg DePalo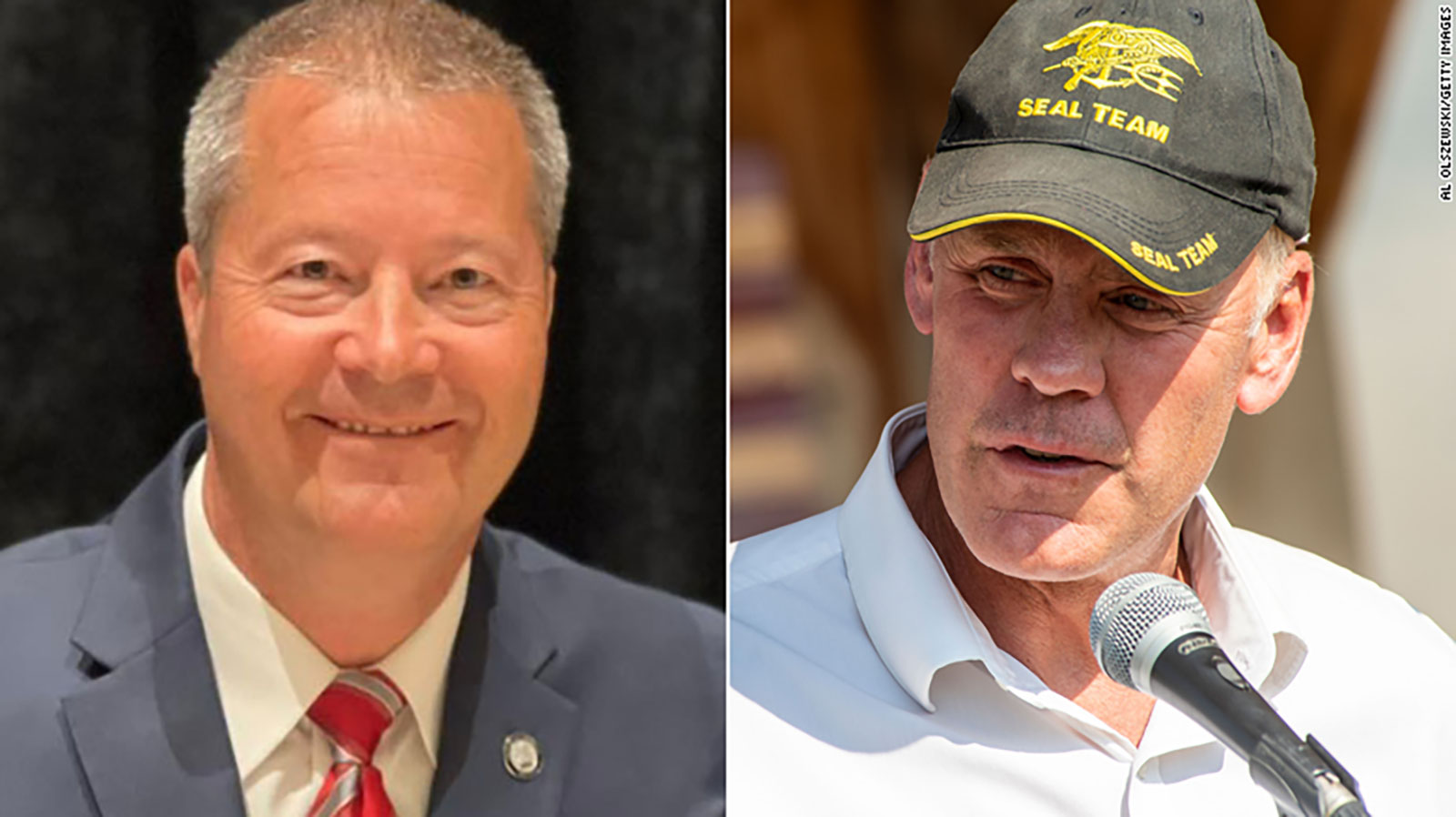 For the first time in decades, Montana will have two House seats. The state gained one after the 2020 census.
The new 1st Congressional District representing the western side of the state will be the open seat, with former President Trump's Interior Secretary and Montana congressman Ryan Zinke as the leading GOP candidate.  
Former state Sen. Al Olszewski is staging the most serious challenge to Zinke's bid, but has raised just a fraction of the campaign cash haul that Zinke's brought in.  
Poll times: Polls opened at 9 a.m. ET and will close at 10 p.m. ET. Montana is in the Mountain Time Zone. 
Voter eligibility: The deadline to register to vote was May 9. Montana voters could also register in-person through noon local time on Monday, June 6. All voters can vote early by mail or in person. Early ballot applications were due by noon local time on June 6, and all ballots must be received by the time polls close on June 7. 
Voters are required to show one form of photo ID on Election Day. These include things like a driver's license, military ID card, US passport or a utility bill, paycheck or government check or government document.
How ballots are counted: Election administrators can begin counting mail-in ballots on June 6. However, counties can decide whether to include early vote totals in the first vote reports after polls close on June 7. 
1 hr 42 min ago
What you need to know about the New Mexico primaries
From CNN's Ethan Cohen and Melissa Holzberg DePalo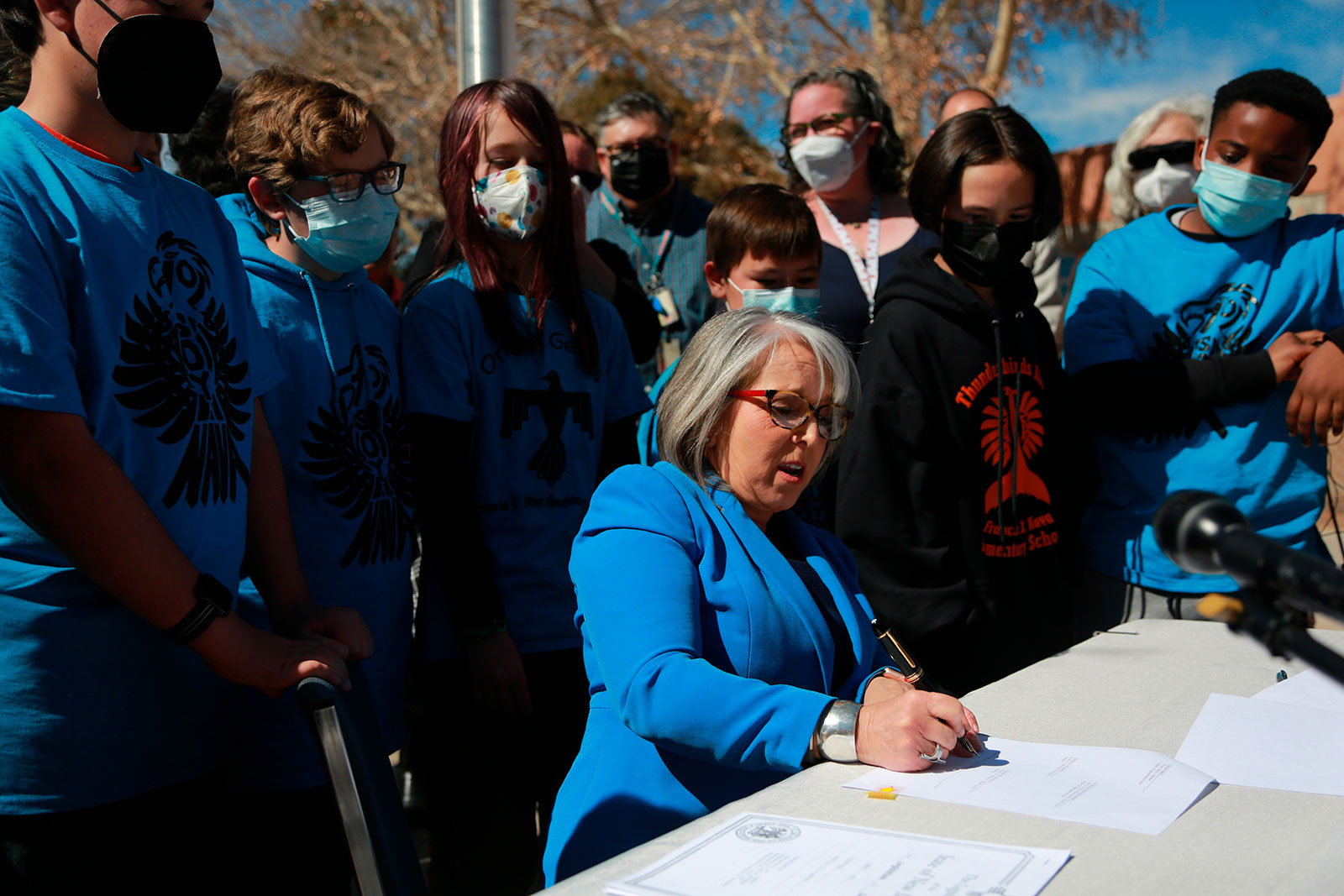 Democratic Gov. Michelle Lujan Grisham will face her first gubernatorial reelection campaign in New Mexico this cycle.  
Poll times: Polls opened at 9 a.m. ET and will close at 9 p.m. ET. New Mexico operates on Mountain Time.  
Voter eligibility: The last day to register to vote online or by mail was May 10. However, same day registration is available at county clerk's offices or at other early voting sites and on Election Day.  All voters are eligible to vote by mail or early in-person. Applications for mail ballots must be received by 5 p.m. local time on June 2. Ballots are due by poll close on Election Day. Early in-person voting ran from May 10 to June 4. There are no voter ID requirements for registered voters.
Only members of the affiliated political parties can participate in those parties' primary contests. New Mexico recognizes the Democratic, Republican and Libertarian parties.
How ballots are counted: Election officials can begin processing and counting mail ballots before Election Day. If a county clerk sends out more than 10,000 mail ballots, they can begin counting those returned ballots 14 days before Election Day. If a county sends out fewer than 10,000 mail ballots, they can begin counting five days before Election Day.
The first votes released after polls close will likely be early votes, but it is up to the discretion of each county clerk. 
3 hr 12 min ago
The key state and local elections to watch this year
From CNN's Fredreka Schouten, Rachel Janfaza, Gregory Krieg, Dan Merica, Kelly Mena, Maeve Reston, Steve Contorno and Andrew Menezes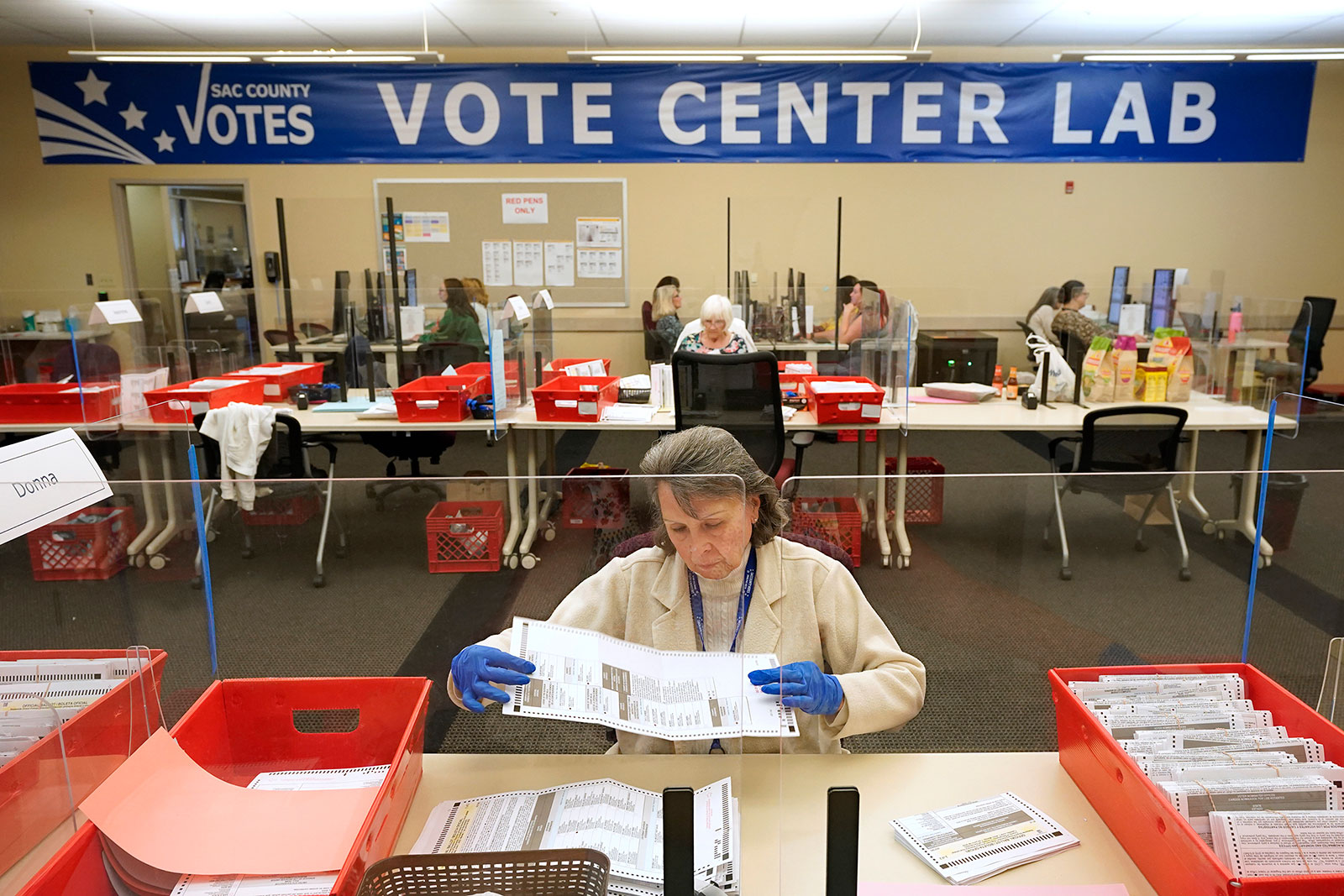 With Democratic control of the US House and Senate on the line in this fall's midterm elections, the races for those chambers have drawn plenty of attention. Republicans appear to be in good position to make gains in November, buoyed, in part, by historic midterm headwinds facing the party in power, economic concerns and President Joe Biden's low approval ratings.
But races at the state and local level will also have consequences that extend far beyond this year. New state laws targeting abortion, guns and voting rights, among other issues, have put a spotlight on the state and local officials responsible for signing or enforcing those measures.
Here are the key state and local races to watch in 2022: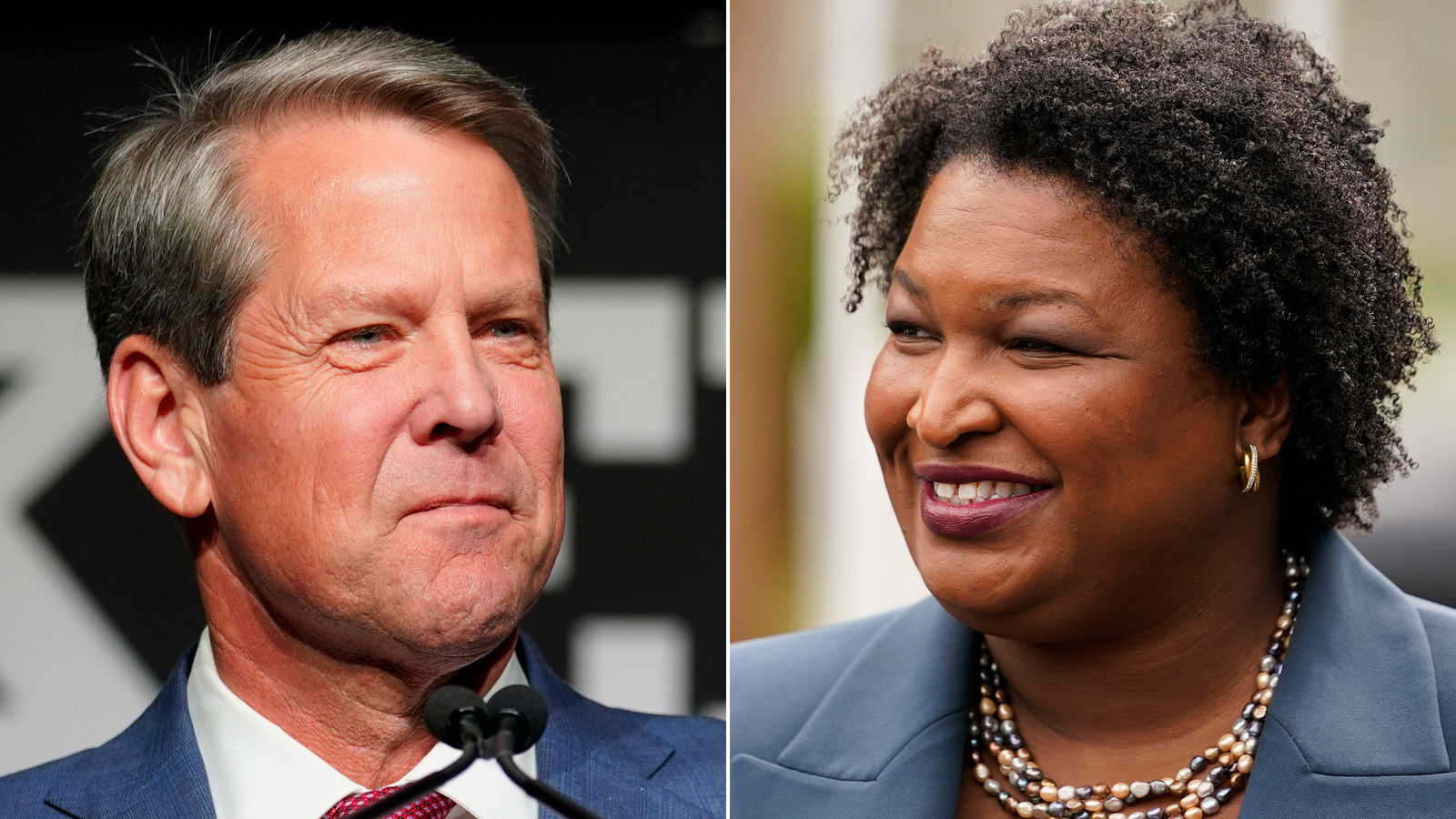 Georgia governor: The anticipated rematch of the fierce 2018 election between now-incumbent Republican Gov. Brian Kemp and Democrat Stacey Abrams is finally set after Kemp defeated a Trump-backed primary challenge from former US Sen. David Perdue and Abrams ran unopposed for her party's nomination.
That result was a notable mark against Trump's influence, especially among Georgia Republicans who aren't ready to trade in their longtime leaders at the former President's behest. But it was also a show of force for Kemp, who remains very popular with his party — enthusiasm that he'll need in a race with Abrams.
The bigger question now is whether Abrams, whose near-miss in 2018 made her a national Democratic star, can close the narrow gap with Kemp in a potentially high-turnout general election despite new Republican-enacted restrictions on voting.
There are few Democratic politicians better equipped to strategize around those restrictions than Abrams, a longtime voting rights advocate, but the field will almost certainly be tilted against her given Biden's poor approval numbers. 2018 was a good election year for many Democrats amid a backlash to Trump. But this time around, Abrams is swimming against the national political tide.
Pennsylvania governor: The race to succeed term-limited Democratic Gov. Tom Wolf will see Democratic Attorney General Josh Shapiro face off against Trump-backed state Sen. Doug Mastriano, a fervent promoter of the former President's 2020 election lies.
A win for Mastriano would give someone who attempted to overturn voters' will in 2020 power over the election machinery in one of the nation's most important battlegrounds during the 2024 presidential race. In Pennsylvania, the governor appoints the secretary of state — the person in charge of running the commonwealth's elections and signing off on its electors.
Shapiro, who was unopposed in the Democratic primary, has defended Pennsylvania's 2020 presidential election result and is emphasizing voting and abortion rights in his campaign.
The leak of the draft US Supreme Court opinion that would overturn the 1973 Roe v. Wade decision that legalized abortion nationwide has roiled elections across the country, including in Pennsylvania. Democratic groups have launched a multimillion-dollar campaign attacking Mastriano for his opposition to abortion rights. Shapiro has argued that should Roe fall, the governor's role would be crucial in a state where the GOP-controlled legislature has already passed bills that would impose abortion restrictions, which were vetoed by Wolf.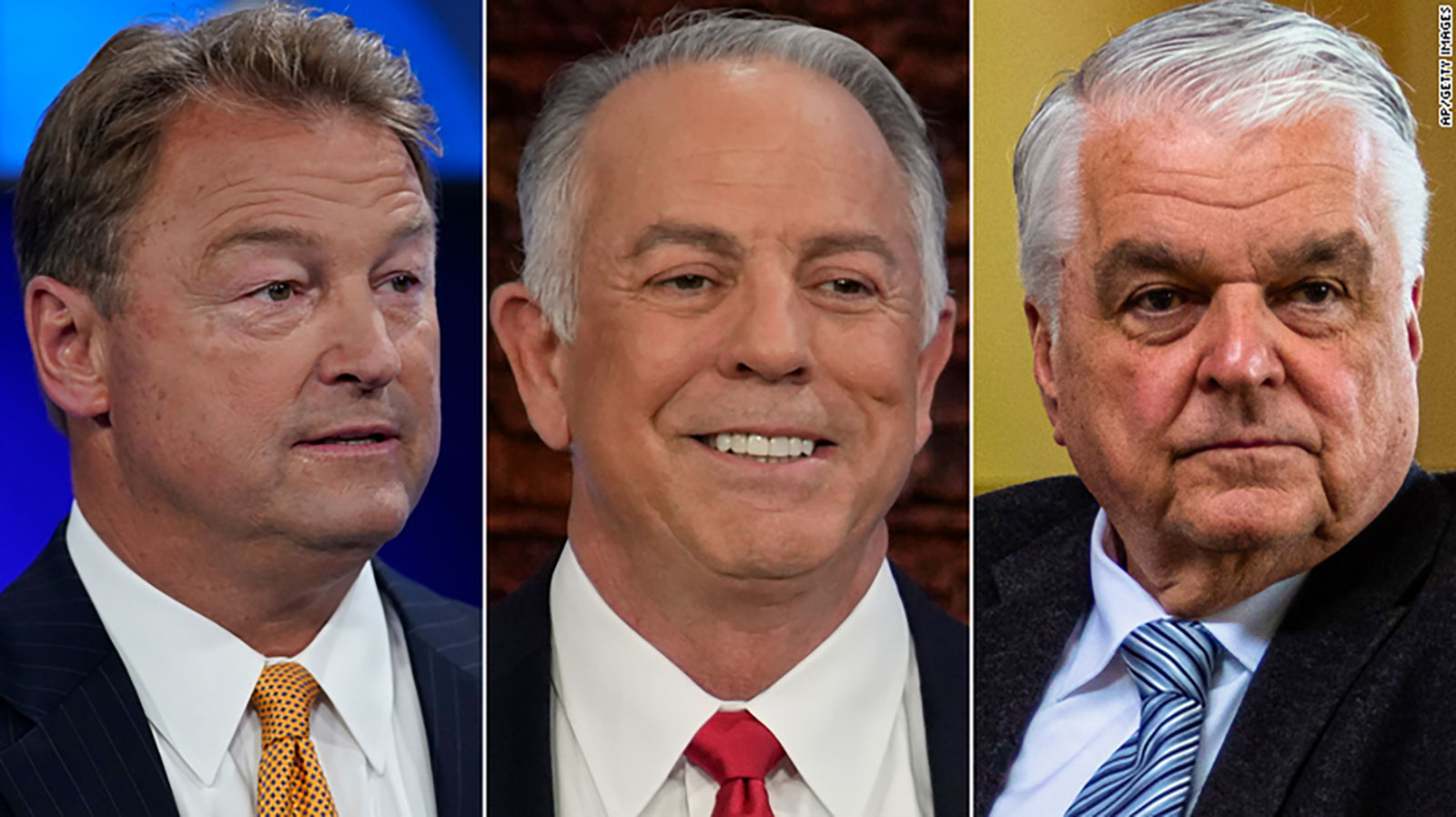 Nevada governor: Democratic control of the Silver State is on the line in 2022.
The party has dominated Nevada in recent years — albeit by narrow margins, a still remarkable turnaround for the once-red state. That could change this fall. Republicans across the country and in Nevada have made inroads with Latino voters, and the GOP hopes that lingering anger over pandemic restrictions and the national antipathy toward full Democratic control of Washington will help them break through in Nevada.
Gov. Steve Sisolak, who ended a two-decade Democratic drought in the executive office with his 2018 victory, faces a difficult race likely no matter whom Republicans nominate. GOP hopefuls include Clark County Sheriff Joe Clark, who has Trump's endorsement, and former US Sen. Dean Heller. But with competitive races for US Senate and House and other statewide offices as well, the results out of Nevada will speak volumes about the political future of the western state.
Keep reading about the other key races: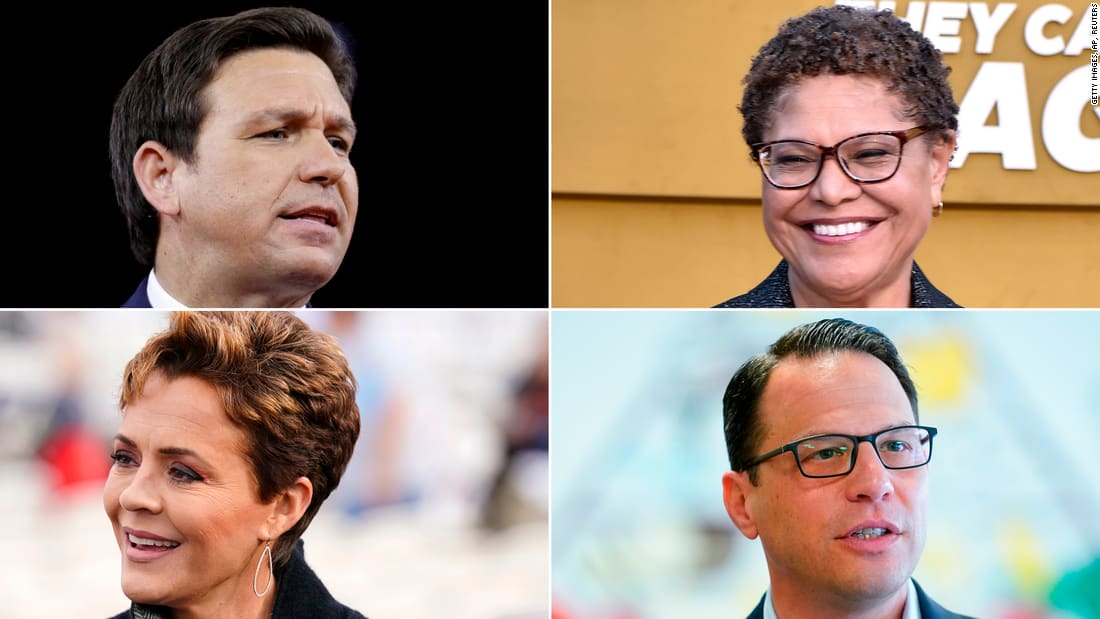 3 hr 22 min ago
Your guide to Iowa's primaries
From CNN's Ethan Cohen and Melissa Holzberg DePalo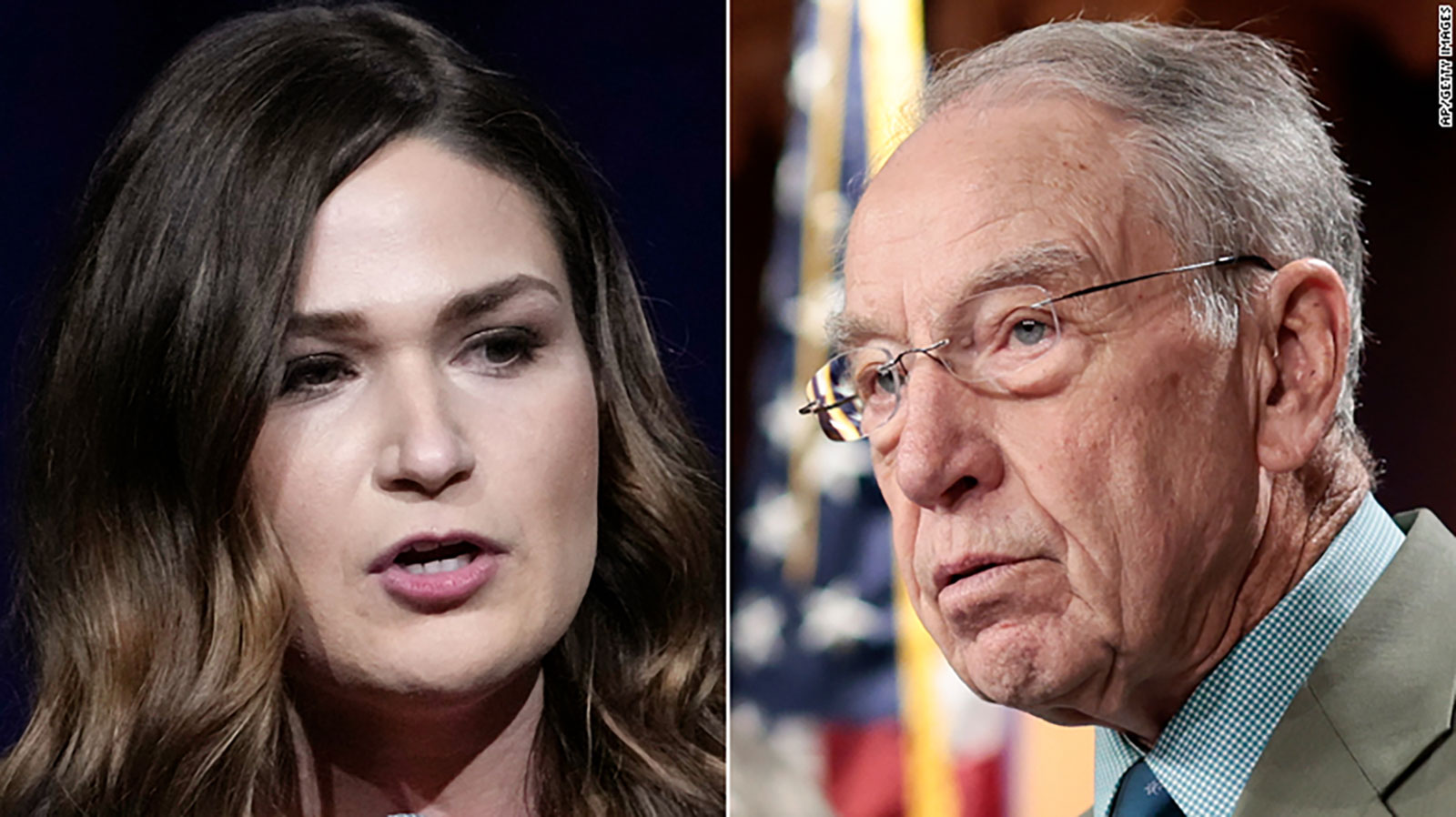 Key races: Former House Rep. Abby Finkenauer is the Democratic favorite to take on longtime Iowa GOP Sen. Chuck Grassley in November. Finkenauer served just one term in Congress after being elected in 2018. She lost her reelection campaign to Ashley Hinson in 2020.
The Iowa Supreme Court ruled in April that Finkenauer could appear on the 2022 primary ballot after a lower Iowa court said some of the signatures on her nominating petition should be ruled invalid.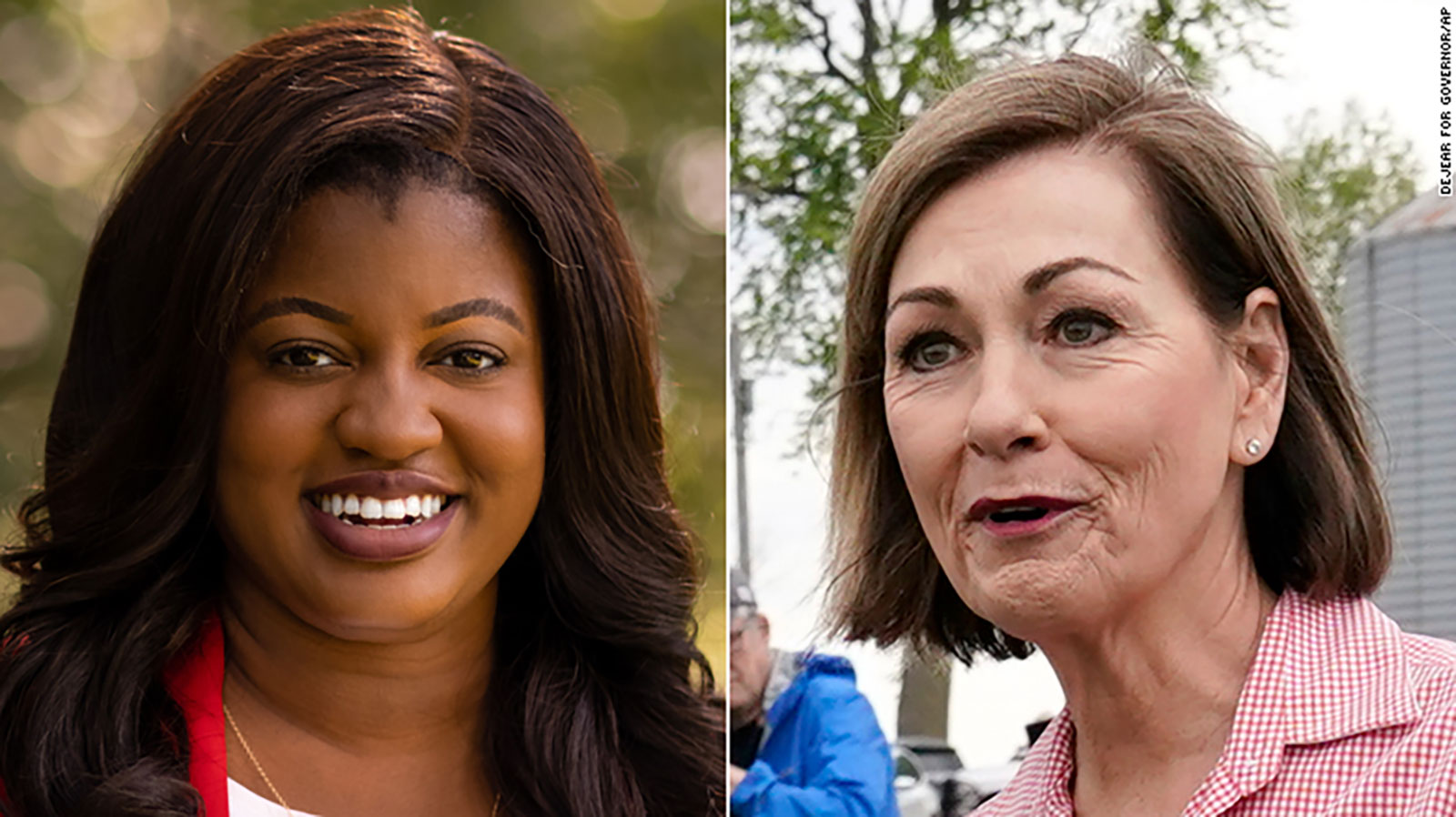 Separately, Republican Gov. Kim Reynolds — who is up for reelection — and Democrat Deidre DeJear are both unopposed in their primaries. 
Poll times: Polls opened at 8 a.m. ET and will close at 9 p.m. ET. The state is in the Central Time Zone.
Voter eligibility: The deadline to register to vote was May 23. All Iowa voters can vote early by mail or in person. Applications for mail ballots must have been received by May 23. Ballots must be returned by poll close on Election Day.Early in-person voting was available beginning May 18 at county auditor offices.
Voters are required to show an acceptable form of voter ID. These include an Iowa voter ID card, Iowa driver's license, Iowa non-operator ID, military or veteran ID, US passport or a tribal ID card.
How ballots are counted: Counties begin counting early votes the day before Election Day and counties will likely report early votes first once polls close.  
How a candidate wins their race: The leading candidate in primaries for statewide or federal office or state Senate or Assembly seats must receive at least 35% of the vote to win their party's nomination. If no candidate clears that threshold, the party chooses the nominee at a convention.
4 hr 27 min ago
California's House primaries will serve as an early test for both parties. These are the races to watch. 
From CNN's Maeve Reston
California's nonpartisan redistricting commission bucked the national trend last year by creating a new congressional map with at least eight competitive seats, offering pickup opportunities to both Democrats and Republicans vying for control of the US House.
Tuesday's House primaries in California will serve as an early test of strength for both parties as the GOP seeks a net gain of five seats to win the majority.
While Democrats were originally bullish about their chances this year in congressional races across the Golden State, those ambitions have been tempered by the difficult election climate they face. Many California voters are reeling from the highest gas prices in the nation and frustrations over the state's ongoing homelessness crisis as well as rising crime at a time when all of the top officeholders in the state are Democrats.
Most of Tuesday's real action will be in the House races and several local contests, including the contest to replace term-limited Los Angeles Mayor Eric Garcetti. Under California's "top two" primary system, the top two vote-getters in each congressional race, regardless of party, will advance to the November ballot. Turnout so far looks low, even though every voter in California received a ballot in the mail.
Here are the key House contests to watch: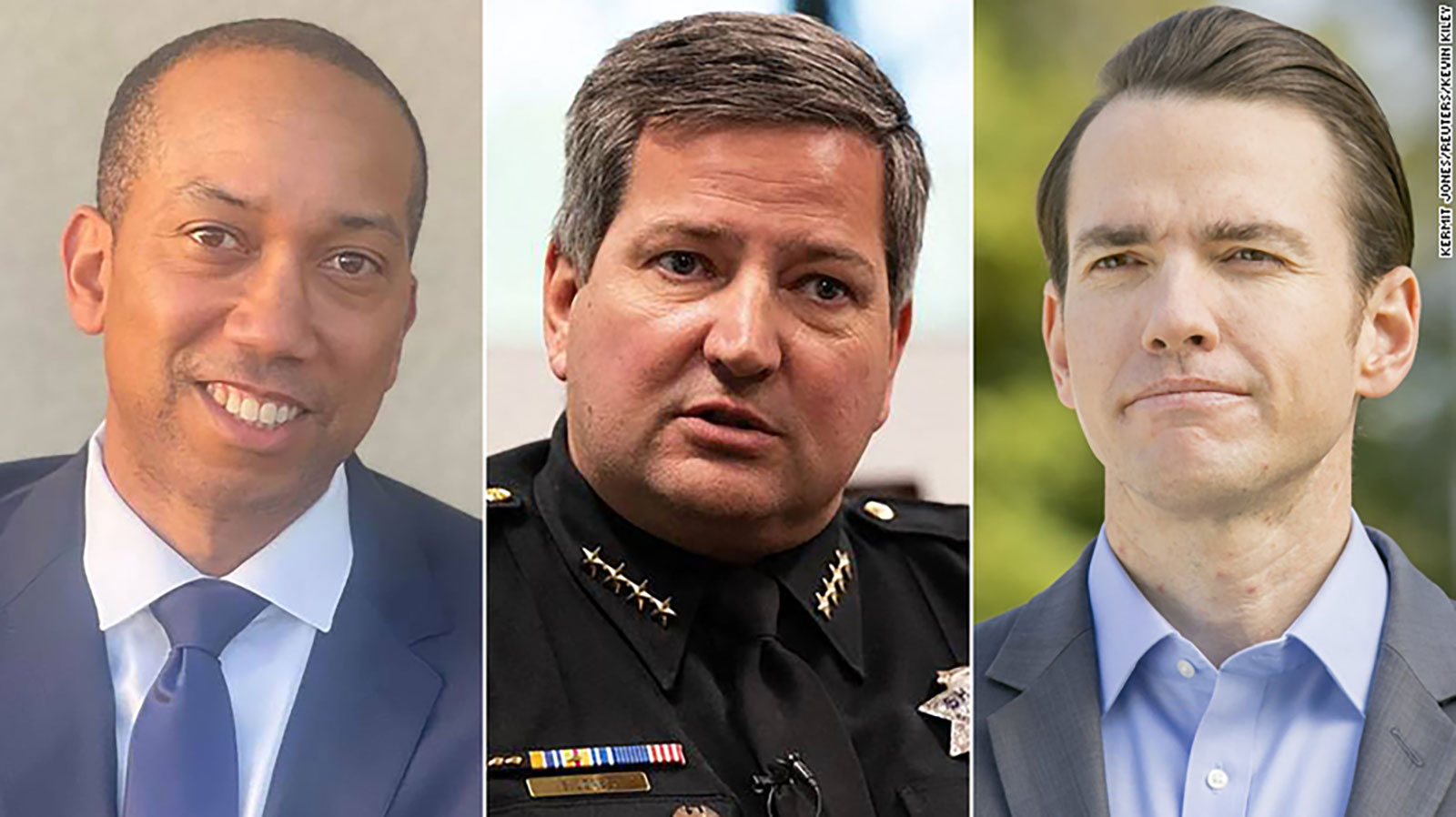 California's 3rd Congressional District: State Assemblyman Kevin Kiley ran for governor last year as a fiery disrupter, as GOP voters attempted to recall Newsom. His effort drew the notice of former President Donald Trump, who endorsed him in this new GOP-leaning district that encompasses Sacramento suburbs as well as areas surrounding Lake Tahoe and the mountainous communities of the Eastern Sierras. Kiley and Sacramento County Sheriff Scott Jones, who invokes Trump's name in one of his ads, are the two most prominent GOP candidates. Kiley has led a series of recent attempts in the state Assembly to suspend California's gas tax, which is the highest in the nation.
The most formidable Democratic candidate is Kermit Jones, who served as a flight surgeon with the US Navy and deployed to Iraq. He later became a White House fellow during the Obama administration, where he worked with the Health and Human Services Department on improving care for veterans. Focusing on Kiley, Jones has framed the race as a choice between "a partisan politician who supports January 6th insurrectionists and a public servant who always puts country above party."
California's 9th District: Democratic Rep. Jerry McNerney's decision to retire prompted another Democrat, Rep. Josh Harder, to swap his Modesto-area district for this more Democratic-leaning seat anchored in Stockton. With $6.8 million in cash on hand as of mid-May, Harder appears well-positioned for November.
Republican Tom Patti, a member of the San Joaquin County Board of Supervisors and a crane company owner, is viewed as Harder's stiffest competition and promises to bring a national focus to homelessness. Patti's biography notes that he was a "five-time state and Golden Gloves boxing champion" who trained under boxing coach Cus D'Amato, which led to his friendship with Mike Tyson. Tyson has said he nudged Patti into politics, and he headlined a fundraiser for Patti last fall when the candidate was exploring a run for Congress. Harder, a former venture capitalist, has touted his advocacy for expanding health care and for "commonsense gun reforms."
California's 13th District: Though this open seat in the Central Valley leans Democratic and a majority of its voters are Latinos, Republicans see an opportunity because of the anger over inflation, the continuing struggle with water issues and the unyielding rise in gas prices.
State Assemblyman Adam Gray, who has focused on expanding the water supply in this heavily agricultural region during his tenure in the statehouse, is viewed as the front-runner among the Democrats in the race. A self-described "radical centrist," he is backed by the Blue Dog PAC, the campaign arm of the Blue Dog Coalition of moderate House Democrats. Gray won the endorsement of the California Democratic Party earlier this year by a 2-to-1 margin over Phil Arballo, who unsuccessfully challenged former GOP Rep. Devin Nunes in 2020.
Business owner John Duarte, who owns a crops nursery in Stanislaus County, won the coveted designation as a "Young Gun" from the National Republican Congressional Committee. Duarte gained national attention from conservatives during his long-running fight with the Obama administration — he was charged with harming wetlands in violation of the Clean Water Act after plowing a field to plant wheat on his farm. He was fined nearly $2.8 million dollars and ultimately settled the case. Duarte's tagline: "Send a farmer to Congress."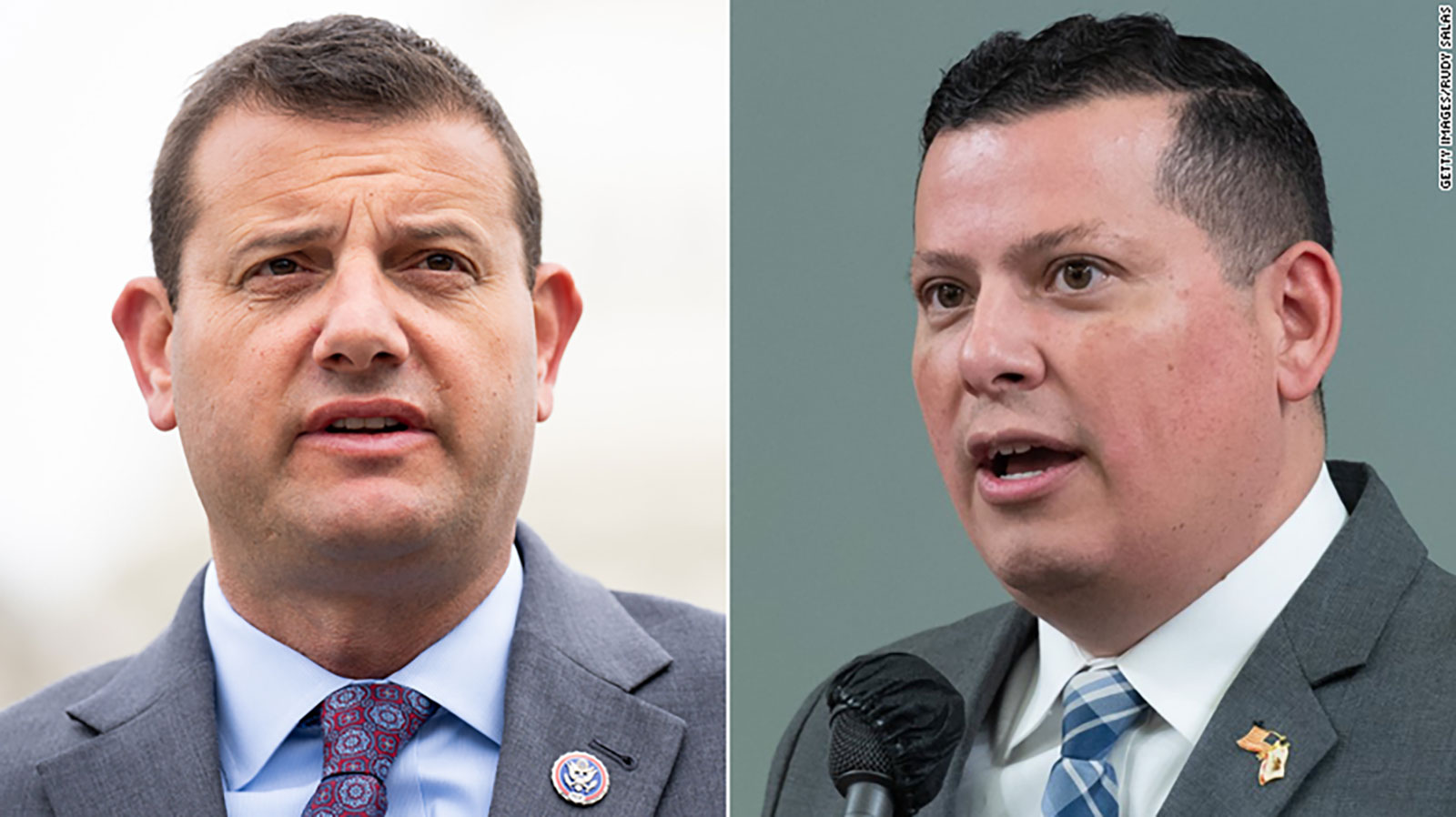 California's 22nd District: GOP Rep. David Valadao has often defied the odds in his predominantly Latino, Democratic-leaning Central Valley district — with the notable exception of the 2018 cycle when he narrowly lost to Democrat TJ Cox and then won the seat back two years later. But California's redistricting commission dealt Valadao, whose family owns two dairies as well as farmland in Kings County, an even more difficult hand this cycle by excising some of the more Republican areas of Valadao's current district.
Democrats landed a top recruit in state Assemblyman Rudy Salas, who is endorsed by the Blue Dog PAC and is already being bolstered with a six-figure ad buy from House Majority PAC, the super PAC tied to House Democratic leadership.
Valadao's opponents believe he may be more vulnerable to erosion within the GOP base this year because he voted to impeach Trump after the January 6, 2021, insurrection at the US Capitol, even though the former President has not intervened in the race. Valadao is being challenged on the right by former Fresno City Councilmember Chris Mathys, who has criticized the incumbent's impeachment vote and sued the state after it rejected his request to be identified as a "Trump Conservative/Businessman" on the ballot.
But Valadao is leaning into his image as an independent voice for the Central Valley as he advocates a state gas tax suspension and promises to be a bulwark against the "radical left." The GOP hopes the unfavorable political climate facing Democrats this year will get him across the finish line even though Democrats hold a clear registration advantage in the newly drawn 22nd District.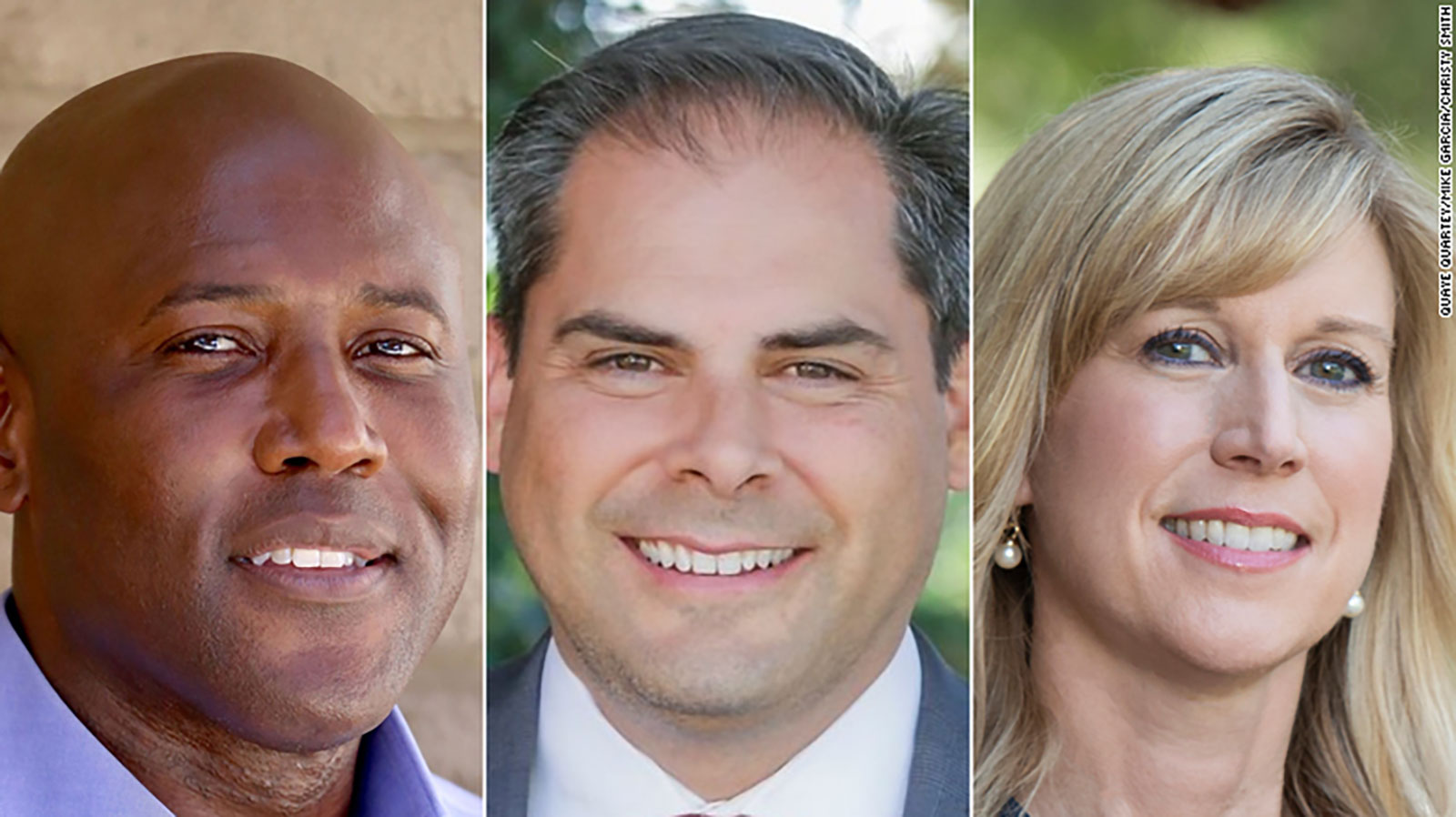 California's 27th District: The race for this northern Los Angeles County seat looked like it was headed for a rematch between GOP Rep. Mike Garcia, a former fighter pilot and Democratic former state Assemblywoman Christy Smith, who lost to Garcia twice in 2020 (first in a special election to replace Democratic Rep. Katie Hill and then in the November election by about 300 votes). But Democrat Quaye Quartey, a former intelligence officer in the Navy, has marshaled a strong challenge for the likely Democratic slot, as he argues that his military experience and background growing up as the son of an immigrant father from Ghana would make him a more formidable contender to face Garcia in November. Quartey has nearly matched Smith's fundraising and notched the endorsements of key Democratic influencers in California, including Reps. Katie Porter and Barbara Lee.
In the redrawing of the district, Garcia lost Republican areas in the Simi Valley — making it easier for Democrats to turn this into a highly partisan contrast of ideals in November as they try to boost turnout by highlighting Garcia's loyalty to Trump and his vote against certifying the 2020 election results from Arizona and Pennsylvania.
Read about the other key races here.
5 hr 8 min ago
Here's what you need to know about New Jersey's primaries
From CNN's Ethan Cohen and Melissa Holzberg DePalo
New Jersey will hold primaries for its 12 US House seats, but there are no statewide races on the ballot this year.
Poll times: Polls opened at 6 a.m. ET and close at 8 a.m. ET.
Voter eligibility: The deadline to register to vote was May 17. New Jersey voters had until May 31 to mail a mail-in ballot request and had until June 6 at 3 p.m. to request a mail-in ballot in-person at county clerks offices.
Ballots must be postmarked on or before 8 p.m. ET on Election Day and received by the county Board of Elections on or before June 13. Mail-in ballots can also be placed in a ballot drop box by 8 p.m. ET on Election Day or delivered in person to the county Board of Elections office by 8 p.m. ET on Election Day.  Early in-person voting was available June 3 through June 5. Voters do not need to provide voter ID at their polling place.  
New Jersey voters can register in either the Democratic or Republican parties, and then voters can only participate in their affiliated party's primaries. However, unaffiliated voters can participate in primary elections if they declare a party when voting at their polling site or selecting either the Democratic or Republican ballot when voting by mail.  
How ballots are counted: Mail in ballots can be processed before Election Day, but early votes cannot be counted until after polls close on Election Day. Counties can determine if they report early or Election Day votes first after polls close.  
1 hr 13 min ago
Your guide to the Mississippi primaries
From CNN's Ethan Cohen and Melissa Holzberg DePalo
Mississippi will hold primaries for its four congressional seats, but no statewide races are on the ballot this year. All four of the state's representatives are running for reelection. 
Poll times: Polls opened at 8 a.m. ET and close at 8 p.m. ET.
Voter eligibility: The deadline to register to vote was May 9. Mississippi requires all voters to present A photo ID prior to voting in-person on Election Day or casting an absentee ballot at the circuit or municipal clerk's office. Acceptable forms of voter ID include: a driver's license, a government issued photo ID card, a US passport, a government employee photo ID card, a firearm's license, a student photo ID issued by a Mississippi university, a military photo ID, a tribal photo ID, any photo ID issued by any federal or state government agency or a Mississippi voter ID card.
Voters must meet certain criteria to vote by mail or early in person. In-person voting ran from April 23 to June 4 for those eligible. Mail ballots can be received by June 14 if they're postmarked on or before June 7.
How ballots are counted: Mississippi officials cannot begin processing early ballots until polls open on Election Day. Counties are also not required to announce the total number of ballots sent or received. Election Day votes will likely be the first votes reported after polls close. Mississippi doesn't publish consolidated election night results.  
How a candidate wins their race: Candidates in Mississippi must win 50%+1 vote to avoid a runoff. Runoffs would be held on June 28 if needed.