1 min ago
New York attorney general: "We will not be silenced by this egregious attempt to overturn abortion rights"
From CNN's Rob Frehse
New York Attorney General Letitia James Tuesday responded to the draft Supreme Court decision on Roe v. Wade, calling the decision an "egregious attempt to overturn abortion rights."
"We will not be silenced by this egregious attempt to overturn abortion rights," James said in a press release. "The time is now for Congress to act and pass legislation that codifies Roe v. Wade to protect the future of people's health and abortion access in the United States. We must defend and preserve our most basic human rights."
James continued: "I have long fought and will keep fighting for reproductive freedom in New York and states across the country because our democracy is strongest when every voice is heard and protected. I will never quit fighting for equality, justice, and the right for all people across the country to have full control over their own bodies."
29 min ago
Obamas: Decision would "relegate" an "intensely personal" choice to the "whims of politicians and ideologues"
From CNN's Dan Merica
Former President Barack Obama and former first lady Michelle Obama have released a joint statement on the draft Supreme Court decision on Roe v. Wade, stating that if it becomes final "it will relegate the most intensely personal decision someone can make to the whims of politicians and ideologues."
The statement continued; "Few, if any, women make the decision to terminate a pregnancy casually — and people of goodwill, across the political spectrum, can hold different views on the subject. But what Roe recognized is that the freedom enshrined in the Fourteenth Amendment of the Constitution requires all of us to enjoy a sphere of our lives that isn't subject to meddling from the state — a sphere that includes personal decisions involving who we sleep with, who we marry, whether or not to use contraception, and whether or not to bear children."
They also urged those who support abortion rights to take action and "join with the activists who've been sounding the alarm on this issue for years … vote alongside them on or before November 8 and in every other election. Because in the end, if we want judges who will protect all, and not just some, of our rights, then we've got to elect officials committed to doing the same."
1 hr 5 min ago
Democrats shift focus to abortion after struggling to find their midterm footing
From CNN's Lauren Fox, Manu Raju and Ted Barrett
Democrats had been struggling to find their midterm footing amid bad polls and rising inflation — but now are rallying around an issue they hope will turn around their fortunes: Abortion.
With no chance of successfully passing a bill, they are pleading with voters to send them more senators to change filibuster rules and codify a woman's abortion rights.  
But they face a daunting environment nonetheless.
"We will vote to protect a woman's right to choose," Majority Leader Chuck Schumer promised on the Senate floor Tuesday despite the fact Democrats don't have the votes to pass such a law.
But in the wake of the stunning Supreme Court leak that showed a majority of justices voting to overturn the landmark abortion decision, Democrats are grappling with the tenuous reality of their 50-50 Senate: a fractured majority that leaves them no options to enshrining abortion rights in law and instead gives them only the power to keep it in the spotlight ahead of the November elections.
While some Democratic candidates are calling on senators to expand the Supreme Court or gut the filibuster to protect Roe v. Wade, neither of those options stands a chance of passing in the 50-50 Senate.
"The 50-50 Senate sucks," Sen. Mazie Hirono, a Democrat from Hawaii, lamented Tuesday, adding it was her goal to try and get more Democrats elected that would back abortion rights in the future.
For now, leaders are looking to force votes on abortion rights that will put members on the record and keep the issue in the headlines. It may be the best — and only — path forward for a Democratic Party that has struggled to keep voters enthusiastic ahead of the midterms.
"We are discussing this point what our next move is," said Senate Judiciary Chairman Dick Durbin, a Democrat from Illinois. "There is no decision about expanding the court in the early stages here, but there is a discussion about floor action."
But floor action will also expose long-established rifts in Democratic ranks. Sen. Joe Manchin, a Democrat from West Virginia, doesn't back a law that codifies abortion rights for women.
In February, he voted with Republicans against advancing the Women's Health Protection Act, which protects the rights of women to access abortion in the US. And both Manchin and Arizona Democratic Sen. Kyrsten Sinema reiterated Tuesday they would not back any action to gut the filibuster for abortion or any other issue.
Democrats still see a path, however, to use the Supreme Court decision to turn out their base at the polls. Democrats are hopeful it could be a swift turn of fate for a party that has been struggling to rally behind a singular and cohesive message ever since efforts to pass the President's sweeping social agenda plan faltered in December.
"The simple fact is that poll after poll show that Americans do not want to overturn Roe v. Wade," said Connecticut Democratic Sen. Richard Blumenthal. "I think it will spark outrage, anger, astonishment and a lot of votes."
Read more here.
CNN's Morgan Rimmer and Ali Zaslav contributed to this report.
29 min ago
Schumer fumes at GOP for spending "two decades trying to repeal Roe and now they won't own up to it"
From CNN's Ali Zaslav and Manu Raju
Senate Majority Leader Chuck Schumer railed against Republicans for refusing to "own up" to how their actions may now contribute to overturning Roe v. Wade.
"I cannot tell you the outrage I feel at this decision and the outrage I feel that Republicans who did it won't own up to it and duck it. It's despicable," Schumer said at his weekly policy presser on Tuesday.
The New York Democrat responded to GOP Leader Mitch McConnell being asked at his weekly policy presser by CNN's Manu Raju whether he takes personal credit for getting Roe repealed, "and he wouldn't even answer yes or no," he said.
"They spent a decade, two decades trying to repeal Roe and now they won't own up to it," Schumer continued. "They're like the dog that caught the bus. They know they're on the wrong side of history. They know they're on the wrong side of where the American people are. They know they'll pay consequences in the 2022 elections. And their spin masters are telling them to avoid the subject and they did."
Raju asked Schumer whether he regrets the decision of Justice Ruth Bader Ginsburg not to step aside from the Supreme Court and Democrats not urging her to do so, as Justice Amy Coney Barrett is likely in the majority to strike down Roe. "I'm not going to second guess Ruth Bader Ginsburg," he said.
Schumer reiterated his intention to hold a vote "very soon" on legislation to codify the right to an abortion, which currently has no path forward in the 50-50 split chamber. 
The majority leader declined to comment on the legislation of GOP Sens. Lisa Murkowski of Alaska and Susan Collins of Maine to codify Roe, saying he hasn't seen it.
Asked about his statement accusing some Supreme Court justices of being liars, Schumer said: "When asked about Roe v. Wade, they said they follow precedent and on issue after issue they are no longer following precedent that was misleading the American people and we are many instances in the private interviews when they talk to people just the same. They were true misleading." 
Schumer dodged the question of whether Democrats should look more seriously at expanding the Supreme Court.
"Our first step is to have the vote that we're going to have next week," he said. "And the bottom line is that we're going to look to these elections in November and I think it's going to be the American people (that) are going to speak loudly and clearly that we need some change. We cannot have a right wing court run America. How that changes we'll have to see."
29 min ago
Pennsylvania governor: Abortion access "will remain legal and safe as long as I am governor"
From CNN's Rob Frehse
Pennsylvania Gov. Tom Wolf, a Democrat, said that abortion access in the state will remain "legal and safe" as long as he is governor.
Wolf added that he will continue to veto any legislation that threatens access to abortion in the state.
"Any decision to overturn Roe v. Wade is an assault on the right to access safe, legal abortion services," Wolf said in a news release on Tuesday.
"Let's be clear: the issue is not whether we believe in choice, but rather who is going to make that choice. I believe that should be the person who is most closely involved in making this difficult decision — not lawmakers and judges. And I believe that's a right that applies to every person across this country," he added.
Wolf is expected to hold a news conference Wednesday to further discuss the impact of the draft US Supreme Court decision might have on the state.
1 hr 12 min ago
Biden adviser predicts "seismic" SCOTUS draft opinion will have "galvanizing force" in midterms
From CNN's MJ Lee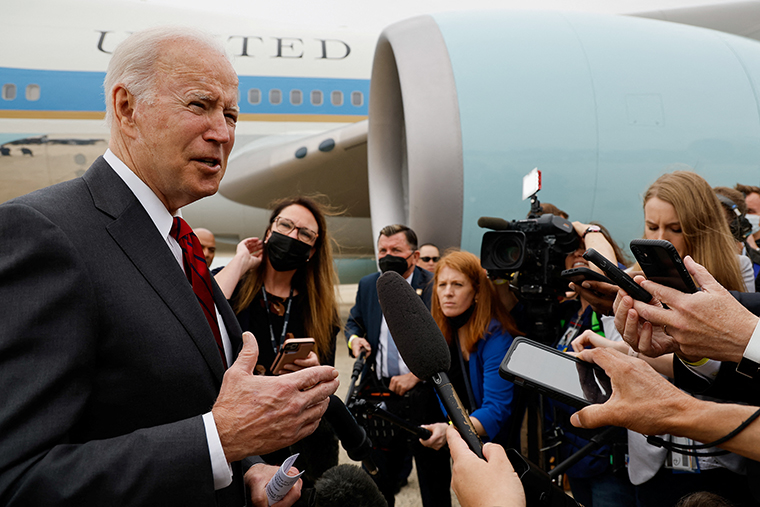 President Biden, his chief of staff Ron Klain and other senior advisers huddled this morning at the White House before the President left for Alabama to discuss the extraordinary news that broke overnight of the Supreme Court draft opinion on Roe v. Wade and to craft the statement that Biden ultimately released in the morning.
And now, Biden's team is already looking ahead to what this news will mean for Democrats heading into the midterms, with one Biden adviser telling CNN that they expect and hope the news will result in many people channeling their "energy and rage" into voting for candidates who are supporters of ​legal abortion rights in November.
"This will have an extraordinary galvanizing force with some of the very Americans who don't always turn out or weren't really looking to the midterms yet," the adviser said. "This is a seismic thing coming out of the Supreme Court, and it's going to take a seismic movement in response … to elect more pro-choice elected officials."
The adviser pointed to young people, people of color, women, independents and suburban women as groups that they expect the opinion draft to galvanize. If social issues have largely been "abstract" so far, "this is no longer going to be abstract," the adviser said. "This is going to be real."
The adviser cautioned that the development doesn't change the fact that Democrats face significant "headwinds" heading into November. But this Supreme Court draft opinion will now be one of the several issues that Biden and other top officials discuss publicly, as they attempt to draw a contrast between Democrats and "the MAGA Republicans," the adviser said.
When Biden met with his top advisers this morning, one concern they discussed was what the draft opinion might signal about the ultimate final ruling's reach, beyond just the issue of abortion. "It is far reaching," the adviser said.
Biden signaled as much when he spoke to reporters this morning, saying: "If the rationale of the decision as released were to be sustained, a whole range of rights would be question."
28 min ago
Man whose case legalized gay marriage says he is worried after the draft opinion leak
From CNN's Mike Valerio and Ariane de Vogue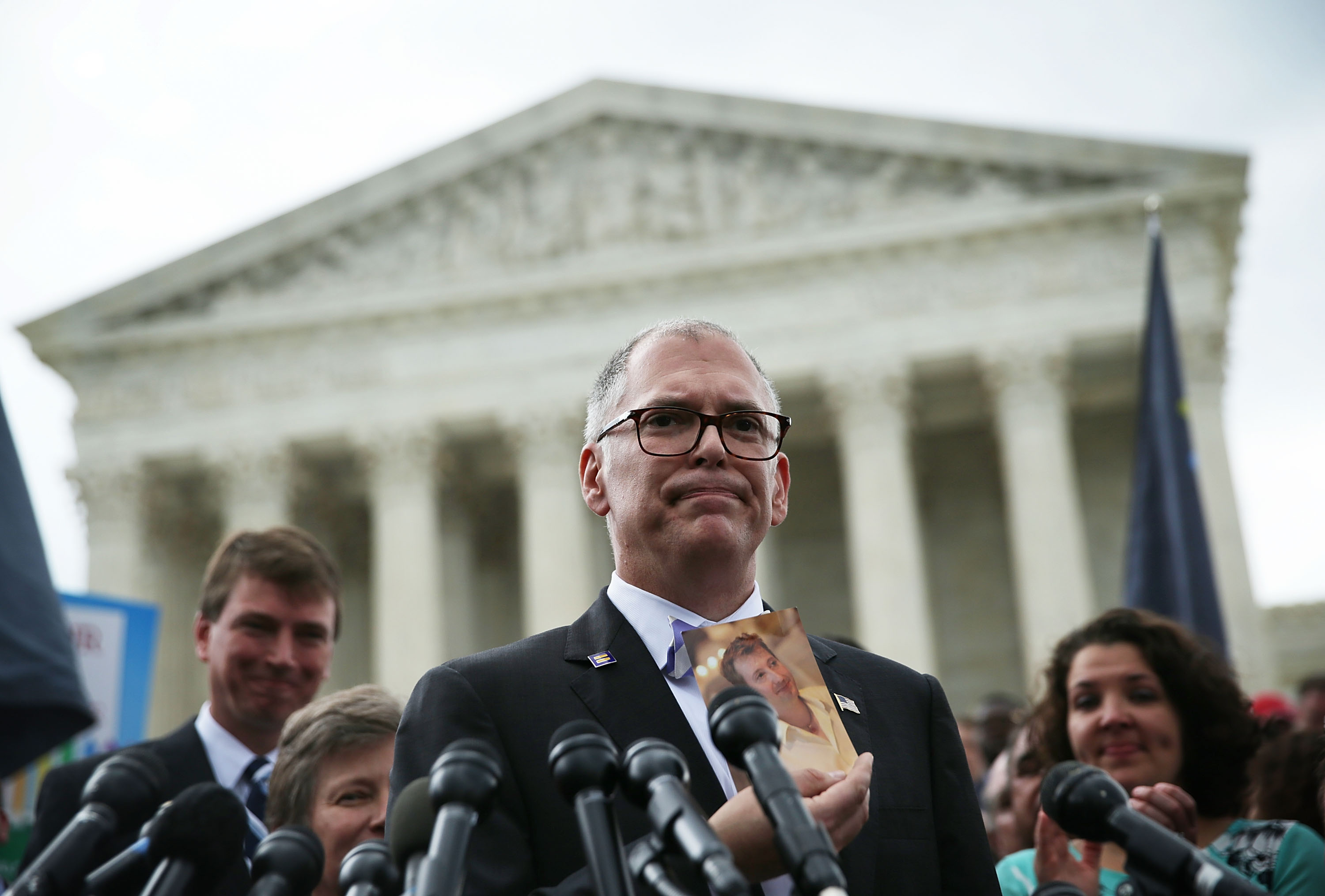 After the draft of a majority opinion on a Supreme Court case was leaked, revealing the court would strike down Roe v. Wade, Jim Obergefell says he is worried that his landmark US Supreme Court case that legalized gay marriage across America could also be in danger.
"It scares the daylights out of me," he told CNN.
While his immediate reaction to the draft opinion was that "this is a dark day for women in our nation," he said it was quickly followed by the worry that "marriage equality is next." 
"Many of the rights we enjoy, especially the LGBTQ+ community, are based on unenumerated rights under the 14th Amendment — the right to privacy," he explained. "If the Constitution doesn't specifically, in writing, outline that right to privacy, then all of those rights that have been affirmed for us that are based on the right to privacy under the 14th Amendment are at risk."
He told CNN he hoped the bombshell leak spurs people on the sidelines to vote.
In a statement released Tuesday, Obergefell also said that the most basic human rights are "under siege."
"The extreme U.S. Supreme Court should not be overturning decades of established law and denying the most basic human health rights to pregnant people to make their own decisions about their lives and their bodies," the statement read. "The sad part is … five or six people will determine the law of the land and go against the vast majority of Americans who overwhelmingly support a person's right to make their own health decisions and a couple's right to be married. This is a sad day, but it's not over. We have fought the good fight for too long to be denied our rights now."
Earlier today, Sen. Mazie Hirono, a Democrat from Hawaii, also said she fears that if the Supreme Court overturned Roe v. Wade, it might lead to the overturning of other key privacy decisions including Obergefell, which legalized same-sex marriage.
CNN's Lauren Fox and Sarah Fortinsky contributed reporting to this post.
28 min ago
What SCOTUS justices said during confirmation vs. what's in the draft opinion overturning Roe v. Wade
Analysis by CNN's Zachary B. Wolf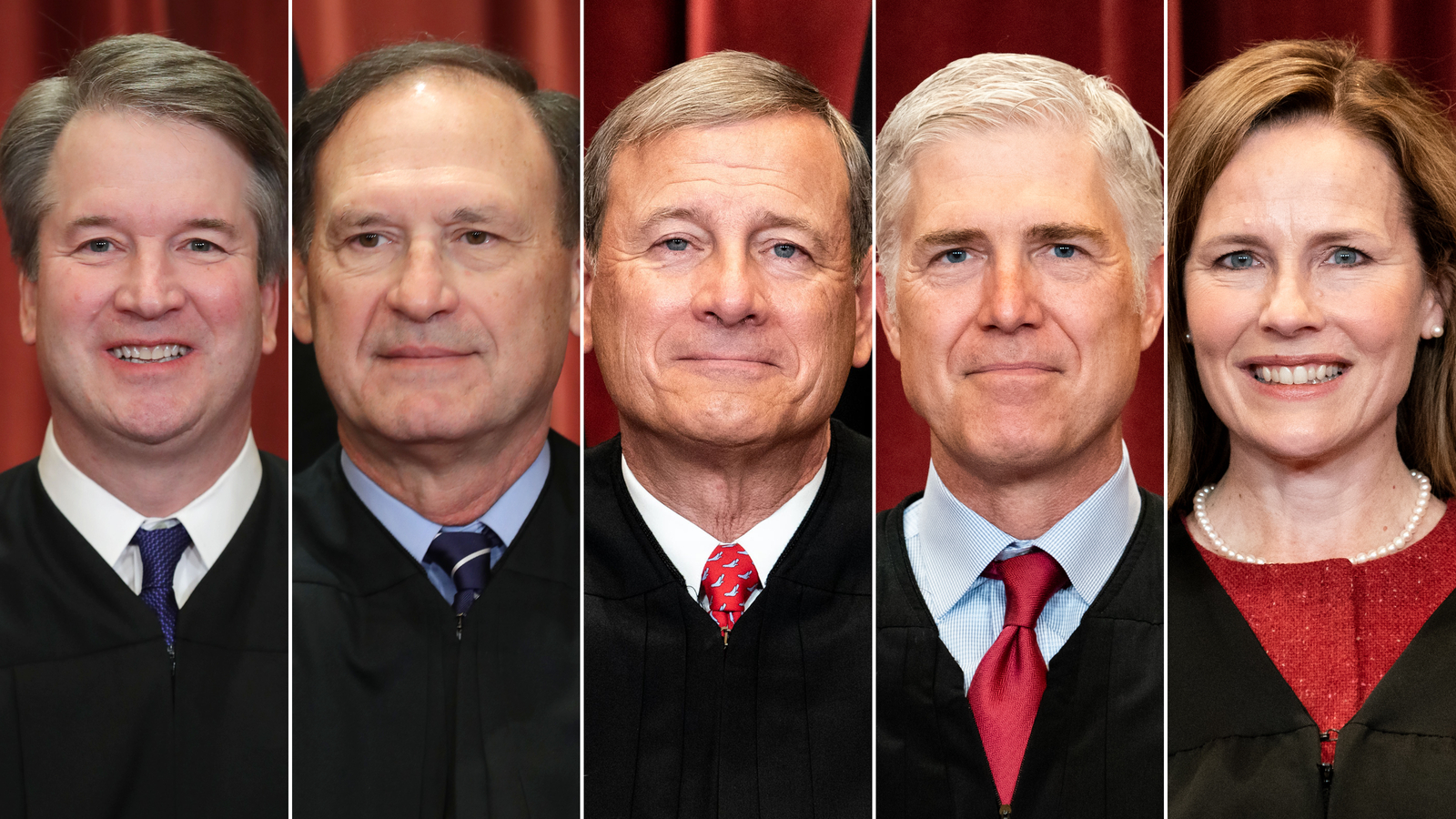 A draft opinion published by Politico on Monday and written by Justice Samuel Alito appears to have the support of four other Republican-appointed justices. Things could still change, but the draft eviscerates Roe v. Wade and would overturn decades of law founded on privacy rights. 
If Roe is overturned, it might come as a complete shock if all you've watched is Supreme Court confirmation hearings for the past generation, when obfuscation by nominees on the issue of abortion was elevated to an art form.
Justice Alito: At his confirmation hearing in 2006, Alito promised to respect precedent and keep an open mind on abortion cases and to respect stare decisis, the legal principle by which precedent takes on increasing importance.
He tried to separate himself from a memo he wrote in 1985 as a lawyer in the Reagan administration, in which he said the Constitution did not protect a right to an abortion. He may now hand down that decision as a Supreme Court justice.
Justice Thomas: Years earlier, in 1991, then-nominee Clarence Thomas told senators he hadn't given the issue of Roe v. Wade much thought. As a confirmed justice, he pretty quickly turned into a major critic of the decision and has long pushed for it to be overturned.
Justice Gorsuch: He said Roe was the "law of the land," saying the decision held that "a fetus is not a person for purposes of the 14th Amendment."
Sen. Dick Durbin asked Gorsuch if he accepted that.
"That's the law of the land. I accept the law of the land, senator, yes," Gorsuch said.
Justice Kavanaugh: Like Alito, Kavanaugh had also written a memo as a government lawyer in which he expressed doubt about the precedent of Roe. But at his confirmation hearing, he said he understood it.
Justice Coney Barrett: At her confirmation hearing to take over for Justice Ruth Bader Ginsburg, Justice Amy Coney Barrett said she would set aside her personal opposition to abortion in order to follow the law as a judge. 
Barrett would not say if she felt that Roe was correctly decided, according to CNN's analysis at the time, but she did acknowledge that Roe "held that the Constitution protected a woman's right to terminate pregnancy."
Chief Justice Roberts: He may not vote with other Republican-appointed justices to fully overturn Roe v. Wade, but he has appeared open to affirming a Mississippi law that would restrict abortion in that state to 15 weeks of gestation. 
At his 2005 confirmation hearing, he said Roe was entitled to respect as a precedent. Unlike Thomas, Alito and Gorsuch, Roberts has not pushed as a justice to reconsider Roe.
Read the full analysis here.
3 hr 3 min ago
Here are the US states that could ban abortion if Roe v. Wade is overturned