2 min ago
Rep. Allred thanks family of officer who died after riot: "Your son's sacrifice" allowed me to meet my son
Rep. Colin Allred, a Democrat from Texas, reflected on the threats faced by members of Congress on the day of the Capitol insurrection and thanked the families of police officers who held the line to the House chamber.
"We saw the mob at the doors. As we were exiting the House floor, I saw the glass breaking. I saw the officers staying behind with their guns drawn. And I thought about the opportunity they had given me, because as I said, I was raised by a single mother, but I'm a father now. I had a 23-month-old son at home, and I had a baby on the way in two more months. Had those officers not held that line, I would not have met my son, Cameron," Allred said.
Allred then addressed the family of US Capitol Police Officer Brian Sicknick, who died a day after he defended the Capitol.
"So, for me, Jan. 6, I don't see it as a member of Congress so much. I see it as a father. As somebody who, because I didn't know mine, have always been committed to making sure that my boys knew me. So, to the Sicknick family, I'll say to you, your son's sacrifice allowed me to meet mine."
Allred continued, "The overwhelming feeling I felt on Jan. 6 was one of sadness. Sadness for our country, sadness for the country that I thought I might have to leave to my boys. In the time since then, and I really mean this, my sadness has become a resolve. I'm determined to do whatever I can to save our democracy. Because it's worth saving."
39 min ago
The parents of one Capitol police officer traveled to DC so they can hug their son after work today
From CNN's Donie O'Sullivan, Sarah Boxer and Jeremy Moorhead
Kathee and Robert, the parents of a Capitol police officer, told CNN today outside the Capitol that they traveled from upstate New York to Washington, DC, to be able to give their son a hug when he comes home from work tonight. 
The parents said they watched the live television coverage of the attack one year ago today in horror and described the long wait they had until 11 p.m. ET that night before their son was able to call them and tell them he was okay. 
Kathee said she will prepare one of her son's favorite dishes for when he finishes his shift tonight – stew. 
Kathee and Robert have asked for their last names not to be used to protect their son from online attacks.  
1 min ago
Rep. Blunt Rochester: Jan. 6 was a day where the "light of acts of courage" defeated darkness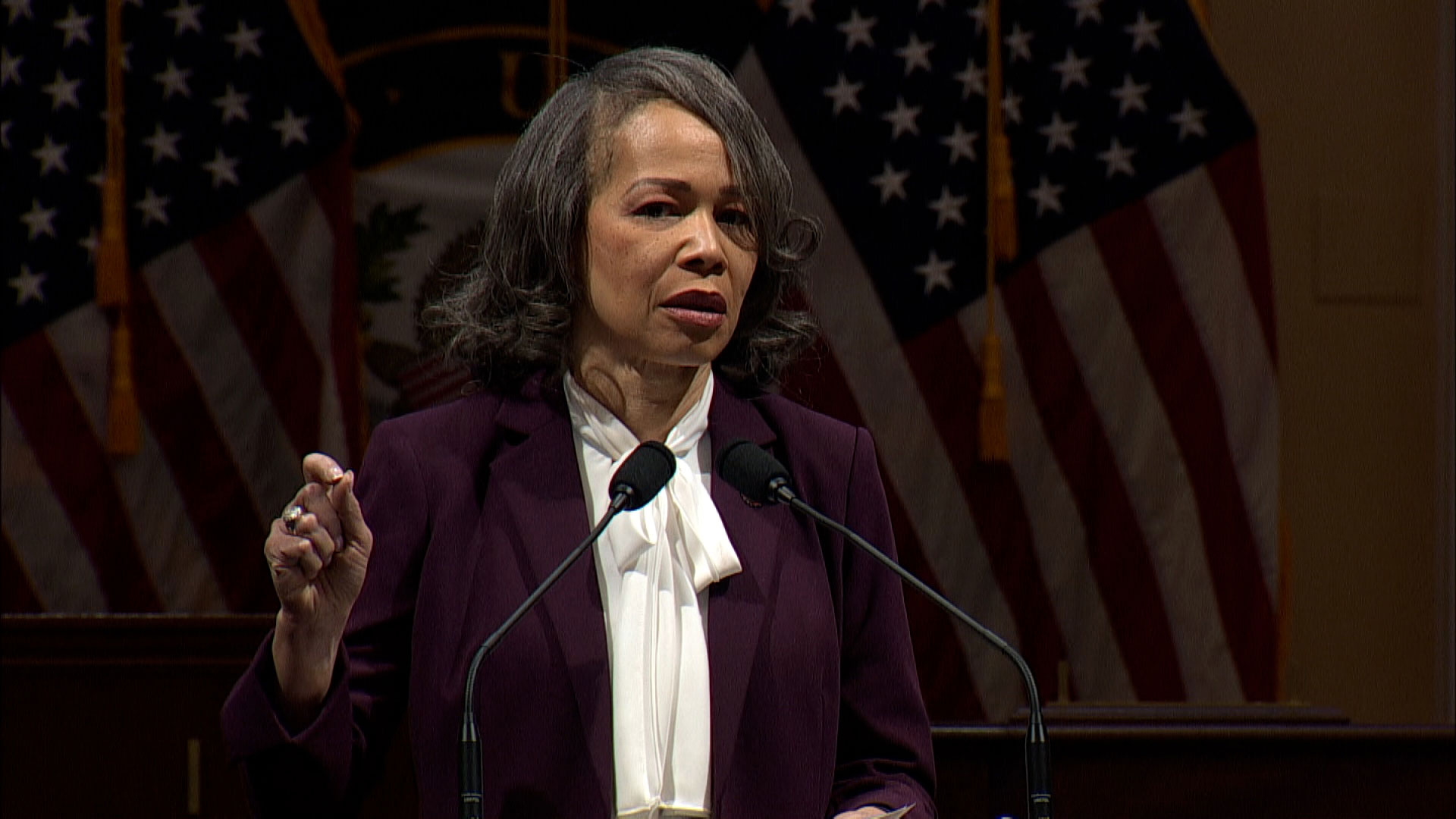 Members of Congress are reflecting now on the Jan. 6 insurrection at Capitol Hill, giving remarks on their experience on that day and what they hope for the future of the country.
Rep. Lisa Blunt Rochester, a Democrat from Delaware, said the day will "forever be known as a day of remembrance, reflection, and recommitment."
She shared how the day unfolded for her:
"Jan. 6, for me, will forever be a day to remember how the light of acts of courage, small and large, defeated darkness. Heroes, staffers, custodians, police. I will remember those who quite literally gave their lives. A day of reflection. I reflect on that day being trapped in the gallery, ultimately praying for all of our safety and peace in our nation. I also reflect on just how close, how close, we were to losing it. To losing our democracy. Those of us trapped in the gallery relived it, ducking, crawling, under, over railings, hands, knees, the sounds, the smells. We had a front row seat to what lies, hate or plain old misinformation conjures. We went from victims to witnesses and today we are messengers. We reflect on the fact that Jan. 6 was about so much more than an effort to break into a building. It was an effort to breakdown our institutions."
1 min ago
Now is the time to defend and "reawaken our devotion to democracy," Rep. Schiff says
From CNN's Elise Hammond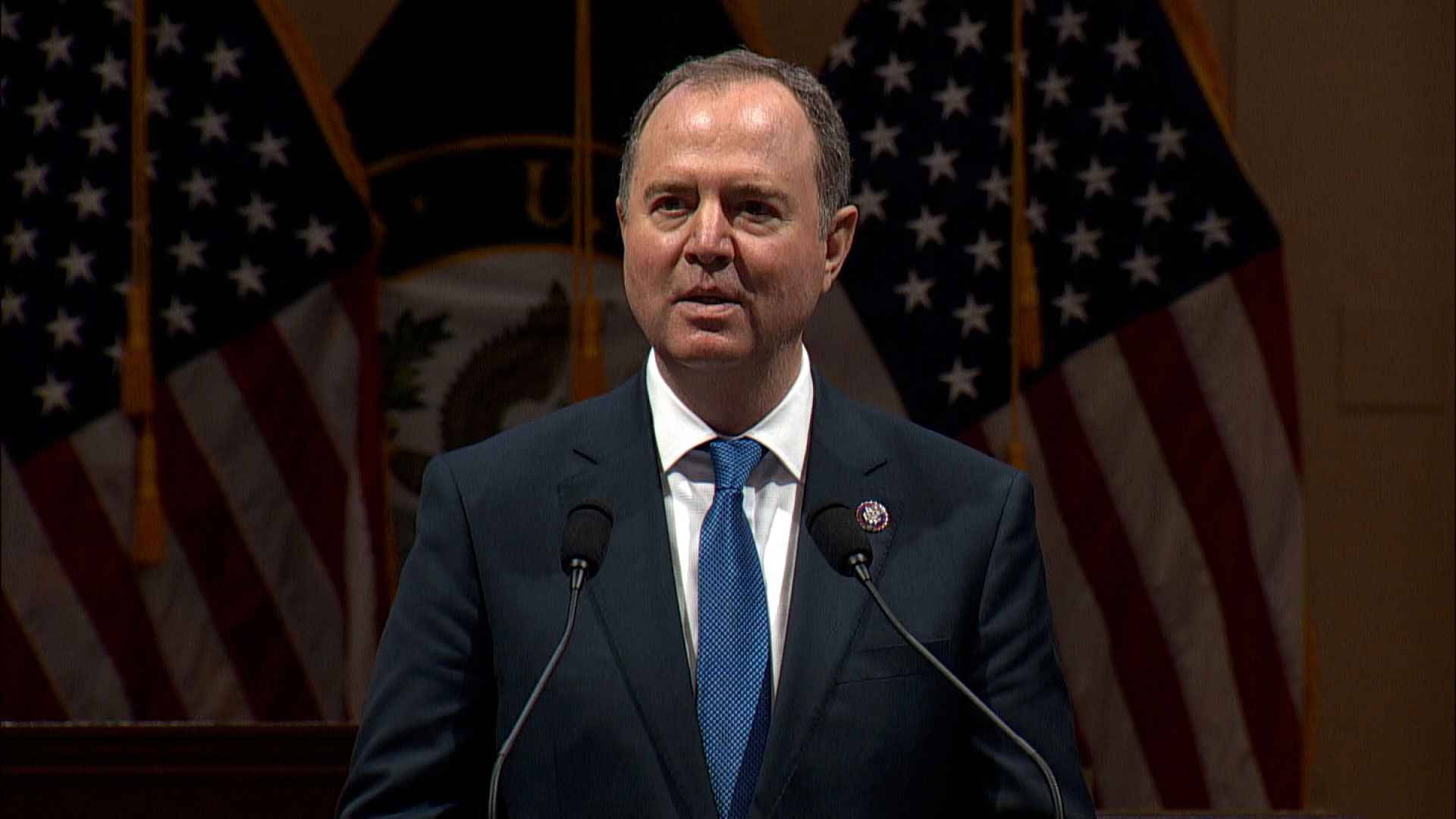 Democratic Rep. Adam Schiff, a member of the Jan. 6 Select Committee investigating the attack on the Capitol, said now is the time to defend our democracy.
"It's time we defended our democracy, like our lives, our liberties and our very happiness depended upon it – because they do," he said during remarks on the one-year anniversary of the insurrection.
Recalling that day, Schiff said it was thanks to the courage of police officers that lawmakers were able to finish certifying the votes. It marked a time when democracy, even though it was "weakened" and "defiled even by the shameful actions of the insurrections," was resilient.
"I pray that this solemn anniversary be a reawakening of our devotion to our democracy, that it serve as the most potent reminder that the freedoms we enjoy are not an inevitable birthright bequeathed by our founders, but a treasure to be jealousy guarded. As Americans, we have a very proud legacy to cherish," Schiff said.
1 min ago
Rep. Demings honors police officers who defended the Capitol and "protected democracy"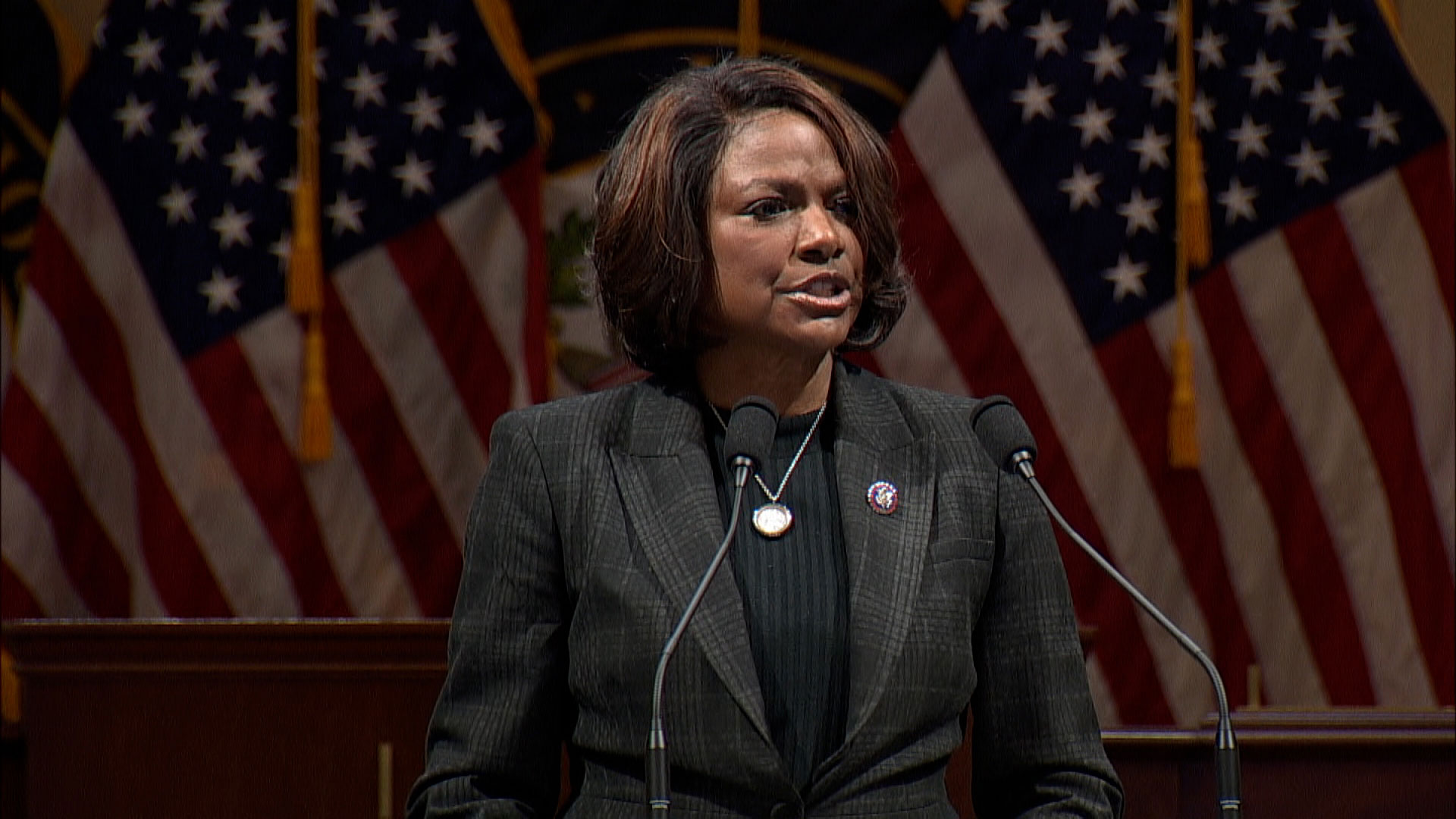 Democratic Rep. Val Demings, a former police chief, honored officers who defended the US Capitol on Jan. 6, 2021, during her remarks from Capitol Hill.
"As a former police chief, I shall never forget what I witnessed one year ago today. And America should never forget either. I know the Capitol police officers and others took their oath seriously, because I saw them fighting with every ounce of strength, courage, commitment, and energy that they could muster up," Demings said.
Demings also contrasted the bravery of the police officers on that day to the behavior of some members of Congress.
"But you know what? As members of Congress, both in the upper chamber and the lower chamber, we have taken an oath, too. But some have forgotten that oath. Some, the oath is overshadowed by their quest for power and their pathetic fear of election officials counting every vote. I want to thank the police officers for defending and protecting us that day, but they did so much more. They also protected our democracy. Many people call themselves patriots, but true patriots don't lie. They don't steal. They don't cheat. They aren't cowards. They don't push lies for political or financial gain. But out of the ashes, good things can rise. The bright spots one year ago today, the police officers who defended us and the certification of the electoral ballots. Our democracy stood, and the enemies of our democracy lost. I will support, protect, and defend because America is worth it."
1 hr 9 min ago
DC mayor says first responders defended "our great democracy" 1 year ago today
From CNN's Sonnet Swire
Washington, DC, Mayor Muriel Bowser and Metropolitan Police Chief Robert Contee marked the first anniversary of the Jan. 6, 2021 attack on the Capitol by thanking District first-responders who stepped up that day and highlighted the ongoing search for the culprit behind pipe bombs planted in the city one year ago that were interceded.
"It is not overstating it to say that our first responders protected lawmakers, defended our Capitol, the building itself, but also what it stands for: our great democracy," Bowser said Thursday.
Contee joined the mayor in thanking first responders, and also highlighted that law enforcement is still searching for leads on a person who planted pipe bombs and has remained at large.
He shared that, of the 700 insurrection-related arrests made so far, many were done using tips and asked for the public to share anything they may know about the attempted pipe bomber.
"Tweet it, put it on your Facebook pages, share it far and wide," Contee said. "We still need to hold this individual accountable for his or her actions that day."
Bowser added that the interceded pipe bombs were an early indication of the violence that would occur that day, and noted the importance of protecting the peaceful transfer of power, such as designating joint sessions of Congress as National Special Security events.
53 min ago
Pro-Trump rioters stormed the Capitol around this time one year ago 
At around 2:30 p.m. ET on Jan. 6, 2021, rioters climbed the walls outside the Capitol, clashing with police and pushing past barriers outside the building. The mob gained entry to the building after storming past police, with some smashing windows to get inside.
Shortly before 2:30 p.m. ET, Capitol Police had asked for additional law enforcement assistance.
After entering the Capitol, rioters began roaming the halls of Congress. Many wore red MAGA hats as they took pictures in Statuary Hall, just off the House floor.
"I've never been in this House, how about you?" a woman yelled out to the crowd. "That's right, we own it. We own you!"
Then-Vice President Mike Pence was evacuated from the Senate, along with Republican Sen. Charles Grassley of Iowa. As the president pro tempore, Grassley is third in the line of succession to the President, behind Pence and House Speaker Nancy Pelosi.
Police also begin evacuating other lawmakers and staff present for the Electoral College vote affirmation. On their way out, staffers grabbed the boxes of Electoral College ballots to take them to safety.
Shortly after 2:45 p.m. ET, as chaos descended on the Capitol, rioters entered the Senate chamber, with several posing for photos behind the dais.
At 2:48 p.m. ET, Washington, DC, Mayor Muriel Bowser announced a citywide curfew in response to the escalating situation at the Capitol. She set the citywide curfew for Washington from 6 p.m. ET until the following day at 6 a.m. ET.
Police were able to clear the rioters from the Senate floor at around 3:25 p.m. ET. Rioters were squeezed away from the Senate wing of the building and moved toward the Rotunda.
Trump finally dispatched the National Guard at 3:36 p.m. ET. Several hours after rioters breached the Capitol, White House press secretary Kayleigh McEnany tweeted that Trump had dispatched the National Guard to DC, along with "other federal protective services."
See a full timeline of Jan. 6, 2021 events here.
15 min ago
Former Vice President Dick Cheney says he's "deeply disappointed" in many fellow Republicans
From CNN's Jamie Gangel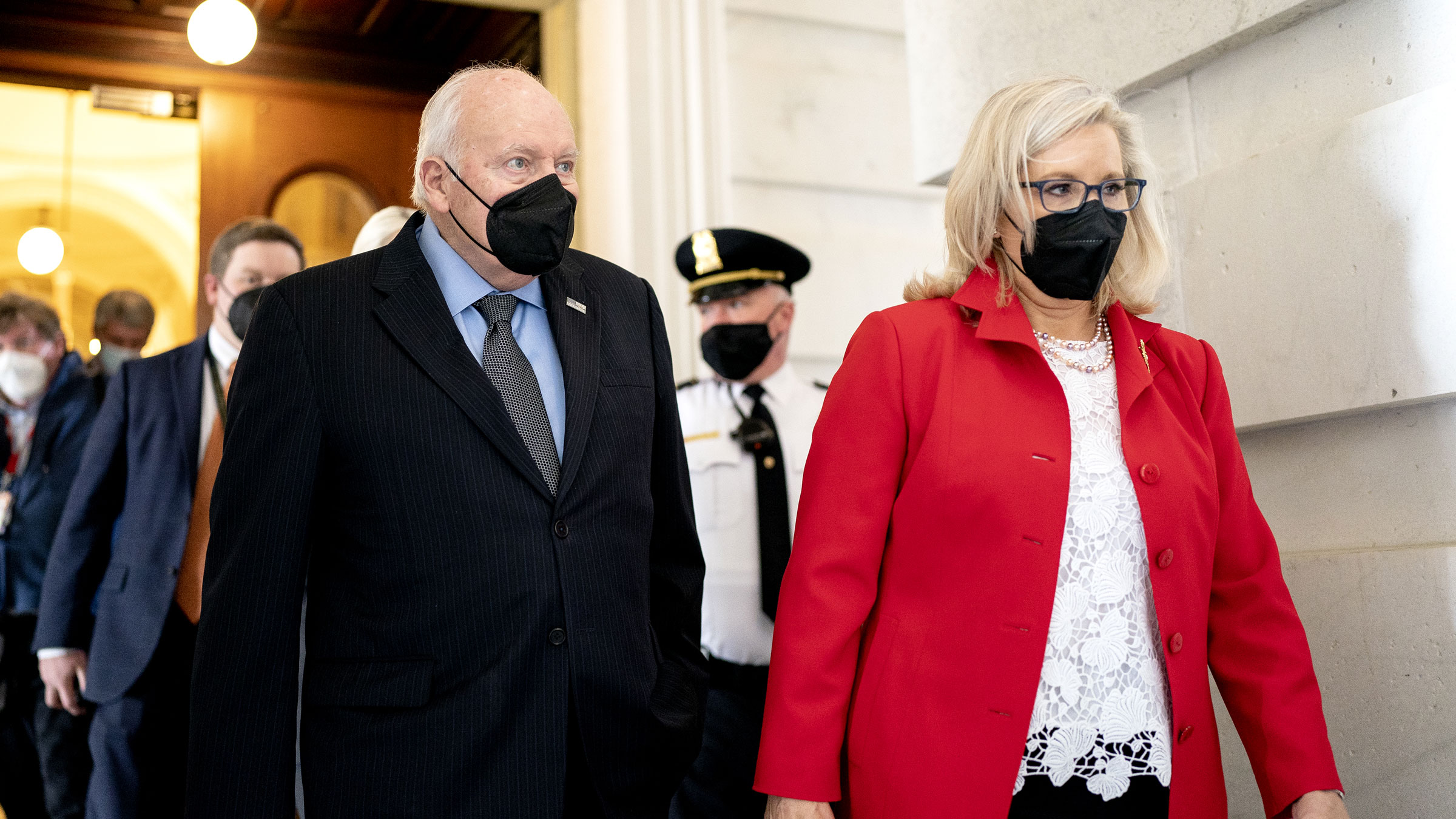 Former Vice President Dick Cheney, who was on the House floor with his daughter, Rep. Liz Cheney, this morning, said in a statement today he is "deeply disappointed at the failure of many members of my party to recognize the grave nature of the January 6 attacks and the ongoing threat to our nation."
The former vice president was seen today talking to House members including House Majority Leader Steny Hoyer and Democratic Reps. Adam Schiff, Jim McGovern and Colin Allred.
Read the former vice president's full statement:
"The importance of January 6th as an historic event cannot be overstated. I was honored and proud to join my daughter on the House floor to recognize this anniversary, to commend the heroic actions of law enforcement that day, and to reaffirm our dedication to the Constitution. I am deeply disappointed at the failure of many members of my party to recognize the grave nature of the January 6 attacks and the ongoing threat to our nation."
Watchch:
1 hr 49 min ago
Lawmakers on both sides of the aisle need to "step up" and tell the truth about Jan. 6, Rep. Neguse says
From CNN's Elise Hammond
A year after the Jan. 6 attack on the Capitol, politicians need to "step up and say the truth" about what happened, Democratic Rep. Joe Neguse said, reflecting on the polarizing environment that persists in politics.
Neguse told CNN that lawmakers of both parties came together during the riot. He said Republican representatives, just like everyone else, were "very worried about their own safety, the safety of their staff, and ultimately, the safety of our republic."
"There was a moment there where I thought we all would come together and do what was necessary to safeguard our republic," Neguse said. "Unfortunately, former President Trump still very much has a stranglehold on much of the Republican party as it exists today."
"It will be a long road ahead. It will take people to step on both sides of the aisle to step up and say the truth on Jan. 6," he added.
He said some of his colleagues know better, but continue to "perpetuate these lies and misinformation."
Neguse praised the Republicans who spoke out against the attacks in the days that followed, notably Rep. Liz Cheney, but added there is still "a long road ahead."
He said he hopes the Jan. 6 select committee uncovers the truth in their investigation and encouraged members from both parties to participate in the process.
"The environment here, as you know ,couldn't be more polarizing. To some extent, this existed before Jan. 6, but it has accelerated in ways none of us could imagine," he said.
Watch more from his interview: