1 min ago
Biden tours damage in Mayfield, Kentucky
From CNN's DJ Judd
President Biden toured storm damage in Mayfield, Kentucky, Wednesday, joining Kentucky Gov. Andy Beshear and a group of local officials surveying the debris after tornados decimated the region this weekend.
"A lot of people are going through a God-awful mess now. And right now, they're just recovering from the shock of it all. But in a month, in two months, in three months, when things are going to get really — they're going to get really worried because they're not — it's not — can't all be done that quickly," Biden told reporters traveling with him in Kentucky. "But we're not leaving. We're not going to leave. I promise you, the federal government is going to be involved until this gets rebuilt, this whole — not just here, but particularly here, but also the other states as well."
The President also said he was "impressed" at the community's resilience following the storm.
"I really mean it. It's just amazing. The stories I've heard are all personal stories, not stories about "I lost…", "I did this." They're talking about other people and helping other people. It's just been amazing, and — but not surprising," he said.
The White House said Biden amended the disaster declaration today for Kentucky, issued Sunday, increasing the federal level of funding for emergency work.
"Under the President's order today, Federal funds for debris removal and emergency protective measures, including direct Federal assistance, has been increased to 100 percent of the total eligible costs for a 30-day period from the date of declaration," the statement said.
9 min ago
Kentucky tornado death toll updated to 71, state emergency official says
From CNN's Melissa Alonso 
Kentucky's confirmed death toll from Friday's tornado outbreak has been updated to 71 due to duplicate reporting, according to Kentucky Emergency Management spokesperson John Bobel. 
On Tuesday, the death toll in Kentucky stood at 74, but this included duplicate reporting on the local level, Bobel told CNN on the phone. 
Two jurisdictions reported the same deaths, said Bobel. After "deconflicting those reports, the death toll is now 71," Bobel said Wednesday afternoon. 
1 hr 2 min ago
Daughter of Kentucky storm victim calls her late father "a good, honest man"
From CNN's Caroll Alvarado
Carl Hogan, 60, was killed when a tornado hit his home in Dawson Springs, Kentucky, the Hopkins County coroner's office said in a statement.
He was home alone when the tornado hit, his daughter Katie Fields told CNN.
"I lived just a mile from him but couldn't get him awake and moving in time to get him to come to my house," Fields said.
Hogan grew up in Providence, Kentucky, but has called Dawson Springs home for the last four years.
In September, he celebrated his 41-year wedding anniversary and had dedicated the last several years to taking care of his wife who suffered a stroke.
He's survived by his two daughters and four grandchildren.
"He was a retired truck driver. Just a wonderful husband, father, and grandfather. A good, honest man and all of his neighbors would say so," Fields told CNN.
2 hr 34 min ago
Biden pledges to support Kentucky's rebuilding and recovery efforts: "Don't hesitate to ask for anything"
From CNN's Betsy Klein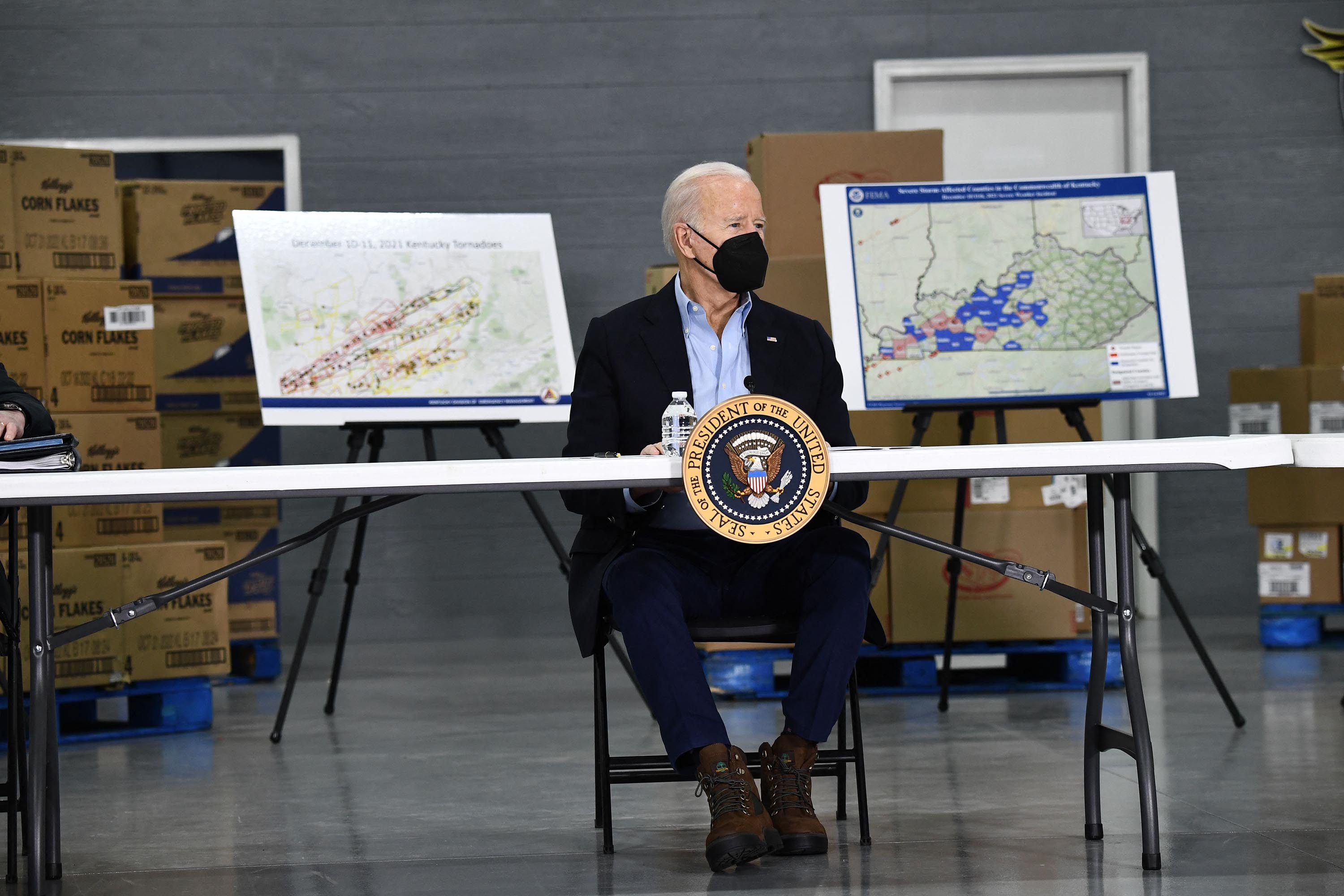 President Biden addressed state and local officials in Mayfield, Kentucky, during a briefing on last week's severe weather and tornadoes, expressing his shock at some of the images he saw during his aerial tour of the area as he pledged the full force of the federal government to help rebuilding and recovery efforts.
Biden said he was "amazed" at the way the community has come together in the wake of the storm.
"People just come out of nowhere to help as a community, and that's what it's supposed to be, that's what America's supposed to be. There's no red tornadoes or blue tornadoes, there's no red states or blue states when this stuff starts to happen. And I think, at least it my experience, it either brings people together or really knocks them apart, and moving together here," he said.
He pressed to the local leaders that the federal government was there to help in the immediate aftermath, but would also be there further into rebuilding efforts.
"I just want you to know – I'm driving the governor crazy calling him all the time – but there may be things available that would be helpful six weeks, six months from now that you're unaware of. And so we're – I've instructed my team to make you all aware of everything that is available from a federal level," he said, later telling them, "Don't hesitate to ask for anything."
Biden said he was "here to listen."
"I think the vast majority of Americans know what you've been through just looking on television. It has been incredible. Your colleagues talk about it – they've seen it, they say, 'holy gosh, what's going on?'" Biden said.
Kentucky Gov. Andy Beshear, Homeland Security Secretary Alejandro Mayorkas, and FEMA administrator Deanne Criswell also addressed the group.
3 hr 27 min ago
11 people from two families on same street were killed in Bowling Green tornadoes, police say
From CNN's Nick Valencia and Jade Gordon
Eleven of the people killed in the swarm of tornadoes that ravaged Bowling Green, Kentucky, over the weekend were from two families on one street, police and family members tell CNN. 
Five relatives of an immigrant family from Bosnia were among the 11 killed on Moss Creek Avenue, Ronnie Ward, Bowling Green Police Department spokesperson, told CNN.
The five members of the Besic family were located near their residence in the aftermath of the tornadoes. The bodies included two infant girls, police said.
"They were not found in the house. They are all related, but there are two brothers. One of them was having construction done on their home and had moved in with the other," said Ward.
"The other part of this is the Brown family," who according to Ward, also lost several members. Rachael and Steven Brown and three of their four kids were killed when the tornado hit their Moss Creek Avenue home, CNN previously reported. Rachael's mother, Victoria Smith was also killed in the storms, Brown's aunt, Dornicho Jackson McGee, told CNN.
The homes of the Besic and Brown families were just doors apart in the same neighborhood. 
"That's devastating to two families. It's devastating. It's hard to understand and comprehend how that happened," Ward added.
3 hr 31 min ago
It may take months to restore power in some hard-hit Kentucky areas
From CNN's Travis Caldwell and Jennifer Henderson
As thousands of people without homes or utilities try to recover from the deadliest day of tornadoes during the month of December in US history, efforts are now turning to the arduous tasks of rebuilding shattered communities.
A candlelight vigil was held Tuesday night in Mayfield, one of the hardest-hit towns in western Kentucky, a region where at least 74 people lost their lives. Amid prayers and hymns, pastors from area churches spoke about those who had been lost and the challenges facing those who have survived.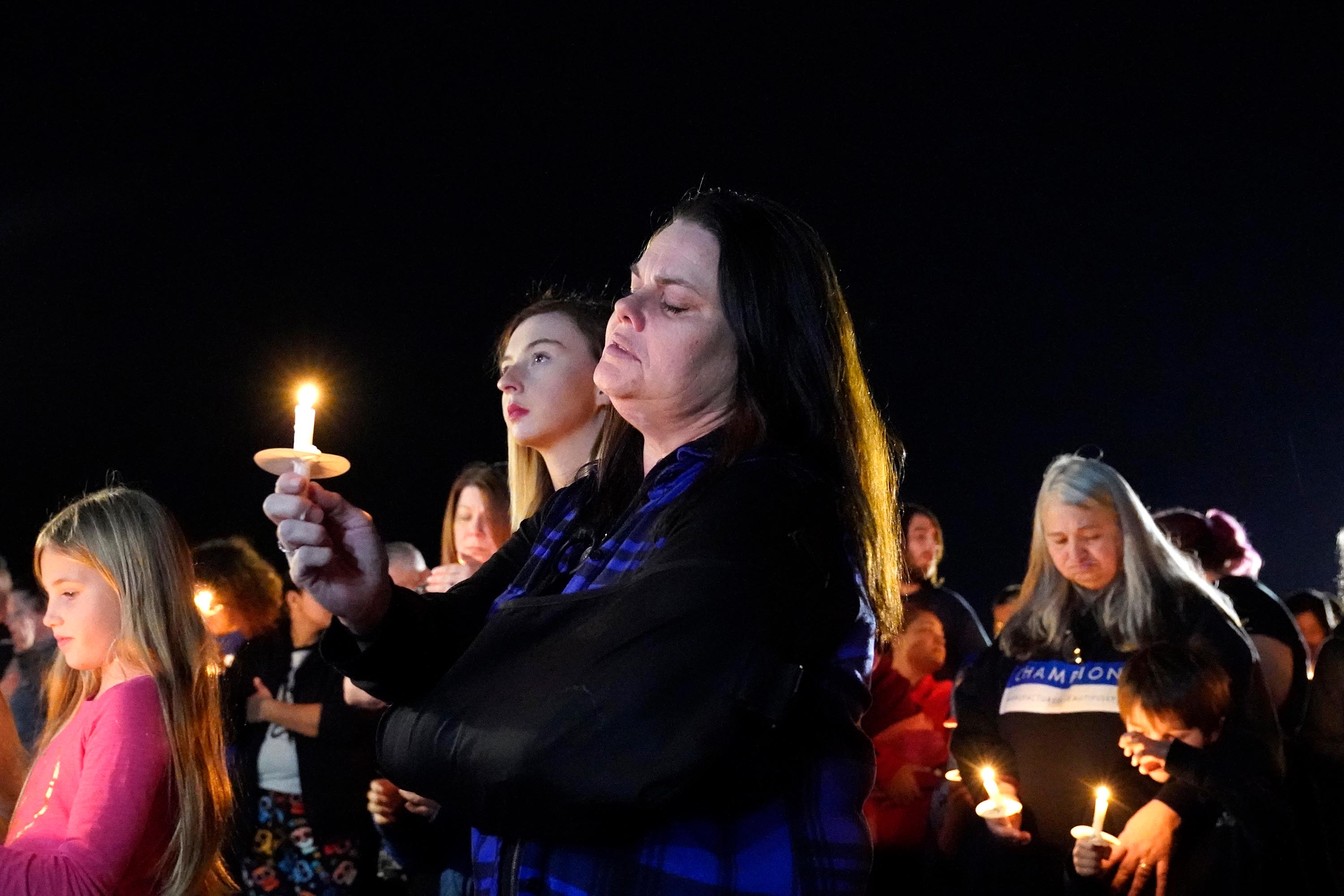 By Monday, electric power was restored to about 10,000 Kentucky customers, according to the state's emergency management director, Michael Dossett, and roughly 18,500 outages are active.
These figures do not even include Mayfield, a town of 10,000 people, which he said, "doesn't exist." Power in the town will take "weeks and months" to rebuild, he said.
"Being on the ground will take your breath away," Dossett said of the catastrophic damage. "It is simply indescribable in some places."
At least 14 others were killed in Arkansas, Tennessee, Illinois and Missouri. More than 60 tornado reports were made in eight states in the Midwest and South Friday night and Saturday morning, according to the National Weather Service. Multiple reports can refer to the same tornado, and weather service crews have yet to determine how many twisters hit the region.
3 hr 34 min ago
Biden will visit a Kentucky town that was nearly entirely wiped out by a tornado
From CNN's Kelly McCleary, Holly Yan and Theresa Waldrop
President Biden is set to travel to Dawson Springs, Kentucky, as part of his visit to the state today.
About 75% of the town was wiped out by the tornado, Mayor Chris Smiley said.
"Right now, our spirits are crushed, but we'll come back," said Hopkins County Coroner Dennis Mayfield, who reported a death toll of 13 in Dawson Springs alone.
About a third of the town's population of 2,500 lives below the poverty line and many don't have insurance.
Those whose homes are still standing probably won't have power for up to a month, said Nick Bailey, the county's emergency management director.
Overall, at least 88 people were killed in the violent storms that rolled through the parts of the Midwest and South late Friday into Saturday, including at least 74 in Kentucky, according to Gov. Andy Beshear. An estimated 50 tornado reports were made across eight states.
"When this tornado hit, it didn't just take a roof off, which is what we've seen in the past," Beshear said. "It exploded the whole house. People, animals, the rest — just gone."
Of the 74 killed in Kentucky, 12 were children, Beshear said. More than 100 people still were unaccounted for as of Tuesday morning, he said.
The damage wasn't restricted to life and buildings. Several large transmission towers were destroyed, and it will take weeks to months to replace them, Kentucky Emergency Management Director Michael Dossett told CNN's Wolf Blitzer.
The destruction was indiscriminate. The long-term impact is hard to measure.
"For some folks, I don't know that they'll ever recover from this completely, certainly not emotionally or psychologically," state Sen. Whitney Westerfield said.
"Homes and buildings can be rebuilt in time, but this is the kind of thing that lasts with the community and with the family for a long time," he told CNN on Monday.
5 hr 19 min ago
FEMA has sent generators, water and meals to Kentucky, White House says
From CNN's Nikki Carvajal
The Federal Emergency Management Agency has sent "dozens of generators" to help with recovery efforts in Kentucky, "along with 135,000… liters of water, 74,000 meals and thousands of cots," the White House said Tuesday, in an update on federal assistance with storm damage. 
"FEMA has teams of urban search and rescue and emergency response personnel in Kentucky supporting search and rescue efforts, along with Disaster Survivor Assistance Teams to help survivors register for assistance," White House press secretary Jen Psaki said at a news briefing.
She said federal assistance also included blankets, kits for infants and toddlers and "pandemic shelter kits."
"The US Army Corps of Engineers personnel (are) providing debris removal, infrastructure assessment and power restoration support," Psaki added. She said other personnel were also on the ground "to provide emergency communications capabilities as needed." 
Late Monday, Biden approved disaster declarations for Tennessee and Illinois, and had previously approved a major disaster declaration for Kentucky.
5 hr 32 min ago
Here's a preview of Biden's trip to Kentucky today
From CNN's Nikki Carvajal
President Biden will make remarks and meet with victims impacted by the deadly tornadoes that devastated Kentucky and other states when he visits some of the damage on Wednesday, the White House said Tuesday.
White House press secretary Jen Psaki said the Kentucky congressional delegation had been invited to travel with the President, but she wasn't sure what their travel plans were. 
"It's only natural and understandable that some of them may have alternate plans, either to have been there in advance or go later. So we'll leave that to them," she said.
As the President surveys the damage firsthand, she said, he'll ensure "that we're doing everything to deliver assistance as quickly as possible to impacted areas to support recovery efforts."
"I can tell you from traveling on some of these trips with the President in the past, often what happens is he will ask leaders directly, 'What do you need? What are you not getting and how can we make it faster for you?' and then he will get back in the car and he will give an assignment to a staffer and say, 'Get this done,'" she said. "Even me. I don't always know but I figure it out."
Biden will be joined by Kentucky Gov. Andy Beshear, Homeland Security Secretary Alejandro Mayorkas, and FEMA administrator Deanne Criswell for the visit, Psaki said.
"He wants those on the ground to know the federal government is there to provide whatever support is needed for them," she added.
Asked if it was difficult for the President to prepare to visit a conservative-leaning area, Psaki said the President looks at the victims, "as human beings, not as people who have partisan affiliations."
"I wouldn't say it's hard to prepare, I would say the President just wants to send a clear message and stand by people in these communities as they're going through this difficult time," she said.