31 min ago
Biden: "I don't believe" there will be a government shutdown tomorrow
From CNN's DJ Judd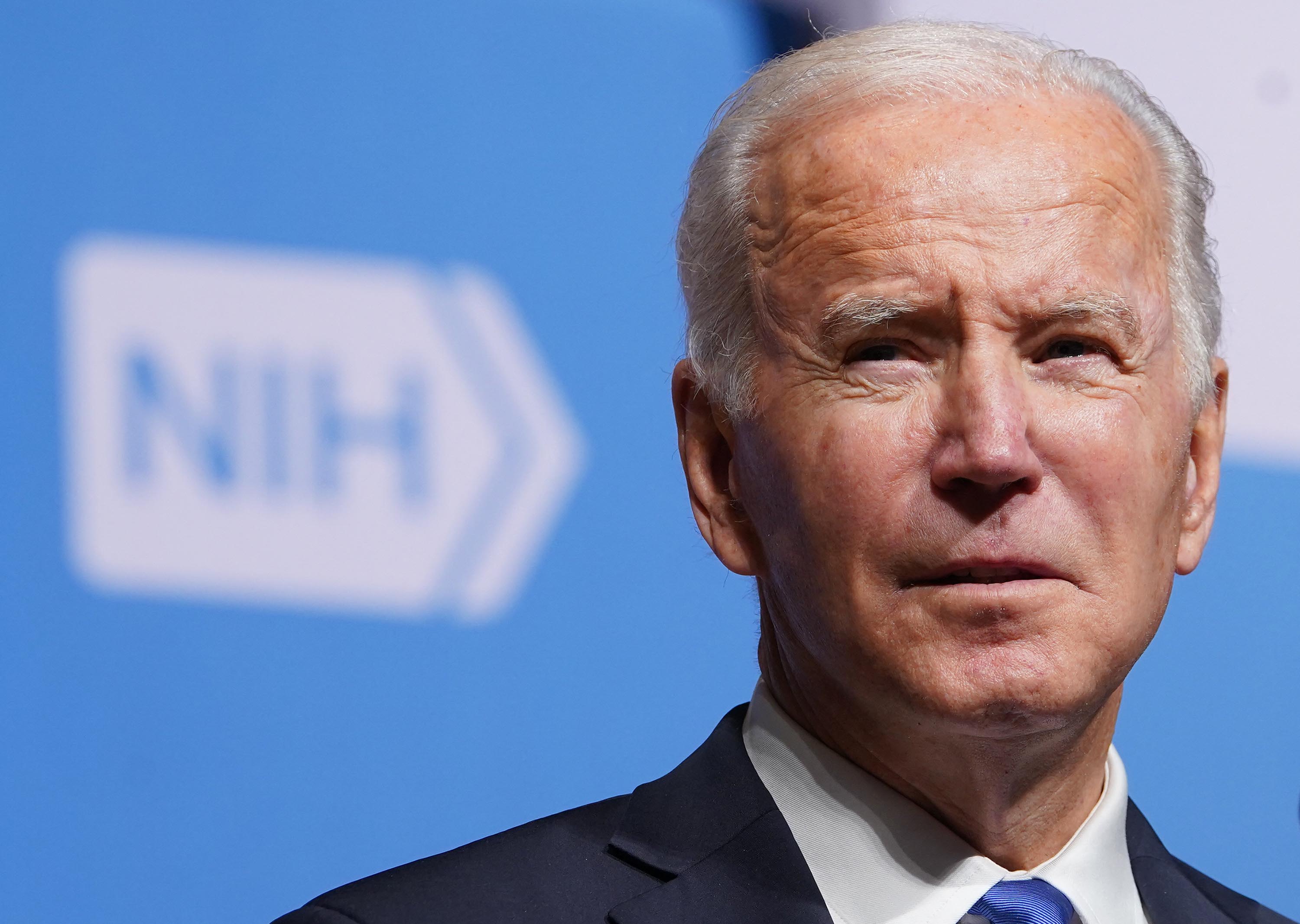 President Biden said Thursday he'd spoken to Senate Republican Leader Mitch McConnell and Senate Majority Leader Chuck Schumer about the prospect of a looming government shutdown Friday, but he remained confident Congress would reach a deal to avert one in time.
"Look, I don't believe that will happen. We have everything in place to be able to make sure there's not a shutdown. … I spoke with Mitch McConnell, I spoke with Schumer, there is a plan in place, unless somebody decides to be totally erratic, and I don't think that will happen, so I don't think there will be a shutdown," Biden told reporters at the National Institutes of Health in Bethesda, Maryland.
Earlier in his remarks, Biden acknowledged efforts on the part of a small group of Republicans, who've indicated they will oppose passage of a continuing resolution to fund the government, over the administration's federal vaccine requirement.
30 min ago
Biden says plan for vaccine mandates "should unite us" and shouldn't be a political issue
From CNN's Adrienne Vogt
President Biden said vaccine mandates should not be a political issue, as GOP Sens. Mike Lee and Roger Marshall are leading an effort to delay passage of the continuing resolution to fund the government over Biden's mandate for large employers.
"Now as we move into the winter and face the challenges of the new variant, this is a moment we can put the divisiveness behind us, I hope. This is a moment when we can do what we haven't been able to do enough of through this whole pandemic: get the nation to come together, unite the nation in a common purpose to fight this virus, to protect one another, to protect our economic recovery and to think of it in terms of literally as a patriotic responsibility rather than somehow you're denying people their basic rights," Biden said during remarks at the National Institutes of Health.
Biden said his winter Covid-19 plan announcement today "does not expand or add to those mandates."
"Some of my friends on the other team are arguing that if I don't commit that there'll never be any more mandates, they're going to let us default," he said.
Biden said people in his old neighborhood would say "go figure" to those Republicans' plans.
1 hr 26 min ago
GOP senator warns he'll block quick funding bill vote over amendment to defund vaccine mandate
From CNN's Manu Raju
Sen. Mike Lee, a Republican from Utah, said on the Senate floor he wants a vote on his amendment to defund President Biden's business vaccine mandate, by a simple majority, to allow passage of the stop-gap measure to keep government open by end of the day Friday.
There's a chance it could pass if it's a 51-vote threshold. Democrats likely will insist it be set at a 60-vote threshold, where it would not pass.
A number of Republicans disagree with that strategy and are urging Lee to instead focus on a separate process to go after the mandate.
On the floor, Lee accused Senate Majority Leader Chuck Schumer of waiting until the last minute to try to move the stop-gap measure, which now requires consent of all 100 senators to schedule a quick vote.
But Lee made it clear that he won't consent to a quick vote.
"The only thing I want to shutdown is enforcement of an immoral, unconstitutional vaccine mandate," he said.
If he sticks with this threat, it could shut the government down til early next week.
2 hr 45 min ago
Pelosi says continuing resolution to fund government will pass the House today
From CNN's Morgan Rimmer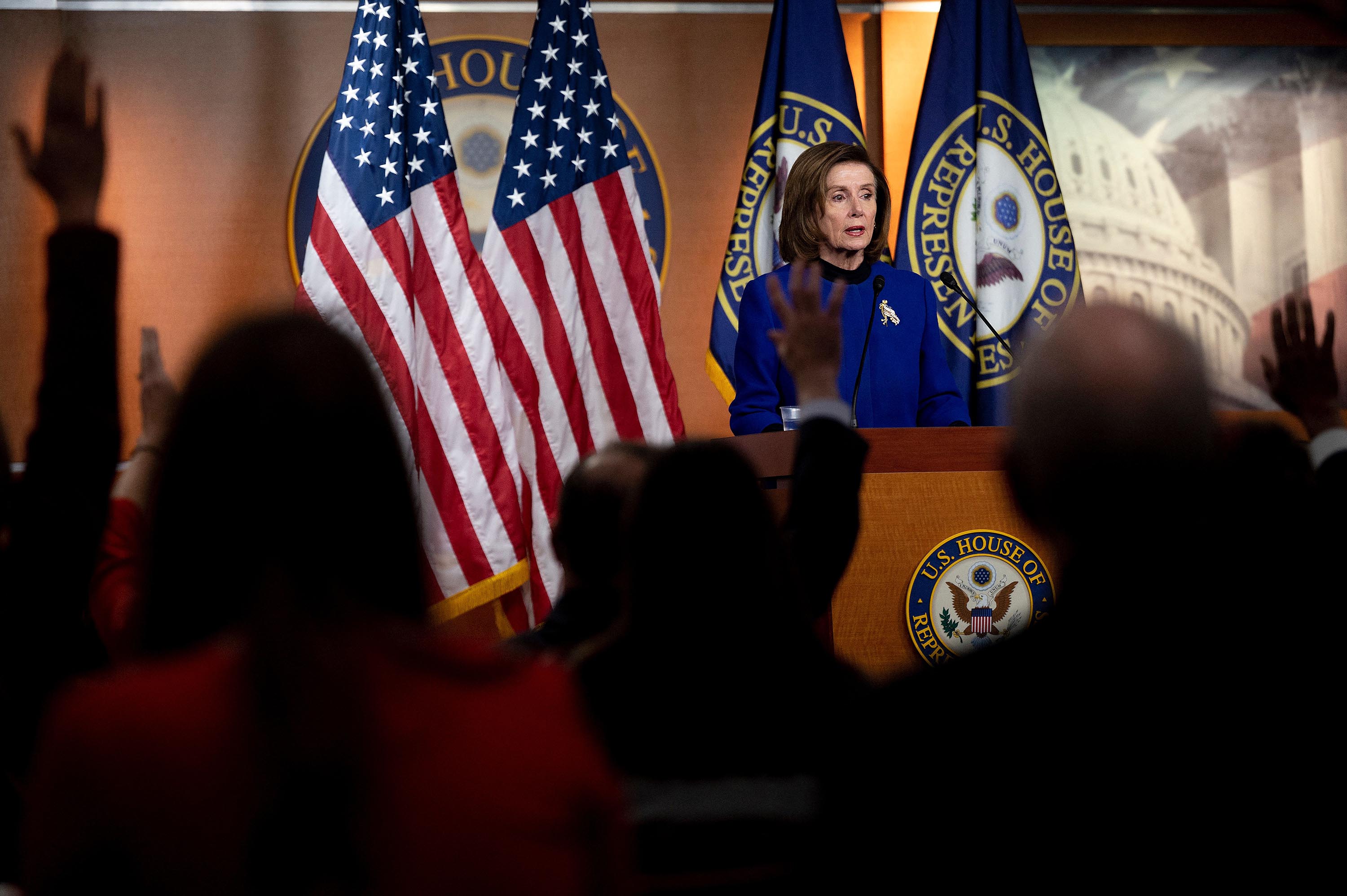 House Speaker Nancy Pelosi told reporters that she expects the continuing resolution to fund the government to pass the House today. 
"Sometime early today, it will come out of Rules Committee, go to the floor, and then we will pass it and send it to the Senate," she said.
Pelosi then criticized Senate Republicans who are pushing for an amendment to defund vaccine mandates.
"First of all, they shut down government, and then they shut down science," she said. "Our message is that we have to respect governance and we have to respect science, and that's what we are doing, and we will pass this legislation."
"We aren't going to go for their anti-vax thing. So if you think that is how we are going to keep government open, forget that. Forget that," she added.
The speaker also pushed back on a reporter asking what kind of message it sends that Democrats are struggling to keep the government open.
"The messages is that the obstacle to moving forward with most of what we want to do lies in the Senate in the person of Mitch McConnell," she said, before pivoting to the press' framing of the delays. "You like to make it look like 'oh, we can't get things done.' No! We've been trying to come together to do the omnibus bill, but the Republicans will not come to the table to discuss it."
3 hr 3 min ago
Schumer praises funding deal — but warns possible shutdown will be a GOP "anti-vaccine shutdown"
From CNN's Clare Foran
Senate Majority Leader Chuck Schumer expressed optimism over the deal reached on the continuing resolution to extend government funding through mid-February, calling it "a good compromise that allows an appropriate amount of time for both parties in both chambers to finish negotiations on appropriations."
The New York Democrat said he hopes the House will pass the stopgap measure by the end of today.
But referencing how some Republicans want a vote to defund vaccine mandates and could refuse to consent to a quick vote, Schumer said, "unfortunately it seems Republican dysfunction could be a roadblock to averting an unnecessary and dangerous government shutdown."
He added, "Let's be clear: if there is a shutdown, it will be a Republican anti-vaccine shutdown."
"There's no reason we should have a Republican shutdown. I have worked with the Republican leader on an agreement that will avoid one. Now, again, I hope cooler heads will prevail on the other side so that we can keep the government funded before tomorrow's deadline."
Government funding expires at midnight on Friday. Here's a look at which federal departments and programs would be impacted if a shutdown occurs.
3 hr 17 min ago
White House "confident" Congress will keep government open as shutdown threat approaches
From CNN's Betsy Klein
The White House maintained confidence Thursday that Congress would be able to secure an agreement to fund the government with hours to go before the 11:59 p.m. ET Friday deadline before the government shuts down.
"We still feel that there's time for lawmakers to set aside reckless and irresponsible political games and enact a short-term continuing resolution that would fund the government through early next year and allow for time for a full-year budget agreement, which is obviously our overarching objective. So there is still time to do that. And of course, it's up to Congress to do that. But we are confident they will take steps to keep the government open," White House press secretary Jen Psaki told reporters Thursday.
The Office of Management and Budget released a statement of administration policy Thursday that "strongly urges swift passage" of the continuing resolution to fund the government through Feb. 18, introduced earlier Thursday by House Democrats.
But due to Senate rules governing procedure, all 100 senators would need to agree in order to quickly pass the plan before Friday, and a handful of GOP senators are standing by their threats to delay the process over the vaccine rules.
Psaki confirmed CNN reporting that the OMB has begun its engagement with agencies on shutdown protocols last week, as is standard procedure, and would engage with agencies again today.
"But again, our objective is of course to prevent the government shutdown. We are, and of course, it's up to Congress to get done," she said. 
3 hr 18 min ago
Why some Republican senators are threatening to delay the passage of a funding bill
From CNN's Daniella Diaz, Manu Raju, Lauren Fox and Ted Barrett
A group of Senate Republicans have repeatedly threatened throughout the week to delay passage of the continuing resolution over the Biden administration's rule that requires employers with 100 or more employees to ensure their employees are fully vaccinated against Covid-19 or undergo regular testing and wear face masks in the workplace.
Republican Sen. Roger Marshall of Kansas stood by his opposition on Thursday, saying he would object to an effort to quickly pass a stopgap bill to keep the government open unless he gets an amendment vote to defund the Biden vaccine mandate on businesses at a 51-vote threshold.
"Shutting down the government is worth saving the jobs in Kansas," he said.
Asked if he would object to a vote to pass the stopgap if the amendment vote was set at a 60-vote threshold, Marshall said, "That's where I'm at today."
The 51-vote margin is important because it puts the amendment in striking distance of passage.
Moderate Democratic Sen. Joe Manchin of West Virginia would not rule out backing such an amendment, saying he backs mandates on federal employees but is "less enthused" by mandates on the private sector.
Texas Republican Sen. Ted Cruz also did not rule out holding up the continuing resolution over vaccine mandates when he spoke to CNN on Wednesday.
"I think we should use every tool we have to protect people's rights, and the vaccine mandates are illegal, they're abusive, and they're hurting this country," Cruz said. "It is wrong."
Asked whether he thinks the Senate will swiftly take up the continuing resolution once it passes the House, averting a shutdown, Senate GOP Leader Mitch McConnell told reporters Thursday, "I sure hope so."
In an interview with Fox News on Thursday, he said a government shutdown "makes no sense for anyone. Almost no one on either side thinks it's a good idea."
3 hr 25 min ago
GOP senator urges caucus not to block funding bill vote over vaccine mandates 
From CNN's Ted Barrett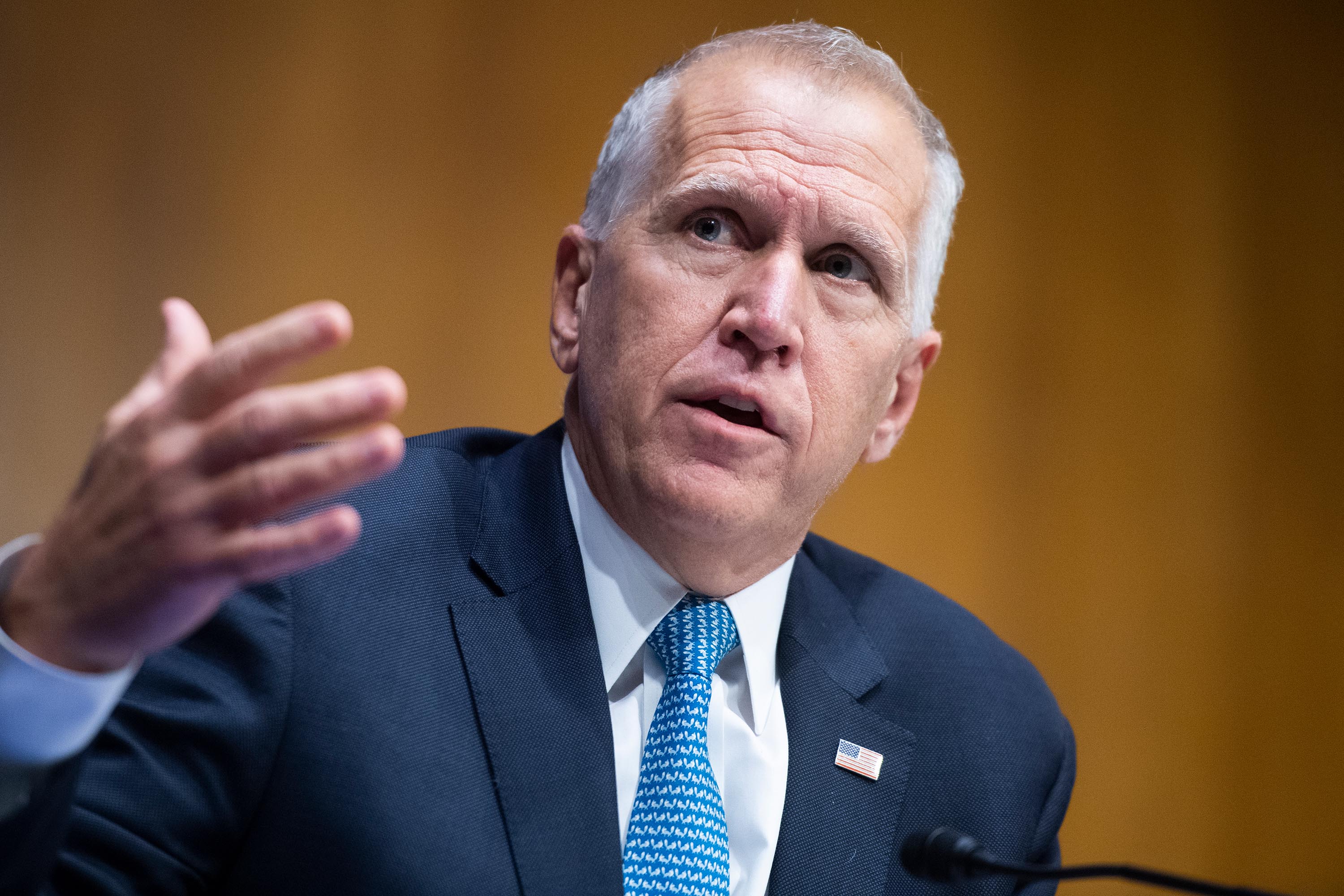 Republican Sen. Thom Tillis of North Carolina told CNN Thursday he expects the government will shut down after midnight Friday because some members of his caucus want to force a vote to block the Biden administration's vaccine mandates. 
Tillis said he disagreed with that approach, adding that his colleagues should not block the bill because "we need to fund the government."
Meanwhile, GOP Sens. Mike Lee of Utah and Roger Marshall of Kansas are threatening to block swift passage of the bill unless they get a vote on an amendment targeting the mandates.
"I agree with some of the concerns on the vaccine mandate, but the court has enjoined it, the Biden administration is changing it. We're gonna vote on a resolution of disapproval next week," Tillis said. "We're going to get an opportunity to vote on things that I believe the majority of Americans agree with."
The Senate is expected to vote next week on a Republican-authored Congressional Review Act measure to rescind the mandates. 
4 hr 22 min ago
McConnell says he hopes Senate can quickly take up and pass funding bill to avert a shutdown
From CNN's Ali Zaslav and Sonnet Swire
Senate Minority Leader Mitch McConnell, the top Republican in the chamber, told reporters he hopes the Senate will swiftly take up the continuing resolution to fund the government once it passes the House, averting a shutdown before the midnight deadline tomorrow.
"I sure hope so," McConnell said when asked about the future of the bill. 
The only way to avoid a shutdown is for all 100 senators to agree to schedule a vote before the deadline, and some Senate Republicans have threatened to hold up the bill over President Biden's vaccine mandates.
Speaking to Fox News Thursday morning, McConnell squashed fears that the Senate would not agree on a bill, saying "we're not going to shut the government."
"That makes no sense for anyone. Almost no one on either side thinks it's a good idea," he said. 
The Republican elaborated that he doesn't think "shutting down the government over" vaccine mandates "is going to get an outcome."
"Multiple courts have pushed the pause button on these government vaccine mandates, there's a decent chance the courts will strike them down," McConnell said.
Where things stand now: Sen. Richard Shelby of Alabama, the top Republican member of the Senate Appropriations Committee, said negotiators had reached a deal, though it was unclear as of Thursday morning if the agreement meant that all 50 members of the GOP conference supported quick passage.
In the House, Democrats announced the latest plan, which would provide funding through Feb. 18. The chamber is expected to vote as soon as Thursday, though the real issue for quick passage is in the Senate.
CNN's Daniella Diaz, Manu Raju and Lauren Fox contributed reporting to this post.