1 min ago
Rep. Cori Bush: "This is a striking example of White supremacy"
From CNN's Rachel Ramirez
Democratic Rep. Cori Bush of Missouri used her time to highlight the role the fossil fuel industry has played in causing disproportionate harm toward historically marginalized communities. 
"Is an oil refinery more likely to be situated in a Black community or White community?" Bush asked Big Oil executives. "It's Black," she answered after a delay in response from witnesses.
According to a 2017 report from the NAACP and the Clean Air Task Force, which Bush cited, Black Americans are 75% more likely than other Americans to live in what's called "fenceline communities," which are areas located near industrial facilities and hazardous waste sites.
Researchers also found that Black people breathe 56% more pollution than they cause, while White people breathe 17% less pollution than they generate.
For instance, the Black communities situated along Louisiana's "Cancer Alley," the 85-mile stretch between New Orleans and Baton Rouge that's home to more than 150 chemical plants and oil refineries, have for decades blamed the fossil fuel industry for causing the growing rate of cancer and respiratory illnesses in the area.
According to the Environmental Protection Agency's 2019 environmental justice data, eight of the nation's top 14 block groups — census areas that typically contain 600 to 3,000 people — with the country's estimated highest cancer risks are in St. John Parish in "Cancer Alley."
"For years, you all have continued to promote fossil fuels despite knowing that promoting means promoting environmental racism and violence in Black and brown communities," Bush told the fossil fuel executives. "You want to continue promoting and selling fossil fuels that are killing millions of people."
"This is a striking example of White supremacy," she added. "Your profit driven choices threaten my life and my family, my neighbors and our communities every single day."
30 min ago
Democratic lawmaker asks API CEO why he supports federal methane regulations but opposes a methane fee
From CNN's Ella Nilsen
The Biden administration and Democrats are trying to cut potent greenhouse gas methane through a number of means – including executive and legislative action. 
The US Environmental Protection Agency is expected to soon announce new regulations on methane, limiting the amount of leaks oil and gas producers can emit into the atmosphere.
Additionally, Biden's just-released Build Back Better Act framework includes a gradually increasing methane fee levied on oil and gas companies, as well as $775 million of incentives to help the companies comply.
Democratic Rep. Debbie Wasserman-Schutz of Florida said while many oil and gas companies are supportive of the forthcoming federal regulations, they oppose the methane fee.  
"Here's a bewildering example of hypocrisy," Wasserman-Schultz said. "The Build Back Better Act contains provisions to tackle methane pollution from oil and natural gas production, which API claims to support. Yet API and its front group Energy Citizens have carried out a seven-figure TV and ad campaign to defeat the Build Back Better methane emissions fee." 
Wasserman Schultz asked API CEO Mike Sommers how he reconciled those two positions. 
"In fact, the American Petroleum Institute supports the federal regulation of methane for both new and existing sources," Sommers responded. "We expect the new regulation to come out soon from the Biden administration, and we've been working with them on making sure that that regulation makes sense, and that it's reducing methane emissions over time." 
48 min ago
The problem with methane
From CNN's Rachel Ramirez
Methane — the main component of natural gas — is invisible and odorless, and has 80 times more warming power in the near-term than carbon dioxide.
With Earth rapidly approaching the 1.5-degree-Celsius threshold above preindustrial levels, scientists tell CNN that methane emissions need to be reduced fast.
"The fastest way that we might mitigate some of the climate change that we're seeing already in the short term is by reducing methane," Charles Koven, a lead author on August's IPCC report, told CNN. "If we were to reduce methane emissions, it would act to offset one of these sources of warming."
If the world stopped emitting carbon dioxide tomorrow, Koven said, global temperatures wouldn't begin to cool for many years because of how long the gas stays in the atmosphere. Reducing methane is the easiest knob to turn to change the path of global temperature in the next 10 years, he said.
Methane is in the gas we use to fuel our stoves and heat our homes, but it can also be produced in nature from volcanoes and decomposing plant matter. But it is also pumped into the atmosphere in much larger amounts by landfills, livestock and the oil and gas industry.
Read more: Scientists say this invisible gas could seal our fate on climate change
1 hr 8 min ago
Scientists have showed the climate crisis is happening now — not in decades
From CNN's Rachel Ramirez
Republican Rep. Pat Fallon used a portion of his time to say that the "dire predictions" of the climate crisis haven't and won't come true.
"But of course, you know, crying that the sky is going to fall by 2028 — these dire predictions won't come true. And then, in 2030, they won't come true, just like so many have," Fallon said.
But in August, the UN's Intergovernmental Panel on Climate Change (IPCC) delivered a clear message: Human-caused climate change is undoubtedly intensifying extreme weather events around the planet. 
Earth is now 1.1 degrees Celsius warmer than pre-industrial levels and is rapidly barreling toward the critical threshold of 1.5 degrees, the report concludes, which countries in the Paris Agreement agreed was the ideal limit to stave off the worst impacts of the crisis. 
Global scientists concluded that only by making deep cuts to greenhouse gas emissions, particularly from burning fossil fuels, while also removing carbon dioxide from the atmosphere, can we halt the precipitous trend.
This summer, the United States has been battered by large wildfires, deadly flooding events from the Gulf Coast to the Northeast and a historic, multi-year drought that has impacted water supply, food production and electricity generation across the Western states.
In June, an unprecedented heat wave in the Northwest United States killed hundreds of people and shattered records in Oregon, Washington and Idaho. Scientists at World Weather Attribution concluded the heat wave would have been "virtually impossible" without human-caused climate change.
Now more than ever, scientists are able to quantify the connection between the climate crisis and deadly extreme weather.
48 min ago
AOC to Big Oil: Some of us have to "live in the future that you all are setting on fire"
From CNN's Matt Egan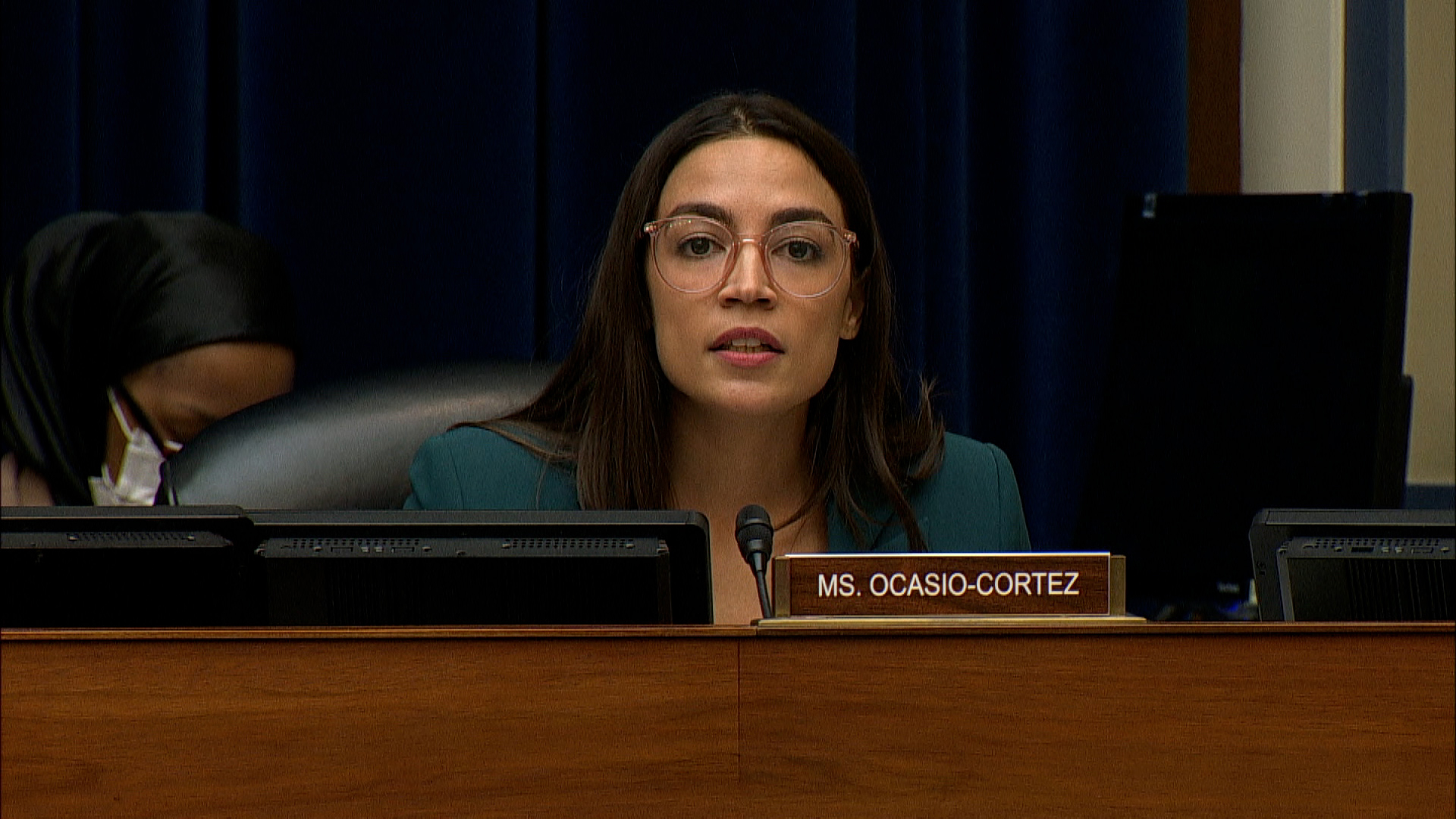 Rep. Alexandria Ocasio-Cortez called out oil executives for fighting legislation aimed at saving the planet from the climate crisis.
"Some of us have to actually live in the future that you all are setting on fire for us," Ocasio-Cortez told oil company executives.
The New York Democrat cited lobbying reports that indicate the oil industry spent more than $55 million in lobbying over the last 10 months.
She also pointed to comments made by American Petroleum Institute CEO Mike Sommers to CNN about attempts to fight climate provisions in Democrats' sweeping climate and social spending bill.
"We're leaving everything on the field here in terms of our opposition to anti-energy provisions," Sommers said earlier this month.
Ocasio-Cortez told Sommers: "I appreciate your candor because most lobbying organizations are not as forthright and transparent about their efforts."
To prove her point, Ocasio-Cortez pointed to a covertly filmed job interview that emerged over the summer where Exxon lobbyist Keith McCoy likened lobbying to fishing, where the company tries to "kind of reel them in."
McCoy said he talked to Sen. Joe Manchin's office every week. (Manchin has since opposed key climate provisions in the spending bill).
ExxonMobil CEO Darren Woods denied being aware of weekly calls with members of Congress, though he conceded having calls with lawmakers. He said political donations are not discussed during the calls. 
"We do not have the privilege or the luxury of lobbying spin," Ocasio-Cortez said.
49 min ago
"Y'all hide and you deceive": House Democrat slams oil CEOs for using front group
From CNN's Matt Egan
Rep. Rashida Tlaib went after oil executives for using front groups to fight environmental rules.
The Democrat from Michigan said major oil companies and trade groups funded One Alaska, Colorado Rising and other groups that opposed tougher regulation.
"When you look at these ads, they don't say the name Exxon, BP, Chevron anywhere," Tlaib said. "Y'all hide and you deceive the public."
Chevron CEO Mike Wirth noted that his company did not own Noble Energy at the time Tlaib says Noble was funding the Colorado group.
"You've been provided with some inaccurate information," Wirth said.
Tlaib accused Chevron of owing $50 billion for committing 70 serious cases of environmental abuse in 31 countries.
"When are you going to cut the $50 billion check you owe? It went through the courts!" Tlaib said.
Wirth said he has "no understanding" of where Tlaib came up with those figures but offered to get back to her.
"You made what, $29 million last year poisoning the planet," Tlaib said.
The Michigan Democrat pointed out the recent sentencing of an environmental activist who won a $9.5 billion settlement against Chevron.
"Mr Wirth, you can't arrest us all," Tlaib said. "There are more of us than there are of you. You can poison the planet so you can make money, but we're going to defend the planet so we can live. And we will win."
1 hr 56 min ago
Republican lawmaker whose district is vulnerable to flooding delivers impassioned defense of oil companies
From CNN's Ella Nilsen
Republican Rep. Clay Higgins of Louisiana – whose constituents face some of the highest flooding risk in the country – delivered an impassioned defense of oil executives on Thursday. 
"It's abhorrent my colleagues across the aisle have called a so-called hearing today to demonize American industry whose products make modern life possible," Higgins said. "Petroleum products are in everything: The clothes on our backs, the wiring in our computers, our computers themselves, our phones, all the equipment used by the military, all medical supplies and equipment – paint, curtains, fabrics and appliances in our homes, fishing rods, lures, tents used by sportsmen, all sports products." 
Higgins continued:  
"It's insane what my colleagues across the aisle are putting these good American men and women through and attacking American workers as our country dissolves around us. You push patriots too far; you've gone a bridge too far. We won't take it anymore." 
Higgins represents an area very vulnerable to climate change impacts. Cameron Parish in southwest Louisiana — which is part of Higgins' district — is the most vulnerable county in the US to flood risk, according to a recent nationwide flooding analysis by nonprofit research and technology group First Street.  
First Street's report found more than 94% of all critical infrastructure in Cameron Parish — including police and fire stations — are at risk of being knocked offline due to flooding. 
1 hr 47 min ago
Republican representative apologizes to fossil fuel CEOs
Angela Fritz
Rep. Pete Sessions, a Republican from Texas, apologized to the fossil fuel executives for what he called "intimidation" from Democrats on the committee.
"As a chairman of the Rules Committee for six years, I've never witnessed nor would have allowed this kind of intimidation that has taken place on people who we invited to come and provide open answers," Sessions said. "I apologize to our witnesses and want to thank them as energy company executives to make sure that America has a sound supply of energy."
1 hr 27 min ago
Rep. Katie Porter uses M&Ms and bags of rice in questioning of oil executives
California Democratic Rep. Katie Porter grilled oil company CEOs and lobbyists who are testifying to Congress today, using a jar of M&Ms and bags of rice in her car to make her point.
Porter used the jar of M&Ms to illustrate the amount of money that Shell will spend on renewable energy ($2-3 billion, according to Shell Oil Company President Gretchen Watkins) compared to oil, gas and chemical operations ($16-17 billion plus $ 3 billion marketing, according to its annual report, Porter said) this year.
Watkins said there needs to be "both a demand and a supply of clean energy" and the company is working with customers to increase demand.
Porter called it "greenwashing."
"Shell is trying to fool people into thinking that it is addressing the climate crisis, but what it's actually doing is to continue to put money into fossil fuels," Porter said.
Porter then asked American Petroleum Institute President and CEO Mike Sommers about public land leased by fossil fuel companies, opening her car trunk to show bags of rice to illustrate the acreage of land.
She asked executives if they support a pause on new oil and gas leases on federal land.
"You already have 13.9 million acres. This is equivalent to Maryland and New Jersey combined. How much more do you need? How much more acreage? You have two of our 50 states at a price that makes the Louisiana Purchase look like a ripoff … our public land belongs to the American people, not to Big Oil," she said.
Watch: