1 min ago
Moderate Democrats say they expect a vote on the bipartisan infrastructure bill "no later than Thursday"
From CNN's Annie Grayer
Moderate Democratic Reps. Carolyn Bourdeaux, Ed Case, Jim Costa, Henry Cuellar, Jared Golden, Vicente Gonzalez, Josh Gottheimer, Kurt Schrader, and Filemon Vela released a statement ahead of the House beginning debate on the bipartisan infrastructure bill tonight.
They say that they expect a vote on the bipartisan infrastructure bill "no later than Thursday," which is in line with what Speaker Pelosi has announced in terms of vote timing.
Many of these members were in the original group who negotiated with Democratic leadership to get the Sept. 27 date set as the original vote date for the bill.
Pelosi has since pushed that date back to try and buy more time to get progressives on board who have said they won't vote for this bill without a vote on the broader economic spending package.  
1 min ago
Schumer warns Senate GOP of economic consequences of blocking bill tonight 
From CNN's Clare Foran, Ted Barrett and Ali Zaslav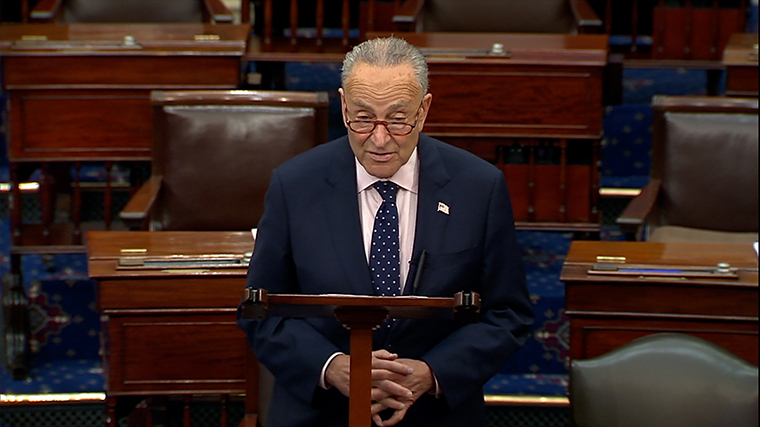 Senate Majority Leader Chuck Schumer criticized Republicans ahead of a key procedural vote Monday on a House-passed bill to suspend the nation's debt limit and avert a government shutdown.
The Democratic leader said that "after today there will be no doubt about which party in this chamber is working to solve the problems that face our country, and which party is accelerating us towards unnecessary, avoidable disaster."
He warned that "If Republicans follow through with their plans to vote no, they will be on record deliberately sabotaging our country's ability to pay the bills, and likely causing the first ever default in American history." 
The best case scenario under this "awful situation," Schumer said in floor remarks, is "our country would fall into another recession, potentially erasing all the progress we've made to pull ourselves out of the Covid crisis."
Schumer asked his Republican colleagues to "think carefully about the practical consequences of what they're doing" before voting down the measure.
What is happening tonight: The Senate will be voting on a procedural motion to advance the legislation, which needs 60 votes to succeed. While a few Senate Republicans may ultimately vote in support of the legislation, it is not expected there will be 10 Senate Republican votes in favor, which would be needed to reach the 60-vote threshold since Democrats only control 50 seats in the chamber.
Senate Minority Leader Mitch McConnell has made clear for months that Republicans will not vote to increase the federal borrowing limit, setting the stage for a major showdown over the issue. McConnell's threat has prompted outrage from Democrats, who have said the GOP leader is playing a dangerous game that could tank the US economy. Republicans argue that it's not uncommon for the majority party to shoulder the burden for increasing the debt limit, a politically toxic vote for lawmakers up for reelection.
McConnell said on Monday ahead of the vote that Republicans are ready to support a bill to avert a shutdown as long as it does not have the debt limit attached.
24 min ago
McConnell says GOP will support a clean stop-gap bill to avert a shutdown, but not raise the debt limit
From CNN's Clare Foran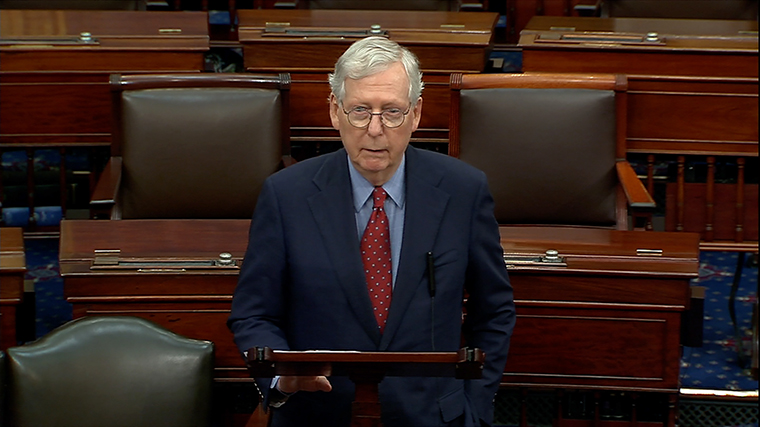 Senate GOP leader Mitch McConnell doubled down on his stance over the debt limit, saying that Republicans will support a clean stop-gap funding bill to avert a shutdown, but "we will not provide Republican votes for raising the debt limit."
The comments come ahead of a planned procedural vote later this evening in the Senate on a House-passed bill to avert a shutdown and suspend the debt limit that Republicans are expected to block.
McConnell also said that he will ask for unanimous consent for the Senate to pass a clean stop-gap bill later today as an alternative to the House-passed bill.  
"Before we vote this afternoon, I'll ask consent to strike the partisan CR that is dead on arrival and instead have the Senate vote on a clean continuing resolution that could pass this chamber easily. We'll see if Washington Democrats actually want to govern or whether they want to add the prospect of a government shutdown to the list of inflation, Afghanistan, the border and all the other national crises that are the direct results of their own decisions," he said.
"Let me make it abundantly clear one more time: We will support a clean continuing resolution that will prevent a government shutdown, get disaster relief to Louisiana, help properly vetted Afghan refugees who put themselves on the line for America, and support the Iron Dome assistance for our ally, Israel. We will not provide Republican votes for raising the debt limit," McConnell added. 
35 min ago
In key vote tonight, Senate GOP expected to block bill to suspend debt limit and avert shutdown
From CNN's Clare Foran, Ted Barrett and Ali Zaslav
The Senate is slated to take a procedural vote Monday at 5:30 p.m. ET on a House-passed bill to suspend the nation's debt limit and avert a government shutdown, but Senate Republicans have insisted that Democrats should act alone to address the debt limit and are expected to block the measure.
Government funding is set to expire on Thursday, but the stopgap bill the House approved last week would extend funding and keep the government open through Dec. 3.
In addition, the measure includes a debt limit suspension through Dec. 16, 2022. The clock is ticking to address the debt limit and Congress may only have until mid-October to act before the federal government can no longer pay its bills.
What may happen next: If the measure fails to advance in the Senate, as anticipated due to GOP opposition, it will leave Congress without a plan announced by Democratic leadership in both chambers about how they will keep the government operating perilously close to the date when funding will run dry and a shutdown could be triggered.
It's possible Democrats could move to strip out the debt limit suspension from the funding bill and attempt to pass a clean stop-gap spending measure quickly through both chambers ahead of the deadline, which Senate Republicans have said they would support, but it's not yet clear what will happen.
Democrats do have options to raise the debt limit on their own to prevent the US from defaulting on its debts, but they argue that the vote should be a bipartisan shared responsibility.
Read more about today's vote here.
1 hr 36 min ago
Rep. Dingell on where negotiations stand: "More of the House members need to be spoken to, period"
From CNN's Sarah Fortinsky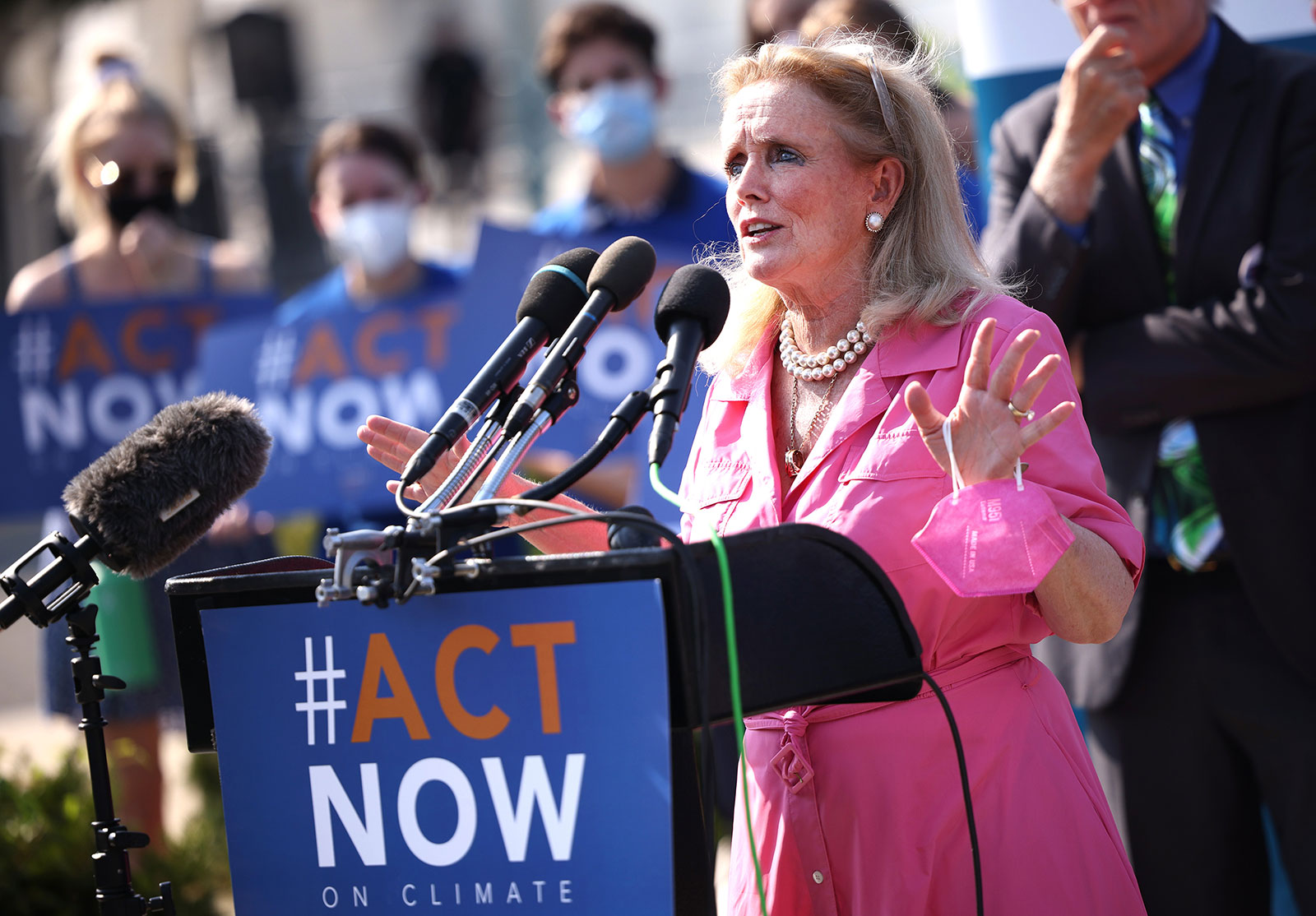 Rep. Debbie Dingell, a Democrat from Michigan, said she was frustrated that rank-and-file House Democrats have been excluded from negotiations, saying on MSNBC, "More of the House members need to be spoken to, period."
She noted that aside from members of the Congressional Progressive Caucus and Problems Solvers Caucus, many Democrats don't know where negotiations stand. Dingell was visibly frustrated that discussions were playing out so publicly and that the party was not coming together. 
"Everybody needs to be part of these discussions. Everybody needs to be included. And there are people that could be doing more and I'll leave it at that," she said.
She said she agrees with Sen. Dick Durbin that it would be helpful if President Biden addressed the caucus, but she did not think that would happen.
Dingell was hopeful the 5:30 p.m. ET meeting would provide some clarity and inform members where negotiations stand. 
She doubled down on her earlier comment that this would be a legislative week from hell, but emphasized that failure was not an option and that both bills would get done, saying, "It is either mutual distraction or we are going to do what's right for the country in this once-in-a-lifetime opportunity to make a difference in so many people's lives,"
Dingell said there isn't an option not to fund the government. She said to do so in the middle of a pandemic would be a "shame on all of us. It would be inexcusable, irresponsible and it simple cannot happen," Dingell said, adding that it's everyone's problem, not just Democrats.
The full Democratic House Caucus meets tonight at 5:30 p.m. ET behind closed doors. 
Read more about House Democrats' negotiations here.
2 hr 47 min ago
Manchin: Getting deal on economic package by Thursday is a "heavy lift"
From CNN's Morgan Rimmer and Manu Raju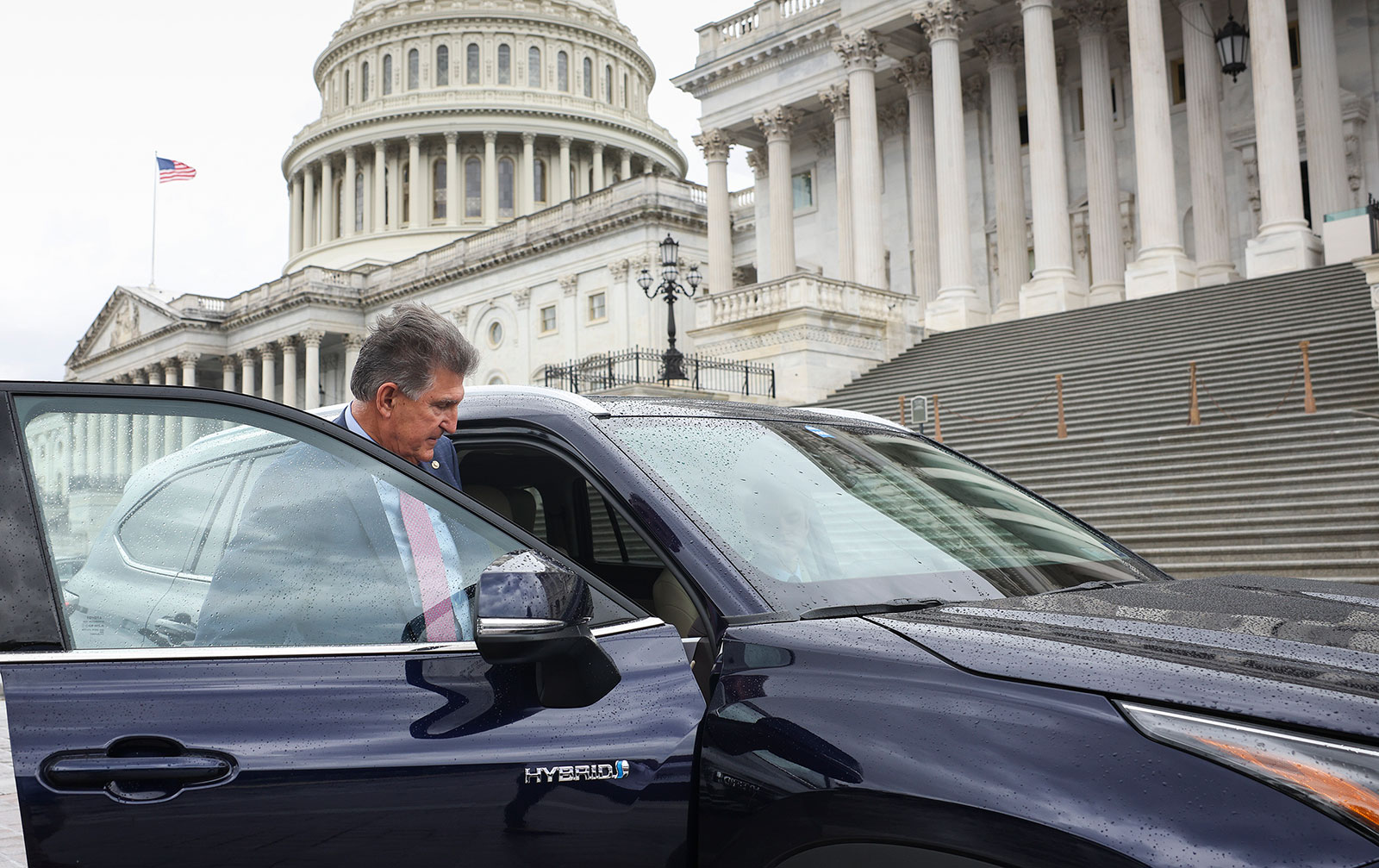 Sen. Joe Manchin, a key moderate Democrat, told CNN on Monday that getting a deal on Democrats' massive social safety net bill by Thursday would, "be a heavy lift."
Thursday is when House and Senate Democratic leaders want to have a deal on an outline of an agreement on their party's larger package, in order to get House progressives to vote for the infrastructure bill.
"There's a lot to do and a lot to talk about. Everybody has to keep trying to work in good faith, the best you can," he said.
Asked if leadership was rushing this process, Manchin reiterated that he thinks negotiations on the $3.5 trillion proposal will continue for some time.
"I'm not in control of the leadership," he said. "They're going to set the timetable, you know, there's a lot in that bill, the 3.5 reconciliation bill: tax codes, climate change, social reforms, there's a lot, and people need to know what's in it, so it's gonna take a while." 
Manchin also said that he has spoken with President Biden since their meeting last week, noting, "we speak a lot."
2 hr 52 min ago
Biden on whether deal on spending bill will be reached: "I think we're going to get it done"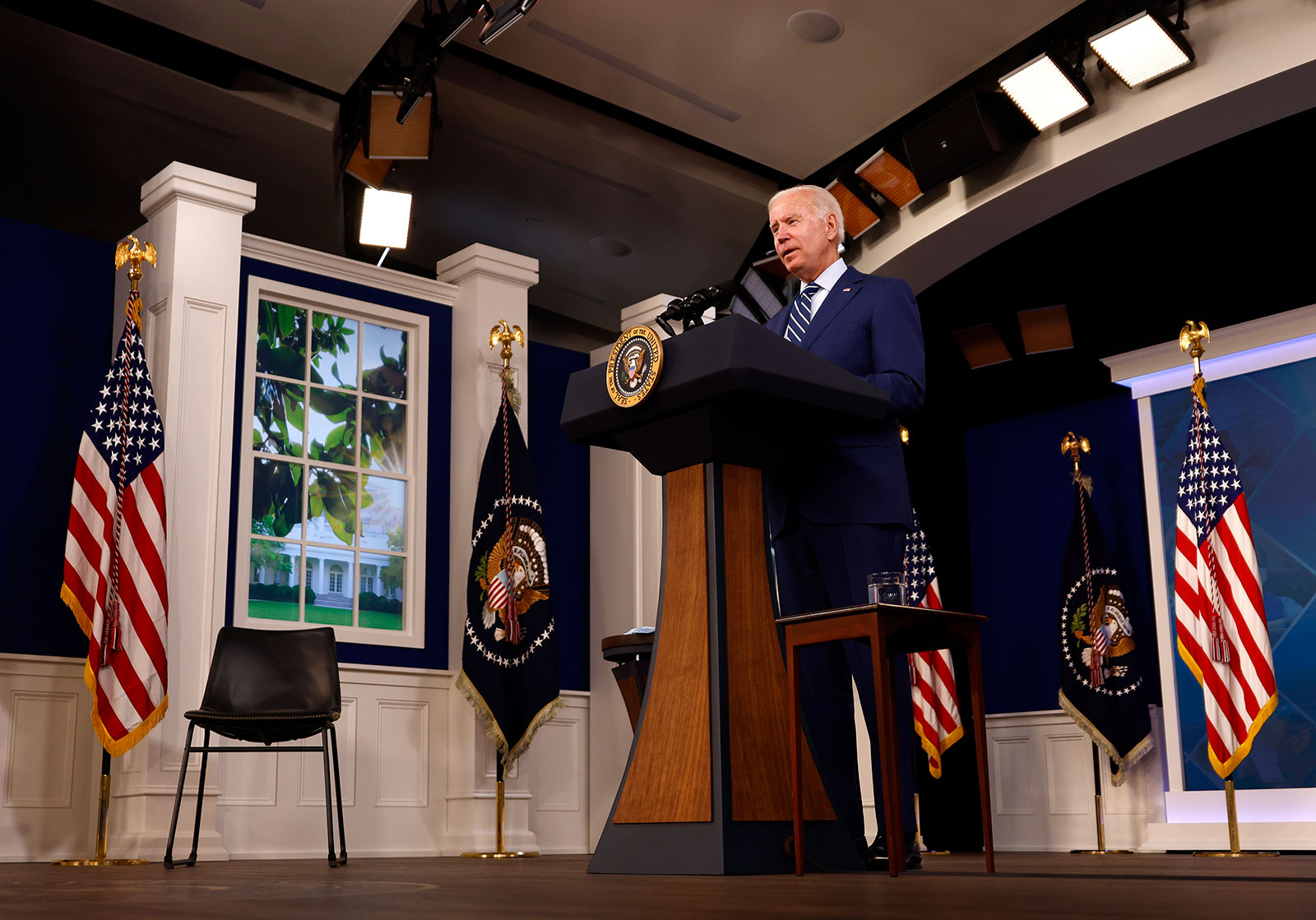 Ahead of several key and defining votes in Congress this week, President Biden told reporters that he is optimistic a deal on the spending bill will "go well."
"You know me. I'm a born optimist and I think things are going to go well. I think we're going to get it done and I, but, have meetings tonight, tomorrow and — and for the next little bit," Biden said.
Asked what's at stake for his presidency and his agenda, the President said "victory is at stake."
The President said while he hopes a deal can be reached by the end of the week, that is not certain.
"Well, it may not be by the end of the week. I hope it's by the end of the week but as long as we're still alive we've got three things to do. The debt ceiling, continuing resolution and the two pieces of legislation. We do that, the country is going to be in great shape," Biden said of the timing of how things may unfold on the Hill this week.
CNN's Jason Hoffman contributed reporting to this post.
3 hr 39 min ago
Democrats are considering adding a carbon tax to massive budget bill
From CNN's Ella Nilsen
Democrats are exploring adding a carbon tax to their massive $3.5 trillion budget bill as a way to offset some of the bill's cost. Senate Finance Committee Chair Ron Wyden told CNN that Senate Majority Leader Chuck Schumer asked him to look at carbon pricing, and that discussions are ongoing.  
"We've got a lot of senators who care deeply about it," Wyden said. "We've been having those discussions." 
Wyden added he sees a carbon tax as complimentary to the array of clean energy tax credits his committee is also drafting, which would reward companies who reduce carbon emissions and save energy. 
A carbon tax would be a way to reduce fossil fuel emissions and pay for other measures in the bill. The government would set a price for carbon emissions, and emitters would pay that price for each ton of carbon emitted. 
It has long been favored by some Senate Democrats as an efficient and simple way to curb fossil fuel emissions, but the Biden administration has been hesitant to back it. A White House spokesperson didn't immediately return a request for comment on the latest effort.  
Wyden told CNN he's looking at structuring a carbon price in a way that will be fair to middle class families, who he said might be concerned about how it could impact them. He's looking at ways to redistribute some of the revenue back to taxpayers through cash payments.  
"When you look at past efforts, what you always see is middle class people – because they know that a carbon tax will involve a transition – want to know specifically how they're going to fare in terms of their budget and that means you've got to make them whole with the proceeds," Wyden said.  
The New York Times first reported that Democrats were exploring the tax.  
Where some moderates stand on this: What's still unclear is whether two key Senate Democratic moderates – Sens. Kyrsten Sinema of Arizona and Joe Manchin of West Virginia – would support the measure. Sinema recently told the Arizona Republic that she supports tackling climate change, but opposes Democrats' plans to increase the corporate and income tax rates. Manchin, who represents a coal state, is has said he doesn't want to speed up the transition away from coal.  
"The transition's already happening," Manchin told CNN. "So I'm not going to sit back and let anyone accelerate whatever the market's changes are doing. Coal is the most reliable we have."  
Wyden said he's involved in "collegial" climate negotiations with Manchin, but declined to say whether the West Virginia senator supports his clean energy tax credits.  
"He and I talk all the time," Wyden told CNN, adding, "I'm not going to get into our private conversations." 
4 hr 55 min ago
Shutdowns and defaults have become a new negotiating tactic
Analysis from CNN's Zachary B. Wolf
Government funding expires at midnight Thursday, which could trigger a partial shutdown. 
Like hurricanes and wildfires in a time of climate change, America's cyclical government shutdown seasons are becoming more frequent and severe.
Lawmakers and the White House used to come to a head over government spending every 10 years or so. Now it's every three or so.
The House website has a list of every government funding lapse. We wrote stories just like this about the 2013 and 2018 editions of this fiasco.
What's new in recent years? There's a distressing new willingness to add the threat of defaulting on the national debt into the equation.
CNN's Phil Mattingly reports that Treasury Secretary Janet Yellen called Senate Minority Leader Mitch McConnell to argue Republicans should at least allow a vote on the debt ceiling.
"The private call served to underscore a public reality: Washington is careening towards a debt ceiling debacle that would be catastrophic for Wall Street and Main Street alike," Mattingly wrote.
"At stake is far more than political positioning or gamesmanship. Federal payment to millions, from government workers to Social Security and Medicaid recipients, would be halted. Military salaries would be frozen. A self-inflicted credit crisis would likely take hold, with increased borrowing costs rippling throughout sectors."
Bottom line. The difference between Republicans and Democrats is that when Republicans controlled the entire government some Democrats helped them vote to keep the government open and raise the debt limit. Republicans feel no such duty.
That's either a remarkable show of strength in party unity or an indictment of a wholly tribal view of government, depending on your perspective. But the winner-take-all outlook is apparent in everything from the GOP's ability to push through Supreme Court justices to the concerted effort by many Republicans to overturn the election results. There is no American team spirit. There is only red and blue.