38 min ago
4 officers gave powerful testimonies about the Capitol riot today. Here are some of the top moments. 
From CNN's Elise Hammond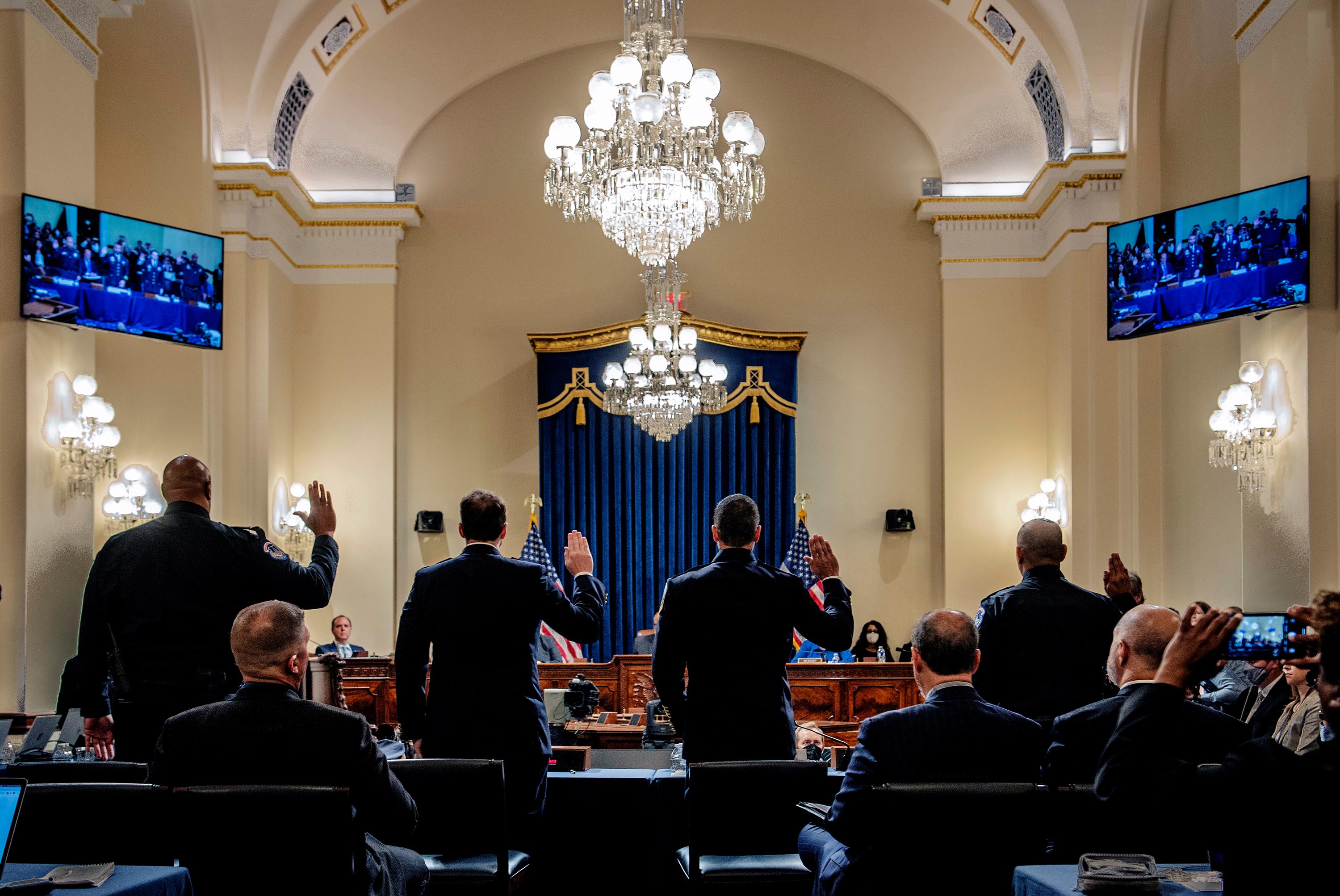 Rep. Bennie Thompson, the chair of the Jan. 6 select committee, vowed to the officers who testified that they would get answers about what happened during the insurrection.
"You carried out your duties at tremendous risk. Now we on this committee have a duty. However, a far less dangerous one, but an essential one – to get to the bottom of what happened that day," he said in the hearing's closing remarks. "We cannot allow what happened on Jan. 6 to happen again. We owe it to you and your colleagues and we will not fail, I assure you, in that responsibility."
The high-profile committee's first hearing was filled with emotional moments and first-hand accounts of the violence on the Capitol that day. Lawmakers heard accounts from four officers that defended the building on Jan. 6 — DC Metropolitan Police Officers Daniel Hodges and Michael Fanone and Capitol Police Officer Harry Dunn and Sgt. Aquilino Gonell.
Here are some top moments and themes that played out during today's hearing:
Duty to protect and serve: A common theme among the four officers was that they were there to protect lawmakers and the public, regardless of political affiliation.
"I feel like I went to hell and back to protect them and the people in this room, but too many are now telling me that hell doesn't exist, or that hell actually wasn't that bad. The indifference shown to my colleagues is disgraceful," Fanone told lawmakers.
Gonell called the attack on the Capitol an "attempted coup."
But, the violence is not the side of America these officers represent, Dunn said. "We represent the good side of America, the people that actually believe in decency, human decency, and we appeal to just the good in people, and that's what we want to see," the officer added.
Incidents of racism: Dunn said that he was subjected to racial slurs when he confronted rioters who had breached the building. In the heat of the moment, Dunn told the rioters that he voted for Joe Biden.
He said at that point, one woman in pink yelled, "did you hear that, guys, that [N-word] voted for Joe Biden." He said that others joined in and yelled remarks like, "Boo! F**king [N-word]."
Gonell noted that some rioters said he wasn't American because of his race.
Hodges, who is White, testified that he heard the rioters making these remarks to other colleagues who were not White. Hodges said that some tried to recruit him to their cause, "Some of them would try to recruit me. One came and said, 'Are you my brother?'"
First-hand accounts of violence: Hodges said he was beaten with his own gas mask on Jan. 6. At one point, with his arms pinned and trapped between a shield and door frame, Hodges said a rioter bashed his head with a huge mob behind him.
Hodges also provided other examples of violence that he witnessed first-hand, including one officer who broke his finger so badly, that he had to have the tip of it removed, another who was shocked with a cattle prod, and an officer who was hit so hard in the head, he is still on medical leave.
Fanone also described his experience on Jan. 6 and walked lawmakers through the violent footage captured on his body camera that shows rioters attacking him. "But yet they tortured me. They beat me. I was struck with a taser device at the base of my skull numerous times. And they continued to do so, until I yelled out that I have kids," the officer said. 
Republicans call out their own party: GOP Rep. Liz Cheney of Wyoming said the committee's investigation must be nonpartisan and finding the facts must "arise above politics." Cheney said Republicans recognized "the events of that day for what they actually were," saying that one of her colleagues called the insurrection "unacceptable and un-American." Now, no member of Congress should defend the "indefensible," she added.
The only other Republican lawmaker on the committee, GOP Rep. Adam Kinzinger of Illinois called out other members of his party, saying "we need to reject those that promote" conspiracies about the insurrection. He said he is frustrated that there are still not a lot of answers about what happened that day, saying it is because Republicans have "treated this as just another partisan fight."
1 hr 56 min ago
New Capitol police chief praises officers who "fought like hell to preserve our democracy"
From CNN's Josh Campbell and Annie Grayer
Capitol Police Chief Tom Manger applauded the officers who testified today and other officers who "fought like hell to preserve our democracy" on Jan. 6.
"I am proud of the officers who had the courage to share their stories in front of the House Select Committee and our entire country to describe the horrors and heroism on January 6. I am equally proud of everyone in this department and our partner agencies who fought like hell to preserve our democracy," Manger said in a statement released after the hearing concluded.
Manger took command on Friday.
2 hr 49 min ago
Subpoenas are coming "soon" from Jan. 6 select committee, panel chair says
From CNN's Manu Raju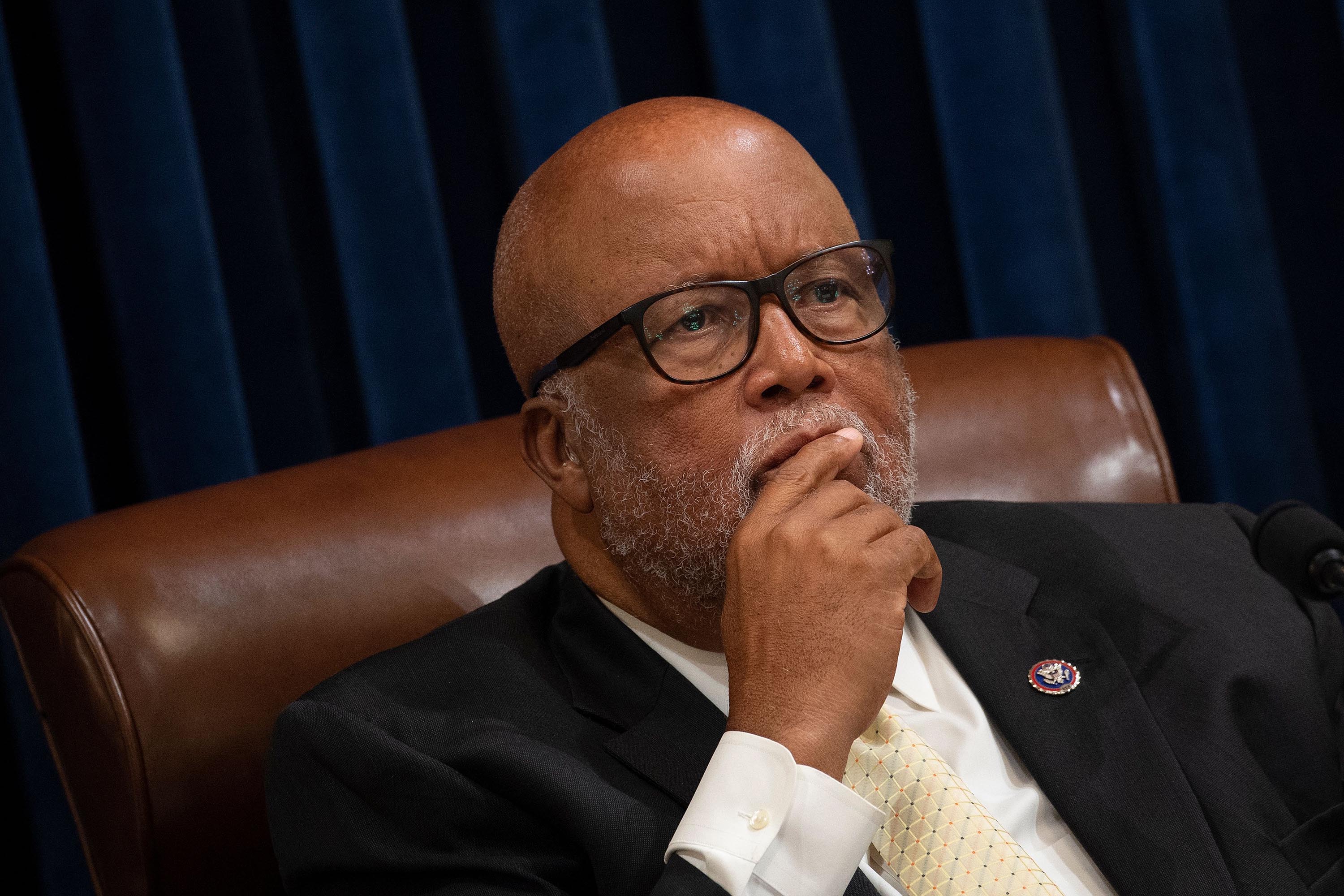 Chair Bennie Thompson told CNN that the select committee will "soon" issue subpoenas, but he declined to say who would be targeted.
He said the panel won't resort to writing letters for voluntary information — and will instead go straight to subpoenas.
"Letters just lengthen the time. We just want to get it all done," he told CNN off camera.
Thompson also said they plan to meet with Attorney General Merrick Garland soon because they want access to all relevant data. He added they would seek information gathered by impeachment investigators about the Jan. 6 attack.
5 min ago
Here's what is next for the Jan. 6 committee, according to the panel's chair
Rep. Bennie Thompson, the chair of the Jan. 6 committee, spoke to reporters after the panel's first hearing wrapped. Lawmakers heard from four police officers who tried to defend the US Capitol during the riot.
"I am thankful for their testimony. It sets the right tone for the work of this committee. But it also says that there's significant work that we have to do over the next few months. Again, let me thank the four officers who committed themselves to testimony. It was important that we talk to the rank and file officers," Thompson said.
"As you know several committees [have] had opportunities to talk to leadership in the Capitol police, and the Metropolitan police, but this was an opportunity we felt necessary in order to find out what those individuals who had to fight the rioters on Jan. 6 had to endure," he continued.
Thompson once again stressed the committee would "follow the facts" and when asked what comes next for the panel as Congress prepares to leave for the August recess, he noted that members will be working from their districts.
"Well, we now have a body of testimony that we will review. We are in the process of putting that together. I've put some of the members on notice that they won't enjoy the  entire August recess, but we will give them time to work in their districts. Before the end of August recess," the chair said.
Thompson told reporters the select committee could have another hearing in August while the House is scheduled to be in a seven-week recess. 
2 hr 51 min ago
Cheney on Republicans protesting on behalf of insurrectionists: "It's a disgrace"
GOP Rep. Liz Cheney said that the committee will be focused on "getting to the truth" of what happened on Jan. 6 in a nonpolitical, nonpartisan way, while speaking to reporters after the first hearing.
Cheney also called efforts by Republican leadership to downplay Jan. 6 attack on the Capitol and protesting on behalf of insurrectionists a "disgrace."
"The fact that so many members of our leadership and others, the fact they've gone from recognizing what happened on the 6th to protesting in front of the Justice Department, on behalf of those who were part of the insurrection is something that I can't explain. I think it's a disgrace," Cheney said.
Cheney continued, "This is not a political campaign. This is deadly serious, and we'll investigate every aspect."
GOP Rep. Adam Kinzinger reacted to threats of potentially being punished by Republican leadership for accepting House Speaker Nancy Pelosi's appointment to the committee.
"All I have to say to that is we had a big attack on Jan. 6. We heard emotional testimony today, and that's what's on the forefront of my mind, and if people want to get petty, that's fine. I think that reflects more on people than it does on the situation at hand. This is a historic moment, and this is a democracy defending moment. And no matter the consequences, me, and I know Liz will stand and defend democracy," Kinzinger said.
2 hr 5 min ago
Here's what the officers testifying said they want the Jan. 6 committee to investigate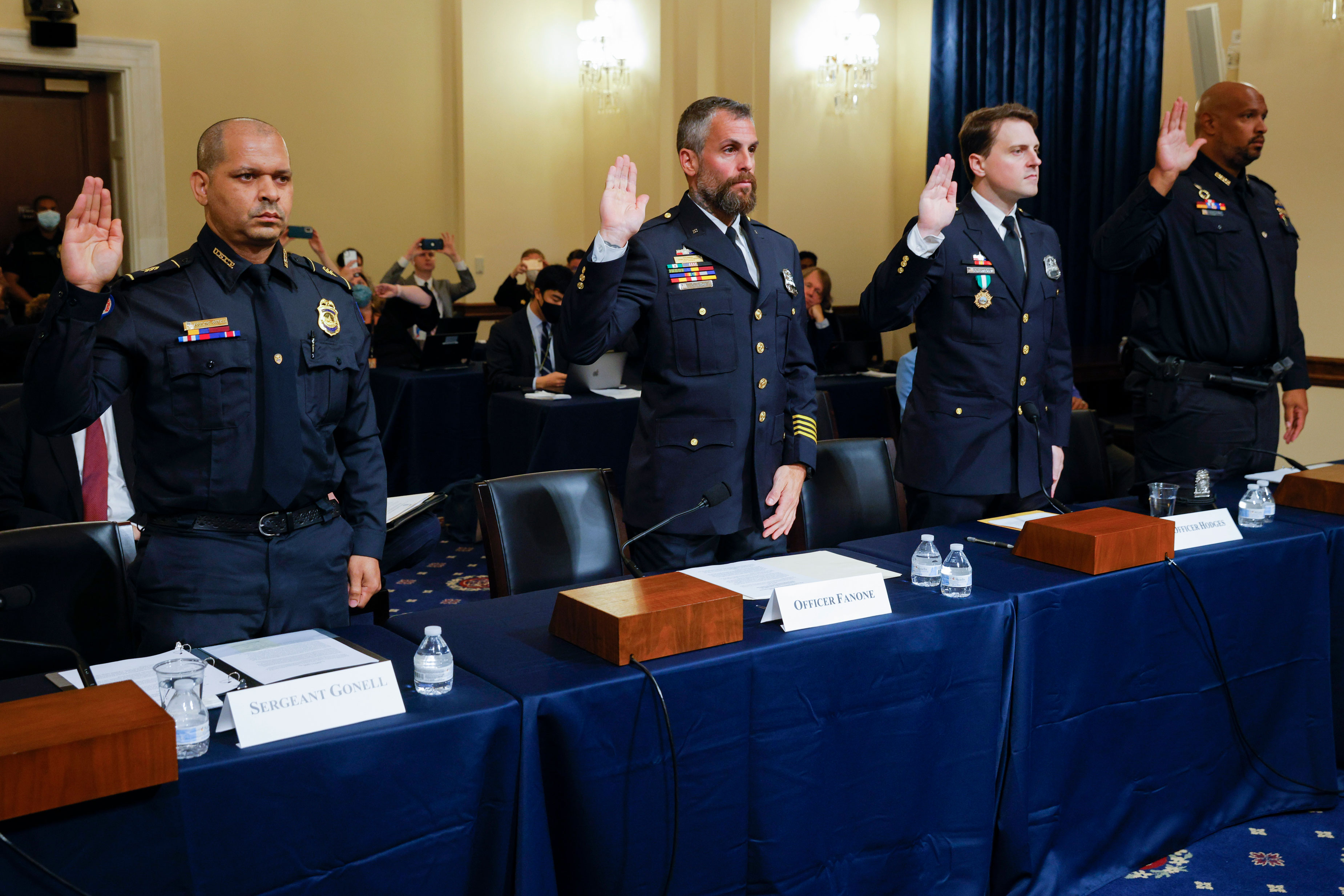 Rep. Bennie Thompson, the chairman of the House select committee, asked the four officers testifying at the hearing today what they want the committee to uncover in their investigation.
DC Metropolitan Police Officer Michael Fanone asked the committee to investigate the organizing of Donald Trump's "stop the steal" rally and the "violent political rhetoric" leading up to and during the event.
He said that "the time, the place, and the circumstances of that rally, that rhetoric, and those events to me leads in the direction of our president," referring to former President Trump, "and other members" of Congress and the Senate.
He called for the committee to conduct "an investigation into those actions and activities which may have resulted in the events of Jan. 6," and whether or not there was "a collaboration between those members, their staff, and these terrorists."
DC Metropolitan Police Officer Daniel Hodges said that he thought Fanone "hit the nail on the head."
"As patrol officers, we can only deal with the crimes that happen on the streets, the misdemeanors and occasionally the violent felonies, but you guys are the only ones we've got to deal with crimes that occur above us. I need you guys to address if anyone in power had a role in this," he said. 
He called on the committee to uncover if "anyone in power" coordinated, tried to downplay, or tried to prevent the investigation of "this terrorist attack." 
"Because we can't do it. We're not allowed to. And I think the majority of Americans are really looking forward to that as well," Hodges said.
US Capitol Police Officer Harry Dunn said he echoed the sentiment of the other officers and added that a "hitman" sent the insurrectionists to the Capitol that day.
"There was an attack carried out on Jan. 6, and a hitman sent them. I want you to get to the bottom of that," Dunn said.
Finally, US Capitol Police Sgt. Aquilino Gonell asked the members of the committee to give law enforcement the "tools" to prevent future attacks like Jan. 6.
"I would also for you to give us the tools, or at least the things we need to continue to protect you guys. I think that's essential," he said.
"We still have security measures from 20 years ago that had to go. We need to reinvent the wheel and change that, but only you guys have the power to authorize that," he told the committee.
3 hr 21 min ago
Fact check: Rep. Jim Banks claims Pelosi "cherry picked" Jan. 6 committee assignments
From CNN's Holmes Lybrand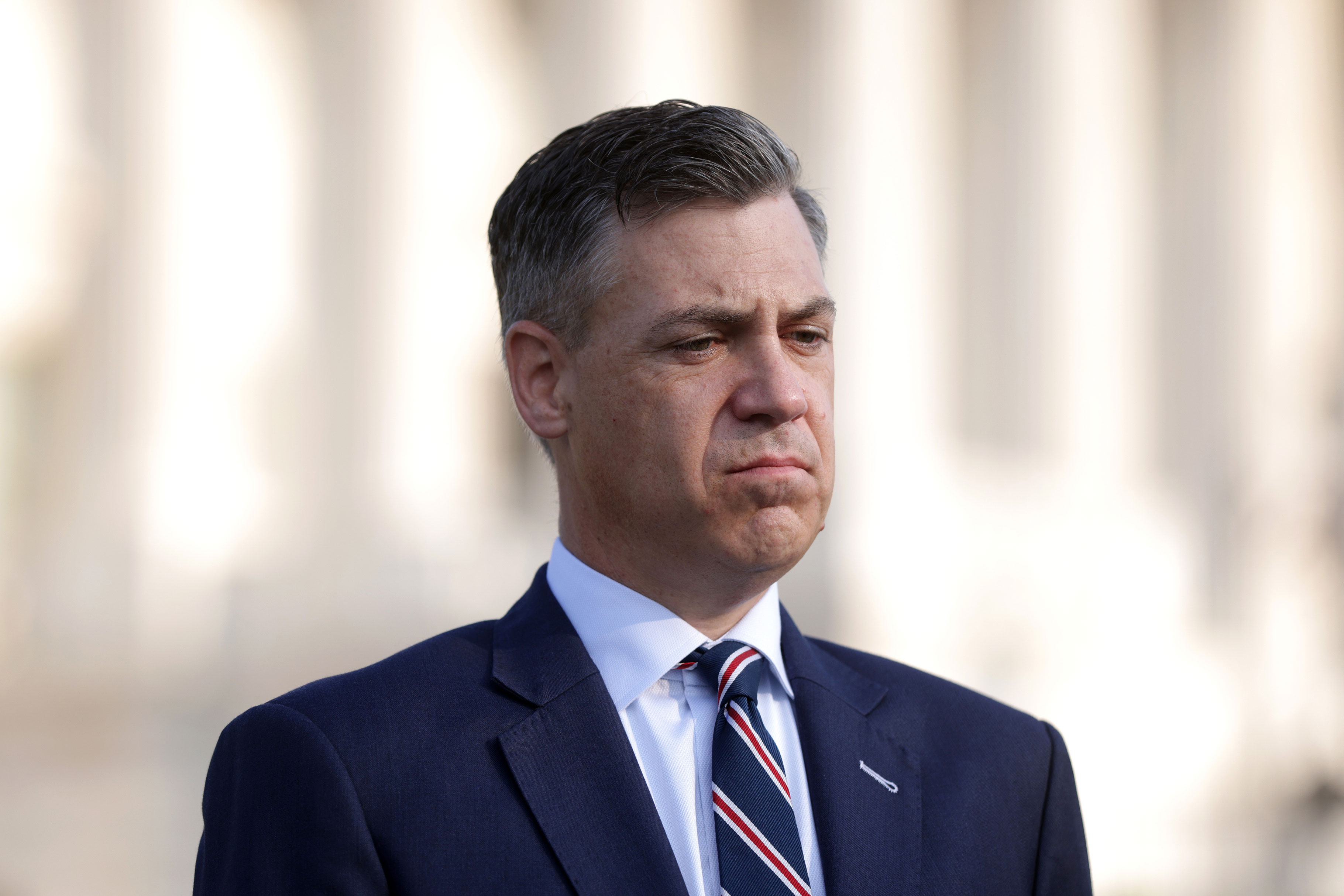 In a GOP news conference Tuesday morning designed to push back against the House Select Committee hearing on the Jan. 6 riot, Republicans criticized Speaker Nancy Pelosi for rejecting two of House Minority Leader Kevin McCarthy's five picks to serve on the committee.
Rep. Jim Banks of Indiana, one of the members Pelosi rejected, claimed that the Speaker "cherry picked the members to serve on this committee." 
"She's prewritten a narrative. Only members who will stick to her talking points are allowed to serve on this committee," Banks said.
Facts First: This is misleading. McCarthy chose five Republicans to serve on the committee and Pelosi rejected two of those choices, Reps. Banks and Jim Jordan of Ohio. McCarthy then withdrew his three other choices, Reps. Rodney Davis of Illinois, Kelly Armstrong of North Dakota and Troy Nehls of Texas. Nehls, along with Jordan and Banks, objected to the certification of the 2020 presidential election.
The House created this committee after Senate Republicans blocked the independent, bipartisan commission to investigate the Jan. 6 riot in late May, 54 to 35. 
In a statement on her decision, Pelosi wrote that "With respect for the integrity of the investigation, with an insistence on the truth and with concern about statements made and actions taken by these Members, I must reject the recommendations of Representatives Banks and Jordan to the Select Committee." Pelosi did not elaborate on why, specifically, those two members were rejected. 
Both Banks and Jordan have spread the false narrative that Pelosi was responsible for security failures on Jan. 6. Last Wednesday Jordan said "the Speaker was the "only one" who could explain the lack of "proper security presence at the Capitol that day." Banks tweeted the same day Banks tweeted "@SpeakerPelosi, why did you block the National Guard from protecting the Capitol?"
McCarthy has criticized this decision, calling it an "abuse of power" and saying that "Pelosi has broken this institution." The minority leader withdrew his other three choices and Pelosi has appointed two Republicans to the committee, Reps. Liz Cheney of Wyoming and Adam Kinzinger of Illinois, both of whom voted to impeach then-President Trump following the Jan. 6 riot.
3 hr 29 min ago
Officers: Lawmakers who I believe incited Jan. 6 violence are "the worst that America has to offer"
Metropolitan Police Officer Michael Fanone reacted to video footage which shows rioters calling officers "traitors" and other derogatory remarks.
"At no point that day did I ever think about the politics of that crowd, even the things that were being said did not resonate in the midst of that chaos. But what did resonate was the fact that thousands of Americans were attacking police officers who were simply doing their job," Fanone said.
Fanone told committee members after reflecting on the events he believes that there were government officials who incited the violence.
"In retrospect now, thinking about those events, the things that were said, it's disgraceful members of our government, I believe were responsible for inciting that behavior and then continue to propagate those statements, things like this was the 1776, or that police officers who fought, risked their lives in some who gave theirs wore red coats," he said.
"To me those individuals are representative of the worst that America has to offer," Fanone told committee members.
2 hr 53 min ago
DC police officer explains why he is referring to the Jan. 6 rioters as "terrorists"
Democratic Rep. Jamie Raskin asked DC police officer Daniel Hodges about why he is repeatedly referring to the Jan. 6 rioters as "terrorists" during his hearing testimony today.
Raskin said, "Officer Hodges, I read your testimony carefully. I hope every American reads your testimony. But I noted that you referred to 'terrorists' or 'terrorism' 15 different times to describe the people" who seized the Capitol. Raskin noted that some of colleagues have been calling the violent insurrectionists "not terrorists, but 'tourists.'" 
"Well, if that is what American tourists are like, I can see why foreign countries don't like American tourists," Hodges responded, getting some laughs from the hearing room.
He said he can see why someone would take issue with the title of "terrorist" since "it's gained a lot of notoriety in our vocabulary in the past few decades." But, he said, he came "prepared" to explain why he uses the term to describe the rioters. Hodges then recited how US criminal codes describe "domestic terrorism."
"U.S. Code title 18 part 1 chapter 1.1.3, B as in brown, section 2.3.3.1. The term domestic terrorism means activities that involve acts dangerous to human life that are a violation of the criminal laws of the United States or of any state and B, appeared to be intended to intimidate or coerce a civilian population, or to influence the policy of a government by intimidation or coercion or to affect the conduct of a government by mass destruction, assassination or kidnapping and occur primarily within the territorial jurisdiction of the United States." 
Some more context: Some Republicans have tried to paint the events of Jan. 6 as mostly peaceful except for a few bad apples. Rep. Andrew Clyde, a Republican from Georgia, made one of the most egregious comparisons to downplay the riot, suggesting many members of the mob looked like regular tourists.
In a May Congressional hearing, Clyde claimed the attack looked like a "normal tourist visit."
"Watching the TV footage of those who entered the Capitol and walked through Statuary Hall showed people in an orderly fashion staying between the stanchions and ropes taking videos and pictures. You know, if you didn't know the TV footage was a video from January the sixth, you would actually think it was a normal tourist visit," he said.
Clyde is referring to one moment after the rioters broke into the Capitol and walked through Statuary Hall. Other footage of Jan. 6, however, shows rioters beating a police officer with a flagpole, as well as using police shields to smash through windows and clambering over the Capitol walls — not typical tourist behavior.