1 min ago
Harris will meet with Texas House Democrats today, source says 
From CNN's Jasmine Wright and Eric Bradner
Vice President Kamala Harris is expected to meet with Texas Democrats this afternoon, according to a source familiar with the planning.
The source would not confirm where the group would meet.
This will be the second meeting the vice president has had with some members of the group, the first taking place in the Roosevelt Room at the White House in June.
After traveling to DC to break the state House's quorum in an effort to block a GOP-led bill, Texas House Democrats said Tuesday they can only hold off Republicans' push for restrictive new voting laws for weeks and urged President Biden and Democratic members of Congress to look for new ways to implement federal protections — including backing South Carolina Rep. Jim Clyburn's call for a filibuster carve-out for voting rights legislation.
Reporting from CNN's Clare Foran and Lauren Fox contributed to this post.
9 min ago
Here's what young voters in Texas are doing to protest the state's restrictive voting bills
From CNN's Rachel Janfaza
In response to Texas' Republicans renewed push for restrictive new voting laws in the state, activists are holding a voting rights advocacy day at Texas' Capitol Tuesday.
Youth organizers on the ground in Texas say the day of action is, in part, meant to send a message to lawmakers that young people in the state – who are increasingly more diverse than their older counterparts – will not back down when it comes to protecting their right to vote.
The day of action is co-hosted by a number of civic engagement organizations including MOVE Texas, Common Cause Texas, Texas Rising, Voto Latino, Jolt Action, ACLU of Texas, Texas Civil Rights Project and more.
Topping their list of concerns, activists say, is a proposal that would stop expansive practices such as drive-thru voting and 24-hour voting.
"A lot of my friends and peers are talking about this as an important issue," said Katya Ehresman, a 22-year-old recent graduate of the University of Texas at Austin. "Some are kind of politically active, but more so, they're just angry and affected."
Ehresman, who spent 26 hours at Texas' Capitol this weekend and testified against the proposed measures on the floor of the Texas House and Senate, said her friends "remember struggling finding time to wait in line to vote and now anecdotally are [asking] why [lawmakers] would want to get rid of early voting or drive-in voting."
"We see this legislation as a direct attack on the massive increase in youth turnout we saw last year," said Charlie Bonner, a 25-year-old spokesperson for MOVE Texas, a youth voter engagement organization that registered more than 50,000 voters between the ages of 18 and 30 ahead of the 2020 election.
Bonner emphasized the increased diversity of young people in Texas and stressed the danger in limiting these voters' access to the ballot box.
"Unfortunately we don't have an electorate that matches the lived experiences of the folks here. We want to build an electorate reflective of the rich diversity of this beautiful state, but instead of we have these measures that seek to restrict access to make the smallest electorate possible to hold onto power," he said.
Also on Tuesday, activists with Jolt Action, a group that looks to increase civic participation of Latinos in Texas, dressed in quinceañera attire during a news conference in front of the Capitol. In a statement Tuesday the group said the proposed legislation "would further restrict young voters of color from exercising their right to vote."
39 min ago
CNN's Dana Bash: Biden needs to go a step further and address the Senate filibuster
From CNN's Dana Bash / Written by CNN's Maureen Chowdhury
While President Biden's speech on voting rights addressed concerns raised by civil rights groups and Democrats across the country about the White House's commitment to the issue, the President needs to go a step further to create change and pass legislation, CNN's Dana Bash said.
"Unless the President is going to go another step and going say we need to change rules in the United States Senate to get this done so the federal government can have more of an impact, what he was doing is taking kind of a butter knife to a fight against a nuclear bomb," Bash explained.
The key rule being the Senate filibuster.
"And that is what the pressure is going to continue to be on the President to convince some of those moderate Democrats, in the place he used to work for 36 years, the United States Senate, that this is the one issue that is important to work around the filibuster on," she said.
Political commentator Bakari Sellers echoed similar sentiments.
"I think that while the speech and the oratory, the substance and question many of us would have for the President of the United States, who we love, support and voted for is, 'How much does it mean to you?' Because without getting rid of the filibuster… you'll have many people who came out and waited in line voting for you with no recourse and Republicans will continue to steam roll and rip apart what we fought for and many people died for, which is now a voting rights act which is nothing but a nub," Sellers said.
13 min ago
Here's what a filibuster is — and why Democrats want to change it to pass voting rights legislation
Analysis from CNN's Zachary B. Wolf
The fight over voting rights has once again put the filibuster front and center.
Passing new federal voting legislation in Congress that President Biden advocated for today will almost certainly require altering filibuster rules, since Democrats' slim majority in the Senate isn't enough to overcome GOP opposition.
In his remarks today, the President stopped short of embracing changes to the Senate procedure, despite calls from civil rights groups and other Democrats.
But what is a filibuster, and why do Democrats want to change it? The short version of the story is that Democrats want to reinterpret Senate rules so they can use just 50 votes to pass things like the voting rights bill or Biden's massive infrastructure package.
According to the Senate website — which has its own glossary — a filibuster is this: "Informal term for any attempt to block or delay Senate action on a bill or other matter by debating it at length, by offering numerous procedural motions, or by any other delaying or obstructive actions."
These days, it's shorthand for anytime senators demand a supermajority to cut off debate and move to an actual vote on just about anything.
When people talk about ending the filibuster, what they really mean is reinterpreting Senate rules around cloture so that legislation could pass by a simple majority instead of being held up by a minority.
Because Democrats have only 50 votes right now, every one of them needs to be on board to change the Senate rules — and they could be changed back in the future. Currently, moderates like Sen. Joe Manchin of West Virginia are not in favor of changing it.
Read more about the filibuster here.
CNN's Kevin Liptak, Paul LeBlanc and Kate Sullivan contributed reporting to this post.
52 min ago
More than a dozen states have enacted 28 new laws restricting ballot access since the 2020 election
From CNN's Janie Boschma
State lawmakers have enacted nearly 30 laws since the 2020 election that restrict ballot access, according to a new tally as of June 21 by the Brennan Center for Justice at the New York University School of Law.
The 28 total laws in 17 states mark a new record for restrictive voting laws since 2011, when the Brennan Center recorded 19 laws enacted in 14 state legislatures.
President Biden referenced the tally during a voting rights speech in Philadelphia, saying that "the 21st century Jim Crow assault is real."
More than half of these new state laws make it harder to vote absentee and by mail, after a record number of Americans voted by mail in November.
The legislative push is part of a national Republican effort to restrict access to the ballot box following record turnout in the 2020 election. Republicans currently control both chambers of 30 state legislatures.
State lawmakers are expected to attempt enacting additional laws this year.
57 min ago
NAACP offers to pay bail for Texas lawmakers if necessary
From CNN's Kaitlan Collins
The NAACP will offer to pay bail for Texas Democrats after Gov. Greg Abbott claimed they would be arrested for fleeing to the state in last-ditch attempt to block a new voting law, a spokesperson for the organization tells CNN.
"War has been declared on democracy, and we will support anyone who stands up to defend it," NAACP President Derrick Johnson said in a statement. "We are fully invested in good trouble."
Abbott told KVUE Monday that once the state House Democrats return to Texas, "they will be arrested, they will be cabined inside the Texas Capitol until they get their job done."
Upon reconvening in Austin on Tuesday morning, a quorum was not present in the Texas state House for the special legislative session. However, a motion was approved to direct the Texas House Sergeant at Arms to send for all unexcused absent members in an effort secure a quorum, "under warrant of arrest, if necessary." Texas law enforcement does not have jurisdiction in Washington, DC, so it is unlikely the order will have much effect while the Texas House Democrats remain out of state. 
1 hr 9 min ago
Biden to Republicans: "Have you no shame?"
From CNN's Josiah Ryan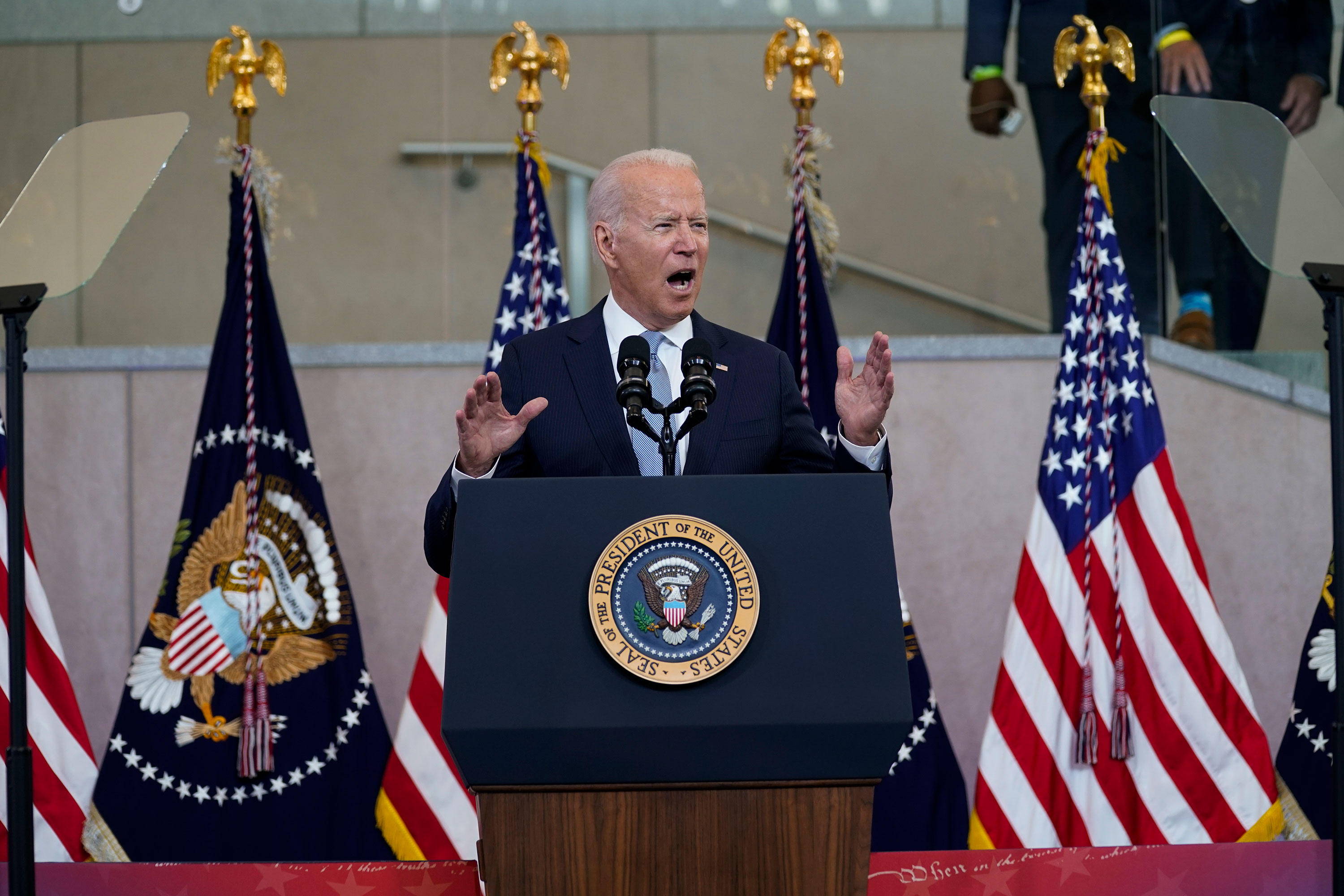 President Biden today sought to pressure Republican lawmakers to get on board with Democratic legislation that would seek to protect voter's rights from new state laws that would impose limits on voting.
"We'll be asked my Republican friends in Congress and states and cities and counties to stand up for God sake and help prevent this concerted effort to undermine our election and the sacred right to vote," he said. 
"Have you no shame?" asked Biden. "….This isn't about Democrats or Republicans. It's literally about who we are as Americans. It's that basic. It's about the kind of country we want today."
"Hear me clearly," he continued. "There's an unfolding assault taking place in America today, an attempt to suppress and subvert the right to vote in fair and free elections, an assault on Democracy, an assault on liberty, an assault on who we are as Americans."
1 hr 8 min ago
"Democracy or autocracy? That's what it comes down to," Biden says 
In a major speech on voting rights President Biden slammed GOP-controlled legislatures who have moved ahead with laws restricting ballot access, calling it "election subversion."
"To me, this is simple. It's election subversion. It's the most dangerous threat to voting in the integrity of free and fair elections in our history," he said.
"They want the ability to reject the final count and ignore the will of the people if their preferred candidate loses," he continued, adding that it's "unconscionable."
He compared their actions to behavior seen in autocracies around the world.
"We got to shore up our election system and address the threats to election subversion not just from abroad, which I spent time with [Russian President Vladimir] Putin talking about, but from home. From home. We must ask those who represent us at the federal, state, local level, 'Will you ignore the will of the people? Will you ignore their voices? Are you on the side of truth or lies, fact or fiction, justice or injustice? Democracy or autocracy?' That's what it comes down to," the President said.
Biden urged Americans of every background and political party to come together to raise the urgency of this moment. 
"In 2020, democracy was put to a test. First by the pandemic. Then by a desperate attempt to deny the reality of the results of the election, and then by violent and deadly insurrection on the capitol, the citadel of our democracy," he warned.
1 hr 15 min ago
Biden: "We are facing the most significant test of our democracy since the Civil War"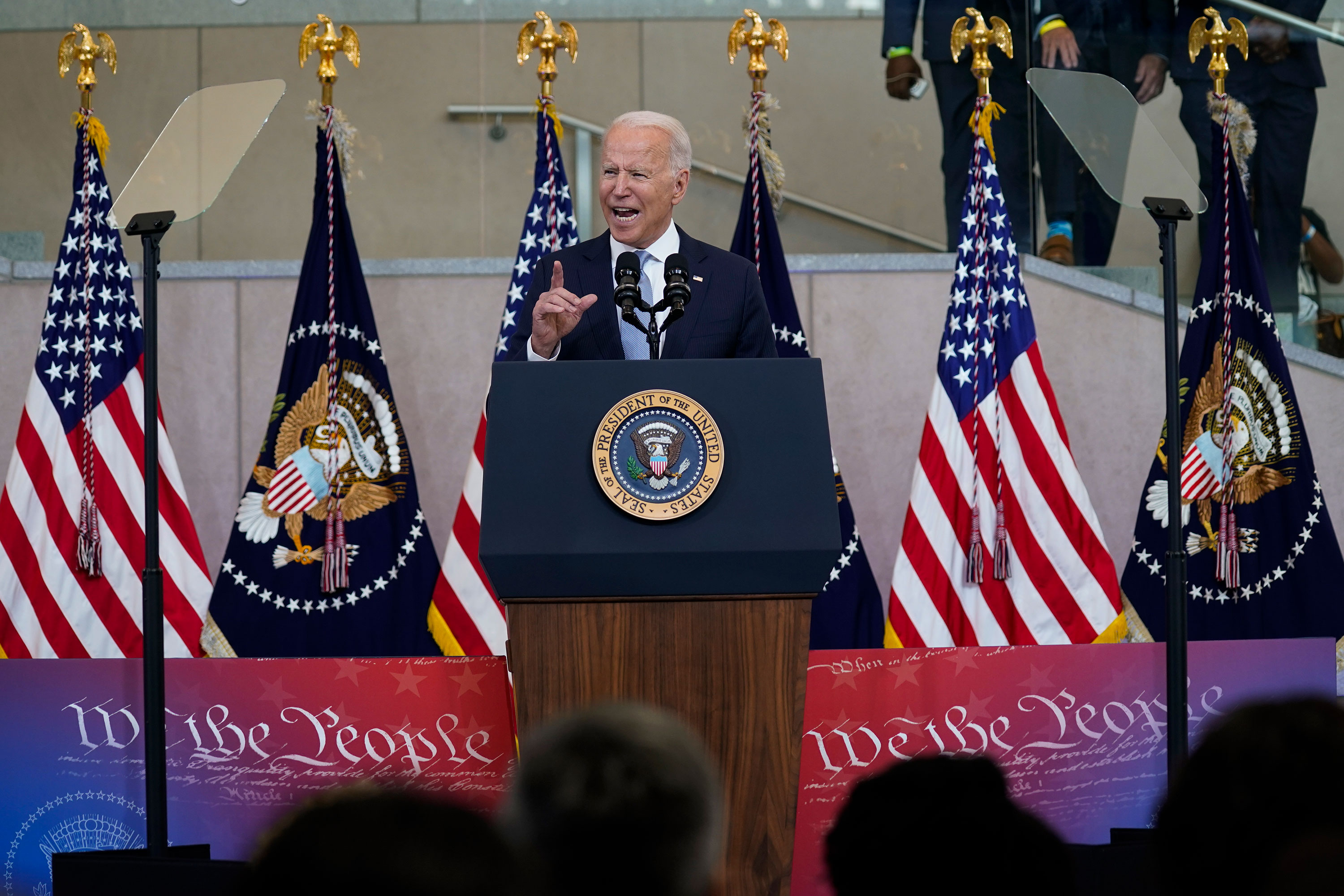 President Biden called attacks on voting rights "the most significant test" of American democracy since its Civil War in the 1860s.
"We are facing the most significant test of our democracy since the Civil War. That's not hyperbole — since the Civil War," Biden said while speaking in Philadelphia.
He continued: "The Confederates back then never breached the Capitol as insurrectionists did on Jan. 6. I'm not saying this to alarm you. I'm saying this because you should be alarmed."
But Biden added that there is "good news": "It doesn't have to be this way."
"We have the means — we just need the will. The will to save and strengthen our democracy," Biden said.