1 min ago
Garland says one "successful" ransomware prosecution is not enough
From CNN's Christina Carrega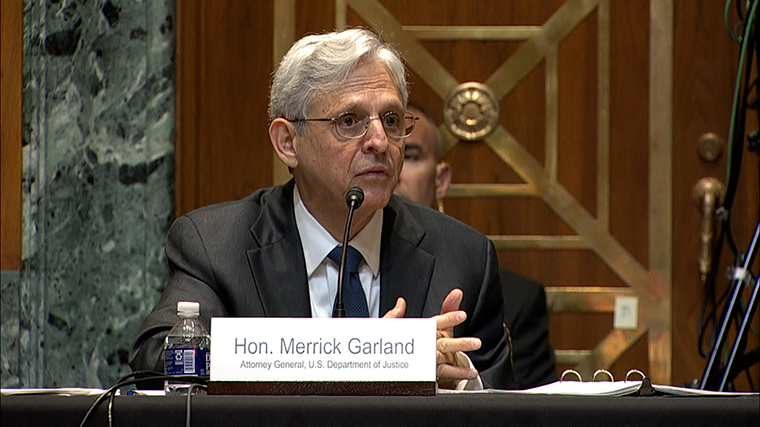 Attorney General Merrick Garland says that the issue with cyberattacks is "getting worse and worse" and that's why he has proposed a more than $1 billion budget to combat cybercrimes.
"This is a very, very serious threat. You know we saw what can happen with respect to a pipeline, in respect to a food processing company, you can imagine what could happen if we had multiple attacks at the same time on more, even more fundamental infrastructure," Garland said. "So I'm very worried about it and that and so as the administration and that's why we've asked for such a large increase in our cyber budget."
Garland's proposed budget increase is the "largest increase in cyber resources for the Department in more than 10 years," he said in his written opening remarks.
"The Justice Department has set up its own cybersecurity task force and particularly focusing on ransomware and as you acknowledge we've already had one pretty significant success," Garland said referring to the recovery of over $2 million in Bitcoin from the hackers behind the Colonial Pipeline. 
"One significant success is not really going to be enough. This has to be a constant focus, and in each future year it's going to be require more money we think we have the right amount of money now but fair warning, we're going to be coming back for more money after this," he said.
10 min ago
Biden's attorney general says the right to vote is "fundamental" for democracy
From CNN's Christina Carrega
Attorney General Merrick Garland told the Senate today that the right to vote is a "fundamental element of our democracy." 
"In fact, without it, without the right to vote, none of the other rights follow," Garland said in response to a question from Sen. Patrick Leahy, a Democrat from Vermont. 
Garland says that the $35.3 billion proposed budget includes expansion of the Justice Department's Civil Rights Division that handles voting rights. 
"It [voting] was the founding purpose of the Justice Department during Reconstruction to ensure the right to vote of newly freed African Americans who were under militant attack to prevent them from voting, and the Voting Rights Act in the 60s reaffirmed that concern. And that is very much present on our mind now," Garland said.
Where things stand in Congress on voting rights: Any legislation to overhaul voting laws is highly unlikely to pass the 50-50 Senate over the next two years given stiff resistance voiced by Democratic Sen. Joe Manchin of West Virginia and a handful of other Democrats over changing the filibuster rules so legislation can advance along straight party lines.
The move comes as Democrats are trying to determine their strategy over this key issue knowing they lack the votes but facing an onslaught of Republican-led efforts to pare back rules that eased voting access during the pandemic.
House Speaker Nancy Pelosi vowed on Tuesday that the House will work to pass the John Lewis Voting Rights Act. In a letter to House Democrats, Pelosi wrote that "it is essential that H.R. 4, the John Lewis Voting Rights Advancement Act, become law. When we pass H.R. 4, we must do so in a way that is ironclad constitutionally," adding, "H.R. 4 must be passed, but it will not be ready until the fall."
CNN's Manu Raju, Morgan Rimmer, Clare Foran and Lauren Fox contributed reporting to this post. 
37 min ago
Garland responds to criticism over DOJ's decision to defend Trump in defamation lawsuit
From CNN's Christina Carrega and Erica Orden
Attorney General Merrick Garland responded to criticism the Justice Department has received in recent weeks specifically for continuing to defend former President Trump in a defamation lawsuit.
"Look the job of the Justice Department in making decisions of law is not is not to back any administration, previous or present …  And the essence of the rule of law is what I said when I accepted the nomination for attorney general, it is that like cases be treated alike, that there not the one rule for Democrats and another for Republicans, that there not be one rule for friends and another for foes," Garland said in response to a question from Sen. Patrick Leahy, a Democrat from Vermont. 
E. Jean Carroll filed the defamation lawsuit against Trump after he denied accusations that he raped her inside a New York department store in the 1990s. Since the comments were made during his presidency, the DOJ argued that they, rather than Trump personally, should serve as the defendant in the case.
"It is not always easy to apply that rule. Sometimes it means that we have to make a decision about the law that we would never have made and that we strongly disagree with as a matter of police, but in every case the job of the Justice Department is to make the best judgement it can as to what the law requires," Garland said.
Some more background: When the Justice Department argued in a court filing Monday that it should be allowed to protect Trump from the defamation lawsuit, a move that would hugely benefit Trump by likely ending the litigation, some wondered why the Biden administration would take such a position.
But for some who have worked in the DOJ, the department's position came as no surprise because they saw it as an effort to protect the institution of the presidency rather than an attempt to insulate Trump.
In its response filed Monday as part of an appeal in the 2nd US Circuit Court of Appeals, the department went out of its way to disavow Trump's response to Carroll, at various points in the filing calling it "crude," "disrespectful" and "without question unnecessary and inappropriate." (A spokesman for President Biden, meanwhile, said the White House "was not consulted by DOJ on the decision to file this brief or its contents.")
But, DOJ lawyers argued, Trump was acting "within the scope of employment," writing that "speaking to the public and the press on matters of public concern is undoubtedly part of an elected official's job."
1 hr 9 min ago
Senators express concerns that DOJ's $35.3 billion proposed budget doesn't increase law enforcement staff
From CNN's Christina Carrega
While the proposed $35.3 billion budget for the Justice Department is a 7% increase from the previous fiscal year, members of a Senate subcommittee are concerned that other areas may get neglected.
Chair Jeanne Shaheen, a Democrat from New Hampshire, and Ranking Member Jerry Moran, a Republican from Kansas, of the Subcommittee on Commerce, Justice, Science, and Related Agencies expressed in their opening remarks that they are concerned about the proposed incremental budget for staffing in the Bureau of Prisons, the FBI, DEA, ATF, US Marshals and funds for the crime victims funding.
Garland's budget does mention an increase of staff within the Justice Department like in the Civil Rights Division, Community Relations Services and the US Marshal Services.
Moran pointed out that the "overwhelming bulk" of the Justice Department's request is dedicated to grant programs but the 2% increase to the law enforcement agencies is "barely enough to cover inflation" and may not "reverse the 13% decline in the number of special agents since 2010." 
"The DEA is on the frontlines against sophisticated ruthless drug traffickers and cartels and the methamphetamine and opioid crisis continues to wreak havoc and terrible damage on communities in Kansas and across the country. I'm troubled by the lack of attention given the DEA in this budget request," Moran said during his opening remarks.
Shaheen says she is concerned about staffing in federal prisons and the budget for the Crime Victims' Fund. 
Garland assured Shaheen that the Crime Victims' Fund is not expected to run out.
"I have been given to understand that, given the receipts, we expect to bring in this year and through FY 22. At the end of 2022, we should have about a $400 million balance, that is we do not expect the fund to run out and we expect to have a balance now I also agree with you, we want to build up that fund further," Garland said.
Regarding staffing in the Bureau of Prisons, Garland says that there has been a "dramatic increase in the number of hires."
"I am of course concerned about this, its protection of both the staff and the inmates require that we have the right number of staff in the Bureau of Prisons so what I understand is that we are currently at 95% of authorized positions filled. So there will always be a percentage, because of attrition, etc. But they have made dramatic increases in the number of hires to the, to the point that BLP hired 900 net new staff," Garland said.
1 hr 23 min ago
Garland stresses need to increase DOJ's cybersecurity as ransomware attacks rise
From CNN's Christina Carrega
In his prepared remarks, Attorney General Merrick Garland emphasized the need to increase the budget in the Justice Department's cybersecurity strategies in the wake of an increase of foreign and domestic cyberhackers.
In the budget, Garland says he has proposed "the largest increase in cyber resources for the Department in more than 10 years," with a request of $1.1 billion that includes $150.7 million in cyber program enhancements.
"Protecting our national security also requires countering cyber threats from foreign and domestic actors – whether nation states, terrorists, or criminals – who seek to conduct espionage, invade our privacy, attack our elections, steal our intellectual property, damage our critical financial and physical infrastructure, or extort ransom payments," Garland said. "A complete review of the Department's cybersecurity strategy is currently underway."
One of the most high-profile ransomware attacks this year was against the Colonial Pipeline that caused a shortage of gas across the East Coast of the country. The company paid the multi-million dollar ransom to DarkSide, a hacking group linked to Russia.
The Justice Department announced Monday that they were able to seize $2.3 million in Bitcoins that was paid to the group. 
1 hr 35 min ago
The Senate released a report earlier this week on Jan. 6 riot as the DOJ continues its investigations
From CNN's Zachary Cohen, Manu Raju, Whitney Wild and Lauren Fox
The Department of Justice's investigation of the Jan. 6 attack on the US Capitol is expected to be a key topic in today's hearing with Attorney General Merrick Garland.
A new Senate report from earlier this week revealed previously unknown details about the stunning security breakdowns ahead of the attack, including a finding that the US Capitol Police's main intelligence unit "was aware of the potential for violence" beforehand.
The report adds an authoritative emphasis to previous evidence that there were massive intelligence failures, critical miscommunications, and unheeded warnings that ultimately led to the chaotic response that day.
Among the failures was an inability by intelligence officials to tie together a swirl of troubling internet chatter leading up to the riot and a reliance on using past, non-violent Trump rallies in security planning.
There are also several glaring omissions in the report including any examination of Donald Trump's role in the riots, raising questions about whether lawmakers, in their quest for bipartisanship, exposed the limits of a Congress divided and unable to agree on certain truths, particularly those related to the former President's actions.
Sources tell CNN that in order for this report, which was compiled by the Senate Homeland Security and Rules committees, to have support from both parties, the language had to be carefully crafted, and that included excluding the word "insurrection," which notably does not appear outside of witness quotes and footnotes.
1 hr 26 min ago
NOW: Attorney General Merrick Garland faces grilling in the Senate
From CNN's Christina Carrega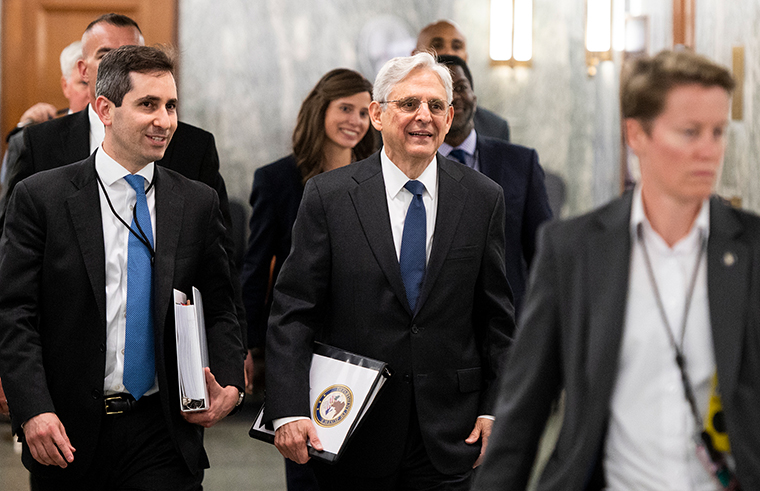 Attorney General Merrick Garland is testifying now in the Senate to defend the Justice Department's $35.3 billion budget proposal.
It's also possible some members of the committee may divert to off-topic questions about recent decisions that have come out of the Justice Department. 
In recent weeks, the Justice Department has been criticized about a series of items including their reasons to continue to defend former President Trump in a defamation lawsuit and standing by not releasing the unredacted version of former Attorney General William Barr's 2019 decision not to bring obstruction charges against Trump's involvement with the Russia investigation. 
Nonetheless, this is Garland's third time testifying before a Senate subcommittee since he was confirmed as the attorney general nearly three months ago and his prepared remarks are all about the proposed historic budget increase across the entire department.
2 hr 22 min ago
The DOJ unveiled two anti-gun violence proposals Monday. Here are key things to know.
From CNN's Christina Carrega
Attorney General Merrick Garland unveiled Monday two proposals meant to help curb gun violence, an announcement that comes after another violent weekend.
The Justice Department proposed to clarify the restrictions on stabilizing braces that transform a pistol into a short-barreled rifle and can "cause great damage and are more likely to be used to commit crimes."
The makeshift short-barreled rifles were used in two mass shootings in Boulder, Colorado, and in Dayton, Ohio, a Justice Department official told CNN on Monday.
"These requirements are important public safety measures because they regulate the transfer of these dangerous weapons and help ensure they do not end up in wrong hands. The proposed rule would clarify when these attached accessories convert pistols into weapons covered by these heightened regulations," the Justice Department said.
Last month, the Justice Department proposed a rule that seeks to reclassify the definition of a firearm to close the regulatory loophole associated with producing unmarked weapons, known as "ghost guns." From 2016 to 2020, more than 23,000 un-serialized firearms were reported to have been recovered by law enforcement from potential crime scenes — including in connection with 325 homicides or attempted homicides, according to a news release from May 7.
Read more here.
2 hr 29 min ago
Biden's Justice Department said it will no longer seize reporters' records for leak investigations
From CNN's Veronica Stracqualursi
The Justice Department on Saturday said it will no longer seize reporters' records in leak investigations, a notable policy shift on the heels of disclosures that federal prosecutors aggressively pursued communication data from reporters to identify their sources. This will likely be a key topic in today's hearing with Attorney General Merrick Garland.
"Going forward, consistent with the President's direction, this Department of Justice — in a change to its longstanding practice — will not seek compulsory legal process in leak investigations to obtain source information from members of the news media doing their jobs," Anthony Coley, the department's director of public affairs, said in a statement.
The commitment from President Biden's Justice Department came just a day after The New York Times reported a top lawyer for the paper had revealed that the department, under the Trump administration and then continued under the current administration, had sought to obtain the email logs of four of its reporters.
The disclosure was the latest in a series of revelations about the Justice Department secretly obtaining records from journalists, including a CNN reporter, as well as reporters from The Washington Post and other news organizations.
A number of top Times executives had been informed of the effort by the Biden administration earlier this year to obtain its reporters' emails but were bound by a gag order — preventing them from sharing the information with the newsroom and the paper's executive editor, attorney David McCraw said, according to the Times.
McCraw on Friday shared that the Justice Department had attempted to seize email logs of the four reporters — Matt Apuzzo, Adam Goldman, Eric Lichtblau and Michael Schmidt — from Google, which manages the Times' email system.
In a statement Saturday, White House press secretary Jen Psaki said that "no one at the White House was aware of the gag order until Friday night" due to the "independence of the Justice Department in specific criminal cases."