1 min ago
These groups are calling on Biden to promote natural gas as key player in reaching climate goals
From CNN's Vanessa Yurkevich
As US President Biden engages in a two-day virtual climate summit with world leaders, the fracking industry in Pennsylvania is reminding him of their importance to reach his climate goals. 
In a letter to the White House Wednesday, the Pennsylvania Chamber of Business and Industry, Pennsylvania Manufacturers Association, Pittsburgh Works, and the Marcellus Shale Coalition are calling on the administration to "promote policies reflecting the essential role American natural gas plays in this endeavor." 
"The workers and local small businesses driving the economy and helping to build America back are essential to a low-carbon future which cannot be achieved without an affordable and reliable source of clean energy. Natural gas is, and should continue to be, the key to our country's environmental progress," the letter states.
In his first days in office, Biden ordered a moratorium on new oil and gas leases on federal land and water areas. However, the move was a far cry from the ban on fracking President Trump claimed Biden would initiate. Fracking – or the drilling for natural gas — supports an estimated 30,000 jobs in Pennsylvania, according to the Bureau of Labor Statistics.
Natural gas, along with solar and wind energy, is needed in order to advance climate and economic goals, according to the letter.
"Domestically, a clean, reliable and resilient power grid based on natural gas and renewable energy sources working together is the only technologically feasible way of affordably meeting your climate goals for a carbon-free electrical grid by 2035 and net-zero emissions by 2050," the letter states.
11 min ago
Go There: CNN answers key questions from Moscow about today's climate summit — and its international impact
Today is Earth Day, and 40 world leaders are meeting virtually to discuss climate issues in a summit convened by US President Biden. 
Russian President Vladimir Putin and Chinese President Xi Jinping are two notable leaders attending the summit, underscoring the wide range of leaders attending. Many allies of the US are also in attendance, including French President Emmanuel Macron and British Prime Minister Boris Johnson.
The US is the world's second-biggest polluter behind China, which has said it will continue to increase carbon emissions through at least the end of the decade. 
CNN correspondent Fred Pleitgen reports on the latest from Moscow and answers questions about the summit.
Watch:
CNN's Kate Sullivan and Kevin Liptak contributed reporting to this post.
11 min ago
Climate summit cannot be "politically correct green act of bunny hugging," UK prime minister says
From CNN's Arnaud Siad
The virtual climate summit hosted by US President Biden cannot be "some expensive politically correct green act of 'bunny hugging'" and must be about "growth and jobs," British Prime Minister Boris Johnson said on Thursday.
Praising the UK's efforts on reducing carbon emissions, Johnson said, "We were the first country to pass legislation for net zero. We have the biggest offshore wind capacity of any country in the world, the Saudi Arabia of wind as I never tire of saying. We're halfway to net zero."
"We have carbon emissions lower than at any point since the 19th century, we're ending support for fossil fuels overseas and doubling our international climate finance. We're actually speeding up because we see the obligations for developed countries to do more, we're legislating to deliver 78% of the reductions needed to reach that goal by 2035," he added.
"As host of COP26, we want to see similar ambitions around the world and we're working with everybody, from the smallest nations to the biggest emitters to secure commitments that will keep change to within 1.5 degrees. (…) It's going to mean the richest nations coming together and exceeding the $100 billion commitment that they already made in 2009 and I stress how important that is," Johnson also said.
The UK will host the 26th UN Climate Change Conference in November 2021 in Glasgow, Scotland.
Johnson also thanked Biden "for returning the United States to the front rank of the fight against climate change."
11 min ago
UN climate summit president urges countries to explain "in detail" how they'll achieve climate targets
From CNN's Arnaud Siad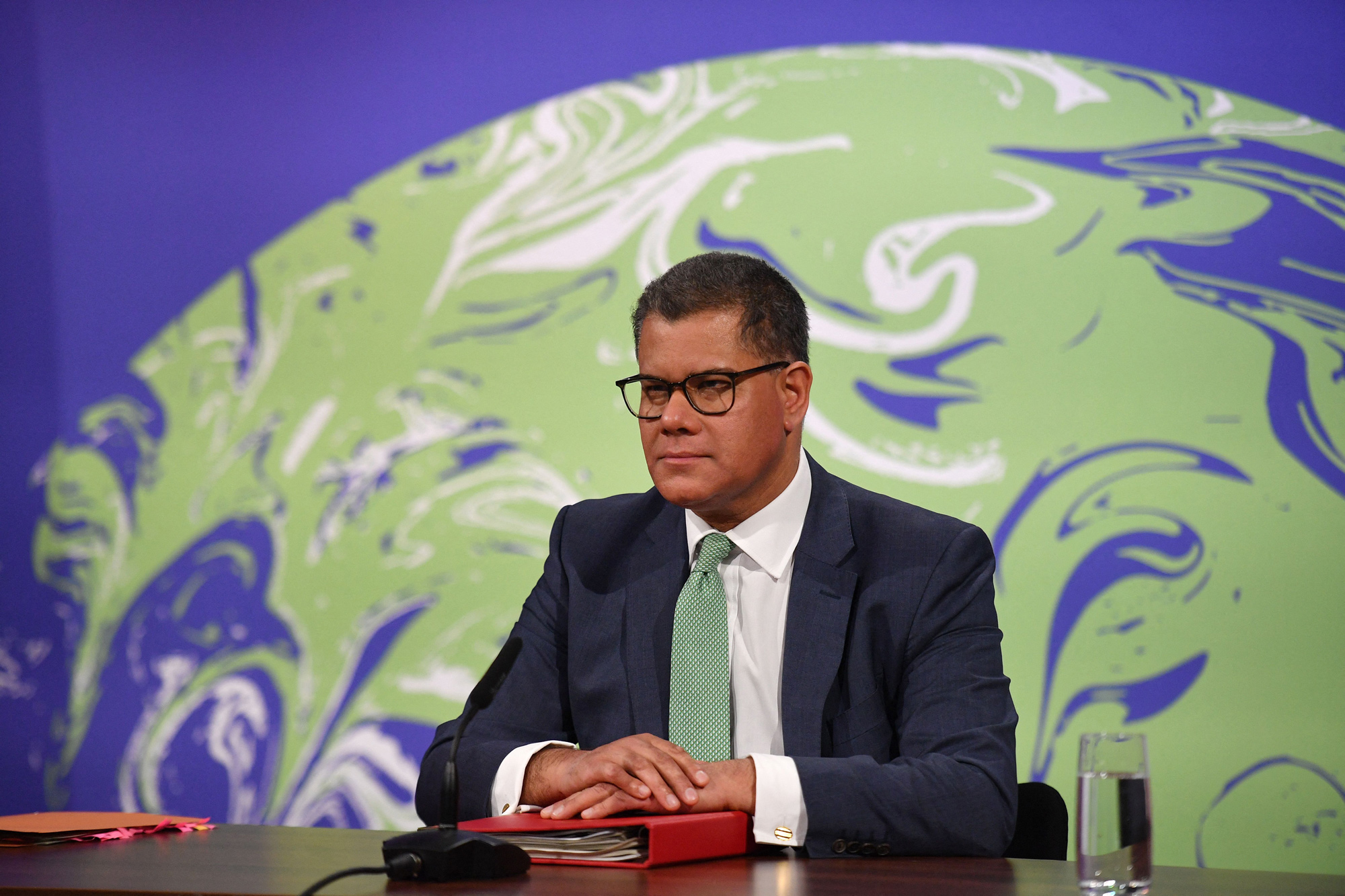 Alok Sharma, the president of the UN COP26 climate summit, has urged nations to "come forward and explain" how they will achieve their targets on reducing net greenhouse gas emissions.  
"This is an issue for China, it's an issue indeed for all countries to come forward and explain how, having set targets for the middle of the century, how we're actually going to get there," Sharma told CNN on Thursday. 
"It's important that countries set out their plans in detail and that's of course what we also want to see," he added.
He said he was "absolutely delighted" to have US President Biden "leading from the front" on climate, adding that "the nationally determined contributions set out by the [US] President is a big step up and I think it's a benchmark, it's for others as well the big emitters, to have a look at and see what more they can do."
Sharma said the world was "in a different place" to where it was about a year ago, adding, "The reality is that we've made progress in the last year. We now got 75% of the world economy covered by net-zero targets. But we need to do a lot more, in terms of near-term emission reduction targets and that's what I'm looking for between now and COP26."
The 26th UN Climate Change Conference will take place in November 2021, at the Scottish Event Campus (SEC) in Glasgow, Scotland.
10 min ago
Pope Francis warns "nature never forgives" in Earth Day message
From CNN's Lindsay Isaac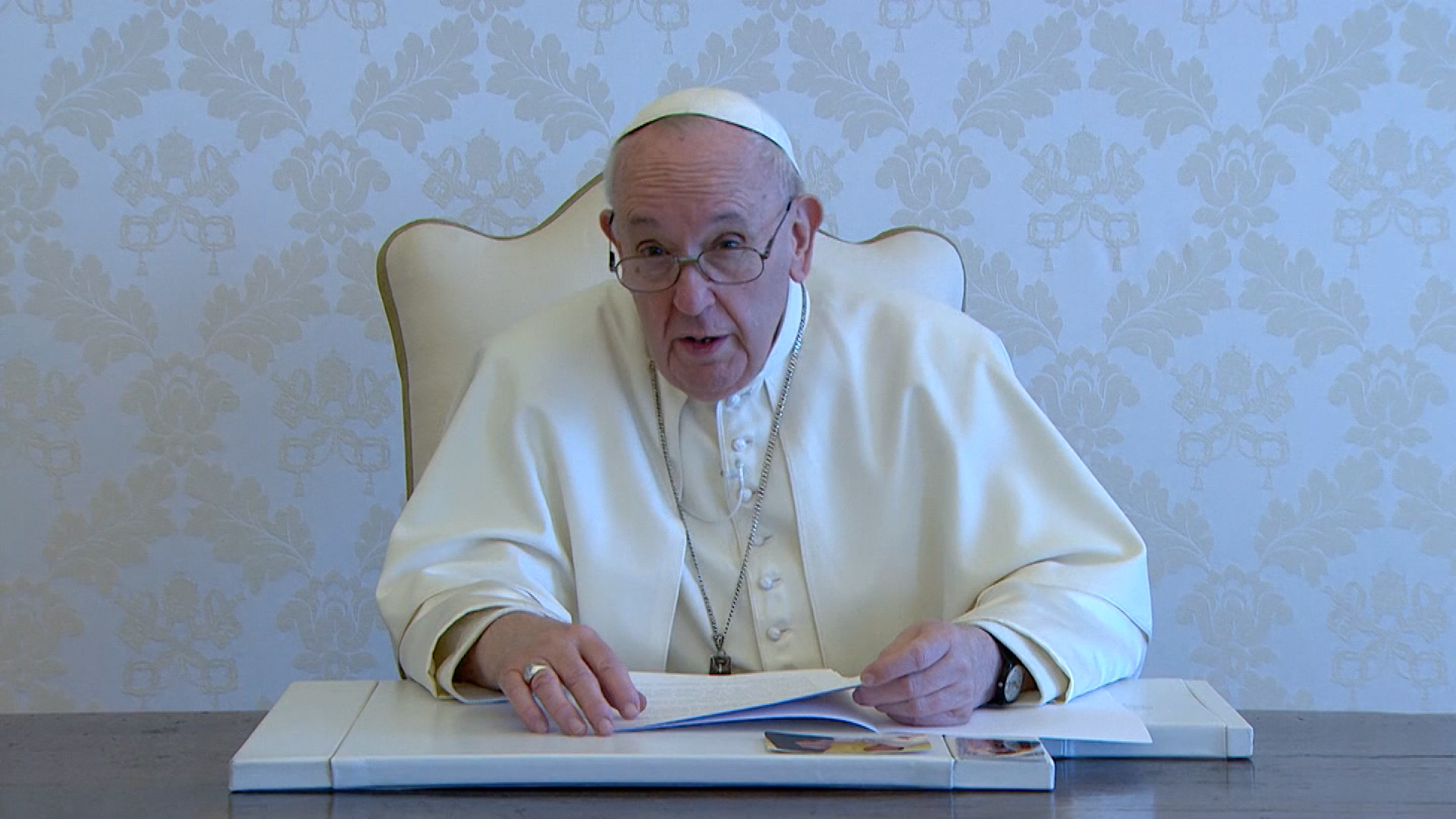 As 40 world leaders convene for US President Biden's virtual climate summit, Pope Francis appealed for the world to "take care of the biodiversity, take care of nature" in a video message on Earth Day.
Speaking in Spanish, Francis spoke about the Covid-19 pandemic and the impact on nature and climate change it had when the world "stopped." 
Both "global catastrophes" – climate change and Covid-19 — "demonstrate that we have no longer time to waste."
"This shows us that the global nature needs our lives in the planet. It involved all of us, even if in many ways, different and unequivocal. And in this way, it teaches us even more on what we have to do to create a just planet, fair and safe from an environmental point of view. In brief, the Covid pandemic has taught us this interdependence, this sharing together the planet," the Pope said.
50 min ago
Italy says world must "act now" on climate, "not to regret it later"
From CNN's Hada Messia and Arnaud Siad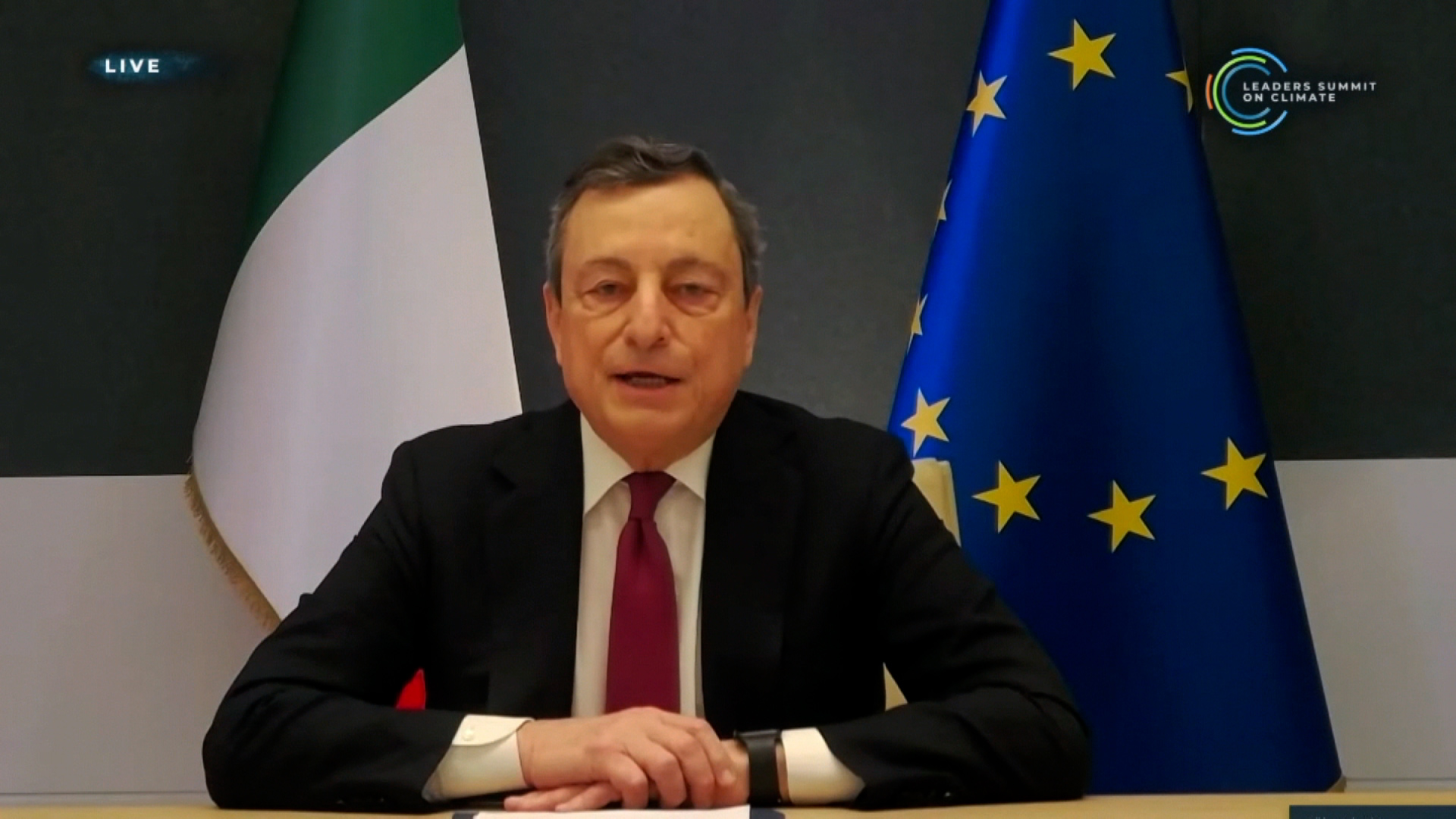 The world "needs to reverse course" on climate as actions taken since the Paris agreement have "proven insufficient," Italian Prime Minister Mario Draghi said on Thursday.
"In the Paris agreement, we pledged to limit global warming to 1.5 degree Celsius compared to pre-industrial levels. But the actions we have taken since have proven insufficient. Under current policies, we are set to achieve 3 degrees of global warming. We need to reverse course, and do it soon," Draghi said while speaking at the Global Leaders Summit hosted by US President Biden on the occasion of Earth Day.
"Italy is my own country, it is a beautiful but fragile country. The fight against climate change is a fight for our history and our landscapes," he added. 
With Italy holding the current presidency of the G20, which accounts for 75% of global emissions, Draghi said the group has a "special responsibility" to "deliver on the objectives of the Paris Agreement."
"We want to act now, not to regret it later," he said.
"The Italian presidency has proposed to hold a joint Climate and Energy Ministerial Meeting. A strong resolve by the G20 will also boost the chances for a successful COP26 Conference in Glasgow," he added. 
The 26th UN Climate Change Conference is scheduled to take place in Nov. 2021, at the Scottish Event Campus (SEC) in Glasgow, Scotland. 
Draghi also thanked President Biden for his "leadership" in hosting the summit.
"Now we are confident that together we will win this challenge," he said.
1 hr 47 min ago
Here's how the US treasury secretary made the economic case for global cooperation on climate change
From CNN's Betsy Klein
US Treasury Secretary Janet Yellen built off President Biden's remarks on finance as key to combating climate change as she addressed world leaders Thursday.
"We need a sprinting start now if we wish to achieve our goal of net-zero emissions by mid-century. President Biden has recommitted the United States in its part to tackle this crisis and marshal the full capacity of the US government. As Treasury Secretary, I understand that finance – public and private – is crucial to enable countries to accelerate their progress," she said.
Yellen cited "two questions that keep me up at night," including how nations can reduce emissions by supporting economic development and responding to other challenges like Covid-19.
The second question, she said, is how should governments target public sector climate finance to mobilize private sector investments, noting that "past efforts to support private investment have not achieved anywhere near the scale needed to green the global economy."
She vowed that her department "will focus the full range of our tools and expertise to work with you in producing concrete and innovative answers to these questions."
She outlined key items in the President's discretionary funding request to address this, including $1.2 billion request for the green climate fund, $485 million in funding to support multilateral climate initiatives, and increased support for multilateral development banks.
Yellen said the US Treasury will work to facilitate investment in projects that reduce greenhouse gas emissions via technical assistance to counterparts in other countries. The US is also working with the G20 on a sustainable finance working group to establish a sustainable finance roadmap for investors, she said.
She again called for a global partnership in meeting the moment.
"We will only achieve our goal of curtailing climate change through collective action. Today, we, as a global community, need to be ambitious, set goals, work together, and sprint toward a cleaner, safer, better future. We look forward to meeting this challenge together," she concluded.
10 min ago
Biden's climate change summit a "game changer," says policy organization chief
From CNN's Robert North
US President Biden's summit today could be a game changer for climate change, according to the Secretary-General of the Organisation for Economic Co-operation and Development said, an influential international policy organization.
José Ángel Gurría told CNN that "it's completely turning the expectations around, and now with the United States leading the charge rather than holding everything back, this is the big game changer, and with China joining in, we have the second largest emitter of CO2, then that will really change the game." 
Speaking to CNN International's Julia Chatterley on First Move, Angel Gurría stressed the need "to convince the leaders, convince ourselves, that this is the single most important priority that we have in the long term, but the long term starts today."
He also addressed the Covid-19 crisis, saying the world is underfunding the fight against the virus. Angel Gurría said "it would be "a tragedy if we actually had the availability of the vaccines, and we did not have enough funding to be able to provide them to the least developed countries in the world."
1 hr 52 min ago
Europe wants to be first climate-neutral continent in the world, EU Commission President says
From CNN's Arnaud Siad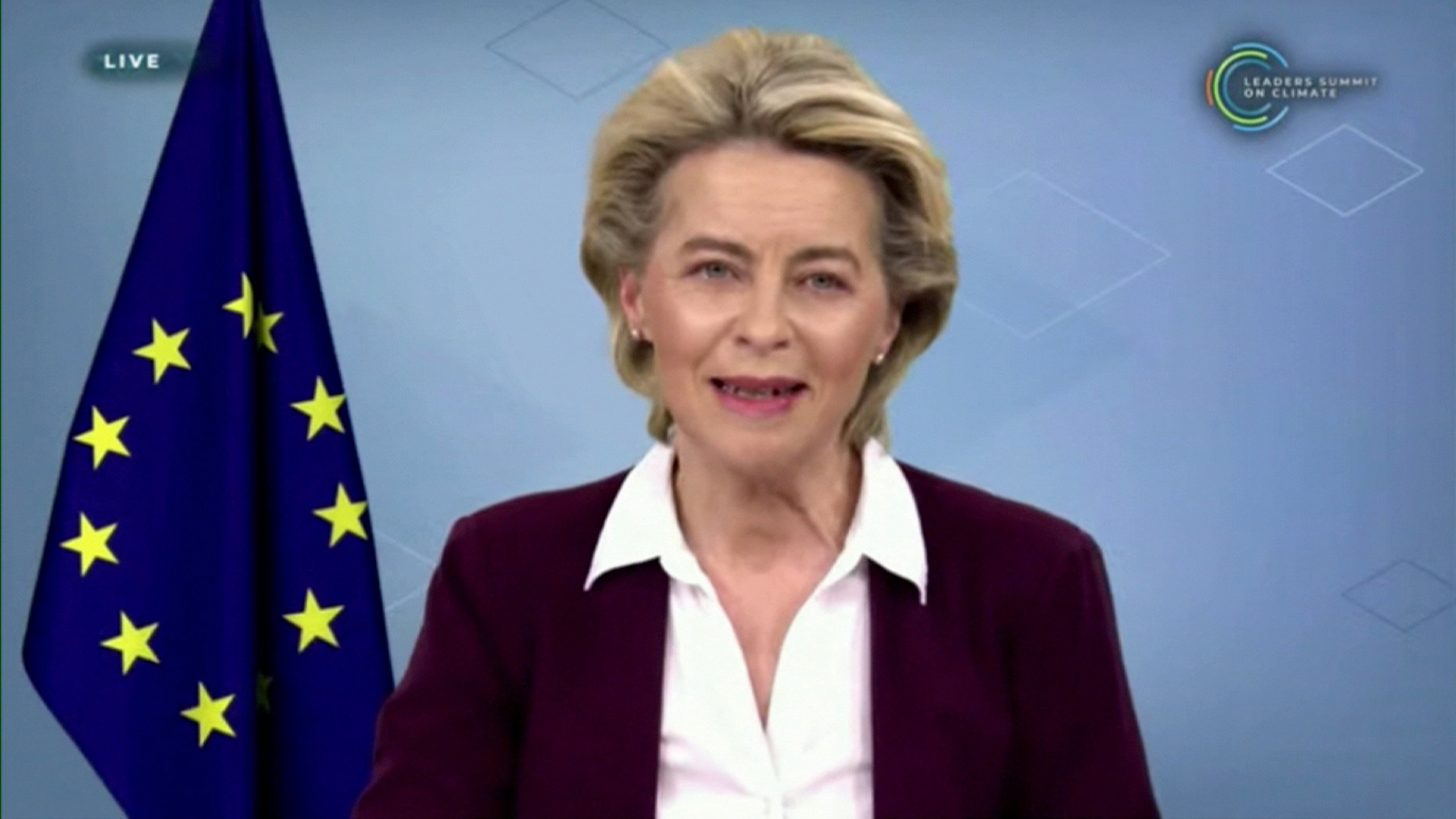 Europe wants to be "the first climate-neutral continent in the world," European Commission President Ursula von der Leyen said during Thursday's climate summit.
"Yesterday, we agreed Europe's first ever Climate Law with the European Parliament and our 27 governments. With this, we write into stone the goal set out by the European Green Deal – to make Europe climate-neutral by 2050," von der Leyen said.
On Wednesday, the EU announced its target of reducing net greenhouse gas emissions by at least 55% by 2030, compared to 1990 levels, as part of its Climate Law. Von der Leyen announced that the Commission would table proposals in June to make Europe "fit for 55."
"We will make emission trading work – not only for energy generation and industry – but also for transport and for buildings. Carbon must have its price – because nature cannot pay the price any longer," she said.
She also praised US President Biden for hosting the climate Summit.
"It is so good to have the US back on our side in the fight against climate change. Together, we can go faster and get further. Together, we will win the future," she said.