1 min ago
Biden says removing liability protections from gun makers is his top wish
From CNN's Kevin Liptak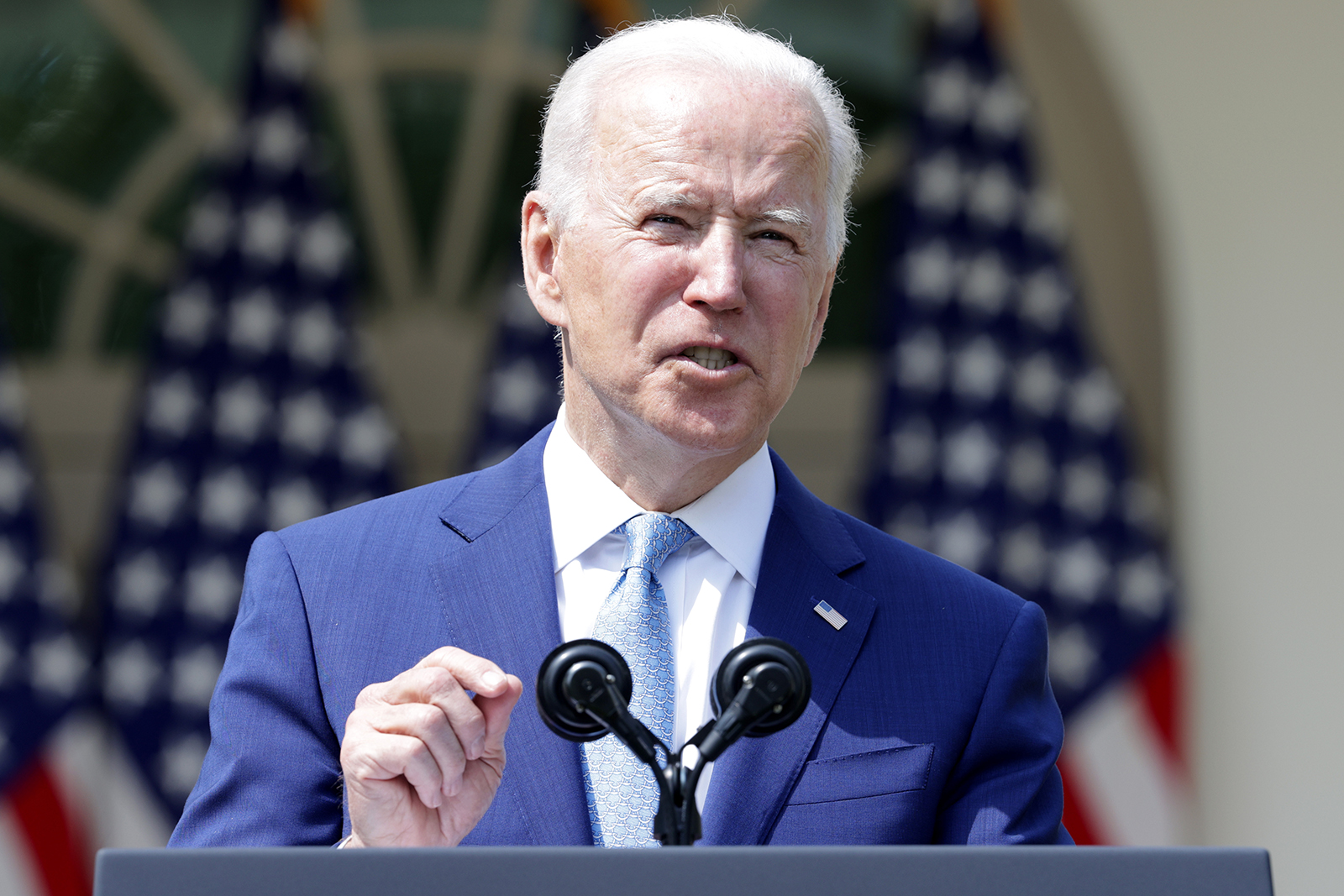 President Biden said stripping gun manufacturers of liability protection would be at the top of his list of legislative priorities on gun control.
"The only industry in America, a billion dollar industry, that can't be sued," he said. "Imagine how different it would be if that same exemption had been available to tobacco companies?"
The item was one in a list of actions Biden said Congress must take to combat gun violence. But he said it could potentially have an outsized effect.
"If I get one thing on my list, the Lord came down and said, 'Joe you get one of these, give me that one,'" he said. "I'll tell you what, there would be a come to the Lord moment these folks would have real quickly."
Watch:
25 min ago
Here's how the DOJ will work to reduce the risk of gun violence, according to the US attorney general
From CNN's Adrienne Vogt
Attorney General Merrick Garland outlined five ways the Department of Justice will work to combat gun violence:
Measure the problem of criminal gun trafficking in a data-driven way
Close a regulatory loophole that has contributed to the proliferation of so-called "ghost guns"
Make clear that statutory restrictions on short-barreled rifles apply when certain stabilizing braces are added to high-powered pistols
Publish model "red flag" legislation for states
Empower communities to combat and prevent gun violence, making more than $1 billion in funding available through over a dozen grant programs.
The attorney general noted that the Department of Justice cannot solve the problem of gun violence alone, and he called for a "collective effort" to save lives.
"I am under no illusions about how hard it is to solve the problem of gun violence," Garland said in remarks at the White House today. "And I know that the Department of Justice alone cannot solve the problem. It is a problem that we must all work on together in the collective effort to keep guns out of the hands of criminals and save lives."
12 min ago
Biden urges Congress to act on gun legislation: "Enough prayers, time for some action"
From CNN's Adrienne Vogt and Kevin Liptak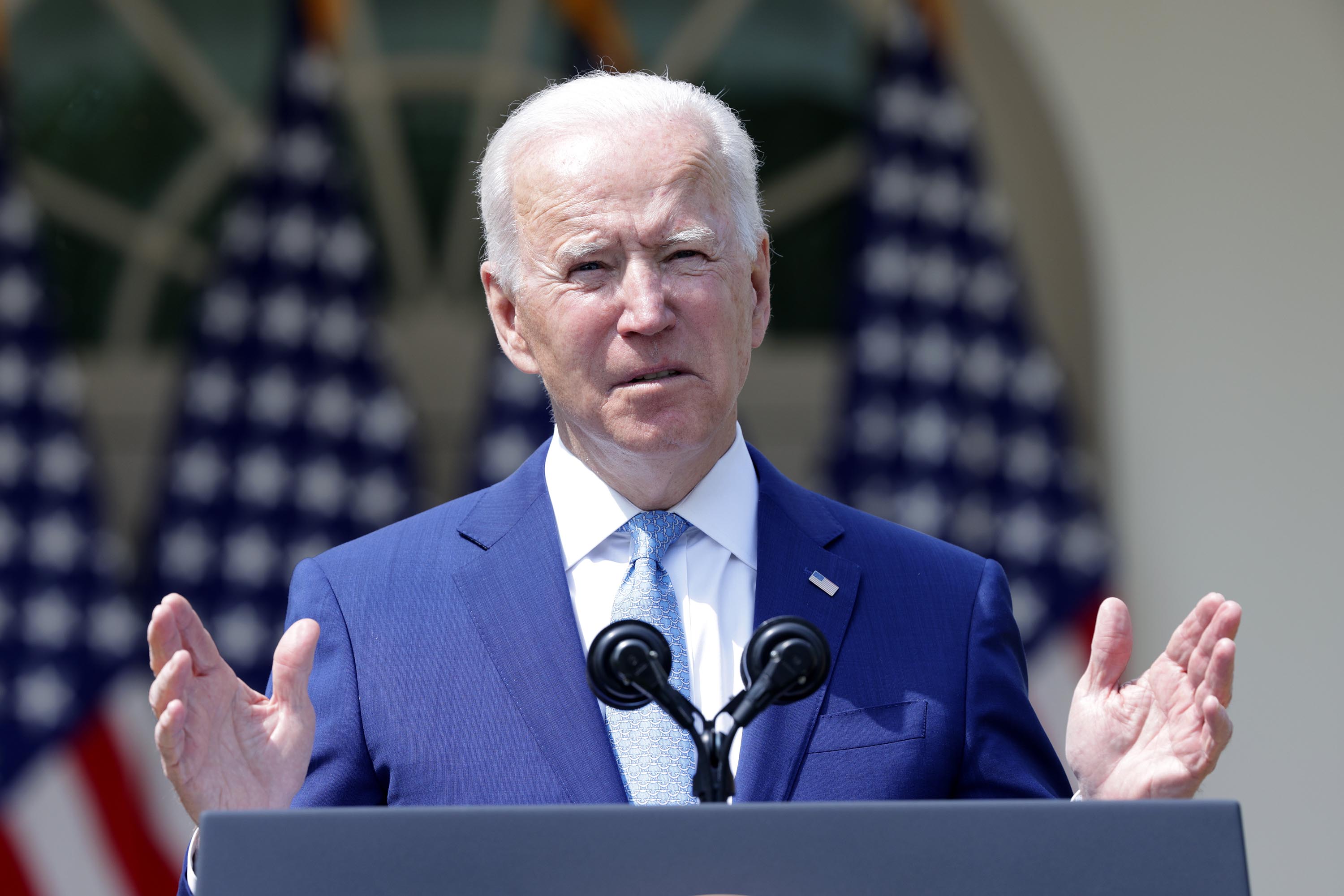 President Biden said he'd "use all the resources at my disposal as President to keep the American people safe from gun violence," but pushed Congress to pass further legislation.
"They can do it right now. They've offered plenty of thoughts and prayers, members of Congress, but they have passed not a single new federal law to reduce gun violence," he said. 
"Enough prayers, time for some action," Biden said. 
Biden conceded that the issue of gun control was a "difficult one" and that, to ordinary Americans, can make it seem "like our entire political process is broken."
Still, he encouraged the Senate to immediately pass House-passed bills to close gun loopholes and expand background checks.
"This is not a partisan issue among the American people. This is a view by the American people as an American issue. And I'm willing to work with anyone to get these done. And it's long past time that we act," Biden said. 
Biden also called on Congress to reauthorize the Violence Against Women Act that he worked to pass a senator and renew a ban on assault weapons and high-capacity magazines.
The President said that reducing gun violence in the US would save money for the country, claiming that it is estimated to cost $280 billion a year. 
"For a fraction of the cost of gun violence, we can save lives, create safe and healthy communities, and build economies that work for all of us," he said. 
Throughout his remarks, Biden insisted that his steps would not impinge upon the Second Amendment right to bear arms.
"No amendment to the Constitution is absolute," he said. "From the very beginning, you couldn't own any weapon you wanted to own."
11 min ago
Biden announces he will name gun control advocate to lead the ATF
From CNN's  Paul LeBlanc and Kevin Liptak
President Biden announced today that he is nominating gun control advocate David Chipman to lead the Bureau of Alcohol, Tobacco, Firearms and Explosives, which hasn't had a permanent director in place since 2015.
Biden said Chipman knows the agency "well" having served there for 25 years.
If confirmed, Chipman will lead the agency that enforces gun laws at a critical point in Biden's early tenure, as the President looks to take fresh action on the issue in the wake of two deadly shootings last month.
While at the ATF, he "disrupted firearms trafficking operations in Virginia that were supplying illegal guns to New York City, served as a member of ATF's version of SWAT, and was named the Special Agent in Charge of ATF's Firearms Programs," according to his bio on the website for Giffords.
He currently serves as a senior policy adviser at the organization led by former Congresswoman Gabby Giffords, who became a gun control advocate after being shot in 2011
She praised Chipman as "the perfect choice" for director in a statement Wednesday.
"The Bureau of Alcohol, Tobacco, Firearms, and Explosives needs a strong, experienced leader and I am confident that David Chipman will be just that. As a former ATF special agent, from day one David will be able to address the most pressing issues facing the bureau, including reducing gun violence in this country," said Giffords, who had represented an Arizona district.
Chipman, a Detroit native, received an undergraduate degree from American University and a master's degree in management from Johns Hopkins University.
14 min ago
Biden says he wants to see a national "red flag" law
From CNN's Maureen Chowdhury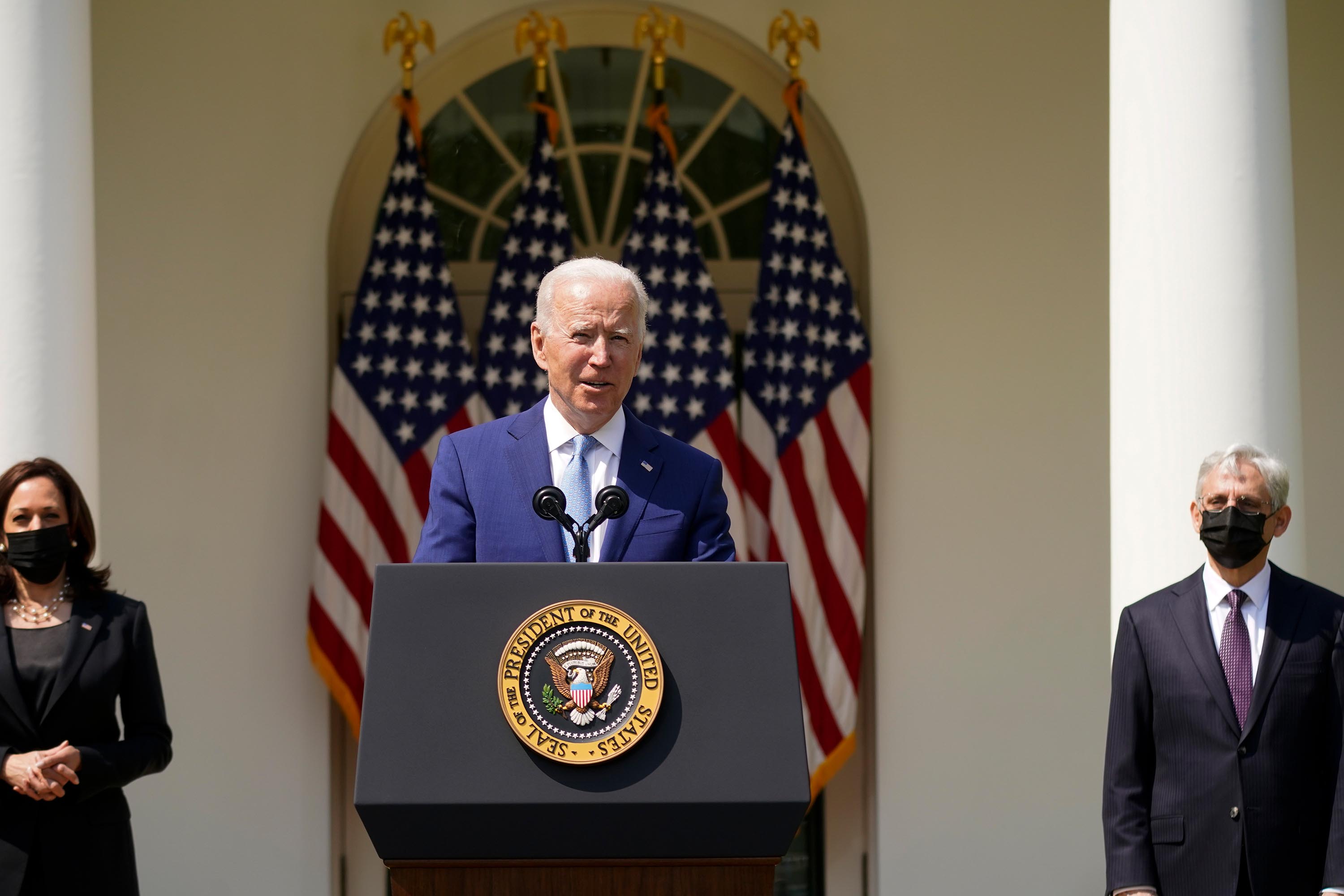 President Biden said he wants to see a national "red flag" law and legislation to incentivize states to enact their own "red flag" laws.
During his remarks on gun reform at the White House, the President announced that he has instructed the Justice Department to publish a "model red flag" legislation so states can start "crafting their own laws now."
Biden explained the benefits of having "red flag" laws and how they ultimately can prevent shootings from happening.
"These laws allow police or a family member to petition a court, in their jurisdiction, and say 'I want you to temporarily remove, from the following people, any firearm they may possess because they're danger in a crisis. They're presenting a danger to themselves and to others.' And the court makes a ruling," he said.
Biden noted how "more than half of all suicides" involved the use of a firearm, but if a gun is not available the death rate for attempted suicide drops "precipitously."
"States that have red flag laws have seen, and see, the reduction in the number of suicides in their states. Every single month," he said.
Biden also noted how "red flag" laws can help protect people from domestic violence situations and prevent mass shootings.
"We know red flag laws can have significant effect in protecting women from domestic violence and we know red flag laws can stop mass shooters before they can act out their violent plans," the President explained.
Watch:
28 min ago
Biden outlines how his administration will try to "rein in the proliferation of so-called ghost guns" 
From CNN's Maureen Chowdhury
President Biden announced that his administration would attempt to "rein in the proliferation of so-called 'ghost guns'" through one of his actions today.
"These are guns that are homemade. Built from a kit that include directions on how to finish the firearm. You can go buy the kit. They have no serial numbers. So, when they show up at a crime scene they can't be traced. And the buyers aren't required to pass the background check to buy the kit. To make the gun. Consequently, anyone from a criminal to a terrorist can buy this kit for as little as 30 minutes, put together a weapon," Biden explained.
The President said that he wants these kits to be treated as firearms under the Gun Control Act.
Under the act, Biden said, the key parts of these gun making kits would be required to have serial numbers, so they can be traced. The act would also require background checks for people purchasing kits.
Watch:
14 min ago
Biden addresses South Carolina shooting during remarks on gun violence
From CNN's Betsy Klein
President Biden recognized a tragic mass shooting in Rock Hill, South Carolina last night, during his broader remarks on gun violence today.
Six people were shot, and five people died, at a home Wednesday, including a doctor, Dr. Robert Leslie, his wife Barbara, and their two grandchildren.
Declaring gun violence an "epidemic" and an "international embarrassment," Biden addressed Wednesday's shooting, saying:
"We saw it again last night: As I was coming to the Oval Office, I got the word that in South Carolina, a physician with his wife, two grandchildren, and a person working at his house was gunned down, all five. So many people, so many people sitting here today know that well, unfortunately. They know what it's like when seconds change your life forever," Biden said in the Rose Garden before making key announcements on executive actions on guns. 
Biden went on to recognize some of the people present who have similarly been directly impacted by gun violence, including Pulse shooting survivor Brandon Wolf, parents of Parkland and Sandy Hook shooting victims, and former Rep. Gabby Giffords.
 Watch:
34 min ago
Biden calls US gun violence an "international embarrassment" and announces new gun actions
From CNN's Kevin Liptak
Facing pressure to act after a recent spate of high-profile mass shootings, President Biden unveiled a package of moves Thursday that seek to address the scourge of gun violence.
Biden said that he worked with the attorney general to identify "immediate concrete actions" he could take without Congress to curb gun violence.
"Gun violence in this country is an epidemic," Biden said in the Rose Garden to an audience of lawmakers and Americans touched by gun violence. "And it's an international embarrassment."
The executive actions Biden announced included efforts to restrict so-called "ghost guns" that can be built using parts and instructions purchased online, but are limited in scope and fall short of the steps Biden has vowed to pressure Congress to take.
They nevertheless fulfilled his pledge last month to take "common-sense" steps on his own, and one move — more heavily regulating arm braces used to make firing a pistol more accurate — directly relates to the March shooting in Boulder, Colorado, where such a device was used.
Administration officials have emphasized the announcements only amount to the first steps toward addressing gun violence, with later action — like a ban on assault weapons or rules requiring universal background checks — requiring Congress.
Biden, who is in the midst of advancing a massive infrastructure plan, has voiced uncertainty on the likelihood of passing major new gun laws.
"We've got a long way to go," he said on Thursday. "It seems like we've always got a long way to go."
Key parts of Biden's actions today include:
Tightening restrictions on "ghost guns" (handmade or self-assembled firearms that don't have serial numbers) and pistol-stabilizing braces that allow weapons to be used more accurately
Directing the Department of Justice to model "red flag" laws for states that allow the temporary removal of guns from people deemed at high risk of harming themselves or others and a comprehensive report on firearms trafficking
Investing in intervention programs in violence-prone communities
Watch:
30 min ago
Biden calls US gun violence an "epidemic"
From CNN's Adrienne Vogt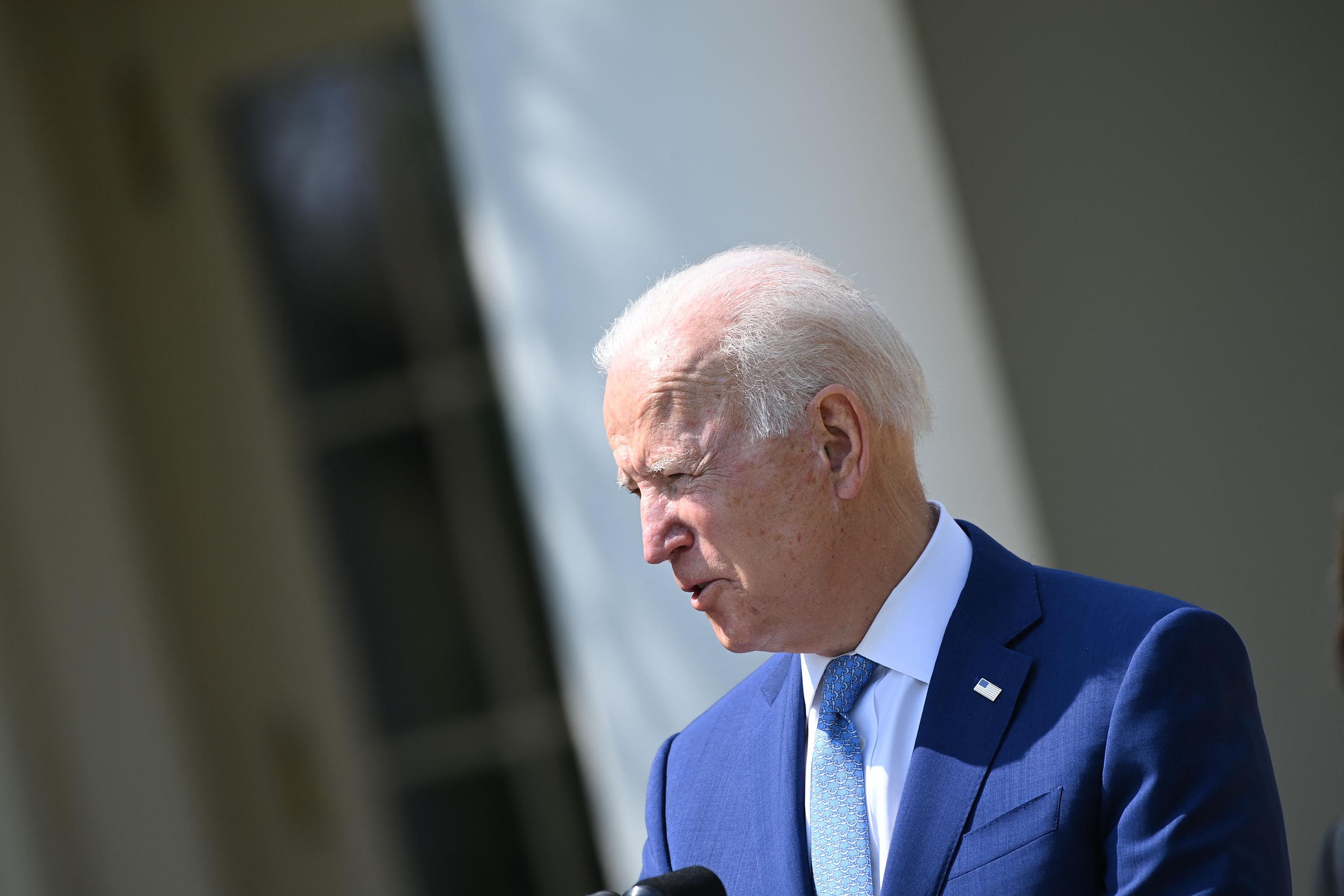 President Biden called gun violence in the United States a "public health crisis" and an "epidemic." 
He added that the number of mass shootings in America are an "international embarrassment."
Biden also addressed critics of gun reform, saying none of his executive actions will contradict the Constitution.
"Nothing, nothing I'm about to recommend in any way impinges on the Second Amendment. They're phony arguments suggesting that these are Second Amendment rights at stake from what we're talking about. But no amendment, no amendment to the Constitution is absolute," he said.
Watch: