4 min ago
Biden is talking about the US-Mexico border crisis. Here's what you need to know about the situation.
From CNN's Priscilla Alvarez
President Biden is addressing the surge of migrants on the US-Mexico border and his administration's response.
Biden is not the first US president to face a growing number of migrants at the US-Mexico border — and he won't be the last. Fluctuations in migration flows are common, regardless of which party is in power, as was evident in 2019 during the border crisis under then-President Trump.
It's difficult to compare today's situation with those of recent years because of the drastically different circumstances, in part relating to the pandemic. There are several factors at play — including deteriorating conditions in Latin America, pent-up demand to enter the US and a perceived relaxation of enforcement under Biden — that are driving migrants to the border at what appears to be an accelerated pace.
All of that could set 2021 on track to exceed 2019 in the number of people apprehended at the border. Just over 100,000 people were encountered last month, 24,000 more than in February 2019.
As far as unaccompanied minors, the number of children arrested at the border in March will likely easily surpass the high during May 2019, when around 11,400 unaccompanied children were arrested, according to preliminary government data CNN has reviewed.
The trend is unmistakable. In February, more than 9,200 unaccompanied children were arrested by US Border Patrol on the US-Mexico border, up from 5,694 in January, according to the latest available CBP statistics.
In May 2019, at the height of that crisis, 11,475 unaccompanied kids were arrested by US Border Patrol. In February of that year, 6,817 unaccompanied children had been arrested.
We're still early in the year, which is why the accelerated pace of arrests is so concerning. Seasonal trends tell us numbers go up in the spring and summer.
Read more about the situation here.
1 min ago
Biden: 100 million stimulus payments have "gone into people's bank accounts"
From CNN's Maureen Chowdhury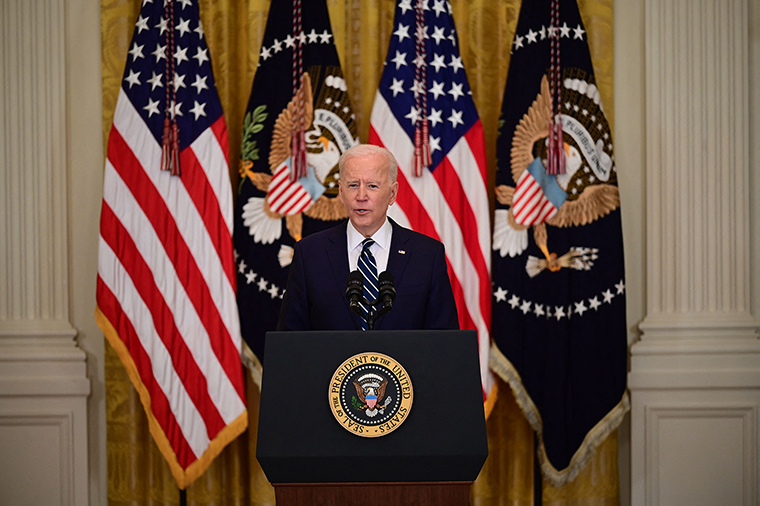 During his first news conference since taking office, President Biden noted that his administration has sent out 100 million payments of the $1,400 stimulus checks to people's bank accounts and "millions more will be getting their money very soon."
"As of yesterday more than 100 million payments of $1,400 have gone into people's bank accounts. That's real money in people's pockets bringing relief instantly, almost. And millions more will be getting their money very soon," Biden said.
The $1,400 stimulus payments were a part of the $1.9 trillion American Rescue Plan Act.
6 min ago
Here's a reminder of what is in Biden's $1.9 trillion Covid-19 relief package
From CNN's Tami Luhby and Katie Lobosco
President Biden touted his $1.9 trillion Covid-19 economic relief package during today's news conference, saying that since the bill was passed by Congress earlier this month, "we're starting to see new signs of hope in our economy."
The relief package has been Biden's first and most pressing legislative priority since taking office in January.
Here's a reminder of what is in the bill:
Stimulus checks: The bill provides direct payments worth up to $1,400 per person. Families get an additional $1,400 per child. There are restrictions based on how much you make. You can use this stimulus calculator to find out how much money you can expect to get.
Unemployment assistance: The bill calls for a $300 federal boost to weekly jobless payments and extending two key pandemic unemployment benefits programs through Sept. 6.
State and local aid: The legislation provides $350 billion to states, local governments, territories and tribes.
Nutrition assistance: The package extends the 15% increase in food stamp benefits through September. It also contains $880 million for the Special Supplemental Nutrition Program for Women, Infants, and Children, known as WIC. It will allow states to continue the Pandemic-EBT.
Housing aid: The bill sends roughly $20 billion to state and local governments to help low-income households cover back rent, rent assistance and utility bills. It authorizes about $10 billion to help struggling homeowners pay their mortgages, utilities and property taxes.
Tax credits: The bill expands the child tax credit to $3,600 for each child under 6 and $3,000 for each child under age 18. Currently, families can receive a credit of up to $2,000 per child under age 17.
Paid sick and family leave: While the bill does not make this mandatory, it will continue to provide tax credits to employers who voluntarily choose to offer the benefit through Oct. 1.
Education and child care: The bill provides $125 billion to public K-12 schools to help students return to the classroom, including for things like ventilation, personal protective equipment for teachers and support staff.
Health insurance subsidies: The package will make federal premium subsidies for Affordable Care Act policies more generous and would eliminate the maximum income cap for two years.
Small businesses: The bill provides $15 billion to the Emergency Injury Disaster Loan program and another $7 billion for the Paycheck Protection Program. It also provides $25 billion for a new grant program specifically for bars and restaurants.
Vaccines: $14 billion will go towards researching, developing, distributing, administering and strengthening confidence in vaccines. It will also put $47.8 billion toward things like testing and contact tracing.
Rural hospitals: The bill allocates $8.5 billion to help struggling rural hospitals and health care providers.
Read a more detailed breakdown here.
1 min ago
Biden just announced his new Covid-19 vaccine goals. Here's a look at the latest vaccination numbers.
From CNN's Kate Sullivan and Deidre McPhillips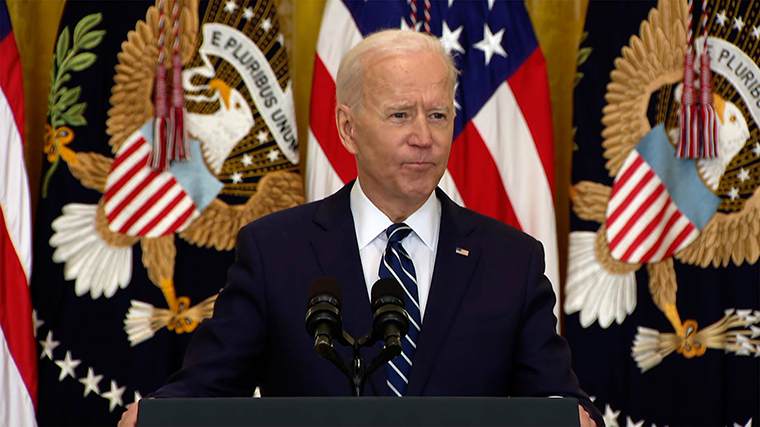 President Biden just formally announced during his news conference that his administration has set a new goal to get 200 million coronavirus vaccine doses into arms by his 100th day in office.
"I know it's ambitious. Twice our original goal. But no other country in the world has even come close, not even close to what we are doing. I believe we can do it," Biden said.
CNN reported yesterday that Biden was expected to announce his new goal at the news conference and that he had strongly hinted he would double his original goal 100 million shots in his first 100 days, which he cleared in 58 days.
The announcement comes after Biden in recent days has consulted with his advisers and health experts on what a new, realistic goal would be. 
The President has directed states to make all adults eligible to get Covid-19 vaccines by May 1. If Americans continue to get vaccinated and follow health and safety guidelines, Biden said earlier this month, there is a "good chance" that family and friends will be able to celebrate the Fourth of July together in small groups. 
Here's a look at the latest figures on US vaccinations:
The US Centers for Disease Control and Prevention reported that at least 130,473,853 total doses have been administered – about 77% of the 169,223,125 doses delivered, according to data published Wednesday by the CDC.
That's nearly 2.3 million more doses reported administered since Tuesday for a seven-day average of about 2.5 million doses per day. 
About 26% of the population – almost 85.5 million people – have received at least one dose of vaccine
About 14% of the population – more than 46 million people – are fully vaccinated, CDC data shows. 
A third of adults and about 70% of seniors have received at least one dose of Covid-19 vaccine.
Note: Data published by the CDC may be delayed, and doses may not have been given on the day reported.
WATCH:
14 min ago
NOW: Biden's White House news conference just started
From CNN's Kate Sullivan and Maegan Vazquez
President Biden is holding his first formal news conference since taking office.
He is expected to face scrutiny over his administration's response to the Covid-19 pandemic, the growing number of unaccompanied migrant children crossing the border and gun control, among many other pressing issues.
Biden is also expected to highlight surpassing his initial goal of getting 100 million coronavirus vaccine doses in arms in his first 100 days in office and according to a White House official, he'll also announce a new vaccine goal: 200 million doses in arms in his first 100 days, something his administration is already on pace to do.
Today's news conference comes more than two months into Biden's presidency, which is behind many of his predecessors. Fifteen of Biden's predecessors held a solo news conference within 33 days of taking office, according to a CNN analysis of the past 100 years. But Biden regularly answers questions from reporters at events at the White House or on its South Lawn.
The briefing also comes as the nation reels from mass shootings in Colorado and Georgia that together killed 18 people in less than a week. Biden has pushed the Senate to pass a pair of House-approved gun control laws expanding background checks and an assault weapon ban. The measures don't currently have enough support to pass — and the White House hasn't ruled out taking executive action.
19 min ago
Biden is facing growing pressure to act on gun control. These are the executive actions he may take.
From CNN's Kevin Liptak and Betsy Klein
Gun reform is expected to be another area of focus in today's news conference. White House officials on Tuesday said President Biden was prepared to use executive action to advance stricter gun rules as pressure mounts on his administration to act following the latest mass shootings.
The mass shooting at a supermarket in Boulder, Colorado, this week killed 10 people. Less than a week prior, the shootings in Atlanta left eight people dead, including six women of Asian descent.
Vice President Kamala Harris yesterday downplayed the prospect of taking executive action, suggesting it was up to Congress.
"We should first expect the US Congress to act," Harris told CBS This Morning. "I don't think the President is excluding (executive action), but again, I want to be clear, that if we really want something that is going to be lasting, we need to pass legislation."
Inside the White House, efforts to devise executive actions are being led by Susan Rice, who heads the White House Domestic Policy Council, and Cedric Richmond, director of the Office of Public Engagement. CNN reported on Tuesday they had met with gun control advocacy groups over the first months of the administration to garner ideas and input on the best path forward.
So far, a few pieces of potential action have emerged:
Requiring background checks on "ghost guns," which are handmade or self-assembled firearms that don't have serial numbers. The action would officially classify them as firearms, therefore requiring a background check.
Strengthening the federal background check system to alert law enforcement agencies when someone fails a check. Advocates for this step say it could potentially flag troubled or criminal individuals who are trying to access weapons.
Fulfilling a campaign pledge to send $900 million for community programs meant to combat violence.
Providing a better and more expansive definition of what "in the business" of selling guns means, which is the current statutory definition of who requires a license and must conduct background checks. Former President Obama also worked through the "in the business" phrasing to try and expand background checks. 
Biden has also said he'll task the attorney general with better enforcement of existing gun laws. 
1 hr 6 min ago
The rising number of unaccompanied minors at the border is expected to be a key topic today 
From CNN's Kate Sullivan and Maegan Vazquez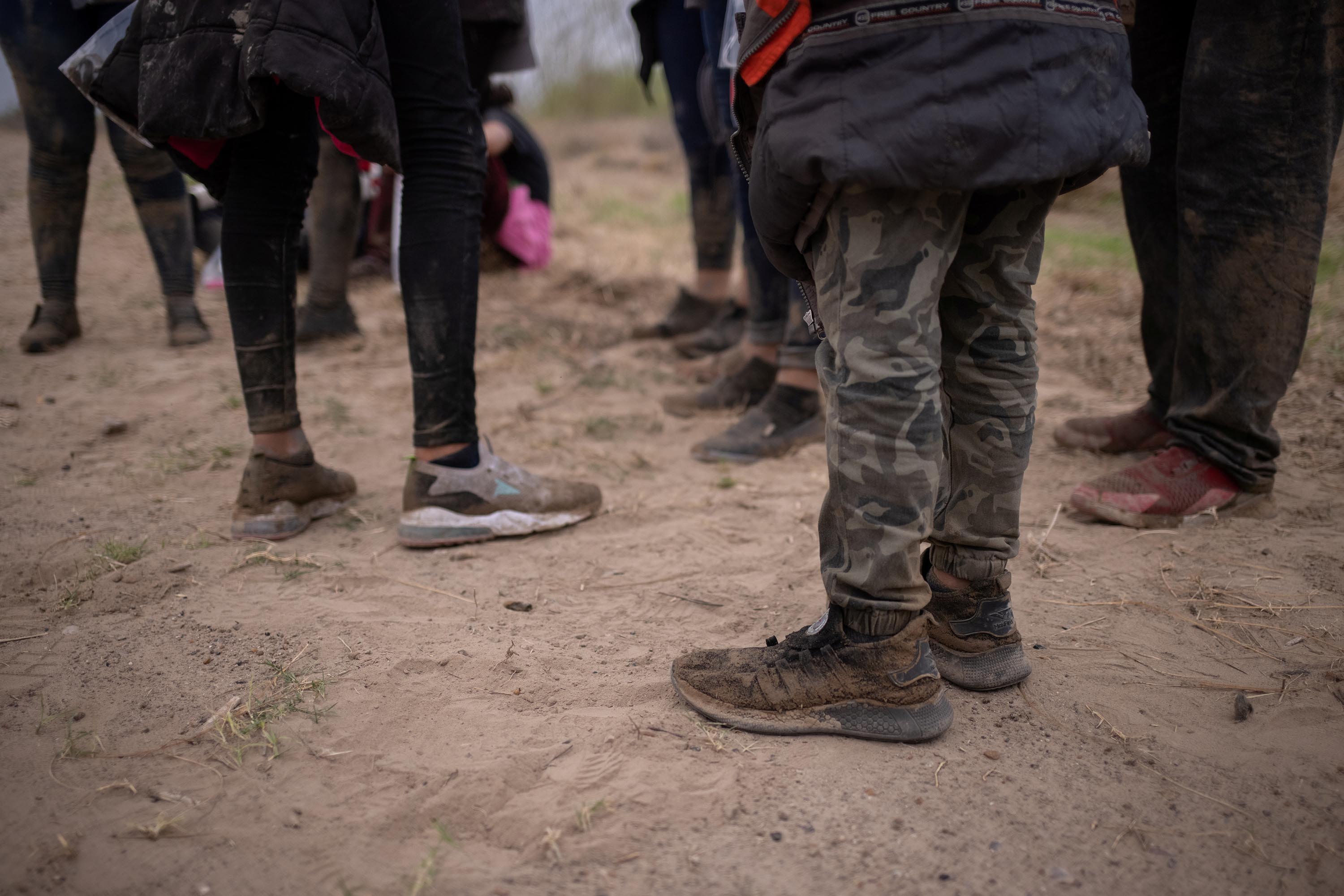 President Biden's administration has faced scrutiny over the growing number of unaccompanied minors crossing the US-Mexico border and the limited press access to border facilities. 
The administration is scrambling to find adequate housing for the rising number of unaccompanied minors arriving at the US-Mexico border.
Biden has said that he will travel to the border at some point, and senior administration officials and lawmakers have already made the trip down to see facilities housing the migrants.
A group of White House officials and members of Congress toured a Texas facility on Wednesday holding unaccompanied migrant children and for the first time under the Biden administration a news camera was allowed inside.
There are more than 16,000 unaccompanied children in US custody, including around 4,800 in US Customs and Border Protection custody and 11,300 in Department of Health and Human Services custody.
As of Sunday, more than 800 unaccompanied migrant children had been in Border Patrol custody for more than 10 days, according to documents reviewed by CNN.
Federal law requires unaccompanied children to be turned over within 72 hours to HHS, which oversees a shelter network designed to house minors, but amid constraints related to the pandemic, children are staying in custody for longer than the 72-hour limit.
1 hr 8 min ago
Biden has been given talking points to prepare for today's news conference
From CNN's Kevin Liptak and Kaitlan Collins
Like his predecessors, President Biden has been provided succinct talking points to prepare for today's event. They attempt to boil down complex issues in ways that would be easily communicated to a general audience.
That has not always been Biden's strong suit. He sometimes meanders into the inner complexities of matters or uses confusing turns of phrase to describe a thought or idea. Since his presidential campaign last year, he has noticeably worked to curtail those kind of tangents, telling audiences that he doesn't want to bore them.
"It's gonna be, like, Sanskrit to people listening here," he said when answering a question about last year's delayed transition during an interview with ABC News last week.
"I'm going to get into trouble," he said during a CNN town hall in February. "I'm supposed to only talk two minutes in an answer."
Indeed, keeping Biden succinct has been a perennial challenge of the people who work for him, and a news conference provides precisely the venue where brevity is viewed as an advantage – but where lengthy answers have befallen his predecessors.
In his recent memoir, former President Barack Obama said he "enjoyed the unscripted nature of live press conferences" but admitted to sometimes droning on about policy matters.
"I succumbed to an old pattern, giving exhaustive explanations of each facet of the issue under debate," he wrote of a health care news conference in 2009 that became overshadowed by an answer he delivered about the arrest of Harvard professor Henry Louis Gates at his home in Massachusetts.
For all presidents, news conferences present the unique challenge of facing questions that have little to do with that day's preferred topic. Biden has taken extra pains to remain strictly on message during his first two months in office, rarely veering away from taking about his efforts to combat the coronavirus pandemic.
1 hr 15 min ago
How Biden is preparing to face White House reporters today
From CNN's Kevin Liptak and Kaitlan Collins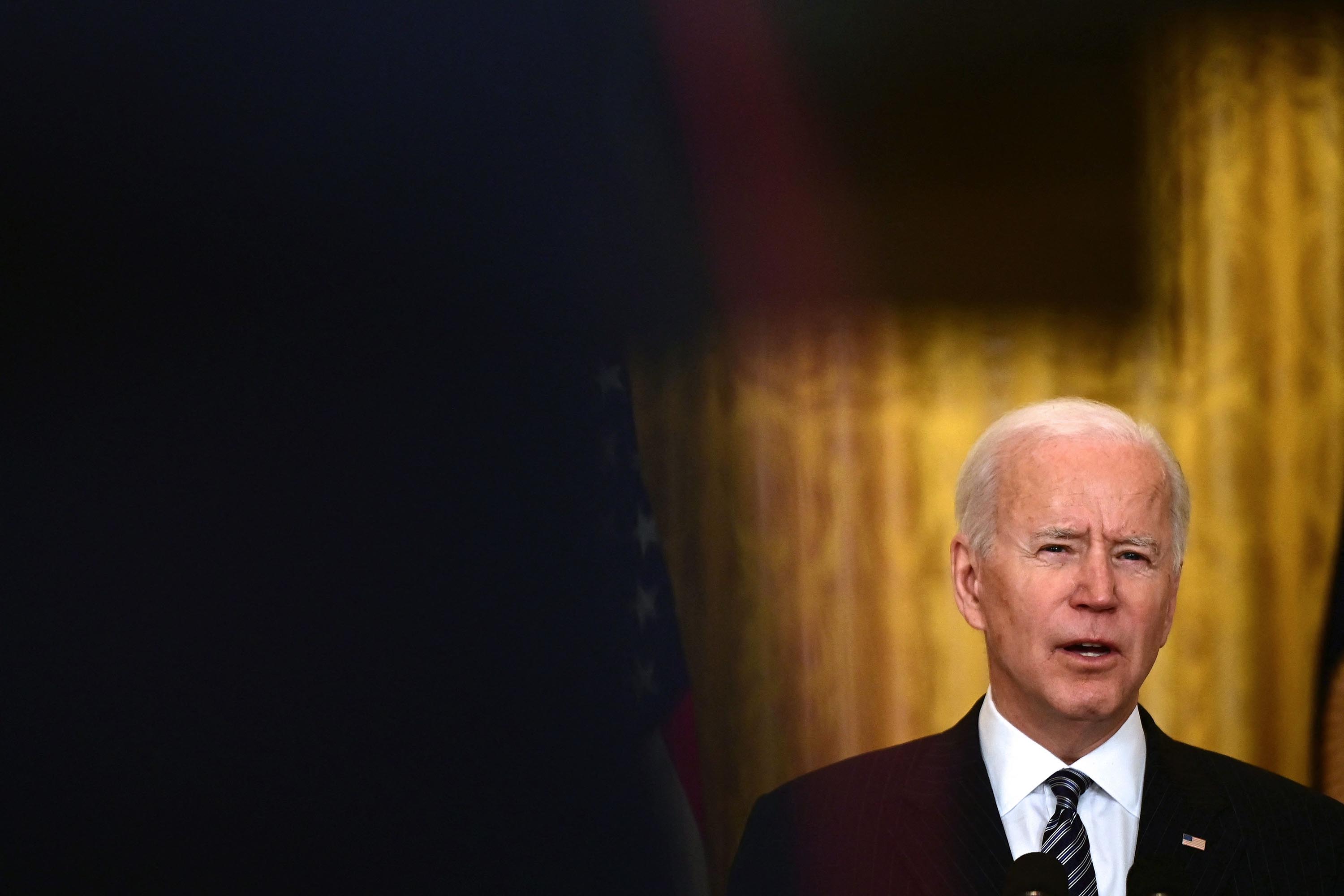 President Biden has been spent days getting ready to face the White House press corps, according to multiple people, who all conclude he recognizes the bright spotlight it will garner.
Biden has talked his strategy through with several members of his inner circle and even held an informal practice session earlier this week.
The event will be Biden's most extended period of questioning since becoming President. For all his years in Washington, it's a moment he hasn't quite experienced for himself before; senators and vice presidents rarely hold their own solo televised news conferences.
He's taking the step later in his presidency than his recent predecessors, who all convened formal news conferences within their first 40 days in office. The White House officially put Thursday's event on the calendar in the middle of last week, giving reporters — and themselves — ample time to prepare.
For most of Biden's formal events at the White House, he has spoken directly into a camera mounted with a teleprompter and read from a prepared speech. His encounters with reporters have been more ad-hoc, responding with one or two sentences when lobbed a question at the end of an event or on his way to his helicopter.
A news conference, however, is a different prospect. While Biden is expected to open with prepared remarks, the question-and-answer session won't be scripted.
To help punctuate the event with agenda-driven news, Biden plans to announce a new vaccination target after reaching his initial 100 million shots goal well ahead of schedule. That fits within his desired messaging about the pandemic response.
But the remainder of the event will be dictated by reporters' questions that are certain to veer from the White House's preferred topic of confronting the pandemic.
To prepare for the event, aides have written sets of talking points for potential questions on a wide array of topics. White House officials expect a number of questions to arise on immigration, but have also been preparing for a number of other topics, from the state of bipartisanship to the future of the Senate filibuster to a decision on withdrawing troops from Afghanistan.
As he has before other major public appearances, Biden has taken home briefing books containing policy positions and framing for potential answers. Biden's three-ring binders are typically organized by topic, with tabs separating the sections and the contents typed out in 14-point font. He has read them in the evenings and returned the next day with feedback for his team.