37 min ago
Here's who would qualify to receive a stimulus check with the Senate's relief bill 
From CNN's Tami Luhby and Katie Lobosco
While the final Senate bill has not been released yet, lawmakers are expected to make a major change — narrowing eligibility for the stimulus checks.
The Senate is predicted to amend the House bill on the $1,400-per-person stimulus payments to tighten eligibility.
Here's a breakdown of who would qualify for the checks in the Senate bill:
People earning less than $75,000 a year and married couples earning less than $150,000 will receive $1,400 per person, including children. That will get money to about 90% of households.
The checks will phase out faster than previous rounds, completely cutting off individuals who earn more than $80,000 a year and married couples earning more than $160,000 — regardless of how many children they have.
The bill passed by the House set the income caps at $200,000 for couples and $100,000 for individuals. The Senate change leaves out about 7 million families, according to an estimate from the Penn Wharton Budget Model.
Unlike the previous two rounds, adult dependents — including college students — are expected to be eligible for the payments
Some more background: Senate Democratic leaders are facing more hurdles to advancing the legislation since the party can't afford to lose a single member thanks to the 50-50 split in the chamber. Plus, they must adhere to the strict rules of reconciliation, which they are using to approve the bill without any Republican support.
Time is of the essence. An estimated 11.4 million workers will lose their unemployment benefits between mid-March and mid-April unless Congress passes its next coronavirus relief package quickly, a recent study by The Century Foundation found.
1 hr 23 min ago
Democratic senator defends lowering direct payment thresholds and calls it a "win"
From CNN's Kristin Wilson
Sen. Ron Wyden, a Democrat from Oregon, said he would have preferred the House bill when it comes to direct stimulus payment thresholds, but that he notches it as a "win" against what could have been an even lower bottom line. 
"I had to lead a fight against 50 and 100. We've had a lot of battles," he said, though he declined to say who was on the other side of that fight. "I never get in to naming names but I want to understand A) I would have preferred the House thresholds; B) it was important to me that we win that fight against something much lower 50 and 100."
Wyden also said he's hopeful there will be a vote today, saying things are dragging out because of "stunts."
"All I can tell you is, we had a stunt yesterday," he said. "Yeah, I'm not in control of stunt prevention, but that's what we dealt with yesterday."
1 hr 45 min ago
Romney supports GOP senator's plan to delay Covid-19 relief vote
From CNN's Ali Zaslav
Sen. Mitt Romney, Republican from Utah, said he supports fellow Republican Sen. Ron Johnson's plan to delay the vote on the 1.9 trillion Covid-19 relief package.
"I do, yes," Romney replied, when a reporter asked if he agrees with the Wisconsin Republican's proposal to slow down the vote by having the entire relief bill read aloud.
The reading by Senate clerks could last about 10 hours.  
Johnson reiterated Thursday morning that he is "absolutely" committed to objecting to force a full reading of the 600-page bill.
1 hr 2 min ago
The Senate is still expected to be in session today despite warnings of potential threats to the Capitol
From CNN's Geneva Sands and Zachary Cohen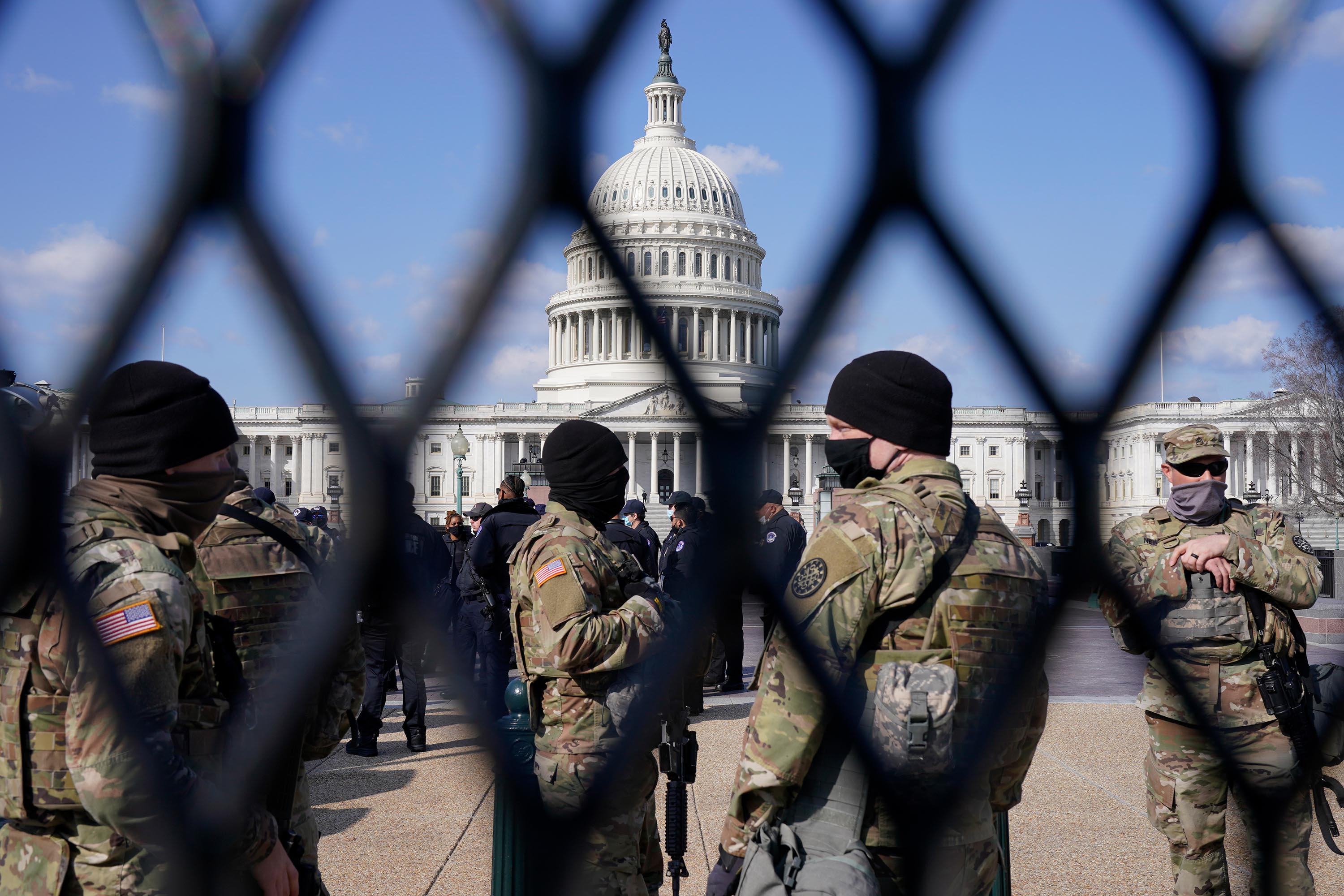 Federal law enforcement is on high alert today in the wake of an intelligence bulletin issued earlier this week about a group of violent militia extremists having discussed plans to take control of the US Capitol and remove Democratic lawmakers on or about March 4 — a date when some conspiracy theorists believe former President Donald Trump will return to the presidency.
US officials on Wednesday alerted lawmakers to a potential threat, for which security has been enhanced as a precaution. The House changed its schedule in light of warnings from US Capitol Police, moving a vote planned for Thursday to Wednesday night to avoid being in session today.
The Senate is still expected to be in session to work on the Covid-19 relief bill.
Some more background: The joint warning from the FBI and the Department of Homeland Security on Tuesday underscores a broader effort by federal agencies to avoid repeating the mistakes made ahead of Jan. 6, when officers were overtaken by a violent pro-Trump mob that stormed the Capitol.
Those intelligence sharing and planning failures have been laid bare over the last two months in several hearings and have been a focal point of criticism from lawmakers investigating the violent attack that left several people dead.
The violent extremists also discussed plans to persuade thousands to travel to Washington, DC, to participate in the March 4 plot, according to the joint intelligence bulletin.
One source noted to CNN that it is mostly online talk and not necessarily an indication anyone is coming to Washington to act on it.
Watch Shimon Prokupecz and Donie O'Sullivan report from the ground in DC:
2 hr 26 min ago
Go There: CNN is on Capitol Hill answering your questions about the Covid-19 relief bill
The Senate is gearing up for a marathon effort to pass President Biden's Covid-19 relief bill.
The stretch could include a late night of voting on amendments before the final vote. If passed in the chamber, the bill will have to go back to the House for a separate vote before Biden signs it into law.
CNN's chief congressional correspondent Manu Raju will be live from Capitol Hill. What questions do you have for him?
2 hr 17 min ago
You likely will hear the term "vote-o-rama" a lot today. Here's what it means. 
From CNN's Clare Foran and Ted Barrett
A procedural move to advance the Senate bill now seems on track for a vote Thursday, a Senate Democratic aide told CNN, with Democratic leaders still waiting Wednesday evening for the official cost estimate before bringing the newly revised bill to the floor.
At some point, the Senate is expected to move into a "vote-a-rama."
It is a tradition in the chamber that typically involves a large number of votes on amendments that can stretch for hours and last until late in the night.
It is frequently used by lawmakers to force tough votes that put members of the opposing party on the record on controversial issues.
Senate Majority Whip Dick Durbin said of the process, "Members start with a great number of amendments and great resolve and eventually it dwindles down to a handful of amendments and no resolve. People just want to get out of here."
"It does not serve the purpose of debate on public policy. It is an endurance contest and a gotcha contest, and I think the Senate should rise to a higher level," the Illinois Democrat added.
Remember: Once the Senate passes its version of the bill, it would need to be approved once again by the House before heading to the President's desk for his signature.
2 hr 34 min ago
How things could play out in the Senate today
From CNN's Lauren Fox
The short answer is we don't know exactly when Senate Majority Leader Chuck Schumer will bring the chamber's Covid-19 relief legislation to the floor. 
Democrats were still waiting for Congressional Budget Office and Joint Committee on Taxation scores Wednesday night to make sure they are in compliance with their own budget reconciliation rules. The budget they passed last month set specific criteria for how much each committee had to spend.
Before the bill goes to the floor, they have to make sure they hit those targets or the bill loses its privilege to be passed with 51 votes. It's an important step of this process and what they are waiting for at this point. Once they know they are in compliance, they can move.
When he has the scores and checks that everything is compliant, Schumer will go to the floor and move to proceed to Covid-relief bill that passed the House. There will be a vote. It will only take 51 votes to overcome this hurdle.
What happens next: Schumer will offer an amendment that includes all of the changes Democrats had to make to this bill to make it compliant with the rules of budget reconciliation and some of the changes that moderates have insisted on.
This bill won't include the minimum wage increase, and it will have tightened income thresholds for who gets stimulus checks. It won't include controversial transportation projects in New York and California. It may also have other changes we will be on the lookout for.
At that point, Schumer will ask for the Senate to "dispense of the reading," aka skip the part where the clerks have to read the 600-page bill. Sen. Ron Johnson, a Republican from Wisconsin, has said he will object and force the reading. That could take about 10 hours.
Read more about the process here.
2 hr 43 min ago
Here are some key differences between the House and Senate Covid-19 relief bills
From CNN's Lauren Fox
The Senate bill we expect to see in the next several hours will look different than what the House passed, even if many of the most popular provisions and structures will remain untouched.
That's a reflection of the herculean task Democratic leadership and the White House have had to undertake in recent days as they've hustled to try and ensure that every Democratic senator had what they needed tucked inside to back this bill. It also means the bill will have to go back to the House for another vote next week before sending it to President Biden's desk.
We know of a few big ways the Senate bill will look different than what the House passed:
The bill won't include:
The bill will also change:
The income threshold for who is eligible to get Covid relief checks will be different. Once an individual makes $80,000, they won't get any relief check; in the House bill, that cutoff was $100,000. An individual making $75,000 a year will get the full $1,400 and it will be phased out up to $80,000.
Includes more money for rural hospitals
More funding to expand broadband
More money for FEMA to help the homeless
A slightly revised state and local formula that will help smaller population states and boosts the minimum they will receive.
Read more here.
3 hr 24 min ago
Voting process for Covid-19 relief bill could stretch into the weekend
From CNN's Manu Raju, Ted Barrett and Lauren Fox
A Senate Democratic aide said they are still waiting for the official cost estimate before bringing their newly revised Covid-19 relief bill to the floor.
In essence, this means the first procedural vote would happen as soon as Thursday, but we still don't know when that will be. And after the procedural vote, Republican Sen. Ron Johnson will force the bill to be read aloud by Senate clerks. The reading will take about 10 hours.
After the 10 hours, then there will be up to 20 hours of debate on the floor.
After that floor debate, then the vote-a-rama will occur — which will go on until senators decide to no longer offer amendments. It could stretch into the weekend.