37 min ago
Garland supporters offer up a wish list for him to tackle when he's confirmed
From CNN's Christina Carrega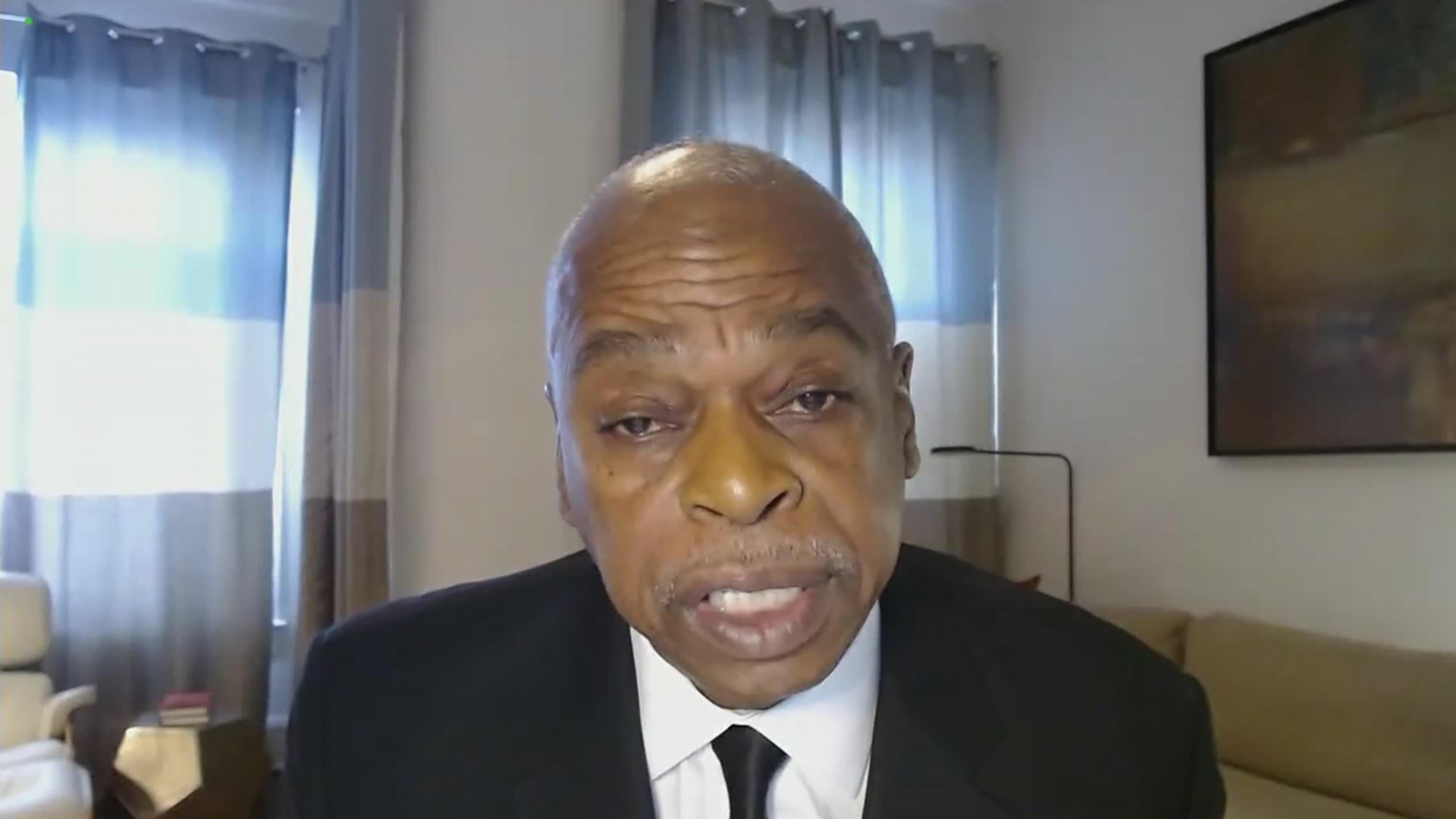 Supporters for Judge Merrick Garland's confirmation to become the next attorney general on Tuesday provided several anecdotes about the nominee and a wish list of items for the Justice Department to tackle.
Wade Henderson, the interim president and CEO of The Leadership Conference on Civil and Human Rights fully supports Garland "and without reservation … however this support does not come without expectation for prompt and meaningful action on civil and human rights."
Henderson is calling for Garland to suspend the use of the federal death penalty, address white supremacy and help to secure the right to vote for all Americans.
"We need an attorney general who knows the Justice Department well and who will reinstate DOJ's historic commitment to integrity, independence and vigorous civil rights enforcement," Henderson said. "Merrick Garland would be such an Attorney General and it is therefore a fitting choice to lead the Justice Department this crucial moment."
Josh Blackman, a professor of law at South Texas College of Law, would like Garland to tackle current Justice Department policies including scrutinizing consent decrees after former Attorney General Jeff Sessions issued a memo that limited the use of them. 
During Garland's hearing on Monday, he has agreed that the use of consent decrees are important to hold troubled police departments accountable, does back voting rights for all and is certain that since President Biden opposes the federal death penalty that the 2003 moratorium will be reinstated.  
Andrea Tucker, a civilian witness whose two youngest children are tutored by Garland weekly, said his commitment to her kids speaks to his character. "I believe you should confirm him quickly," Tucker said.
46 min ago
Garland's confirmation hearing has ended
From CNN's Alex Rogers and Jeremy Herb
The second day of Attorney General nominee Merrick Garland's confirmation hearing has wrapped.
Outside witnesses testified before the Judiciary Committee about Garland's qualifications for the post, and raised issues they believe he should tackle if confirmed.
Yesterday, the nominee testified before the committee, and vowed to preserve the integrity of the Justice Department and to fully prosecute the "heinous" crimes committed during the attack on the US Capitol last month.
What comes next: Durbin told CNN on Monday that he expected Garland's nomination would be approved by his panel next Monday, and he expects the full Senate will confirm Garland later that week.
43 min ago
Mother describes impact Garland has had tutoring her children virtually through the pandemic
Andrea Tucker, one of the outside witnesses testifying during Merrick Garland's confirmation hearing today, praised the attorney general nominee for the work he has done with her son during tutoring sessions.
Tucker said she first met Garland roughly 5 years ago, when the judge visited her children's school and meet with one of the fifth graders he was tutoring. Her then-second grade child at J.O. Wilson Elementary School in DC became Garland's next pupil.
"Over the last four years, Judge Garland has had weekly tutoring sessions with my son," Tucker said, noting that her son's teacher believed Garland could help him come out of his shell and improve his reading comprehension.
At the end of the school year, Garland would invite the students to the DC Court of Appeals for a tour and to visit the court room.
Tucker said that during the pandemic, Judge Garland has not "missed a beat" with his tutoring duties, and offered to virtually tutor her son and her other daughter.
"This shows his dedication to our actual community and love for children," Tucker said.
The mother said Garland always started each tutoring session by asking how her children were doing and any interesting things they did since they last met.
"He made tutoring fun, interactive and effective," Tucker said, noting that she has seen an improvement in grades.
Tucker said Garland's willingness to tutor, even if confirmed to the challenging role of attorney general, speaks to his character and shows he is a man who does what he says he will do.
2 hr 20 min ago
Day 2 of Garland's confirmation hearing has begun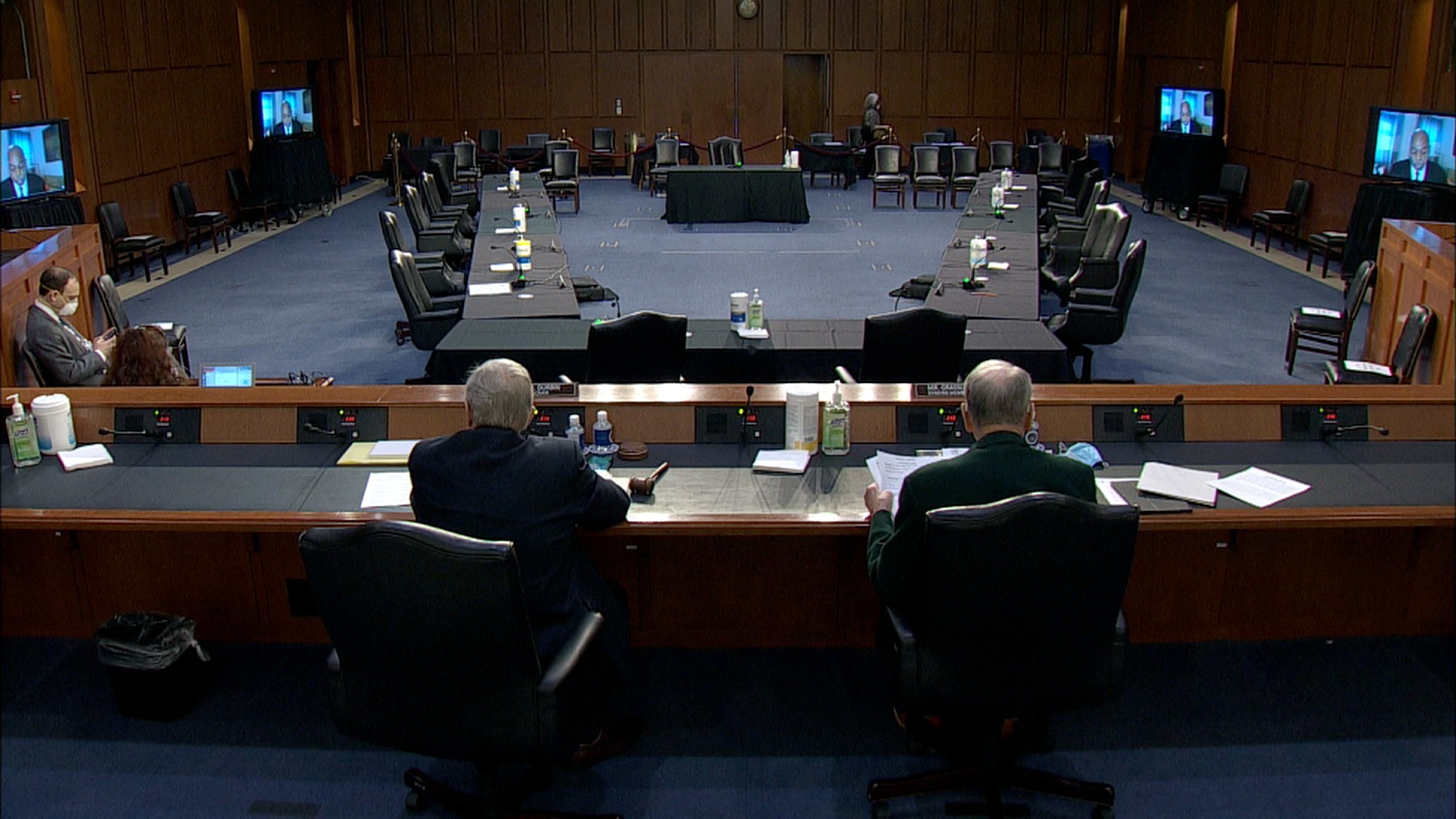 A group of outside witnesses will testify today before the Senate Judiciary Committee as part of Attorney General nominee Merrick Garland's confirmation hearing.
The witnesses are expected to testify virtually.
These are the names released by the committee:
Wade Henderson (Majority Witness)
Interim president and CEO of The Leadership Conference on Civil and Human Rights
Josh Blackman (Minority Witness)
Professor of Law at South Texas College of Law 
Andrea Tucker (Majority Witness)
Parent of Students at J.O. Wilson Elementary School
The Honorable Ken Starr (Minority Witness)
Donna Bucella (Majority Witness)
Former Director of the Executive Office for United States Attorneys (EOUSA) and former US Attorney for the Middle District of Florida
2 hr 47 min ago
Garland vowed to keep politics out of the Department of Justice
From CNN's Jeremy Herb
During the first day of his confirmation hearing yesterday, Attorney General nominee Merrick Garland vowed to keep politics out of the Justice Department and to fully prosecute the "heinous" crimes committed in the attack on the US Capitol in the deadly riot on Jan. 6.
"I don't care who pressures me in any direction. The Department, if I am confirmed, will be under my protection for the purpose of preventing any kind of partisan or other improper motive in making any kind of investigation or prosecution. That's my vow. That's the only reason I'm willing to do this job," Garland said.
Garland was praised by Republicans and Democrats alike in his testimony before the Senate Judiciary Committee on Monday, where he faced questions about the politically charged investigations that await him if confirmed to lead the Justice Department, including a federal probe into Biden's son Hunter Biden and whether the DOJ should wade into former President Donald Trump's role in the riot.
Garland, who led the Justice Department investigation into the 1995 Oklahoma City bombing, said that the current threat from White supremacists now is a "more dangerous period than we faced at that time," vowing to make his first priority to ensure investigators have all the resources they need to investigate the attack on the Capitol.
He also pledged to redouble the Justice Department's efforts to fight discrimination in law enforcement and provide equal justice amid heated policy debates over race and the criminal justice system.
"If confirmed, I will supervise the prosecution of White supremacists and others who stormed the Capitol on Jan. 6 — a heinous attack that sought to disrupt a cornerstone of our democracy: the peaceful transfer of power to a newly elected government," Garland said Monday.
While Garland declined to weigh in on some of the controversies of the Trump administration, he strongly rebuked the Trump administration's child separation immigration policy, calling it "shameful" and committing to aiding a Senate investigation into the matter.
The attorney general nominee also stressed that the Justice Department's role is meant to "serve the Rule of Law and to ensure equal justice under the law," noting that last year was the 150th anniversary of the Justice Department's founding in the aftermath of the Civil War, and that its core mission was to secure the civil rights promised by the 13th, 14th and 15th Amendments.
"The mission remains urgent because we do not yet have equal justice," Garland said. "Communities of color and other minorities still face discrimination in housing, education, employment, and the criminal justice system."
2 hr 9 min ago
Garland draws sharp contrast with Barr on the issue of systemic racism
From CNN's Christina Carrega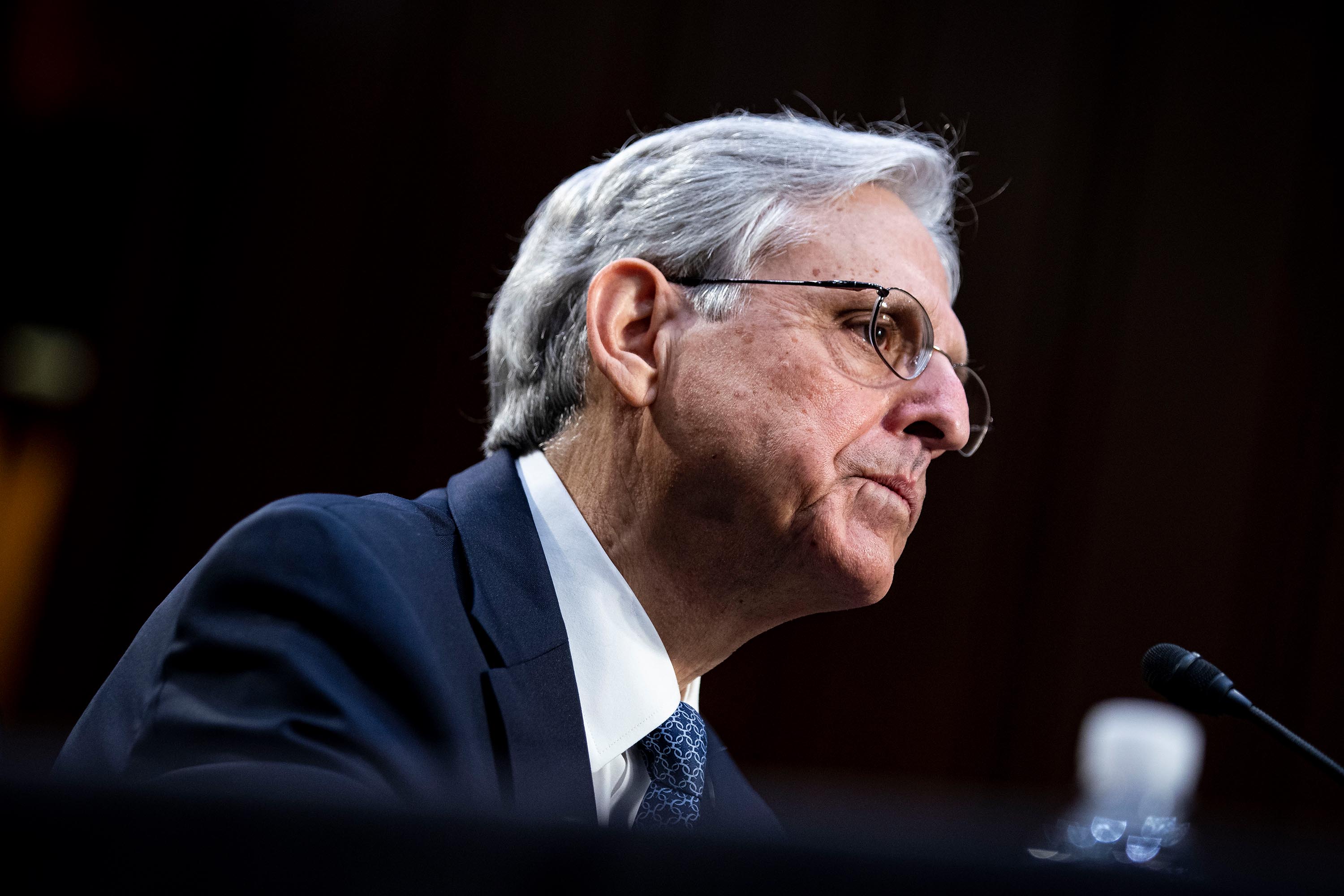 Judge Merrick Garland was asked to define systemic racism, implicit bias and racism during the first day of his Senate confirmation hearing on Monday, and his answers laid out a stark contrast with the last Senate-confirmed attorney general from the Trump administration.
"I think it is plain to me that there is discrimination and widespread disparate treatment of communities of color and other ethnic minorities in this country. They have a disproportionately lower employment, disproportionately lower home ownership rates, disproportionately lower ability to accumulate wealth …," Garland said, after being asked by Sen. John Kennedy, a Louisiana Republican, to define systemic racism.
Kennedy later asked Garland, "But how do you know what you know? … If you say an institution is systemically racist, how do you know what you know? Do you measure it by disparate impact, controlling for other factors? Or do you just look at the numbers and say the system must be racist?" 
"Well, now you've asked me a slightly different question, which I think I have a slightly different answer for," Garland responded. "The authority the Justice Department has to investigate institutions is to look for patterns or practices of unconstitutional conduct and if we find a pattern or practice of unconstitutional conduct, I would describe that as institutional racism within that institution. That may not be the perfect definition, but that's what I would think." 
The exchange showed how Biden's attorney general pick will lead the Department of Justice in a dramatically different direction than the course that has been charted over the last four years. Under the leadership of Jeff Sessions and William Barr, the department took a more limited role in reforming police departments accused of civil rights violations and Barr, on multiple occasions during last summer's protests after the death of George Floyd, refused to recognize the role systemic racism plays in policing. While Garland has made prosecuting those accused of crimes during the Jan. 6 insurrection at the US Capitol his top priority, his answers to Kennedy showed Justice may take a more expansive role in civil rights cases in the years ahead.
Here's a reminder on what Barr has said about it: Garland's answers during his exchange with Kennedy were sharply different than one of his high-profile predecessors, who faced similar questions last summer in the throes of the summer uprisings that occurred throughout the country on the heels of the death of George Floyd. 
At that time, Barr testified before the House Judiciary Committee and denied the existence of systemic racism in police departments.  
Barr was pressed during that hearing by Rep. Sheila Jackson Lee, a Democrat from Texas, about his repeated denials of institutional and systemic racism in police departments, which she said have "plagued so many."
"I don't agree that there's systemic racism in the police departments generally in this country," Barr said in that hearing.
Read the full story here.
1 hr 57 min ago
A look back at former Attorney General William Barr's tumultuous term and the challenges he left behind
From CNN's Evan Perez, Katelyn Polantz and Kara Scannell
If confirmed as attorney general, Judge Merrick Garland will be tasked with leading a Department of Justice that has faced multiple controversies.
From interventions in cases that mattered to former President Trump to his rejection of Trump's vote fraud claims, former Attorney General William Barr was a polarizing figure during his tenure:
He meddled in criminal prosecutions by career prosecutors of Trump allies Roger Stone and Michael Flynn
Signed off on unusual maneuvers by the department in lawsuits against Trump political foes including John Bolton
Gave regular conservative media interviews encouraging "deep state" suspicion about the 2016 investigation into the Trump campaign's ties to Russia
Set the tone to undo Special Counsel Robert Mueller's probe.
And in the end, even the Trumpist right wing — which Barr seemed to cultivate with comments frequently aligned with sentiments on the President's Twitter feed — turned on him.
First, ahead of the November election, he refuted Trump's false claim that mail-in voting was susceptible to fraud. Then, after the election, he undercut Trump's claim of widespread fraud, declaring that the Justice Department had found no such thing.
Barr also resisted demands that the Justice Department disclose an ongoing investigation into Hunter Biden, son of President-elect Joe Biden, a move that Trump and his allies believe made a difference in the election.
Some allies view Barr as doing the best he could under near impossible circumstances. Some acknowledge that he often conducted himself in ways that made his job even more challenging.
One of Barr's closest friends, George Terwilliger, who served as deputy attorney general in Barr's first tenure as attorney general, says: "Bill knew what he was getting in for, and I think he navigated it as well as he could."
Some critics see little redemption in the fact Barr ultimately resisted some of Trump's most extreme demands. The damage, they believe, was already done, and by the time he resigned before Trump finished his presidency, he had lost the trust of prosecutors and many in the wider legal community nationwide.
3 hr 6 min ago
Biden's picks to lead Health and Interior Departments also have confirmation hearings today
From CNN's Kristen Holmes and Clare Foran
President Biden's Attorney General nominee Merrick Garland isn't the only nominee facing the Senate this week.
Biden's nominee for the nation's top health position, Xavier Becerra, currently California's attorney general, is set to testify before the Senate Health Committee this morning and the Senate Finance Committee on Wednesday. Only the finance committee will vote on his nomination.
Becerra will stress his upbringing as a son of a Mexican immigrant, his father's recent passing and his history expanding health care access during his time as a longtime congressman and California's attorney general, in a pitch to senators at his confirmation hearing on Tuesday, according to his prepared opening statement first obtained by CNN.
"I am here because my parents Manuel and Maria Teresa — who had only their health and hope when they settled in Sacramento — were tireless believers in earning the American Dream," Becerra plans to say in his opening statement.
He would be the first Latino be the Health and Human Services secretary and served as the first Latino California attorney general.
His nomination has already attracted controversy, with Republicans citing his support for abortion rights and other Democratic policies. It comes as Biden's nomination for the Office of Management and Budget, Neera Tanden, is on the brink of collapsing, with at least one Democratic senator and a couple moderate Republican lawmakers announcing they will not support her.
Becerra's pick has been controversial since the start, in part because he does not have a direct background in health care.
Biden's Interior Secretary nominee Deb Haaland, meanwhile, is also expected to face a contentious confirmation hearing this morning in front of the Senate Energy and Natural Resources Committee.
The Democratic congresswoman from New Mexico is a historic pick: She would be the first Native American Cabinet secretary if confirmed by the Senate.
But Democrats and White House officials told CNN that they anticipate the hearing could get tense, and some Republicans have already spoken out against what they call her "extreme" and "radical" views on energy and environmental issues.
1 hr 54 min ago
With Garland pick, Biden signals how he wants to transform the Department of Justice post-Trump
From CNN's legal analyst Joan Biskupic
Frmer President Trump declared more than a year ago, "I am actually, I guess, the chief law enforcement officer," as he tried to assert control over Department of Justice decisions.
The claim in February 2020, as Trump basked in his first Senate acquittal on US House impeachment charges and prepared to fire people who had testified against him, offered just one episode of his enduring contempt for the norms of justice.
Such transgressions, to be sure, were eclipsed last month by the riotous violence he instigated at the Capitol. Yet the televised tableau last mont of President Biden presenting Judge Merrick Garland to be the next attorney general, provided a remarkable contrast to the Trump way and demonstrated that a restorative agenda has begun.
"You won't work for me," Biden said. "You are not the president's or the vice president's lawyer. Your loyalty is not to me. It's to the law, the Constitution."
For his part, Garland referred to the pro-Trump mob's destruction as Electoral College votes were being counted and said, "The rule of law is not just some lawyer's turn of phrase. It is the very foundation of our democracy. The essence of the rule of law is that like cases are treated alike, that there is not one rule for Democrats and another for Republicans, one rule for friends and another for foes."
As Garland, 68, spoke of aspirations for integrity and neutrality to rebut the Trump pattern, his voice filled with emotion. The last time he was so visible on the national stage was March 2016, when then-President Barack Obama nominated him to a Supreme Court seat that opened after the sudden death of Justice Antonin Scalia.
The Republican-controlled Senate blocked action on the appointment of Garland, a US appellate judge since 1997, and eventually saved the seat for Trump to fill.
Since he took office, Trump sought to use the law to punish adversaries and reward his friends. He derided the justice system at every turn, mocked judges and essentially declared that the law is what he says it is.
Biden referred to Trump's disdain for democracy and the importance of a neutral Justice Department. He and Garland cited the 1970s post-Watergate reforms intended to restore trust in the Department of Justice and prevent a president from interfering with day-to-day investigations.
Trump had publicly badgered his first attorney general, Jeff Sessions, calling him "weak" and "beleaguered." Trump called the US justice system a "laughingstock." He kept up the pressure on his second attorney general, William Barr, who took office in February 2019 and resigned in December 2020.