1 min ago
Senate Democrats plan to limit the number of questions they'll ask both teams
From CNN's Manu Raju
Democratic senators discussed today limiting the number of questions they plan to ask the impeachment managers and former President Trump's attorneys.
It's unclear how many questions they might ask — one Democratic Senate source said perhaps just five on their side — but the belief is there's no need to further clarify what they believe is a slam-dunk case from House Democrats.
This also is another indication that the question period — which is expected to happen as soon as tonight — is not expected to go the full four hours as allotted under the Senate trial rules.
As in the first impeachment last year, these questions are submitted in writing and then read out loud by the presiding officer. In this case, that will be Sen. Patrick Leahy, the longtime Vermont Democrat.
3 min ago
Fact check: Is it constitutional for Trump to be tried in the Senate after leaving office?
From CNN's Holmes Lybrand and Tara Subramaniam
Questions have arisen over the constitutionality of former President Trump's trial in the Senate, and it is a central part of the Trump defense team's argument. 
Trump's defense attorney Michael van der Veen claimed during today's proceedings that the Democrats' article of impeachment is an "unjust and blatantly unconstitutional act of political vengeance."
At the start of the impeachment trial on Tuesday, the Senate voted that the second impeachment trial of Trump is constitutional. The 56 to 44 vote, however, showed why there's little path for the House managers to obtain the two-thirds majority needed for conviction, as all but six Republican senators voted for a second time that the trial was unconstitutional because Trump is no longer president.
Trump is the first president to be impeached twice and is the first ex-president to have his impeachment tried in the Senate while out of office. 
Following Trump's most recent impeachment in the House, former US Circuit Court Judge J. Michael Luttig weighed in on some constitutional questions, writing on Jan. 12 in the Washington Post that "Congress loses its constitutional authority to continue impeachment proceedings against" Trump after he leaves office because "the Senate's only power under the Constitution is to convict — or not — an incumbent President."
Senate Democrat Richard Blumenthal called arguments questioning the constitutionality "bogus," saying that "[T]here's nothing in the Constitution that prevents any federal officer from being tried after they're out of office."
Facts First: Given the limited language in the Constitution on impeachment, legal experts disagree about whether the Senate can convict a former president. However, Democrats, who hold a slim control of the Senate, have gone forward with a trial.
Under the Constitution, the House can impeach a President for "treason, bribery or other high crimes and misdemeanors." Then the Senate holds a trial and needs a two-thirds majority to convict and remove the President from office. Another vote would be necessary to bar the then ex-President from holding office again, but this vote would require only a simple majority.
The Constitution doesn't specifically address convicting an ex-President but simply says "The President," VP and all civil officers "shall be removed from Office on Impeachment for, and Conviction of, Treason, Bribery, or other high Crimes and Misdemeanors."
Read more here.
10 min ago
GOP senator wants Trump lawyers to address Tuberville call
From CNN's Ali Zaslav, Lauren Fox and Jeremy Herb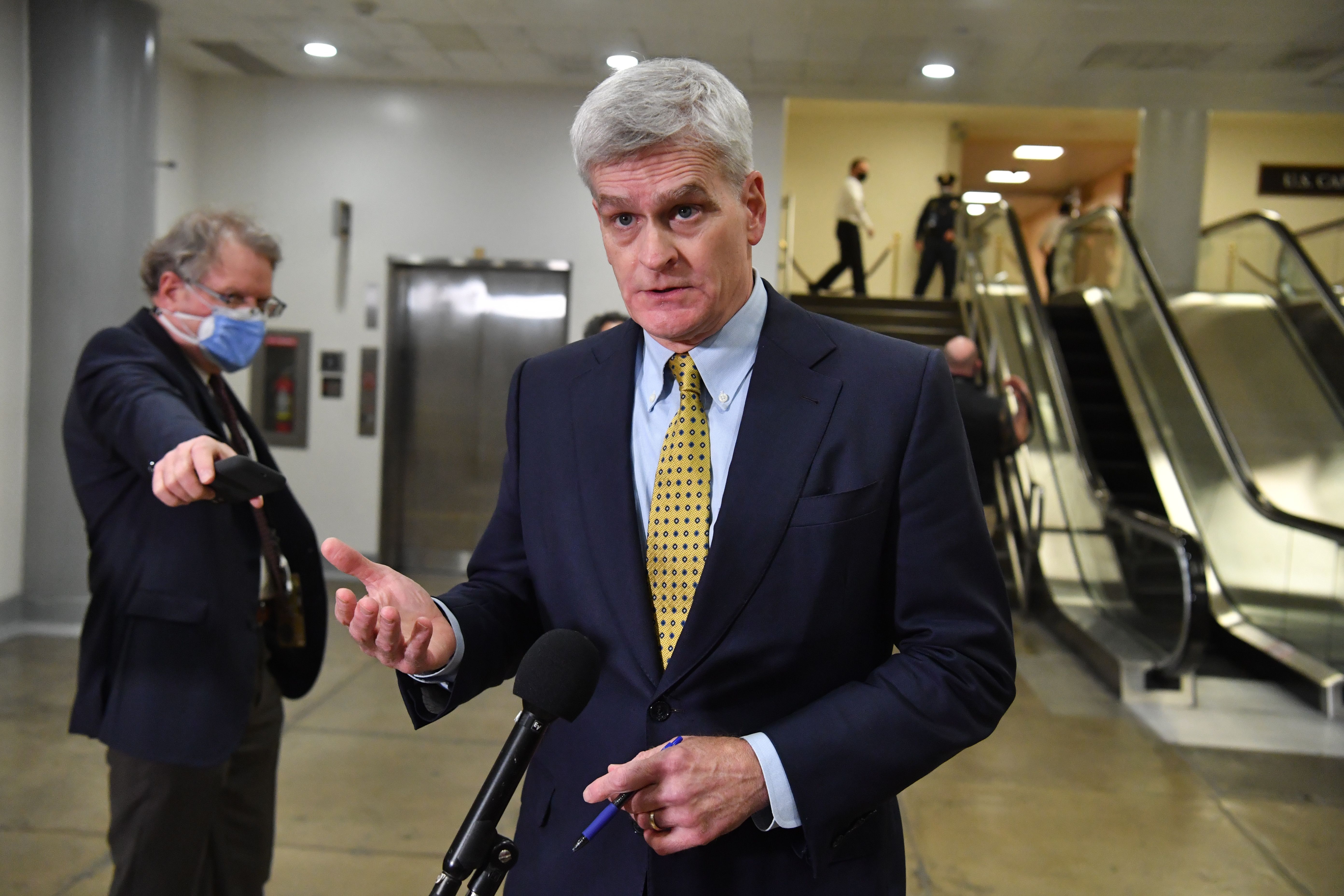 Sen. Bill Cassidy, a Republican from Louisiana, says he wants former President Trump's lawyers to address the call that Trump had with Sen. Tommy Tuberville on Jan. 6 as the riot was happening.
Trump had called Tuberville, a Republican from Alabama, to convince him to make additional objections to the Electoral College vote in a futile effort to block Congress' certification of President-elect Joe Biden's win, according to a source familiar with the call.  In that call, Tuberville says he told Trump that then Vice President Mike Pence was being evacuated. That call was before Trump tweeted about Pence. 
Trump's tweet said: "Mike Pence didn't have the courage to do what should have been done to protect our Country and our Constitution, giving States a chance to certify a corrected set of facts, not the fraudulent or inaccurate ones which they were asked to previously certify. USA demands the truth!"
"The President clearly had knowledge at that point and then the tweet went out," Cassidy said.
"You put all that together and it gives it a special credibility … so the point being, that I would like both sides to address that, certainly the defense team. How would they explain that away if you're going to explain that away?"
Cassidy was one of six Republicans to vote that the impeachment trial is constitutional.
16 min ago
Trump's lawyer calls impeachment article an "unconstitutional act of political vengeance"
Former President Trump's lawyers have returned to a familiar "witch hunt" argument and cited free speech in their arguments before the Senate today.
Attorney Michael van der Veen opened his arguments by criticizing the proceedings.
"The article of impeachment now before the Senate is an unjust and blatantly unconstitutional act of political vengeance," he said. "This appalling abuse of the Constitution only further divides our nation when we should be trying to come together around shared priorities. Like every other politically motivated witch hunt, the left has engaged in over the past four years, this impeachment is completely divorced from the facts, the evidence, and the interests of the American people. The Senate should promptly and decisively vote to reject it."
Van der Veen went on to argue that Trump's speech on Jan. 6 before the Capitol riot "explicitly encouraged those in attendance to exercise their rights peacefully and patriotically."
12 min ago
Trump's lawyer is defending his speech on Jan. 6. Read a transcript of it here.
Former President Trump gave a Jan. 6 speech near the White House in which he exhorted his supporters to march on the US Capitol to challenge the final certification of President Biden's electoral victory. 
That speech is now at the heart of the House Democrats' case against him on a single impeachment charge of inciting the insurrection that followed.
Trump's defense attorney Michael van der Veen claimed in his opening remarks on the Senate floor today that Trump's remarks that day "encouraged those in attendance to exercise their rights peacefully and patriotically."
You can read a CNN transcript of Trump's speech here. And here is a fact check from CNN's Daniel Dale.
8 min ago
Independent Sen. Sanders plans to ask Trump's defense if they believe the election was stolen from him
From CNN's Ali Zaslav and Daniella Diaz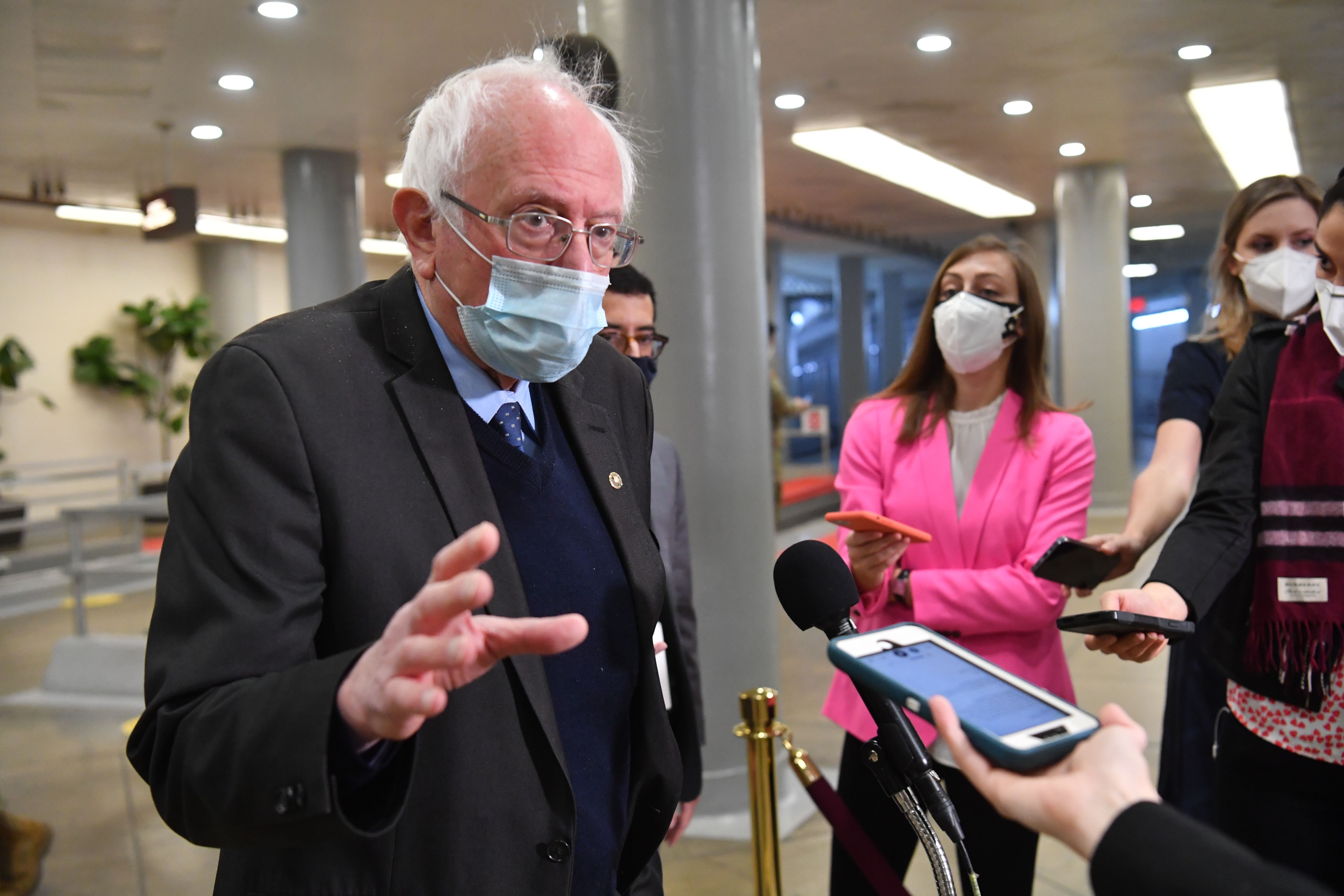 Sen. Bernie Sanders, an Independent from Vermont, said he plans to ask Trump's defense team if they believe former President Trump's assertion that the 2020 election was stolen.
GOP and Democratic senators have been asked to submit their proposed questions to their respective party leaders, senior aides familiar with the request tell CNN.
The idea among the respective leaders is to avoid duplication, these senior aides said.
Remember: After Trump's lawyers finish their allotted time today to present their case (which is up to 16 hours over two days), senators will have time to ask questions of the two legal teams.
As in the first impeachment last year, these questions are submitted in writing and then read out loud by the presiding officer. In this case, that will be Sen. Patrick Leahy, the longtime Vermont Democrat.
CORRECTION: This article has been updated to reflect that Sen. Sanders is an Independent.
12 min ago
Day 4 of Trump's second impeachment trial just started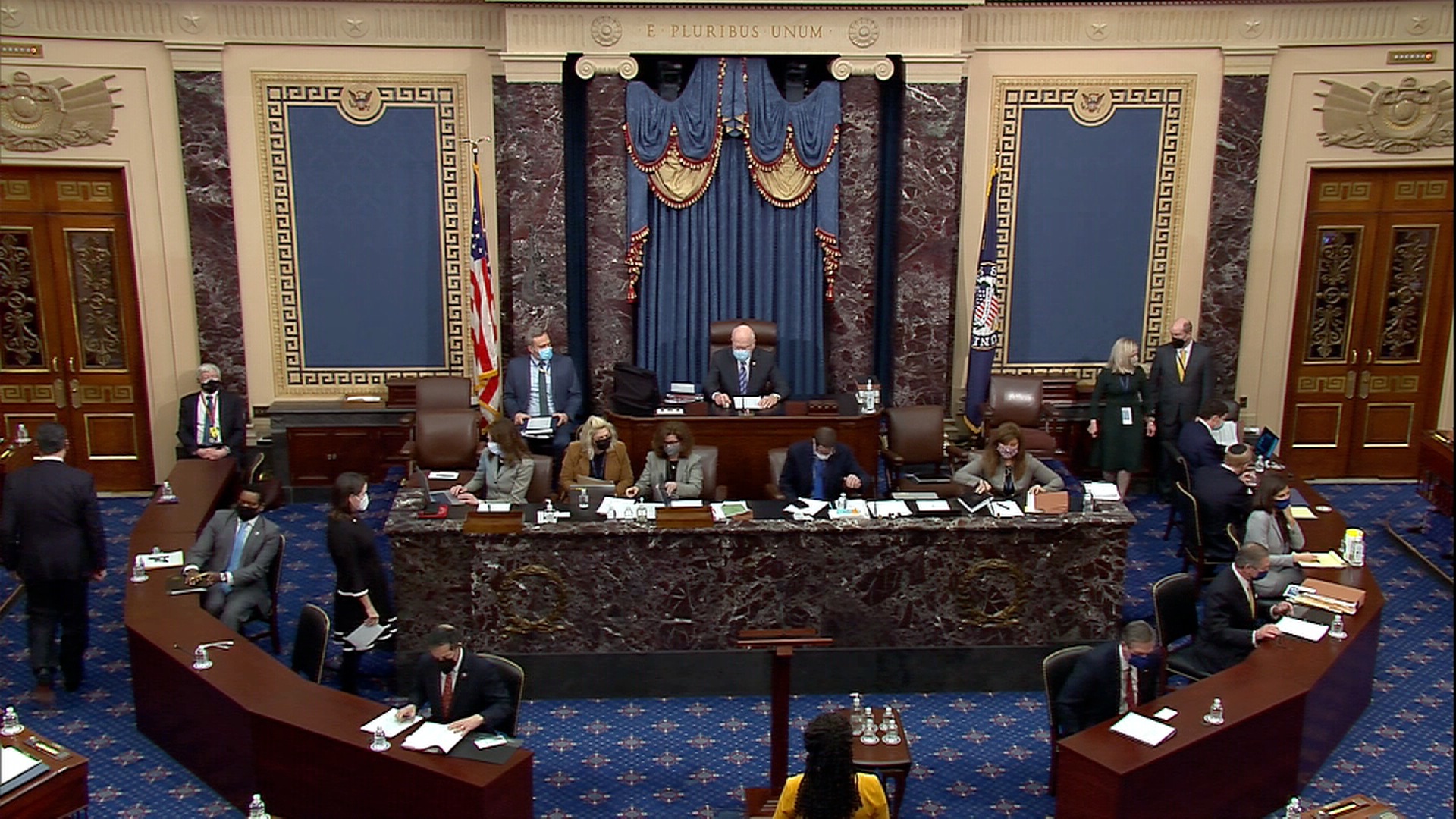 The Senate has just convened for day four of the second impeachment trial against former President Trump.
Trump's defense team will begin their arguments today. They have up to 16 hours to make their case, although they have signaled they intend to keep it short. Trump adviser Jason Miller told CNN the defense presentation could be as short as four hours.
Attorneys David Schoen, Bruce Castor, Michael van der Veen and William Brennan are all expected to speak during today's arguments, according to a person familiar with the latest plan. Using videos of Democratic lawmakers, they plan to argue that Democrats glorified violence by recreating the Jan. 6 riot, will claim the trial is unconstitutional and stress Trump's First Amendment rights.
1 hr 3 min ago
Meet the lawyers who will defend Trump in his second impeachment trial
From CNN's Devan Cole
The lawyers who signed on to lead former President Trump's impeachment defense team bring a curious history of experience as they prepare to present their case today before the Senate.
The lawyers are tasked with arguing a defense for a former President who faces the impeachment charge of inciting a deadly insurrection at the US Capitol, something that if convicted could also result in him being barred from holding federal office ever again.
The two attorneys joined Trump's team a day after five members of his defense left, effectively collapsing the team.
Here are key things to know about the lawyers' leading Trump's team:
Bruce Castor: He is a well-known lawyer and the former Montgomery County, Pennsylvania, district attorney. He already caused a stir during his opening remarks on the first day of the trial, befuddling jurors by calling out a Republican senator and eliciting a critical early review from one of Trump's former lawyers who defended him during the first impeachment trial.
Castor served as Montgomery County district attorney from 2000 to 2008, before serving two terms as the county commissioner, according to a release from Trump's office. He was involved in at least one high-profile case as district attorney, when he declined in 2005 to prosecute Bill Cosby after Andrea Constand reported the actor had touched her inappropriately at his home in Montgomery County, citing "insufficient credible and admissible evidence."
Cosby was later tried and convicted in 2018 for drugging and sexually assaulting Constand at his home in 2004, despite the fact that Castor argued during a pre-trial hearing that he'd already committed the state to not prosecuting the actor.
David Schoen: He is a seasoned civil and criminal lawyer whose website says he "focuses primarily on the litigation of complex civil and criminal cases before trial and appellate courts." Trump is just the latest controversial figure his career has brought him to in recent years.
Schoen was on the team of lawyers representing Roger Stone, Trump's longtime friend and former adviser, in the appeal of his conviction related to issues Stone took with the jury. Stone dropped that appeal after the then-President commuted his prison sentence, but before Stone received a full presidential pardon for convictions, including lying to Congress to protect Trump.
Schoen, who holds a master of laws from Columbia University and a juris doctorate from Boston College, according to his biography, serves as chair of the American Bar Association's Criminal Justice Subcommittee of the Civil Rights Litigation Committee.
Read more about the lawyers here
1 hr 3 min ago
The Democrats have charged Trump with "inciting violence." Here's what incitement means.
From CNN's Zachary B. Wolf
The allegation of "incitement" is key to the impeachment case House Democrats are making against former President Trump because it ties his words and actions to the Jan. 6 insurrection on Capitol Hill.
House impeachment managers have devoted most of their presentation this week to the results, airing graphic video footage and audio from the attack on the Capitol — which put members of the Senate, who will vote on the charges, personally at risk.
Their argument is that Trump was responsible for what happened, even though he did not join the mob that marched from his Jan. 6 rally near the White House to the US Capitol, where electoral votes were being tallied to seal Joe Biden's victory.
The article of impeachment passed by the House in January reads, in part: "Donald John Trump engaged in high Crimes and Misdemeanors by inciting violence against the Government of the United States." Read the whole thing here.
But what is incitement, exactly? The dictionary definition of "incite," according to Merriam-Webster, is simple: "to move to action : stir up : spur on : urge on." Trump clearly did that, when he directed his supporters to march toward Capitol Hill from a rally held under the "Stop the Steal" banner.
But there's a much more detailed definition in US law, which is:
"…the term 'to incite a riot', or 'to organize, promote, encourage, participate in, or carry on a riot", includes, but is not limited to, urging or instigating other persons to riot, but shall not be deemed to mean the mere oral or written (1) advocacy of ideas or (2) expression of belief, not involving advocacy of any act or acts of violence or assertion of the rightness of, or the right to commit, any such act or acts."
Federal courts said Trump did not incite a mob back in 2016 when he told supporters to turn on protesters, who later sued the President.
The New York Times has a thorough examination of how courts have looked upon "incitement." Read that here.
The history of "incitement": Oliver Wendell Holmes, the First Amendment-protecting Supreme Court justice who pushed the idea that a person can't shout fire in a crowded theater, built the "clear and present danger" test for speech. He argued Congress could only regulate speech when it represented a "present danger of immediate evil or an intent to bring it about."
Those words were written in the World War I era, when Congress and President Woodrow Wilson actively limited what Americans could say against the government and war effort.
More recently, the Supreme Court has protected all sorts of speech, like flag burning, crude political hyperbole and, importantly in this instance is Brandenburg v. Ohio, which allows advocating crime as long as it doesn't incite imminent lawlessness. 
Trump's legal team repeatedly cited that case in a legal brief laying out their free speech-focused defense.