2 min ago
The "QAnon Shaman" rioter was brought up today. Here's what you need to know about him.
From CNN's Marshall Cohen
Rep. Diana DeGette, a Democrat from Colorado, repeatedly name-dropped one rioter, Jacob Chansley, during her presentation on Thursday.
He has become Internet famous for showing up at the Capitol with a horned bearskin headdress, and is known as the "QAnon shaman" among followers of the conspiracy theory movement.
He's important to the Democrats' case because he was one of the most prominent figures during the insurrection, making it to the Senate floor and brazenly posing for photos on the Senate dais where then Vice President Mike Pence stood shortly before the attack.
Democrats have also played videos of Chansley where he explicitly says he is taking his cues from Trump, including after Trump finally told the rioters to "go home" in a social media video several hours after the attack began.
Chansley's case has also made headlines for his demands to only get organic food in jail. A federal judge ruled in his favor last week, ordering jail officials in the DC area to give him organic food in accordance with his Shamanism religion.
1 min ago
How Romney's family reacted to security video showing an officer potentially save him from the mob
From CNN's Manu Raju and Sarah Fortinsky
CNN asked Sen. Mitt Romney how his family reacted to the video presented by House impeachment managers yesterday. The video showed Officer Eugene Goodman leading Romney away from the mob that had breached the Capitol, potentially saving his life.
"I don't think my family or my wife understood that I was as close as I might have been to real danger, and they were surprised, and very, very appreciative of officer Goodman and his being there and directing me back to safety," he said. 
Romney reiterated he was headed to his Capitol hideaway after getting a text from staff warning that protestors had breached the building. 
"And as I started going down that hall, Officer Goodman said, 'hey, go back in. You're safer in the chamber," he said.
Asked what he thought might have happened to him, Romney said: "I don't want to speculate but clearly I was walking in the direction of danger and that's not a good thing."
Romney, asked if he is leaning towards voting for former President Trump's conviction, said: "I'm keeping an open mind and will wait until both sides have had a chance to take their cases forward."
2 min ago
Impeachment manager DeGette is speaking now in the Senate. Here are key things to know about her. 
From CNN's Maureen Chowdhury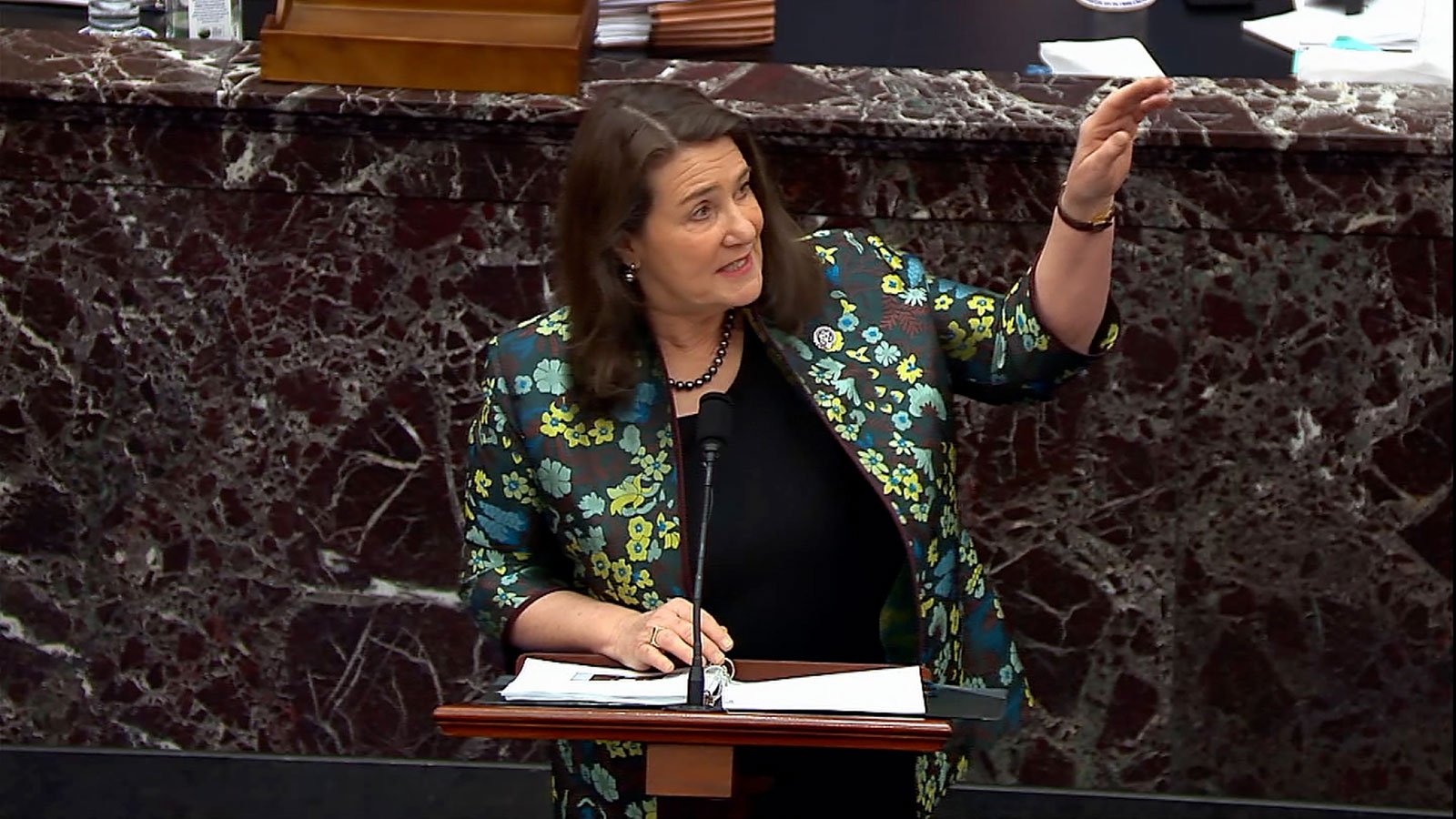 House impeachment manager Diana DeGette is presenting the Democrats' case now against former President Trump on the Senate floor, and she is focusing on statements made by the rioters before the attack on the Capitol. 
"In the next few minutes, I want to step back from the horrors of the attack itself and look at Jan. 6 from a totally different perspective, the perspective of the insurrectionists themselves. Their own statements before, during and after the attack make clear the attack was done for Donald Trump at his instructions and to fulfill his wishes. Donald Trump had sent them there," DeGette told the senators. 
DeGette, of Colorado's 1st district, is considered a veteran Democrat who has served in Congress for more than 20 years. She was the Democratic chief deputy whip for 14 years.
In 2019, House Speaker Nancy Pelosi chose DeGette to preside over the debate of then President Trump's first House impeachment trial. 
House Speaker Nancy Pelosi appointed DeGette as an impeachment manager on Jan. 12. DeGette tweeted, "I look forward to doing my part to remove [Donald Trump] from office immediately."
DeGette also serves on the Energy and Commerce Committee as chair of the Subcommittee on Oversight and Investigations.
She is serving her thirteenth term in office. Before serving in the US House of Representatives, DeGette was an attorney focusing on civil rights before being elected to serve two terms in the Colorado House, including one term as assistant minority leader.
19 min ago
A guide to the key players in Trump's second impeachment trial 
From CNN's Caroline Kell, Zachary B. Wolf and Devan Cole
The second Senate impeachment trial of former President Trump is underway, and multiple key players will take the spotlight throughout various moments of the trial. 
These are the key people to watch:
17 min ago
Some senators says it's likely the trial will wrap this weekend
From CNN's Lauren Fox and Manu Raju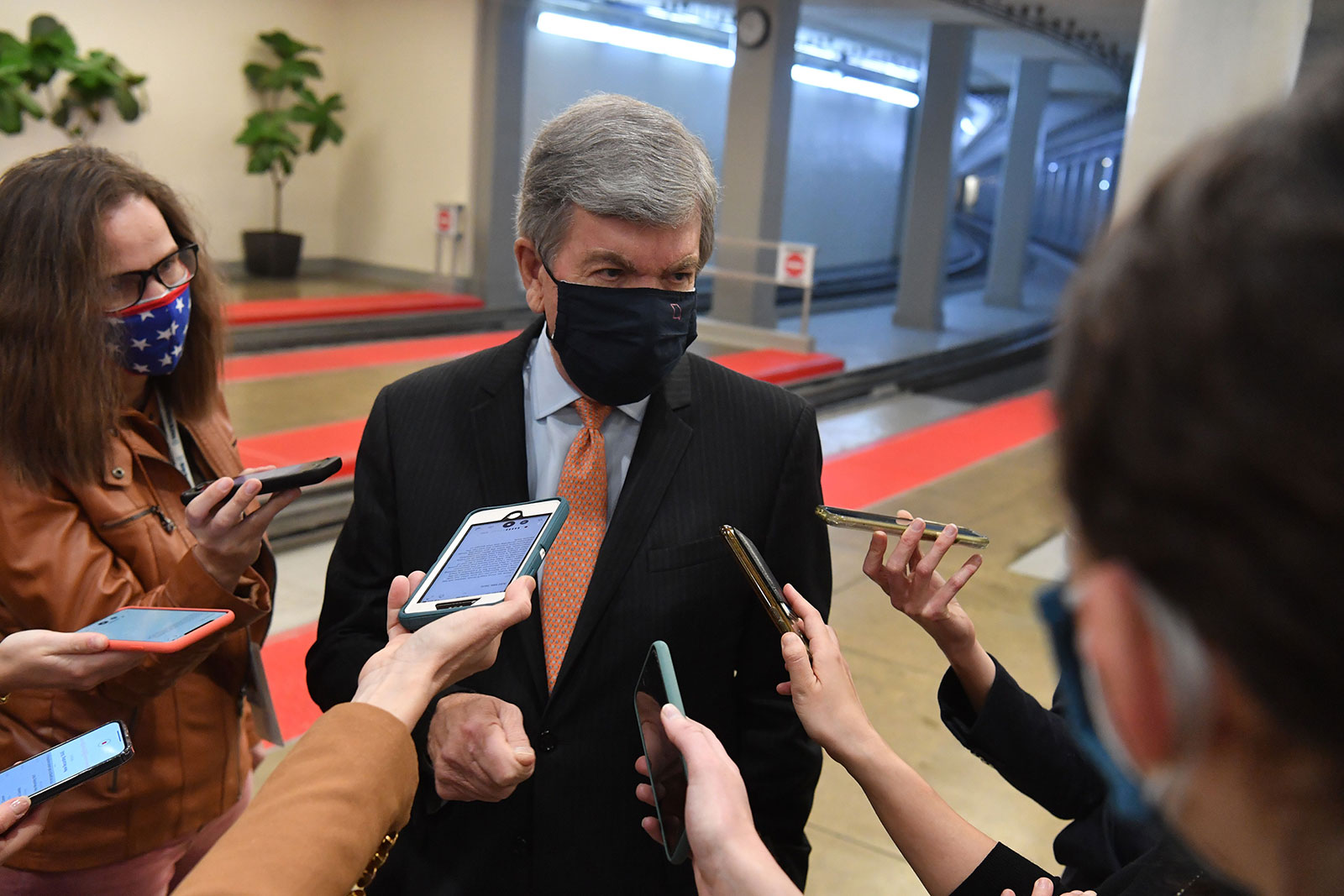 Sen. Roy Blunt, a Republican from Missouri, told reporters that Senate Minority Leader Mitch McConnell once again laid out a potential timeline, during a GOP lunch, for the impeachment trial.
Asked when the trial would end, Blunt said, "Saturday is looking better all the time."
On the other side of the aisle, Sen. Debbie Stabenow, a Democrat from Michigan and a member of leadership, said she thinks the trial will be done late Saturday or Sunday afternoon.
Asked if she sees a need for witnesses, Stabenow said, "I personally don't." Although she said she would support whatever House Democrats ultimately want.
Each side has 16 hours spread over two days to make their case. The Democrats will conclude their arguments today and former President Trump's defense team will take the floor tomorrow.
Trump's defense team say they expect to finish their arguments in the impeachment trial by Friday night, two sources told CNN.
Once both sides have presented their case, the Senate would vote on witnesses – which will determine what happens next in the trial.
25 min ago
Top Democrats hope trial wraps up by this weekend
From CNN's Manu Raju
House impeachment managers are presenting their case now on the Senate floor against former President Trump. They have up to 8 hours to wrap their arguments today.
The length of the trial and whether Democrats will call on witnesses is still unknown, but top Democrats are signaling they are skeptical about including witnesses.
"I personally don't," Sen. Debbie Stabenow, a Michigan Democrat and a member of leadership, told CNN when asked if she sees a need for witnesses. She said she would support whatever House Democrats ultimately want.
Stabenow and other Democrats say they think the trial will be done late Saturday or Sunday afternoon.
24 min ago
Day 3 of Trump's impeachment trial has started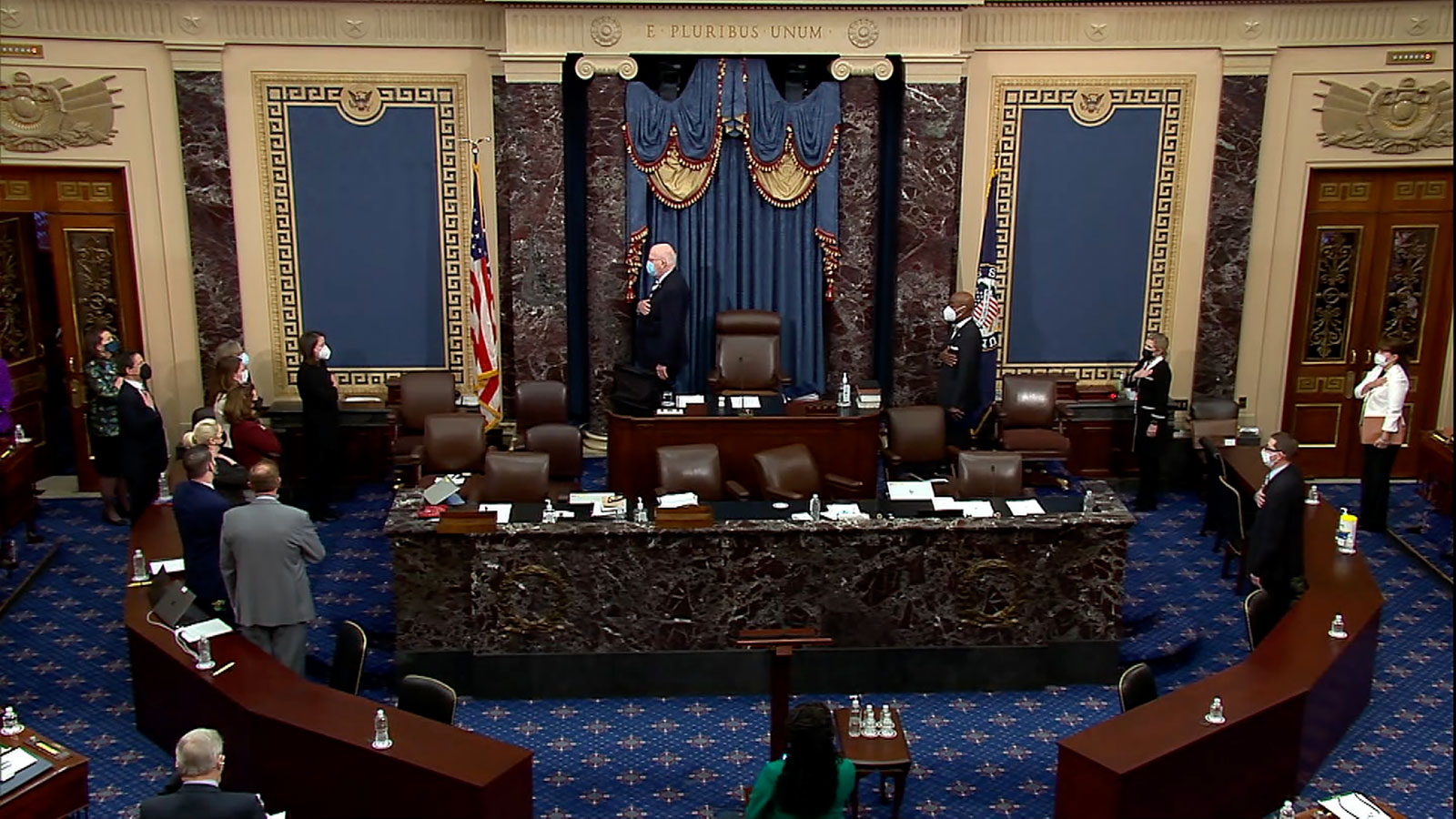 The third day of Trump's impeachment trial has started.
"Almighty God, our shelter from the storms. Give our Senate jurors discernment that will rescue our nation from ruin. Illuminate their minds with your truth as you speak through the whispers of conscience. Remind them that the seeds they plant now will bring a harvest," Senate Chaplain Barry Black prayed as the session opened.
House impeachment managers will continue to make their case against the former President today. According to senior aides on the team, they plan to zero in on Trump's lack of remorse following the deadly attack and go further into the role he played.
The managers also intend to examine the harm the attack caused to the people in the Capitol, including beyond just the physical scars, the aides said.
They have up to 16 hours spread over two days – yesterday and today – to convince GOP senators that Trump was responsible for inciting the deadly Capitol riot.
Trump's defense team will begin their presentation tomorrow.
40 min ago
Trump's lawyer explains why he takes off his yarmulke in the Senate chamber
From CNN's Ali Zaslav
Asked if the team plans to use up their allotted 16 hours to make their argument, Trump's lawyer David Schoen told reporters: "I don't know – hope not."
Trump's other attorney's Michael van der Veen and Bruce Castor declined to answer questions on whether their legal strategy has changed at all after hearing the House managers case on Wednesday.
Schoen, an Orthodox Jew, also told CNN that he still chooses not to wear his yarmulke inside the Senate chamber. "Yeah, I usually try to take it off in a formal procedure, in court and in front of a jury," he explained as he got into the elevator Thursday morning.
CNN asked Schoen after noticing he wore his yarmulke around the Capitol on trial breaks, but didn't see him wearing one as he sat and listened to the House managers arguments inside the chamber on Wednesday.
As CNN previously reported, both Schumer's office and former senate parliamentarian Alan Frumin told CNN they are not aware of any rules against wearing a yarmulke on the Senate floor.  
44 min ago
Trump's defense team expects to finish their arguments Friday night, sources say
From CNN's Kaitlan Collins
Former President Trump's defense team expects to finish their arguments in the Senate's impeachment trial by Friday night, two sources told CNN.
His lawyers will take the Senate floor on Friday after impeachment managers wrap up today, but they are not currently expected to use all of their allotted time. Each side gets 16 hours for presentations.
Attorneys David Schoen, Bruce Castor, Michael van der Veen and William Brennan are all expected to speak during Friday's arguments, according to a person familiar with the latest plan. Using videos of Democratic lawmakers, they plan to argue that Democrats glorified violence by recreating the Jan. 6 riot, will claim the trial is unconstitutional and stress Trump's First Amendment rights.
Because the legal team is so disorganized, Trump's allies are apprehensive about how the defense will go. Trump erupted Tuesday as Castor made a meandering opening argument during which he praised the prosecutors. 
Several of Trump's allies lobbied him to get rid of Castor that day, which Trump briefly considered, according to two people. Trump was upset as he watched multiple people, including his usual allies on Fox News, trash Castor's performance. But Castor has remained on the team and is expected to present, at least in part, on Friday. He has told people he wasn't planning on speaking Tuesday, which led to the muddled speech. Castor also admitted on the Senate floor that he swapped speaking roles with David Schoen because Democrats presented such a strong opening argument. 
Though Castor was supposed to lead the defense, as CNN reported, that's now expected to be Schoen, who has said he will not participate in the proceedings during the Sabbath. Trump's team believes they will likely wrap up their arguments by then.