1 min ago
Here's how today's Senate trial is adapting to the Covid-19 pandemic
From CNN's Caroline Kelly
Former President Trump's second impeachment trial is starting soon, and a few new measures are being implemented this time around due to the pandemic. 
A Senate official familiar with the planning said there will be seats reserved for senators in the public gallery above the chamber and in the Senate's "marble room" that is just off the floor, where the trial will be shown on television.
Senators will have to be on the Senate floor to vote.
During Trump's first impeachment trial, senators were required to sit at their desk during the lengthy arguments, though they didn't always do so. But this year, senators won't be required to remain at their desks due to the Covid-19 pandemic and social distancing.
19 min ago
More than 200 people have been charged in connection with the Capitol riot
From CNN's Paul P. Murphy, Katelyn Polantz and Marshall Cohen
Prosecutors have charged more than 200 people with federal crimes in connection with the Jan. 6 riot and insurrection at the Capitol, according to a CNN analysis of court records and Justice Department announcements. 
The milestone comes mere hours before the start of former President Trump's impeachment trial in the Senate, in which he is accused of inciting the riot and insurrection on Jan. 6. Trump's attorneys are arguing he didn't incite the riot that grew from his supporters' march to the US Capitol, and his words to the crowd that day, to "fight like hell," aren't meant to be taken literally.
Yet at least two of the alleged rioters who have been detained argued this week in court that Trump is the reason for the violence – with one even calling the former President a so-called "unindicted co-conspirator," according to a legal brief.
In that court filing Monday, defense attorney Lindy Urso argued that Patrick McCaughey III, who allegedly pushed to crush a police officer in a Capitol doorway, hadn't planned the attack and instead was inspired by Trump's words that day. 
"The idea that there was a lack of planning finds some confirmation in the fact that the defendant's somewhat of a de facto unindicted co-conspirator in this case – former President Trump – was impeached for a second time precisely because it was alleged that he incited otherwise peaceful protestors, such as the defendant, to create violence at the Capitol," McCaughey's court filing said.
And on Sunday, another defendant, Matthew Miller, argued there's no proof he entered the Capitol or assaulted anyone, and was merely "following the directions" of Trump to march toward Congress. His defense attorney called Trump "the country's chief law enforcement officer" in the court filing, which asks for Miller's release from detention.
Prosecutors say they believe Miller discharged a fire extinguisher toward police during the melee.
23 min ago
Trump has asked aides about his potential exposure to criminal prosecution after impeachment trial
From CNN's Jim Acosta
Former President Trump has been asking aides and associates about his potential exposure to criminal prosecution after his impeachment trial is completed, according to a source familiar his thinking.
Trump has reached out to advisers to gauge whether he could face charges on matters unrelated to the Capitol siege on Jan. 6, the source said.
The former President's staff did respond to reports that prosecutors in Georgia are taking a look at Trump's controversial phone call with Georgia Secretary of State Brad Raffensperger.
Adviser Jason Miller said "there was nothing improper or untoward about a scheduled call between President Trump, Secretary Raffensperger and lawyers on both sides."
CNN's Jim Acosta reports:
38 min ago
Democratic senators expect final vote could be Sunday or Monday if there are no witnesses
From CNN's Manu Raju
Democratic senators came away from a conference call with Senate Majority Leader Chuck Schumer this morning under the belief that a final vote on conviction could occur Sunday or Monday if there are no witnesses, according to multiple senators on the call.
House impeachment managers have not yet requested witnesses but are preserving that option in case they need witness testimony to rebut an argument made by the Trump team.
The timing is also a bit uncertain because it's unclear how much time the Trump team will use but they're not expected to use their full 16 hours.
Senate Democrats are holding daily 9 a.m. ET conference calls this week. 
It's also worth noting that the Presidents Day recess starts Monday, and that's always an incentive to wrap things up in the Senate. Senators think most if not all of next week's recess will be salvaged if there are no witnesses.
43 min ago
Here's why Trump's lawyer withdrew his request to pause the trial on Saturday
From CNN's Kaitlan Collins and Kevin Liptak
The last-minute letter former President Donald Trump's attorney sent to top lawmakers informing them he would no longer seek a suspension of the trial if it continued through the Sabbath was prompted by Trump's own desire to complete the trial without delay.
Hours before the former president's second impeachment trial was slated to begin, his attorney David Schoen wrote that he would no longer seek a suspension of the trial if it continued through the Sabbath. He explained that he would not participate those days and instead other members of the legal team would handle.
Schoen wrote that he was withdrawing his request because he was "concerned about the delay in the proceedings in a process that I recognize is important to bring to a conclusion for all involved and for the country."
That goes for his client, too.
Two people familiar with what happened told CNN that Trump – holed up in Florida and ready to move onto a more relaxed and potentially lucrative phase of his post presidency – did not want the trial to be delayed any further and believed if they paused it for the Sabbath it would extend the matter by several days.
The Senate was initially going to recess but now the trial will not break for the Sabbath, and is expected to continue Friday evening and Saturday. The Senate has also scheduled a session for Sunday afternoon, if the trial is still going.
Trump shares his distaste for a lengthy trial with practically everyone involved in the proceedings. Democrats, including President Joe Biden, see acquittal as the assured outcome and don't want the trial to further impede the new president's agenda. Republicans are similarly not eager for a drawn out recitation of Trump's role in last month's insurrection attempt.
Trump himself, who has revolved through multiple legal teams as he prepares for the trial, is more concerned about the effect the trial may have on his public image, according to one person who has discussed the matter with him, rather than the potential outcome. Since leaving office, Trump has had multiple conversations with business partners overseas about future projects.
The former president has kept a low profile since making a dramatic exit from Washington in the hours before Biden was sworn in, and has been eager for his trial to end so he can start his post-presidency life, which people close to him have said is likely to include paid speeches overseas and domestic rallies targeting those who crossed him politically. Trump, who is expected to stay in Florida during the trial, has repeatedly told people he believes he will be acquitted for a second time and is ready to move on.
He has alternated between evenings at Mar-a-Lago and his nearby golf club, where one recent evening he was taped handing out cash to onlookers.
His defense team was assembled a little more than a week ago after the five attorneys initially brought on to represent him all left days before legal briefs were due, which one person described as a mutual decision while another said it was over a difference in strategy. Now, Trump is relying on Schoen and Bruce Castor to help him secure acquittal for a second time.
Read more about Trump's defense strategy here.
CNN's Kaitlan Collins reports: 
50 min ago
House impeachment managers file their reply to Trump's impeachment trial brief
From CNN's Manu Raju and Jeremy Herb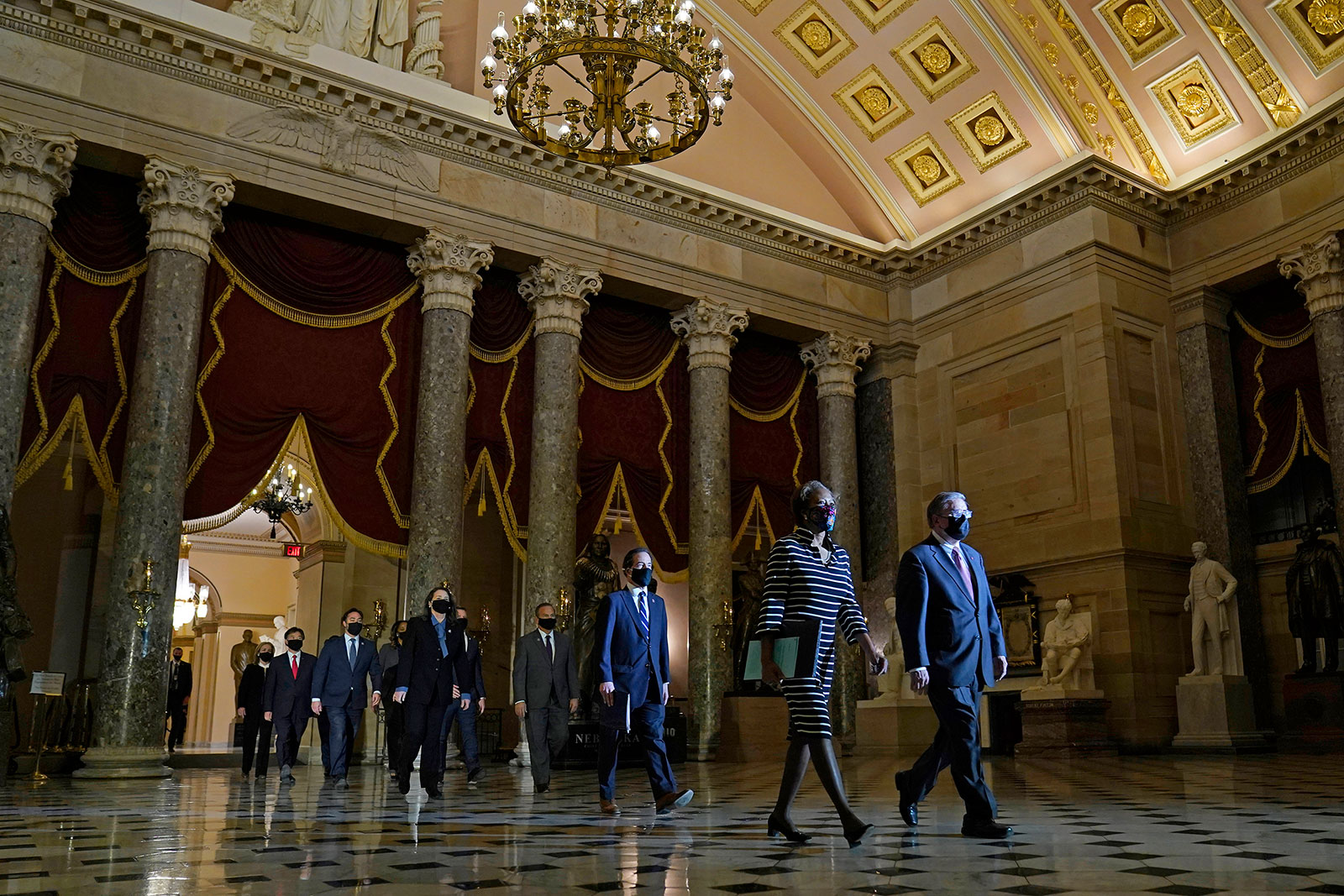 Ahead of opening arguments today, the House managers filed their final pre-trial legal brief that rebutted the Trump team brief, in what amounts to a preview of the arguments that will play out in the Senate in the coming days.
In their brief, the managers respond to former President Trump's "meritless" legal arguments and "baseless assertions," writing:
"President Trump's pre-trial brief confirms that he has no good defense of his incitement of an insurrection against the Nation he swore an oath to protect. Instead, he tries to shift the blame onto his supporters, and he invokes a set of flawed legal theories that would allow Presidents to incite violence and overturn the democratic process without fear of consequences.
Because President Trump's guilt is obvious, he seeks to evade responsibility for inciting the January 6 insurrection by arguing that the Senate lacks jurisdiction to convict officials after they leave office. This discredited argument has been rejected by scholars across the political spectrum, including many of the Nation's leading conservative constitutional lawyers, one of whom recently took to the pages of the Wall Street Journal to urge the Senate to accept jurisdiction over this trial. This argument has also been rejected by the very scholars on which President Trump principally relies, several of whom have taken exactly the opposite position as the position President Trump incorrectly ascribes to them in his trial memorandum.
The First Amendment protects our democratic system—but it does not protect a President who incites his supporters to imperil that system through violence. In the words of the Nation's leading First Amendment scholars, the argument that the First Amendment prevents the Senate from convicting the President is "legally frivolous." Accepting President Trump's argument would mean that Congress could not impeach a President who burned an American flag on national television, or who spoke at a Ku Klux Klan rally in a white hood, or who wore a swastika while leading a march through a Jewish neighborhood—all of which is expression protected by the First Amendment but would obviously be grounds for impeachment."
Read their full reply here.
53 min ago
Here's what Trump told a crowd of supporters before the Jan. 6 Capitol riot
Analysis from CNN's Maeve Reston and Kevin Liptak
For weeks, while advancing the false claims that the presidential election was rigged and mired in fraud, then-President Trump had whipped up excitement about the Jan. 6 certification of the 2020 presidential results, inviting his supporters to descend on Washington, promising it would be "wild."
He arrived at the Ellipse to address the "Save America March" shortly after his personal attorney Rudy Giuliani warmed up the crowd by falsely suggesting voting machines were "crooked" and insisting that then-Vice President Mike Pence could change the election outcome, which he did not have the power to do. "Let's have trial by combat!" the former New York Mayor told the crowd as they awaited the President.
Backstage, Trump's son and his girlfriend, Kimberly Guilfoyle, recorded themselves dancing to the soundtrack and encouraging Trump supporters to "fight."
Inciting the crowd with an address threaded with lies — including that "the states got defrauded" in the election and "want to revote" — Trump stirred anger toward his vice president, telling the crowd once again that he hoped Pence would "do the right thing" — pressuring him to toss out the election results, which would have been illegal and beyond the bounds of his constitutional authority.
He already knew that his vice president would not take that step. Pence had informed him in a tense conversation that he could not overturn the election results, leading Trump to curse at him, according to a source familiar with the conversation. But Trump did not let up at the Wednesday rally as he railed against "weak Republicans" and "pathetic Republicans" who refused to bend to his whims, while calling lawmakers who planned to contest the election results "warriors."
"We're gonna walk down to the Capitol. And we're gonna cheer on our brave senators and congressmen and women," the President said as he marshaled the crowd for action. "You'll never take back our country with weakness, you have to show strength and you have to be strong."
But as his supporters marched down Pennsylvania Avenue and began their assault on the Capitol, Trump had returned to the White House consumed with his schemes for overriding an election that he lost with 232 electoral votes to Biden's 306. 
To the dismay of his aides, he delighted in watching the riot that injured dozens of officers and sent fears of a coup racing across the Capitol. Aides struggled to get him to understand how serious the situation had become. House Minority Leader Kevin McCarthy, one of the President's staunchest allies, had a "heated exchange" with the President as rioters overran the Capitol building, urging him to denounce the attack and try to quell the violence, according to a source briefed on the exchange. 
But Trump declined to do so. Asked on Fox whether he expected Trump to address the situation, McCarthy said only: "I don't know."
Trump did not even attempt to secure the safety of Pence, even though several of his supporters who were part of the violent mob were heard shouting "Where's Mike Pence?" in the midst of their Capitol rampage. Those threats alarmed Pence and his family, a source close to the vice president told CNN's Jim Acosta, widening the breach between the President and Vice President.
In fact as the siege unfolded, Trump demonstrated the callous depths of his narcissism by trying to pressure senators to derail the affirmation of the election results, as they feared for their safety in the midst of a riot he had incited.
At the White House, Trump's daughter and senior adviser Ivanka Trump and chief of staff Mark Meadows tried to convince Trump to record a message that would direct the rioters to stand down.
But the resulting message satisfied no one as he ad-libbed, telling the insurgents who had stormed the Capitol: "We love you. You're very special."
Read more about the day's events here.
Read a transcript of Trump's full speech on Jan. 6 here.
Watch:
1 hr 27 min ago
Impeachment trial will have an impact regardless of the outcome, GOP congressman says
From CNN's Aditi Sangal
Regardless of whether or not President Trump gets convicted, the impeachment trial will have an impact and set a precedent, GOP Rep. Adam Kinzinger said Tuesday.
"History has a way of judging things kind of perfectly. I don't think people are going to look back in history and say impeaching him was the wrong thing. Everything is a precedent," Kinzinger told CNN's Jim Sciutto. "I fear what happens is there will be another president some day that sees that as a model and decides he or she is going to emulate that, and that's frightening."
"Only Donald Trump can be proud of being impeached twice and acquitted," he continued. "Every other president, every other person in the presidency would be ashamed of that. So he'll, you know, stoke the base up. But I don't think it's a lasting proposition … You look at Sarah Palin who was very important for a couple of years, and we don't talk about her anymore. I think he's going to go that way. If he doesn't, the Republican Party is in real trouble."
Kinzinger also said that many Republican lawmakers have been quieter because of the backlash that Rep. Liz Cheney received for publicly criticizing Trump.
"I don't blame anybody for their vote. I just know this. At the end of my life, I have to look in the mirror and say what did I do with my time in Congress, which is a real huge gift. And I want to know that I did everything to defend this Constitution, that I feel totally at peace with that," he added.
1 hr 31 min ago
Trump has already been impeached once. Here's how this trial is different.
Analysis from CNN's Zachary B. Wolf
Here's where we are: A president who survived impeachment for trying to stack the deck against his most-feared election opponent is now facing impeachment again for inciting his supporters to attack Capitol Hill to challenge that same opponent's victory.
This second impeachment trial is arguably more important, because it's about Trump's attempt to stop American democracy from functioning. But the first one set the precedent of Trump being held to account for trying to pull the levers of his authority to preserve his own power.
Here's a rundown of what happened leading up to the first impeachment in late 2019 and the last Senate trial in early 2020.
A whistleblower complained. It took time to learn that Trump was trying to exert pressure on a foreign leader – the new president of Ukraine – to dig up dirt on now-President Joe Biden, the potential 2020 Democratic rival Trump was most worried about having to face. Here's a timeline of what happened behind the scenes.
Denials clouded the situation. After trying to keep the whistleblower complaint from Congress, the White House argued Trump did nothing wrong.
Facts trickled out. The whistleblower complaint and a transcript of Trump's call with Ukraine's new President showed the President very much exerted pressure and tried to get the foreign country to launch a baseless investigation of Biden and his son Hunter. Aid to Ukraine was slowed. Russia licked its chops. This all occurred long before Biden's nascent presidential campaign had even gained traction.
There was a very real debate. Democrats struggled over whether to move forward with an effort that was never going to remove Trump from office after a trial in the Senate, where Republicans held a majority.
An impeachment investigation ensued. There were weeks of testimony, in private and then in public, by witnesses including a US ambassador, sitting diplomats and top White House national security officials who were concerned at Trump's behavior. But Trump and most of his administration refused to take part and blocked testimony and cooperation by some key players.
House Democrats voted to impeach. Trump became only the third US president ever to be impeached, in a party-line vote on Dec. 18, 2019.
Republicans circled the wagons. In the Senate, Trump's allies either argued Trump was entitled to his foreign policy or that his behavior was not impeachable. Only Utah Sen. Mitt Romney, the 2012 Republican presidential nominee – the last one before Trump – voted to convict him.
Democrats warned he would take the acquittal as license to do it again.
There's been no investigation into what Trump did. He did everything he is accused of on Twitter and out loud, repeatedly rejecting the 2020 presidential election result and encouraging supporters to come to Washington and "stop the steal." They came and, at a rally near the White House on Jan. 6 shortly before Congress began the process of formally recognizing the results, he told them to march to the US Capitol. They did and the mob managed to breach the building and interrupt the counting of electoral votes in a fit of insurrection that left five people dead.
There have been no hearings with witness testimony. The proof of Trump's behavior is in his own words and the actions of his supporters.
This second trial will also take place at the scene of the crime, and senators will sit in judgment in the room that last month was ransacked by Trump's supporters.
A much quicker process. Getting from Trump's Ukraine misdeeds – embodied in a July 25, 2019 phone call between him and Ukrainian President Volodymyr Zelensky – to impeachment proceedings in the House took months in 2019. Trump was impeached by the House in mid-December and acquitted on Feb. 5, 2020.
This time, his supporters interrupted Congress counting electoral votes Jan. 6, 2021. Trump was impeached one week later and his trial could be wrapped up in a little more than a week this time.
A bipartisan impeachment. Several Democrats opposed Trump's first impeachment in the House. The opposite has happened this time, with five Republicans, including third-ranking GOP Rep. Liz Cheney, voting in favor of his second.
A very different trial. Chief Justice John Roberts declined to preside over this second trial since Trump is no longer a sitting president. Instead, the long-serving Democratic Sen. Patrick Leahy of Vermont will preside. But he'll follow Roberts' script.
Hurried for a different reason. The first trial was hurried along by then-Senate Majority Leader Mitch McConnell, the Kentucky Republican. Now, McConnell has expressed disgust with Trump's actions. It's not clear if he'll ultimately vote to convict, but it's his successor as majority leader, New York Democrat Chuck Schumer, who is hurrying the trial along so lawmakers can turn their focus to Biden's legislative priorities, like a Covid relief package. Trump's first acquittal came just weeks before the pandemic took hold and dramatically reshaped life in the US.
A similar result? It'll take 17 Republicans voting with Democrats to convict Trump. The main argument among those voting to acquit could be "why bother with this?" now that Trump's out of office.
The answer is that this process is the only way under the Constitution to block the man who rejected the results of this election from running in the next one.