1 min ago
White House says intelligence professionals will determine if Trump can receive briefings
From CNN's Kevin Liptak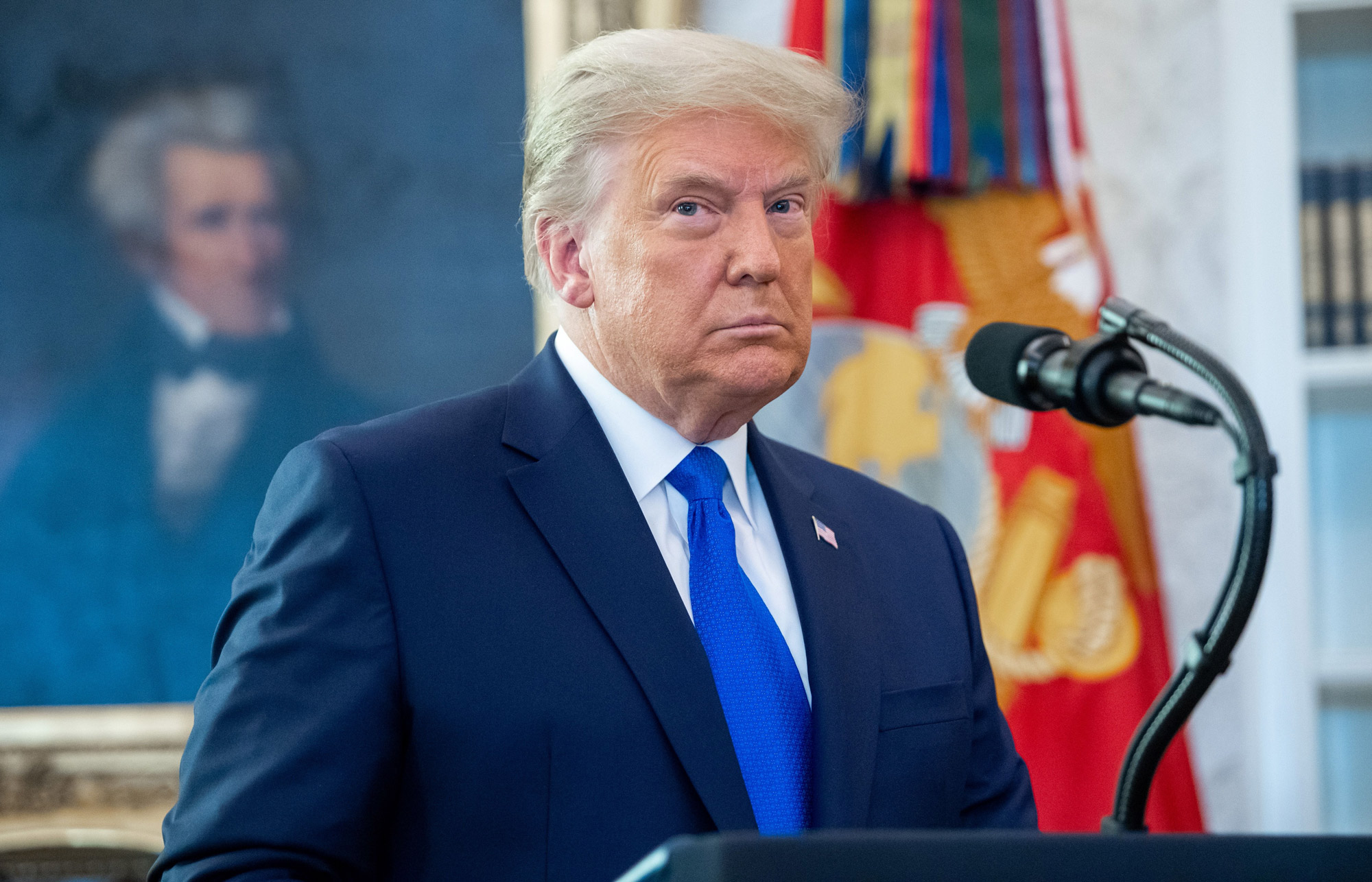 President Biden will allow intelligence professionals to determine whether his predecessor can receive sensitive briefings if he requests them, the White House said.
The clarification came after Biden said during an interview that former President Trump should not receive intelligence briefings because of his "erratic behavior."
"The President said when asked that there was no need for him to receive them and he referenced, of course, his erratic behavior, which I think many Americans would agree with him on," press secretary Jen Psaki said during a briefing on Monday.
"He was expressing his concern about former President Trump receiving access to sensitive intelligence," she went on. "But he also has deep trust in his own intelligence team to make a determination about how to provide intelligence information if at any point the former president requests a briefing."
She said such a scenario was "not currently applicable," suggesting Trump has not yet requested access to intelligence.
"But if he should request a briefing, he leaves it to them to make a determination," Psaki said.
Asked during an interview on CBS whether Trump should still receive intelligence briefings, Biden responded: "I think not."
42 min ago
Schumer provides some details on rules for impeachment trial as they finalize a resolution
From CNN's Ali Zaslav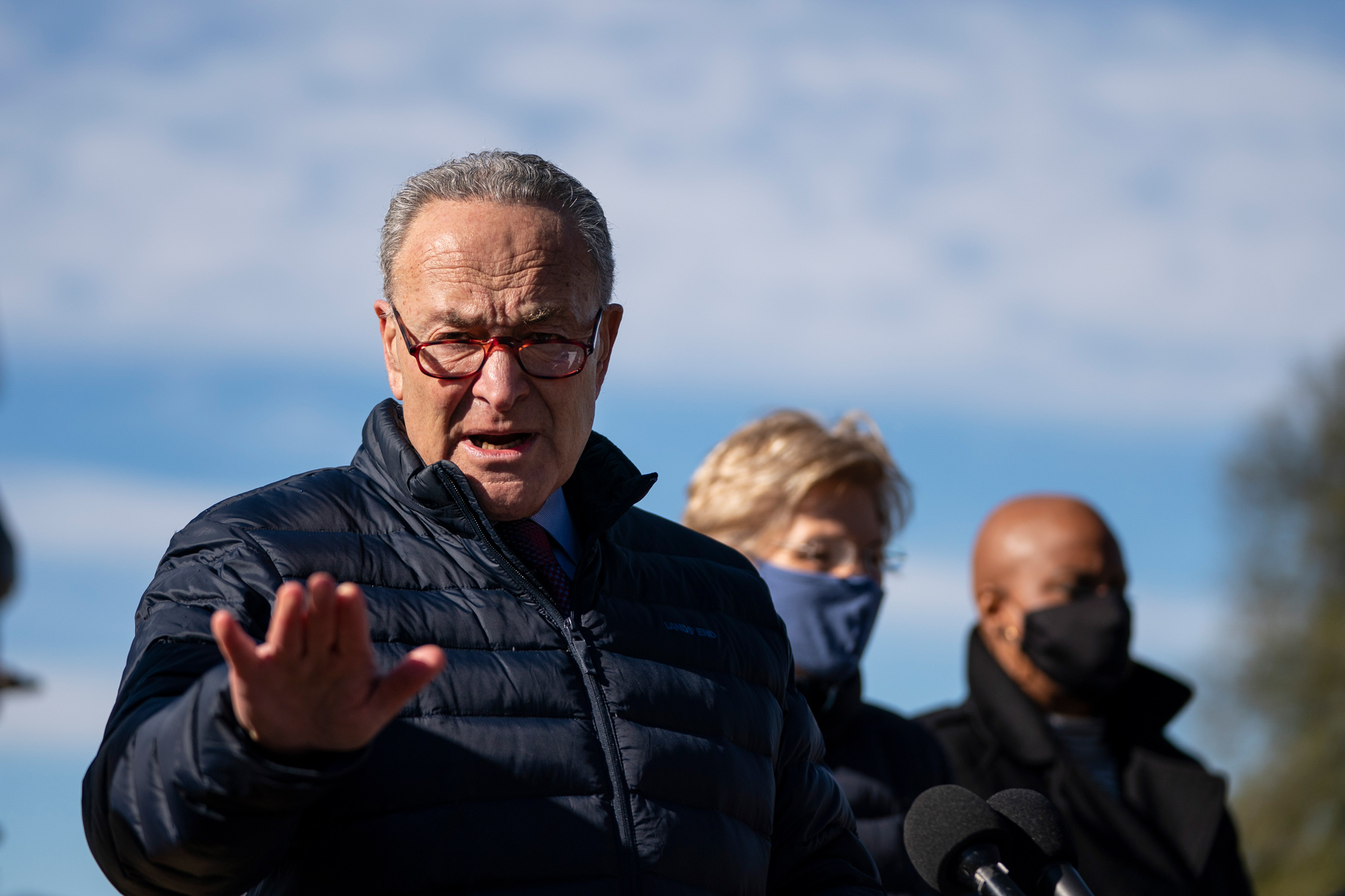 Senate Majority Leader Chuck Schumer announced some details about the resolution being finalized that outlines the rules for the impeachment trial. He said the impeachment managers, including Lead Manager Rep. Jamie Raskin, are "very happy" with the proposal. 
"We are finalizing a resolution that's been agreed to by all parties: the house managers, the former president's counsel, Leader McConnell and I that will ensure a fair, honest, bipartisan Senate impeachment trial of Donald Trump," Schumer said.
The New York Democrat added they'll be releasing more of the details today. But he's "proud to report" that each side will have ample time to make their arguments.
On witnesses at the trial, he said if the impeachment managers decide they want witnesses "there'll be a vote on that — that's what they requested." He said the managers want to preserve the option.
One other detail of note is Schumer said the trial will pause for the Jewish Sabbath on Friday evening through Saturday, to accommodate one of Trump's lawyers requests and will "resume on Sunday afternoon after Jewish the Sabbath is over."
59 min ago
Trump's defense team just filed their legal brief. Read the full thing here.
In a pretrial brief ahead of former President Donald Trump's impeachment trial in the Senate, Trump's legal team accused House Democrats of engaging in "political theater" and argued that the upcoming trial is unconstitutional because Trump is no longer president.
Read the full brief:
1 hr ago
Trump's legal team accuse House Democrats of "political theater" in new filing
From CNN's Jeremy Herb and Manu Raju
Former President Donald Trump's legal team accused House Democrats of impeaching Trump for "political theater" as they argued that the upcoming Senate impeachment trial is unconstitutional because Trump is no longer President.
"This was only ever a selfish attempt by Democratic leadership in the House to prey upon the feelings of horror and confusion that fell upon all Americans across the entire political spectrum upon seeing the destruction at the Capitol on January 6 by a few hundred people," Trump's lawyers wrote in a pre-trial brief filed Monday. "Instead of acting to heal the nation, or at the very least focusing on prosecuting the lawbreakers who stormed the Capitol, the Speaker of the House and her allies have tried to callously harness the chaos of the moment for their own political gain."
The 75-page legal brief from Trump's attorneys expands upon their initial response to the House's impeachment last week, in which they argued that the trial was unconstitutional, that Trump didn't incite the rioters and that his speech spreading false conspiracies about widespread election fraud is protected by the First Amendment.
The brief filed Monday also claims that Trump's speech on Jan. 6 did not incite the rioters, arguing that he urged those gathered to be peaceful.
"Despite the House Managers' charges against Mr. Trump, his statements cannot and could not reasonably be interpreted as a call to immediate violence or a call for a violent overthrown of the United States' government," Trump's lawyers say.
In his speech on Jan. 6, Trump's told the crowd to "fight like hell." 
 "And if you don't fight like hell, you're not going to have a country anymore," Trump said.
In their brief, Trump's lawyers argued that Trump's speech about fighting was metaphorical and he did not call for any violence.
"To characterize this statement alone as 'incitement to insurrection' is to ignore, wholesale, the remainder of Mr. Trump's speech that day, including his call for his supporters to 'peacefully' making their 'voices heard.," the lawyers claim.
The House impeachment managers will file their response to Trump's arguments in a brief that's due at noon today.
Read the legal brief of Trump's defense team here.
1 hr 8 min ago
Key Senate Republicans to watch during the impeachment trial 
From CNN's  Jeremy Her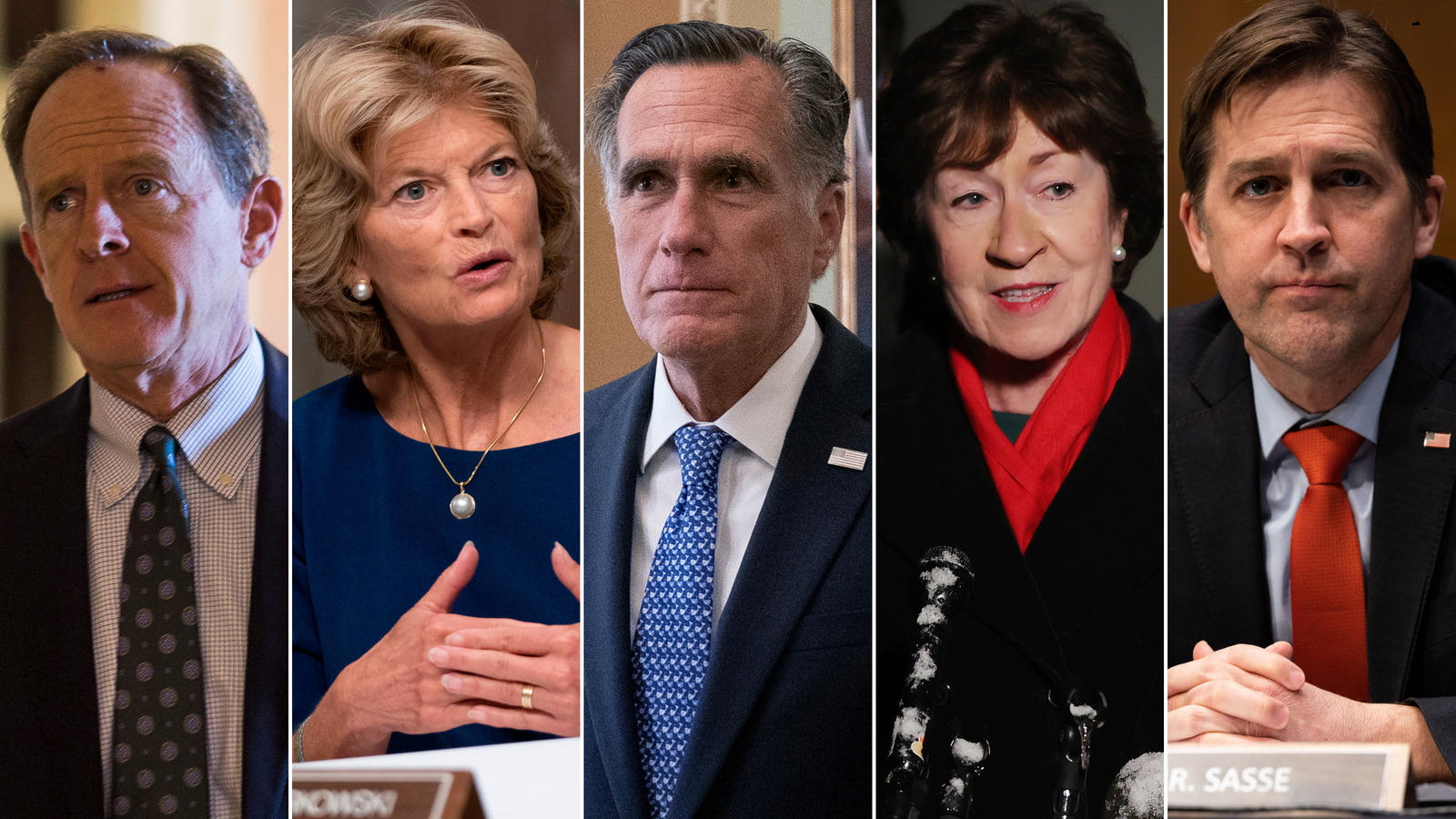 Even Republican senators open to voting to convict Trump say they recognize the votes aren't there for a guilty verdict, which would require 17 Republican senators to join every Democrat to vote for conviction.
Last month, 45 of the Senate's 50 Republicans voted in favor of a procedural motion to dismiss the trial on constitutional grounds.
"I think it's very unlikely, right?" Sen. Pat Toomey of Pennsylvania said on CNN's "State of the Union" Sunday. "I mean, you did have 45 Republican senators vote to suggest that they didn't think it was appropriate to conduct a trial. So, you can infer how likely it is that those folks will vote to convict. I disagreed with their assessment. I think it is constitutional."
Toomey is one of the Republican senators that Democrats hope to convince to vote to convict Trump at the conclusion of the trial, after 10 House Republicans voted in favor of impeachment last month.
The other key Republican senators voted with Toomey and the Democrats that the trial was constitutional: Susan Collins of Maine, Lisa Murkowski of Alaska, Mitt Romney of Utah and Ben Sasse of Nebraska.
Democrats' case will rely on video of the rioters themselves on Jan. 6 as well as their comments, laid out in subsequent indictments, of how they were inspired by Trump to attack the Capitol and attempt to stop the peaceful transfer of power.
Their case will also focus on Trump's comments, both in the months leading up to the riots where he spread baseless conspiracy theories about election fraud, and on Jan. 6 when he spoke before his followers marched to the Capitol.
While convicting Trump is unlikely, the case will serve as the first detailed public accounting of how rioters temporarily halted Congress from certifying President Biden's win, violently attacked police officers and actively sought out then-Vice President Mike Pence and House Speaker Nancy Pelosi as they ransacked the Capitol.
2 hr 27 min ago
Senate leaders close in on deal on impeachment trial rules, source familiar with the talks says
From CNN's Manu Raju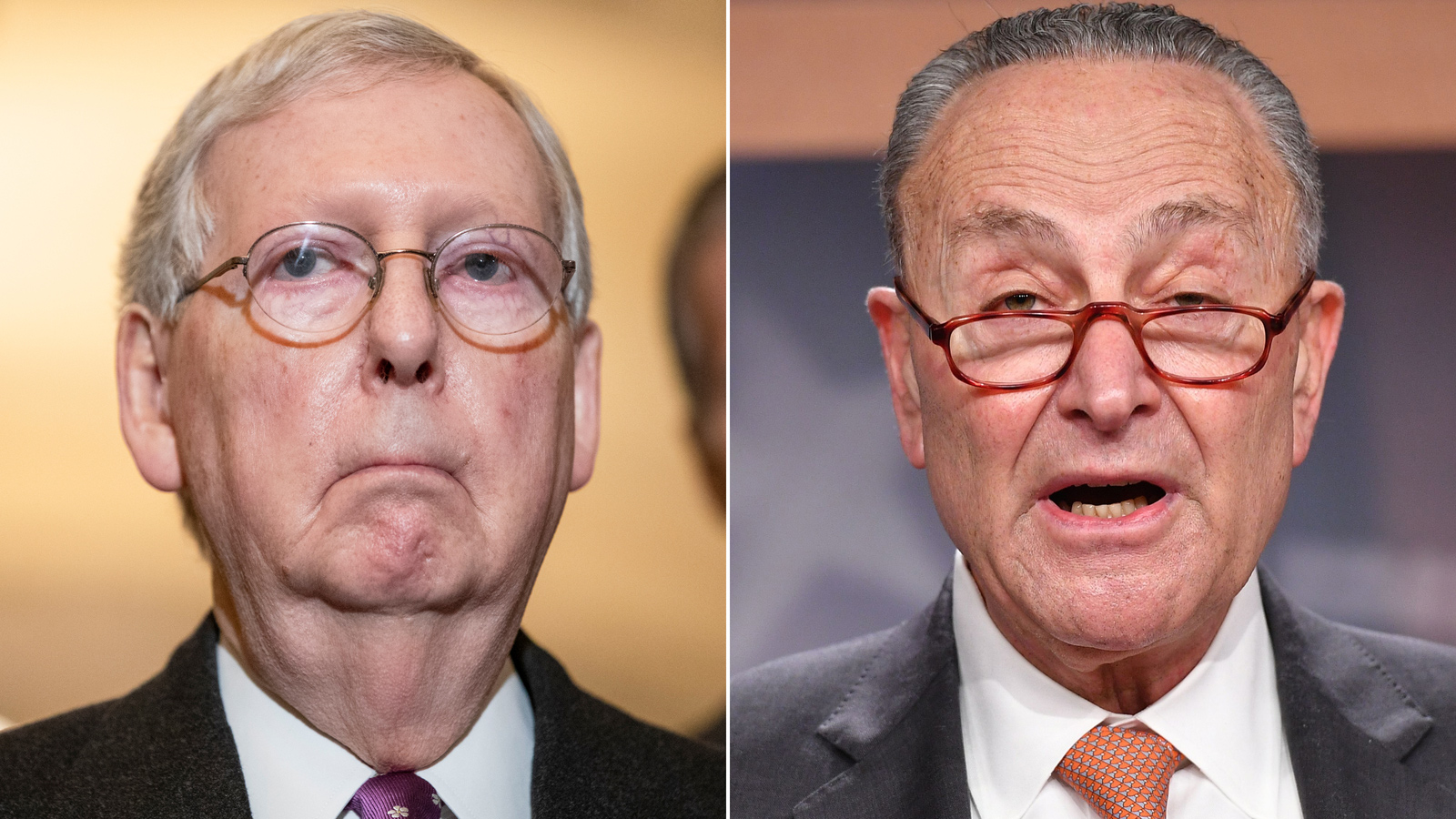 Senate Majority Leader Chuck Schumer and Senate Minority Leader Mitch McConnell are closing in on an agreement on a trial resolution for the impeachment trial of former President Donald Trump, according to a person familiar with the talks. 
Below is some of what has been agreed to, according to this person, but they note that this is not a complete list:
On Tuesday, up to a four hour debate on issue of constitutionality of the trial and then they will vote at a simple majority threshold (a repeat of the vote Sen. Rand Paul forced a few weeks ago). 
Starting Wednesday at noon ET, up to 16 hours per side for presentations.
At the request of the impeachment managers, a debate and vote on calling witnesses, if the managers want it.
Per the request of the former President's counsel, no trial proceedings during the Sabbath (between Friday after 5 p.m. ET or on Saturday). The trial would reconvene the afternoon of Sunday, Feb. 14.
2 hr 38 min ago
Biden says Senate should "work it out" when asked about Trump's impeachment
From CNN's Nikki Carvajal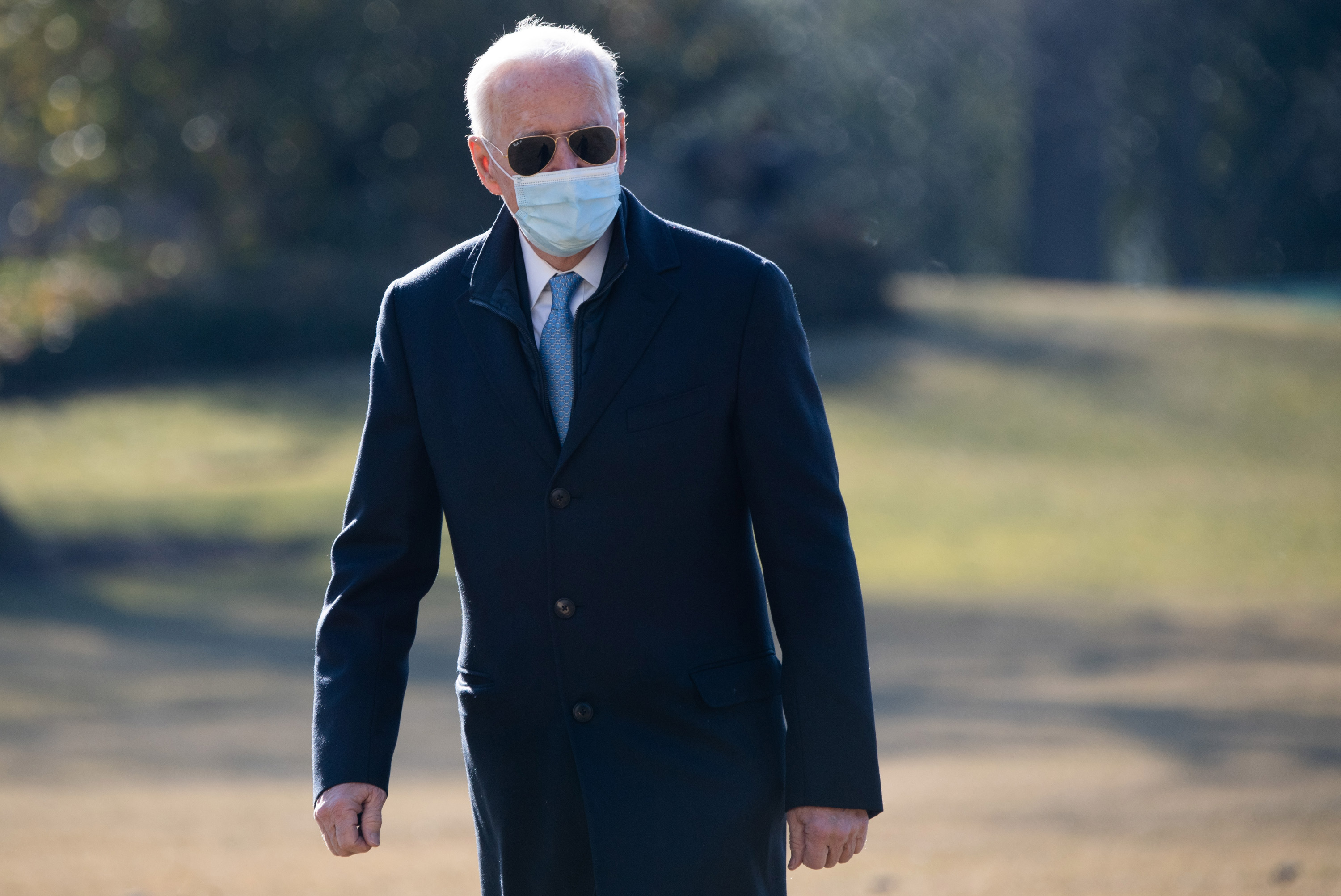 After Marine One landed at the White House at 9:39 a.m., President Biden took a single question on impeachment before walking into the residence side of the White House.
When a reporter asked if former President Trump should lose his political rights, Biden responded, "the Senate has to work it out," according to pool reports. 
Biden was later spotted jogging to the Oval Office.
2 hr 48 min ago
What to watch on impeachment today
From CNN's Lauren Fox
A series of legal briefs are due today from both the former president's defense team and impeachment managers.
The Trump brief is expected at 10 a.m. ET
The Democrats will then respond with their own brief at 12 p.m. ET
We are also watching carefully to see if Senate Majority leader Chuck Schumer and Senate Minority leader Mitch McConnell cut a deal to organize how long the trial will be, whether there will be witnesses and how many hours each side has for arguments.
Over the weekend, Schumer agreed to accommodate a request from one of former President Trump's impeachment attorneys to halt Trump's impeachment trial during the Jewish Sabbath.
Lawyer David Schoen asked that the trial, which is set to begin on Tuesday, be temporarily put on hold if it is not finished by the beginning of the Sabbath on Friday at 5:24 p.m. ET and then reconvene on Sunday. There would need to be an agreement among senators to hold the trial on a Sunday.
2 hr 50 min ago
A debate over witnesses looms over the start of the trial
From CNN's Jeremy Herb and Manu Raju
House impeachment managers are preparing a case to show the visceral evidence of the Capitol insurrection and how former President Donald Trump's words and actions motivated the rioters to breach the Capitol, according to sources familiar with the deliberations.
There are still key questions for them to decide before the trial: They haven't made a final decision, for instance, on whether they will call witnesses. 
But the desire for witnesses who might be able to corroborate Trump's thinking and actions while the riots were unfolding is running into many Senate Democrats' wishes for a quick trial so they can move onto passing President Biden's Covid-19 relief package.
Still, some Senate Democrats say they don't want to hamstring the managers for the sake of speed.
Because Democrats control the Senate, they have the votes to allow for witnesses without GOP support, unlike in the 2020 trial.
"I think we should be consistent," Sen. Chris Murphy, a Connecticut Democrat, said on "Fox News Sunday" about Senate Democrats' push in the first trial to subpoena witnesses.
"This time, we saw what happened in real time," Murphy added. "President Trump sent that angry mob to the Capitol on live TV, so it's not as important that you have witnesses, but if the House managers want witnesses, we should allow them to be able to put them on."
Even without witnesses, Democrats are considering using evidence from video and social media to help illustrate how Trump's words, actions and tweets motivated the rioters to attack the Capitol, the sources say.