10 min ago
These are some of the differences in the Biden and GOP stimulus proposals
From CNN's Tami Luhby and Katie Lobosco
President Biden and a group of 10 Republican senators have very different ideas for the next coronavirus relief bill.
The President outlined a $1.9 trillion package last month that included a wide range of immediate assistance for struggling families, such as $1,400 stimulus checks and extended unemployment, nutrition and eviction aid, and longer-term changes, such as a $15 hourly minimum wage.
But the measure immediately ran into resistance from Republicans on Capitol Hill. In response, a group of 10 senators on Sunday released their own roughly $618 billion relief proposal – less than one-third the size of the President's. They provided a chart detailing the cost of their plan on Monday morning.
Here are some of the key differences:
Stimulus payments:
Biden's plan plan calls for sending another $1,400 per person to eligible recipients. This money would be in addition to the $600 payments that were approved by Congress in December – for a total of $2,000.
GOP senators want to send $1,000 checks, per adult, but target them to those with lower incomes. The amount would begin phasing out at $40,000 for individuals and $80,000 for couples filing jointly. The upper cap would be $50,000 for individuals and $100,000 for couples. Dependent adults and children would receive $500.
Unemployment Benefits:
Biden's plan would increase the federal boost the jobless receive to $400 a week, from the $300 weekly enhancement contained in Congress' relief package from December. He would also extend the payments, along with two key pandemic unemployment programs, through September. 
The GOP proposal would extend the $300 a week benefit through June 30. It would also provide $2 billion to states to improve their technology.
Covid-19 vaccines, testing and tracing:
The President's plan calls for investing $20 billion in a national vaccination program, including launching community vaccination centers around the country and mobile units in hard-to-reach areas. Biden would also increase federal support to vaccinate Medicaid enrollees. The proposal would also invest $50 billion in testing, providing funds to purchase rapid tests, expand lab capacity and help schools implement regular testing to support reopening. It would also fund the hiring of 100,000 public health workers, nearly tripling the community health workforce.
The Republicans' proposal calls for providing the same amount to battle the pandemic. It would fund a National Vaccine Program, expansion of testing, a disaster relief fund and personal protective equipment for first responders, independent physician offices and dentists. It would also provide $15 billion to replenish the National Strategic Stockpile and inject $35 billion to the provider relief fund, which reimburses hospitals and health care providers for coronavirus-related expenses and revenue losses.
School reopening:
The President would provide an additional $170 billion to K-12 schools, colleges and universities to help them reopen and operate safely or to facilitate remote learning. Congress approved $82 billion in aid for schools in December.
The Republicans would provide $20 billion for getting K-12 students back to school.
The senators are scheduled to meet with Biden on Monday afternoon to discuss their plan. You can read more details about both plans here.
1 hr 45 min ago
These are the Covid-19 protocols in place in the West Wing
From CNN's Betsy Klein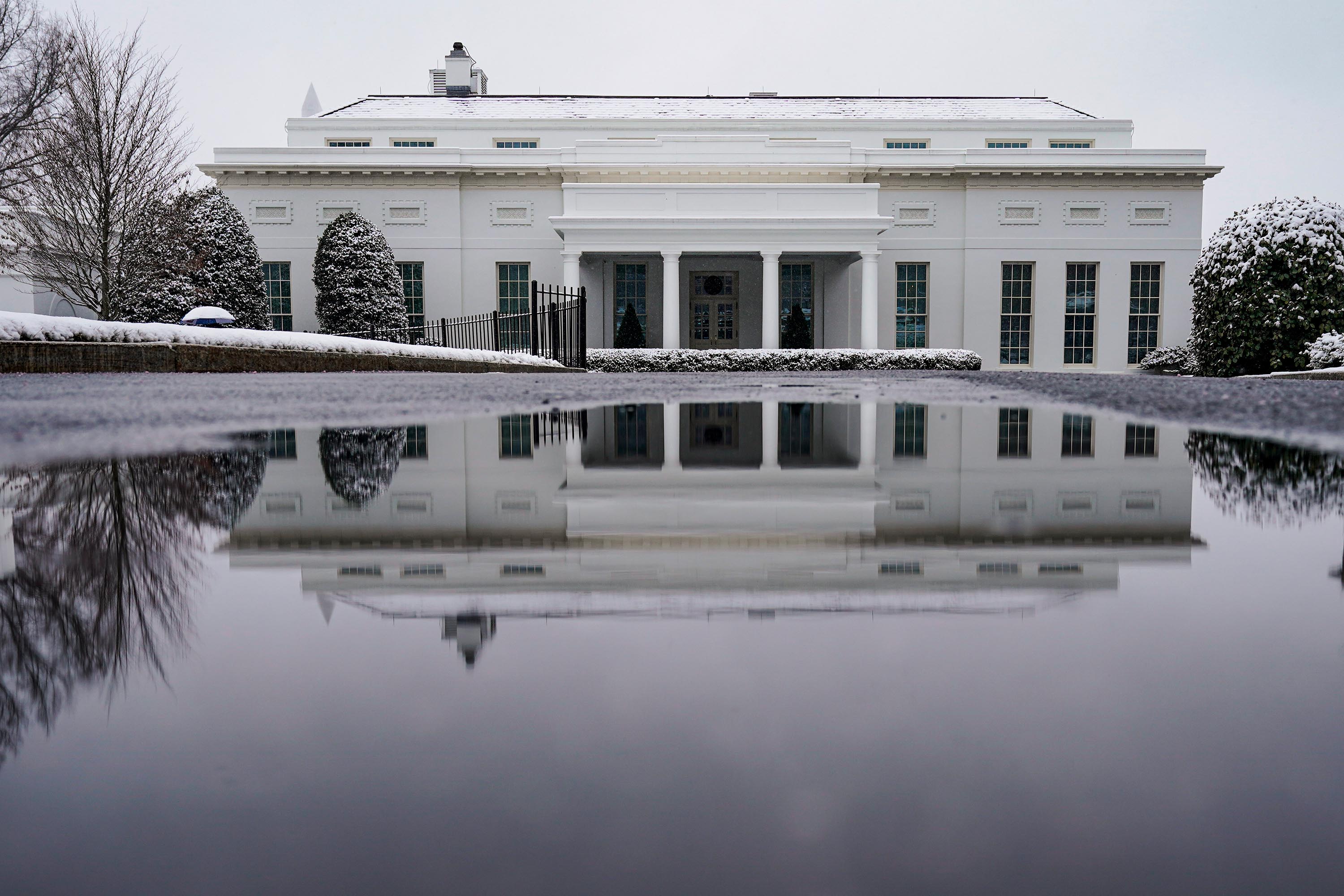 The White House is taking steps to minimize the possibility of Covid-19 exposures for staff with a number of measures designed to limit in-person interactions.
Like the Trump White House, anyone in close proximity of the President is tested every day.
But, as CNN has reported, approximately 70% of the 500 White House staff who joined the Biden administration are still primarily working from home. For those who are on campus, there are guidelines.
"We ask that everyone on campus limit interactions as much as possible in order to minimize the possibility of being in close contact with someone who is positive," a White House official said, noting that the US Centers for Disease Control and Prevention defines a close contact as "being within 6 feet of an infected person for a cumulative total of 15 minutes over the course of 24 hours."
All staffers at the White House are wearing masks – and those directly interacting with the President are wearing N95s or KN95 masks. CNN has observed some staffers wearing cloth masks in their own workspaces.
There are "limited capacities" in offices, conference rooms, and elevators to ensure social distancing, the official said.
Further cutting down on some of the comings and goings, staff who do not work in the West Wing or East Wing are "asked not to visit the West Wing or East Wing unless they have a distinct need or are requested to be in a meeting with a principal," per the official.
Additionally, outside visitors are limited to those with a distinct need to be on campus, such as classified meetings that cannot occur virtually, physical repair work, or a direct request of a principal, the official said. 
2 hr 49 min ago
Passing a Covid-19 relief bill is Biden's key legislative priority. Here's where things stand.
From CNN's Pamela Brown and Caroline Kenny
President Biden is open to some negotiation on his $1.9 trillion Covid-19 relief package, a senior administration official told CNN, but the $600 billion counterproposal announced by some Republican senators Sunday is "not going to scratch the itch."
The White House is specifically open to considering scaling down stimulus checks for families making more than $150,000 per year, the official said, but the administration is not considering cutting off months of unemployment insurance access or money going to schools.
The official told CNN that if the Republican counterproposal moved forward, lawmakers would have to return to negotiating again in two months, which could happen in an even harsher political landscape. The official said that while the Biden administration is open to their relief package being smaller than $1.9 trillion, they're not considering a $600 billion plan.
The Republican relief package represents the most significant response yet to the White House's planned package, though with a price tag more than a trillion dollars less than the Democratic plan, the GOP proposal will likely face opposition from congressional Democrats.
The counterproposal includes a total of $160 billion for vaccine development and distribution, testing and tracing, and treatment and supplies, including the production and deployment of personal protective equipment. It also includes a new round of direct payments for "families who need assistance the most," extends enhanced federal unemployment benefits at the current level and provides $4 billion to bolster behavioral health and substance abuse.
But Senate Majority Leader Chuck Schumer told the New York Daily News Sunday that the Republican proposal is insufficient, stating that Republicans should, "negotiate with us, not make a take-it-or-leave-it offer."
And Vermont Sen. Bernie Sanders said earlier Sunday that he thinks there are enough Democratic votes to pass Biden's Covid-19 relief package through a process known as reconciliation, which requires only a simple majority.
Biden has said he's not against reconciliation, but the official said Sunday the White House wants to, "give a place for Republicans, but they're not going to be snookered."
The relief package deliberations stand as an early test of Biden's stated commitment to reaching across the aisle during his time as president. In his inaugural address earlier this month, the President called for bipartisanship and unity.
As of Sunday evening, decisions about next steps hadn't been made about meeting with either party.
3 hr 14 min ago
What's in the GOP's $600 billion Covid-19 relief package, according to its summary
From CNN's Lauren Fox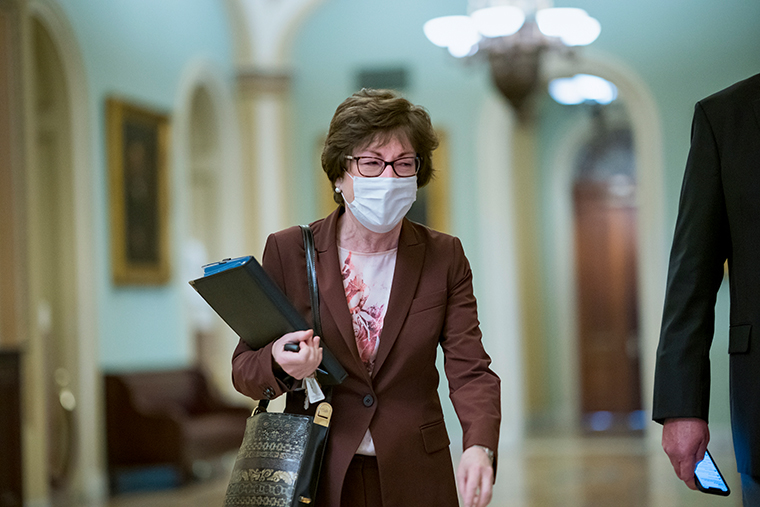 CNN has obtained the summary of the Republican's Covid-19 relief proposal. It estimates the plan totals about $618 billion. 
Ten Republican senators, led by Susan Collins, will meet with President Biden later today at the White House. 
Some top line figures, according to the summary: 
$160 billion for vaccines, testing and other coronavirus-related supplies
$50 billion for small businesses
$132 billion for unemployment insurance through June
$220 billion in additional direct payments
$20 billion for childcare
$20 billion for schools
The GOP's plan is a counterproposal to Biden's $1.9 trillion plan meant to force relief talks with the White House back to the middle.
3 hr 16 min ago
Biden to meet with 10 GOP Senators today to discuss Covid-relief
From CNN's Lauren Fox
There is one show in town on Monday, and it is that meeting between 10 Republican senators and President Biden.
It's a last-minute, last-ditch effort at bipartisanship coming just days before House and Senate Democrats were expected to move on the first step of their efforts to pass a coronavirus relief bill along party lines.
How we got here: As last week drew to a close and Democrats began publicly charting their timeline for reconciliation, a group of moderate Republican senators was watching with frustration. They thought this was going to go differently. They thought there would be more time to negotiate, and most of all, they were uncomfortable with the fact that they, too, thought the country needed Covid-19 relief and they were about to be forced to choose between everything Democrats wanted or absolutely nothing.
That's when a group of Senate Republicans and aides came up with the idea they needed to offer an alternative not just as an opening volley to the Biden administration but as a blueprint for the country on the type of plan Republicans stood for.
The plan began taking shape Friday. On Sunday 10 Republican senators announced plans to unveil a roughly $600 billion Covid-19 relief package, a counterproposal to Biden's $1.9 trillion plan meant to force relief talks with the White House back to the middle.
They're expected to unveil details of their plan today.
The bottom line: The chances that President Joe Biden's meeting with 10 Republican senators changes the final trajectory of Biden's first big legislative push are slim.
But the effort underscores the tension Biden is facing between the Washington he once knew as a US senator and the one he is returning to as President. Biden is taking the meeting, and in many ways, there is no other choice for a President who built his campaign on uniting the country and compromise.
Biden's team – and Biden himself – have made it clear that they can be flexible in some places, but the roughly $600 billion Republican plan is a drop in the bucket compared to where they want to go. Add on top of that Majority Leader Chuck Schumer's dismissive comments on Sunday and it's clear that a lot would have to change over the next 24 hours to make this Republican plan an actual game changer.
3 hr 33 min ago
These lawyers will now lead Trump's impeachment defense team
From CNN's Jim Acosta, Kaitlan Collins and Pamela Brown
Former President Donald Trump's office announced that David Schoen and Bruce L. Castor, Jr. will now head the legal team for his second impeachment trial, a day after CNN first reported that five members of his defense left and his team effectively collapsed.
One point of friction with his previous team was Trump wanted the attorneys to focus on his election fraud claims rather than the constitutionality of convicting a former president.
Trump has struggled to find lawyers willing to take his case as he refuses to budge from his claims of election fraud which has been a serious sticking point.
Trump's advisers have been talking to him about his legal strategy and he keeps bringing up election fraud for his defense, while they have repeatedly tried to steer him away from that, according to a source familiar with those discussions.
It's unclear if Schoen and Castor will go along with what Trump wants.
"Schoen has already been working with the 45th President and other advisors to prepare for the upcoming trial, and both Schoen and Castor agree that this impeachment is unconstitutional – a fact 45 Senators voted in agreement with last week," the release says.
Some background: According to people familiar with the case, amid a disagreement over his legal strategy, Trump's five impeachment defense attorneys have left.
Butch Bowers and Deborah Barbier, who were expected to be two of the lead attorneys, are no longer on the team. A source familiar with the changes said it was a mutual decision for both to leave the legal team. As the lead attorney, Bowers assembled the team.
Josh Howard, a North Carolina attorney who was recently added to the team, has also left, according to another source familiar with the changes. Johnny Gasser and Greg Harris, from South Carolina, are no longer involved with the case, either.
3 hr 28 min ago
Biden is expected to tackle immigration this week
From CNN's Betsy Klein and Paul LeBlanc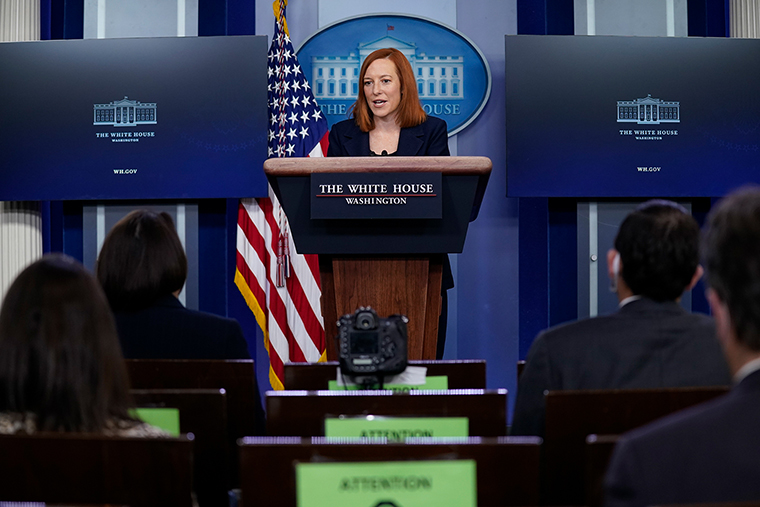 White House press secretary Jen Psaki on Friday outlined President Biden's plans for this week, which include meetings and executive actions on immigration.
She said on Tuesday, the President plans to deliver remarks and sign an executive order "advancing his priority to modernize our immigration system."
She said there would be more information in the coming days. Psaki said the White House is "venturing" to provide this information to reporters going forward, resuming a practice that ended during the Trump administration.
Biden was expected to tackle immigration Friday, but the White House said the actions would be pushed to this week.
These are the executive actions Biden has signed so far on immigration:
"Preserving and Fortifying Deferred Action for Childhood Arrivals." Strengthens DACA after Trump's efforts to undo protections for undocumented people brought into the country as children.
"Proclamation on Ending Discriminatory Bans on Entry to the United States." Reverses the Trump administration's restrictions on US entry for passport holders from seven Muslim-majority countries.
"Executive Order on the Revision of Civil Immigration Enforcement Policies and Priorities." Undoes Trump's expansion of immigration enforcement.
"Proclamation on the Termination of Emergency With Respect to the Southern Border of the United States and Redirection of Funds Diverted to Border Wall Construction." Halts construction of the border wall by terminating the national emergency declaration used to fund it.
"Reinstating Deferred Enforced Departure for Liberians." Extends deferrals of deportation and work authorizations for Liberians with a haven in the United States until June 30, 2022.