4 min ago
Happening now: White House holds press briefing ahead of Biden signing climate executive actions
From CNN's Maegan Vazquez and Kate Sullivan
White House press secretary Jen Psaki is holding a press briefing alongside Special Presidential Envoy for Climate John Kerry and National Climate Advisor Gina McCarthy.
President Biden will sign several executive actions related to the climate crisis at a 1:30 p.m. ET event, including one directing the secretary of the interior to pause on entering into new oil and natural gas leases on public lands or offshore waters.
The executive order directs the interior secretary to launch a "rigorous review" of the existing leasing and permitting programs related to fossil fuel development, and to identify steps to double renewable energy production from offshore wind by 2030, according to a fact sheet provided by the White House.
Biden is also expected to establish the climate crisis as an "essential element of U.S. foreign policy and national security."
The order instructs the director of national intelligence, Avril Haines, to prepare a national intelligence estimate on the security implications of the climate crisis and directs all agencies to develop strategies for integrating climate considerations into their international work.
1 min ago
Senate Democrats focus on Trump's impeachment trial after one member proposes censure
From CNN's Ali Main and Ali Zaslav
Asked about Sen. Tim Kaine's drafted resolution to censure former President Trump for his role in inciting the Capitol riot, some of Kaine's Democratic colleagues made clear on Wednesday that their focus, for now, is on the impeachment trial.
Sen. Debbie Stabenow of Michigan said, "we have to proceed under the Constitution with the trial, and I support that," noting it is senators' "responsibility" to complete the trial now that they've been sworn in as jurists.
"Once that's over, we can see whatever else members would want to do, but I think this is incredibly serious, and that, in order for the country to heal, there has to be accountability and justice, and that starts with what the former president united states said and did," she told reporters.
Sen. Bob Menendez of New Jersey said he'll do his "obligation under the Constitution" to serve as a juror. "If the verdict is such that leads the President without any consequence from what took place on that day, then I would consider other options," he said.
A few other senators seemed more open to the idea, which has not yet garnered much appetite from party leadership.
Sen. Chris Coons of Delaware said he has talked with Kaine and has asked his legal team to look into the censure effort. He noted that Kaine's resolution includes "the elements of the 14th Amendment that lead to disqualification from future officeholding."
"That's intriguing to me and something I'm willing to look at. The bottom line here is we have to deliver accountability for the events of Jan. 6," he said.
Meanwhile, Sen. Lisa Murkowski — one of the five Republicans to join Democrats in affirming the constitutionality of Trump's trial — signaled interest in censuring the former President, but wants to see the language. "Yes, I'd be interested in looking at what the language of a censure might be," Murkowski said.
4 min ago
Homeland Security issues bulletin over heightened threat environment following inauguration
From CNN's Geneva Sands
The Department of Homeland Security on Wednesday issued a threat bulletin, due to the potential for violence from extremists that object to the presidential transition, hold anti-government views or are motivated by other false narratives. 
President Biden's Acting DHS Secretary David Pekoske issued the National Terrorism Advisory System (NTAS) Bulletin "due to a heightened threat environment across the United States," which DHS believes will persist in the weeks following the Presidential Inauguration. 
"Information suggests that some ideologically-motivated violent extremists with objections to the exercise of governmental authority and the presidential transition, as well as other perceived grievances fueled by false narratives, could continue to mobilize to incite or commit violence," the bulletin reads. 
Earlier this month, CNN reported that discussions were underway about raising the terrorism threat level, according to two sources familiar with the discussions at the time.
The National Terrorism Advisory System – which replaced color-coded alerts of the Homeland Security Advisory System – falls under the Department of Homeland Security. Advisories are pushed out in the event of an imminent or elevated threat to the public.
1 min ago
Harris ceremoniously swears in Secretary of State Antony Blinken
From CNN's Jennifer Hansler
Vice President Kamala Harris just ceremoniously swore in Secretary of State Antony Blinken. The longtime Biden associate was approved by the Senate yesterday with a vote of 78-22.
Blinken, joined by his wife Evan Ryan, took the oath of office on a small pocket Constitution, per Pool. After administering his oath, Harris offered the newly-minted Cabinet Secretary a hearty "Congratulations Mr. Secretary," before leaving the room with Blinken and Ryan.
"My career has come full circle," Blinken wrote in a tweet Tuesday. "I started at the @StateDept in 1993, and, today, it's the honor of my life to lead the Department's women and men as the 71st Secretary of State."
Blinken attended a welcome ceremony at the State Department this morning, and told his new colleagues that "it's a new day for America; it's a new day for the world."
He is expected to deliver remarks to reporters in the press briefing room at the Department of State at 3:30 p.m. ET.
With Blinken's confirmation, President Biden now has a number of key members of his national security team in place. In addition to national security adviser Jake Sullivan — who does not require Senate confirmation — Director of National Intelligence Avril Haines was confirmed on Inauguration Day and Defense Secretary Lloyd Austin was confirmed last Friday.
Here's a look at the Cabinet nominees confirmed so far.
37 min ago
Top Senate Democrat overseeing impeachment says doctors cleared him to return to work
From CNN's Manu Raju and Ted Barrett
Sen. Patrick Leahy, the president pro tempore of the Senate, said he went to the hospital Tuesday night because of "muscle spasms" he had been experiencing. Doctors, he said, have since cleared him for a full return to his schedule and to preside over the impeachment trial of Donald Trump.
"The nice thing about medicine is I was able to have a registered nurse come home and spend the night with me," the 80-year-old Leahy said, referring to his wife of nearly 60 years.
Asked by CNN if he would run for reelection next year in Vermont, Leahy said he usually makes a decision on whether to run in the November or December before an election year – and would do so again after spending time skiing and snow shoeing. He said "of course" he could serve out the rest of his current term.
"The latest poll shows me winning easily," Leahy said confidently. "You all know this, I never make up my mind til November or December the year before — and I'm not going to do [earlier] now."
Leahy would not specify where he was experiencing muscle spasms, but said that the Capitol physician, Brian Monahan, said to him "not to take a chance" and "stop by a hospital on the way home."
"Normally, I would just say, the hell with it – heck with it – but it didn't stop," he said, referring to the spasms. In the end, doctors, he said "gave me a clean bill of health."
1 hr ago
McConnell on impeachment: "I plan to listen to the evidence"
From CNN's Ted Barrett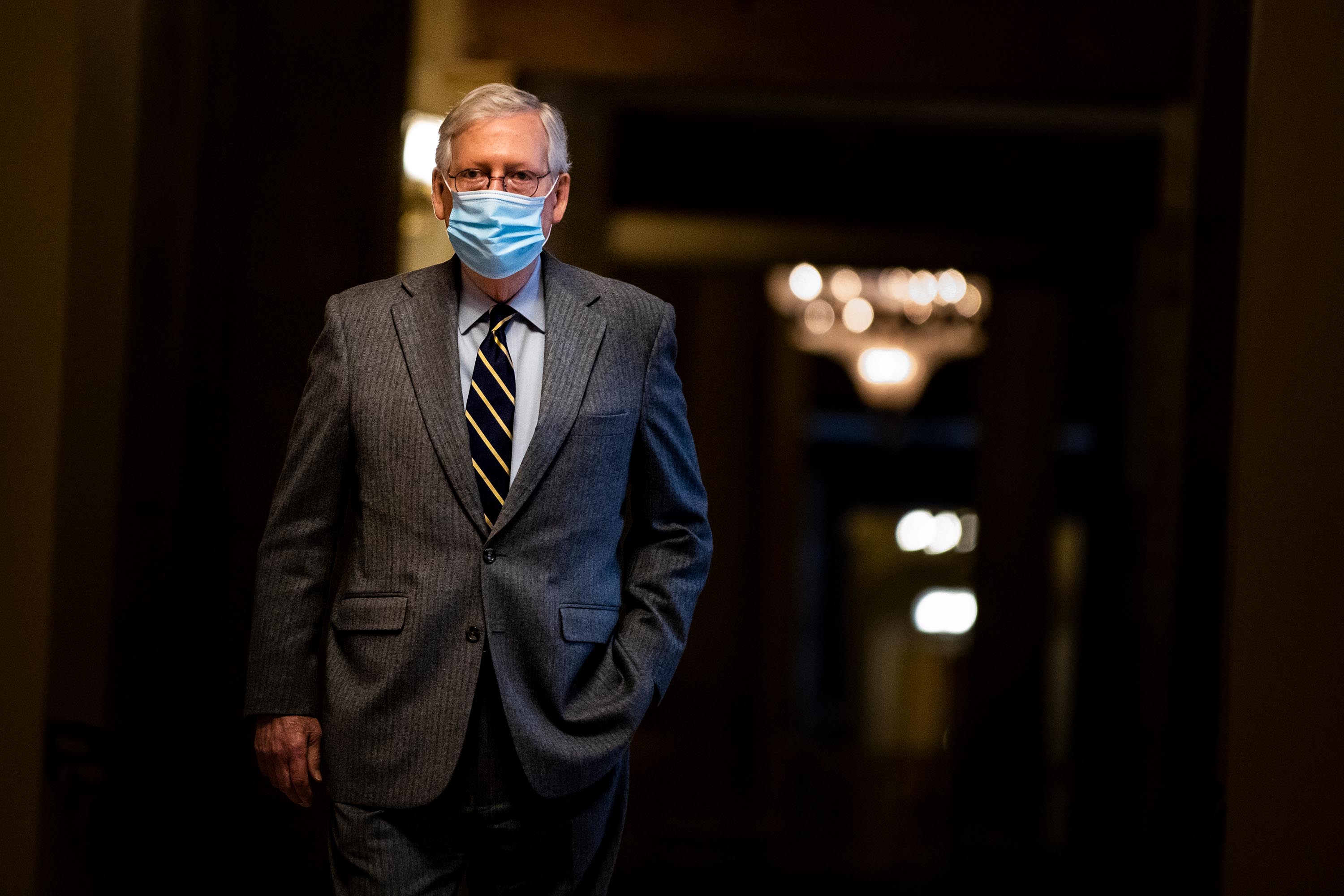 As he came off the Senate floor, CNN asked Senate Minority Leader Mitch McConnell if his vote Tuesday supporting GOP Sen. Rand Paul's point of order – that it's unconstitutional to try a former president – signaled he will not vote to convict Donald Trump or if he is still open to hearing the evidence and weighing it at that time.
"Well, the trial hasn't started yet. And I intend to participate in that and listen to the evidence," he replied.
CNN followed up by asking: "So, you are open to convicting?"
He didn't reply as he turned into his office.
1 hr 20 min ago
Biden commemorates International Holocaust Remembrance Day
From CNN's Betsy Klein
President Biden has commemorated International Holocaust Remembrance Day with a statement Wednesday that nodded to the prevalence of anti-Semitism today, including a reference to Charlottesville. 
"We must pass the history of the Holocaust on to our grandchildren and their grandchildren in order to keep real the promise of "never again." That is how we prevent future genocides. Remembering the victims, heroes, and lessons of the Holocaust is particularly important today as Holocaust deniers and minimizers are growing louder in our public discourse. But the facts are not up for question, and each of us must remain vigilant and speak out against the resurgent tide of anti-Semitism, and other forms of bigotry and intolerance, here at home and around the world," Biden wrote.
He continued, "The horrors we saw and heard in Charlottesville in 2017, with white nationalists and neo-Nazis spewing the same anti-Semitic bile we heard in the 1930s in Europe, are the reason I ran for president. Today, I recommit to the simple truth that preventing future genocides remains both our moral duty and a matter of national and global importance."
1 hr 2 min ago
Democratic senator working on resolution to censure Trump
From CNN's Ali Zaslav, Ali Main and Lauren Fox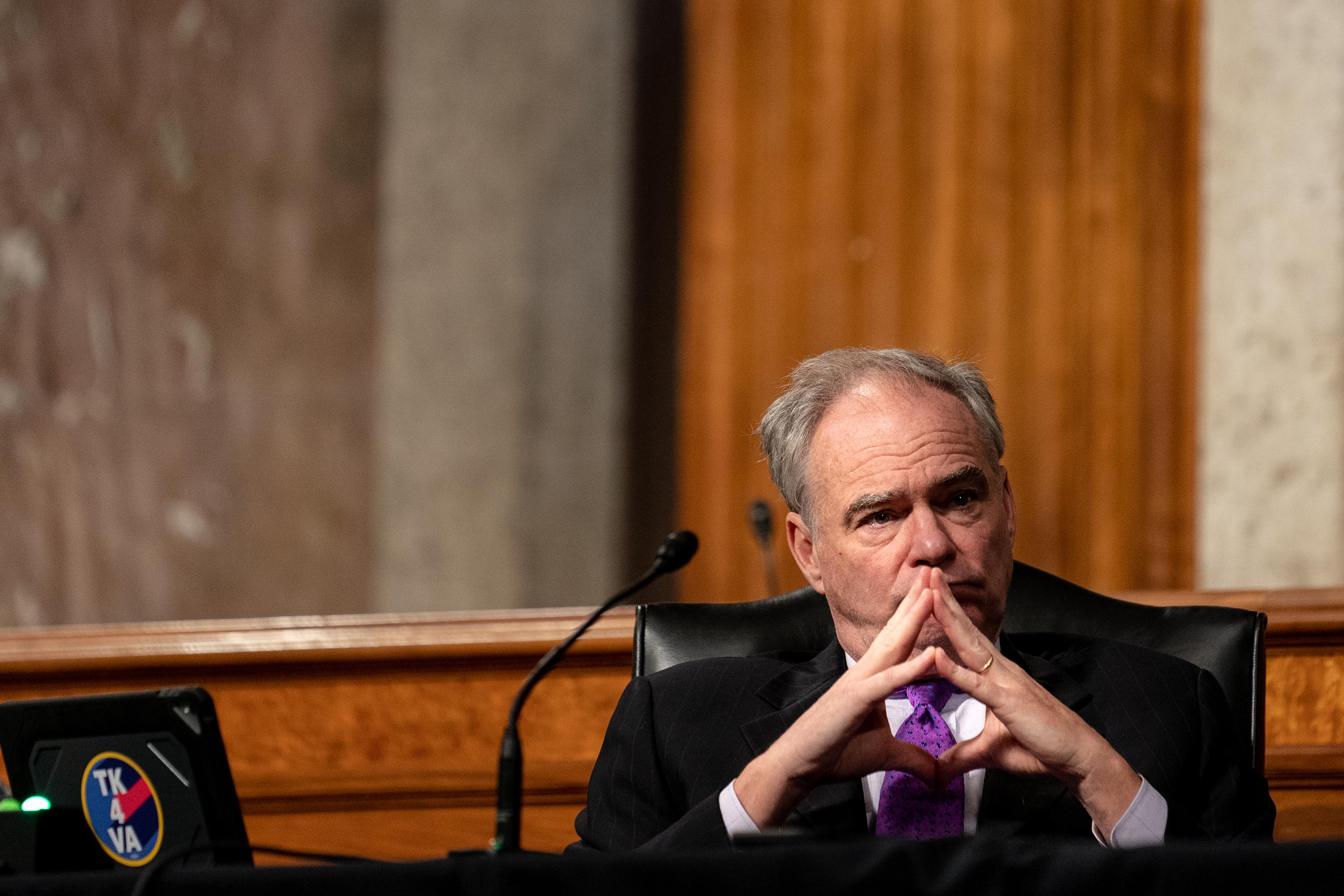 Virginia Democrat Sen. Tim Kaine said Wednesday he has drafted a resolution to censure former President Donald Trump for his actions on Jan. 6, a method Kaine thinks would be faster way to hold Trump accountable than an impeachment trial and allow the Senate to move forward with Covid-19 relief and Biden Cabinet confirmations.
Kaine said he had been talking with "about" 40 of his colleagues for a few weeks about the "the likelihood that we would fall short on impeachment," and use up time that could be used to pass a "dire" relief package.
He said there had been "some" interest in a censure motion, but noted that the House has now sent an article of impeachment to the Senate, so the chamber must act. 
After the vote yesterday in which all but 5 Republicans joined Sen. Rand Paul in claiming that holding a trial for an ex-president is unconstitutional, Kaine said he thinks there's "maybe a little more interest now" in looking at censure as an alternative way to hold Trump accountable.
Pressed further on his views that censure could be an "alternative" to a trial, Kaine said "to do a trial knowing you'll get 55 votes, at the max seems to me to be not the right prioritization of our time right now."
He cast doubt on the likelihood there would be a strong appetite for the measure if the Senate fails to convict the former president, telling reporters, "I just don't know that there's going to be more appetite to talk about Donald John Trump after the trial."
Kaine would not elaborate on how many of his Republican colleagues he's been talking to and suggested that there wouldn't be a point to moving forward with a censure if it wasn't going to get adequate GOP support.
"If we could do something like this and have it be bipartisan, and thereby potentially avoid the trial, I think that would be beneficial but we're not there yet," he said.
This effort by Kaine is still a very long shot, CNN's Lauren Fox notes.
Moderate Democrat Sen. Joe Manchin threw cold water on the idea on Wednesday, telling reporter, "This is much, much more serious than anything that we've ever seen in our lifetime and it's really the purpose of having the articles of impeachment in the constitution," he said, adding, "it's really a mechanism or tool, if you will to deter it." 
"We all want to make sure that no one ever does this again, never thinks about doing something like a seditious insurrection such as that," said the West Virginia Democrat.
Sens. Ron Wyden and Bernie Sanders avoided offering a direct opinion on the censure matter, claiming they were focused on other issues for now.
"Right now, what I'm focused on is doing the work that we're scheduled to do. We'll be starting that shortly. And I said quite some time ago that the key to unity is accountability. I still feel that way," Wyden told reporters
2 hr 4 min ago
Bipartisan Senate group will hold internal call today on next Covid relief package, source says
From CNN's John Harwood and Tami Luhby
As Democratic leaders prepare to streamline consideration of President Biden's Covid relief package so that it could pass Congress with only Democratic votes, a bipartisan group of senators seeking negotiations will reconvene by phone today.
The group of 16 senators – eight from each party – conferred over the weekend with top Biden economic adviser Brian Deese. This afternoon most of the group will hold a conference call to discuss next steps. 
"No WH today," said a source familiar with the negotiations. "It's an internal deliberation and conversation among themselves for now… about the information sharing that's been happening with them and the WH in the days since the call."
More on Biden's relief package: Biden signed executive orders last week that will further augment food benefits, ensure more eligible Americans get their stimulus payments, provide protections for federal workers, and extend housing and student loan payment relief. The President is pushing Congress to pass a $1.9 trillion package with even more funding for those measures — including $1,400 in additional stimulus cash — as well as other provisions to help needy Americans.
Some Democrats want his package to be even more generous, while Republicans are balking at the increased spending. It's not clear when a deal might get done or what a final version will look like.