1 min ago
Harris ceremoniously swears in Yellen as the first female Treasury Secretary
From CNN's Anneken Tappe, Betsy Klein and Matt Egan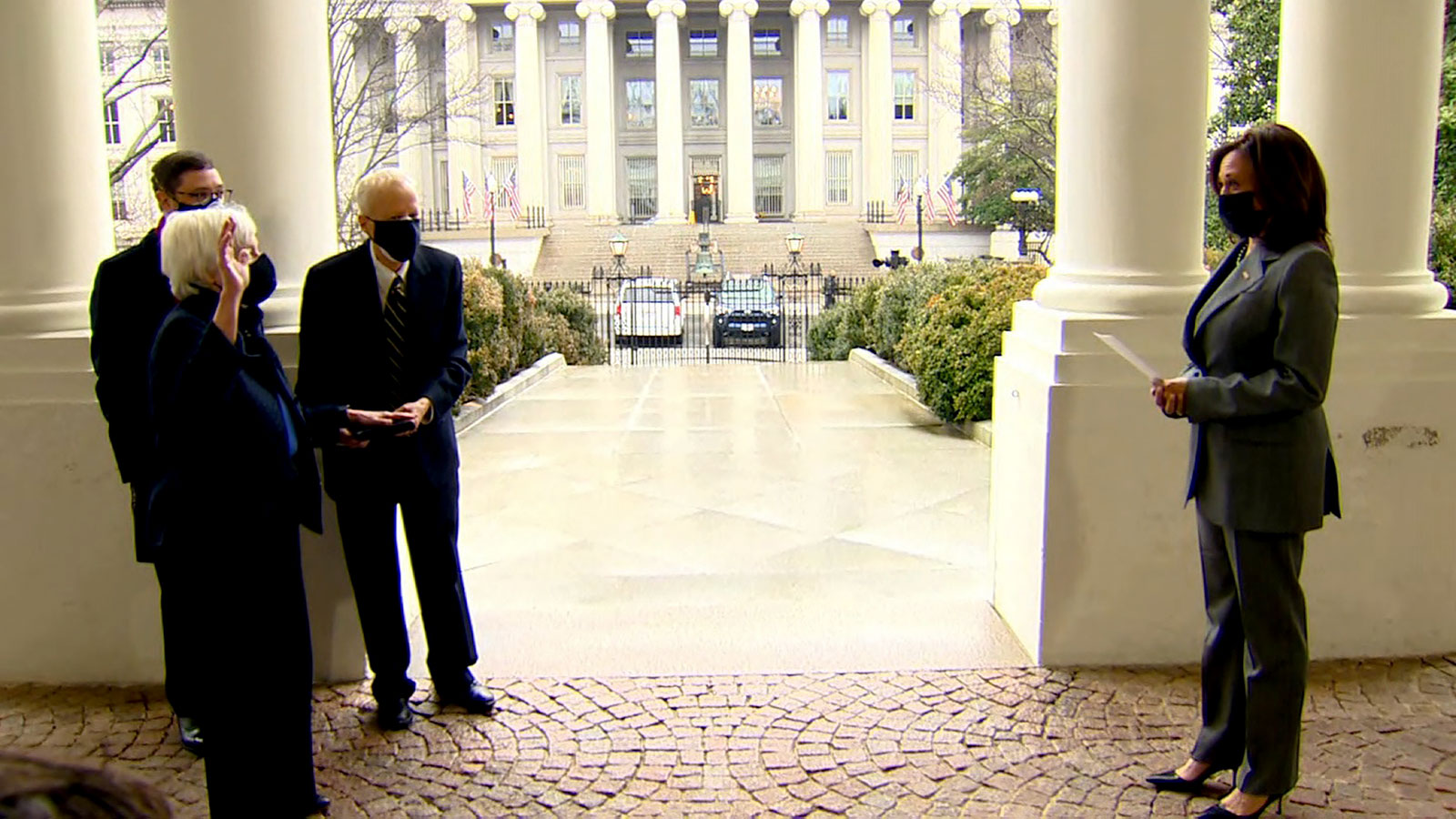 Vice President Kamala Harris administered a ceremonial oath of office to Treasury Secretary Janet Yellen at the White House. 
Both made history for being the first women to hold their current roles. 
The ceremony took place on the East side of the White House, facing the Treasury Department.
"Congratulations, Madam Secretary," Harris said, laughing and clapping as she stood over six feet away from Yellen and her husband George Akerlof and son Robert Akerlof. 
"Thank you for all you do… and thank you to your family," Harris said as pool was escorted out.
Yellen is the first woman to lead the Treasury Department, and the first person to serve as Treasury Secretary, Chair of the Council of Economic Advisors and Chair of the Federal Reserve, per the office of the Vice President.
As head of the Treasury, Yellen will be tasked with shepherding President Joe Biden's $1.9 trillion American Rescue Plan through Congress and overseeing its execution.
The plan includes $1,400 stimulus checks, expanded unemployment benefits, and increased funding for Covid-19 vaccinations and testing.
Watch the moment:
24 min ago
McConnell says scrapping the filibuster would put the Senate in "scorched earth" territory
From CNN's Annie Grayer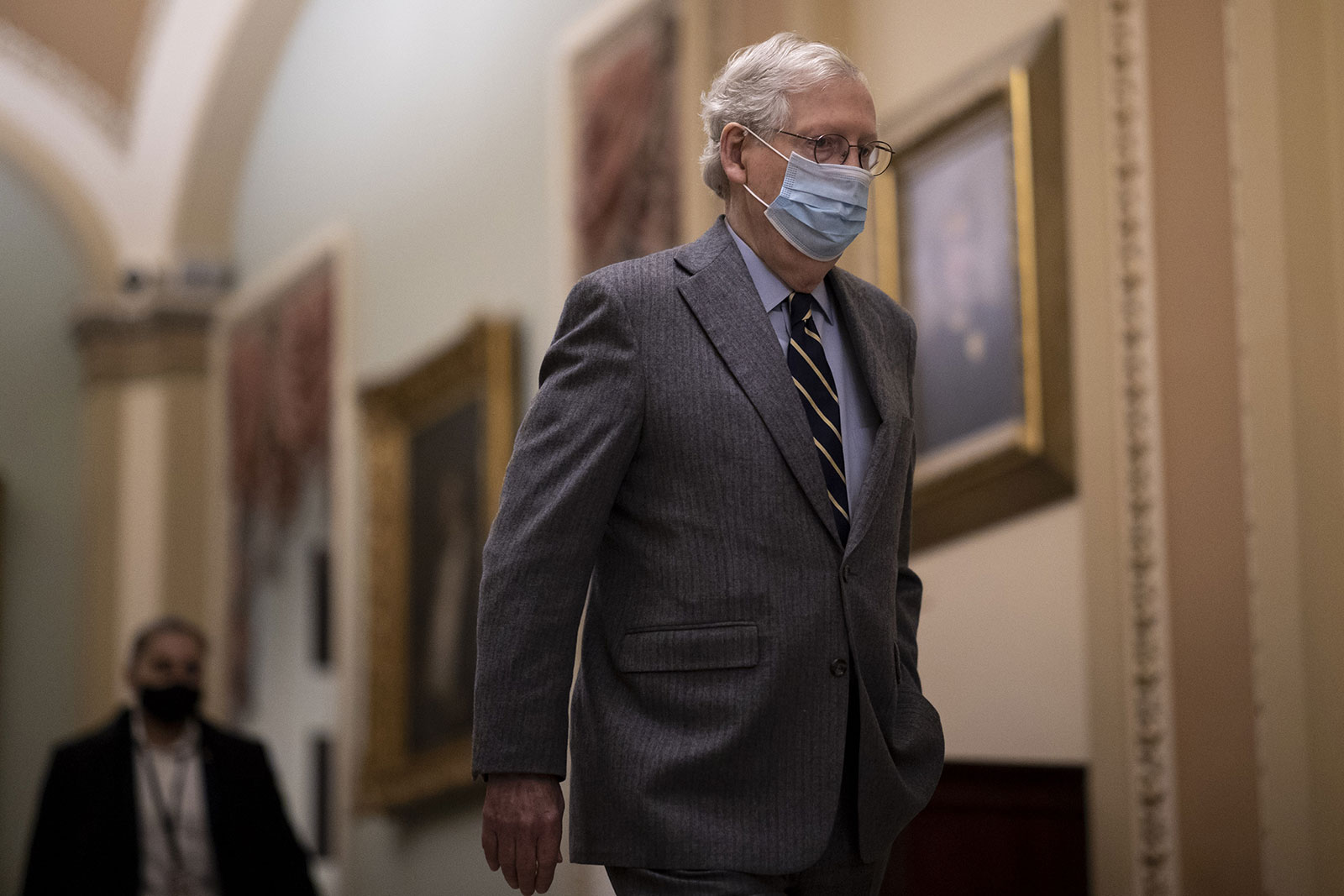 Senate Minority Leader Mitch McConnell said from his perspective, getting rid of the filibuster means the Senate would be in "scorched earth" territory.
"If this majority went scorched-earth, this body would grind to a halt like we've never seen. Technically, it takes collegiality and consent for the majority to keep acting as the majority at any time they do not physically have a majority. In a scorched-earth, post-nuclear Senate that's 50-50, every Senate Democrat and the Vice President could essentially just block out the next two years on their calendar," McConnell said in his floor remarks today, warning that Senators would have to be in session all the time.
McConnell said that there would have to be quorums and roll call votes on every order of business essentially grinding business "to a halt like we've never seen."
In his floor speech, McConnell also reminded his colleagues that he defied former President Trump's demands to get rid of the filibuster when Republicans were in control, as part of his case for why Democrats should preserve the filibuster now.
"When I could have tried to grab this power, I turned it down, told President Trump no repeatedly. Because the nation needs us to respect the framer's design and the Senate's structure," McConnell said. 
Some context: On Monday evening, McConnell finally allowed a Senate power-sharing deal to advance. The deal had been held up by McConnell seeking assurances that the Democrats would not try to remove the filibuster.
He finally relented after two moderate Democratic senators – who have long opposed gutting the filibuster – reiterated their views, allowing him to argue that they were sufficient to resolve his concerns since Democrats would lack the votes to change the rules. This deal now allows Democrats to take control of key committees in the chamber. 
1 hr 7 min ago
Senate will advance Covid bill with or without Republican support, Majority Leader says
From CNN's Kristin Wilson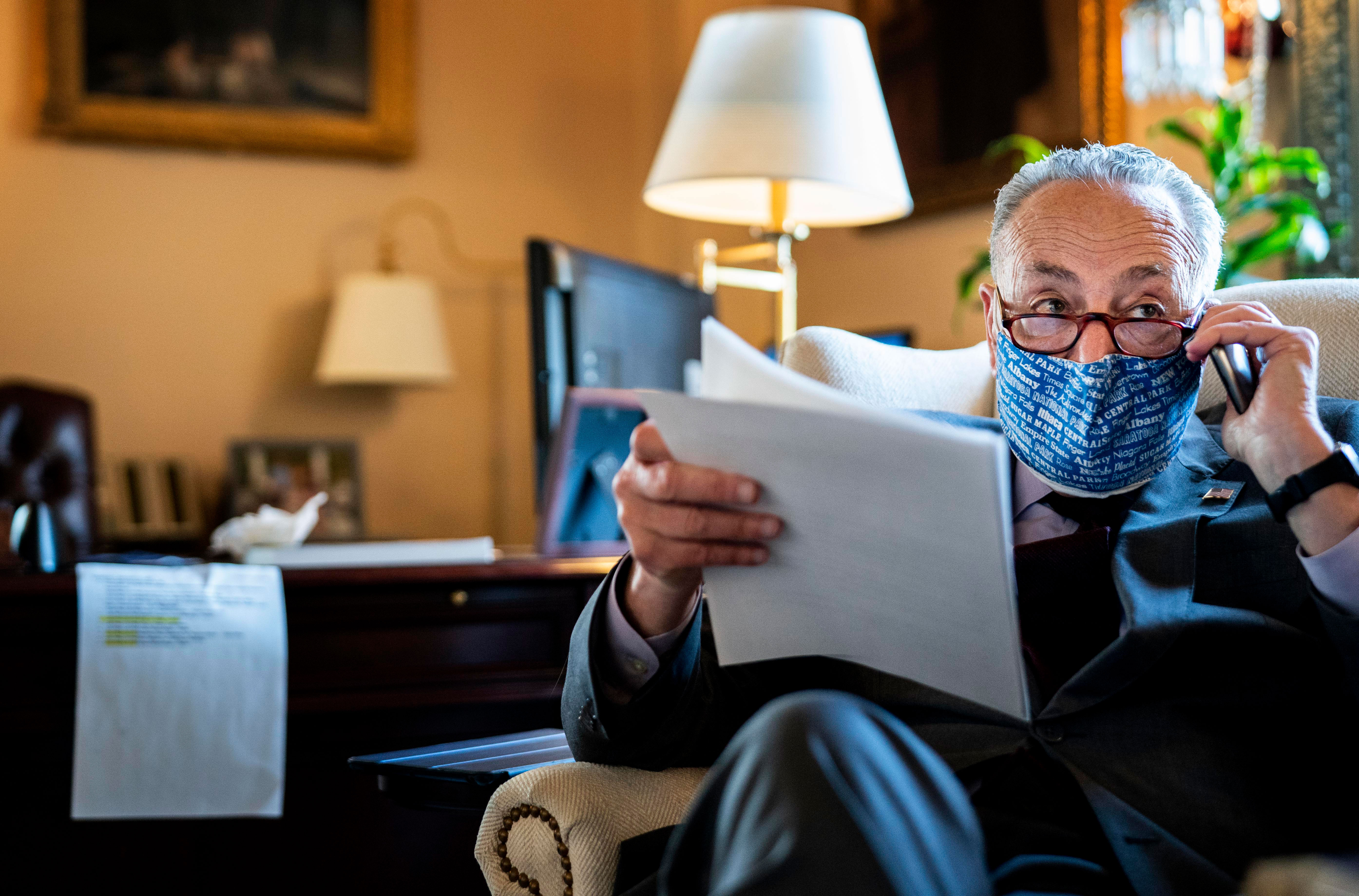 Senate Majority Leader Chuck Schumer said now there's an organizing resolution between the now-majority Democrats and the Republicans in the Senate, "we're finally able to get the Senate up and running."
"Last night the Republican Leader dropped his demand for additional provisions on the organizing resolution and will agree to the 2001 rules that last governed the 50-50 Senate, exactly what the Democrats proposed from the start," he said in remarks from the Senate floor this morning. "My only regret is that it took so long."
Schumer also sounded a bullish note on a Covid-19 relief funding bill, suggesting that Democrats will press ahead despite headwinds. 
"I understand that recent opposition from the political right has increased now that there's a Democrat in the White House. But the pandemic doesn't particularly care that there's been a change in administration. The needs of our country are still great. And the urgency to act is clearer than ever," he said. "No doubt Congress has passed substantial relief, but we are nowhere close to filling the Covid-sized hole" of $17 trillion dollars the economy has lost, citing a CBO report.
"We want to work with our Republican colleagues to advance this legislation in bipartisan way, but the work must move forward, preferable with our Republican colleagues, but without them if we must." 
Finally, Schumer praised the upcoming confirmation vote for Anthony Blinken to serve as the next Secretary of State, saying "he's the right man for the job."
"Once confirmed, Mr. Blinken will also inherit a State Department workforce in desperate need of a leader that knows that everyone on the team plays a critical role in advancing America's interests abroad," he said. "Under President Trump, our nation's diplomats and State Department civilians were relegated to the sidelines, and too many positions in the State Department were left vacant or relegated to irrelevance. So none of this will be easy, but I'm confident that Mr. Blinken is exactly the right person for the job."
Schumer said that following Blinken's confirmation, "both parties must continue working together" and thanking Senate Minority Leader Mitch McConnell for his cooperation in confirming the nominees, and suggesting that he will tee up two more votes this week, for Pete Buttigieg and Alejandro Mayorkas.
"The pace must continue this week with the confirmation of the Secretaries of Homeland Security and Transportation," he said.
1 hr 28 min ago
Biden set to put a hold on new oil and gas leases on federal land, source says
From CNN's Kevin Liptak
President Biden is set to order a moratorium on new oil and gas leases on federal land on Wednesday, according to a person familiar with his plans.
The move is expected to be the most prominent in a list of climate actions he'll take on Wednesday, including elevating climate change as a national security issue. It will fulfill one of Biden's campaign pledges.
The halt on new leases would apply to federal land and water areas, but wouldn't affect existing leases. It would allow the administration to conduct a comprehensive review of the federal leasing program.
The moratorium expands the 60-day moratorium that Biden signed on his first day in office on Wednesday.
Jim Sciutto reports:
1 hr 7 min ago
GOP senator may force test vote on whether Senate impeachment trial is constitutional  
From CNN's Manu Raju
Sen. Rand Paul, a Republican from Kentucky, may try to force a procedural vote as soon as today on whether the Senate trial of former President Trump is constitutional, according to a GOP source familiar with the matter. 
Senators will be formally sworn in as jurors later today, though the trial won't get into full swing until the week of Feb. 8.
Republicans have raised questions over the constitutionality of former President Trump's impending trial in the Senate. Trump is the first president to be impeached twice and would be the first ex-president to have his impeachment tried in the Senate while out of office.
A Congressional Research Service report from November 2019 cites – as precedent – the 1876 impeachment trial of Secretary of War William W. Belknap, who was tried and acquitted even after he'd resigned his office. The Senate ultimately upheld its authority to try Belknap even after his abrupt resignation – though some senators who voted to acquit indicated they did so because they felt the Senate lacked jurisdiction over Belknap once he was no longer in office.
Read more about impeachment and what scholars say here.
2 hr 4 min ago
Biden's commerce secretary nominee testifies in Senate confirmation hearing 
From CNN's Jeff Zeleny, Kate Sullivan and Dan Merica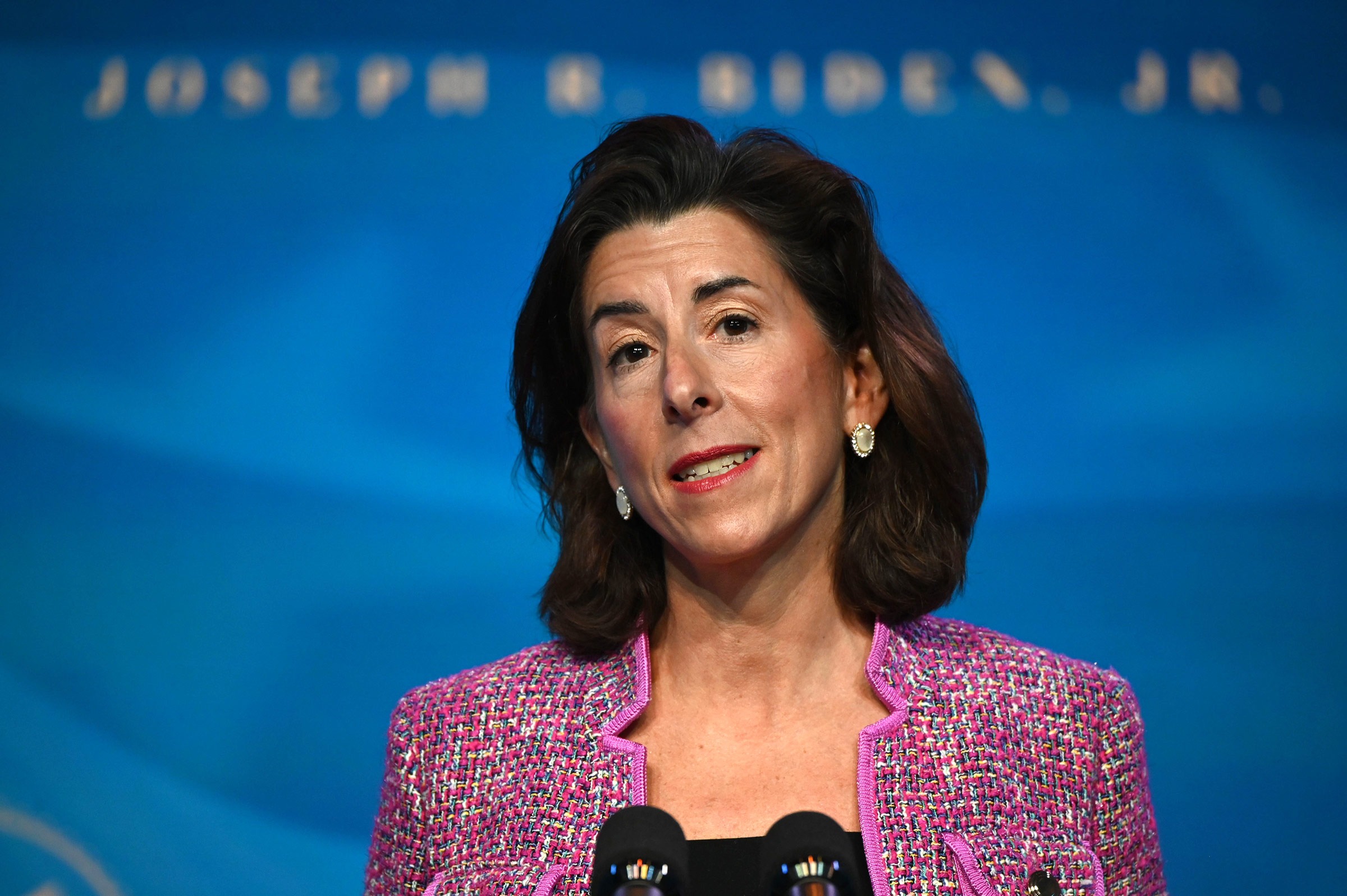 The Senate Committee on Commerce, Science, and Transportation is holding a hearing to consider the nomination of Gina Raimondo to be secretary of commerce.
Raimondo is the first woman governor of Rhode Island and has served since 2015. Raimondo was elected to serve as general treasurer of Rhode Island in 2010. She co-founded Point Judith Capital, an early stage venture capital firm.
Biden is expected to lean on his commerce secretary to rebuild relationships with a business community that has had a sometimes fractured relationship with the Trump White House.
If confirmed by the Senate, Raimondo would be in charge of a department that oversees a wide range of programs, including the Decennial Census, NOAA Fisheries, the National Weather Service and the Foreign Commercial Service.
In addition to working to promote job creation and economic growth across the country, the department oversees ocean and coastal navigation and helps negotiate bilateral trade agreements.
Here's a look at the Cabinet nominees that have been confirmed so far. 
2 hr 21 min ago
Here's what happens next on Trump's impeachment trial
From CNN's Zachary B. Wolf, Clare Foran and Jeremy Herb
Senators will be formally sworn in this afternoon as jurors for the second impeachment trial of former President Trump.
On Monday the House impeachment manager – a group of Democratic lawmakers who will act as prosecutors presenting the case against Trump during the trial – delivered the single article of impeachment to the Senate. The article, approved by the Democrat-led House, charges Trump with incitement of insurrection for provoking the attack on the US Capitol that left multiple people dead.
But the Senate impeachment trial itself won't get underway until the week of Feb. 8. Senate Majority Leader Chuck Schumer and Minority Leader Mitch McConnell reached a deal last week to push back the start date for the substance of the proceedings. That move will give Democrats more time to confirm Biden's Cabinet and potentially take up a new Covid-19 relief bill while Trump's defense team will have more time to prepare for trial.
Here are some key things to know about what happens next in the trial:
The Supreme Court wants to move on. When the trial does get underway, one important no-show is expected to be Chief Justice John Roberts, who normally has a duty under the Constitution to preside over a presidential impeachment trial. This time, however, since Trump is a former president, Roberts will skip the proceedings and Sen. Patrick Leahy, the chamber's ranking Democrat, will hold the gavel.
Roberts' court also declined Monday to hear whether Trump's hotels in DC and New York violated the Constitution's emoluments clause by accepting money from foreign governments. The court said the question about a president being enriched by foreigners is moot since voters have already shown Trump the door.
Republican lawmakers want to move on. The refrain growing on Capitol Hill among Republicans is not so much that Trump's incitement of the mob that stormed the US Capitol was good conduct. It's why bother with this impeachment trial?
"I think so many are getting confused by the fact that we're doing this," said Indiana Republican Sen. Mike Braun.
It seems clear there will be Republicans who support convicting Trump in the first-ever post-presidential impeachment — Utah Sen. and former Republican presidential nominee Mitt Romney, Maine Sen. Susan Collins, Nebraska Sen. Ben Sasse — but the number, for now, appears to be on track to fall well short of the necessary 17 to reach the necessary two-thirds majority.
There must be accountability. Romney, the one senator who broke with Trump on the Ukraine impeachment last year, certainly sounds like he could ultimately vote to convict Trump again.
"And, you know, if we're going to have unity in our country, I think it's important to recognize the need for accountability, for truth and justice," he said on Fox News Sunday, arguing there is a need for a Senate trial.
Read more here.
3 hr 7 min ago
Here's a look at Biden and Harris' schedule today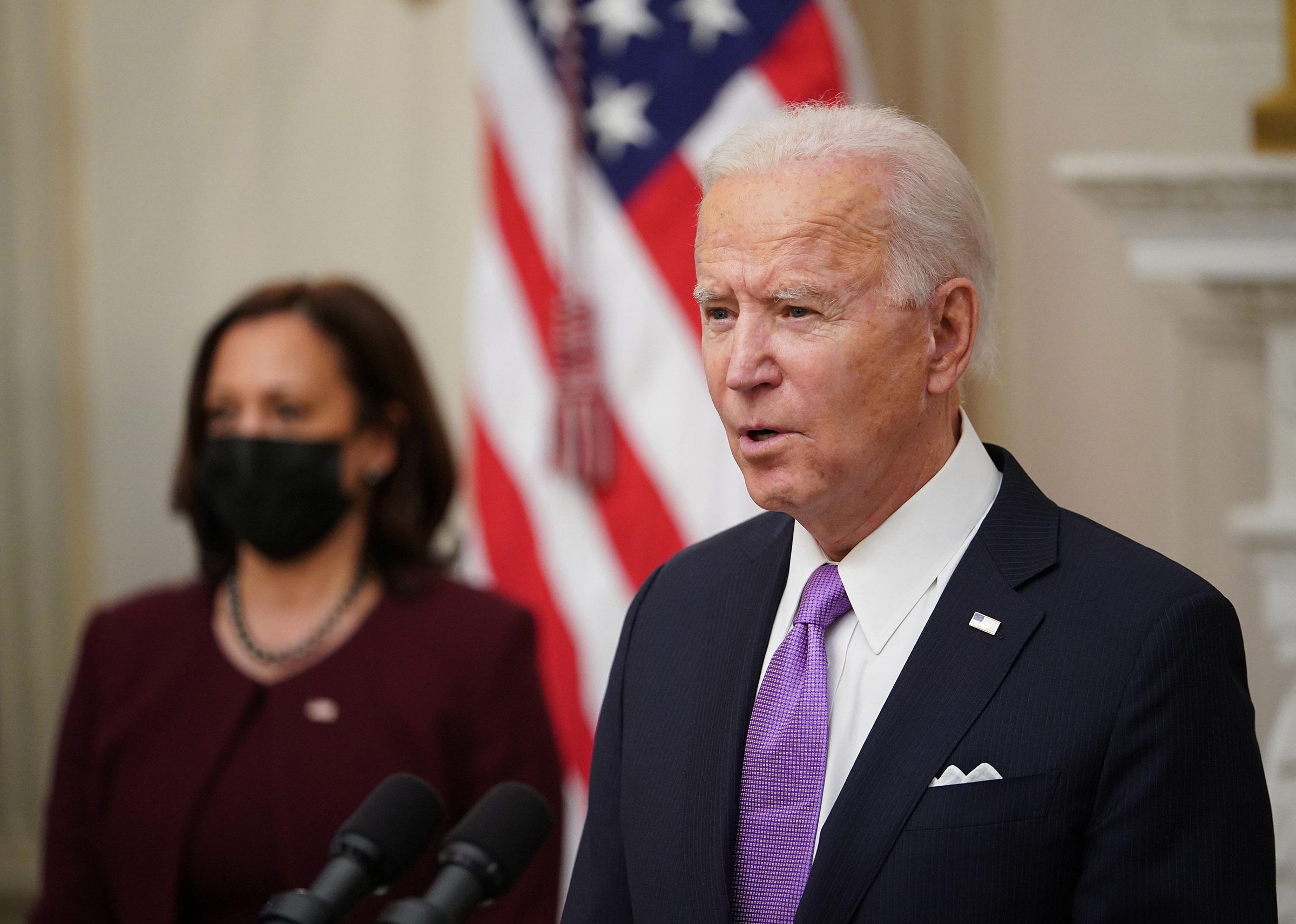 President Biden continues to move forward on rolling out new executive actions during his first full week in office as he aims to tackle different parts of his agenda. 
Today, his administration focuses on "equity" policy, and he plans to sign executive orders on policing reform, prison reform and public housing.
Vice President Kamala Harris meanwhile will participate in a swearing in ceremony for Treasury Secretary Janet Yellen. Both made history for being the first women to hold their current roles. 
Here's a look at today's schedule: 
Noon ET:  Harris will ceremonially swear in Yellen as secretary of the Treasury at the White House. 
12:30 p.m. ET: Press secretary Jen Psaki holds a White House press briefing alongside domestic policy adviser Susan Rice.
 2 p.m. ET: Biden delivers remarks outlining his racial equality agenda and signs executive actions. Harris will also attend. 
4 p.m. ET: Harris and the second gentleman Doug Emhoff will receive the second dose of the Covid-19 vaccine at the National Institutes of Health in Bethesda, Maryland.
4:45 p.m. ET: Biden speaks about the fight to contain the Covid-19 pandemic.
3 hr 13 min ago
How impeachment managers could use video at trial to bolster their case
From CNN's Manu Raju and Jeremy Herb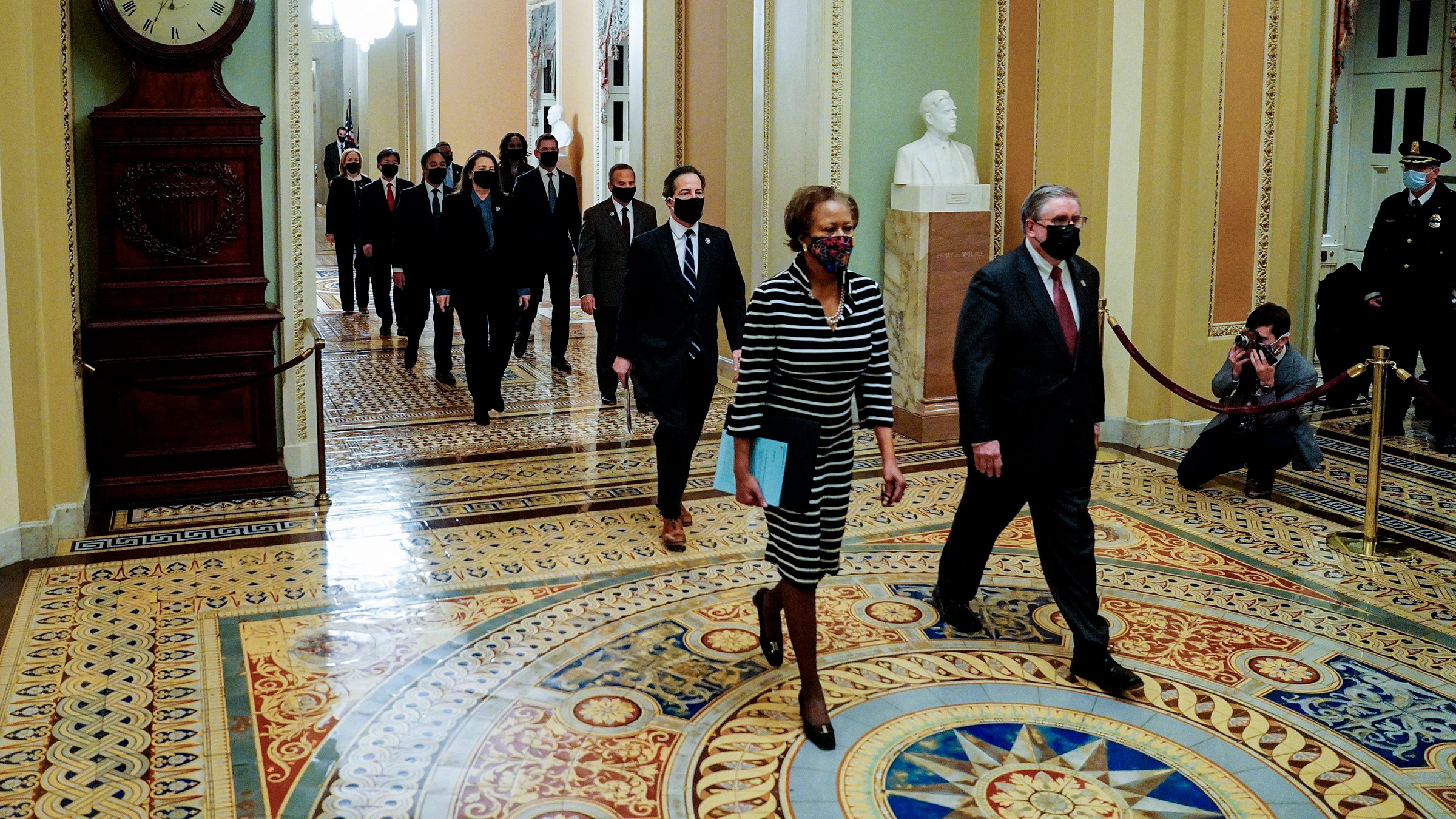 As they put together their plans for trial, House impeachment managers are considering using a variety of video evidence, according to sources familiar with the deliberations. 
The impeachment managers are still wading through the huge amount of video that exists from Jan. 6 to determine what they should use at the trial, the sources said, including video posted to the conservative social media site Parler.
The House's impeachment team has taken an interest in a 10-minute video complication from the national security forum Just Security, which splices in former President Trump's comments at the Jan. 6 rally with social media posts from rioters on Facebook and Parler who invoked Trump as their reason for attacking the Capitol. 
No decisions have been finalized about how to use the video. The Washington Post first reported on the impeachment managers' interest in the Just Security video. 
At the first Trump impeachment trial, the House impeachment managers also used video to bolster their case that Trump had pushed for Ukraine's help to investigate his political opponent, Joe Biden. The use of video for the upcoming trial is even more compelling given the disturbing images and video that have emerged of rioters ransacking the Capitol and attacking police officers.