1 min ago
Michigan "preparing for the worst" as security measures tighten around capital, Lansing mayor says
From CNN's Adrienne Vogt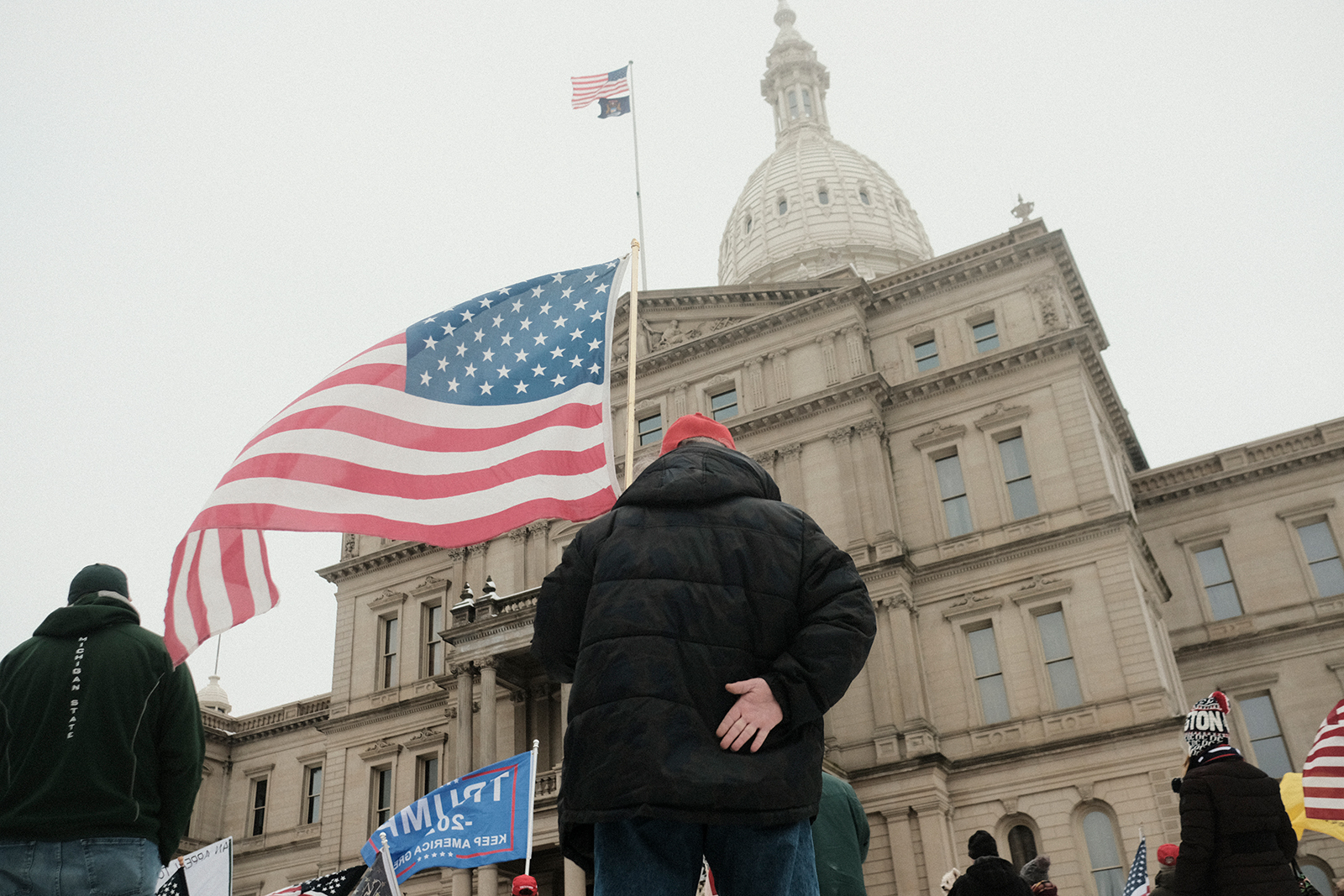 Security measures are being strengthened in and around Michigan's capital in Lansing following the FBI's warning of "armed protests" at state capitals.
"We're hoping for the best. We're hoping for a peaceful protest. We believe in First Amendment rights, but we're preparing for the worst," Lansing Mayor Andy Schor told CNN.
A fence has been erected around the capital and lawmakers will not be inside the building starting Monday through Thursday. The state's Capital Commission banned the open carry of firearms inside the building starting Monday.
These are all "precautionary measures," Schor said. 
"Downtown is a vibrant neighborhood and residents and businesses there should feel confident knowing that the Lansing Police Department is working closely with the Michigan State Police, Ingham County Sheriff's Department and other police agencies to ensure these planned events remain peaceful," Andy Schor said in a statement Saturday. "I am asking residents and those who live in the Lansing area to stay out of the downtown area and to not engage with demonstrators who come to our city with ill intentions."
Schor also asked Gov. Gretchen Whitmer to activate the Michigan National Guard to provide additional security around the state capital on Sunday and on inauguration day.
Some background: Whitmer was the target in an alleged domestic terror plot by members of right-wing militia groups last year.
In May, protesters — some of whom were armed — entered inside the building to demand an end to the state's state of emergency due to the coronavirus pandemic.
Watch:
3 hr 21 min ago
Biden's inauguration is just days away. Here's how DC is tightening security to prepare.
From CNN's Eric Levenson and Jon Passantino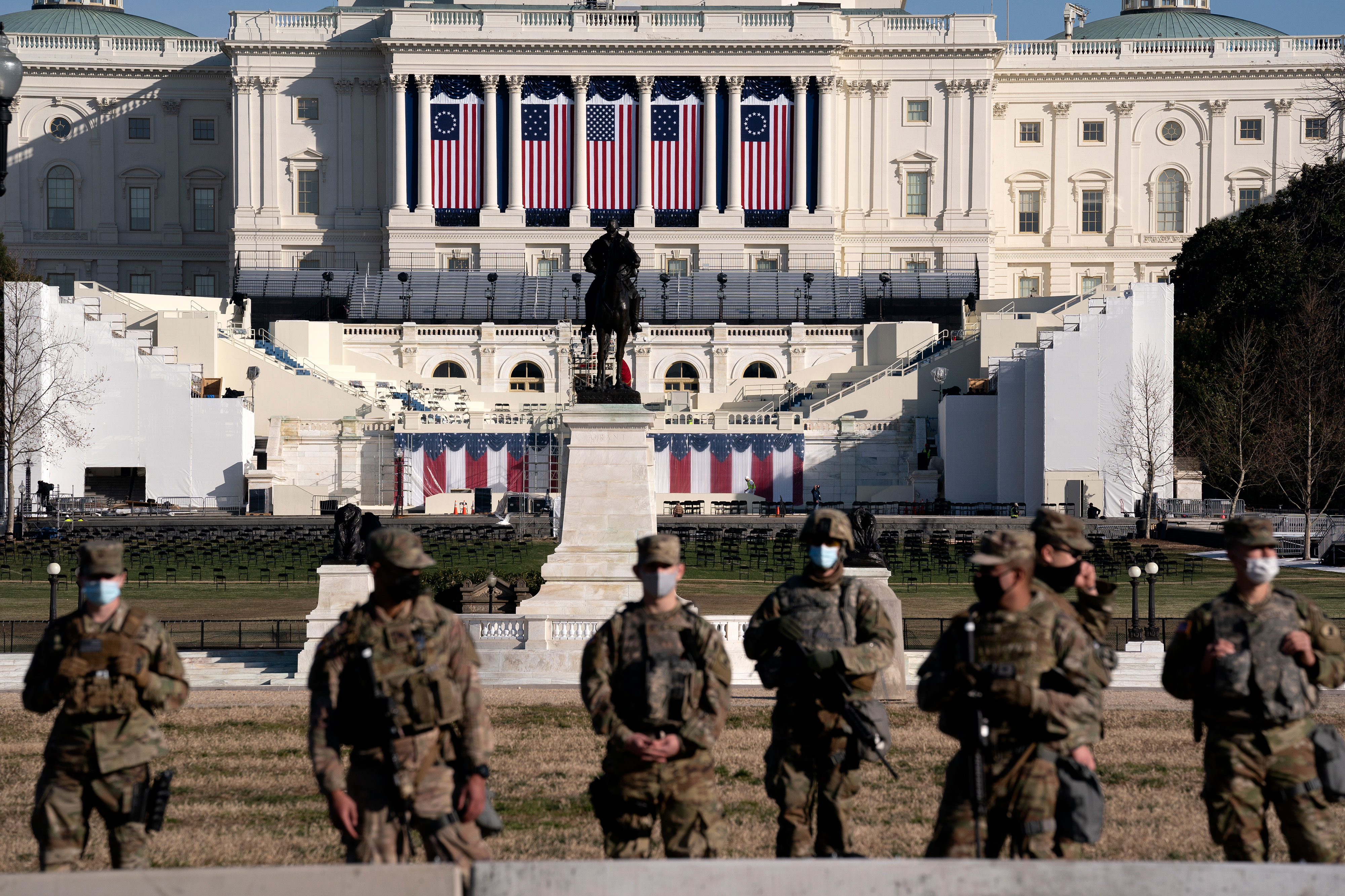 More than a week after the pro-Trump mob stormed the US Capitol, the area around Capitol Hill is under strict security. Members of the National Guard were present all around, including inside the Capitol, and new fencing blocked off the perimeter of the area.
DC Police Chief Robert Contee said on Wednesday that more than 20,000 National Guard members could be expected in the District for Biden's inauguration, though he noted the final numbers will be provided by the US Secret Service.
The officials added that there is no concern that there will be any shortage of Guard forces to meet requirements from the 50 States and the District of Columbia.
Contee told reporters he remains concerned amid a "major security threat" ahead of the inauguration and planned demonstrations in the District this weekend.
"I've been concerned before today and will be through this weekend, and beyond," Contee said on Wednesday.
He also praised DC Mayor Muriel Bowser's security posture, including discouraging people from coming to DC for the inauguration.
"There's a major security threat, and we are working to mitigate those threats," he added.
The National Mall will be closed to the general public on Inauguration Day due to security concerns, the National Park Service (NPS) announced Friday.
The temporary public closure began Friday morning and will extend through at least Thursday, January 21. The NPS says protests will be allowed in designated locations and will be limited to those with permits.
CNN's Pete Muntean reports from outside Capitol Hill:
2 hr 28 min ago
Biden fills out State Department nominations
From CNN's Jasmine Wright
President-elect Joe Biden has announced a number of nominations for the State Department, including Wendy Sherman nominated to be deputy of the agency. 
Other key figures in this rollout are:
Brian P. McKeon nominated to be deputy secretary for Management and Resources
Bonnie Jenkins as the under secretary for Arms Control and International Security Affairs
Victoria Nuland is nominated to be under secretary for Political Affairs
Uzra Zeya for under secretary for Civilian Security, Democracy, and Human Rights
Biden has already named longtime aide Anthony Blinken to be nominated as his Secretary of State.
4 hr 22 min ago
Authorities are investigating police officers who allegedly participated in the Capitol riot
From CNN's Zachary Cohen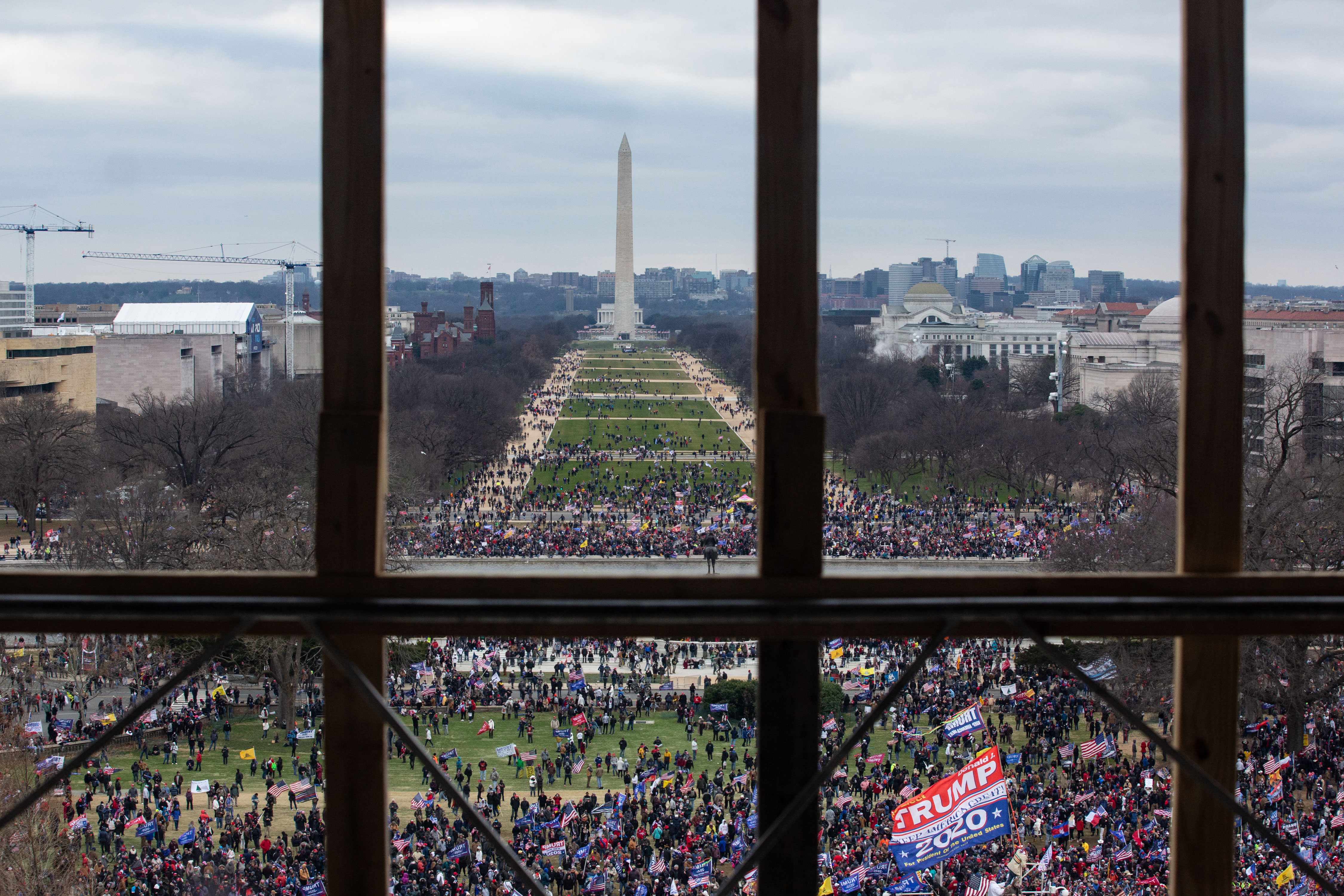 Authorities are investigating a growing number of current law enforcement officers who allegedly participated in the Capitol riot on Jan. 6.
"Unfortunately as this case goes on we're seeing indications that law enforcement officers, both former and current, maybe who have been off duty, participating in this riot activity," Michael Sherwin, acting US Attorney for the District of Columbia,  said Friday.
Two police officers from Rocky Mount, Virginia, were arrested Thursday on federal charges relating to the riot, Sherwin said.
"We don't care what your profession is, who you are, who you are affiliated with, if you are conducting or engaged in criminal activity, we will charge you and you will be arrested," Sherwin said.
Additionally, Steven D'Antuono of the FBI's Washington Field Office, said Friday that the most "egregious" of the pro-Trump extremists from last week's Capitol attack are the ones who are charged with assaulting law enforcement.
Charges have already been filed against individuals like Robert Sanford and Peter Francis Stager and others who may be charged are "a priority for the FBI and our partners."
"You attack one of us, you attack all of us," D'Antuono said.
Sanford, a retired firefighter, was arrested on Thursday in Pennsylvania and accused of throwing a fire extinguisher that hit three police officers in the head while they were in part of the crowd on a Capitol terrace. Sanford now faces four federal criminal charges related to the riot, including assaulting, resisting or impeding officers on duty.
Stager, of Arkansas, faces a criminal charge related to allegedly beating a uniformed officer. He allegedly used a flagpole that had an American flag on it to hit the officer as he lay on the ground surrounded by the mob, according to court records in DC District Court.
There are no known arrests related to the death of Capitol Police officer Brian Sicknick but the FBI is investigating "several" people, two law enforcement officials told CNN.
Earlier Friday, D'Antuono said his investigators are "making progress" on the investigation into the death of the officer.
The incident with Sanford is unrelated, he added.
D'Antuono said investigators are looking at "anyone and everyone" who may be involved, but did not give specifics on the scope of the investigation.
The New York Times was first to report multiple people were being looked at in the probe.