30 min ago
Trump needs to directly say Biden won election to de-escalate threats, House Democrat says
From CNN's Adrienne Vogt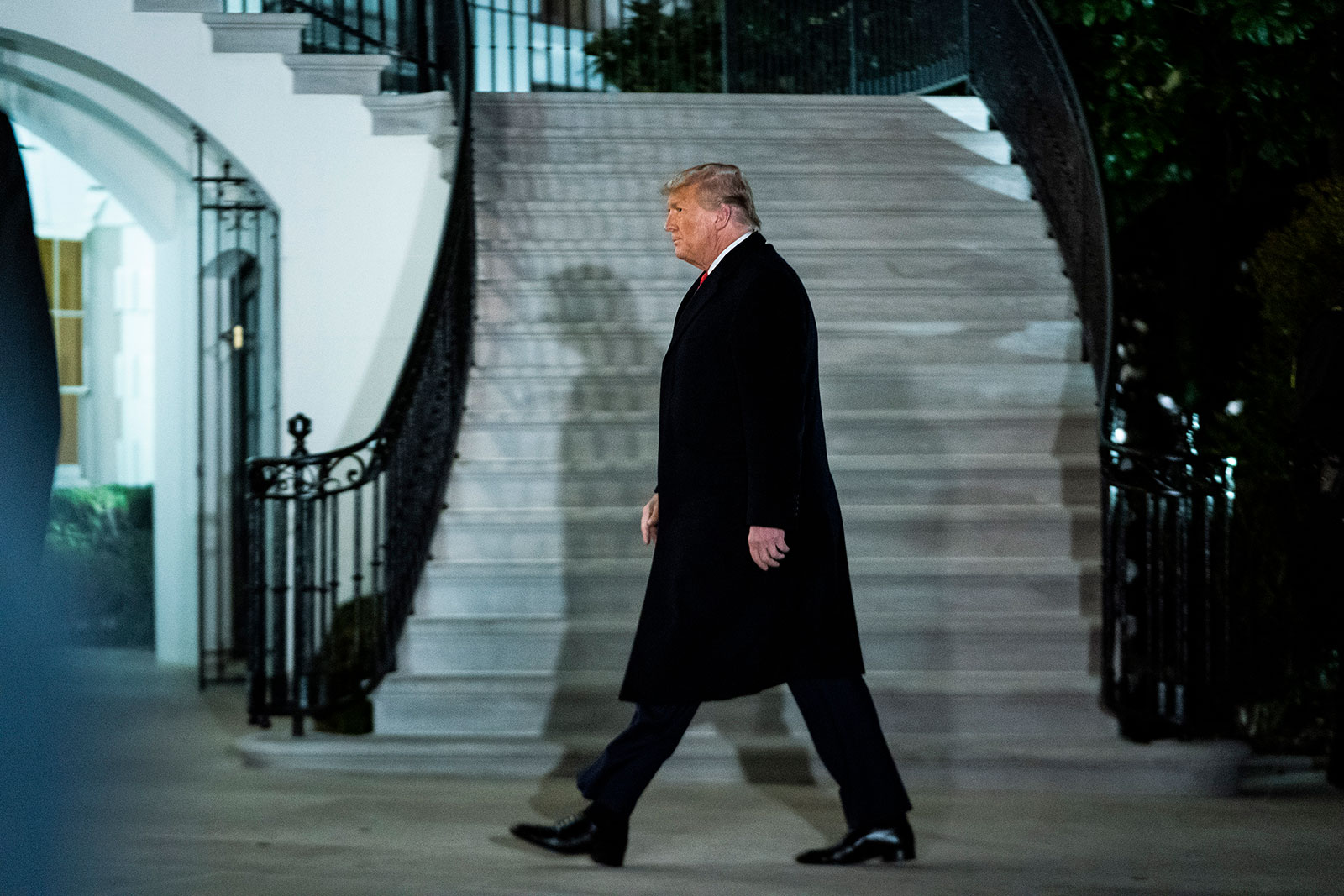 Colorado Democratic Rep. Jason Crow said that if President Trump wanted to stop the threat of any more violence in the US, he would say "outright" that President-elect Joe Biden won the 2020 election.
"The President has been building this; he has been radicalizing his most fringe supporters. He started with dog whistles and now this outright rhetoric by him and his top supporters. So talk is really cheap right now," Crow said in reaction to Trump releasing a video calling for calm.
"If he wants to de-escalate, he will stop these conspiracy theories, he will attempt to try to de-radicalize his supporters, and he will say that outright. I'm not holding my breath," Crow added in an interview with CNN's Kate Bolduan.
Crow also said "we are on the right path" to making sure the inauguration will be secure on Jan. 20. "We're almost there," he said. 
1 min ago
Man seen striking Capitol police officer with fire extinguisher arrested and charged
From CNN's Kay Jones and Evan Perez
A man accused of striking a US Capitol Police Officer with a fire extinguisher during the Jan. 6 riots has been arrested, court documents show.
Robert Sanford was arrested on Thursday morning in Pennsylvania, according to the Justice Department. 
According to the documents, he's been charged on four counts in relation to the riots, including:
Knowingly entering or remaining in any restricted building or grounds without lawful authority
Disorderly or disruptive conduct on Capitol grounds
Civil disorder
Assaulting, resisting, or impeding certain officers while engaged in the performance of official duties
The statement of facts state that Sanford was seen on video carrying a red object, which it states appears to be a fire extinguisher, as he stepped over a short wall. It says he hurls the red object towards police officers where it struck one officer who was wearing a helmet. It then ricochets and strikes another officer, without a helmet, before ricocheting again to strike a third officer in the head. That officer is also wearing a helmet, the statement said. 
It also quotes Officer William Young, who said he "felt a hard strike to the back of his helmet." He saw the fire extinguisher on the ground but didn't see who struck him, the statement said. Young was evaluated at the hospital and cleared to return to duty, the statement notes. 
The statement also said that Sanford was identified on Tuesday to the FBI in Pennsylvania. 
Sanford was charged on Wednesday in US District Court, according to court records. 
1 hr 12 min ago
Ohio National Guard sending specific units to DC at federal request
From CNN's Amanda Watts
The Ohio National Guard is sending over 700 members to the nation's Capital that have "some very specific capabilities," Major General John Harris said during a Thursday news conference.
Harris said Ohio has the "fifth largest National Guard the country," and they are sending specific units that were requested by the federal government.
"We've sent a very specialized unit called our Homeland Response Force — and that unit has the capability to not only provide security, but also they do what's called consequence management — so if there were a major event there, this unit can do very high level, high skilled search and rescue, both from confined spaces and high angle search and rescue," he said. "But also, they can do it in a chemical, biological, nuclear environment — so this is a precaution that's been requested by the folks here in the National Capitol Region, and the governor's directed that we send it." 
Additionally, Harris said they have sent "security type forces that can augment the law enforcement there in the National Capitol Region." 
He added that its two companies of "specially trained folks that can help with the security of critical infrastructure there." 
Ohio is also sending "some communications personnel and equipment and they'll be able to provide some redundancy for communication should that become necessary," Harris said.
Some of the more than 700 National Guard units have already deployed, and more will be traveling in.
1 hr 11 min ago
There will be no public access to the National Mall on Inauguration Day
From CNN's Alex Marquardt and Jeff Zeleny
The general public will not have access to the National Mall on Inauguration Day, according to an official familiar with the discussions.
The official said there will be no big screens, no toilets, no panels where people stand, and that the public will not be able to get down to the mall.
There are ongoing discussions between the District, National Park Service and the US Department of Interior on when the shutdown will happen. There won't be access on Jan. 20, but when exactly before that is still the subject of discussion.
President-elect Joe Biden's advisers, who are helping plan the inaugural, say it is intended to be a virtual event. They did not object to heightened security restrictions recommended by authorities pertaining to the Mall or the area surrounding the White House.
The restrictions on the National Mall were first reported by the Washington Post.
1 hr 19 min ago
Uncertain path of Senate trial underscored by chamber's past precedent
From CNN's Phil Mattingly and Lauren Fox
The House vote to impeach President Trump, historic as it was, has created a series of complicated questions for the looming Senate trial – nearly all of which will have repercussions for the opening days of incoming President Joe Biden.
It's something Democratic senators and aides say they're keenly aware of as they've worked through possible scenarios – keeping Biden's team in the loop each step of the way.
Biden himself called current Senate Majority Leader Mitch McConnell on Jan. 11 in an effort to attempt to map a path forward that allows his administration to start its work – both nominations and potential stimulus legislation – as soon as possible.
The stakes are enormous and will dictate how quickly Biden gets his team in place, as well as whether he and his new Senate majority can launch what are expected to be legislative efforts.
"I hope that the Senate leadership will find a way to deal with their Constitutional responsibilities on impeachment while also working on the other urgent business of this nation," Biden said in a statement following the impeachment vote Wednesday night, alluding to his desire to 'bifurcate" the process in the upper chamber.
The ability to solidify doing two things at once weighs heavily on what comes next. As McConnell made clear in a statement Jan. 13, Senate trials have historically not been short.
"The Senate has held three presidential impeachment trials," McConnell said. "They have lasted 83 days, 37 days, and 21 days respectively."
While Democrats have been eyeing a tighter timeline, no final decisions have been announced – either on how the trial will play out or when one will actually begin.
But past trials underscore the complicated balancing act that lawmakers are grappling with. Running through this trial provides a guide, but with the caveat that everyone involved is attempting to work through alternatives.
1 hr 7 min ago
Former acting Homeland Security chief again lays some of the blame for the Capitol riot on Trump
From CNN's Jason Hoffman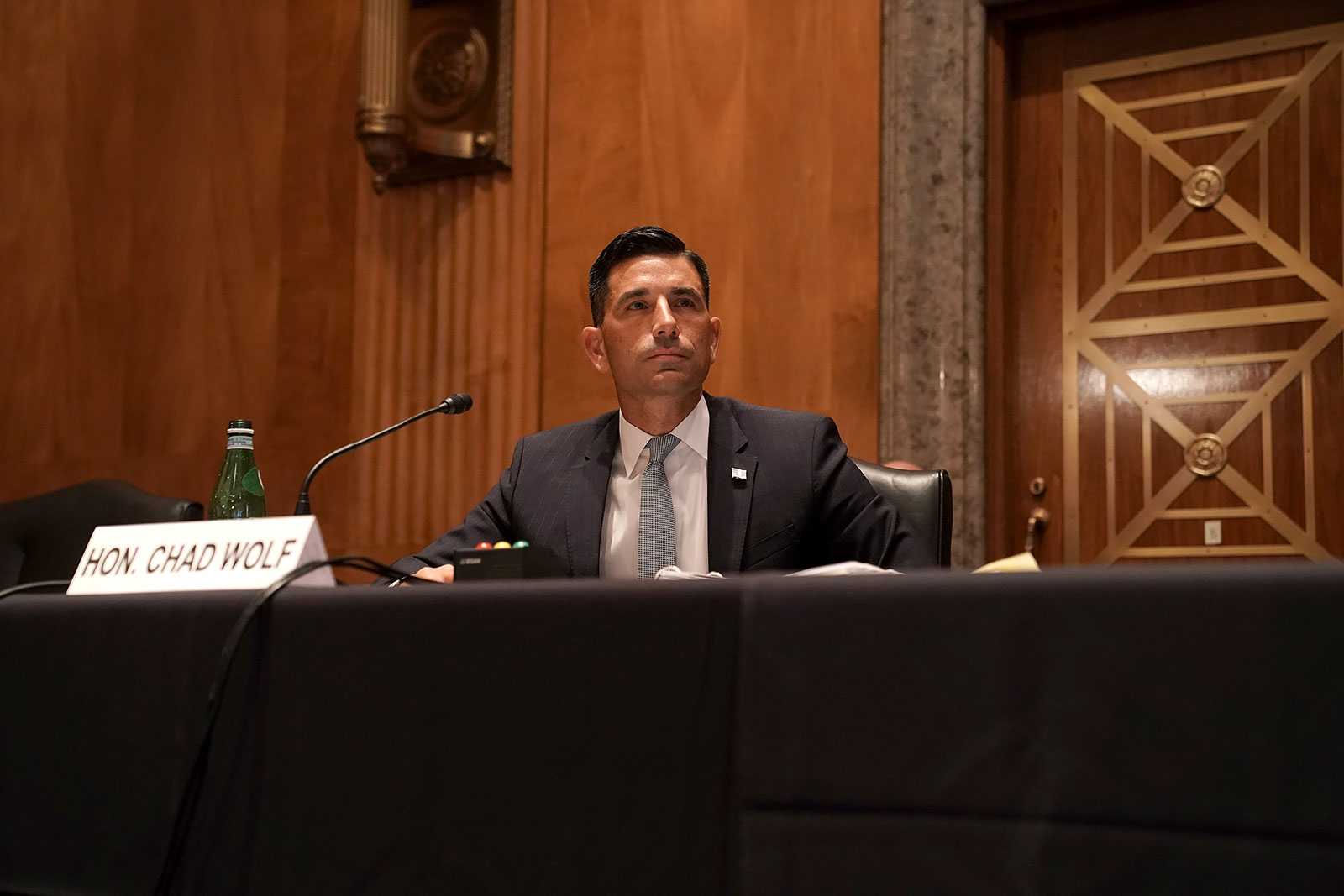 Former acting Department of Homeland Security Secretary Chad Wolf expressed his dismay that the outrage following the armed insurrection at the Capitol last week was not present over the summer when there were violent protests in Portland and other cities, but again laid some of the blame for last week's events at the feet of President Trump, saying that the "President's words matter."
"I think as we look back at the events of last week I think certainly the President's words matter and I think I've said that publicly on several occasions now. Obviously the individuals the stormed the capitol, the rioters, the criminals that did that, obviously have a lot of blame for their actions themselves and I think that's important to keep in mind," Wolf said in an interview on Fox news on Thursday, echoing what he told CNN in an interview on Wednesday.
Wolf however then turned his attention to the violence over the summer.
"Actions in Portland and Oakland, areas like that where the activities of very violent individuals trying to burn down a courthouse and others, it's very similar to what we saw here in the capital trying to disrupt the workings of the federal government. And at that time there was very few outrage, very few outspoken individuals about the attack on those federal facilities and law enforcement," Wolf said, adding that he thinks there should be the same level of outrage across the board.
Wolf again said his decision to leave the administration early was because of legal challenges to his authority.
Wolf said that he hopes the Biden administration doesn't immediately overhaul some of the immigration measures put in place by the Trump administration to cater "to one political spectrum or ideology, one side of the aisle or the other."
1 hr 3 min ago
Biden and McConnell talk more than people know, source says
From CNN's Gloria Borger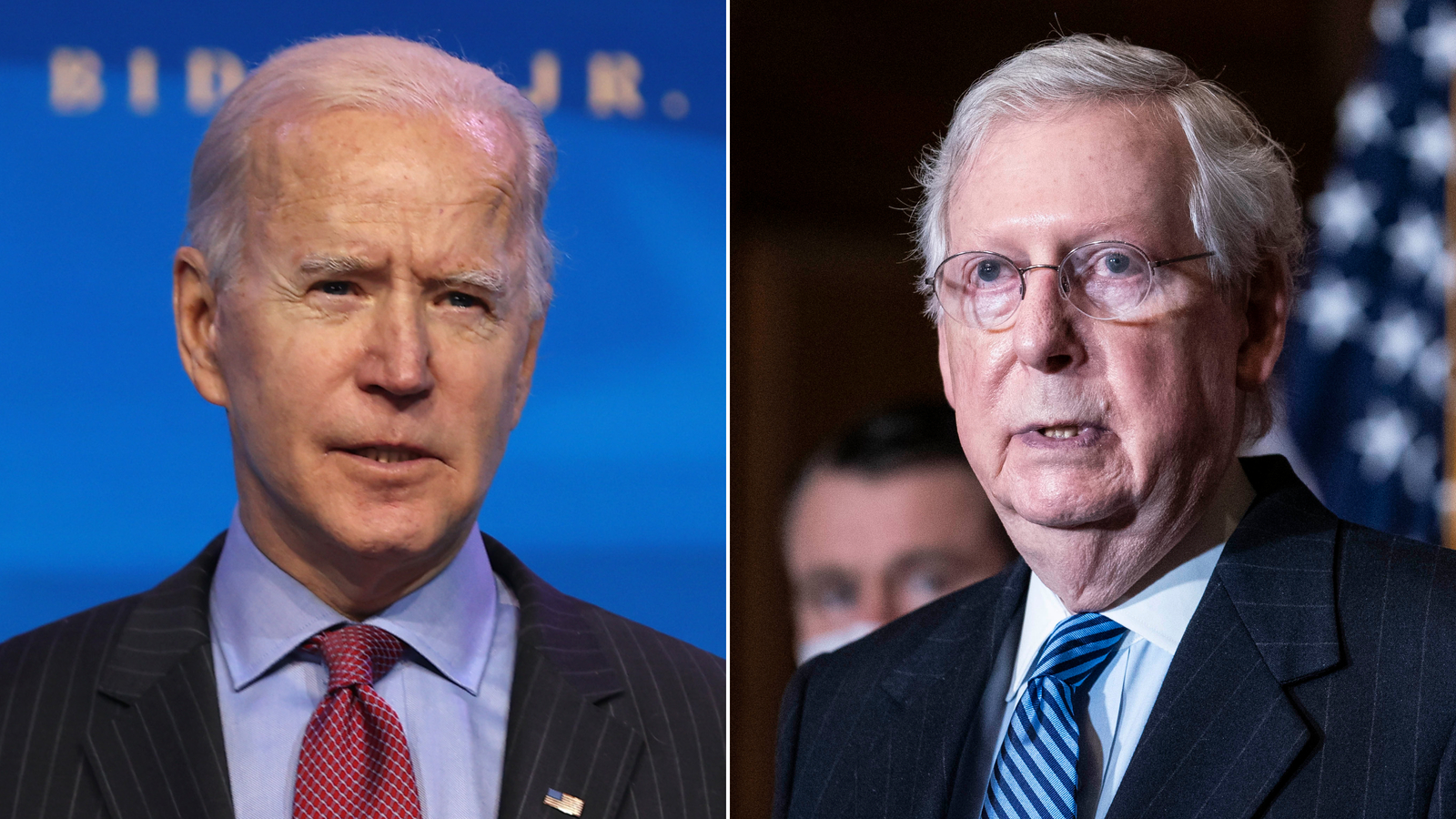 President-elect Joe Biden and Senate Majority Leader Mitch McConnell talk more than people know, a source familiar with the matter told CNN. 
The feeling inside, according to this person, is that people see McConnell as someone who is on the level and won't pull a quick one, an attitude that is shaped by Biden himself. And they also understand that while there is going to be GOP opposition to the size of the relief package, there is pressure on McConnell to do something on Covid-19.
Biden is cautioning strategic patience internally. There have been multiple times when folks have wanted to go harder on confirmations etc and Biden is the one who says give it a minute.
Biden has had "lots of conversations, with lots of people, including McConnell" about the size of the Covid-19 package, confirmations, and other matters, this person added. 
On the impeachment front, McConnell has rejected Democratic calls to bring the Senate back immediately to convict President Trump, a decision that is likely to allow the President to serve out his final days in office. Biden yesterday urged the Senate to conduct the impeachment trial while simultaneously working on other critical issues.
1 hr 34 min ago
Congressional Gold Medal bill introduced for Capitol Police officer who lured rioters away
From CNN's Kristin Wilson
Reps. Charlie Crist of Florida, Emanuel Cleaver of Missouri and Nancy Mace of South Carolina have introduced a bill to award US Capitol Police officer Eugene Goodman with the Congressional Gold Medal for "for his bravery and quick thinking during last week's insurrection at the United States Capitol."
"While some will remember last Wednesday for the very worst in our country, the patriotism and heroics of Officer Eugene Goodman renew my faith and remind us all what truly makes the United States great," Crist wrote in a statement. 
Goodman lured a group of rioters away from the entrance to the Senate chambers on Jan. 6, where lawmakers were still debating an objection to Arizona's Electoral College vote count.
1 hr 49 min ago
These are the GOP senators to watch as the impeachment trial looms
From CNN's Ali Zaslav, Manu Raju and the rest of the Hill Team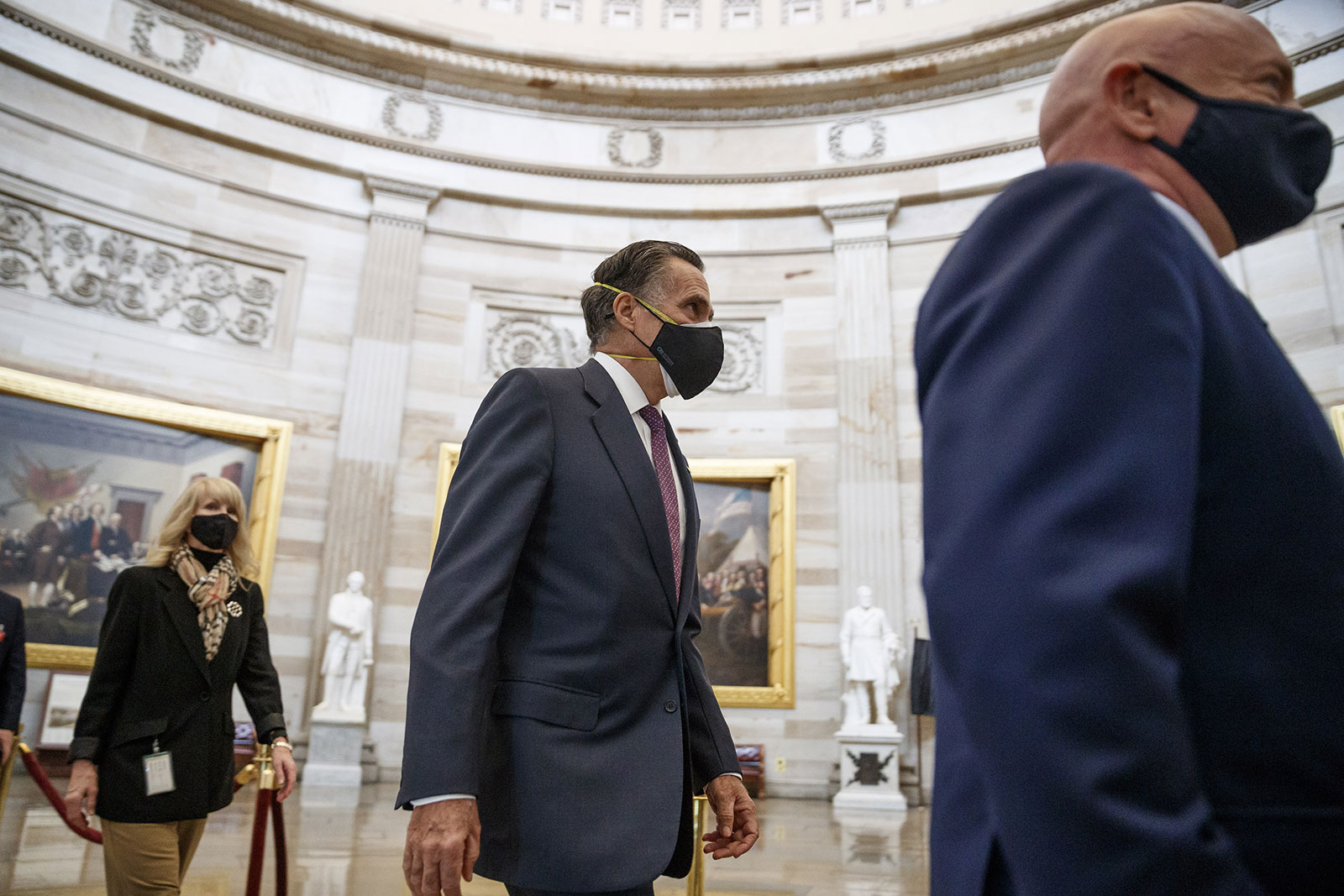 After the House of Representatives impeached President Trump for a second time on Wednesday, attention now turns to the Senate.  
The Senate can vote to convict Trump by a two-thirds majority. That means 17 Republican senators would have to vote "yes" to convict Trump, assuming every senator shows up to the vote and all 50 Democratic senators also vote "yes" to convict. 
All eyes are what soon-to-be Minority Leader Mitch McConnell decides. Several GOP aides have told CNN that McConnell's decision will certainly have an impact on the conference.
Here's a look at some of the Senate Republicans we're watching ahead of the trial:
Sen. Lisa Murkowski of Alaska: Sen. Murkowski, who is up for reelection in 2022, is a frequent Trump critic. Last year, over the summer, she said she was "struggling" with whether to support President Trump in the election, and she was the first GOP senator to explicitly call on Trump to resign.
Sen. Susan Collins of Maine: Sen. Collins, who just won reelection, is a frequent critic of the President. In an op-ed in the Bangor Daily News after the Capitol attack, Collins wrote that she had texted a White House contact during the riot to urge President Trump to tell rioters to stop the violence, "but President Donald Trump completely undercut that message by repeating his grievances and telling the rioters that he knew how they felt. This was terrible, especially since he incited them in the first place."
Sen. Mitt Romney of Utah: Sen. Romney was the sole Republican to vote to convict the President during Trump's first Senate's impeachment trial last year. Romney said recently he thinks we've got to "hold our breath" until Trump's out of office, when asked his view of invoking the 25th Amendment. On whether Trump should be impeached, Romney said, "I think time is a little short for that." 
Sen. Ben Sasse of Nebraska: Sen. Sasse, a frequent Trump critic, recently said he would "definitely consider" articles of impeachment from the House in an interview on CBS.
Sen. Pat Toomey of Pennsylvania: Sen. Toomey, who is retiring after his term in 2022, said that President Trump has committed an impeachable offense, but stopped short of directly calling for his impeachment. He also called on Trump to resign. "I think at this point, with just a few days left, it's the best path forward, the best way to get this person in the rearview mirror for us that could happen immediately. I'm not optimistic it will," Toomey said on CNN's State of the Union.
CNN's Ali Main and Nicky Robertson contributed additional reporting to this post.