2 min ago
GOP members want to impeach but "fear for their lives," sources tells CNN
From CNN's Jamie Gangal
Republican leaders are expecting about 10 to 20 House Republicans to vote for impeachment but sources tell CNN there are many more members who "want to vote to impeach but they legitimately fear for their lives and their families' lives," CNN's Jamie Gangal reports.
"Liz Cheney, these Republicans who have announced, they are showing courage at the same time as I have been told by Republican sources that members, Republican members, have said they are not going to vote for impeachment because they are still scared of Donald Trump," Gangal told CNN's Wolf Blitzer.
"I was told that the White House is continuing to pressure these members, that Trump has not stopped and that members, quote, 'fear for their lives and for their families' lives,'" she continued. "After what we saw on January 6th, a week later, that says a lot that the White House is still pressuring people."
Gangal went on to talk about Senate Majority Leader Mitch McConnell's role in the impeachment process, saying his silence "is deliberate".
"He is deliberately being quiet. He is leaking out this information that he favors impeachment. Let's see what he does at the end of the day. But the fact that he leaked out to reporters that he wants to move in this direction shows a split with Donald Trump, a split in the Republican party," she said.
"I was told that unlike Kevin Mccarthy, who thinks Trump may just fade away, that Mitch Mcconnell thinks that the Republican party needs a clean break to move ahead."
1 min ago
Pelosi calls President Trump a "clear and present danger" to the country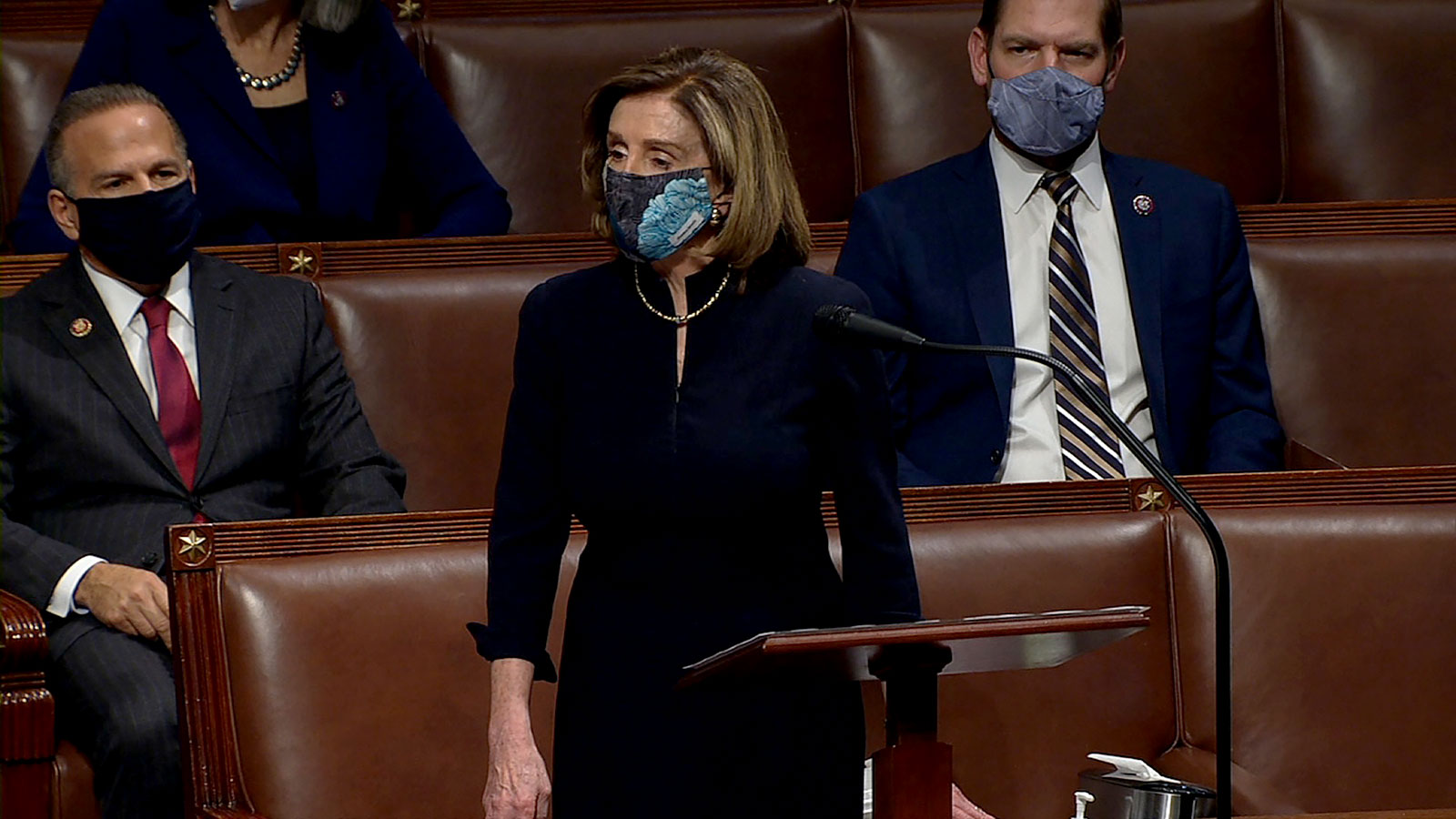 House Speaker Nancy Pelosi started the House debate over the article of impeachment against President Trump by saying that Trump is "a clear and present danger" to the country.
"We know that the President of the United States incited this insurrection, this armed rebellion against our common country. He must go, he is a clear and present danger to the nation that we all love," Pelosi said.
She added that President Trump has "repeatedly" lied about the outcome of the election in November and cast doubt on democracy.
"Then came that day of fire we all experienced. The President must be impeached," she said.
Watch:
9 min ago
CNN's John King: This is a "day of choosing" for Republicans' future
From CNN's Adrienne Vogt
As the House is set to impeach President Trump for a second time, CNN's John King said Republicans face a fork in the road for the party's future. 
"As…we're writing the final chapter of the Trump term, we're also writing a beginning chapter of the future of the Republican Party. And this is a day of choosing," King said.
King brought up how Reps. Jim Jordan and Paul Gosar said that Rep. Liz Cheney should be removed as chair of the House Republican Conference after she announced she'd vote for impeachment.
"Republicans have to choose today … They have to choose about their future. No one man can perpetuate a fraud and can perpetuate a lie, not even the President of the United States," King said.
King said that more Republicans could've stood up and denounced President Trump's baseless election fraud claims. 
"In some ways, truth is winning. In some ways, facts [are] winning. But there are a lot of open raw wounds," King added.
11 min ago
Read the full article of impeachment against President Trump
Democrats in the House of Representatives are charging President Trump with "incitement of insurrection" for his role in last week's deadly Capitol riot.
Susan Cole, House reading Clerk, is reading the article of impeachment now on the House floor.
This is the full article of impeachment that the House will vote on later today:
11 min ago
Happening now: House begins debate on Trump impeachment resolution
The House is debating now on an impeachment resolution that would make Trump the first President in United States history to be impeached for a second time.
Democrats are charging Trump with "incitement of insurrection" for his role in last week's deadly Capitol riot. 
House Speaker Nancy Pelosi will open the two-hour debate.
What will come next: The House will vote on the single article of impeachment. The final vote will begin between 3 p.m. and 4 p.m. ET.
As with all important votes in times of coronavirus, these things are a bit fluid in terms of timing. The resolution is expected to pass.
Senate Majority Leader Mitch McConnell has not told his members yet when the trial may be in the Senate, according to multiple GOP sources. Even if Trump is impeached today, Trump will stay in office and likely finish out his term because it takes a Senate conviction to remove him even after he's been impeached.
3 min ago
McConnell hasn't told Republicans when Senate trial may be
From CNN's Manu Raju
Senate Majority Leader Mitch McConnell has not told his members yet when the trial may be, according to multiple GOP sources. 
McConnell also has not yet publicly said whether he will agree to reconvene the Senate and begin a Senate trial immediately. That has prompted speculation within the Senate that McConnell could move quicker — to bring the Senate back — and convict Trump before he leaves office.
McConnell has yet to inform his members about the latest in his thinking. In a memo a few days ago, he suggested the trial wouldn't start until Joe Biden becomes president, saying all 100 senators would need to consent to change the Senate's schedule
But since then, Senate Democratic Leader Chuck Schumer has called on McConnell to use emergency authority to reconvene the Senate if the two of them agree to bring the chamber back. McConnell has not ruled that out publicly.
House Democrats are signaling they plan to send the article of impeachment over to the Senate immediately, meaning a trial could presumably start as soon as McConnell wants.
McConnell's office is not yet answering questions.
Where McConnell stands: McConnell has indicated that he believes that impeaching President Trump will make it easier to get rid of the President and Trumpism from the Republican Party, according to a source with knowledge of the matter.
Another person with direct knowledge told CNN there's a reason McConnell has been silent on impeachment as other Republicans have pushed back: He's furious about last week's attack on the US Capitol by the President's supporters, even more so that Trump has shown no contrition. His silence has been deliberate as he leaves open the option of supporting impeachment.
16 min ago
20,000 National Guard troops expected to be in Washington for inauguration
From CNN's Alison Main, Nicky Robertson and Barbara Starr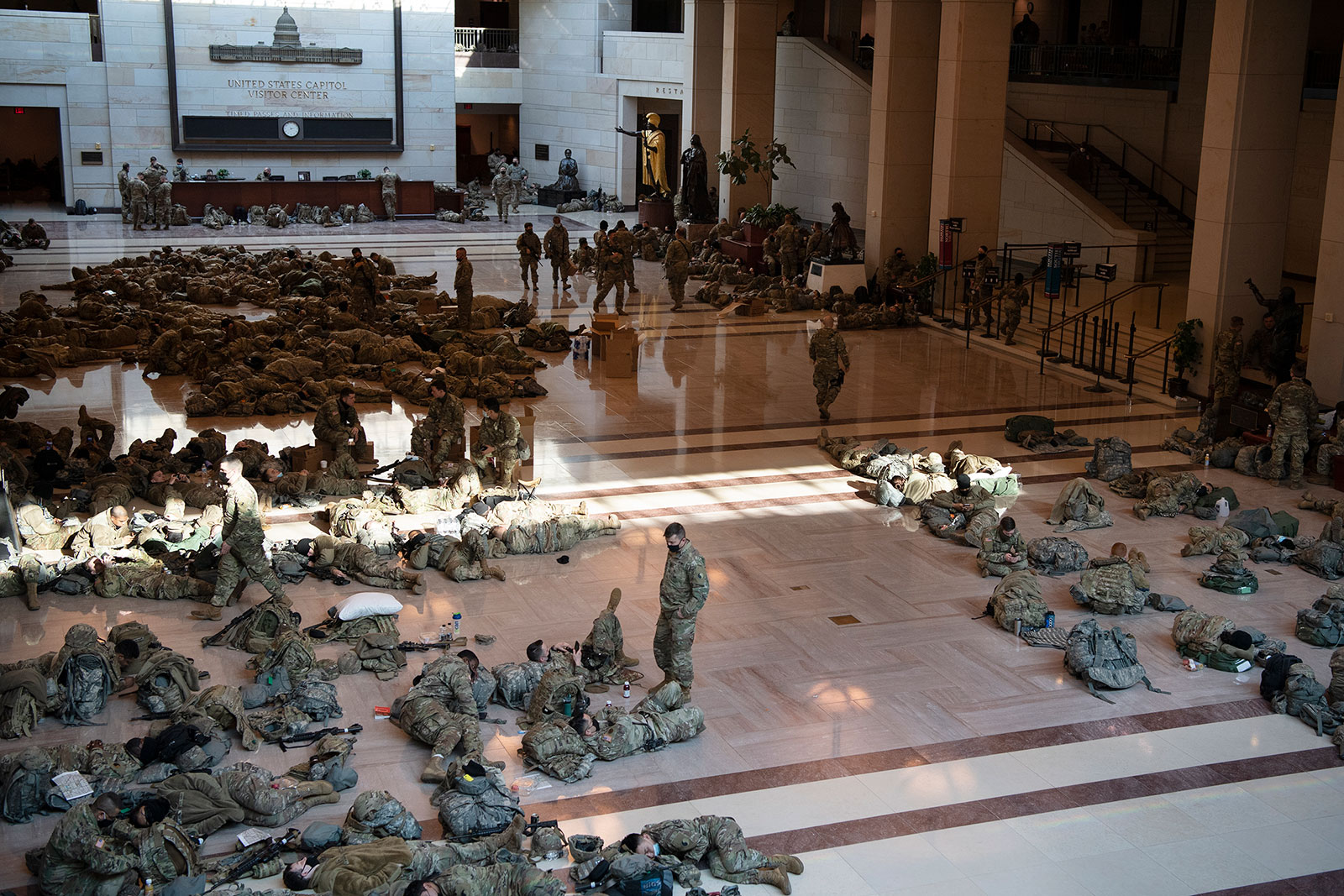 DC Police Chief Robert Contee said on Wednesday that more than 20,000 National Guard members could be expected in the District for President-elect Joe Biden's inauguration, though he noted the final numbers will be provided by the United States Secret Service.
Multiple defense officials tell CNN that the total request for National Guard is close to 30,000 guardsmen to support US Capitol Police, Park Police and Washington Metropolitan Police Department but officials believe that the actual number needed is closer to 20,000.  The officials added that there is no concern that there will be any shortage of Guard forces to meet requirements from the 50 States and the District of Columbia. 
Asked if he's ever seen this much law enforcement reinforcement coming to the District, the newly-installed Chief Contee, who is a veteran of the Metropolitan Police Department and lifelong DC resident, answered, "not at this level, no."
Contee told reporters he remains concerned amid a "major security threat" ahead of the inauguration and planned demonstrations in the District this weekend.
"I've been concerned before today and will be through this weekend, and beyond," Contee said on Wednesday, while praising DC Mayor Muriel Bowser's security posture, including discouraging people from coming to DC for the inauguration. "There's a major security threat, and we are working to mitigate those threats," he added.
32 min ago
House Republican defiant over decision to vote for impeachment: "I'm not in fear at all"
From CNN's Manu Raju
In an interview with CNN's Manu Raju, Rep. Jaime Herrera-Beutler, a Republican from Washington, said "I'm not in fear at all," over whether her vote to impeach President Trump would have consequences.
"This decision was not, like, a fear-based decision for me," she said.
Beutler announced last night that she would vote to impeach Trump citing "indisputable evidence," over his role in the Capitol riot.
"This is definitely the most, I think, consequential vote I've ever taken as a member," she told CNN, "and see, more than anything, I just, I just want people to know this isn't about choosing sides, this is about choosing truth."
Beutler added that she's preparing to deliver a statement on the House floor on her vote to impeach.
She's one of five House Republicans who've broken rank so far in announcing their intent to impeach President Donald Trump.
20 min ago
A Georgia man charged as part of the Capitol insurrection has died by suicide  
From CNN's Devon Sayers 
The death of a Georgia man who was charged as part of the Capitol insurrection has been ruled a suicide, officials say.
Police in suburban Atlanta responded Saturday morning to a call and found Christopher Stanton Georgia dead.  
The Fulton County Medical Examiner office performed an autopsy on Monday and has ruled his death a suicide. 
Two rifles were recovered from his home according to an incident report from the Alpharetta Police department. 
Georgia was charged with unlawful entry of the US Capitol, as well as violating a citywide curfew according to court documents filed in Washington.