1 min ago
"This isn't a game": Biden transition officials on Trump agency's refusal to recognize his victory
From CNN's Sarah Mucha
Biden-Harris transition officials Jen Psaki and Yohannes Abraham once again lamented in a briefing with reporters today the General Services Administration's refusal to ascertain the election, warning of its national security and public health implications for Americans. 
"This isn't a game of who gets to talk to whom. Our inability to start the informal agency review process has the potential to have real impacts across the country," Abraham said. "There's no replacing the real-time information that can only come from the post-ascertainment environment that we should be in right now." 
Remember: The current GSA administrator, Emily Murphy, still has yet to acknowledge Joe Biden's victory — as President Trump refuses to concede — and sign a letter to release funds to the Biden transition team through a process called ascertainment.
Asked if they believe a Wall Street background is harmful or an asset to working in the White House, Psaki said, "I think it's pretty safe to say that he's not a fan of Wall Street policies or an advocate for a lot of the policies that some people would be in favor of or be pushing for from that end. His record speaks for itself and his advocacy and work speak for themselves." 
The team stressed that Kamala Harris has been an "integral part" of all personnel conversations that have happened during the transition and will continue to play that role. 
On any possible upcoming Cabinet announcements, Psaki reacted to progressive groups' criticism that has already come out on rumored lists, saying, "I would encourage people to wait until we've made even one announcement about a cabinet member and certainly more than just a dozen White House names, before they pass judgment."  
Psaki and Abraham both stressed that when Biden takes the White House in January, they will continue to follow the science to keep the safety of their team a priority, noting from their work-from-home Zoom calls that they are not working from a transition office at the moment and intend to be models for the country on how to approach work life during a pandemic.
They did not share details about whether or not or how many people might be physically working from the White House. 
1 hr 38 min ago
White House won't say when Trump will concede election and allow transition to take place
From CNN's Jason Hoffman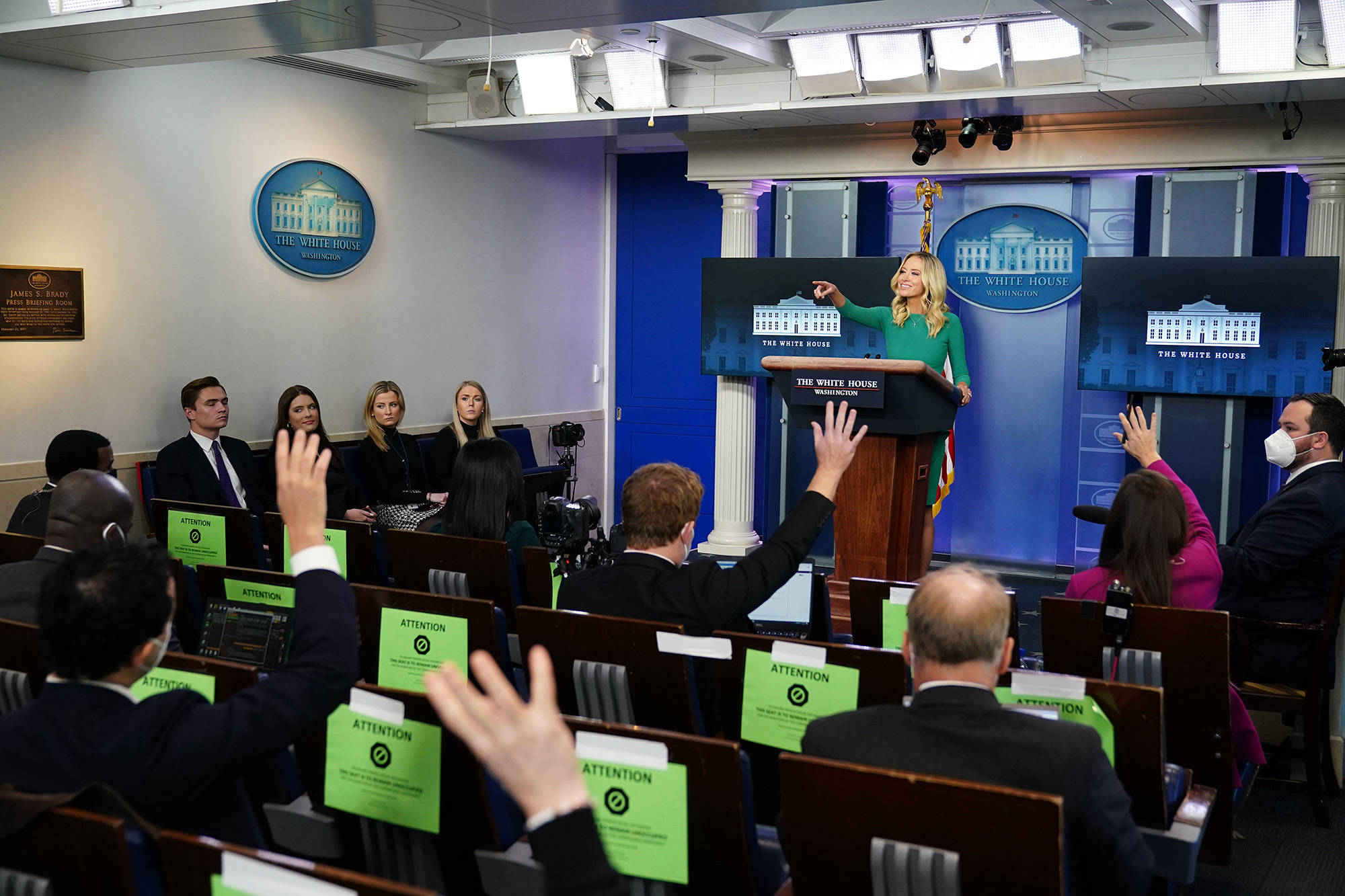 White House press secretary Kayleigh McEnany would not say when President Trump will concede the election to Joe Biden and allow for a smooth transition to take place.
In her non-answer, she discussed the fact that Trump received more votes than any President in history and the ongoing issue with certifying the election results in Michigan.
"Right now there is ongoing litigation. There are, what we know, 74 million Americans that voted for this President. That's more votes than any President has gotten in history and it's really extraordinary and there are very real claims out there that the campaign is pursuing, 234 pages of affidavits publicly available in one county alone, that's Wayne County and two individuals on the canvassing board there that have declined to certify. So these are real claims. These individuals deserve to be heard," McEnany said from the White House briefing room in her first briefing since Oct. 1
What McEnany says is false, however. The two Republican canvass board members from Wayne County, Michigan, did certify the election results after initially declining to do so. They then filed affidavits Wednesday seeking to "rescind" their votes to certify the election result.
She also falsely claimed later in her remarks that this election with "mass mail-out voting" is a system that is "particularly prone to fraud." There is no evidence of widespread voter fraud in the election.
Later in her briefing, McEnany added that the President will wait for litigation to play out before he potentially concedes.
Remember: Trump has refused to concede the race and blocked his administration from taking any of the administrative steps typically taken in a transfer of power. This includes allowing the General Services Administration to declare that there is a president-elect — a move that triggers the transition process. Major new organizations, including CNN, projected Biden will win the presidential election.
7 min ago
Georgia secretary of state's office says certification still underway after announcing it was complete
From CNN's Marshall Cohen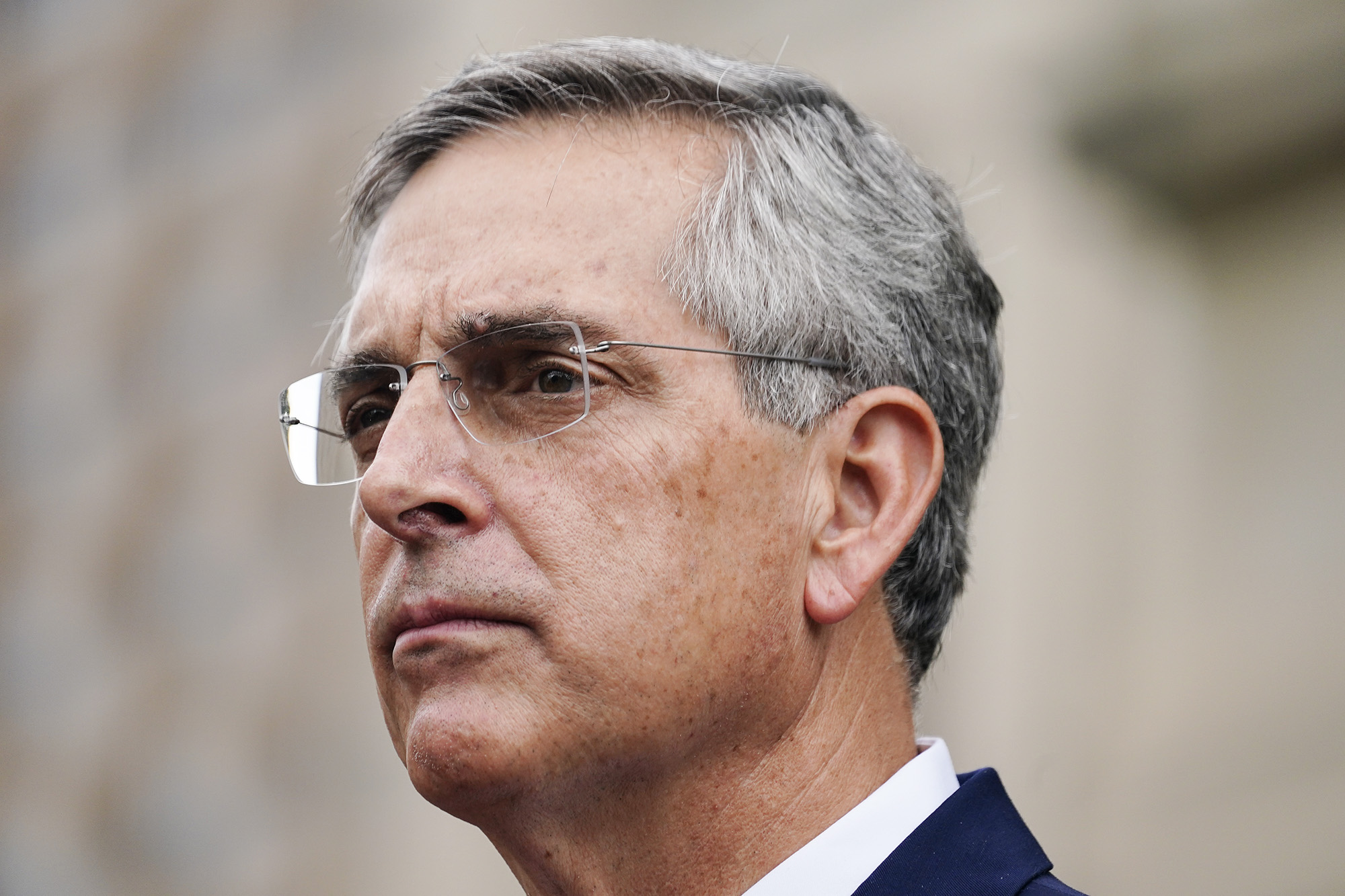 Georgia Secretary of State Brad Raffensperger's office said Friday that he hasn't yet certified the results of the presidential election, one hour after issuing a press release announcing it was complete.
The certification will formalize the razor-thin presidential results after a statewide audit confirmed that Joe Biden got more votes than President Trump and would be a major blow to Trump's longshot efforts to overturn the outcome of the election.
"Numbers don't lie," Raffensperger said during a news conference earlier Friday. "As Secretary of State, I believe that the numbers that we are presented today are correct."
Raffensperger's office then issued a press release at 12:26 p.m., saying, "The Georgia Secretary of State Office today certified the results for the November 3, 2020 General Election." But it sent a "correction" at 1:06 p.m. saying, "Georgia Secretary of State Brad Raffensperger today will certify the results for the November 3, 2020 General Election."
Certifying election results is typically a formality, but the arcane process has become the latest battleground in Trump's longshot attempt to cling to power. His campaign is trying to block or delay certification in key states in hopes of overturning Biden's victory through the Electoral College.
Read more here.
This story has been updated following Raffensperger's announcement the results have not been certified.
1 hr 51 min ago
White House denies there's been any pressure on agency to recognize Biden's victory
From CNN's Betsy Klein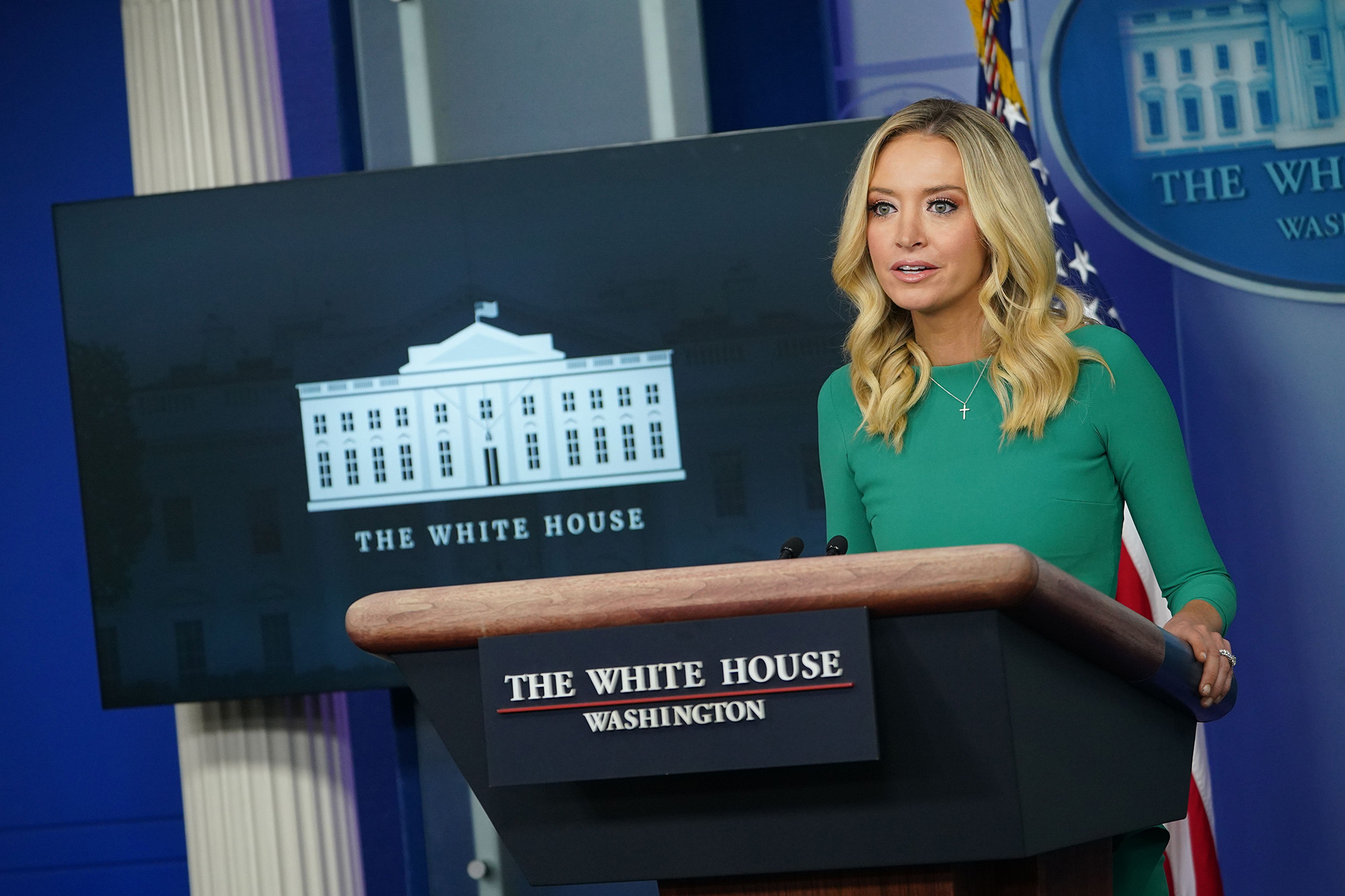 White House press secretary Kayleigh McEnany denied that there was any pressure on the head of the General Services Administration, Emily Murphy, to ascertain the results of the election and begin the official presidential transition, again baselessly claiming the election has not been decided.
"Absolutely not. GSA will make the determination of ascertainment at the right moment. Right now there's a constitutional process that's being played out, there are questions being asked in court. But the GSA will determine when ascertainment is reached," she said.
Pressed on concerns from members of Congress that the Biden transition should have access to transition resources, including communication with agencies, she said the Trump administration was doing what was required by the Presidential Transition Act.
"There is a Presidential Transition Act that determines exactly what an admin needs to do in advance of an election and we have done everything statutorily required and we will continue to do that," McEnany said.
She said she had "never" been instructed not to engage with members of Biden's team and had "never heard of an instruction to that end," despite reporting to the contrary.
1 hr 51 min ago
White House claims Trump's meeting with Michigan GOP lawmakers not "advocacy meeting"
From CNN's Maegan Vazquez, Annie Grayer and Caroline Kelly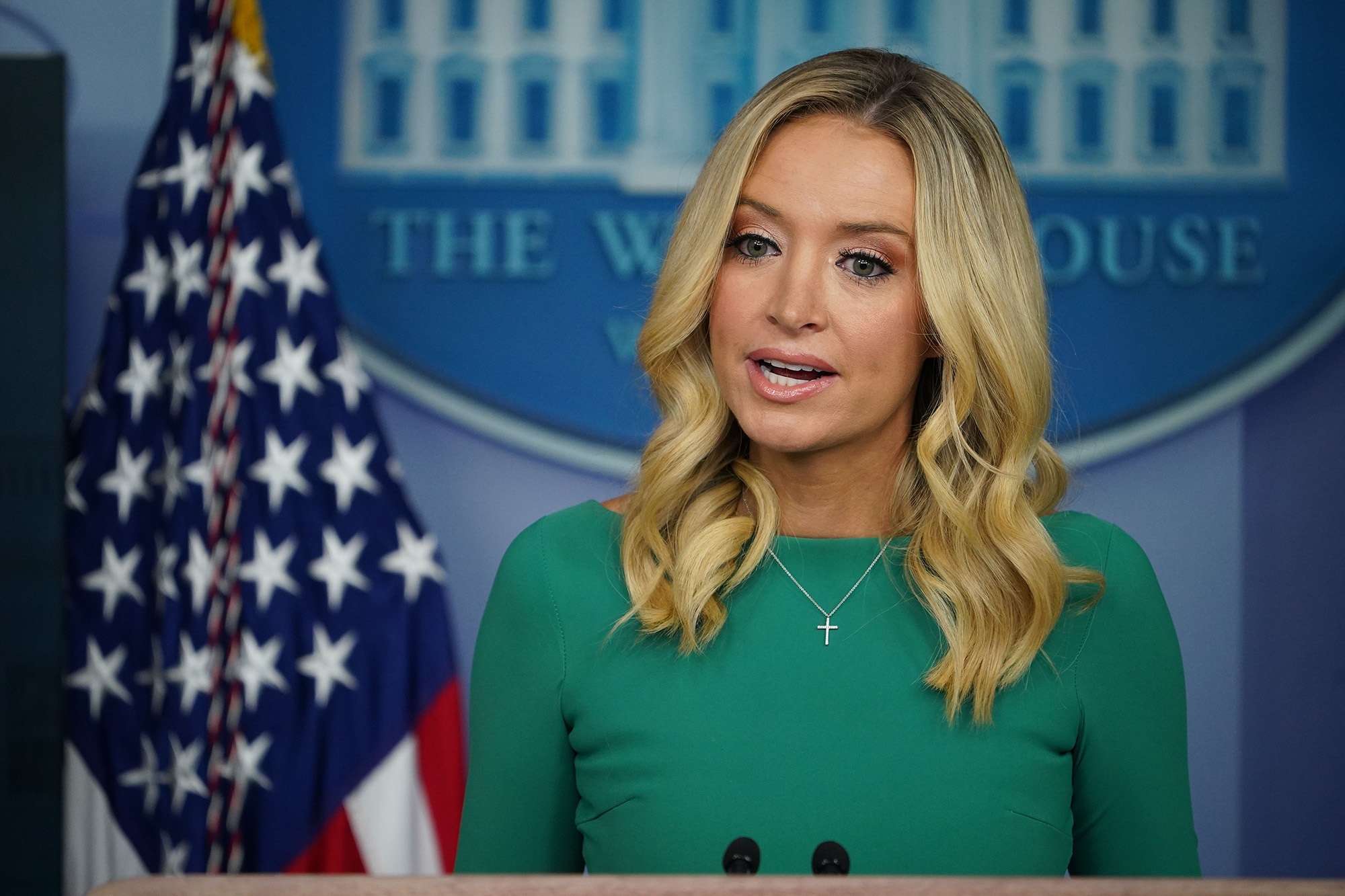 White House press secretary Kayleigh McEnany confirmed during Friday's press briefing that President Trump will be meeting with Michigan lawmakers, as the President continues his longshot effort to attempt to overturn the results of the 2020 election.
Asked what the President would discuss and whether he would ask the state legislature to appoint preferential electors, McEnany said, "So he will be meeting later on. This is not an advocacy meeting. There will be no one from the campaign there. He routinely meets with lawmakers from all across the country."
CNN previously reported that the meeting between Trump, Michigan Senate Majority Leader Mike Shirkey and House Speaker Lee Chatfield will be at the White House at 4 p.m., according to a source familiar.
Some background: Trump's lawyer Rudy Giuliani and other allies have suggested that GOP state legislatures in battleground states Joe Biden won should try to use a delay in certification to appoint their own slate of electors and ignore the states' popular votes for Biden.
It's not clear what Trump's message to the Michigan GOP lawmakers will be. Both Shirkey and Chatfield have said that they will honor their state's popular vote and not stray from the process of how electors in Michigan are selected. 
Two sources told CNN there are also discussions currently underway with the President about inviting Republican state legislators from Pennsylvania to the White House. The deadline for counties in Pennsylvania to certify their totals is Monday.
2 hr 51 min ago
Behind the scenes, some alarmed GOP senators are considering more forceful pressure on Trump
From CNN's Dana Bash
A GOP Senate source told CNN that the combination of Rudy Giuliani's news conference yesterday and the President meddling in the Michigan election process has some GOP senators reconsidering their silence.
This source says most had hoped that Trump's tirade would have worked itself out by now, but his actions in the last 24 hours make that hope seem more and more distant.
The source didn't want to speak on the record because of the sensitivity of the topic.
This source said that a handful of GOP senators are talking about whether and how to interject in a way that will be most effective with the President.
There is some talk of trying to talk to the President and trying to implore him to go out on a high note by touting wins in the House, and helping win the two outstanding Georgia seats — not to mention taking credit for the vaccine movement and other accomplishments.
The source emphasized, however, that this is not a leadership position right now – more rank and file Republicans.
Remember: Trump has refused to concede the race and blocked his administration from taking any of the administrative steps typically taken in a transfer of power. This includes allowing the General Services Administration to declare that there is a president-elect  — a move that triggers the transition process.
2 hr 22 min ago
Biden announces more members of White House senior staff
From CNN's Jeff Zeleny, Arlette Saenz and Sarah Mucha 
President-elect Joe Biden has announced another round of White House staff that demonstrate he intends to continue acting on his pledge to make his administration reflect the diversity of the country. The staff positions announced today will be filled by longtime aides to the Bidens. 
Louisa Terrell, who served as Executive Director for the Biden Foundation, will become Director of the White House Office of Legislative Affairs. She comes to the position with experience that includes acting as the Special Assistant to the President for Legislative Affairs in the Obama-Biden administration. 
As CNN reported Thursday, Carlos Elizondo will be White House Social Secretary. 
Elizondo worked in the Obama administration as social secretary for then-vice president Joe Biden and Second Lady Jill Biden. He will be only the second man to serve as White House Social Secretary and will inherit a unique dynamic as the White House adapts its activities to the age of coronavirus. He is the third Latino to be named to the East Wing. Earlier in the week, Anthony Bernal was named as a senior adviser to Jill Biden and Julissa Reynosa Pantaleon was tapped as her chief of staff.
Ambassador Cathy Russell will assume the role of Director of the White House Office of Presidential Personnel. Russell served at the White House and the State Department for both of President Barack Obama's terms, and she currently serves on the Advisory Board of the Biden-Harris Transition Team. Prior to that, se served as Vice Chair of the Biden-Harris Campaign.
Future First Lady Jill Biden's Policy Director will be Mala Adiga, who served as her senior advisor and a senior policy advisor on the Biden-Harris campaign. Adiga — who will work for a First Lady who has said she intends to prioritize education and military families in her portfoli — previously worked at the Biden Foundation as Director for Higher Education and Military Families. 
3 hr 18 min ago
Conversations underway about inviting Pennsylvania lawmakers to the White House
From CNN's Kaitlan Collins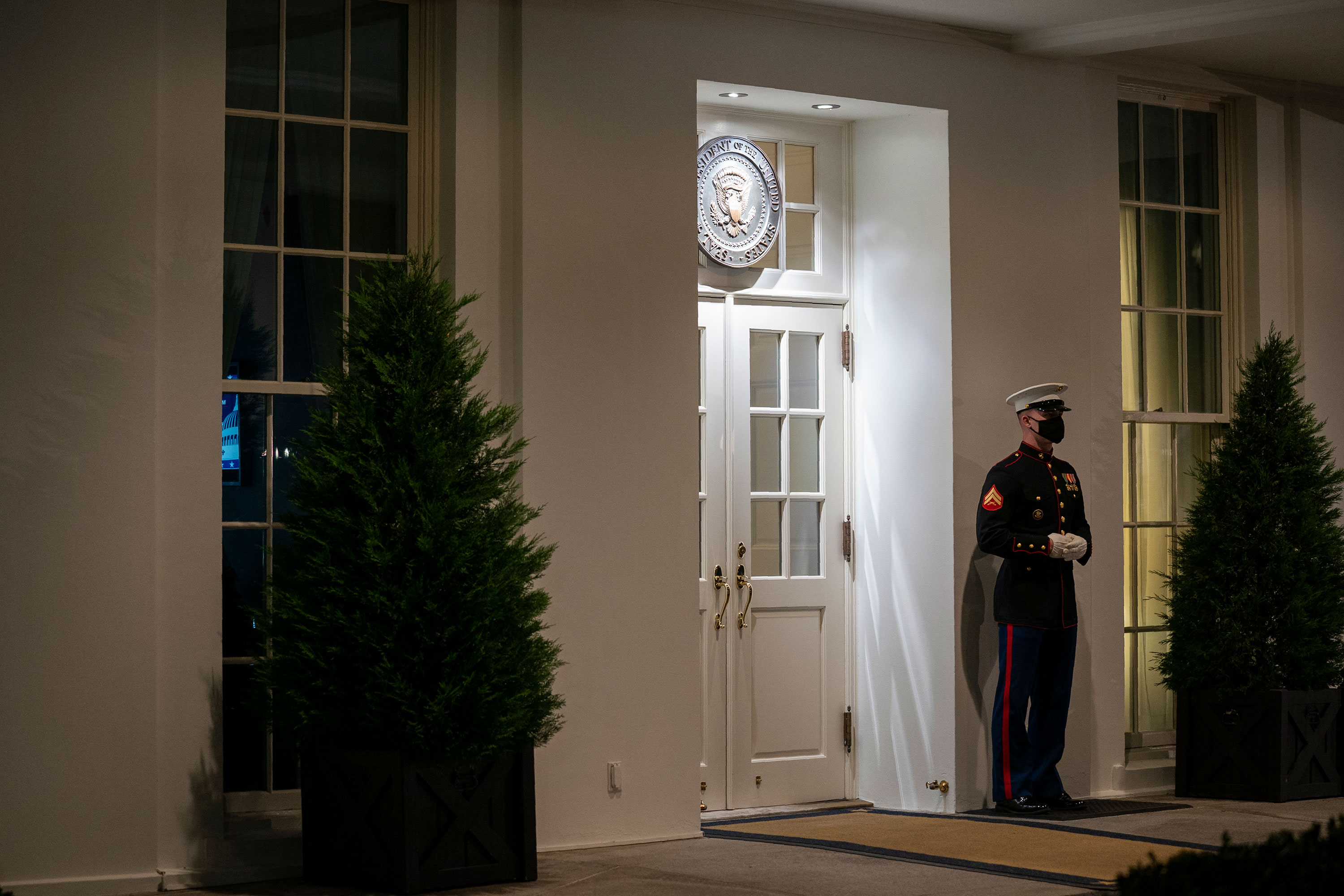 Two sources tell CNN there are discussions currently underway with the President about inviting Republican state legislators from Pennsylvania to the White House.
It's not clear if those invitations have been extended yet, but President Trump has expressed interest in doing so as he tries to insert himself into the vote certification process.
This would be another brazen step on the heels of Trump meeting with lawmakers from Michigan this afternoon. The deadline for counties in Pennsylvania to certify their totals is Monday.
3 hr 30 min ago
Biden's senior advisor on Trump legal effort: "There is harm being done to the Democratic process"
From CNN's Jessica Schneider
Biden for President Senior Advisor Bob Bauer warned in a 30-minute Zoom call with reporters that "there is harm being done to the democratic process" and he slammed the Trump legal effort.
"The harm is real," Bauer said. "There is no chance Donald Trump can be successful in what he is trying to do."
In particular, Bauer blasted Rudy Giuliani's takeover of the Trump legal effort ridiculing Giuliani's performance in federal court in Pennsylvania this week, calling it a "spectacle" where Giuliani showed up completely unprepared for the case.
Bauer said that all of the Trump campaign's efforts to stop the certification process in battleground states will fail, as well as any efforts to convince state legislators to elect a slate of pro-Trump electors.
"The election is over," Bauer stated. "Everyone knows the election is over."