1 min ago
Biden attends national security meeting as he continues to outline transition plans 
From CNN's Arlette Saenz
President-elect Joe Biden is receiving a national security briefing in Wilmington, Delaware, with a team of diplomatic, intelligence, and defense experts, a transition official said.
Biden's meeting Tuesday is not an official US government national security briefing.
"They'll discuss readiness at the relevant agencies as the President-elect prepares to lead on day one," the official said.
The briefing comes as Biden has yet to receive classified intelligence briefings as President Trump has refused to concede the race and blocked his administration from taking any of the administrative steps typically taken in a transfer of power, including allowing the General Services Administration to declare that there is a president-elect — a move that triggers the transition process. 
Speaking Monday to reporters in Wilmington, Biden pointed to the fact that Vice president-elect Kamala Harris continues to receive intelligence briefings in her role on the Senate Intelligence committee.
"The good news here is my colleague is still on the intelligence committee, so she gets the intelligence briefings. I don't anymore," Biden said. "So that is, but there is a number of Republicans calling for that. I am hopeful that the President will be mildly more enlightened before we get to Jan. 20." 
11 min ago
India's Modi congratulates Biden and Harris during phone call
From CNN's Ram Ramgopal and Mitchell McCluskey
India's Prime Minister Narendra Modi tweeted that he congratulated President-elect Joe Biden in a conversation over the phone.
"Spoke to US President-elect Joe Biden on phone to congratulate him. We reiterated our firm commitment to the Indo-US strategic partnership and discussed our shared priorities and concerns — Covid-19 pandemic, climate change, and cooperation in the Indo-Pacific Region," Modi tweeted Tuesday. 
Modi also expressed his congratulations to Vice President-elect Kamala Harris, the first Indian American to be elected as vice president. 
"I also conveyed warm congratulations for VP-elect Kamala Harris. Her success is a matter of great pride and inspiration for members of the vibrant Indian-American community, who are a tremendous source of strength for Indo-US relations," Modi said.
14 min ago
Senate Republicans mostly avoid calling for government agency to recognize Biden's victory
From CNN's Ali Main and Sarah Fortinsky
Senate Republicans mostly avoided directly calling for the General Services Administration to ascertain that Joe Biden is the President-elect, which has yet to happen two weeks after Election Day as President Trump continues to deny that he lost.
Asked on Tuesday if the GSA should ascertain Biden, Sen. Ron Johnson of Wisconsin simply replied, "he's starting his transition."
Retiring Sen. Pat Roberts of Kansas said the GSA should "probably" move forward with ascertainment. "How about that for a definitive answer?" he asked pool reporters.
Sen. Kevin Cramer said he thinks the GSA should facilitate Biden's transition, "because January 20th is going to come on that day whether he's ready or not." He acknowledged what he called the "likelihood" that Biden will be president, but would not go so far as calling him the President-elect. 
The North Dakota Republican said a transition should happen and Biden should be receiving briefings, because "in the possibility, if not likelihood that he could become president, I just assume," he shouldn't have to "get all caught up on one day."
In the meantime, Cramer said he thinks Trump should continue pursue his campaign's legal challenges.
Sen. Richard Shelby of Alabama expressed confidence that "it will all workout," adding, "Y'all be patient, okay." 
Sen. Mike Braun of Indiana also said the situation should "play itself out" as the vote counting process continues. Pressed on if Trump should be tweeting that he won the election as he's done multiple times in recent days, Braun answered "I don't know if I would use those terms."
Sens. Rand Paul and Ted Cruz meanwhile ignored questions from reporters about whether the GSA should ascertain Biden as President-elect as they walked into the Senate Republican policy lunch.
20 min ago
Vice President-elect Harris is on Capitol Hill today
From CNN's Ali Zaslav
CNN spotted Vice President-elect, and current US senator Kamala Harris inside the Capitol Hill complex on Tuesday.
Harris could be a tiebreaking vote on the confirmation of Judy Shelton to be a member of the Federal Reserve — which is opposed by all Democrats and a group of GOP senators. 
Some context: The troubled confirmation process for Judy Shelton to be a member of the Federal Reserve grew more complicated hours ahead of a key Senate vote Tuesday to advance her nomination. 
At issue is a group of GOP senators who, like all Democrats, oppose Shelton's nomination combined with a spate of GOP absences — some caused by potential exposure to Covid-19 — that are making the math tricky for Republican leaders as they try to get her confirmed.
57 min ago
Israeli Prime Minister Benjamin Netanyahu speaks with Biden
From CNN's Oren Liebermann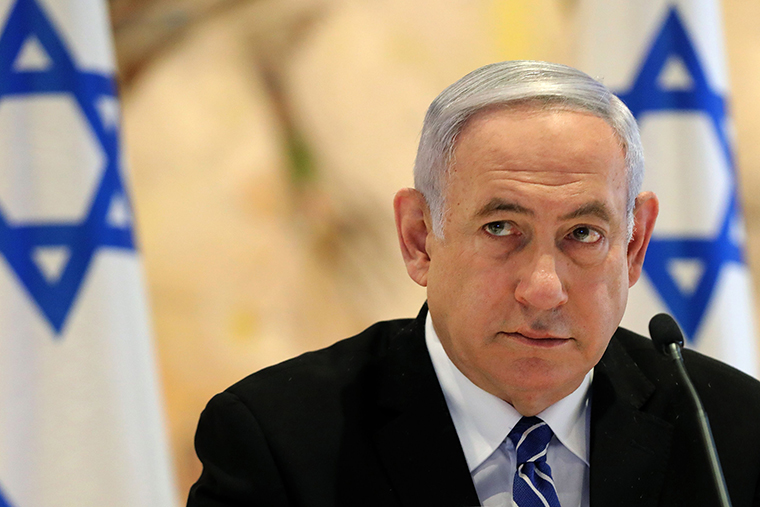 Israel's Prime Minister Benjamin Netanyahu spoke with President-elect Joe Biden Tuesday, marking the first time the two have spoken since Biden was projected to win the presidential election.
In a readout provided by the prime minister's office, Biden said he remains deeply committed to the state of Israel and to its security, while Netanyahu stressed the special bond between the US and Israel.
"The two agreed to meet soon in order to discuss the many issues on the agenda and reiterated the need to continue bolstering the steadfast alliance between the US and Israel," the readout said.
The phone call is noteworthy because Netanyahu — one of President Trump's most ardent supporters — had noticeably delayed congratulating Biden on his victory, and he struggled to find the right words when he did finally offer congratulations. In a statement last Sunday, Netanyahu said he had a warm personal connection with Biden, but made no reference to him as the President-elect and made no mention of any elections at all.
Israel's President Reuven Rivlin also spoke with Biden on Tuesday for the first time since the elections.
"As a long-standing friend of the State of Israel, you know that our friendship is based on values that are beyond partisan politics and that we have no doubt that, under your leadership, the United States is committed to Israel's security and success," Rivlin said to a Biden, according to a readout provided by the President's office.
Read up here on the world leaders who have congratulated Biden.
1 hr 12 min ago
Georgia recount on track to finish tomorrow and affirm Biden win, official says
From CNN's Amara Walker, Carly Ryan, Wes Bruer, Kevin Conlon and Jason Morris
There are only about 300,000 ballots left to be hand-counted in Georgia out of the nearly 5 million cast in the 2020 presidential election, and the vast majority of counties are reporting results that are "spot on" to the initial tallies, or finding only minor discrepancies, according to Gabriel Sterling, the state's voting systems implementation manager. 
Election officials from 29 counties across Georgia told CNN that they already completed their audits and found no discrepancies with the results – further discrediting President Trump's lies about widespread fraud in the state.
Regarding the 2,600 uncounted ballots that were found in Floyd County, Sterling says the election county board will rescan all early votes along with provisional votes that were found to be mismanaged. 
The updated results will give Trump a net pickup of 778 votes, slightly narrowing President-elect Joe Biden's statewide lead, which is more than 13,000 votes.
The state is on a "good schedule right now" to finish the audit by Wednesday, which puts the state on track to certify its presidential results by Friday, as required by state law. If this timeline holds, it would thwart longshot efforts by Trump to delay certification and potentially overturn the results of the election through the Electoral College.
"The whole point of the audit is to prove the (initial) outcome was correct" and to "verify the winners," Sterling said.
What comes next: After the results are certified the Trump campaign can request an official recount. Sterling said that the state of Georgia has already procured high-speed ballot scanners for all 159 counties to use, in the event a recount is requested. 
The following Georgia counties told CNN that they finished their audits without finding any discrepancies: Appling, Atkinson, Bacon, Baker, Baldwin, Barrow, Ben Hill, Berrien, Brantley, Brooks, Butts, Calhoun, Candler, Carroll, Charlton, Chattooga, Clay, Coffee, Cook, Crawford, Crisp, Dade, Dawson, Decatur, Dooly, Early, Meriwether, Murray, Oconee.
There were minor adjustments in a few counties, officials told CNN.
In Catoosa County, one Biden vote was reclassified as a Trump vote after the audit.
In Coweta County, a write-in vote for "Biden Harris" was officially added to Biden's count.
In Effingham County, Trump lost one vote and Biden lost seven votes after the audit.
In Oglethorpe County, there was a one-vote discrepancy, but officials wouldn't give details. 
1 hr 16 min ago
Trump campaign hasn't made final decision on Wisconsin recount — which would cost nearly $8 million
From CNN's Kaitlan Collins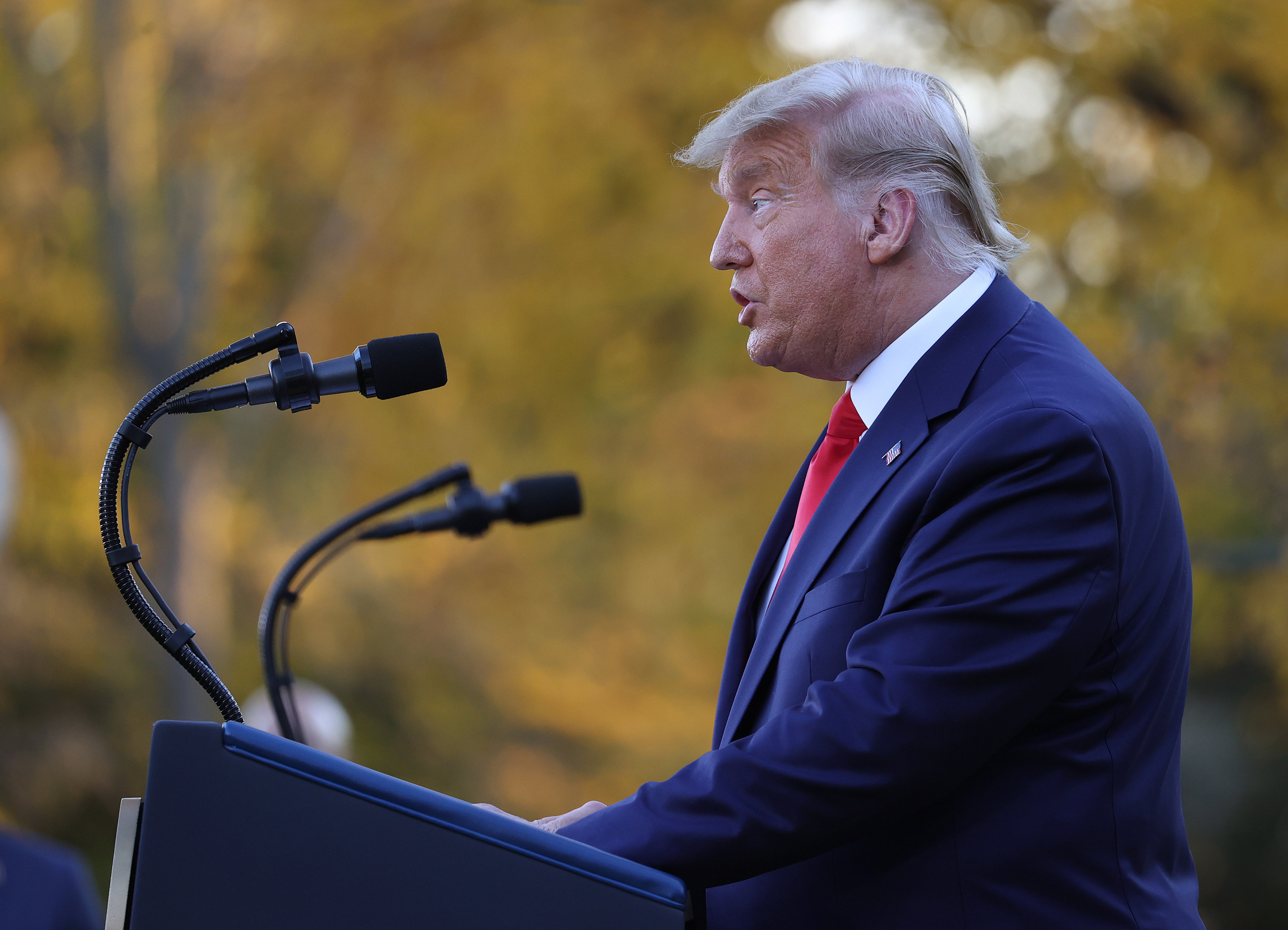 With the deadline fast approaching, President Trump's campaign has not made a final decision about whether to ask for a recount in Wisconsin that would cost nearly $8 million, CNN has learned.
The deadline to file for a recount and submit payment by 5 p.m. CT Wednesday.
Meagan Wolfe, Wisconsin's chief elections official, said Monday that the estimated price tag is $7.9 million, which must be paid upfront.
When asked if the campaign has decided whether to request the recount, Jenna Ellis, Trump 2020 legal adviser, told CNN, "The legal team continues to examine the issues with irregularities in Wisconsin and are leaving all legal options open, including a recount and an audit."
Remember: Trump has launched a series of legal challenges to the election results and has not yet conceded to President-elect Joe Biden.
There has been no evidence of widespread voting fraud despite Trump's claims.
1 hr 30 min ago
Trump campaign appeals case it lost regarding 600 ballots in Pennsylvania
From CNN's Katelyn Polantz
The Trump campaign is appealing a case they lost on Friday in a Pennsylvania state court over 600 ballots. 
The President's campaign sought for the Montgomery County Board of Elections to throw out 592 mail-in ballots where voters hadn't filled out their addresses on the outside envelopes. They weren't alleging fraud — the campaign said it was merely seeking to enforce the rules.
Judge Richard Haaz of the Montgomery County Court of Common Pleas ruled Friday that those ballots will be counted.
Haaz found that state law didn't require voters to fill out the address sections on the envelopes, and the instructions on the ballots didn't tell voters they must fill them out.
"Voters should not be disenfranchised by reasonably relying upon voting instructions provided by election officials," Haaz wrote.
1 hr 47 min ago
American Medical Association president urges Trump to share Covid-19 information with Biden transition team
From CNN's Adrienne Vogt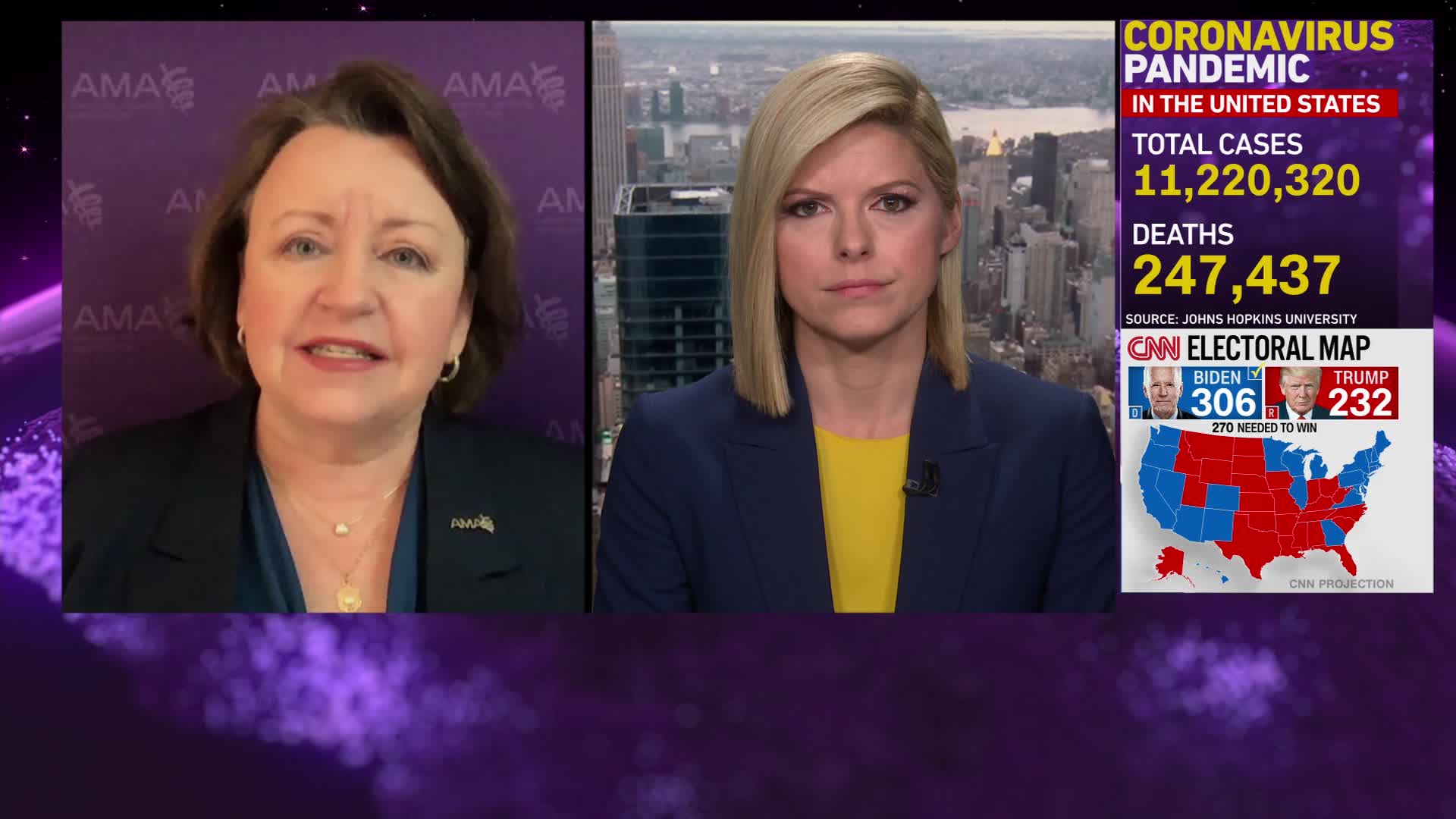 The American Medical Association is calling for the Trump administration to coordinate with the Biden transition team to share information about the coronavirus pandemic.
"There just isn't a moment to waste. We are in a critical portion of the pandemic where hospitalizations are beginning to skyrocket again," AMA President Dr. Susan Bailey said in an interview with CNN's Kate Bolduan.
"We are already in a surge, and if we don't stop that quickly, we will see unnecessary deaths. It's important that all information be shared. Doctors, nurses, other health care workers are putting their lives on the line every day to try to save lives. And we need our leaders to work together, regardless of party affiliation, to make sure that we're doing everything we can to stop this virus now," Bailey said.
Biden said Monday that Trump's continued challenge of the election results could hamper the incoming administration's ability to distribute a potential vaccine and lead to more deaths.
Bailey said that health care workers are fighting "a war on two fronts:" the virus and misinformation. 
"We all need to be working together to fight the coronavirus. We don't need to be fighting against ourselves," she said. 
Watch: