10 min ago
Biden and Harris to deliver remarks on the economy on Monday
From CNN's Sarah Mucha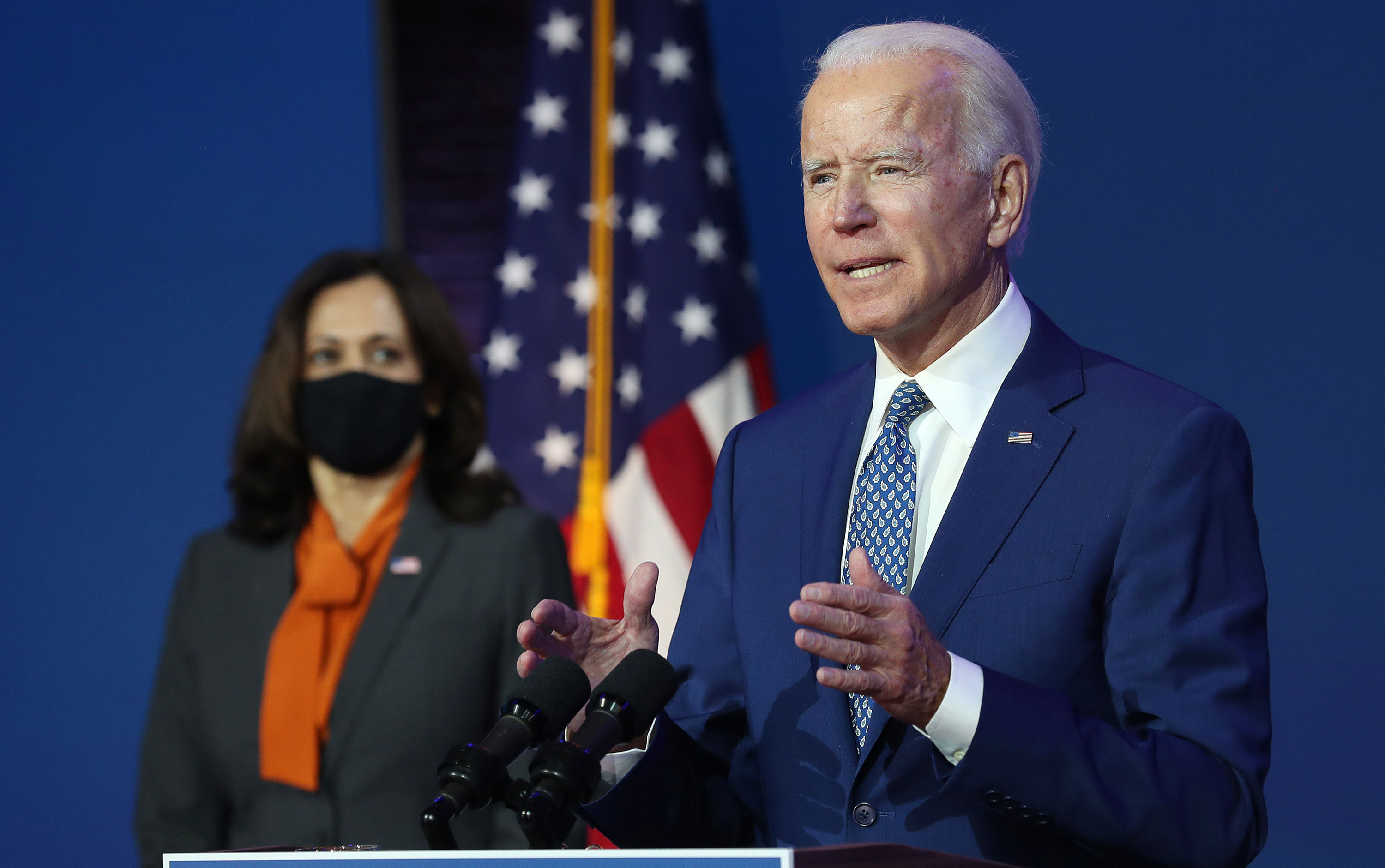 President-elect Joe Biden and Vice President-elect Kamala Harris will deliver remarks in Wilmington, Delaware, Monday on "the economic recovery and building back better in the long term," per a press release. 
3 hr 40 min ago
Obama says Trump's refusal to concede shows how the nation is divided
From CNN's Nicky Robertson and Alison Main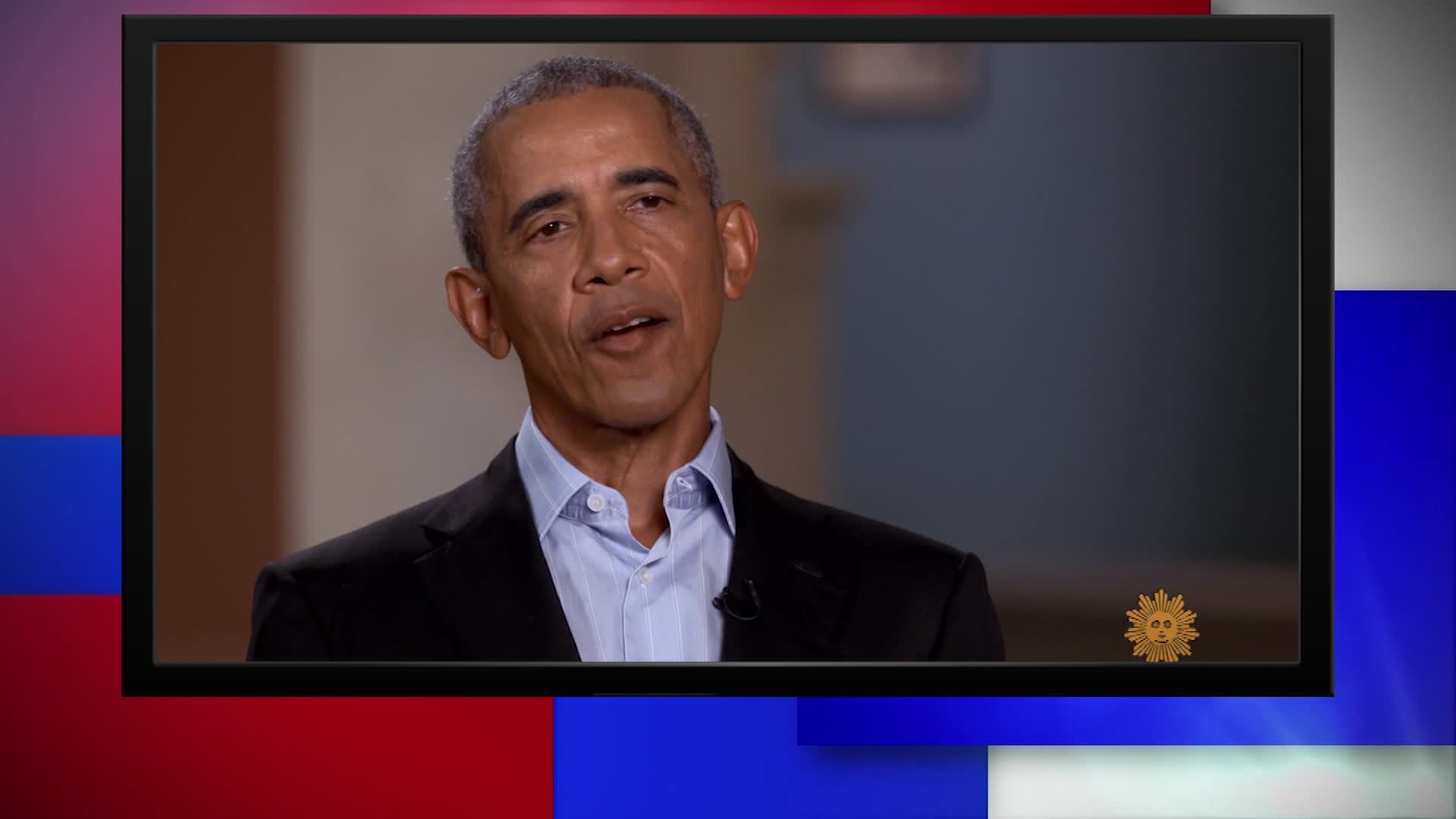 Former President Barack Obama said the election results, with both candidates receiving more than 70 million votes each, show the nation is still bitterly split, which is not a good sign for democracy.
"What it says is that we are still deeply divided. The power of that alternative world view that's presented in the media that those voters consume—it carries a lot of weight," he told CBS in a pre-taped interview which aired on Sunday.
When asked if he was worried about that, Obama responded, "Yes. It's very hard for our democracy to function if we are operating on just completely different sets of facts."
Obama has done a series of interviews timed to the release of his new memoir "The Promised Land."
The 44th president defended his active role campaigning for Joe Biden, his vice president, saying circumstances warranted him publicly criticizing his successor – something which usually doesn't happen. 
On the importance of a peaceful transition, Obama said, "it's a temporary job. We're not above the rules. We're not above the law. That's the essence of our democracy."
3 hr 43 min ago
Arkansas Republican governor says he expects Joe Biden to be the next president
From CNN's Chuck Johnston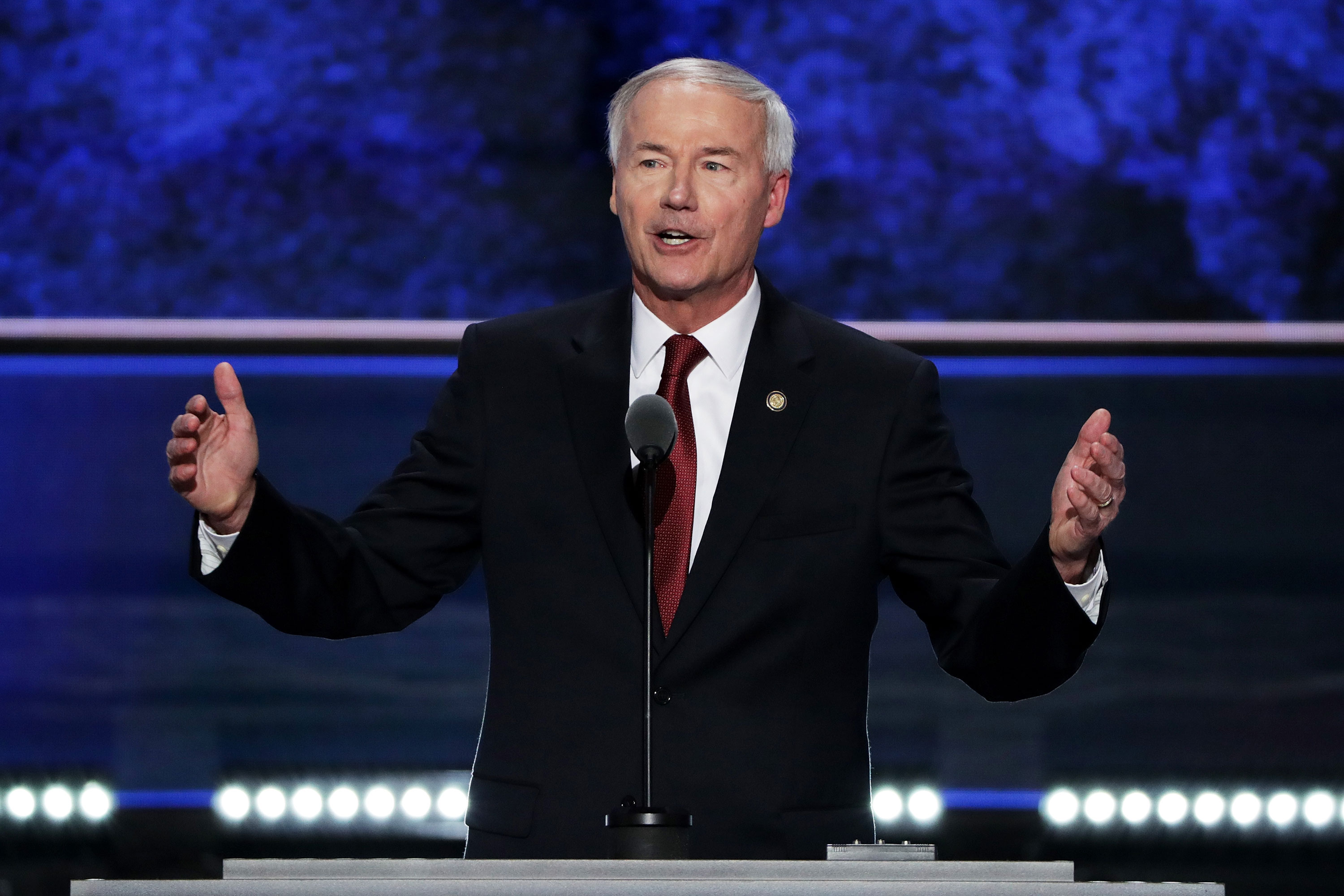 Arkansas Gov. Asa Hutchinson, a Republican, says he expects Joe Biden to be the next president of the United States.
Speaking on NBC on Sunday, Hutchinson said that it is very important that Biden has access to intelligence briefings. 
"It is very important that Joe Biden have access to the intelligence briefings, to make sure that he is prepared during times of transition our enemies have an opportunity to try to take advantage of us, and we want to make sure that there is a smooth transition, particularly when it comes to the vaccine distribution or coronavirus that everybody understands what we're doing there and what the plan is for the future," Hutchinson said. 
Hutchinson said it was good to see President Trump's tweet this morning.
"It was good actually to see President Trump tweet out that he (Biden) won. I think that's a start of an acknowledgement," Hutchinson said. 
"Well, it is important that we accept the outcome of the election. And there's a process to get there it is. There are some constitutional assertions in Pennsylvania. There's a recount in Georgia, it is important that those processes go through and that probably is the reason you, the President does not want to undermine those legitimate processes by jumping ahead and conceding the election, but we still have to start that to transition in the end, you're absolutely right. We need to come together as a nation," Hutchinson added. 
4 hr 17 min ago
Fauci says the pandemic response would be "better" if Biden transition began
From CNN's Sarah Westwood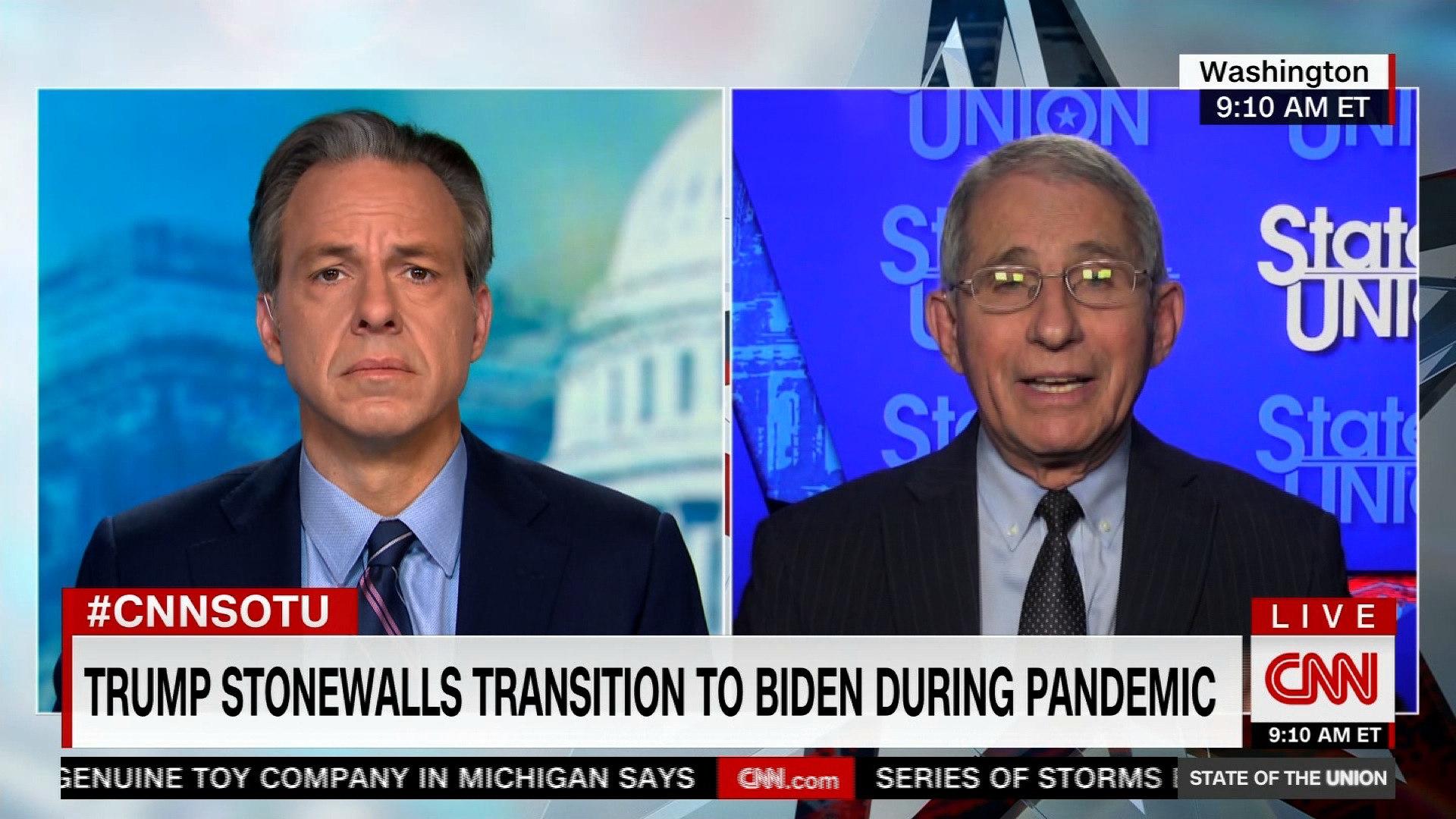 Dr. Anthony Fauci, the nation's top infectious disease expert, told CNN that the nation's pandemic response would be better served if the White House allowed a transition with President-elect Joe Biden's team to begin. 
"Of course it would be better if we could start working with them," Fauci said on CNN.
"It's almost like passing the baton in a race," Fauci added. "It certainly would make things more smoothly if we could do that."
Some background: Fauci, a career civil servant, has been through five presidential transitions. He has been head of the National Institute of Allergy and Infectious Diseases since 1984 when Ronald Reagan was president.
Fauci also praised Biden's selection of Ron Klain as the incoming White House chief of staff, noting that he worked with Klain during the Obama administration when Klain was tasked with coordinating the Ebola virus response. 
"It's an excellent choice," Fauci said. 
"I worked very closely with Ron Klain during the Ebola outbreak," he added. "He was absolutely terrific at the Ebola situation where we had a very successful ultimate endgame with Ebola."
4 hr 37 min ago
President Trump acknowledges for the first time that Joe Biden won the election
From CNN's Sarah Westwood 
President Trump for the first time Sunday morning acknowledged President-elect Joe Biden's victory while falsely blaming his loss on a string of conspiracy theories. 
"He won because the Election was Rigged. NO VOTE WATCHERS OR OBSERVERS allowed, vote tabulated by a Radical Left privately owned company, Dominion, with a bad reputation & bum equipment that couldn't even qualify for Texas (which I won by a lot!), the Fake & Silent Media, & more!" Trump tweeted Sunday morning.
Remember: There were poll watchers and observers allowed during vote counting across the country, and there is no evidence that problems associated with Dominion Voting Systems, which makes software, caused widespread errors in counting.
Trump doubled down on his false belief he may be able to win the election.
Regarding his earlier tweet in which he said Biden had won but it was because it was a rigged election, Trump tweeted falsely "He only won in the eyes of the FAKE NEWS MEDIA. I concede NOTHING!. We have a long way to go. This was a RIGGED ELECTION!"
6 hr 4 min ago
Why Trump is filing so many flimsy lawsuits in battleground states
From CNN's Katelyn Polantz and Kara Scannell
The Trump campaign is moving from state to state to try to overturn President-elect Joe Biden's win. Mounting a series of increasingly wild legal maneuvers, without credible claims, that face astronomical odds and carry little precedent.
Lawsuits in Pennsylvania, Michigan and Arizona are now attempting to advance a smattering of accusations and legal theories, some based upon vague and unsupported allegations of fraud, or complaints of minor ballot processing access, as a way to prevent state officials from certifying the popular vote results, which currently all favor Biden.
"As the Trump campaign has come forward with its legal arguments, they haven't really produced any facts or legal theory that's stronger than when they started," election lawyer and CNN analyst Rick Hasen said.   
President Trump's campaign strategy increasingly appears to be to cast enough doubt over vote counts so it can find judges to block states from certifying the choice its voters made, according to elections experts, including longtime Republican lawyer-turned-CNN analyst Ben Ginsberg.
The Electoral College doesn't formally select the president until Dec. 14, with a key deadline of Dec. 8.
If that worked, in theory, it could then open the path for state legislatures — especially the Republicans in power in Michigan and Pennsylvania — to argue they should make their own choice for their Electoral College slate, handing Trump a victory that goes against Biden's win in more than one state. But it couldn't come close to giving Trump the electoral win without lots of help. 
Both liberal and conservative legal experts say the theoretical approach Trump appears to be trying is extremely unlikely. Even longtime GOP strategist Karl Rove wrote in The Wall Street Journal Wednesday night that Biden's win wouldn't be overturned.
"To win, Mr. Trump must prove systemic fraud, with illegal votes in the tens of thousands. There is no evidence of that so far. Unless some emerges quickly, the president's chances in court will decline precipitously when states start certifying results," wrote Rove, who is long considered a mastermind of political maneuvering during the presidency of George W. Bush.
Lawyers for the Biden campaign have called the Trump campaign lawsuits theater, and nothing more. 
Read the full story here.