3 min ago
Two DHS officials forced to resign by White House
From CNN's Alex Marquardt and Geneva Sands
Two Department of Homeland Security officials have been forced to resign by the White House, according to sources familiar with the resignations. 
A top official in DHS' cyber arm has resigned, amid a national security shakeup by the Trump administration. Bryan Ware has served as assistant director for cybersecurity at the Cybersecurity and Infrastructure Security Agency. And DHS Assistant Secretary for International Affairs Valerie Boyd also resigned amid pressure from the White House, officials tell CNN. 
DHS, CISA and the White House declined to comment. 
Ware's resignation letter, seen by CNN, is addressed to President Trump and says his resignation is effective Friday. In it, he writes that it has been an honor to serve, highlighting his work on election security and the Covid-19 response.  
But his farewell letter to staff indicates that he did not want to step down.
He says that he is leaving "with much sadness" and that "it's too soon." He went on to list their accomplishments during his tenure. "We secured election day from foreign interference. Boom!" he wrote.
1 min ago
Post-election audits find no fraud in Arizona
From CNN's Bob Ortega and Marshall Cohen
More than half of all counties in Arizona have conducted post-election audits and found either no discrepancies or microscopic issues that don't affect the outcome, according to reports filed with the secretary of state's office.
Audits in Arizona's four largest counties, which comprised 86% of all votes for president in the state, turned up no evidence of the systematic voter fraud that President Trump has complained about. There were no irregularities found in Maricopa County, which is home to Phoenix. Officials in Pima County, home to Tucson, audited a random sample of 4,239 votes in the presidential race and only found a two-vote discrepancy.
Arizona currently has the closest margin between Trump and President-elect Joe Biden. Biden is ahead by 11,537 votes, or just 0.34% out of more than 3.3 million ballots cast statewide. There are under 25,000 ballots remaining to be counted, according to the secretary of state's office. CNN has not yet projected a winner.
Earlier on Thursday, Trump tweeted, "From 200,000 votes to less than 10,000 votes. If we can audit the total votes cast, we will easily win Arizona also!" The numbers he cited were inaccurate – Biden's lead in Arizona hasn't dipped below 10,000.
Under state law, bipartisan audit boards routinely conduct hand-count audits of early ballots and Election Day ballots in all of Arizona's 15 counties. The audits, which counties begin within 24 hours of the polls closing, must include five races, including the presidential race. By regulation, they have to count regular Election-Day ballots from at least two precincts or 2% of precincts, whichever is greater. The precincts are selected at random, by drawing.
Three GOP-leaning counties – Yuma, Gila and La Paz – didn't conduct the audits because the local Republican Party chairs didn't designate members to participate, election officials said. Their lack of involvement is surprising, considering Trump has been spreading baseless accusations of Republican poll-watchers being sidelined. 
20 min ago
Murkowski and Collins join growing number of GOP senators saying Biden should receive intel briefings
From CNN's Lauren Fox
Two Republican moderates, Sens. Lisa Murkowski and Susan Collins, both said President-elect Joe Biden should currently be receiving intelligence briefings.
"That seems like it is standard practice. It seems to me you would want to continue or you would want to commence the standard practice," Murkowski told CNN Thursday.
The comments from the two moderates come as a growing number of GOP senators have told CNN Biden should have access to classified briefings.
It's the latest indication Republicans acknowledge the President-elect is likely on his way to the White House despite President Trump's refusal to accept the results.
"President elect Biden should be receiving intelligence briefings right now," said Collins, who serves on the Senate Intelligence Committee.
"That is really important. It is probably the most important part of the transition. In addition… he should have access to office space, federal employees, materials, supplies whatever the standard assistance the apparent winner receives. And, that doesn't in anyway preclude President Trump from pursuing his legal remedies if he believes there are irregularities, but it should not delay the transition because we want the President-elect, assuming he prevails, to be ready on day one," she added.
Later, when CNN asked Sen. Jim Inhofe about the intel briefings, he said Biden should not be getting them. Then, Inhofe took a small notecard out of his pocket and read it verbatim.
CNN asked where the note was from and he said "I am serious about this. I need to practice on you."
"Until a candidate is constitutionally elected there is no President-elect. …The procedure will be that the electors will meet on December 14th in their states and on the 23rd of December they will submit their votes," Inhofe said. 
38 min ago
Biden spoke to Pope Francis this morning
From CNN's Kate Sullivan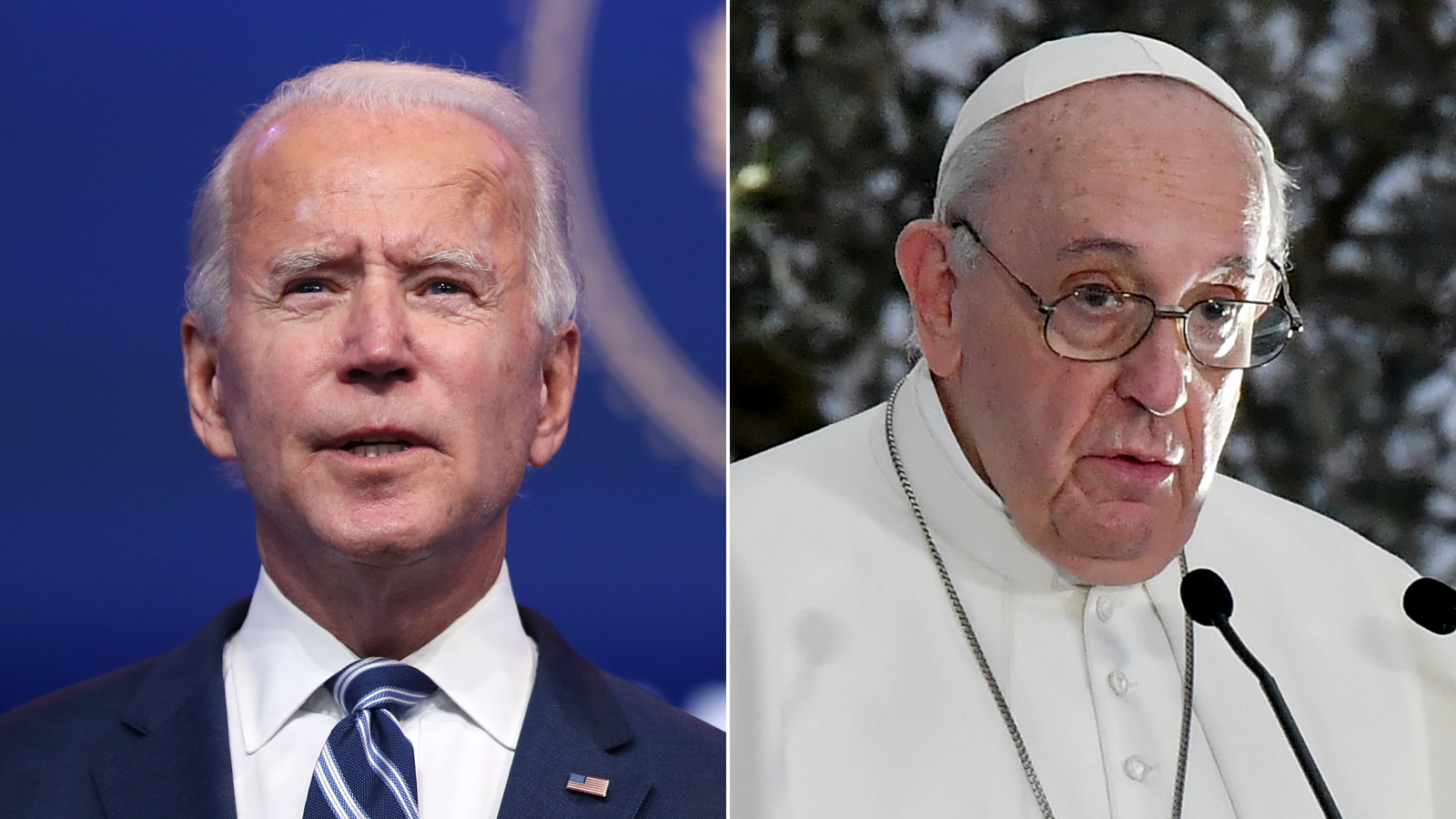 President-elect Joe Biden spoke to Pope Francis this morning, according to a statement from the Biden team. 
"The president-elect thanked His Holiness for extending blessings and congratulations and noted his appreciation for His Holiness' leadership in promoting peace, reconciliation, and the common bonds of humanity around the world," the statement said.
The statement added that Biden expressed his "desire to work together on the basis of a shared belief in the dignity and equality of all humankind on issues such as caring for the marginalized and the poor, addressing the crisis of climate change, and welcoming and integrating immigrants and refugees into our communities."
Some background: As only the second Catholic elected President of the US, Biden has interacted with Pope Francis over the years.
When he was vice president in 2013, Biden led the US delegation to Pope Francis' inaugural mass that spring. In 2015, he accompanied the Pope on many of his stops throughout his visit to the US.
Later in April 2016, Biden met with the pope at the Vatican for the Third International Regenerative Medicine Conference, where he also delivered remarks focused on finding a cure for cancer.  
1 hr 5 min ago
Former national security officials write letter urging GSA to acknowledge Biden
From CNN's Josh Campbell
Over 150 former national security, senior military, and elected officials who served under Republican and Democratic administrations, have authored a letter to General Services Administration administrator Emily Murphy, urging the agency to acknowledge Joe Biden and Kamala Harris as the winners of the 2020 election. 
In the letter, obtained by CNN, the group of former officials write that the GSA plays a pivotal role in the smooth transfer of power between administrations. They say the delayed naming of the Biden-Harris team could negatively impact US national security. 
"In this moment of uncertainty, we must put politics aside," the group wrote.
"Further delaying the Biden team's ability to access the President's Daily Brief and other national security information and resources compromises the continuity and readiness of our national leadership, with potentially immense consequences for our national security," they added.
The letter was first reported by Politico. 
Remember: Trump has refused to concede the race and blocked his administration from taking any of the administrative steps typically taken in a transfer of power. This includes allowing the General Services Administration to declare that there is a president-elect  — a move that triggers the transition process. 
1 hr 7 min ago
Trump campaign begins laying off staff
From CNN's Kaitlan Collins
President Trump's campaign has started notifying staffers who are expected to be laid off in the coming days, multiple sources tell CNN.
While working on a political campaign always comes with an expiration date, this comes as the President and his allies are insisting the 2020 race isn't over, and they continue to mount legal challenges.
Those laid off this week include staffers who typically wouldn't stay on past the election, including those working in research and operations in battleground states.
But several officials, including parts of the fundraising and legal team, are having their contracts extended as the campaign continues to fight Joe Biden's victory. However, some members of those teams are also being laid off.
As CNN's Jeremy Diamond reported last week, staff are employed until Nov. 15. Last week, many had gotten no signal that their contracts would be extended despite the campaign's fundraising for a legal battle.
1 hr 16 min ago
Sen. Graham says Biden should have access to classified briefings
From CNN's Ted Barrett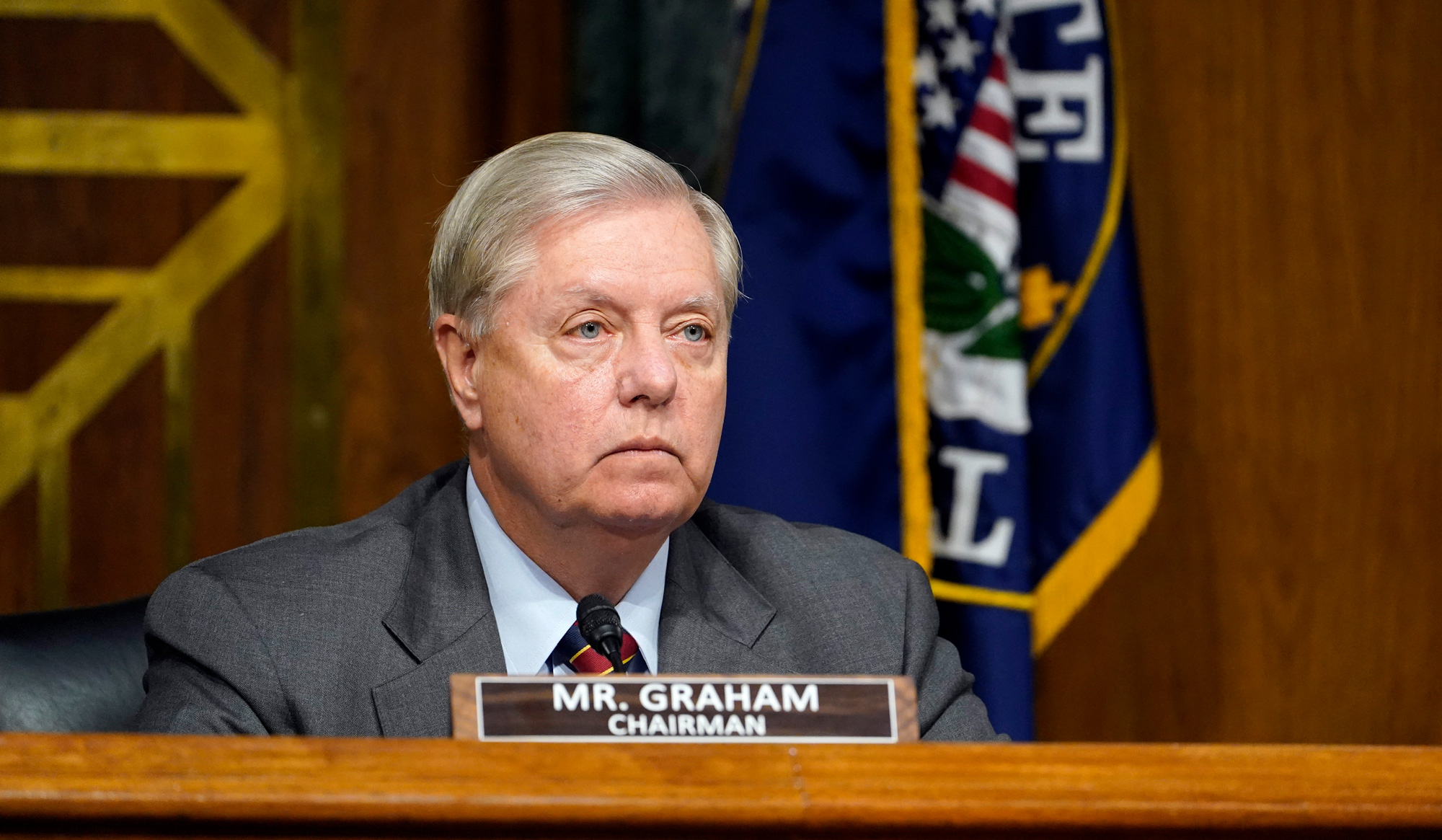 Sen. Lindsey Graham told CNN Thursday he thinks President-elect Joe Biden should get intelligence briefings starting now. 
"Yeah, I think he should," said Graham, a close ally of President Trump.
The President has not conceded the election to Biden and has refused to allow a formal transition period to begin, including giving Biden access to the classified updates the President's gets each day.
Graham said he has not expressed his thoughts with the White House but said, "I hope so," when asked if he expects Biden to get the briefings soon.
Another influential Republican, Sen. Rob Portman of Ohio, said, "yeah, I don't think that would hurt," for Biden to start getting the briefings now, as a handful of other Republicans have said they support this. 
Graham and Portman joined other senior Republicans who say Biden should have access to classified briefings.
1 hr 24 min ago
Las Vegas newspaper that endorsed Trump now says he's seeking to "delay the inevitable"
From CNN's Jeff Simon 
The Las Vegas Review-Journal published an editorial Wednesday saying President Trump is seeking to "delay the inevitable."
The paper is owned by Trump donor and friend Sheldon Adelson, and had endorsed Trump for president last month.
An excerpt from the editorial says:
"There is no evidence, however, that fraud cost Mr. Trump the election, no matter how much the president tweets the opposite and his supporters wish it so. Mr. Trump would still trail in Pennsylvania even if mail-in ballots received after Election Day were discarded. He would remain well behind Mr. Biden in Nevada even if unverified GOP claims of thousands of illegal votes were dropped from the tally."
"It's an insult to reason and logic to argue that isolated irregularities constitute proof of a grand national conspiracy."
The editorial goes on to say that the Trump administration has "nothing to lose" by cooperating with Biden's transition team.
Trump's administration is currently blocking Biden's transition team from getting access to intelligence briefings, as the President refuses to accept he lost the election.
You can read the full editorial here.
1 hr 55 min ago
House Minority Leader declines to say Biden should receive classified intelligence briefings
From CNN's Sarah Fortinsky and Kristin Wilson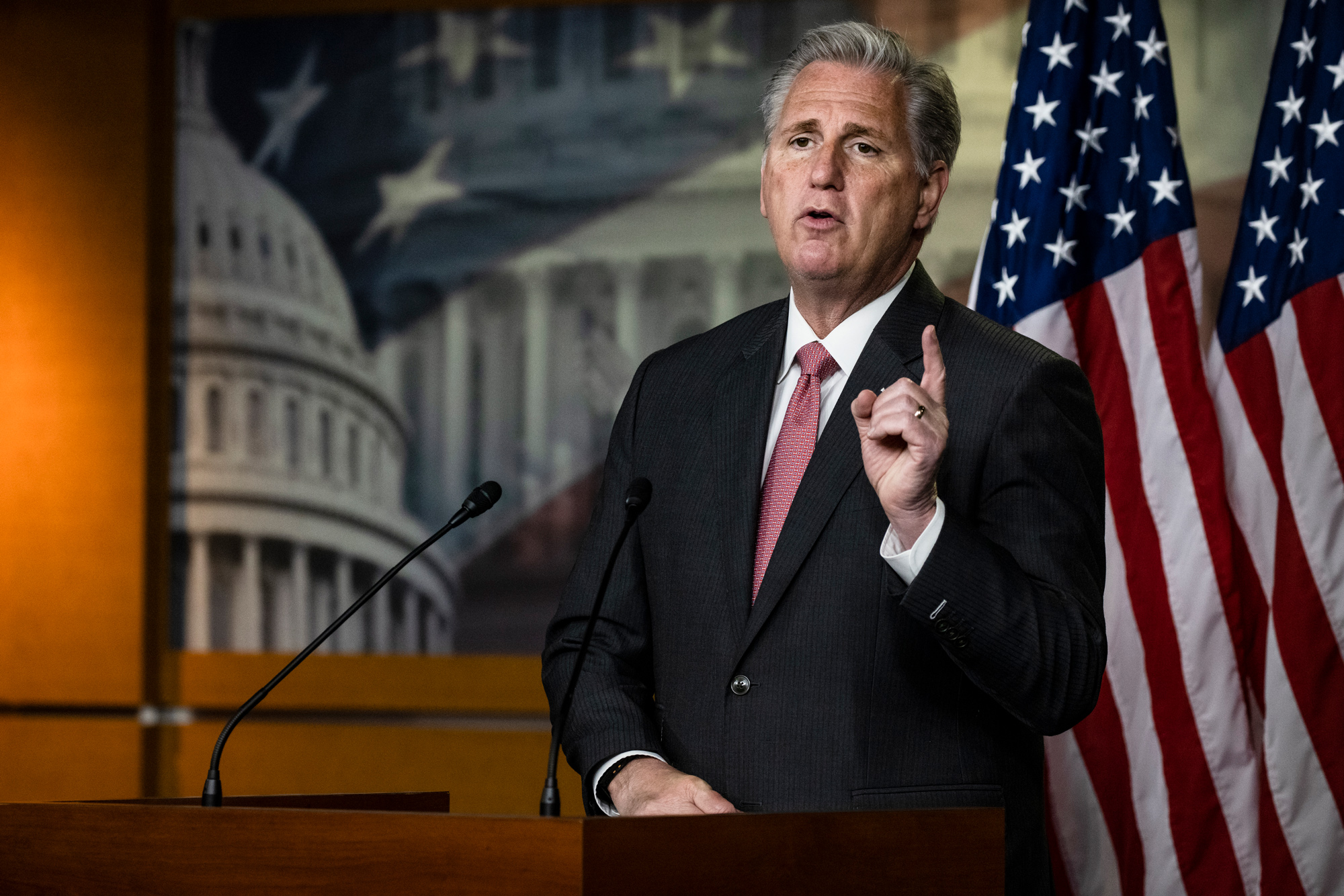 House Minority Leader Kevin McCarthy declined to say President-elect Joe Biden should receive classified intelligence briefings, even though other Republicans, including Sens. Chuck Grassley and James Lankford, said he should.
Senate Majority Leader Mitch McConnell also declined to respond to a question on the matter when he was headed to the floor this morning.
When CNN's Manu Raju asked McCarthy if he agrees with Grassley and Lankford, the California Republican instead quoted an earlier quote by Biden himself, saying "access to classified information is useful but I'm not in a position to make any decision on those issues anyway."
"It'd be nice to have. It's not critical," he added.
"I think I got to stand with Joe Biden," McCarthy said. "He's not President right now. I don't know if he'll be president on January 20th, but whoever is will get the information."
Remember: Biden and his senior advisers are not yet receiving the President's Daily Brief, the highly classified intelligence briefings about pressing national security issues that their soon-to-be predecessor has been offered daily.
The Office of the Director of National Intelligence said Monday that Biden's lack of access stems from the election being not yet ascertained by the General Services Administration.