8 min ago
White House political director tests positive for coronavirus
From CNN's Kaitlan Collins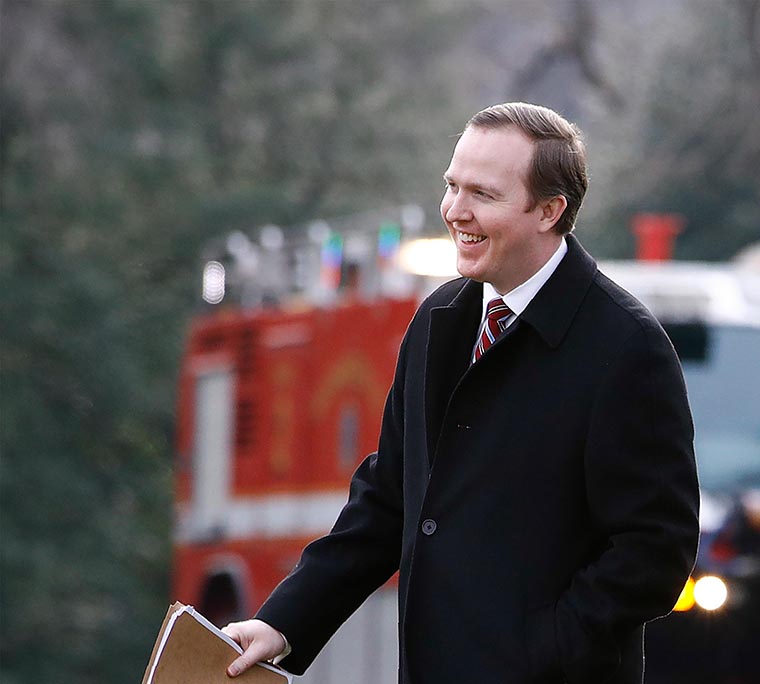 White House political affairs director Brian Jack has tested positive for coronavirus, an official confirmed.
The White House declined to comment on Jack specifically, but said in a statement, "Any positive case is taken seriously. Contact tracing has been conducted by the White House Medical Unit consistent with CDC guidelines to stop further transmission. Appropriate notifications and recommendations have been made." 
Jack attended the election night party held indoors over a week ago. The diagnosis was first reported by the New York Times. 
50 min ago
Department of Energy division had call to discuss unofficially preparing for a transition
From CNN's Annie Grayer
A division within the Department of Energy is starting to quietly prepare for a Biden administration even though ascertainment has not yet been reached and no official connection between the agency and the Biden transition team has been made, according to a department staffer.
"We had a call yesterday and talked quite a bit about this, and the direction we received was to expect a transition, start planning for it, think about the things that the Biden team would likely want to see and start brushing up on those documents and start thinking about how do we frame our programs and our work in a way that is attractive to the Biden administration," the source, who spoke on the condition of anonymity, told CNN. 
"I would say that's been the most specific direction that I've received," the staffer added, referring to the call. 
The staffer clarified that this guidance was not from Trump appointees, but from professional staff, and that this topic was purposefully delivered in the form of phone call and not a memo, as not to have a paper trail. 
"This is not direction from the current political appointees from the Trump administration, it's from basically the staff below the political level," the staffer said.
The reason why this planning is unofficial, happening without a paper trail, the staffer explained, is because until ascertainment is made and the DOE can make official contact with the Biden transition team, the DOE needs to stay on the good side of Trump appointees who are still in charge of approving their projects for the time being. 
"The risks, I would say for us are like for some projects we work on now that will still continue to need approval from Trump appointees. We don't want to get on their bad side in this interregnum period," the staffer said. "I think that's part of this is not wanting to get ahead of them and making sure that we are, you know, being, careful about how we frame things, without a paper trail or anything public facing."
Even though this staffer characterized DOE employees as viewing the Biden transition as inevitable, the staffer said colleagues are still careful with their wording when talking about the incoming Biden administration. 
"In terms of how to talk about it, what we decided is to refer to the next administration but not to say Biden or President-elect," the staffer explained. "If we're doing the work internally or if we're sending an email or something related to it, say like the next administration but be ambiguous about what that means."
53 min ago
President Trump will meet with political advisers again today
From CNN's Kaitlan Collins
Sources say President Trump is expected to hold meetings with his political advisers today to discuss the path forward as he continues to fight the results of the election with baseless allegations. 
Trump went into the Oval Office after he arrived back at the White House following his first public appearance in six days, with the exception of two trips to the golf course. He's expected to spend the afternoon there, a source said. Trump visited Arlington National Cemetery this morning to commemorate Veterans Day.
CNN's Kevin Liptak and Jeremy Diamond reported earlier that Trump had similar meetings Tuesday.
1 hr 26 min ago
Trump campaign calls Georgia recount "an important first step"
From CNN's Maegan Vazquez
Trump campaign officials held a call on Wednesday with reporters to discuss the latest news on Georgia's decision to initiate a recount.
Earlier Wednesday, Georgia Secretary of State Brad Raffensperger announced that the state will conduct a full hand recount of the ballots cast in the 2020 presidential race.
"What we're talking about today is a major announcement in the state of Georgia by the Secretary of State today, by announcing a hand recount of every single vote. This has never been done in Georgia before. This is an important first step in the process to ensure that the election was fair and that every legal vote was counted," said Tim Murtaugh, Trump campaign communications director. 
"We have to understand the very basic principle that every illegal vote suppresses a legal vote and we don't want to see that happen," Georgia Republican Rep. Doug Collins said on the call.
"We sent a letter yesterday asking that there be a complete hand count of the ballots here in Georgia in all 159 counties. We are glad to report that that has been agreed to. As we go forward that will take place starting soon," he added.
Collins called the state's recount decision a victory for "integrity" and "transparency."
Stefan Passantino, the campaign's legal counsel, explained how the process will take place, adding that more details will be available from the Georgia secretary of state's office at 1 p.m. ET.
"In addition to having votes cast on a computer machine, also produced a paper ballot, which had a QR code and an actual English language version of who the person voted for. There are pieces of paper representing every vote cast both in person, absentee, provisional. The secretary of state announced that every single one of those pieces of paper is going to be reviewed as part of this process," Passantino said.
Asked about timing for the recount, Passantino said the campaign expects it to be "intense" and concluded by November 20.
"Under Georgia law, the secretary of state is required to certify election results by November 20. This is a pre-certification survey. So it is our understanding and anticipation that this process is going to be intense and concluded by November the 20th," Passantino said.
1 hr 31 min ago
California elections office worker tests positive for Covid-19
From CNN's Stella Chan
A Yolo County, California, Elections Office employee tested positive for Covid-19 on Monday and may have exposed others, the county said in a statement.
"This staff person had minimal interaction with Poll Workers but did work with other Elections staff and some election observers," the statement said. "There was limited exposure to Voter Assistance Centers or Yolo County residents and voters."
Contact tracers are working to notify close contacts.
While the county has adhered to social distancing and cleaning protocols, it is implementing further mitigation steps including only allowing critical staff in the office and deep cleaning facilities. The county also said close contacts will be sent home to self-quarantine and work from home options will be made available.
The infection will not impact the Dec. 3 certification deadline for the 2020 general election. The county says over 99,000 total votes were cast, with more than 90,000 mail-in ballots. 
"To preserve the health and safety of our staff, observers and the public, we are taking extensive measures to contain this incident and are adjusting our election certification processes accordingly," Yolo County Assessor/Clerk-Recorder/Registrar of Voters Jesse Salinas said in the statement. "We appreciate the public's understanding and patience as we proceed through this situation safely."
Yolo County includes West Sacramento and Davis. 
1 min ago
Pompeo likely to face awkward conversations on trip to 7 nations that have congratulated Biden
From CNN's Kylie Atwood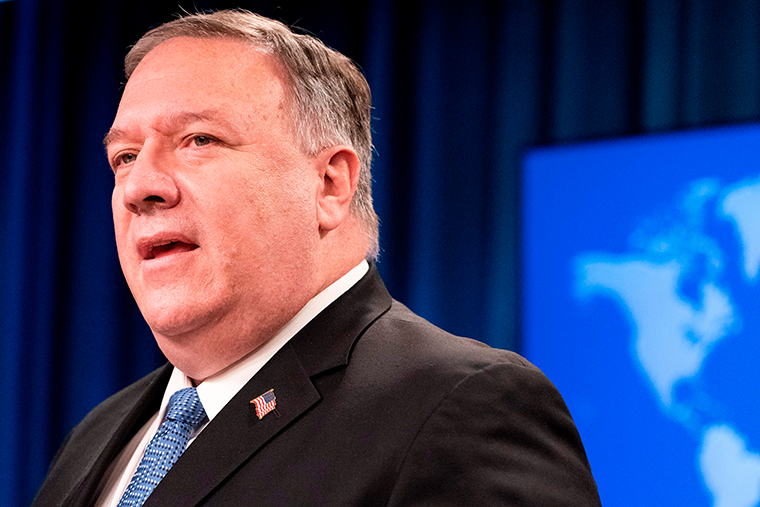 Secretary of State Mike Pompeo has not recognized president-elect Joe Biden's victory but the leaders in all of the seven countries that he will visit on this trip have congratulated Biden.  
Later this week, Pompeo travels to France, Turkey, Georgia, Israel, the United Arab Emirates, Qatar, and Saudi Arabia.
The world leaders' congratulations have come in the form of tweets, phone calls and statements.
When Pompeo was asked about these messages yesterday, he said he will remind the world leaders that all of the votes have yet to be counted.
"We're reminding everyone that all the votes haven't been counted. We need to make sure the legal process is fully complied with, and that America will do what it does best," Pompeo said on Fox.
3 min ago
Georgia Democratic Senate candidate: "Change is coming to America"
From CNN's Caroline Kenny and Chandelis Duster
Georgia Democratic Senate candidate Jon Ossoff kicked off day two of his statewide tour for the Senate runoff in Macon, Georgia, this morning.
Ossoff started his remarks by emphasizing the importance of the Senate runoffs and highlighted the change that is unfolding in the state.
"The people of our state have made an extraordinary statement in these last few weeks. And let's be honest, there were some who doubted us. When I got in this race about 14 months ago, I was telling everyone that Georgia is the most competitive state in the country. And I know that y'all Believe me, but there were some who did not. But what we have proven in these last few weeks, is that change has come to Georgia. Change is coming to America and retirement is coming for Sen. David Perdue," Ossoff said.
Later on during his remarks, Ossoff talked about the "next era for our country" being right around the corner, and how Trump is leaving, whether he likes it or not, and while Ossoff's opponent Perdue may be indulging in the claims Trump is making about the election, Trump is still going.
Ossoff said these two Senate races in Georgia have huge stakes because if Democrats don't win them, it will be difficult for the President-elect and Vice President-elect to pass the legislation they plan to introduce.
More on the races in Georgia: Focus continues to turn to Georgia, where both US Senate races are primed for runoffs. If Democrats win both Georgia seats, there would be a 50-50 tie in the Senate, and Vice President-elect Kamala Harris could serve as a tiebreaker.
CNN has not projected that the Senate race between Ossoff and Republican Sen. David Perdue will advance to a runoff, but both candidates are already campaigning to face each other on Jan. 5.
CNN projected last week a special election race between Republican Sen. Kelly Loeffler and Democrat Raphael Warnock will advance to a runoff in January.
1 hr 30 min ago
Georgia will conduct full by-hand count of presidential race ballots
From CNN's Veronica Stracqualursi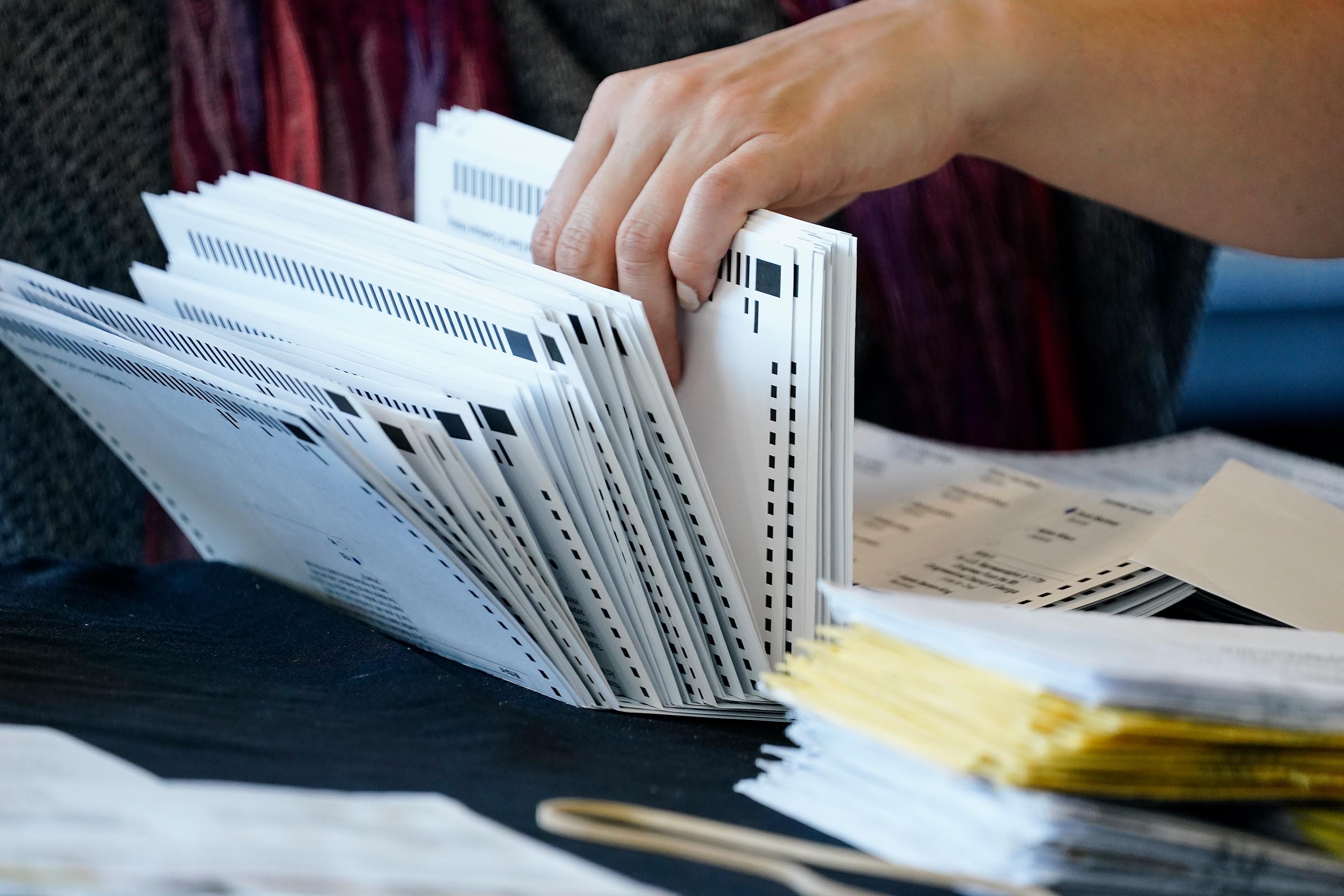 Georgia's secretary of state announced Wednesday that the state will conduct a full hand recount of the ballots cast in the 2020 presidential race.
"With the margin being so close, it will require a full by-hand recount in each county," Secretary of State Brad Raffensperger, a Republican, said at a news conference in Atlanta. "This will help build confidence."
Raffensperger said he expects the recount to be done in time for state certification of the results.
CNN has not projected a winner in the Georgia presidential race, but Joe Biden currently leads President Trump by more than 14,000 votes in the state. Major new organizations, including CNN, projected on Saturday that Biden will win the presidential election.
CNN's Dianne Gallagher reports:
2 hr 49 min ago
Trump commemorates Veterans Day in first public event since last week
From CNN's Betsy Klein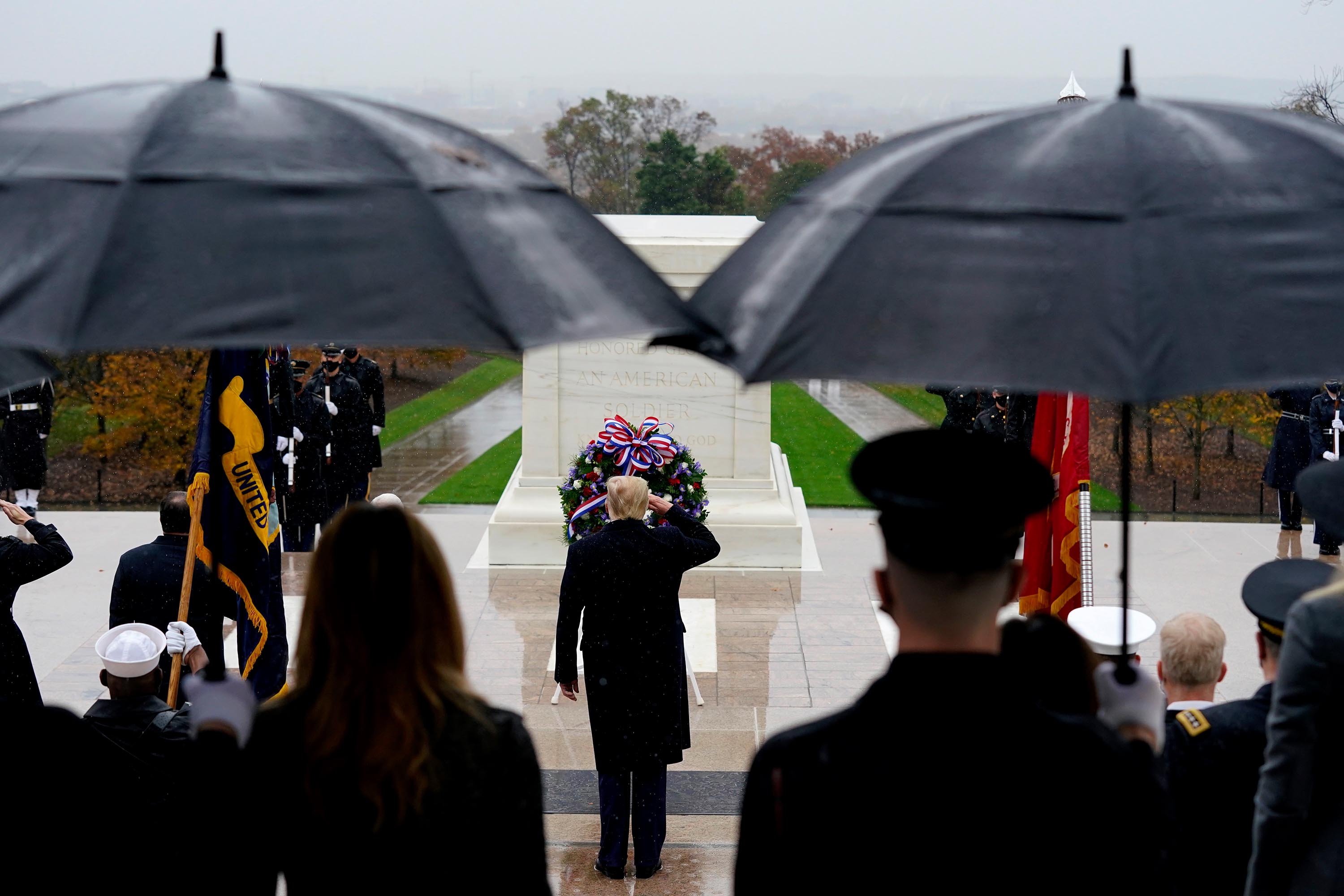 President Trump made his first appearance since falsehood-laden briefing room remarks six days ago, visiting Arlington National Cemetery to commemorate Veterans Day days after he fired the Secretary of Defense and other top officials.
On a rainy and bleak Wednesday morning, Trump arrived before the Tomb of the Unknown Soldier, wearing an overcoat but holding no umbrella.
Vice President Mike Pence and Veterans Affairs Secretary Robert Wilkie also opted against umbrellas. First lady Melania Trump and Karen Pence held the arms of military officials, escorted under their umbrellas.
Trump, Pence, and Wilkie stood in the rain for the National Anthem. Trump inspected a wreath in front of the tomb, appearing to wobble back and forth briefly.
He solemnly touched the wreath, saluting as he walked back toward Pence. Trump saluted and Wilkie and Pence held their hands to their hearts for the muffled ruffles and the playing of TAPS. They departed the plaza at 11:30 a.m. ET.
Meanwhile in Philadelphia, President-elect Biden made his own Veterans Day stop at a memorial site.