6 min ago
Inside the final days of the Trump and Biden campaigns: our embeds share their stories
From CNN's Melissa Macaya and Melissa Mahtani
With less than 24 hours to go until Election Day in America, we asked our campaign embeds to share one thing that stood out to them in the final days of campaigning.
Here's what they said:
Donald Judd, embed with Donald Trump's campaign:
"In the final month of the 2020 election, President Donald Trump took every opportunity to minimize the coronavirus pandemic ravaging the nation, even as he contracted the very virus he sought to downplay. 
And that's how, on a humid Monday, I found myself on an airplane tarmac, almost a week and a half after the President revealed he and his wife had tested positive for coronavirus, I found myself on a packed-to-the-gills airport tarmac, surrounded by supporters of the President. There was no effort to enforce social distancing, and masks were handed out, but few members of the audience opted to wear them. 
 Even as cases steadily increased, reaching global record-setting levels, it struck home that even as this White House was experiencing its own coronavirus outbreak (and it would subsequently experience another before Election Day), even as its strategy of "testing frequently over masks or distancing protocol" failed, even as cases steadily rose across the country, the President continued to tell supporters he was now immune, that the country was rounding the turn on a virus, that a vaccine was on its way before Election Day, in spite of what medical experts said.
The President's own Coronavirus case served as a microcosm of the campaign's attitude towards the pandemic writ large, and through the campaign's strategy minimizing it, obfuscating around it, relying on misinformation about it, and ultimately ignoring it, it offered a glimpse into how we got where we are today, nearly eight months after the US reported its first coronavirus case."
Sarah Mucha, embed with Joe Biden's campaign:
"Having covered Joe Biden's campaign from the beginning, I've seen every high and low: from the former vice president's fourth-place finish in Iowa to his sweeping victory in South Carolina that set him on the path to the Democratic nomination.
I attended events in New Hampshire where he struggled to get an audience of more than 100 people, and I've seen him campaign alongside his former boss and top surrogate, Barack Obama, as the Democratic nominee.Throughout those highs and lows of the campaign, however, Biden's message has stayed consistent.
He's painted himself as the antithesis to Donald Trump, attempting to strike a stark contrast on leadership with the current President. That attempt to illustrate the difference between himself and Trump has only grown stronger as the nation faces several crises, including the coronavirus pandemic, and Biden puts the responsibility squarely on the President's shoulders.
In the final months of the campaign, that contrast has manifested itself in the way the candidates have chosen to campaign amid the pandemic. In lieu of holding many, big in-person rallies, Biden has opted to hold fewer, 'Covid-safe' events, including some drive-in style rallies."
2 min ago
Biden tests negative for Covid-19
From CNN's Sarah Mucha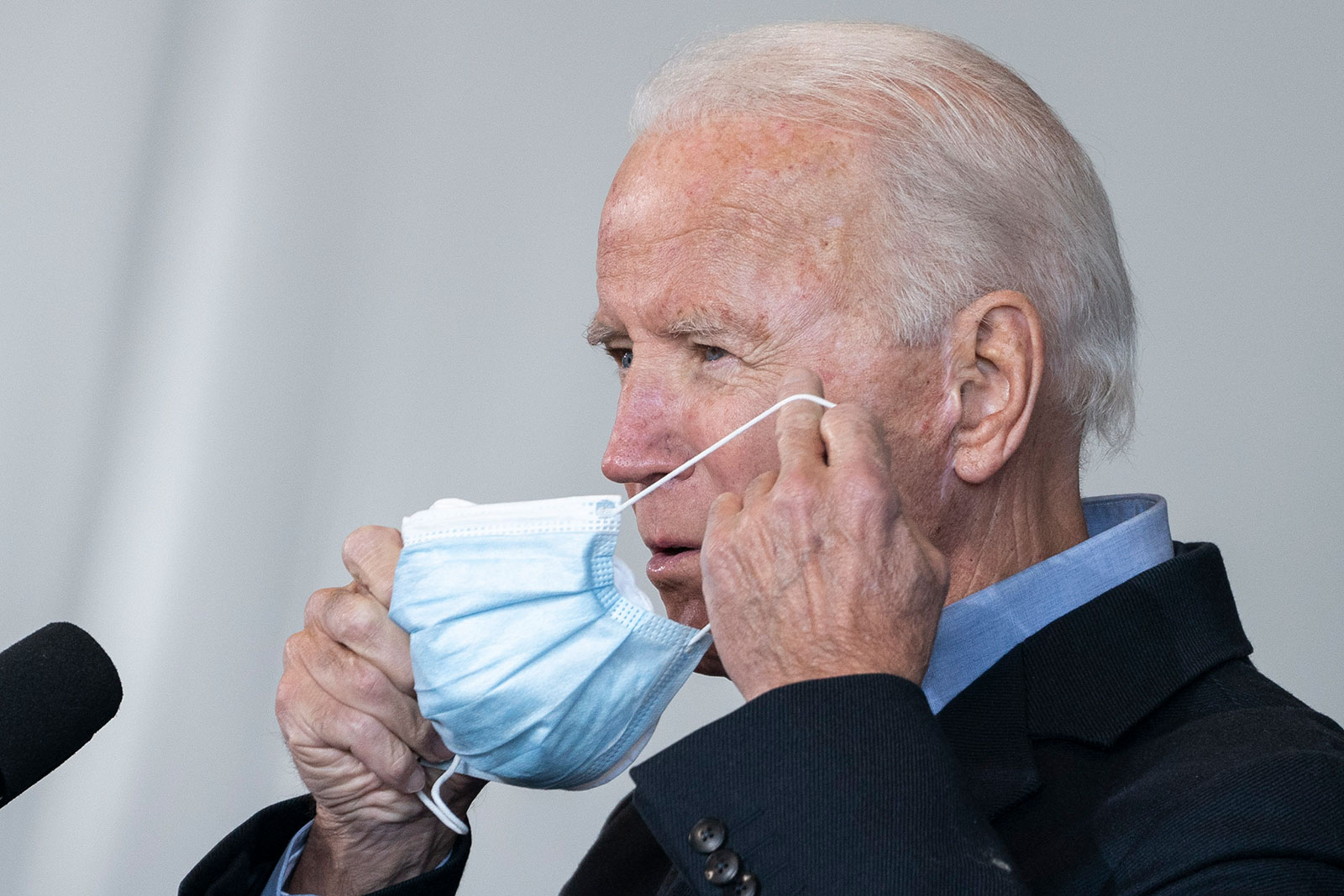 Democratic presidential nominee Joe Biden tested negative for Covid-19 ahead of his final full day campaigning on the trail before Election Day.
From the Biden campaign:
"Vice President Biden underwent PCR testing for COVID-19 today and COVID-19 was not detected."
30 min ago
Melania Trump will cast her ballot in person tomorrow morning in Florida
From CNN's Kate Bennett
First lady Melania Trump will cast her ballot in Palm Beach, Florida, on Tuesday morning, a White House official tells CNN.
The first lady has her fourth and final solo campaign stop Monday afternoon in Huntersville, North Carolina, and then heads to Mar-a-Lago to overnight before voting in person tomorrow. She intends to return to the White House after she casts her ballot, the official said.
The President voted early in Palm Beach on Oct. 24. In 2016, Trump joined her husband to vote in person in New York City.
49 min ago
Biden kicks off final campaign day in Cleveland: "It's time for Donald Trump to pack his bags and go home"
From CNN's Sarah Mucha
Kicking off his final full day of the campaign in Cleveland, Ohio, Joe Biden drove home a message of contrast with that of the current President, showcasing himself as the antithesis to Donald Trump, as he has since his campaign launched. 
"It's time for Donald Trump to pack his bags and go home," Biden told the Ohioans. "We're done. We're done with the chaos, we're done with the tweets, the anger, the hate, the failure, the irresponsibility."
He stressed the urgency of the election and laid out what he believes is at stake when voters go to the polls tomorrow for the final day of voting in 2020.   
"One more day," he said "Tomorrow. Tomorrow we have an opportunity to put an end to a presidency that's divided this nation. Tomorrow, we can put an end to a president who has failed to protect this nation. Tomorrow, we can put an end to a president who has fanned the flames of hate all across this country." 
Biden slammed President Trump for suggesting he may fire Dr. Fauci, providing a suggested alternative if he is elected.  "I got a better idea, elect me and I'm gonna hire, Dr. Fauci.  Not — And we're gonna fire Donald Trump. Donald Trump waved the white flag of surrender to this virus."
He exclaimed why, on the last day of the campaign, he is out in Ohio, crediting Ohio Sen. Sherrod Brown for compelling him to come. "So when Sherrod tells me to come to Ohio the day before, I come to Ohio," he said.
He provided a more in-depth look at how he believes he can create jobs in the car industry as he tries to win over Ohio — and Michigan —by putting America in a position to own the electric vehicle market. "Folks, if we don't act China's gonna own the market," Biden warned. "China is gonna own it all. And we will act."
Biden ended his remarks the same way he has been ending them since he launched his campaign, stressing that while the country is at a crossroads, he is also more optimistic about its chances than ever before.
"On the one hand, we're facing the biggest threat of who we are, what we believe, and what we've seen, what we've been in our lifetime," he said. "On the other hand our future's never been more promising. I've said it many times, the character of America is literally on the ballot. The character of our country. But I'm more optimistic about America's future today than when I was elected to the United States Senate as a 29-year-old kid."
1 hr 1 min ago
Trump wraps first rally of the day
From CNN's Jason Hoffman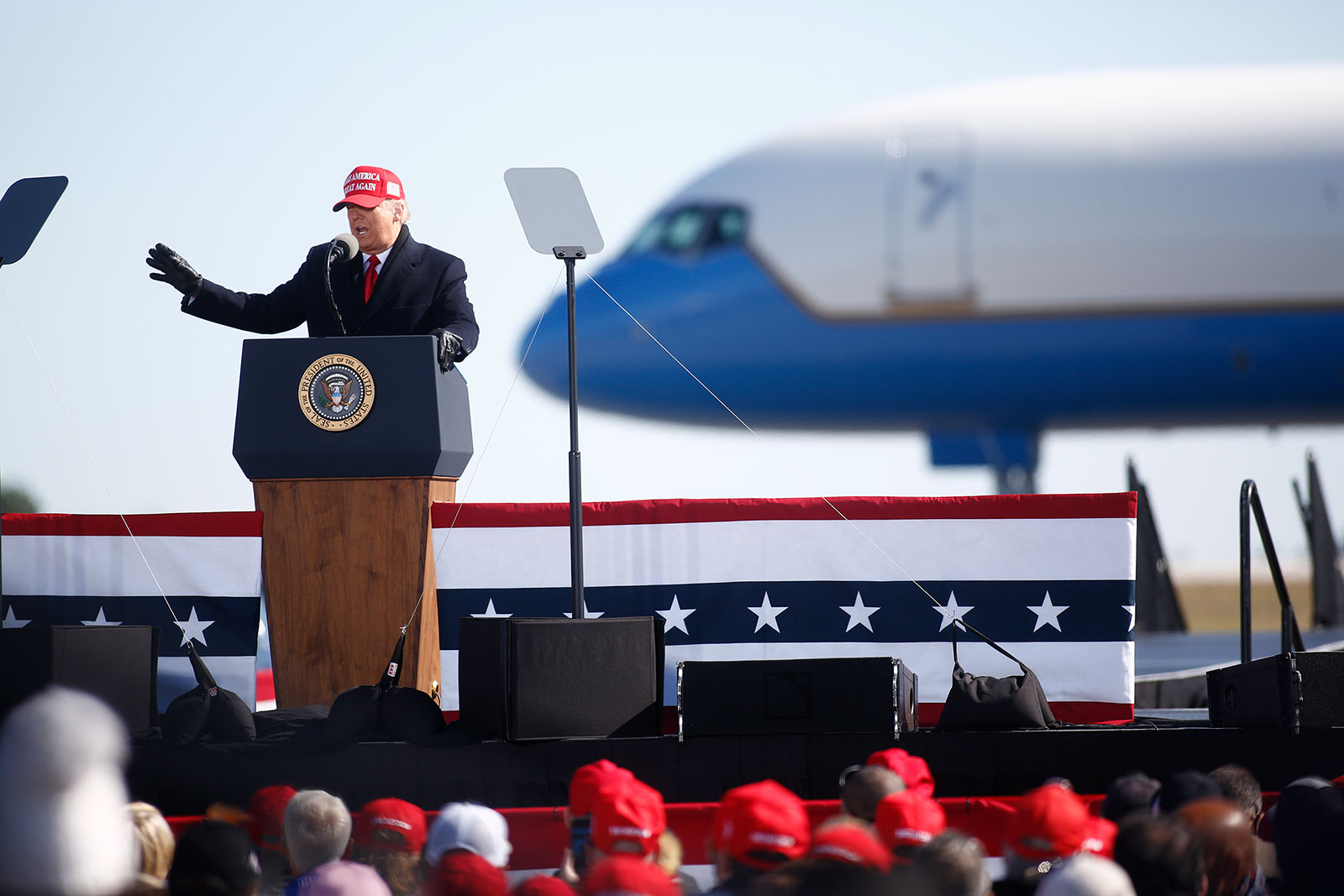 President Trump wrapped his first rally of the day in Fayetteville, North Carolina, after speaking for 65 minutes.
Trump spent significant time towards the start of his remarks attacking polls he claimed were fake or "suppression" polls. He again lamented the cold weather at his rallies yesterday across the upper Midwest.
He called his Democratic challenger Joe Biden a "corrupt politician" and called Hillary Clinton a criminal prompting a "lock her up chant."
Trump spoke at length about impeachment and railed against big tech and the "fake news" media.
On coronavirus, Trump claimed a vaccine will be ready to be mass distributed in "a few short weeks."
Trump again criticized the Supreme Court ruling that will allow Pennsylvania to receive ballots after Election Day, calling it a political decision. He repeated his baseless claim that there will be cheating if ballots can be received and counted after election day.
The President is now enjoying the YMCA with the crowd. 
Air Force One will be wheels up shortly for Pennsylvania.
1 hr 1 min ago
Labor unions in battleground states campaign for Biden in final days of the election
From CNN's Vanessa Yurkevich
Key unions in battleground states across the country are getting out the vote in the final days of the election. 
In Pennsylvania, at least 500 laid off hospitality workers are canvassing in historically low turnout areas around Philadelphia on Monday and Tuesday to get out the vote. According to their union, Unite Here, members are knocking on 60 doors per minute, focusing on Black and Brown voters who are registered Democrats. The union endorsed Joe Biden in September.
"We are out here knocking for a change," said Earlene Bly, Take Back 2020 Philly lead canvasser and former hotel room attendant. "We have a president in office who encourages division and spews hate. Change will not just happen because we want it to. We have to make it happen."
Hospitality workers around the country have been hit hard by the pandemic. Philadelphia lost half of its 77,000 hospitality jobs during the pandemic, where 70% of hotel workers are people of color.  
Pennsylvania is a key battleground state, where every vote will count. President Trump flipped the state in 2016 by winning a slim margin of 44,000 votes.
"We need to get out and vote," said Kat Payne, a furloughed hotel housekeeper. "As long as we are not voting or not getting involved, we're not going to get out of this [pandemic]. So let's use our vote and let it count."
In Nevada, 500 hospitality workers are canvassing, mobilizing voters, and making phone calls to voters in Reno and Las Vegas over the next two days. Since August 1st, members from the Culinary Union 226 — the largest of its kind in the US — have knocked on over 450,000 doors. Fifty-four percent of union members are Latinx — a key voting bloc in the state.  
"Donald Trump is a threat to the livelihoods of workers and our families," said Geoconda Argüello-Kline, Secretary-Treasurer for the Culinary Union. "We are fighting to take back our country and we will deliver Nevada for Joe Biden and Kamala Harris. We know [they] will fight to protect Nevadans."
The Culinary Union has 60,000 members and endorsed Joe Biden in September. Hillary Clinton won Nevada in the 2016 election.
The United Auto Workers union, based in the swing state of Michigan, is continuing with their GOTV efforts — but with new precautions during Covid-19. Through Election Day, instead of knocking on doors, members are making calls and texts from their homes or doing literature drops. The union, which says it has 400,000 members across the country, endorsed Joe Biden in April. 
As in previous elections, the union negotiated Election Day off for its members so they can go vote. President Trump won Michigan in 2016 by less than 1% of the vote.
1 hr 44 min ago
More than 158,000 absentee ballots in North Carolina are still outstanding, election officials say
From CNN's Dianne Gallagher
There are still 158,500 "Outstanding Absentee Ballots" in North Carolina, according to the NC State Board of Elections data, as of Nov. 2.
That same data shows that 1,360,754 individual voters requested an absentee by mail ballot and 939,690 mail ballots have been returned (either by mail or in-person at an early voting site or county board of elections).
Using that data, it appears 262,564 voters chose to cancel their absentee by mail ballot by voting in person during the early voting period, which ended Saturday in North Carolina.
55 min ago
Yes, it's possible Trump and Biden could tie
From CNN's Zachary B. Wolf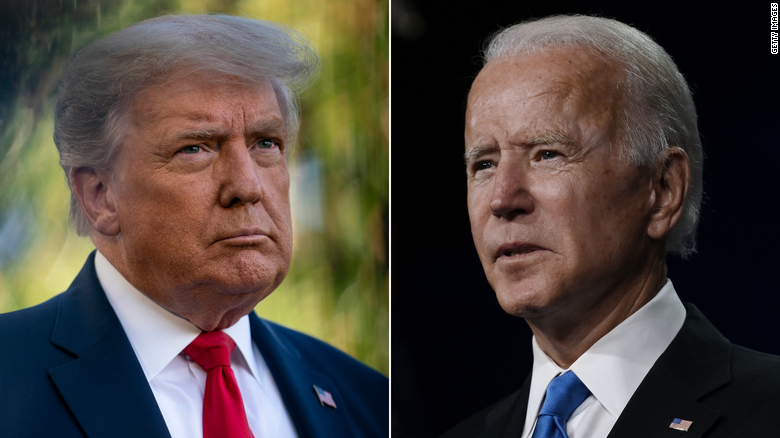 Tomorrow is Election Day in America, and a candidate needs 270 electoral college votes to win the election.
But is is possible that Joe Biden and President could Trump could tie? Absolutely.
If Trump wins Florida, Georgia, Iowa, North Carolina and Ohio along with Pennsylvania, Maine's second congressional district and Nebraska's second congressional district, both candidates will have 269 electoral votes.
What happens if they tie? There's a complicated process — learn about it here — but essentially, the House of Representatives elected on Tuesday would pick the winner. Each state would get a vote. Trump probably has an edge in a tie since Republicans control more state congressional delegations.
The Electoral College explained:
1 hr 53 min ago
Nearly 4 million ballots have been cast in Georgia, secretary of state says
From CNN's Jason Morris and Tori Apodaca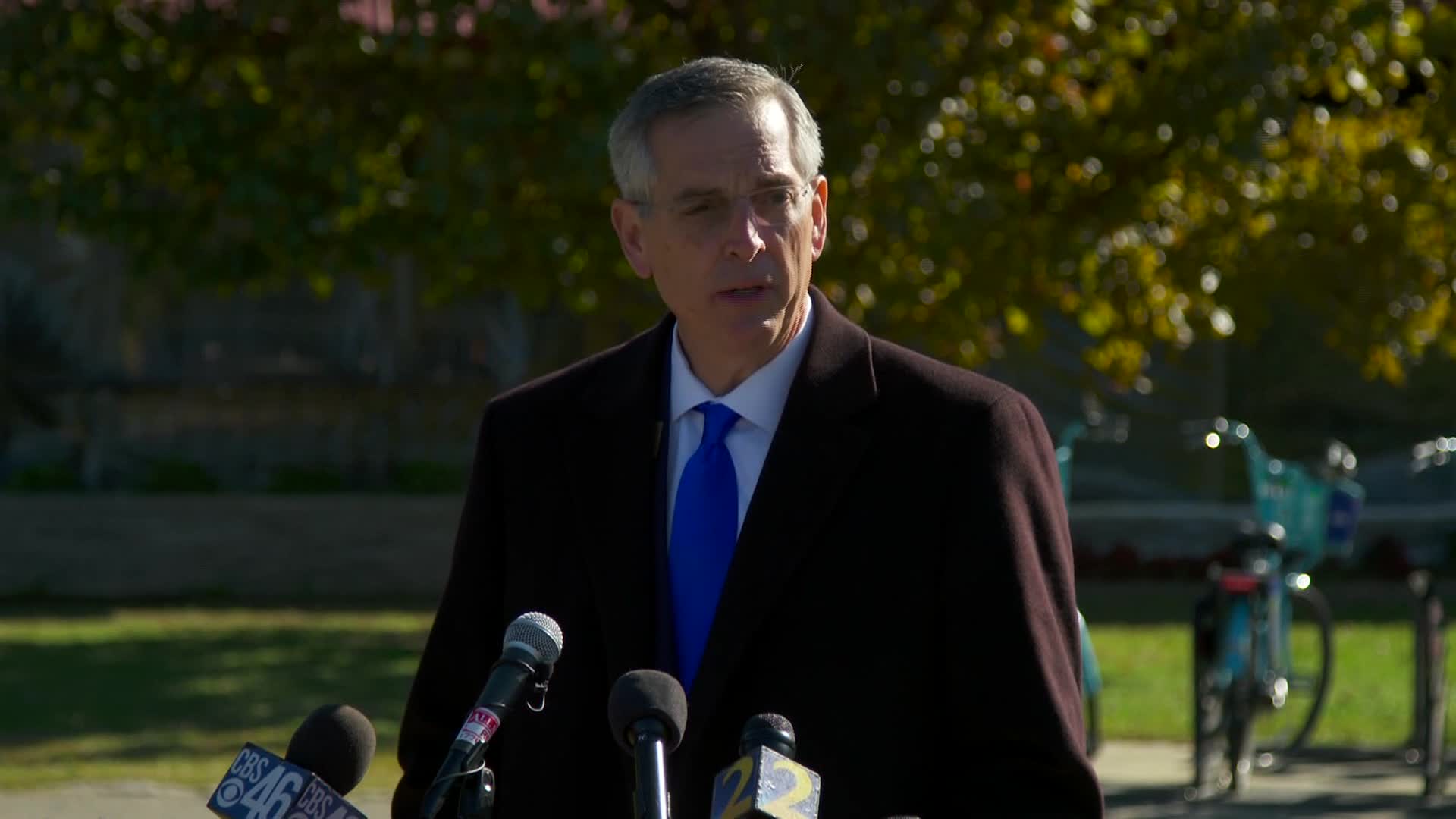 Georgia Secretary Of State Brad Raffensperger said at his news conference Monday morning that 3,915,147 early ballots have been cast across the state, a record 55% of active voters.  
At least 2,689,692 ballots were cast at in person voting locations, and 1,225,455 voters have had their mail absentee ballots accepted by the counties. 
At least 262,700 Georgians still haven't returned their absentee mail ballots, per Raffensperger, and 1,588 absentee mail ballots have been rejected so far, according to his office.     
Gabriel Sterling, Georgia's voting system implementation manager. said that there have not been challenges to any absentee ballots so far.   
"The system has worked really smoothly. The counties are really happy with the adjudication software they have that allows them to pull their canvassing teams in," Sterling told CNN while speaking at their press conference in Atlanta. "It's a lot better than the manual process we use to have." 
Counties in Georgia have been processing and scanning early vote absentee ballots using high speed scanners since Oct.19.