1 min ago
Trump postpones North Carolina rally due to wind
From CNN's Brian Rokus
President Trump's campaign has announced that it is postponing tonight's rally in Fayetteville, North Carolina, due to wind.
In a statement, the campaign said "Because of a wind advisory issued with gusts reaching 50 miles per hour and other weather conditions, the outdoor Fayetteville, NC rally has been postponed until Monday."
The National Weather Service has issued a wind advisory in effect until 7 p.m. for winds of 20 to 30 mph, gusting to 50 mph. Trump's rally was scheduled to begin at 6:30 p.m. ET. 
The CNN team on the ground reports that there are no perceptible wind issues at the moment.
19 min ago
Biden kicks off Florida swing in Broward County: "If Florida goes blue, it's over"
From CNN's Sarah Mucha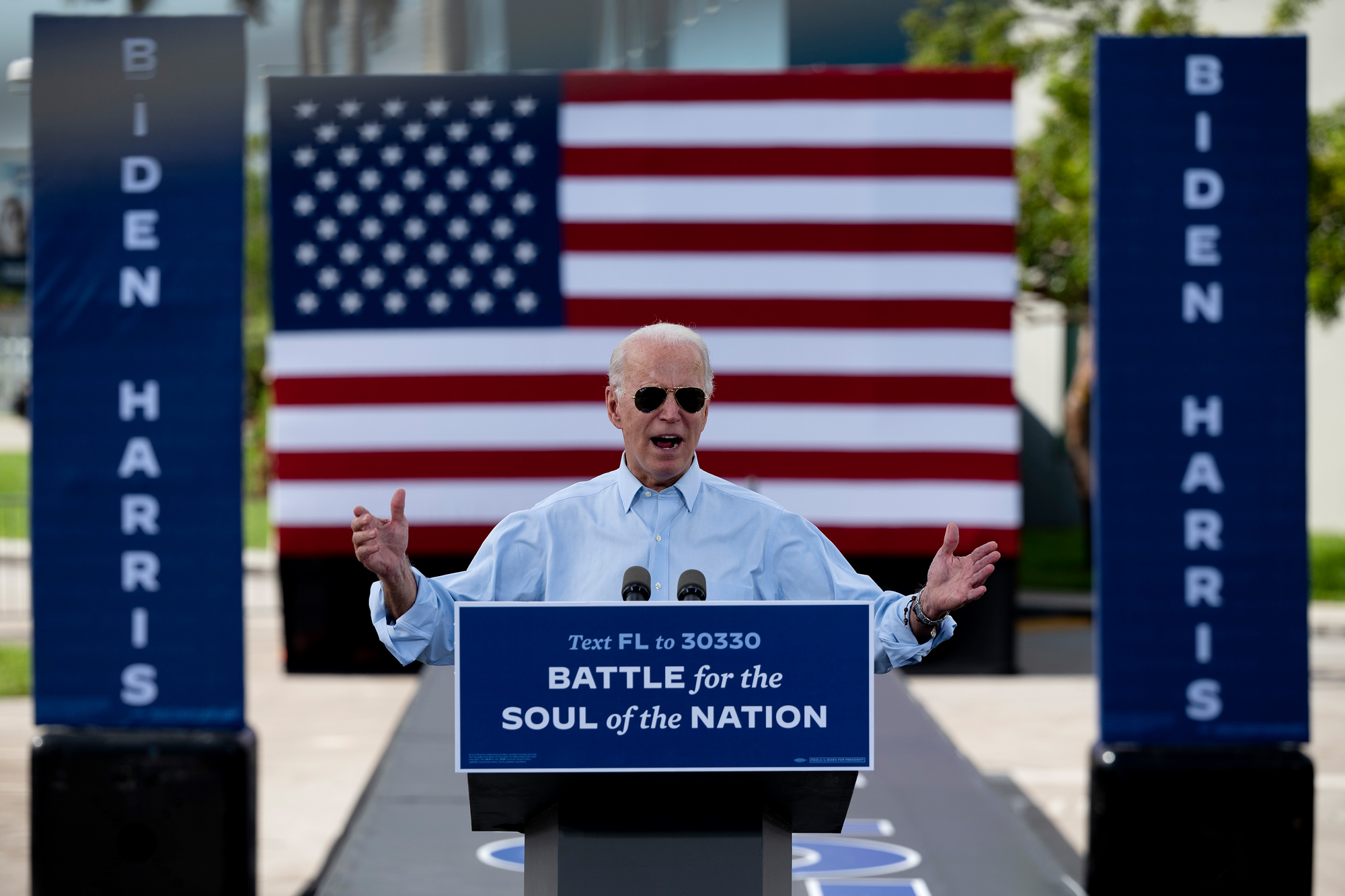 Democratic nominee Joe Biden kicked off his swing through Florida Thursday in Coconut Creek in Broward County, where he implored Floridians to get out and vote.
"You hold the key," Biden told Floridians. "The heart and soul of this country's at stake right in Florida. If Florida goes blue, it's over." 
Wearing his signature aviators as he delivered remarks in the Sunshine State, Biden told the voters, "I believe you're going to change the course of this country for generations to come. This election is the most important one you've ever voted in."  
The Democratic nominee slammed President Trump, who's also campaigning in Florida today, for holding "super spreader events."  
"President Trump's super spreader events – and he's spreading more virus around the country, and here in Florida today," Biden said. "He's spreading division in addition to the virus," Biden added. "Division and discord. We need a president to bring us together, not pull us apart."
Biden, who has been attacked repeatedly and without evidence by Republicans and Trump for being a socialist, spent a considerable amount of time in his speech appealing directly to Cuban and Venezuelan communities.  
"We have to vote for new Cuba policy as well," Biden said. "This administration's approach isn't working. Cuba is no closer to freedom and democracy today than it was four years ago."  
He argued that he is the best president to fight for democracy in countries like Cuba and Venezuela, slamming Trump as being the "worst standard bearer" for democracy after he has so long embraced dictators like Vladimir Putin and Kim Jong Un.   
"President Trump can't advance democracy and human rights for the Cuban people, or the Venezuelan people, for that matter, when he has embraced so many autocrats around the world, starting with Vladimir Putin and Kim Jong Un of North Korea," Biden said. "Trump is the worst possible standard bearer for democracy in places like Cuba, Venezuela, North Korea. For my entire career, I stood for democracy, human rights for freedom of the press, assembly, freedom of religion and against dictators whether they're left or right."
50 min ago
Melania Trump touts the President's first-term record in first joint campaign appearance of 2020
From CNN's Jason Hoffman
First lady Melania Trump gave remarks at her husband's campaign rally in Tampa, Florida, today, touting some of the President's accomplishments from his first term and echoing some of her husband's campaign themes. 
"For those of you still deciding who to vote for on Tuesday, I hope what I have to say will prove to you that a vote for President Trump is a vote for a better America," the first lady said in her first campaign event with the President in 2020.
"In a time when hate, negativity, and fear are the messages the media streams into our homes and the large tech companies are protecting political censorship, we need to remember what's really important. My husband's administration is focused on the future," she added, not noting the irony that her husband's Twitter account is often filled with messages of hate, negativity and fear mongering. 
She praised her husband's ability to "black out the noise and focus on you, the American people." 
The first lady discussed border security, peace deals in the Middle East, moving the US Embassy in Israel to Jerusalem, and what she described as Trump's support for the men and women in uniform, all topics Trump routinely mentions in his campaign remarks. 
She also claimed, "health care for every citizen remains a priority for him, and as you have seen over these past years, he won't stop until he gets it done."
However, the administration is currently fighting to strike down the Affordable Care Act in court and they have yet to release a comprehensive health care plan to replace it.
The first lady also criticized those who are playing politics with a coronavirus vaccine.
"A vaccine is not a partisan issue. If you are not supporting the safe production of a vaccine, you're not supporting the health and safety of the American people," she said. "There is no room to play politics on this topic in the midst of [a] pandemic."
Her remarks come at a political rally with no social distancing and few masks, going against all guidelines on how best to mitigate the spread of coronavirus, in the name of politics.
"On Tuesday, the direction of our country will take is in your own hands. I ask that you join us in continuing to put America first," she concluded. "Together we will overcome this pandemic and continue building the brightest future for generations to come."
1 hr 10 min ago
More than 56,000 poll workers have been trained in Ohio
From CNN's Devon M. Sayers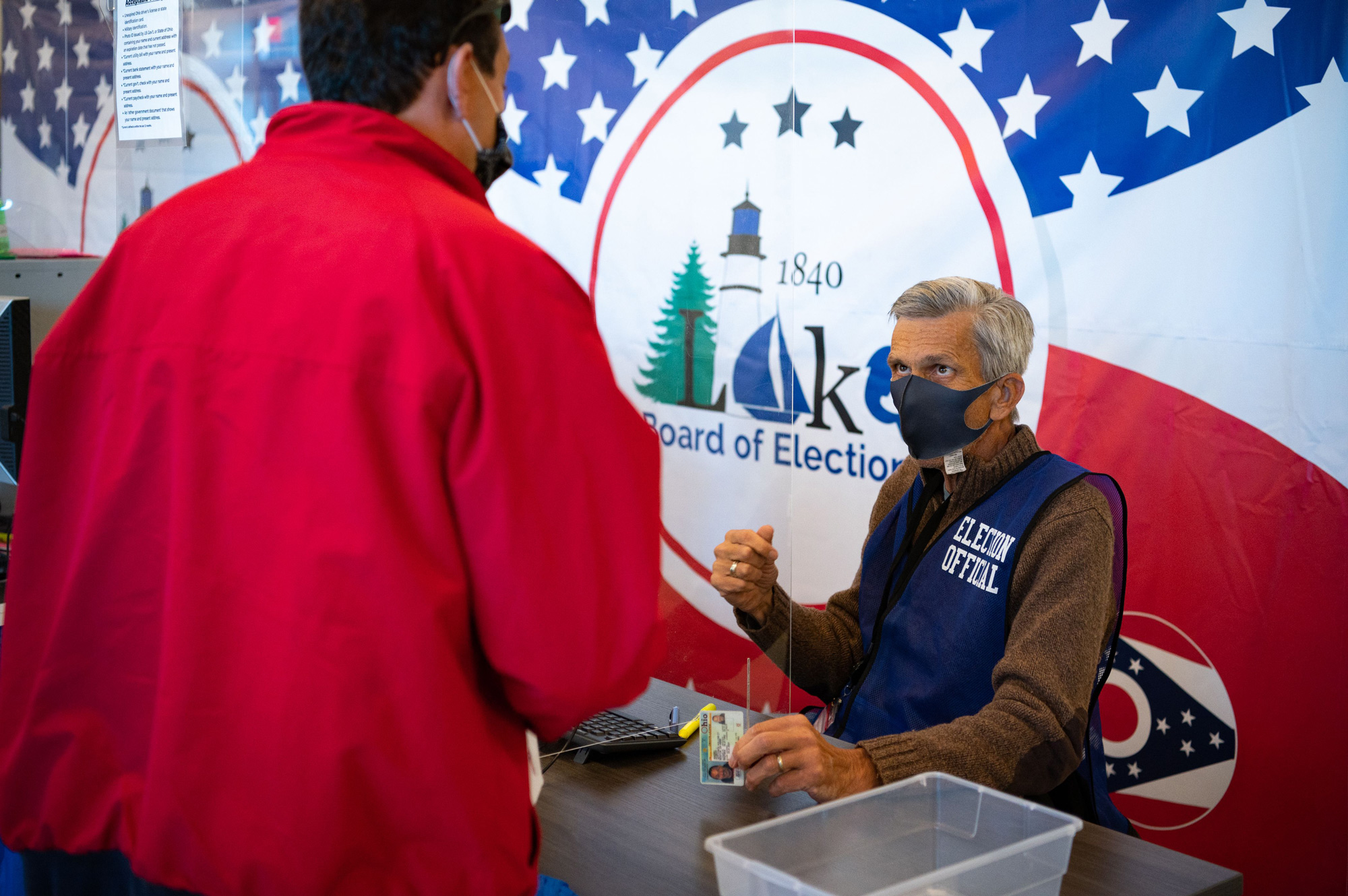 More than 56,000 poll workers have been trained in Ohio ahead of the election — a record for the state, Secretary of State Frank LaRose said in a news release today.
His office set a goal of 150% of the minimum numbers of workers needed for each county due to the pandemic The over-recruiting of workers will give counties flexibility with the workforce. 
Five counties, all that President Trump carried, have not reached the recruitment targets. The largest to fall short is Ashtabula County, near Cleveland with a population near 100,000. The other counties include slightly smaller Greene County near Dayton, and three small rural counties — Jackson, Pike and Vinton — in southeastern Ohio, near the West Virginia state line.  
Ohio has taken a number of measures to help protect voters and poll workers during the pandemic, including social distancing and higher cleaning standards. In a guidance note put out earlier this year, the secretary also prohibited communal eating by poll workers including the use of crockpots — a popular tradition for poll workers in some parts of the state. 
"Ohioans are stepping up to serve as poll workers this election season at a pace never seen before, showing the world the civic engagement and can-do sense of public service our state has always exemplified," LaRose said in a news release. 
Learn more about poll watchers and what they do here.
36 min ago
Here's where Republicans are narrowing the early voting gap 
From CNN's Adam Levy, Ethan Cohen and Liz Stark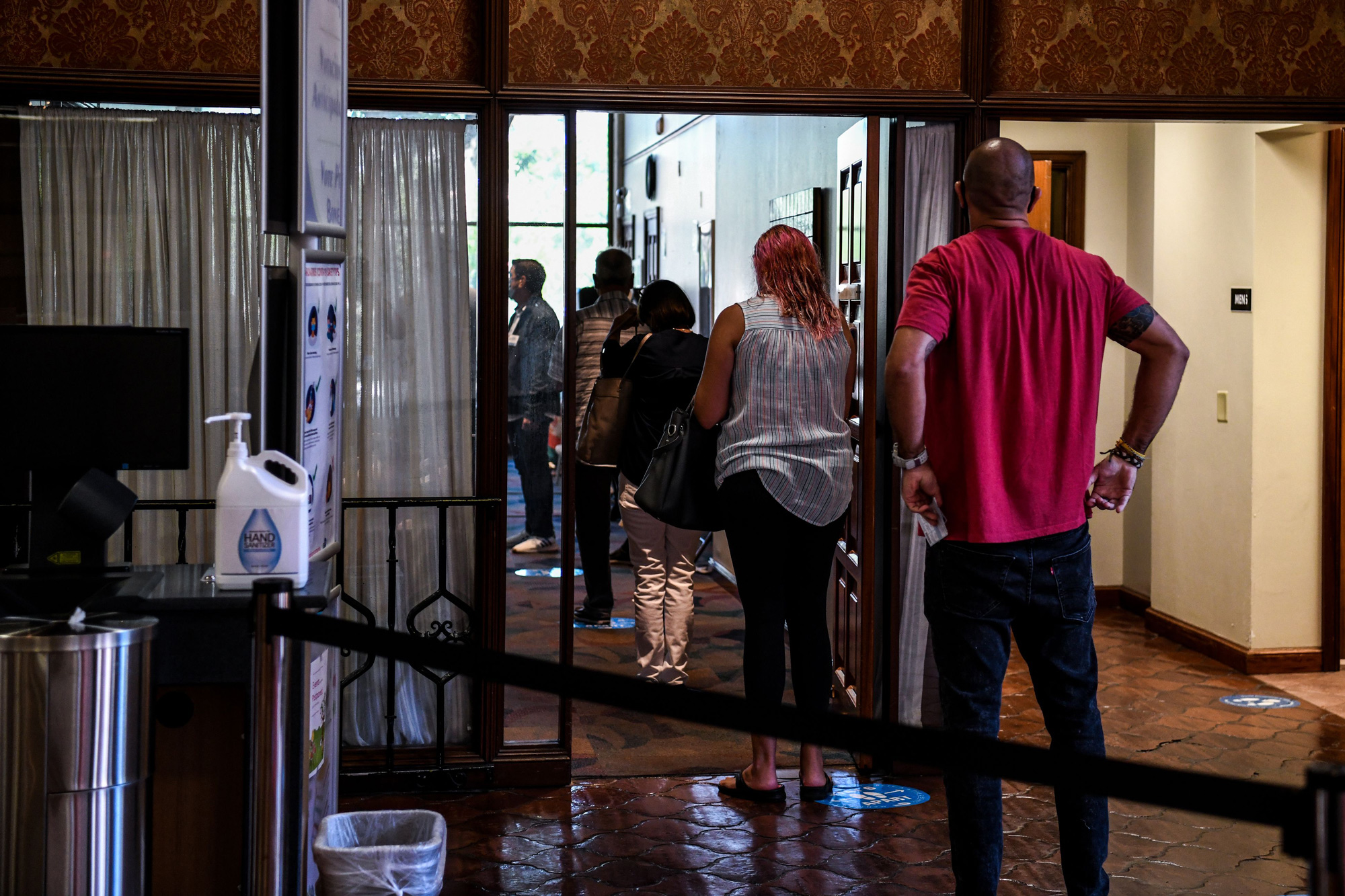 In four key states — Florida, North Carolina, Nevada and Iowa — Republicans are beginning to narrow the Democratic advantage in pre-Election Day voting.
More than 12 million ballots have been cast in these four states, which could be crucial in determining the next president.
The candidates' schedules reflect the focus on these states. President Trump and former Vice President Joe Biden are both in Florida on Thursday campaigning for the state's 29 electoral votes. Later, Trump was set to travel to North Carolina, while Vice President Mike Pence was scheduled for campaign stops in Iowa and Nevada. Biden is due in Iowa on Friday.
With five days until Nov. 3, here's a look at who's already voted in these key states, with data from Catalist, a company that provides data, analytics and other services to Democrats, academics and nonprofit issue-advocacy organizations
Florida: Trump won Florida by slightly over one percentage point last cycle. In the last week, voters under 30 have slightly increased their share of Florida's early voting electorate, from 8% to 10%. Other age groups have also seen small increases, further diminishing the dominance of Florida's senior voters 65 or older, who made up 45% of early voters a week ago, but now make up only 39%. Florida's early voting electorate is slightly more diverse than at this time four years ago. Hispanic voters' share of the pre-Election Day vote has increased from 14% four years ago to 16% now, and Black voters' share has ticked slightly up from 12% then to 13% now. The vote from White voters is down three points from this point in 2016. Republicans are narrowing the gap in pre-election ballots cast. Democrats currently lead by four points. A week ago, it was nine points. Party advantage is not predictive of outcome — but nationwide polling shows many Republicans also prefer voting in person on Election Day rather than early.
North Carolina: Democrats have lost some of their lead in the pre-election vote. Last week, they had a 12-point advantage over Republicans in ballots cast. Currently, it stands at eight points. By race, White voters account for the majority of ballots already cast in North Carolina at 72%, followed by Black voters with the second largest share of those ballots at 22%. This remains nearly identical to the racial composition of the early voting electorate four years ago.
Iowa: The state remains a competitive battleground this cycle after Trump won the Hawkeye State by more than nine percentage points in 2016. The state also has a key Senate race between incumbent Republican Joni Ernst and Democratic challenger Theresa Greenfield. Democrats continue to cast pre-election ballots at a much higher rate than Republicans, similar to 2016. At 49% of the pre-election vote, Democrats have a 17-point lead over Republicans, who stand at 32%. Republicans, however, have slightly narrowed that gap over the last week by four points.
Nevada: Nevada had a narrow margin of defeat for Trump four years ago, with about two percentage points separating him from Hillary Clinton. Republicans are narrowing the Democratic advantage in the pre-election vote. Last week, Democrats led Republicans by 12 points. As more ballots have been returned in the vote-by-mail state, the 42% of ballots cast by Democrats is now only seven points higher than Republicans' 35%.
Correction: This post has been updated to reflect Trump's 2016 defeat in Nevada.
Read the full story here.
1 hr 28 min ago
Biden and Trump have arrived in Florida for campaign events
From CNN's Jason Hoffman and Chris Boyette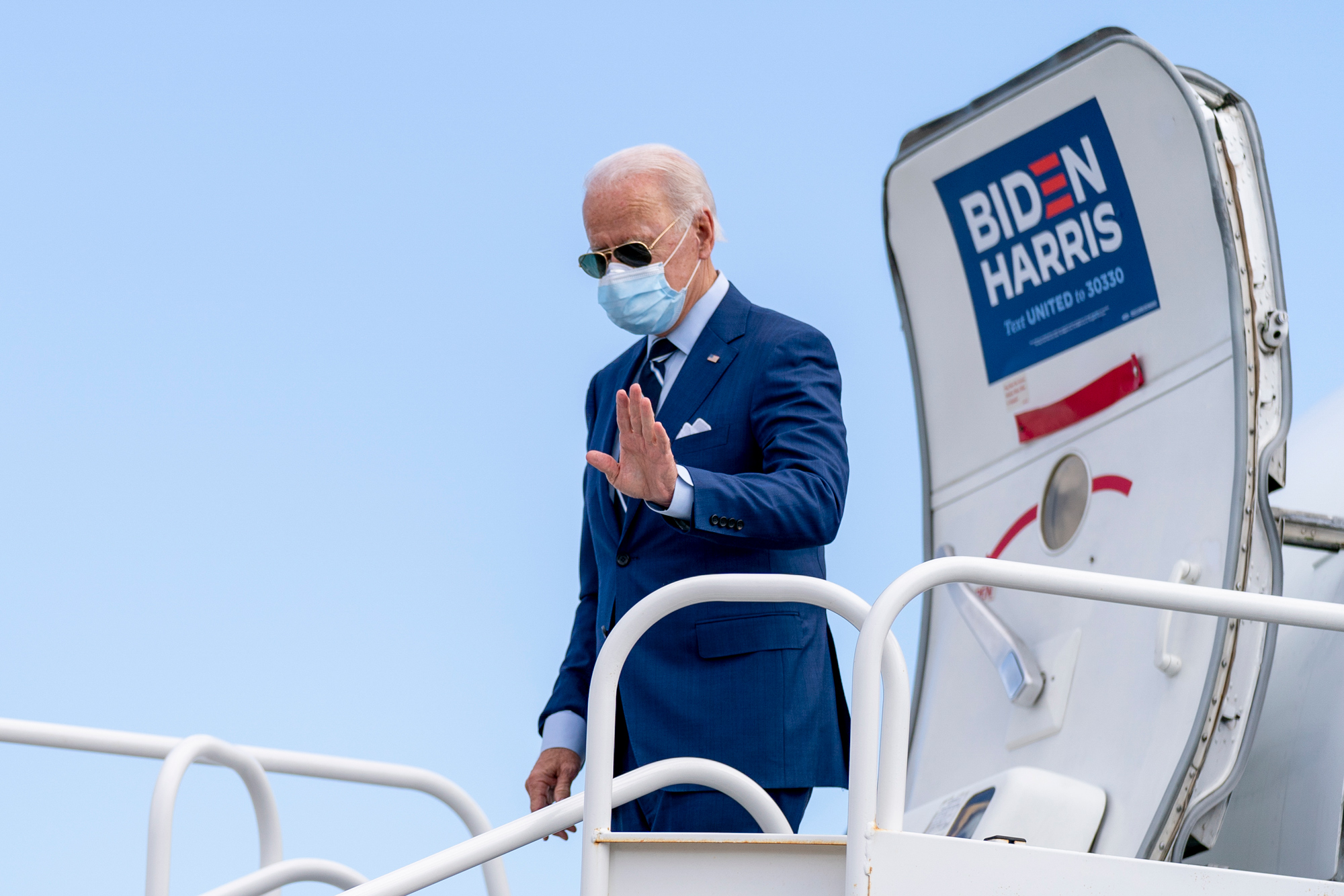 Democratic presidential nominee Joe Biden's plane has landed at Fort Lauderdale-Hollywood International Airport in Broward County, Florida.
He will hold a drive-in event in the county before moving on for an event in Tampa later today.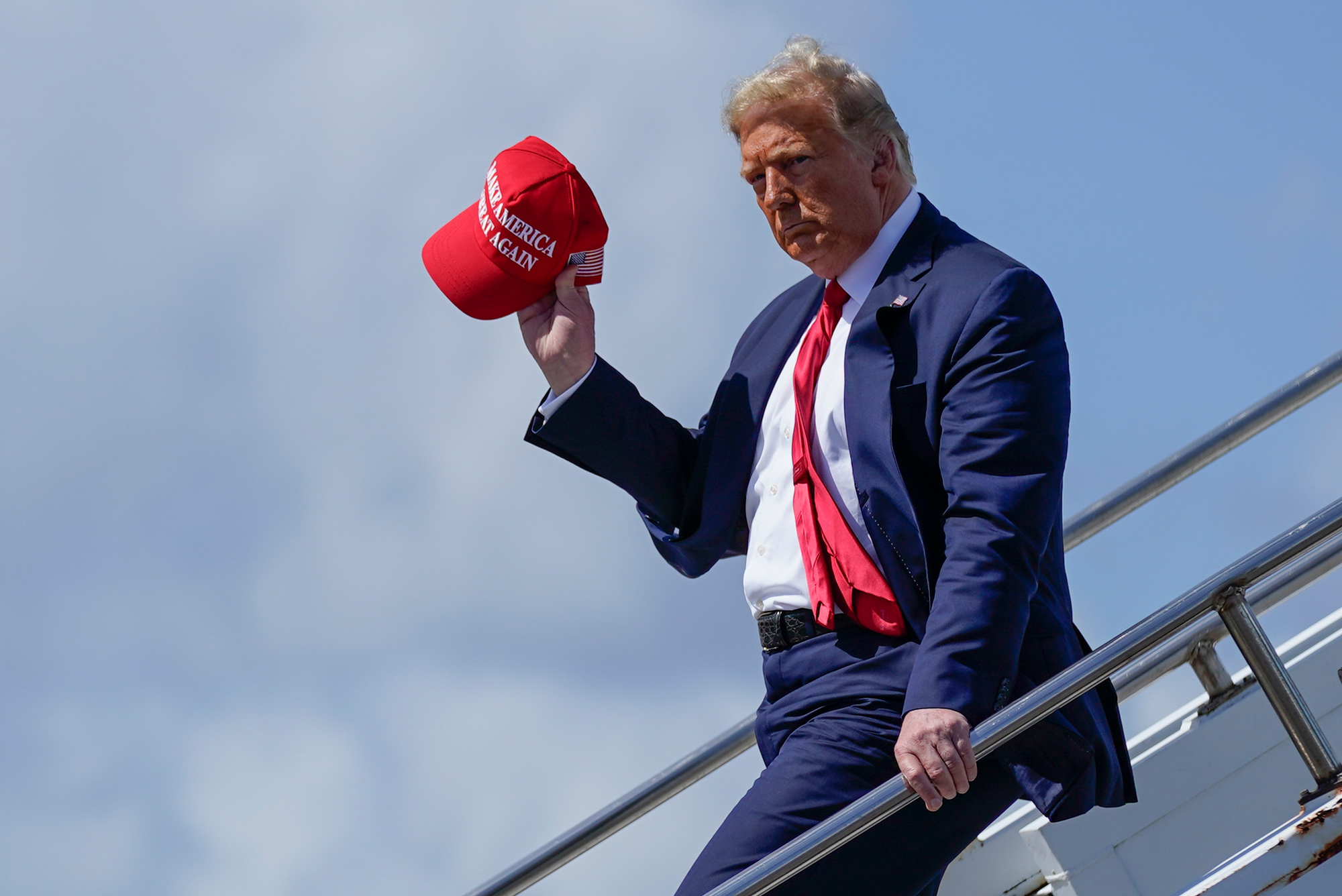 President Trump meanwhile has landed in Tampa. He will motorcade alongside the first lady to Raymond James Stadium, home of the Tampa Bay Buccaneers, the site of his first rally of the day.
The rally will held in one of the parking lots of the stadium.
Read more about the candidates' dueling events today in the Sunshine State here.
2 hr 1 min ago
Joe Biden will visit Minnesota tomorrow
From CNN's Sarah Mucha
Joe Biden will head to St. Paul, Minnesota, Friday for a drive-in event, his campaign announced. Biden is also scheduled to stop in Wisconsin and Des Moines, Iowa.
This marks his busiest travel day on the campaign trail since becoming the Democratic nominee. 
2 hr 27 min ago
Mask-wearing at polls can't be enforced in Texas for now, appeals court rules 
From CNN's Ashley Killough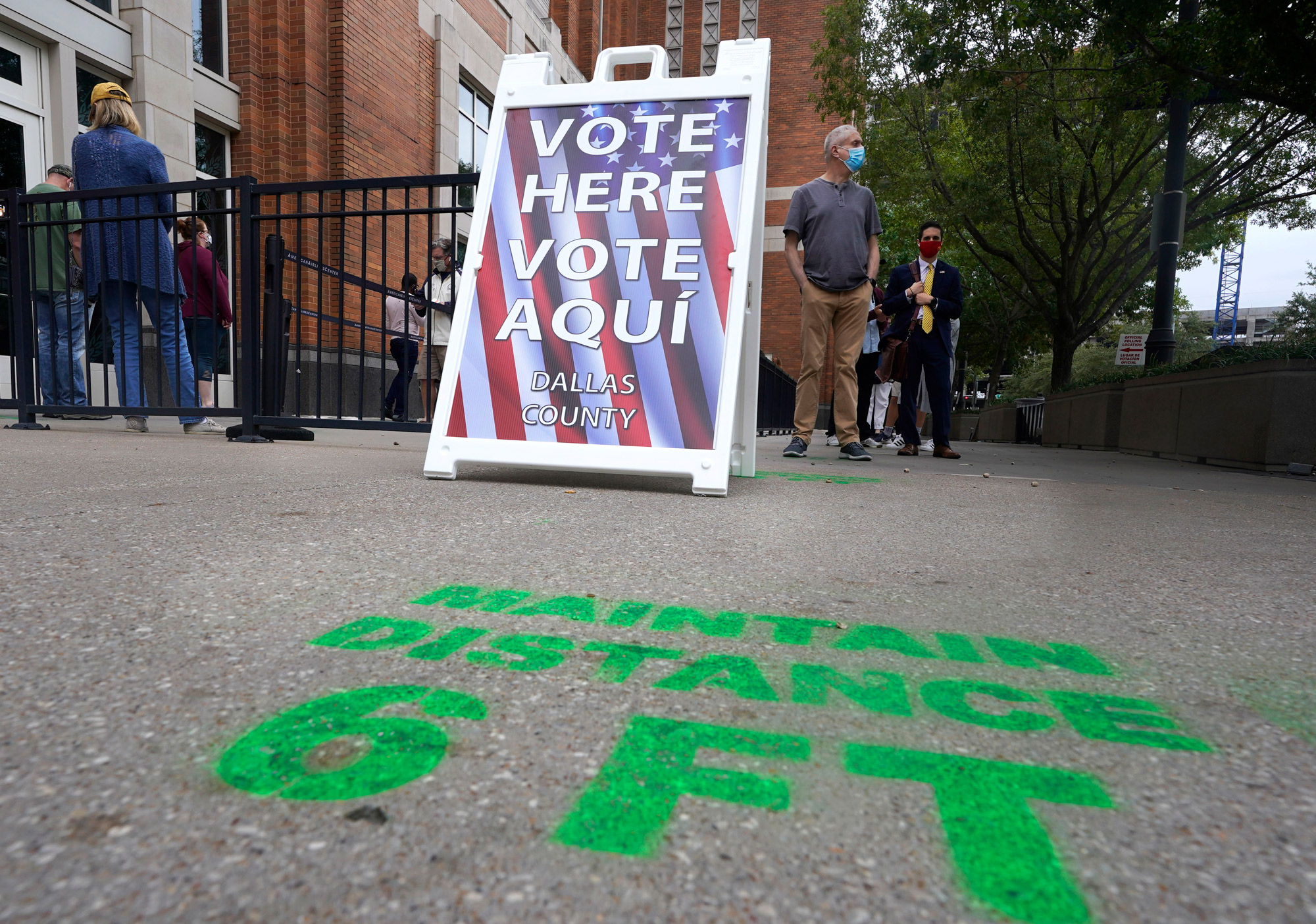 The 5th US Circuit Court of Appeals on Wednesday night reinstated rules issued by Gov. Greg Abbott allowing voters and poll workers to forego masks at voting sites. The appeals court ruling means that as of now, mask-wearing at the polls cannot be enforced in Texas.
The appeals court issued a temporary stay, reinstating the rules, while it considers other appeals. A federal district judge previously invalidated that part of Abbott's statewide directive about masks and face-coverings. That lower court ruling paved the way for counties to start enforcing mask-wearing at the polls.
United States District Judge Jason Pulliam in the Western District of Texas, had previously ruled that Abbott's exemption at polling locations violates the Voting Rights Act by imposing a "voting practice or procedure which results in a denial or abridgement of the right of Black and Latino citizens to vote on account of race or color." 
The suit was brought by liberal groups. Abbott and the state officials defending his directive are Republicans.
Like in many states, the number of Covid-19 cases in Texas is on the rise, with El Paso seeing an especially strong surge. The state is building tents and a makeshift hospital to house Covid-19 patients in the city.
Given the expectation of a stay, Harris County Clerk Chris Hollins said in a statement that while he applauded the initial ruling that supported mask-wearing policies, the county will not enforce it. Harris County, which includes Houston, is the largest county in Texas.
"To avoid confusion, we will continue our policy of accommodating all voters, providing those who need it with protective equipment, and strongly encouraging all voters to wear masks at the polls," Hollins said.
2 hr 36 min ago
Pennsylvania's secretary of state urges voters: "Submit your ballot today"
From CNN's Kelly Mena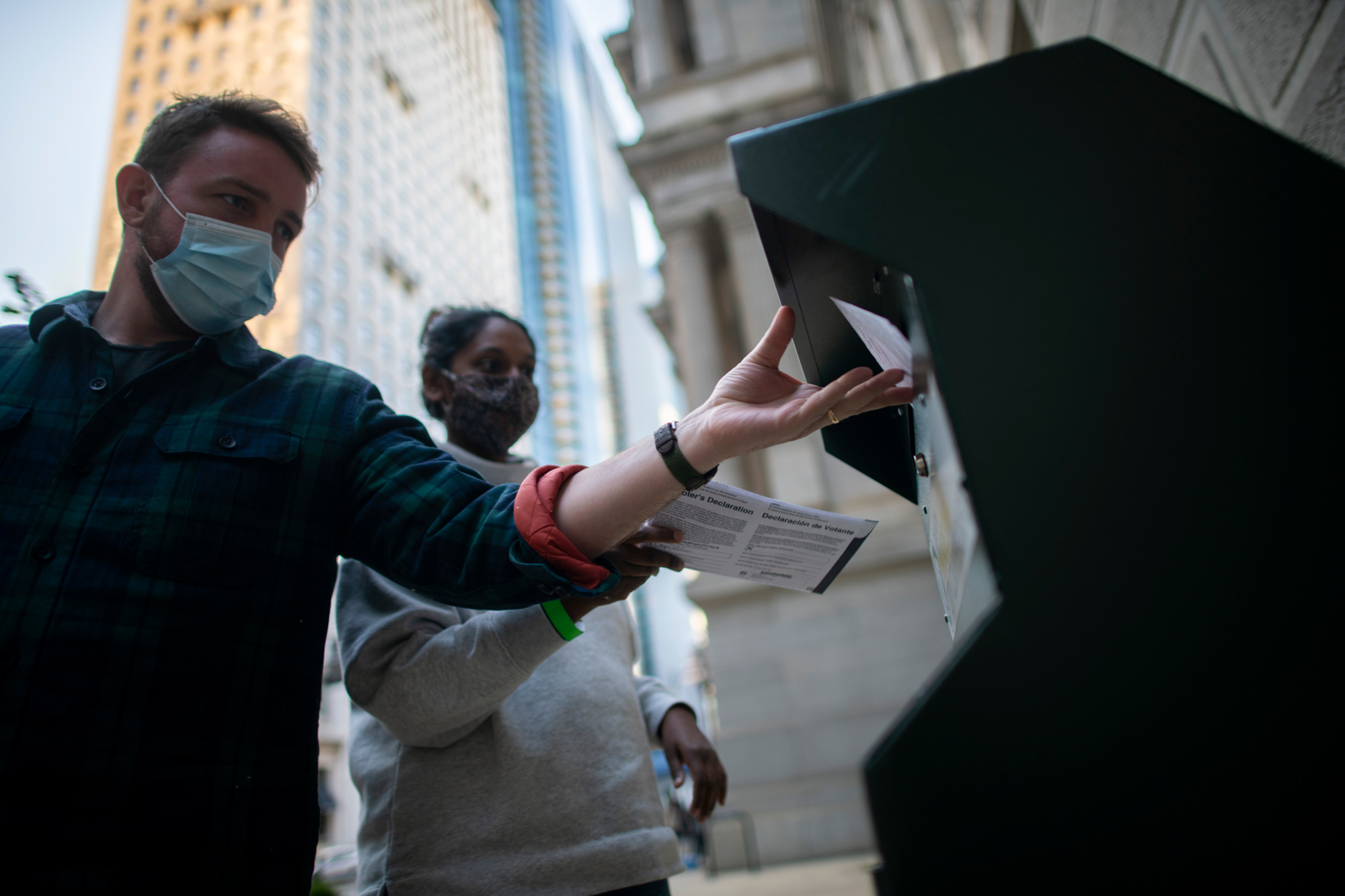 Pennsylvania Secretary of State Kathy Boockvar is telling voters who still have ballots to hand-deliver them now following last night's Supreme Court ruling that allows the state to count ballots received after Election Day.
"We know the court rulings are confusing but there is one simple way to ensure your vote is counted: Submit your ballot today," Boockvar said in a statement.
She also reminded voters that in Pennsylvania their ballots must include a privacy envelope so that they aren't rejected.
About the ruling: The court declined to take up a challenge from Pennsylvania Republicans over the state's mail-in ballot deadline, leaving in place — for now — a state Supreme Court decision that ballots can be received up to three days after the election, even if there is no legible postmark.
But that may not be the end of the mail-in ballot court fight.
The Supreme Court's decision in Pennsylvania, an important state in the presidential election, came one day after the court rejected an appeal from Democrats to allow mail-in ballots in Wisconsin to be received three days after Election Day, so long as they were postmarked by Nov. 3.