28 min ago
Pennsylvania officials say they will "securely segregate" mail-in ballots that arrive after election
From CNN's Ariane de Vogue
Pennsylvania officials have notified the Supreme Court that the Office of the Secretary of State of the Commonwealth has issued guidance to all county boards directing them to "securely segregate" all main-in and civilian ballots received between Nov. 3 and Nov. 6.
This was done because of an ongoing legal challenge brought by Republicans in Pennsylvania.
They have asked the Supreme Court to block a Pennsylvania Supreme Court decision that allowed the counting of ballots received three days after the election, even if there is no legible postmark.
The Supreme Court has yet to rule on the petition.
2 hr 1 min ago
Biden on Covid-19 pandemic: I know "all too well how it feels to lose a loved one"
From CNN's Sarah Mucha
Following a briefing delivered by the public health experts who advise him on Covid-19, Joe Biden delivered remarks on the pandemic, sharing that the group had discussed the upward slope of confirmed infections and talked about the actions that will be needed to turn it around. He said that it was made worse by the "administration's declaration of surrender."   
Biden once again urged Americans to wear masks, arguing that it is not political, but that it's patriotic.  
"We discussed again the vital importance of wearing masks, protecting yourself, protecting your neighbor and to save around 100,000 lives in the months ahead," he said. "…This is not political. It's patriotic, wearing a mask. Wear one, period."  
He argued that the refusal of the Trump administration to recognize the reality of the pandemic "is an insult to every single person suffering from Covid-19." Biden went on to say that he knows "all too well how it feels to lose a loved one."  
Continuing to criticize the current administration for its handling of the pandemic, Biden said that the attendees at Trump's rally who were stranded in a parking lot in Nebraska last night represent "an image that captures President Trump's whole approach to this crisis."  
The Democratic nominee said that even if he wins, he won't be able to end the pandemic just by "flipping a switch."  
"Even if I win, it's going to take a lot of hard work to end this pandemic. I'm not running on the false promise of being able to end this pandemic by flipping a switch," Biden said. He added that he'll start on his first day "doing the right things. We'll let science drive our decisions." 
Biden just voted early "by appointment" at Delaware's Carvel State Office Building.  
WATCH:
2 hr 48 min ago
More than half of North Carolina's registered voters have cast a ballot so far
From CNN's Pamela Kirkland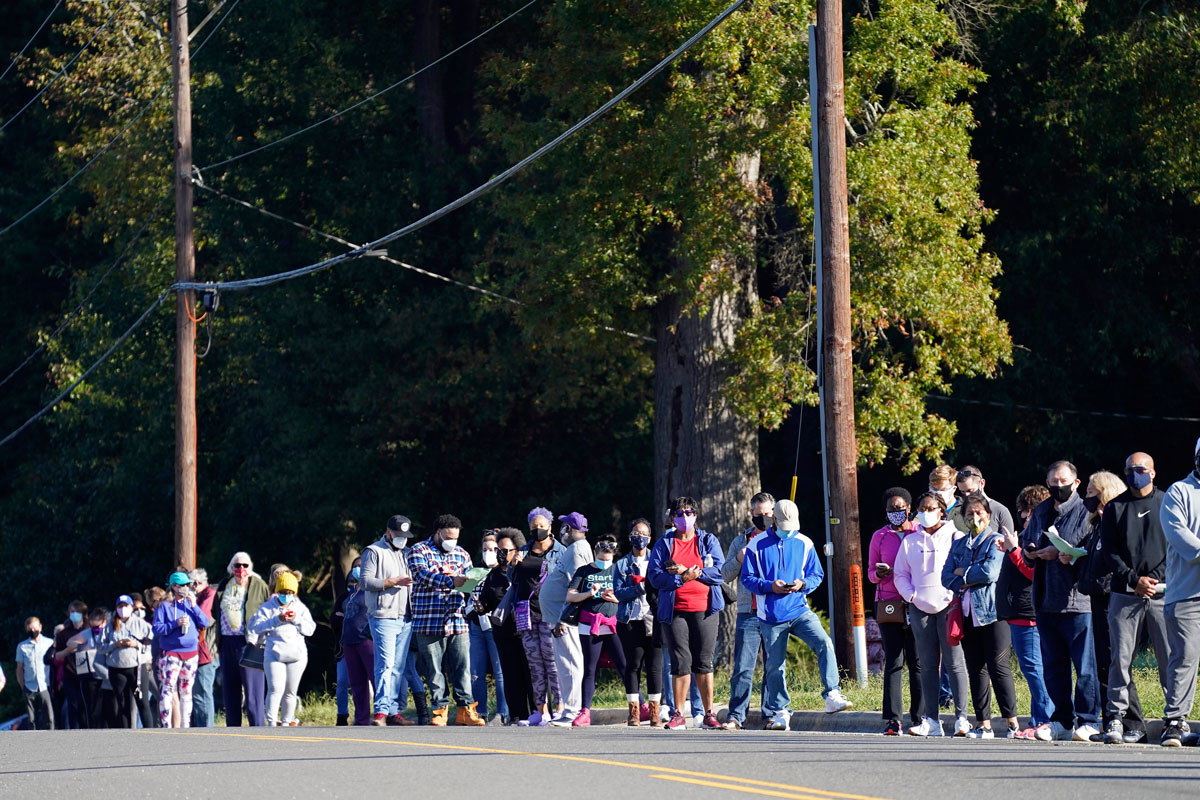 More than 50% of registered voters have cast a ballot in the general election in North Carolina as of Wednesday at noon, according to the North Carolina State Board of Elections. 
In North Carolina, a resident can register to vote and cast a ballot on the same day during the early, in-person voting period. That period runs through Saturday.
Voters can no longer request an absentee by mail ballot. The deadline for requests was Tuesday. 
3 hr 30 min ago
Election night will be an emotional roller coaster — here's why
Analysis from CNN's Zachary B. Wolf
No one really knows how this election night will go, but here are some scenarios. First, make three assumptions (which could be wrong, but are backed up by data):
The bank of early votes (again, more than 66 million so far) could favor Democrats.
Election Day votes could favor Republicans.
Late-arriving (or late-counted) mail-in votes could favor Democrats.
Now let's apply those assumptions to what we know about election night:
Excitement for Biden early — The explosion of early voting in Florida, a state that allows officials to process those ballots ahead of time, means there could be a whole lot of already-counted vote to be reported when the last polls close in the state at 8 p.m. ET.
The same could be true in in Georgia and North Carolina, two more key states with early poll closings.
If those early results do favor Democrats, that means the early returns on election night could potentially look better for Biden than the final results.
Why? As CNN's Adam Levy writes:
One week from Election Day, early voters so far are younger, more racially diverse and more likely to be Democrats than they were ahead of the 2016 election in many of the key states that could decide the next president.
Then, excitement for Trump — But this possible early Biden bump may not last if states like Florida report early voting when polls close.
Election Day returns, which could favor Republicans, may very well make things tighten up as the night progresses. It could feel very exciting to watch CNN's John King at the Magic Wall and see the numbers get closer. Tune in!
3 hr 29 min ago
Biden campaign passes $40 million in final week ad spending 
From CNN's David Wright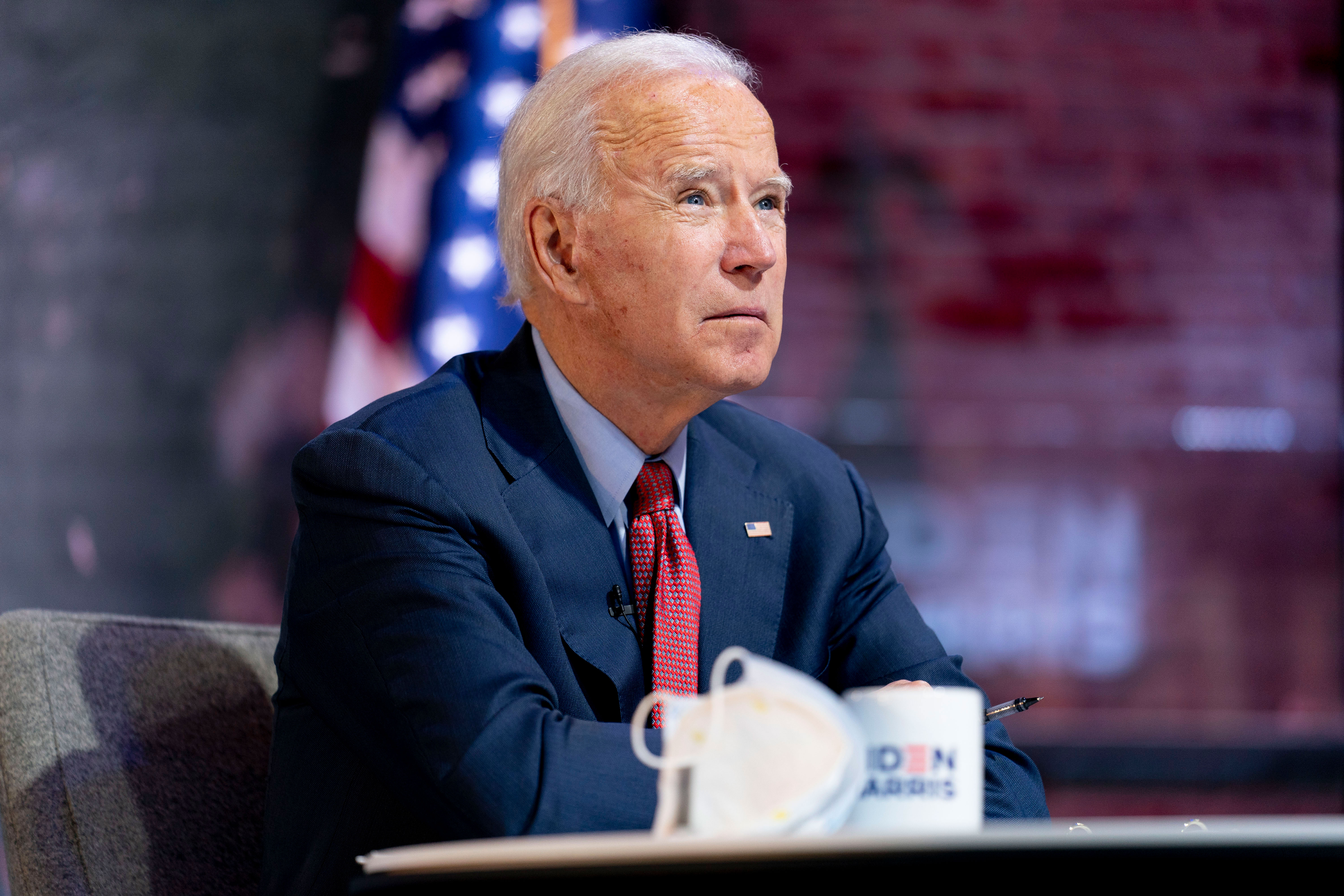 The Biden campaign is continuing to pour money into advertising in the closing stretch of the campaign — the campaign's ad reservations now total more than $40 million for just the final week, following some recent additions.
This contrasts with moves earlier this week from the Trump campaign, which pulled back some advertising in Florida and shifted bookings to joint buys with the RNC.
Here's where Biden added to bookings for the final week, with the additions totaling about $4.2 million:
$500,000+ to Michigan and Pennsylvania
$300,000+ to Arizona, North Carolina, Nevada, Florida, Georgia, Iowa and Wisconsin
$100,000+ to Texas and Ohio and some national buys; also canceled about $40k in Minnesota.
3 hr ago
Hundreds stranded in the cold waiting for buses in chaotic post-Trump rally scene
From CNN's Jeff Zeleny in Omaha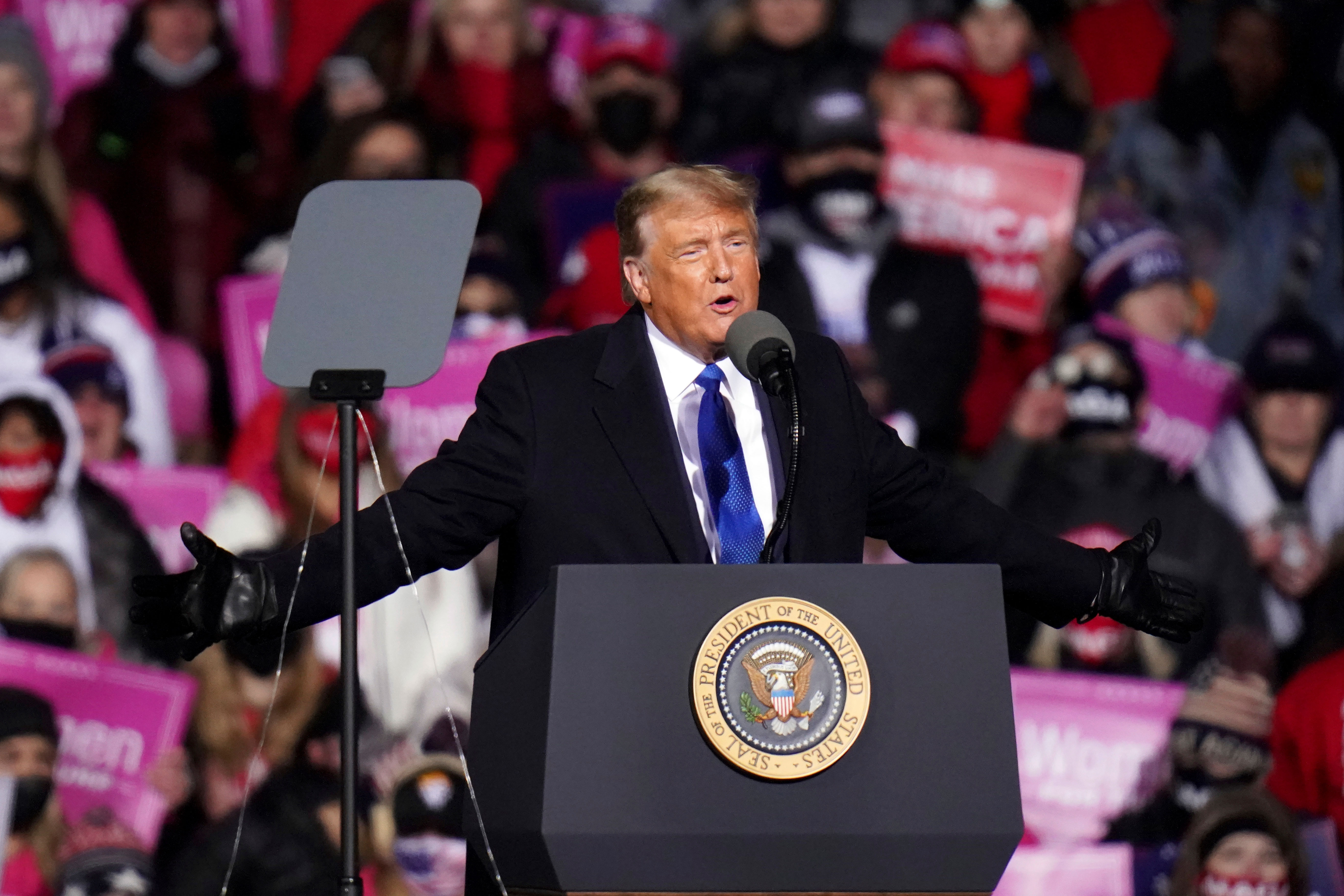 When President Trump left Omaha on Tuesday, thousands watched and cheered in the frigid air as Air Force One took off into the night sky. But for these loyal supporters, their experience at the Trump rally was far from over.
For the next several hours, hundreds and hundreds of people who attended the rally were stranded, as a chaotic scene unfolded on dark roads on a remote stretch near the Omaha airport. They waited for buses that didn't arrive, unable to reach the site because of a clogged two-lane road.
Many people started walking to their cars, parked three or four miles away, which blocked the roads even further. Several medics were seen by CNN giving attention to people in the bone-chilling evening air. The temperature was right at freezing, but wind chills were far lower.
Earlier in the night, the President commented on the weather.
"I mean, I'm standing here freezing. I ask you one little favor: get the hell out and vote," Trump said to cheers from the crowd. "The great red wave. At least you're down there with each other. I'm all up here and that wind is blowing."
Samantha Zager, deputy national press secretary told CNN in a statement: "President Trump loves his supporters and was thrilled to visit Omaha last night. Despite the cold, tens of thousands of people showed up for his rally. Because of the sheer size of the crowd, we deployed 40 shuttle buses instead of the normal 15, but local road closures and resulting congestion caused delays. We always strive to provide the best guest experience at our events and we care about their safety."
After the rally, police officers tried to control the scene, but struggled to bring order to the pandemonium. There were no campaign advance teams in sight. One local advance volunteer said they were given no instructions how to get supporters back onto the buses. 
"We need at least 30 more buses," an Omaha police officer said, shaking his head.
Some background: For months, the Trump campaign has utilized the practice of busing supporters from parking lots to the rally sites as a way to accommodate the large crowds. His events have been held in locations such as small airports that don't normally draw rally-sized crowds and therefore don't have onsite parking available to support the crush of people and crowds.
That has created a scenario where thousands of people are left to wait for hours after the event ends for buses to shuttle them back to their cars. At event in Gastonia, North Carolina, last Wednesday, hundreds of supporters were forced to make the decision to either wait for the bus or walk several miles down a busy road, without sidewalks, to their parking lots.
Even those who make it on a bus only do so after a long wait packed in with hundreds of other people — most not wearing a mask — until they board the bus where every single seat is taken and no social distancing is practiced.
Remember: It's unlikely that any of the rally-goers would change their votes since they count as some of the most committed supporters. But it's hardly the kind of local news you want to generate — especially in Nebraska, which is experiencing a fourth-straight week of record Covid cases.
With additional reporting from Betsy Klein and Ryan Nobles
5 hr 7 min ago
The Pences test negative for Covid-19
From CNN's Daniella Diaz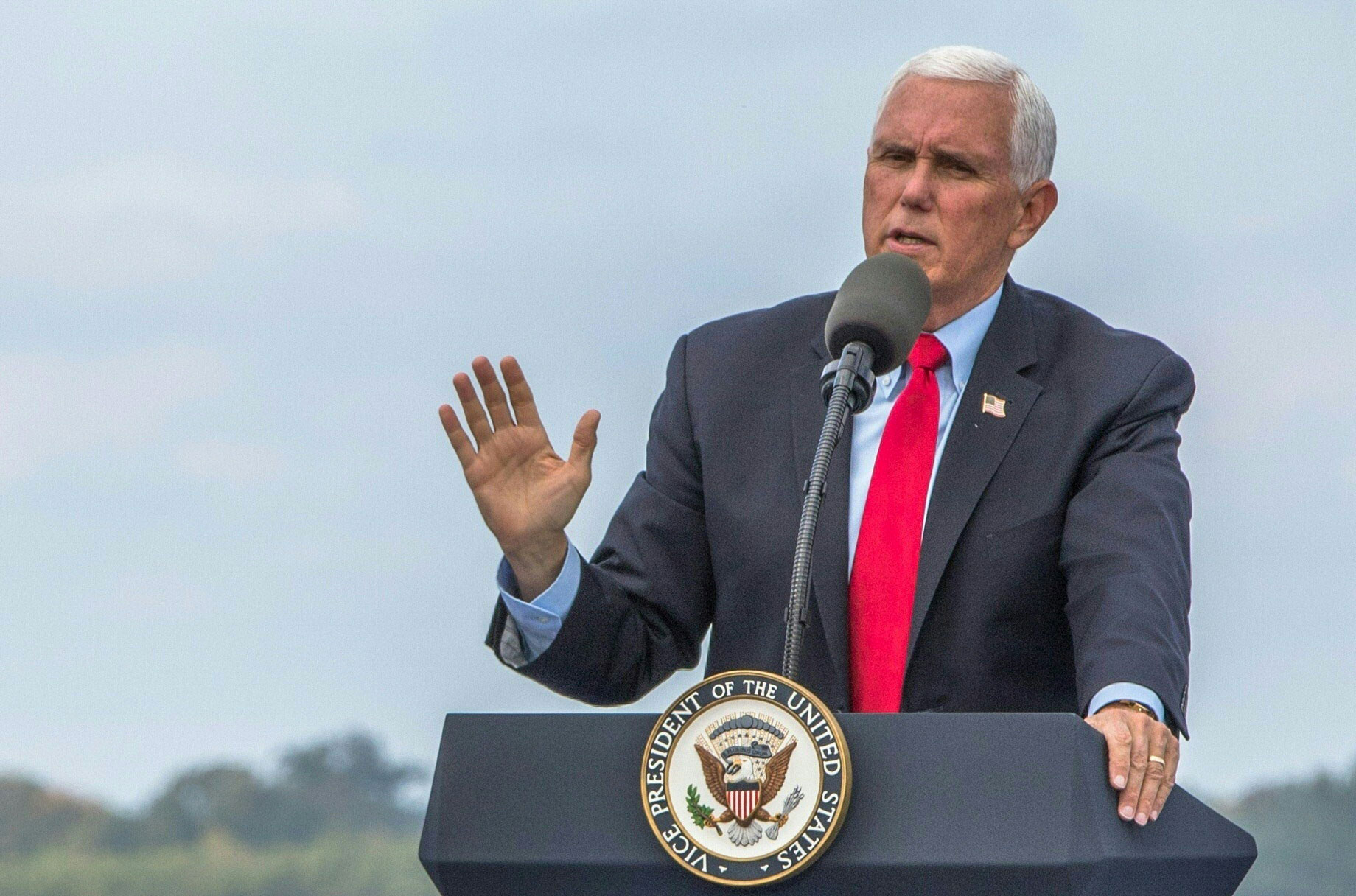 Vice President Mike Pence and Second Lady Karen Pence tested negative for Covid-19 this morning, according to a White House official. 
5 hr 7 min ago
More than 75% of the total 2016 votes have already been cast in North Carolina
From CNN's Dianne Gallagher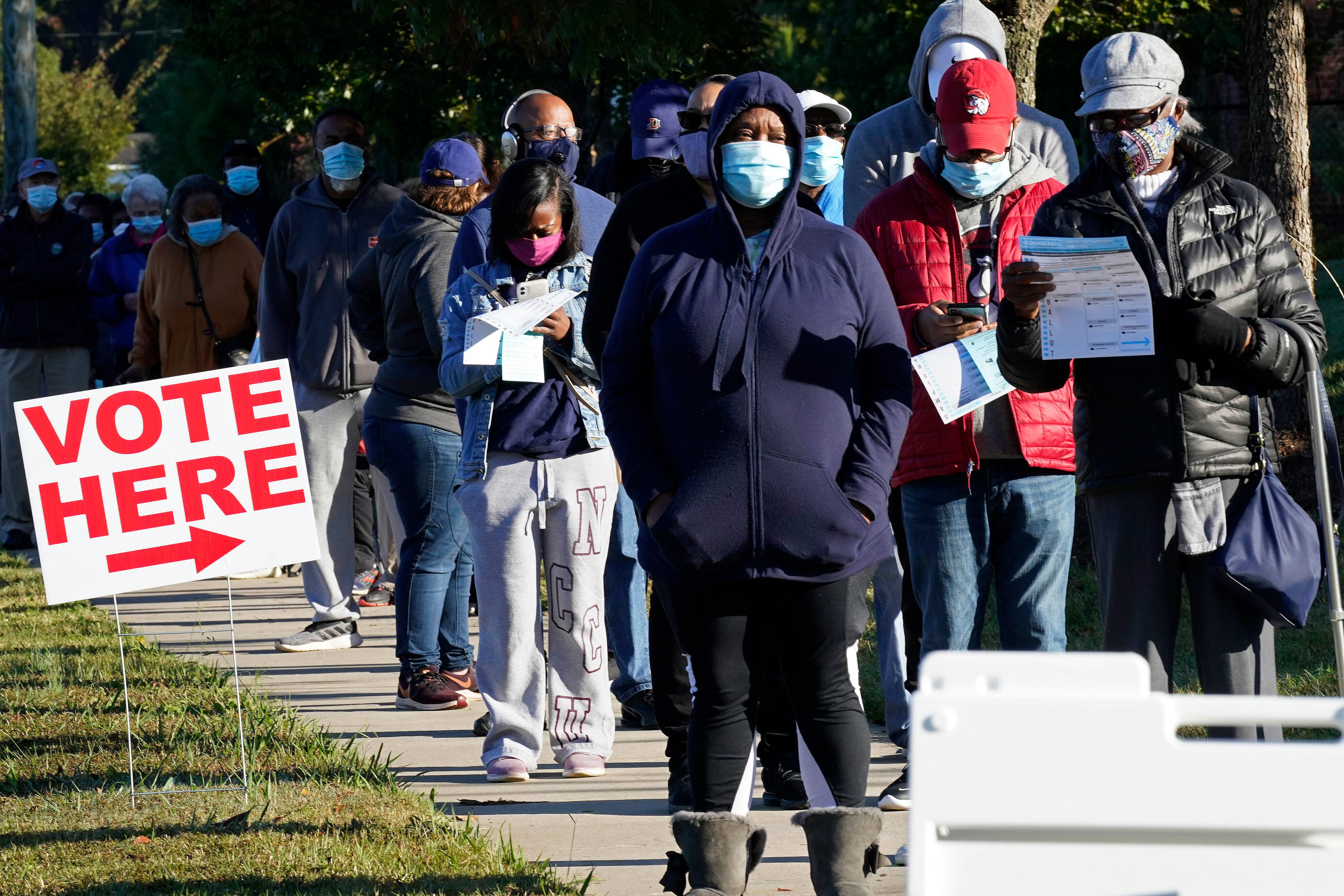 At least 3,631,565 ballots have been cast in North Carolina as of 5:00 a.m. today, according to data provided by the North Carolina State Board of Elections. 
That means almost 49.5% of all currently registered voters in NC have already voted in the 2020 election.
Put another way, six days before Election Day, North Carolina voters have cast more than 76.5% of the total number of votes cast in the entire 2016 Election. 
Here's a breakdown of the votes cast in North Carolina so far according to state data:
Early Voting In-Person: 2,830,533
Absentee By Mail Ballots: 821,375  
Some more context: In North Carolina, a resident can register to vote and cast a ballot on the same day during the early in-person voting period at a "One Stop Absentee" Early Voting location. The early voting period runs through Saturday in North Carolina. 
Voters can no longer request an absentee by mail ballot in North Carolina. The deadline to request was yesterday. A final total for absentee ballot requests should be available later Wednesday. 
North Carolina law requires ballots be postmarked before or on Election Day by 5 p.m. The deadline for when an Election Day postmarked ballot can be accepted has been appealed to the US Supreme Court.
There is no SCOTUS opinion on the North Carolina deadline yet, but lower courts have upheld the extended deadline. The deadline is currently set at Nov. 12, but Republicans have asked for it to be rolled back to the legislature-set deadline of Nov. 6. 
An absentee ballot can be returned in person at an early voting site through Saturday. It can also be returned in-person to the voter's county board of elections office by 5 p.m local time on Election Day. North Carolina does not have ballot drop boxes. 
3 hr 43 min ago
What we know — and don't know — about the 2020 early vote so far
From CNN's Adam Levy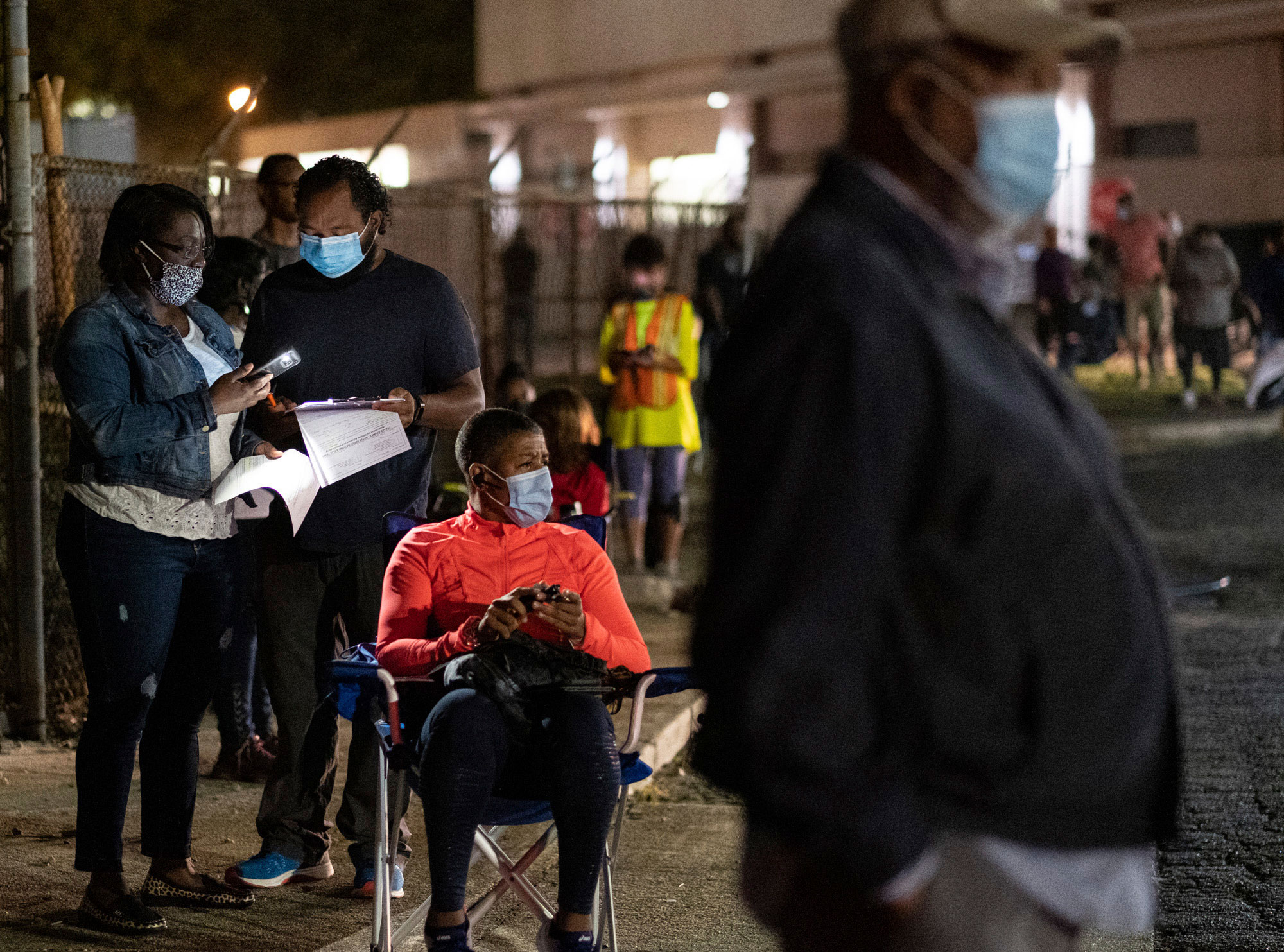 More than 68.5 million Americans have voted so far with a week to go until Nov. 3, according to a survey of election officials in all 50 states and Washington, DC, by CNN, Edison Research and Catalist.
Here are the numbers: In 2016, more than 136.5 million ballots were cast in the presidential election. The 68.5 million ballots cast so far represents about 50.2% of that 2016 total.
Eighteen states have also crossed their halfway marks for total 2016 ballots cast, including seven of CNN's 16 most competitively ranked states: Texas, Georgia, North Carolina, Arizona, Florida, Colorado and Nevada.
Remember: We don't know how many of those votes are from people who would have voted on Election Day, and how much represents the start of a huge surge in voting.