1 min ago
Trump's second rally of the day wraps after 88 minutes
From CNN's Allie Malloy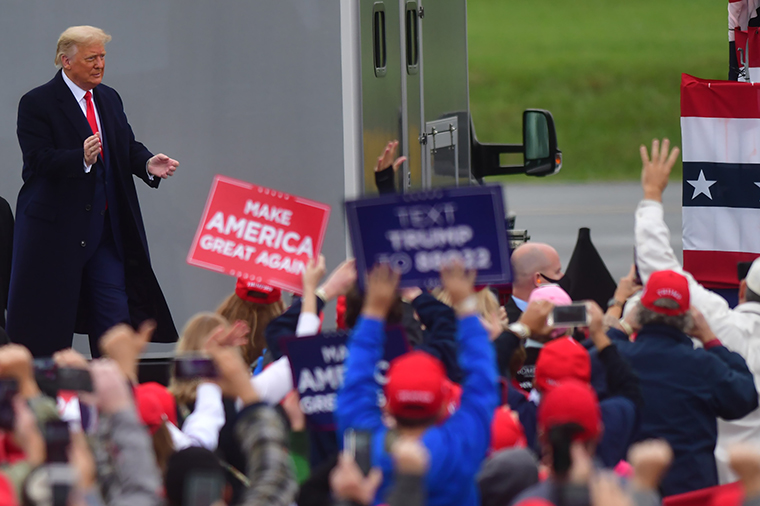 President Trump has wrapped after speaking for an hour and 28 minutes at his second Pennsylvania rally Monday.
Trump didn't make any news in this rally Lititz, Pennsylvania — sticking to familiar talking points.
He now heads to his third and final stop in the state in Martinsburg, Pennsylvania.
1 hr ago
Democrats in Pennsylvania urge Supreme Court to allow ballot extension to stand
From CNN's Ariane de Vogue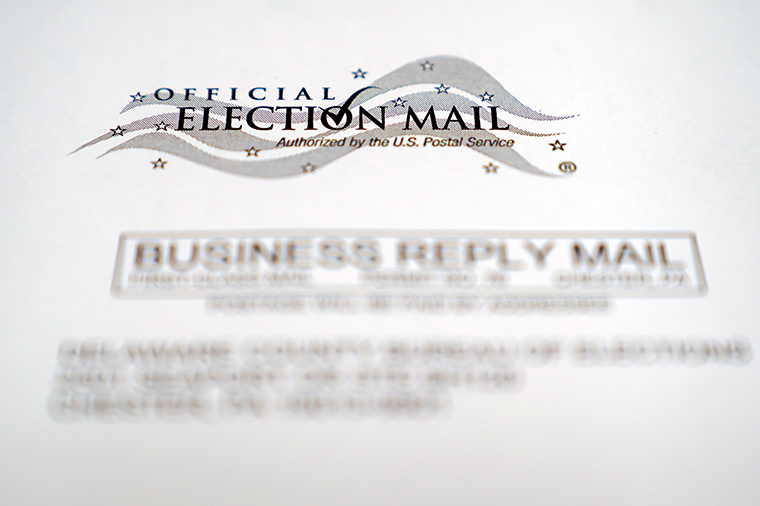 Pennsylvania Democrats asked the Supreme Court on Monday to deny a request from Republicans in the battleground state to block a ballot receipt deadline. 
Last Friday, Republicans asked the justices to reverse the Pennsylvania Supreme Court that allowed the counting of ballots three days after the election even if the postmark is illegible.
They asked the justices to decide the issue before next week's election and reinstate an election day deadline. 
In the new petition, former Solicitor General Don Verrilli, a lawyer for the Democrats, urged the justices to deny the Republican party's "extraordinary and unjustified request for expedition" and allow Pennsylvania "to hold its federal elections under existing rules." 
Some more context: Earlier in the month, the Supreme Court deadlocked 4-4 on a petition from the Republicans asking the justices to put the lower court opinion on hold pending appeal. Chief Justice John Roberts sided with the liberals to allow the extension. It would have taken five justices to grant the request. 
Now the Republicans are trying again, with the knowledge that Amy Coney Barrett might cast a critical vote.
56 min ago
Biden's remarks in Georgia tomorrow will act as closing argument, aide says
From CNN's Jessica Dean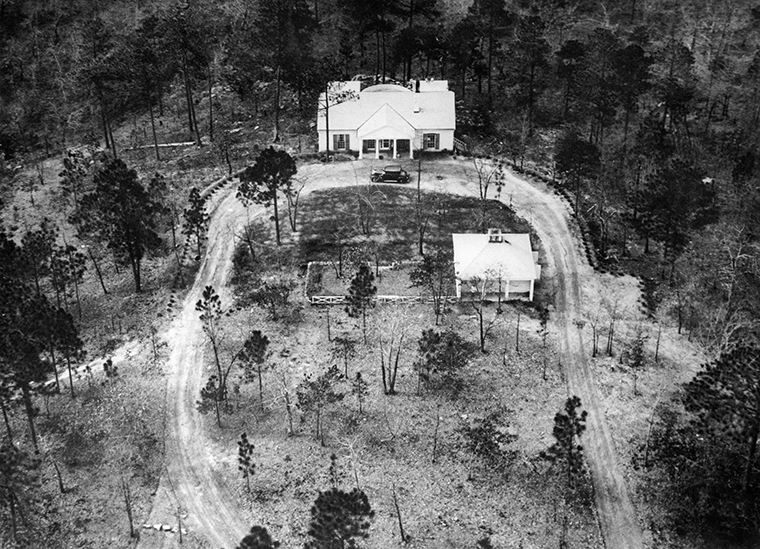 A Biden campaign aide tells CNN that Biden's remarks tomorrow in Warm Springs, Georgia will act as a closing argument to Americans and will build upon the themes we heard from Biden's speech in Gettysburg and his DNC acceptance speech in August.
The aide said Biden will drive home the importance of national unity to overcome the vitriol and partisan polarization the nation is facing and reiterate this is a moment to act as an ally of the light.
They added Biden's trip to Georgia on Tuesday shows how serious the campaign is about the state.
Some more context: The historical significance of Warm Springs and its association with President Franklin Roosevelt will also play into the speech.
Roosevelt's personal retreat in Warm Springs became known as "The Little White House." The aide said there's an "obvious parallel" to be drawn as Biden would be entering office under economic circumstances not seen since the Great Depression and that he is proposing bold action in the same way Roosevelt did.
1 hr 6 min ago
Harris tested negative for coronavirus today
From CNN's Jasmine Wright
Sen. Kamala Harris underwent PCR testing for coronavirus Monday and Covid-19 was not detected, according to a Harris aide.
Harris is in Washington, DC, today and is expected to attend the Senate vote at the Capitol on Judge Amy Coney Barrett's confirmation, CNN's Manu Raju reports.
It will be her first Senate vote since Aug. 6.
Tuesday she'll head to Nevada for a day of campaigning and Arizona on Wednesday.
2 hr 6 min ago
Trump campaign tells reporters they're confident the President will win battleground states
From CNN's Daniella Diaz, DJ Judd and Ryan Nobles
Trump campaign manager Bill Stepien, senior adviser Jason Miller and communications director Tim Murtaugh just held a press call with reporters where they said they are confident the President is growing his base and will be able to win battleground states on Election Day.
The campaign distanced themselves from the current poll numbers, with Stepien telling reporters: "Polls always mattered to some but they mattered less these days because more and more actual votes have been cast every single day." 
He later added: "Ground game matters — in state after state, we can see the result of President Trump's grassroots operation, which is simply the best that's ever been built. When we analyze the returns and the vote totals in these states, we continue to see positive trends every single day."
Stepian said the campaign "expected" that Democrats would take an early lead in the absentee voting period and believe that gap is being "eaten up."
"Early leads, built by Democrats in the absentee voting period, we know that, we've seen that, we expected that, it still drew a lot of attention by those who cover these races, but more importantly, every single day we see that early lead that the Democrats once had eaten up as they leave absentee votes on the table because they don't have a ground game to draw those votes and turn those ballots into actual votes."
Stepien said that Trump "is expanding his base and turning out brand new voters."
Trump campaign senior adviser Jason Miller then joined the call, where he touted an additional $6 million in ads, in addition to the $55 million, two-week buy announced last week, "focused, largely on, Pennsylvania, Wisconsin, and Michigan," adding, "We'll also be adding on to our buy in Minnesota." 
2 hr 29 min ago
Kamala Harris not expected to speak on the floor today in opposition to Barrett, per aide
From CNN's Manu Raju
When she arrives today for her first Senate vote since Aug. 6, Democratic vice presidential nominee Sen. Kamala Harris is not expected to speak on the floor, an aide said. 
The Senate is expected to confirm Trump's Supreme Court nominee Amy Coney Barrett this evening.
2 hr 38 min ago
DC mayor asks people to think twice about attending White House event tonight
From CNN's Ali Main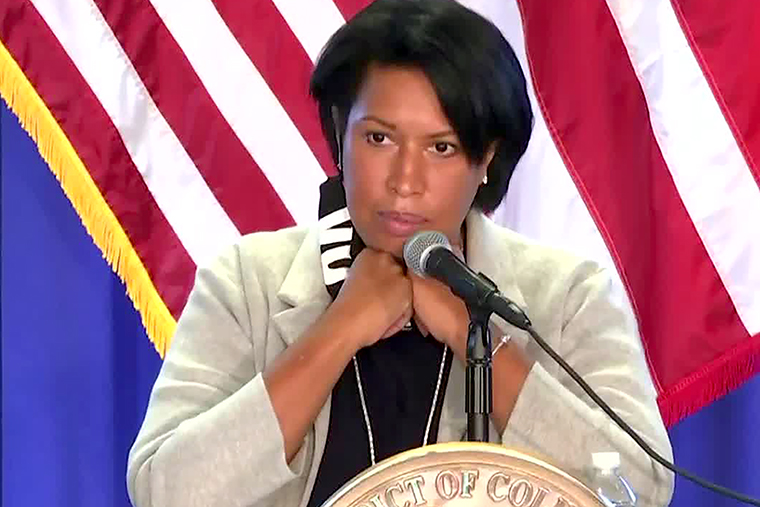 Asked about the outdoor event the White House is planning to host on Monday evening following the Senate vote to confirm Judge Amy Coney Barrett to the Supreme Court, DC Mayor Muriel Bowser posed the question to voters, questioning, "What does it feel like to see people flaunt scientific evidence and common sense?"
During a press conference Monday morning, Bowser also referenced the large and mask-less event held weeks ago in the Rose Garden to celebrate Barrett's nomination, which preceded a coronavirus outbreak that included President Trump and many of those in his orbit.
The mayor said many who attended the now-infamous event were "embarrassed" by their participation and explained she does not want to see DC residents and others from the surrounding areas put in a similar situation.
Bowser urged anyone who was considering attending Monday's event to ask themselves how they will leave the situation if it is not safe, saying this is the consideration she makes when she goes out in public.
"For all you know you could be packed in a Rose Garden event with somebody sitting next to you hacking. Ask yourself – if that's happening, are you going to get up and leave in the middle of the President's remarks? If you're not, you shouldn't go," Bowser said.
She then turned to the potentially dire consequences of attending a large gathering during the pandemic.
"You know, 642 people have died here," Bowser said of Washington, DC. "So you can believe that you can go to the White House and get Covid and nothing is going to happen to you, perhaps. Or you could die from it."
Some background: CNN reported Sunday that President Trump is expected to swear in Barrett at the White House at 9:00 p.m., according to a source familiar with the invitation.
White House Chief of Staff Mark Meadows said Monday morning the White House would be "doing the best we can" to prevent an outbreak at the event, including "encouraging as much social distancing as possible" and testing "in and around those that are critical to the mission."
As of Monday morning, the District had reported at least 16,812 positive cases of coronavirus.
3 hr 4 min ago
Trump says his Supreme Court nominee "will be confirmed by the Senate" tonight
From CNN's Jeremy Diamond and Nikki Carvajal
President Trump touted Judge Amy Coney Barrett's likely confirmation to the Supreme Court on Monday as a "big deal" and called on his Democratic rival Joe Biden to release a list of his potential Supreme Court nominees. 
After accusing Biden of wanting to pack the Supreme Court, Trump asked a crowd in Allentown, Pennsylvania what they thought of "Amy."
"Tonight she will be confirmed by the Senate and become the newest member of the Supreme Court," he said, to loud cheers. 
He then said Biden should release a list of potential nominees, "because you can't have radical left judges." 
2 hr 19 min ago
Pence's team taking Covid-19 precautions as he continues campaign schedule
From CNN's Sarah Westwood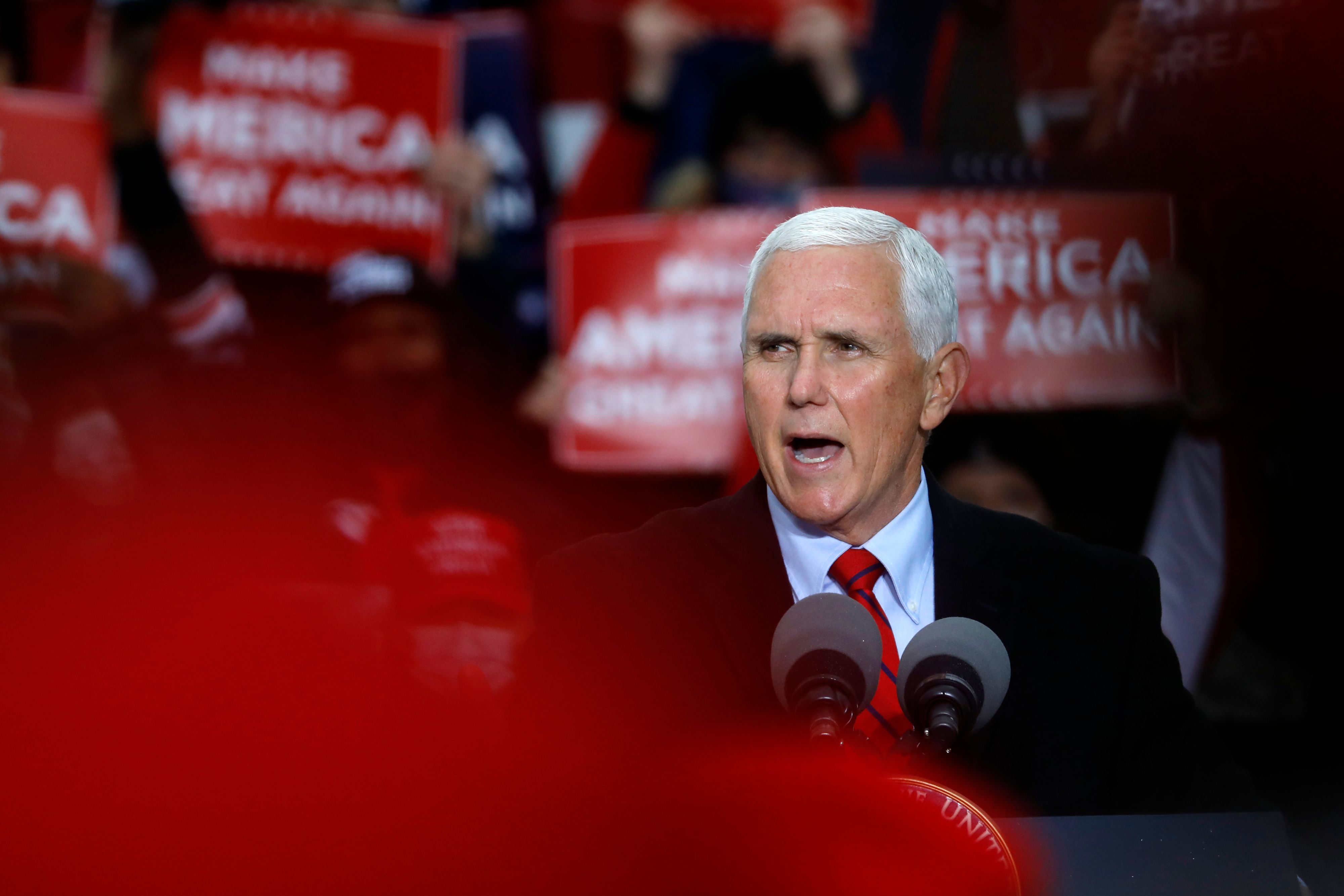 Vice President Mike Pence is taking precautions on the road after exposure to coronavirus from his chief of staff, Marc Short, as he insists on maintaining an aggressive campaign schedule in the final week of the race. 
Pence will not do any rope lines or greetings with supporters after his campaign speeches over the next few days and will simply leave after he makes remarks, a person familiar with the plans said. The vice president typically does between one and three local interviews in the battleground states that he visits, but will not be allowing any for the next few days as well.
He will travel with a "much more slimmed-down team" given that Short and three other aides have tested positive for the virus – his press secretary is quarantining and his communications director is at the end of her pregnancy.
Some background: Pence hit the road the day after Short tested positive for the virus, speaking in North Carolina amid criticism of the White House's decision to deem him an "essential personnel" that does not need to quarantine despite the diagnosis of his close contact.
He was set to travel to Minnesota on Monday, after testing negative for the virus on both Sunday and Monday.
A close adviser to Pence, Marty Obst, tested positive for Covid-19 earlier last week after coming into contact with some of Pence's team. Obst is not a government employee.
Although four aides in total have tested positive, the person familiar with the situation said, all but Short tested positive while quarantining after contact tracing was conducted in the wake of Obst's diagnosis.
Dr. Jeffery Sachs discusses with CNN Brienna Keiler: