25 min ago
More than 40 million Americans have cast general election ballots
From Liz Stark, Adam Levy, and Ethan Cohen
More than 40 million Americans have already cast their general election ballots, according to a survey of election officials by CNN, Edison Research, and Catalist.
Voters in the 47 states and DC with pre-Election Day data available are already setting records as they seek to cast their ballots either by mail or in-person where available less than two weeks before Election Day.
Ballots cast so far represents almost 30% of the more than 136 million total ballots cast in the 2016 presidential election.
Some voter information comes from Catalist, a company that provides data, analytics and other services to Democrats, academics and nonprofit issue-advocacy organizations and is giving new insights into who is voting before November.
1 hr 33 min ago
Romney: "I did not vote for President Trump"
From CNN's Manu Raju 
Republican Sen. Mitt Romney told CNN he has already voted in this year's election but he wouldn't say if he voted for Joe Biden or wrote someone else in.
"I did not vote for President Trump," he said. 
2 hr 20 min ago
Harris rallies North Carolina Democrats and slams GOP on stimulus bill 
From CNN's Jasmine Wright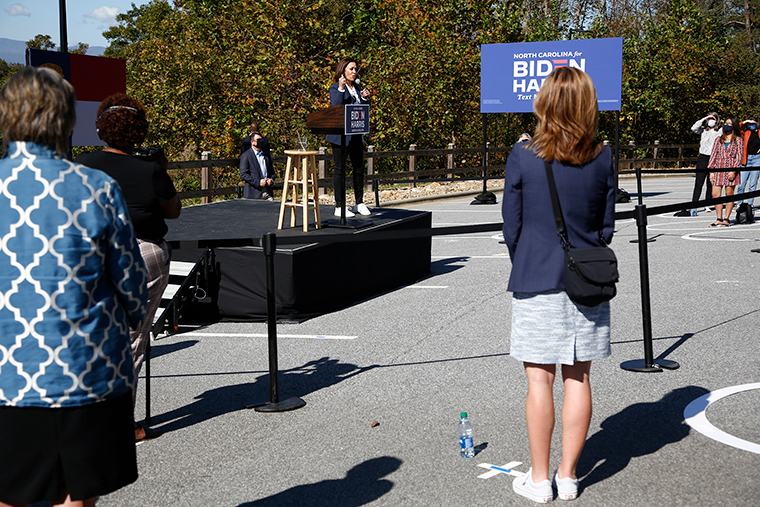 Kamala Harris rallied Democrats at an early voter mobilization event in Asheville, North Carolina — this event was rescheduled from last week after the Biden-Harris campaign halted travel because of two positive Covid-19 cases.
There were about 25 people in the crowd, many stood in socially distant circles in front of a mountain vista. And most raised their hands when asked if they had already early voted. 
Harris delivered brief remarks, eliciting "boos" and "call him out" from the small crowd, when she — without naming him —  called out Sen. Thom Tillis and GOP senators for trying to push through a Supreme Court nominee instead of passing another stimulus bill.
"You know who I'm talking about," Harris said.
The Democratic vice presidential nominee gave her usual stump speech, with a mention of getting rid of Education Secretary Betsy DeVos, which again elicited some boos from the crowd.
Harris said she would be counting on the people of North Carolina, and made no mention of Democratic senate candidate Cal Cunningham in her remarks.
More than two million voters in the state have already successfully cast their ballots for the election.
3 hr 24 min ago
Why America's jobs market is in crisis — no matter who wins the election
From CNN's Anneken Tappe
No matter who wins the US presidential contest in November, one of the most pressing problems for the administration to solve will be America's broken jobs market.
"The harsh reality is that whoever the president is on January 20 has his work cut out for him," said Beth Ann Bovino, S&P Global chief US economist, in a new report on Monday. "While the US is no longer careening toward a depression, labor market data shows the economy mired in a weak recovery, with the unemployment rate still high, at 7.9% — above or equal to the peak of eight of the past 11 recessions."
In fact, the unemployment rate, which peaked at 14.7% in April may actually under-represent the fragility of America's pandemic labor market: Those discouraged by a lack of available jobs, worried about health precautions or needing to stay home to care for children or elderly relatives have dropped out of the labor force altogether. And the unemployment rate doesn't factor them in.
If we add back all the people who have dropped out of the labor force since February -— many of whom are women — and count them as unemployed, the jobless rate would have been 10.3% last month, the S&P report said.
The unemployment rate isn't expected to get back to its pre-pandemic level before 2024. Come January, the administration needs to throw a lifeline to those in need, Bovino said.
Read the full story here.
4 hr 3 min ago
Trump claims Biden would "destroy all that you have built!"
From CNN's Nikki Carvajal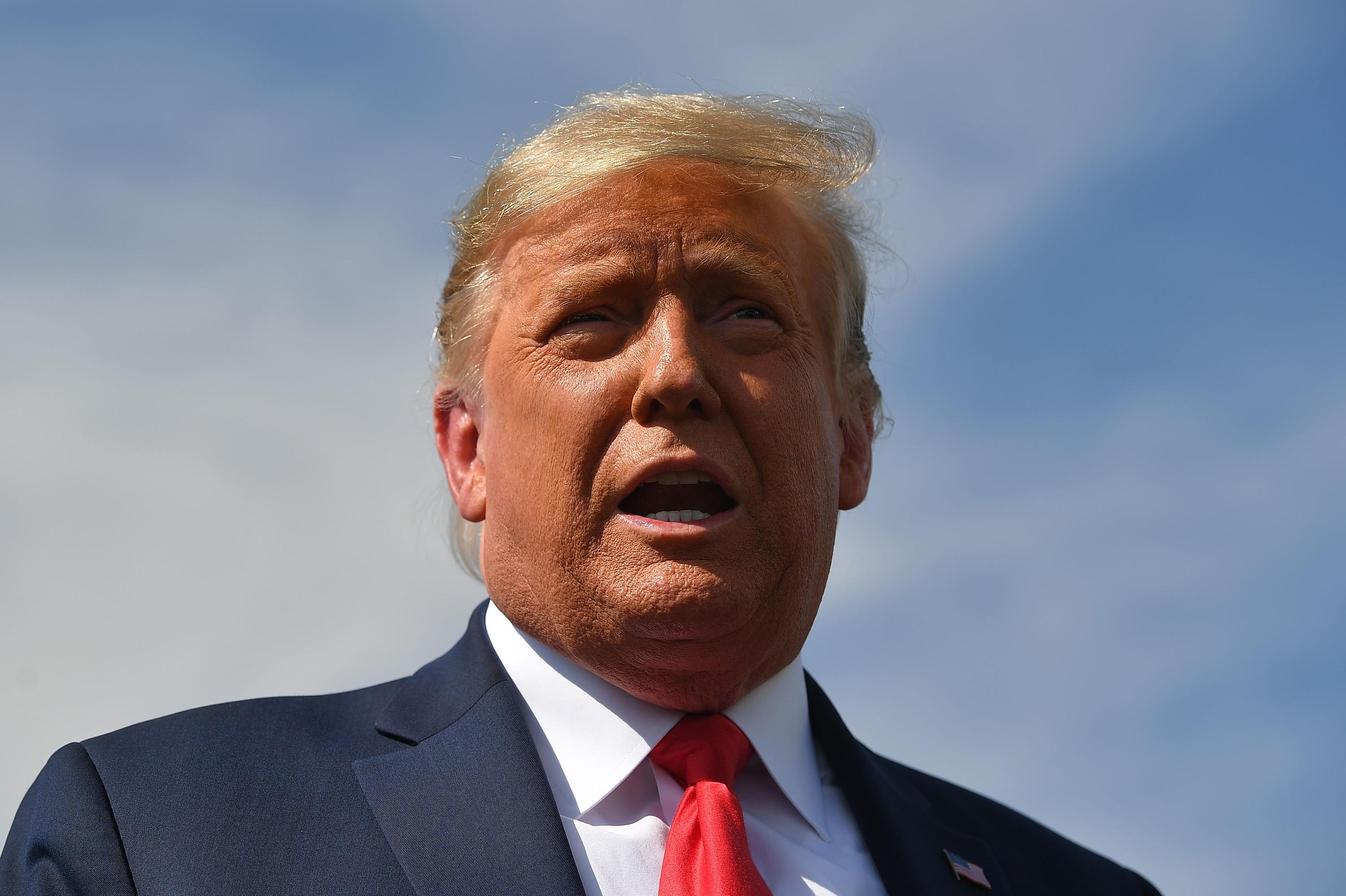 Ahead of their final debate, President Trump is tweeting dire and unfounded predictions for Americans should his Democratic rival win the White House.
"Your 401k's will crash with Biden. Massive Biden Tax and Regulation increases will destroy all that you have built! Additionally, 180 Million People will lose their Private Healthcare Plans," Trump warned, without evidence, Wednesday morning. He wrote that Biden would "raise your taxes at a level never seen before."
Biden has said repeatedly that his tax plan would only raise taxes for those earning more than $400,000 a year. You can read more about his tax plan here.
"This will not only be very costly for you, it will destroy our economy, which is coming back very rapidly," he claimed.
Trump has sent numerous tweets this morning, including claiming without evidence that "California is never in play for Republicans" because of "rigged" elections. There is no evidence this is true and there is no evidence that widespread voter fraud is an issue at all in the US.
4 hr 3 min ago
Debate commission member says Trump's attacks on group are "just wrong"
 From CNN's Chandelis Duster
A member of the Commission on Presidential Debates said President Trump's attacks on the commission are "just wrong," a rare rebuke coming from a member of an organization that strives to stay neutral.
Trump has repeatedly attacked debate moderators and the commission, falsely claiming during an interview on "Fox & Friends" on Tuesday that his matchup with former Vice President Joe Biden this week is "so set up," even though the debate topics and moderator were agreed to by both campaigns weeks ago.
"The president's apparent strategy is to challenge the validity of the election should he lose," John Danforth, a Republican and former US senator from Missouri who has been on the commission since 1994, wrote in a Washington Post op-ed Tuesday. "We saw this strategy initially in his claims that mail-in ballots are the tools for massive election fraud. Now we see it as well in his assertion that the debates have been rigged by the commission to favor former Vice President Joe Biden."
Danforth noted that like other members of the commission he has maintained a "strict vow of silence" regarding personal feelings about the campaign, but now that the President and his supporters "have attacked the commission's integrity, I feel compelled to respond."
Mentioning Trump's attacks on Fox News anchor Chris Wallace, who moderated the first presidential debate, Trump campaign senior adviser Steve Cortes accused the commission in a tweet of a "scheme to protect their preferred candidate" — Biden.
Read more here.
John King reports:
5 hr 44 min ago
Texas voters have cast more than 5.3 million votes 
From CNN's Ashley Killough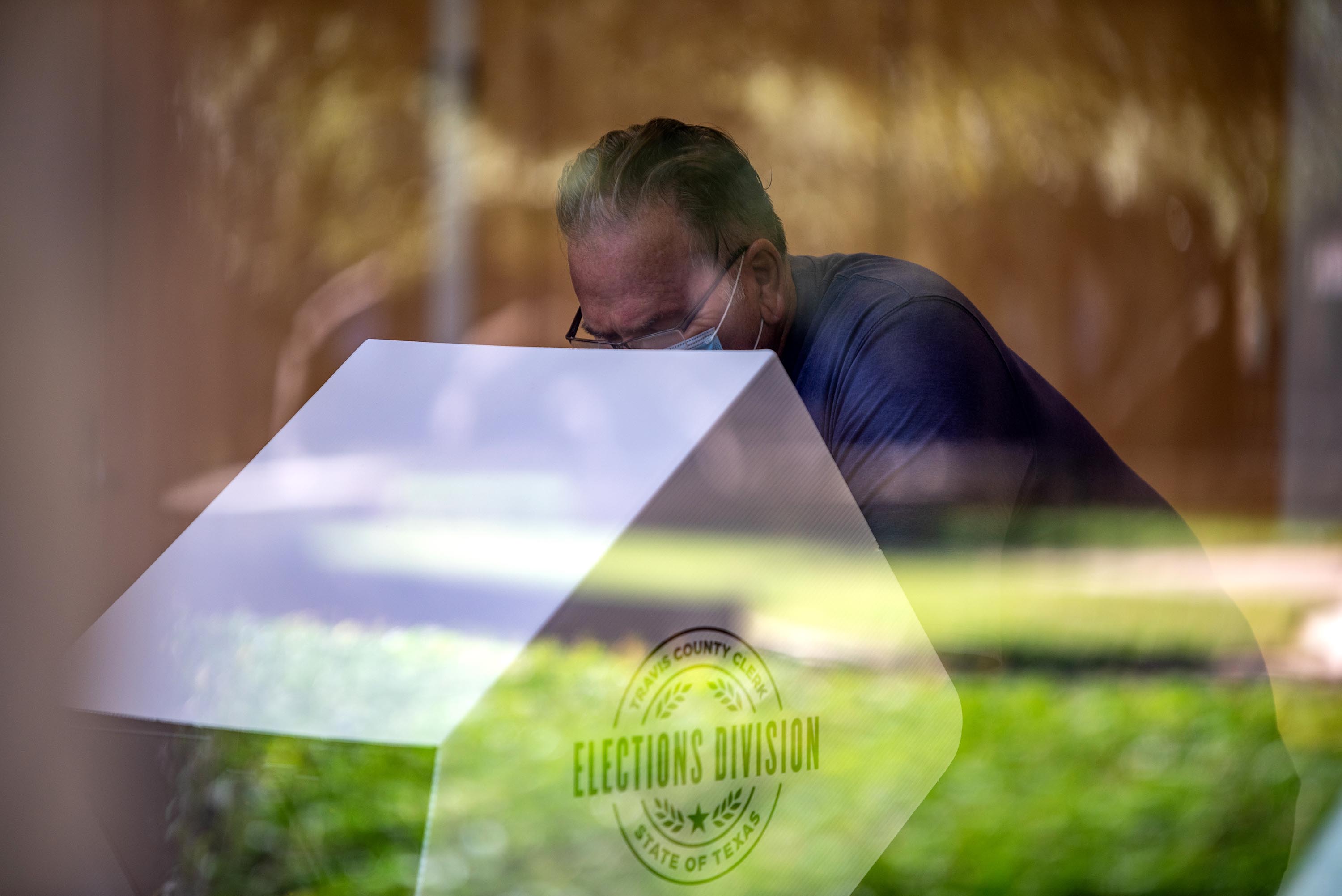 More than 5.3 million people cast their vote in Texas, including the first eight days of early voting, according to data posted on the Texas Secretary of State website Wednesday morning. That represents a little more than 31% of registered voters. 
On Tuesday, 519,696 people voted in person, bringing the total in-person votes to more than 4.6 million. Cumulative ballots-by-mail so far this cycle were 698,599.
Comparing early voting data from 2016 can be complicated for multiple reasons, in addition to the pandemic. Texas has three weeks of in-person early voting this cycle compared to two weeks in 2016. The state is also tracking early voting data from all 254 counties this cycle, but it only collected data from the top 15 most populous counties in 2016. 
Still, when looking at the data from the first eight days of early voting in the top five most populous counties in both cycles, turnout has increased by 375,540 in those counties — an increase of about 20%. It's worth noting that those counties represent 42% of all registered voters. 
41 min ago
Wife of New Jersey officer who died from Covid-19 says Biden called her last night
From CNN's Adrienne Vogt
The wife of a New Jersey police officer who died from coronavirus said Joe Biden called her late last night and expressed empathy for her loss. 
"He called me, and he told me about his tragedies in his life, which I had already known about, and basically that no words that he could say would make a difference. He understood that. It was honestly just like talking to a friend," Alice Roberts said in an interview on CNN's "New Day."
Roberts and the Democratic presidential nominee spoke for about 20 minutes around 11:30 p.m. ET, she said. 
"He's a kind, caring guy, and that to me is a huge piece of what we need right now in the White House," she said. 
She said that she wouldn't want to hear from President Trump even if he called her. 
"He's spoken in his actions and, you know, as they say, actions speak louder than words," she said. 
"I don't feel that Trump has lost anything … We've lost an incredible amount and I think we just stand to lose so much more in the next four years if he is reelected," she said during the interview.
Her husband, Charles Roberts, died of Covid-19 at 45 years old, leaving behind three children. Roberts said that she hopes the loss of her husband "can have some meaning and greater purpose." 
"This world has lost a really excellent police officer. … I've lost a partner, I've lost a cook, I've lost the guy who made me laugh all the time," Roberts said. 
"I just hope that his death can bring about some positive change in this country. And I want people to know we are a real family and we are really grieving, and this isn't fake news and it's not exaggerated," she said. 
Watch:
6 hr 14 min ago
Trump isn't expected to do formal debate prep
From CNN's Kevin Liptak
President Trump isn't planning formal debate prep sessions ahead of his second encounter with Joe Biden on Thursday but is receiving advice to lower the temperature, people familiar with the matter said. 
Advisers have told Trump that Thursday's debate could be his final chance to reverse negative impressions about his behavior among women and seniors. He's been encouraged to appear less angry and even deploy some self-deprecating humor, which some of his advisers believe is when he is at his most likable, one person familiar with the matter said.
Trump has appeared somewhat receptive to the advice in meetings, and has said he may try to interrupt less. But he has maintained that he won't hold back if he believes he's being maligned or unfairly treated by the moderator.
But he is clearly heading into the debate in an agitated state of mind, feuding with Dr. Anthony Fauci and Lesley Stahl and telling reporters he is "running angry" in the final stretch. He has been upset at stories depicting his campaign as doomed, and in particular the notion of Republicans starting to distance themselves, believing he still has a good shot of winning.
That has left some aides without a good idea of what Thursday's debate will really look like; heading into the first debate, few expected Trump to come off as angry as he did. There are also fears Trump will go too hard against Kristen Welker, the moderator, which could only further erode his standing with women.
Instead of mock debates, Trump is spending the days leading up to the event on the road campaigning and participating in interviews. He has said that schedule provides him adequate debate experience instead of the formal practice debates. A majority of the participants in his practice sessions in September contracted coronavirus.