1 min ago
Harris tested negative for coronavirus today 
From CNN's Jasmine Wright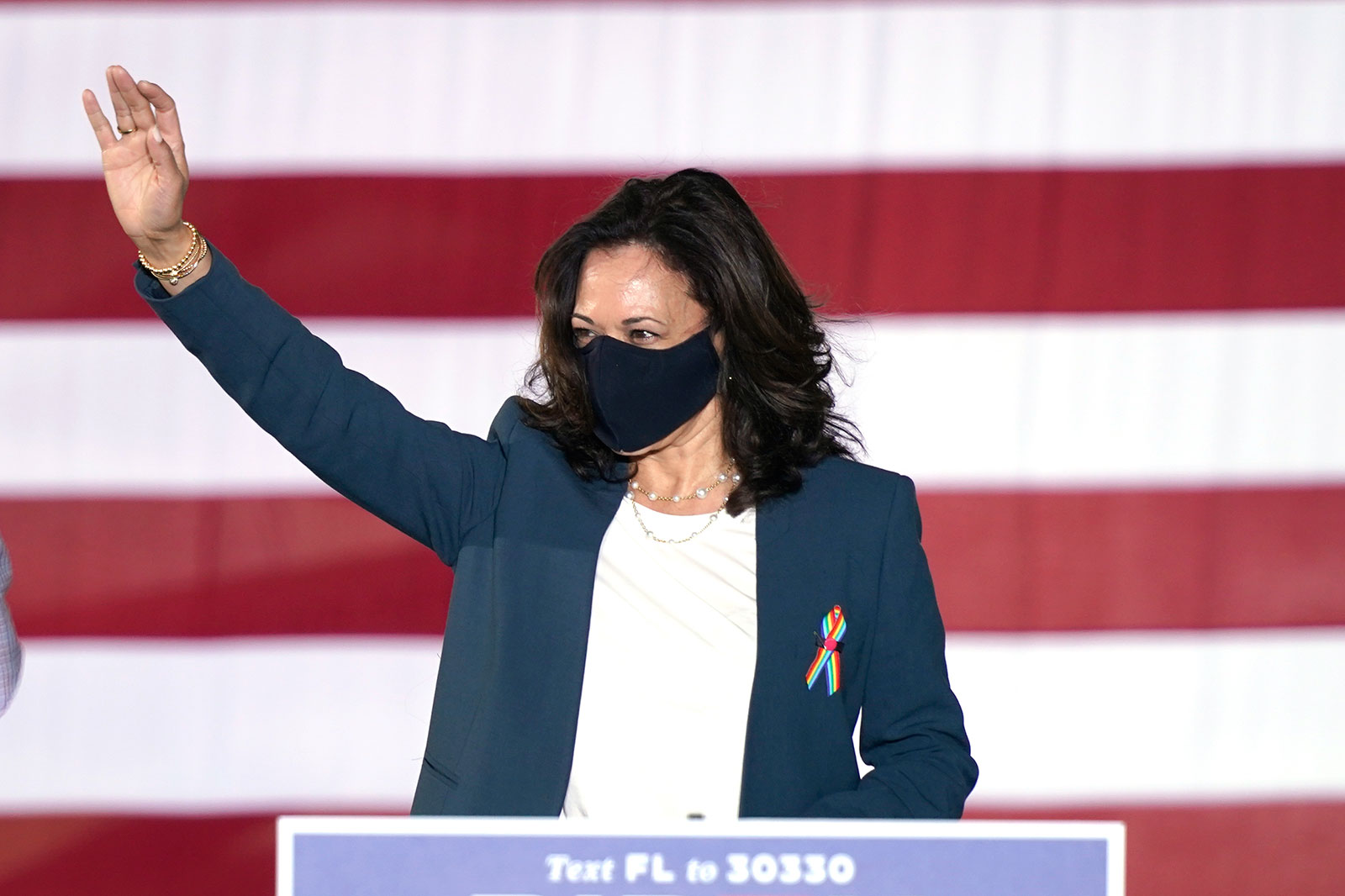 Democratic vice presidential nominee Sen. Kamala Harris underwent PCR testing today and Covid-19 was not detected, according to a Harris aide.
6 min ago
Virginia election board approves rules that would allow absentee ballots to be accepted without postmarks
From CNN's Greg Wallace
Properly-mailed absentee ballots that arrive at Virginia elections offices without a postmark will still be counted under new rules formally approved by the state board of elections on Tuesday.   
The regulation requires vote counting officials to accept mailed absentee ballots until Nov. 6 at noon, as long as those ballots are mailed on or before polls close on Nov. 3, the official Election Day.  
If there is no postmark to prove when the ballot was mailed, the new regulation requires election officials first consult barcode data stamped by the US Postal Service on the ballot. If that does not prove conclusive whether the ballot was mailed before the deadline, officials will review the date the voter wrote when signing the ballot envelope.  
The rules passed at a Tuesday afternoon meeting of the board by a vote of 2-1. Board members did not explain the rationale for their votes.  
The total ballots cast so far in Virginia, 1.44 million, is more than two and a half times the number cast in early voting in 2016.
26 min ago
More than one million voters have cast early in-person ballots in Georgia
From CNN's Jason Morris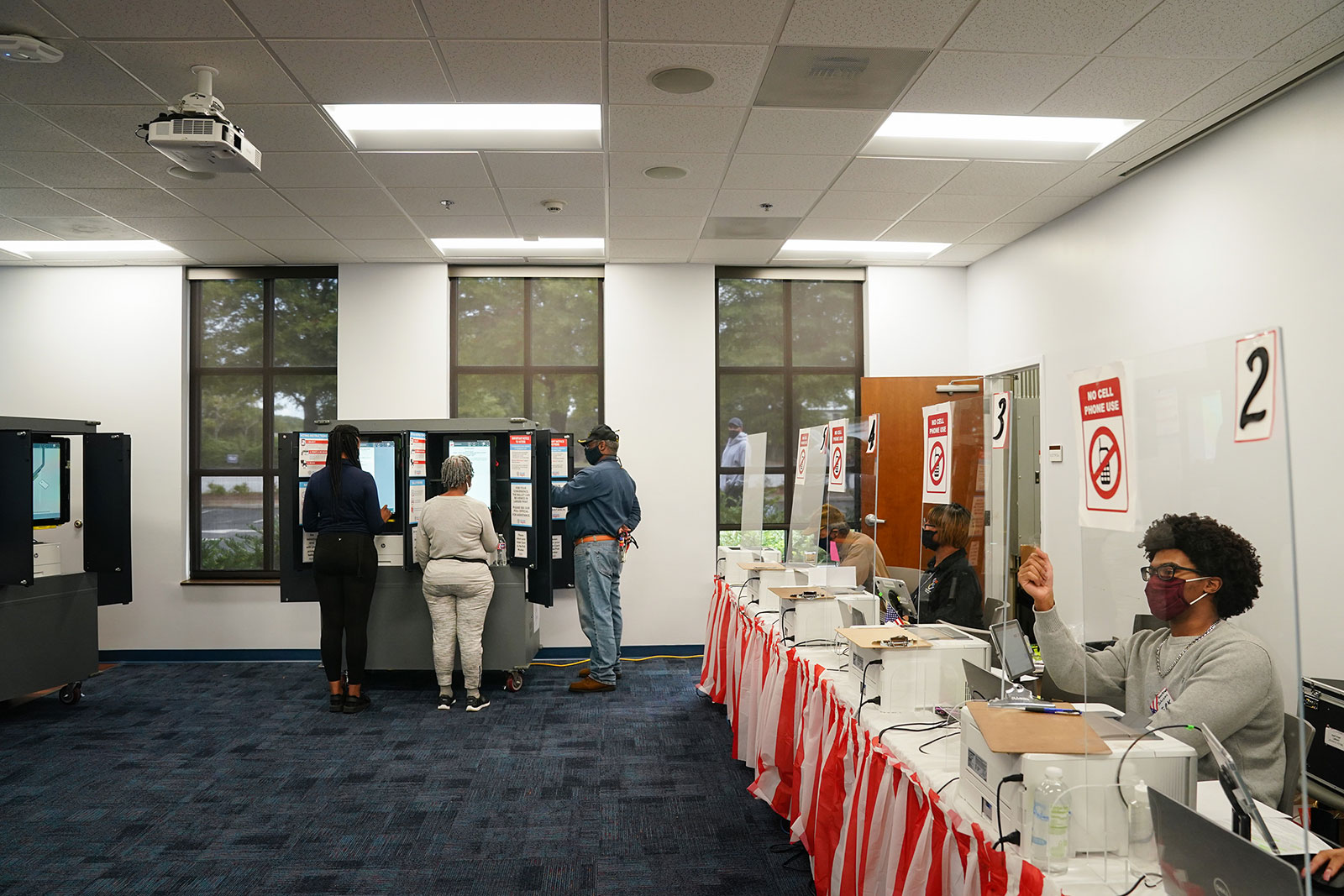 More than one million Georgians have cast early, in-person ballots, according to Secretary of State Brad Raffensperger.
In a news release the secretary of state's office said voters hit the one million mark at noon Tuesday, the 9th day of early voting.
That pace is ahead of 2016 when it took until the end of the second week to hit the mark, according to the release.
In person voting is running 62.5% faster than 2016 and absentee ballots by mail are 640% ahead of four years ago. 
Georgians have cast nearly 1.7 million total early ballots, a 142% overall increase.
1 hr 37 min ago
Three-fourths of Americans think attending campaign rallies is risky, new poll finds
From CNN's Naomi Thomas
Three-fourths of Americans think that attending a campaign rally is risky due to the coronavirus pandemic, according to a new poll from Axios-Ipsos. 
Fifty-eight percent of respondents said it was a large risk, and 17% said it was a moderate risk in the poll, which was based on a nationally representative sample of 1,001 American adults. The poll was conducted from Oct. 16 to Oct. 19. 
Broken down by political party, 54% of Republicans, 79% of independents and 93% of Democrats said attending rallies was risky.  
The poll also gave respondents six true or false statements about the pandemic, such as "A Covid-19 vaccine will be available before Election Day." Those who got four or fewer questions correct were less likely to view political rallies as a risk. 
When it came to in-person voting, fewer thought it was a risky activity. Twelve percent of respondents said that it was a large risk and 32% a moderate risk. 
1 hr 40 min ago
Here's how Joe Biden is preparing for Thursday's debate
From CNN's MJ Lee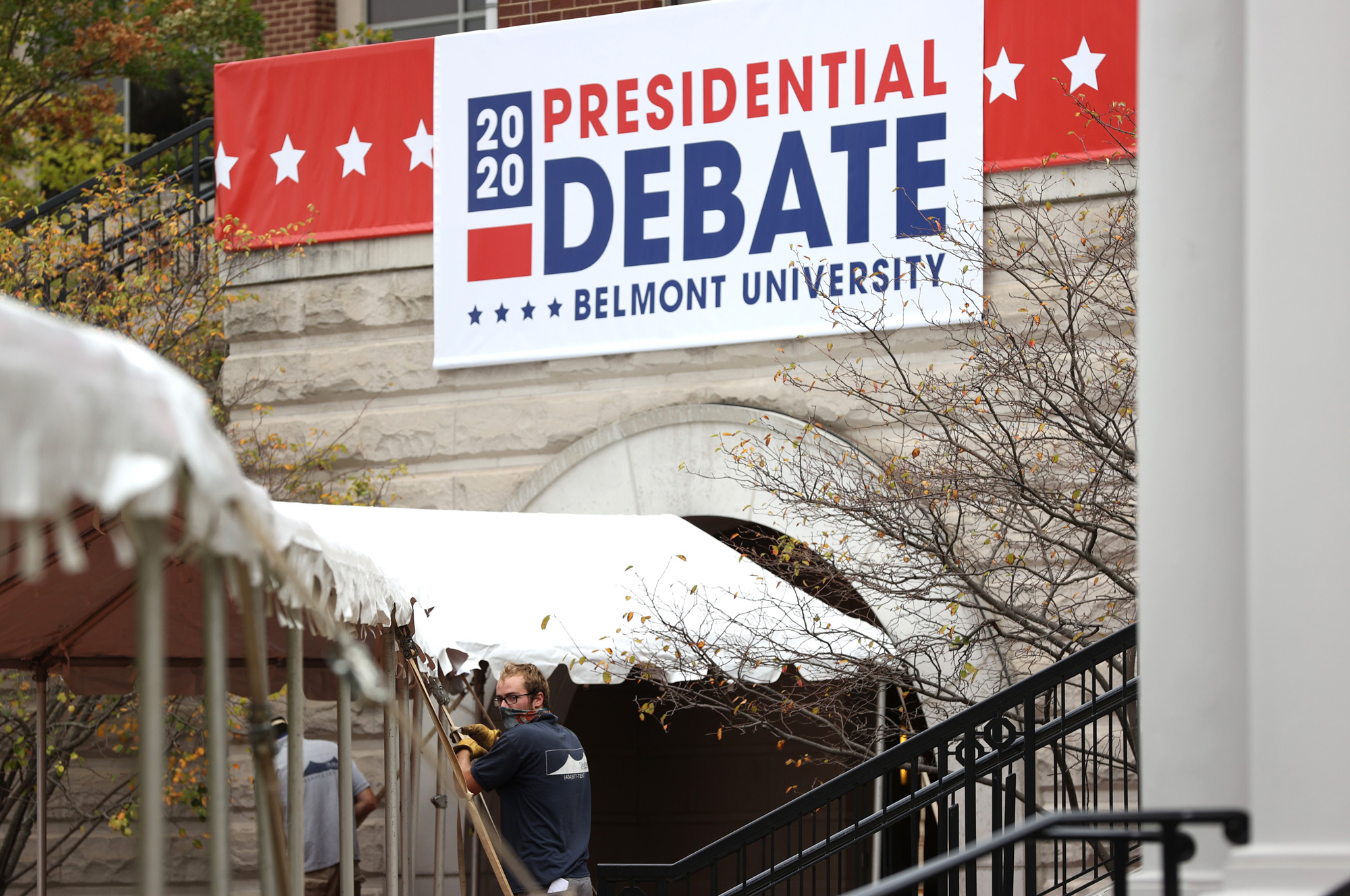 Democratic presidential nominee Joe Biden is off the campaign trail for the second day in a row today, meeting with advisers and preparing for Thursday night's second and final presidential debate. 
A campaign adviser tells CNN that Biden is getting ready for President Trump to "bully and deflect" from the debate stage, and is also preparing for the President to go after not just Biden but his family as well as we saw in the first debate. 
Biden's overarching goal is similar to the first debate, the adviser added: talk directly to the American people about how he would contain Covid-19 and build back the economy.
He'll also be pointing out that Trump has been avoiding the reality on how bad the virus is right now. We'll likely hear him emphasize the "Park Ave. vs. Scranton" theme that he's been hitting on in recent weeks.
In addition, the adviser said they still view the 2020 race as being a stable one overall. 
Asked about the mic muting decision by the debate commission, the adviser repeated that they expect Trump to "bully and deflect" regardless of the rules. As for Trump getting a negative Covid-19 test before the debate, the adviser said those questions should be directed to the commission and the Cleveland Clinic.
1 hr 43 min ago
NYPD plans to have hundreds of additional cops on duty for the election
From CNN's Brynn Gingras
The New York City Police Department will have hundreds of additional officers on duty starting Oct. 26 to assist with anything involving voting locations, Police Chief Terence Monahan said at a news conference.
The NYPD, he said, expects a heavy voter turnout. The chief went on to say that there are no current threats to voting locations and the NYPD does not expect any in the next few weeks. 
"Ensuring that every New Yorker casts their ballot is a top priority," Monahan said. "We will have cops ready to deploy, teams will be out there. If anything happens, we will be quickly able to take care of it."
The NYPD will have uniformed officers at all 1,021 polling locations on Election Day as well as 88 early voting locations that will open Oct. 24.  
The NYPD deputy commissioner of intelligence and counter intelligence, John Miller, said that the department is aware of issues in other states but has seen no activity of groups planning to disrupt the election in NYC.
"We're aware of contentious relations and we're relying on two things: the extreme right and extreme left both agree that everyone needs to vote and that actually hopefully helps us," Miller said. 
Miller also said that the NYPD is monitoring the election for any possible cyberattacks. 
"We will be running a cyber command post in the background to make sure we are monitoring all systems against anything that can be election fraud or tampering," he said.
1 hr 25 min ago
Melania Trump cancels her attendance at tonight's rally, cites health
From CNN's Kate Bennett 
First lady Melania Trump had been scheduled to make her first campaign appearance in months tonight at President Trump's rally in Pennsylvania, but she has decided not to go, based on how she is feeling.
Melania Trump has not attended a rally or campaign appearance since June 2019.
"Mrs. Trump continues to feel better every day following her recovery from Covid-19, but with a lingering cough, and out of an abundance of caution, she will not be traveling today," the first lady's spokesperson, Stephanie Grisham, told CNN. 
CNN's Kaitlan Collins has more:
2 hr 32 min ago
Texas voters cast more than 4.6 million votes in first week of early voting
From CNN's Ashley Killough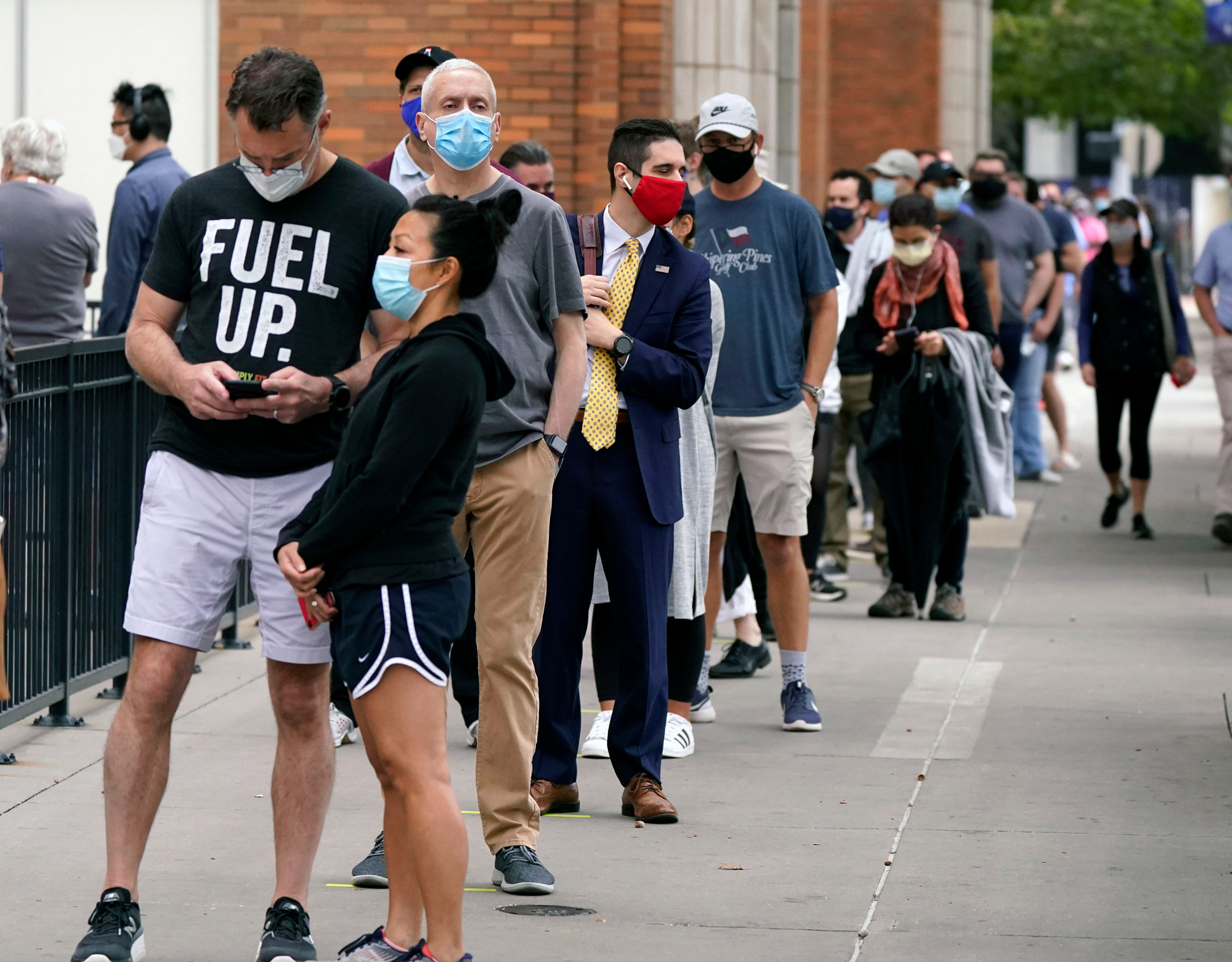 More than 4.6 million people cast their vote in Texas during the first seven days of early voting, according to data posted on the Texas Secretary of State website Tuesday morning. That represents a little more than 27% of registered voters.
On Monday, about 502,042 people voted in person, bringing the total in-person votes to just under 4 million. Meanwhile, approximately 36,772 mail-in ballots were added to the count, bringing the total ballots-by-mail to 619,017.
These numbers do not include Harris County – the largest county in Texas – which still hasn't reported its data for Monday to the state website.
How this stacks up: Comparing early voting data from 2016 can be complicated for multiple reasons, in addition to the pandemic.
First, Texas has three weeks of in-person early voting this cycle compared to two weeks in 2016. Second, the state is tracking early voting data from all 254 counties this cycle, but it only collected data from the top 15 most populous counties in 2016.
Still, when looking at the data from the first seven days of early voting in the top five most populous counties in both cycles, turnout has increased by 228,937 in those counties – an increase of about 13.5%. It's worth noting that those counties represent 42% of all registered voters. 
3 hr 14 min ago
NYC mayor and NYPD in talks on how to prepare for potential unrest post-election
From CNN's Kristina Sgueglia
New York City Mayor Bill de Blasio and and the New York Police Department have been in talks about how to prepare for potential unrest following Election Day and in the likelihood of a lingering final count, the mayor said. 
"We are going to have a very clear approach, because I'm not going to be surprised if there's a prolonged count, recount, whatever it may be in this election and extremely strong views and a lot of people out expressing themselves and we have to protect the right to protest and we expect and should be ready for a lot of peaceful protest," he said.
If anyone attempts violence "we have to stop that violence," de Blasio added. 
He also said it's "bluntly false" that anything the leader of the Police Benevolence Association says reflects the tenor of the NYPD. He was responding to a question remarking that the PBA have endorsed the President. 
"They hold a broad broad range of views," he said of the police force reminding that they are a majority "people of color" police force that is "very substantially city residents," and should not be "stereotyped." 
He believes what has been seen "overwhelmingly" is that officers "leave their politics at home and they go and do what has to be done to keep people safe and respect peaceful protest."
He added that peaceful protest is a long respected tradition in NYC. He was pressed repeatedly on the notion that some in the police force may not be on the side of potential demonstrators. 
De Blasio countered that saying that that "it's a very professional police force."
While there are individuals in the force that he acknowledged have "done some things absolutely wrong," with the regard to the police force on the whole it's not the "reality."
He continually touted the NYPD and upper ranks as a very "professional" group of people with "diverse views" who "believe deeply that their job is to protect the democratic process and protect peaceful protest," he said.
The NYPD has a briefing later this afternoon on post-election preparedness