1 hr 2 min ago
What Florida's early voting data shows so far 
From CNN's Liz Stark, Adam Levy and Ethan Cohen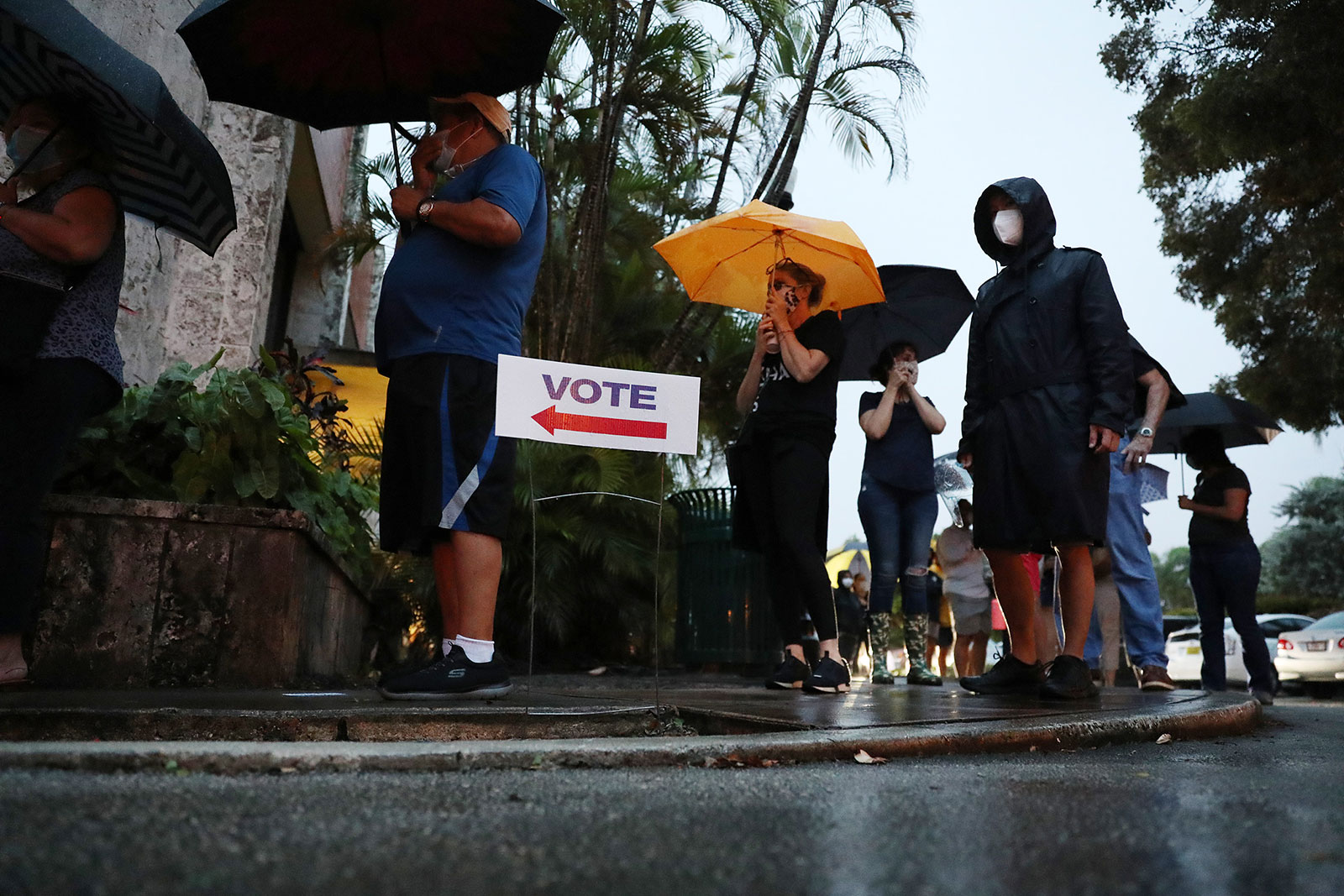 Early returns in Florida show the critical battleground state's pre-Election Day electorate is currently trending younger than four years ago.
In ballots returned before in-person voting opened on Monday, Florida voters under 65 years old accounted for about half the ballots cast, marking a 12-point uptick in their share of the early vote compared to this time in 2016. The share of seniors aged 65 or older has dropped from about 64% of the pre-election vote then to just 52% now.
This boost in early turnout among younger voters may reflect nationwide organizing efforts to mobilize young people to vote early, while seniors in the state may already be accustomed to voting early in previous cycles.
This shift comes as both President Trump and Democratic presidential nominee Joe Biden have been courting the highly coveted senior vote in the Sunshine State. In 2016, Trump won about 57% of their vote, according to exit polls, which helped boost his one-percentage point victory in the state.
This detailed voting information comes from Catalist, a company that provides data, analytics and other services to Democrats, academics and nonprofit issue-advocacy organizations and is giving new insights into who is voting before November.
Here is some more data on the state from Catalist, which analyzed over 24 million ballots cast in 36 states so far:
The number of ballots already cast in the Sunshine State has doubled compared to this point in 2016.
Democrats are significantly outpacing Republicans in their share of ballots cast so far, marking a turnaround from 2016. Currently, Democrats account for nearly half the votes, with Republicans making up about 30%. Around the same time four years ago, the 43% of ballots cast by Republicans just topped Democrats' 40% of ballots cast. This is not predictive of the ultimate outcome, however, as polling nationwide indicates Republicans strongly prefer to vote in person on Election Day.
The racial composition of Florida's early voting electorate has shifted somewhat since 2016, with White voters making up a slightly smaller share of those who've already cast ballots and Black voters making up a slightly larger share. At this point four years ago, White voters comprised 77% early voters, but they now represent 71%. Black voters have increased their share of the early vote from 8% in 2016 to 11% currently. Hispanic voters comprise about 13% of those who've already voted in Florida, about the same as this point four years ago.
Some background: More than 28 million general election ballots have been cast, according to a survey of election officials in 46 states and the District of Columbia by CNN, Edison Research, and Catalist.
These pre-Election Day votes represent almost 20% of the more than 136 million presidential ballots cast overall in 2016, although this cycle's turnout is expected to be much higher.
With roughly two weeks until Nov. 3, the already-skyrocketing ballot return numbers reflect a major shift towards early voting amid the coronavirus pandemic, coupled with high interest in the general election.
1 hr 35 min ago
North Carolina issued new guidance on fixing absentee ballot problems. Here are the key changes. 
From CNN's Dianne Gallagher and Pamela Kirkland
The North Carolina State Board of Elections on Monday issued new guidance to county boards on how voters can fix problems with their absentee by mail ballots.  
The latest memo aims to not only set a standard, but with two weeks until Election Day, clear up a near-constant cloud of confusion that has been hanging over parts of the state's absentee ballot process for the past month. However, there are still other pending lawsuits and opportunities to appeal the court orders cited in the memo. 
In a previous memo, dated Oct. 4, the NCSBE directed county election boards to take no action on absentee by mail ballots with deficiencies on the return envelope, to avoid confusion while several lawsuits around which ballot envelope issues can be cured played out in various courts.  
An attorney representing the NCSBE in court Friday dubbed the situation as "paralysis," estimating that at least 10,000 absentee ballots with various deficiencies are on hold due to deficiencies and the county boards have been unable to even notify voters about their ballots status due to lawsuits. 
The new guidance, revised on Oct. 17 and issued to county boards today, lists various deficiencies that fallen under two main categories: those that can be cured with a certification and those that cannot be cured. Those that cannot be cured must be spoiled, with a new ballot issued before Election Day. There are also some deficiencies, like a missing zip code, that do not require any action to be accepted. 
There are three listed deficiencies in the new memo that require a new ballot be issued because they cannot be cured by certificate: 
A missing witness or assistant signature
The envelope is unsealed
The envelope indicates the voter is requesting a replacement ballot
The missing witness signature had been the center issue in courtroom drama involving several legal challenges. A federal judge ruled last week that allowing voters to cure a missing witness signature would amount to circumventing the witness requirement, which is state law. 
Deficiencies that are deemed curable by certification in the memo include a voter signature that is missing or in the wrong location, a witness or assistant signature on the wrong line, a witness or assistant that did not also print their name or print their address. 
The memo instructs that county boards must notify voters in writing within one business day of identifying the deficiency and include a cure certification or a new ballot, depending on the issue being resolved. The written notice must also include information on how to vote in-person during early voting and on Election Day, as a voter can choose this option instead of fixing or filling out a new ballot. 
Some background: Voting rights advocates and election officials have grown anxious as the clock ticks down to Election Day, concerned the legal battles could leave affected voters without enough time to fix their issues through the mail. A voter with a pending absentee by mail ballot can cancel it by voting in person — something groups are now encouraging them to do as lawsuits play out —but there is likely a small number of voters who won't or can't utilize that option due to the pandemic.
The memo does note that if the voter has an email address on file, the board "shall also send the cure certification to the voter by email." If no email address is available, the board is instructed to call the voter and let them know a cure certification has been mailed. 
Cure certifications may be submitted by fax, email, in person or by mail. It must be received by a county board of elections by the ballot deadline, a date that is currently tied up in court. 
For ballots with issues that cannot be cured, county boards must also notify those voters by phone or email, if available, that their ballot has an issue that cannot be cured and a new ballot has been issued.  That voter must fill out and mail in a new ballot by Nov. 3 or they can choose to vote in person instead. 
1 hr 36 min ago
In pitch to Maine voters, Pence slams Biden-Harris campaign on taxes and economy
From CNN's Daniella Diaz
Vice President Mike Pence slammed the Biden-Harris campaign on taxes, the economy, coronavirus, and other topics in a campaign stump speech today in Hermon, Maine.
"Here in northern Maine you people believed we could be strong again. You believed we could be prosperous, again. Northern Maine said yes to President Donald Trump in 2016, and I know northern Maine is going to say yes to 4 more years of President Donald Trump in 2020," he said.
Pence criticized Joe Biden, claiming he would raise them on Americans during a pandemic. 
"But now — even now in the midst of a global pandemic, Joe Biden wants to raise taxes by $4 trillion. Think about that. Joe Biden has said he wants to repeal all the Trump tax cuts, on day one. That would mean your average family of four would see a $2,000 increase in their taxes every single year," Pence said.
Again on packing the courts, Pence said the Biden-Harris campaign need to answer whether they plan to pack the courts if they win the election. 
"Kamala Harris said, during the Democratic the Democratic primaries, that she was, quote, 'absolutely open to adding seats to the Supreme Court.' And a couple of surrogates for their campaign, just yesterday morning on the Sunday shows, were saying it outright. Now, Joe Biden is saying he's gonna tell the American people what we'll do after Judge Barrett is confirmed in a week or so, even though millions of Americans are voting right now," Pence said. 
"Well, to borrow a phrase, 'Come on, man!' Joe, the American people deserve a straight answer. When you're running for the highest office in the land, you gotta say whether you're gonna respect the highest court in the land," Pence said.
As Pence concluded his speech, the audience began chanting: "Thank you Mike!" 
According to a pooler, after he wrapped his speech, Pence walked the rope line after his remarks without a face mask. 
1 hr 52 min ago
Debate commission meeting this afternoon to discuss possible changes ahead of Trump-Biden final contest
From CNN's Dan Merica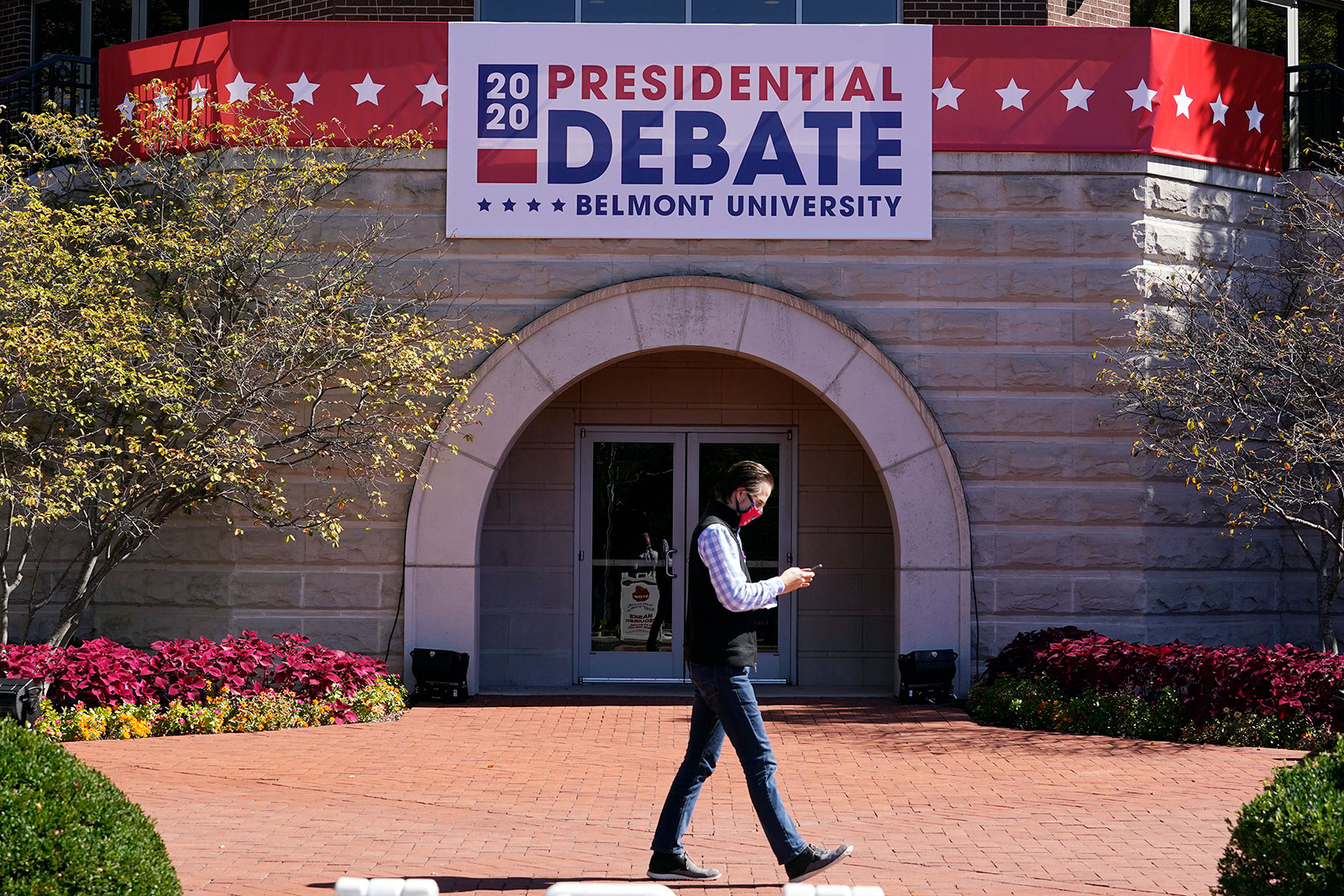 The Commission on Presidential Debates will meet this afternoon to discuss possible rule changes to the final contest between President Trump and former Vice President Joe Biden set to take place Thursday in Nashville, two members of the commission tell CNN.
"We are going to consider what changes we are going to make with regards to the debate on Thursday night," one commission member said. The member added that there is a chance no changes are made, saying the conversation will be on "what, if any, changes will be made."
After a chaotic first debate where Trump frequently flouted the rules and interrupted Biden, the commission acknowledged the chaos and said it would look into rule changes in order to "ensure a more orderly discussion."
The meeting comes just three days before the final debate. The commission had said after the first debate that they would announce the changes "shortly." The commission's second debate was canceled after Trump declined to participate in a virtual contest, a change that was made because of his positive coronavirus diagnosis.
"The Commission on Presidential Debates sponsors televised debates for the benefit of the American electorate. Last night's debate made clear that additional structure should be added to the format of the remaining debates to ensure a more orderly discussion of the issues," a Sept. 30 statement from CPD reads.
The commission, at the time, did not specify what changes they would be making, but their statement at the time said they intended "to ensure that additional tools to maintain order are in place for the remaining debates."
The commission members did not tell CNN on Monday what changes were being considered in the meeting.
The commission will also certify that both Trump and Biden have met the 15% polling threshold needed to qualify for the debate at the Monday meeting.
What the candidates have said: Biden has made clear that he wants the debate commission to change the rules ahead of the third contest, and said the way Trump conducted himself at the first debate was a "national embarrassment."
"I just hope there's a way in which the debate commission can control the ability of us to answer the questions without interruptions," Biden said the day after the first debate.
The Trump campaign has come out against any changes to the rules. Campaign communications director Tim Murtaugh told CNN in a statement after the first debate that the commission "shouldn't be moving the goalposts and changing the rules in the middle of the game."
Visit CNN's Election Center for full coverage of the 2020 race.
2 hr 8 min ago
Harris rallies Florida voters: "Everything is on the ballot in 2020"
From CNN's Jasmine Wright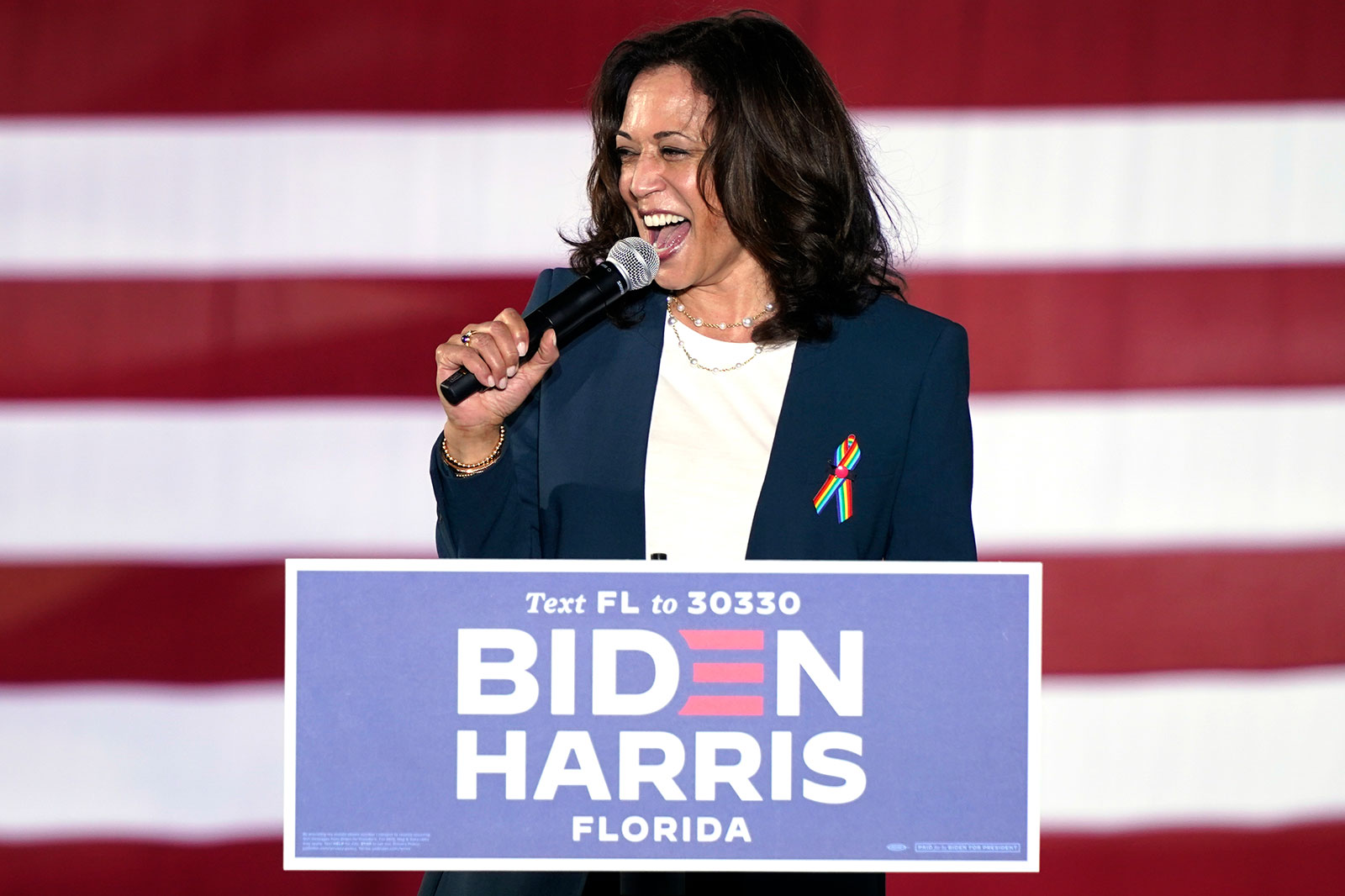 Sen. Kamala Harris rallied voters at a drive-in event in Orlando, Florida, to mark the battleground state's first day of in-person early voting—it's Harris' first campaign travel stop after the Biden-Harris campaign halted her travel over the weekend following two positive Covid-19 cases in her orbit.
Harris, with a notable amount of energy and animation, gave her typical stump speech bringing back a campaign refrain from her primary run for democratic nominee, that justice is on the ballot and adding so is Vice President Joe Biden.
"There is so much on the ballot in 2020. Justice is on the ballot in 2020, economic justice is on the ballot in 2020, climate justice is on the ballot in 2020, health care justice is on the ballot in 2020, reproductive justice is on the ballot in 2020, criminal justice reform is on the ballot in 2020," she said. "Everything is on the ballot in 2020, Joe Biden is on the ballot in 2020."
Harris spent a majority of her relatively brief remarks slamming Trump once again for his administration's response to the pandemic. She called his "weird obsession" with trying to erase former President Barack Obama's legacy "loco."
"Donald Trump, and Joe Biden, who in their administration created the most extensive public health coverage we've ever seen with the Affordable Care Act, also known as Obamacare. And do you know Donald Trump is in court right now trying to get rid of it? With his boy bill Barr, trying to get rid of the Affordable Care Act that brought coverage to over 20 million people," she said.
Florida Democratic Rep. Val Demings spoke before Harris. The pool said about 90 cars attended the event in the Florida heat.
2 hr 23 min ago
Early voting begins in Alaska. Here's what the polls look like.
From CNN's Paul P. Murphy
Early voting is now underway in Alaska and many people are waiting in long lines at polling places.
Here's what voters are saying:
Eric Tuott, who is voting at the Midtown Mall in Anchorage, Alaska, highlights the importance of voting in the November election this year.
"I think that this election was too important to really do anything else but vote as early as I possibly could," Tuott says. "I know one vote is pretty inconsequential on the national scope of things but I wanted to show my kids how important it was to vote."
Another voter at the mall in Anchorage, Emily Mathews, echoed the importance of the election, saying she is voting early because of her work schedule.
"As a scientist this election is very important to me," she says. "I have dedicated my life to science and I think science plays an important role in our country and the world around us."
"It was important to me because my work hours aren't conducive to vote on the actual day," she added. "I have the day off today in observation of Alaska Day."  
Alaska Day is a state holiday that commemorates when the Alaskan territory was transferred from Russia to the US.
2 hr 49 min ago
Melania Trump will attend Tuesday rally with Trump — her first campaign appearance in over a year
From CNN's Kate Bennett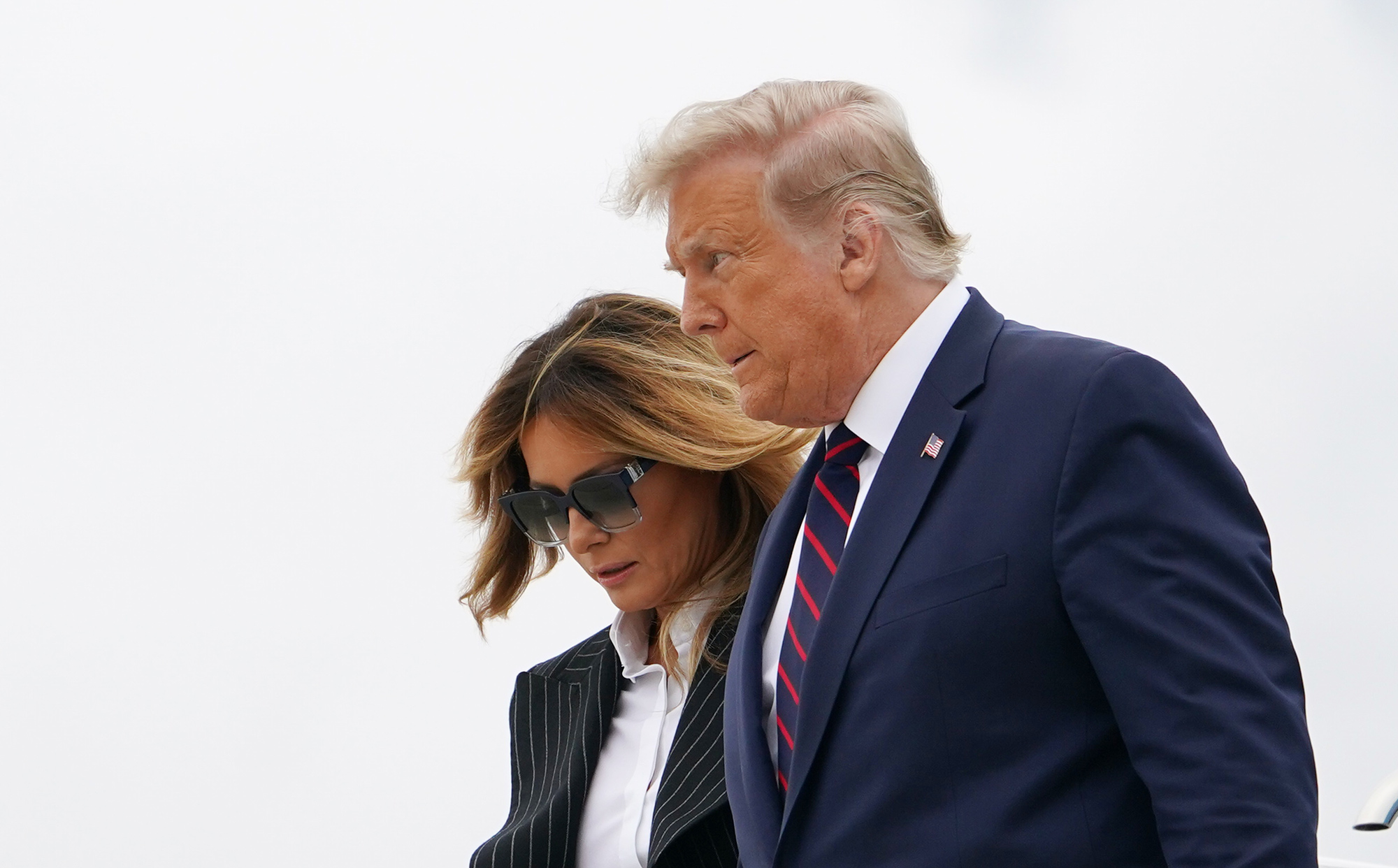 First lady Melania Trump will attend an Erie, Pennsylvania, rally with President Trump on Tuesday evening.
This will be Trump's first appearance on the campaign trail since June 2019, when she appeared with the President at his reelection campaign kick-off in Florida.
Trump made a speech at the Republican National Convention from the White House in August, and she did join her husband for his first presidential debate in Ohio.
However, she has yet to make a solo or even joint appearance on the trail on behalf of 2020 campaign efforts. The first lady is also anticipated to join Trump for his second debate in Tennessee on Thursday, according to a White House official.
3 hr 38 min ago
Trump to campaign staff: "Fauci is a disaster"
From CNN's Kaitlan Collins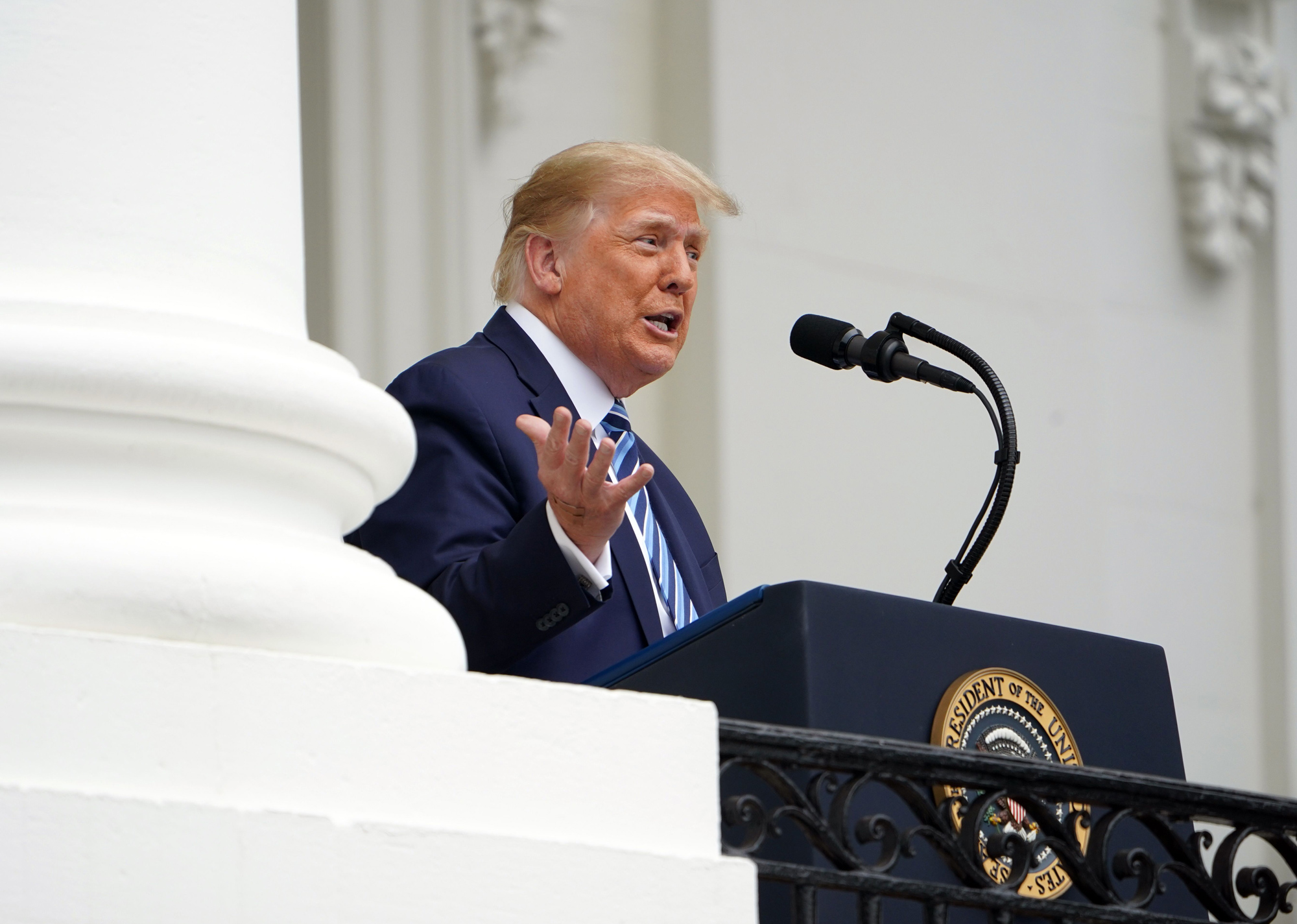 President Trump told campaign staff on a call a few moments ago that people are tired of hearing about coronavirus and called Dr. Anthony Fauci, director of the National Institute for Allergy and Infectious Diseases (NIAID), a "disaster" who has been around for "500 years."
Trump claimed without evidence that if Fauci was in charge, over half a million people would be dead in the US.
"People are tired of Covid. I have these huge rallies," Trump said. "People are saying whatever. Just leave us alone. They're tired of it. People are tired of hearing Fauci and all these idiots…Fauci is a nice guy. He's been here for 500 years."
Trump went on, "Fauci is a disaster. If I listened to him, we'd have 500,000 deaths," before later saying it would be 700,000 or 800,000. "If there's a reporter on, you can have it just the way I said it, I couldn't care less." (Note: CNN was given access to the call by a source.)
Trump again mocked Democratic presidential nominee Joe Biden's social distancing measures and denied reports that there are issues with his campaign staff.
"By the way my relationship with Bill Stepien and Ronna and Jason is phenomenal," Trump said.
He disputed that there is any tension in his relationship with White House chief of staff Mark Meadows and denied that he's considering firing him after the election.
"I love Mark Meadows. It took me two years to get him out of Congress. Mark Meadows is doing a good job. I'm not dismissing him," Trump said.
He later went after Biden again, saying, "I think Joe Biden has a scandal coming up that is going to make him an impotent candidate."
4 hr 1 min ago
Trump to campaign staff: "We are going to win. I wouldn't have said that three weeks ago."
From CNN's Kaitlan Collins
President Trump is currently on a call with campaign staff and is attempting to project optimism amid reports that officials are privately concerned about his reelection chances. 
"This is the single best I have ever been in any campaign," Trump said, regarding his reelection chances. "Today is the best single day that I've felt on either campaign…We are going to win. I wouldn't have said that three weeks ago."
"We have never been in a stronger position than we are today. Now, bad things will happen. Bad stories will be written," he said. 
During the call, Trump complained that the New York Times does not reach out to him personally for comment in stories, which he claimed hasn't happened in two years. 
"Our people don't read the New York Times," Trump said. "They couldn't give a sh*t about it."
Earlier in the call he said, "The freedom of the press — the whole press thing is different than it was supposed to be."
Trump veered from topic to topic and also went after Democratic presidential nominee Joe Biden. 
"He should be in jail. He's a criminal. He should be in jail…But he's a criminal. What he's done. They found that laptop, and that laptop is a criminal enterprise," Trump claimed. 
He also conceded that he "blew his stack" after the Atlantic reported he referred to fallen soldiers as "suckers" and "losers."