1 min ago
In appeal to Florida seniors, Trump strikes empathetic tone on Covid-19 as cases continue to surge
From CNN's Nikki Carvajal, Christina Maxouris and Jason Hanna
As the US surpassed 8 million Covid-19 cases, President Trump struck a noticeably different and more empathetic tone in an appeal to seniors in Fort Myers, Florida, on Friday, telling Americans he feels their pain. 
"My heart breaks for every grieving family that has lost a precious loved one," Trump said, addressing the burden Covid-19 has placed on seniors. "I feel their anguish and I mourn their loss. I feel their pain. I know that the terrible pain that they have gone through, and you lose someone, and it's nothing to describe what you have to bear. There's nothing to describe it." 
The President doesn't often address the human toll the virus has taken on Americans, other than to say that one death from the virus is too many.
Trump also spoke of unity, saying that "in times of challenge we turn to our fellow Americans for a shoulder to lean on. We turn to god for healing and strength, and together we will overcome." 
But Trump soon returned to more familiar territory, claiming once again the US is "rounding the turn" on the pandemic and attacking those who point to rising cases across the country. 
"My message to America's seniors today is one of optimism, confidence and hope. Your sacrifice has not been in vain. The light at the end of the tunnel is here. We are rounding the turn," he said. "Don't listen to the cynics and angry partisans and professional pessimists. We are Americans and we will prevail. We are prevailing, we are." 
Latest US Covid-19 data: The US has recorded more than 8,008,000 cases, Johns Hopkins University says. That total is likely a vast undercount of actual infection totals because of a low testing capacity early in the pandemic, researchers have said in several reports.
Perhaps more concerning than Friday's milestone is a recent rise in cases per day. The country's one-week average of new daily cases has moved above 53,000 — an increase of more than 55% in just over a month, Johns Hopkins data show.
6 min ago
Thousands of Virginians register to vote after deadline extended
From CNN's Greg Wallace
The reopening of voter registration in Virginia this week allowed more than 14,000 people to newly register or update their registration, an official said Friday. 
Department of Elections spokesperson Andrea Gaines told CNN that 7,293 voters registered or updated their registrations on Wednesday, and 7,044 registered or updated their registrations on Thursday.  
The registration window was reopened after the state's citizen's portal website was unavailable for much of the day on Tuesday, the final scheduled day to register. The issue was caused by a construction crew hitting a data cable, officials said, and service was restored Tuesday afternoon. 
There are nearly 6 million voters registered for the November election in Virginia. 
20 min ago
Trump's speaking in Florida
From CNN's Nikki Carvajal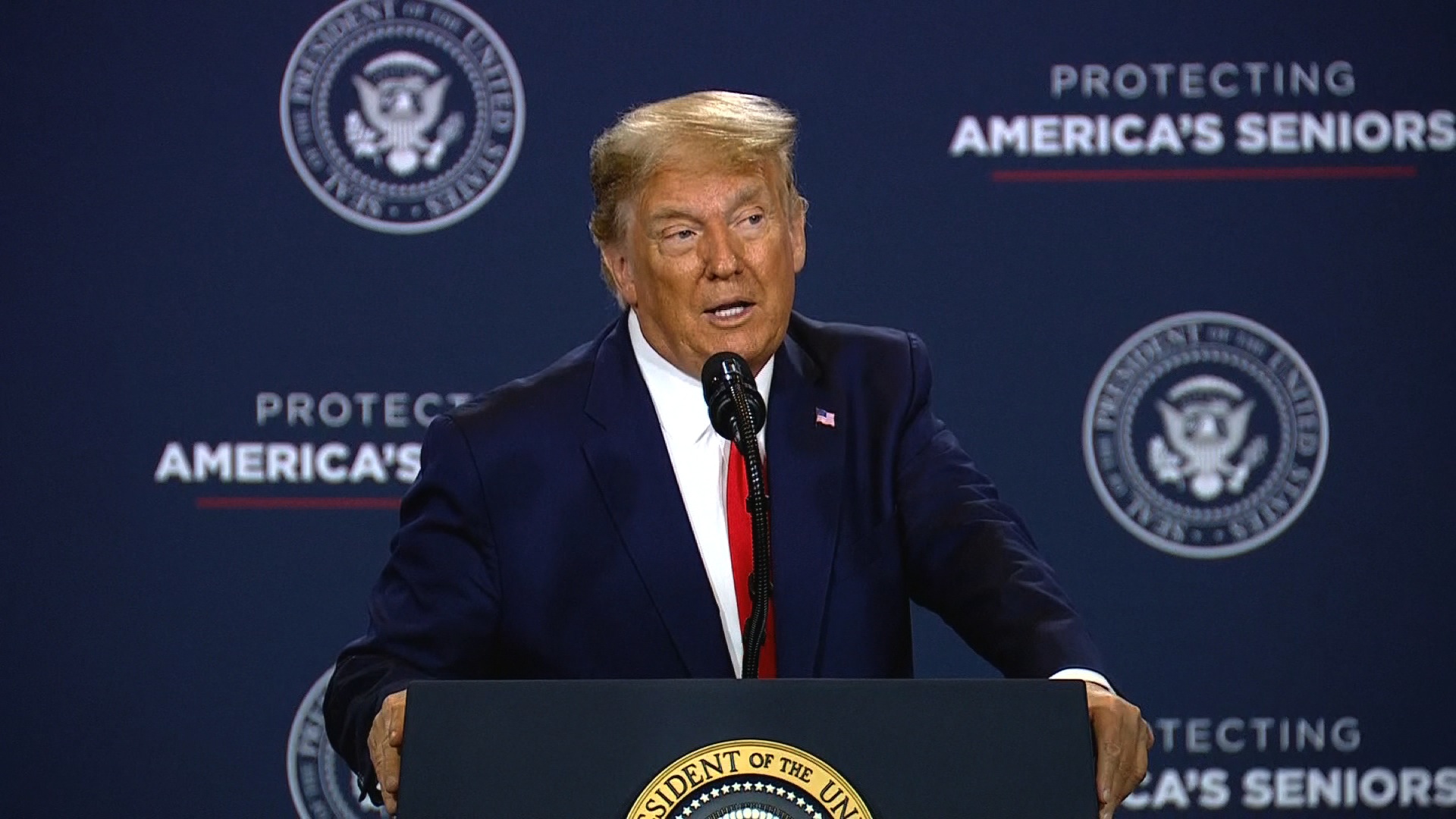 Moments ago, President Trump took the stage in Fort Myers, Florida, to speak at a "Protecting America's Seniors" event.
According to excerpts of his speech from the White House, Trump will give a message of "optimism, confidence, and hope" to the nation's seniors.
"America's seniors remind us that we have inherited an extraordinary legacy. You are the generation that defeated fascism, triumphed over communism, sent American astronauts to the moon, and built our country into the greatest and most powerful nation the world has ever known," Trump will say according to the prepared remarks.
1 hr 9 min ago
Here's how many people watched the Biden and Trump town halls
From CNN's Brian Stelter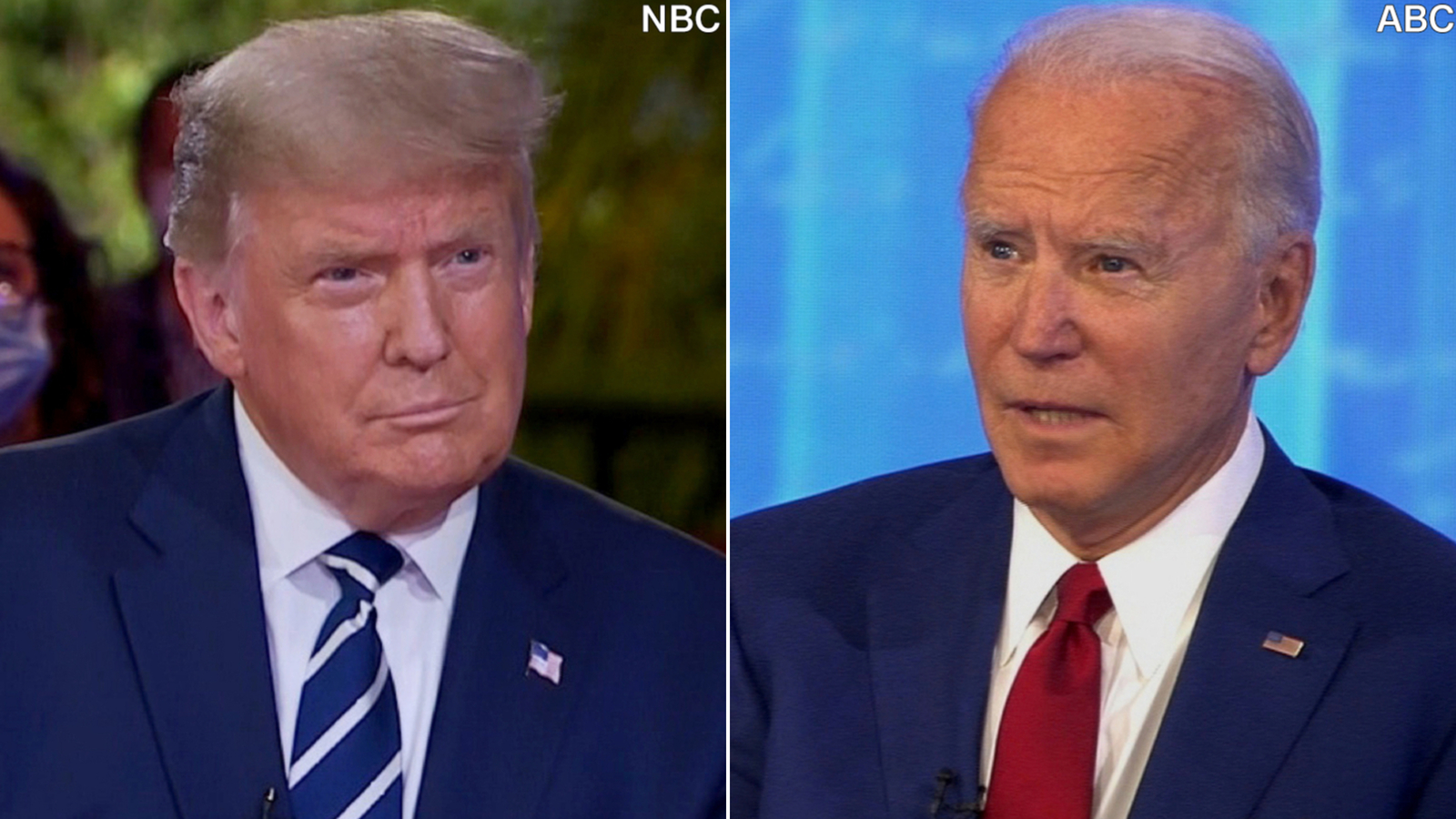 Joe Biden's town hall on ABC averaged 13.9 million viewers on Thursday night, easily surpassing the Nielsen ratings for President Trump's town hall on NBC.
That alone was a result virtually no one in the TV business expected. And that's not even the most surprising part.
The Trump town hall was simulcast by two of NBC's cable channels, MSNBC and CNBC, but even when those channels are included in the total, Biden — on only one network — still prevailed.
The Trump town hall averaged 10.6 million viewers on the NBC broadcast network. On MSNBC, Trump reached 1.74 million viewers, and on CNBC, about 671,000 viewers. So Trump's gross audience across the three channels was 13 million, about one million fewer than Biden's audience on ABC alone.
Staffers at ABC News privately admitted to their surprise when the preliminary ratings came in on Friday.
The Nielsen ratings only measure viewership on TV sets. Both town halls were also live-streamed to phones, computers and other devices.
In the run-up to Thursday night, the Biden campaign embraced the popular ratings narrative and predicted that Trump would outrate Biden. Trump campaign senior adviser Jason Miller said "we're gonna have a much bigger audience than Joe."
Trump has been a Nielsen connoisseur for decades. While hosting "The Apprentice" on NBC, he paid close attention to the performance of his show and routinely exaggerated its success. He has continued to fixate on TV ratings during his years in the White House and has frequently congratulated Fox News for its ratings victories.
But when the TV ratings have disappointed him, he has also shifted to other metrics; when Biden had a bigger TV audience for his convention, Trump complained that "Online Streaming Numbers" weren't being counted in the totals.
Read more here.
1 hr 27 min ago
Young activists to protest Barrett's Supreme Court nomination
From CNN's Rachel Janfaza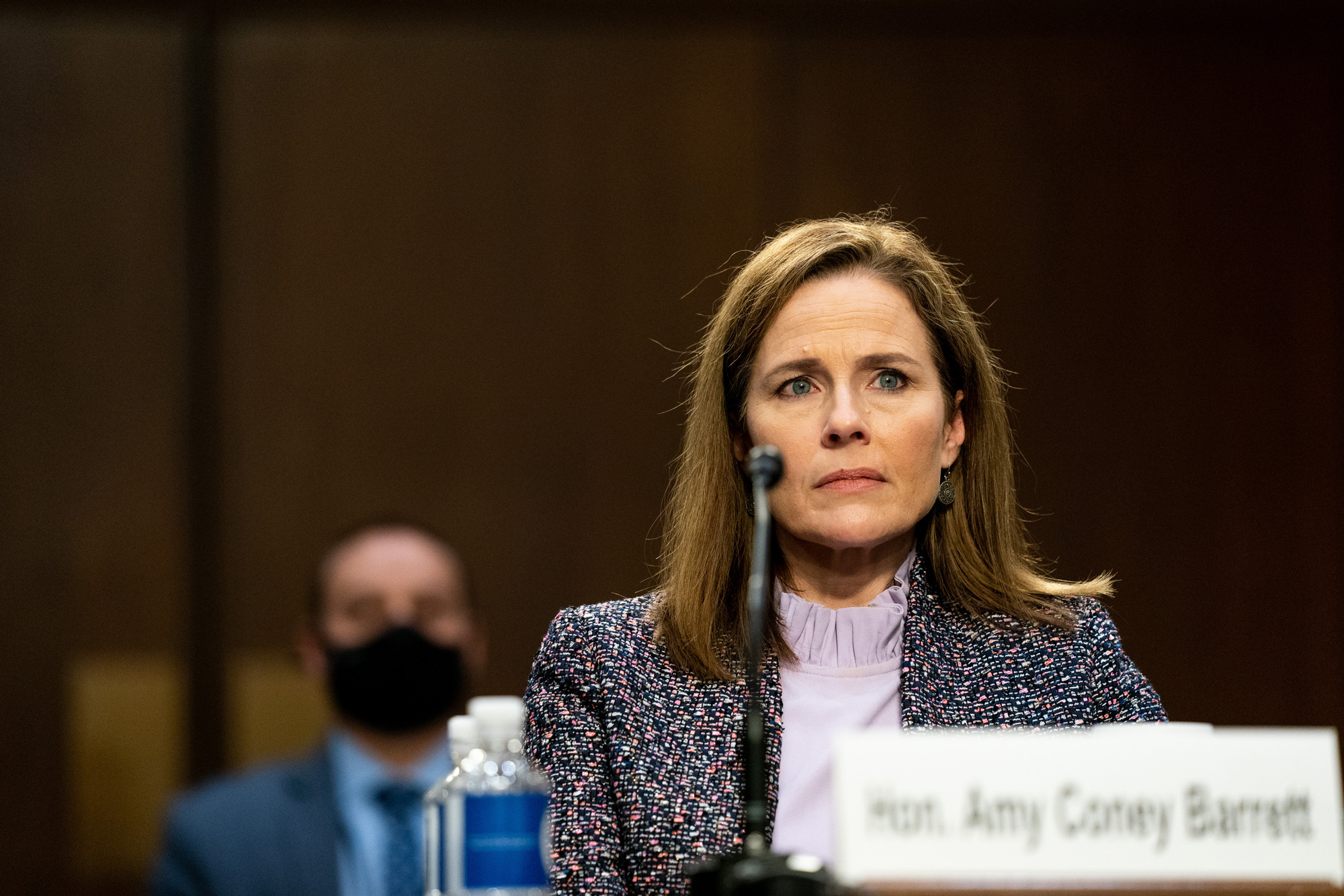 Young Americans from across the country will protest the nomination of Judge Amy Coney Barrett on the steps of the Supreme Court on Saturday, organizers tell CNN. 
The rally, which organizers are calling "McConnell v. Justice," will show elected officials that young people are committed to holding their elected officials accountable, organizers say. 
Progressive activists from Alabama, Colorado, California, Florida, Louisiana, Missouri, Michigan, Ohio, Pennsylvania, New York, Texas, Virginia and more are traveling to Washington, DC, for the event. 
These leaders care about a number of issues including racial justice, police reform, LGBTQIA rights, disability rights, access to reproductive rights, immigrant rights, environmental justice and gun violence prevention – all of which, they say, are at stake with Barrett's nomination. 
The organizers are also calling for the Senate to halt the nomination process of Barrett, demanding that there should be "no confirmation until inauguration."
"We have the most at stake in whomever is nominated and confirmed to the Supreme Court of the United States," organizers of the rally wrote in a press release, noting that young people will be around the longest to witness the impact of Barrett becoming a justice if she is confirmed.
The youth-led rally will feature a number of speakers including: Aalayah Eastmond, 19-year-old gun violence prevention activist; Mari Copeny, 13-year-old environmental justice activist who has fought for clean drinking water in Flint, Michigan; Rachel Gonzalez, 21-year-old disability justice activist who has advocated for the Affordable Care Act; and Ty Hobson-Powell, 25-year-old leader in the fight for DC statehood. 
In addition to the featured speakers, young people from across the country are joining the McConnell v. Justice coalition. 
Tay Anderson, 22-year-old director-at-large on the Denver School Board, told CNN that he has traveled to D.C. with 60 young Coloradans between the ages of 13 and 45.  
"If we have to travel 1,600 miles from Colorado, we will," Anderson said, adding that many in his group had never been to DC prior to their arrival Thursday. 
Jonathan Sweeney, a 22-year-old from Ohio, told CNN that he is joining the McConnell v. Justice protest because as a gay man, he "can't afford to have Amy Coney Barrett on the Supreme Court." Sweeney added that, as an Ohioan, his vote could end up in the hands of the Supreme Court. 
Likewise, Deja Foxx, a 20-year-old advocate for reproductive rights, traveled from California for the protest. 
Foxx told CNN she cast her first ever presidential election ballot for Biden and Harris before getting on the plane to DC Friday.  
"I'm protesting because I know that when you have control over your body, you have control over your future," Foxx said Friday, adding that she believes Barrett "poses a serious threat to choice for my generation and those to come," she said.  
1 hr 42 min ago
Mitt Romney blasts Trump's refusal to denounce QAnon
From CNN's Manu Raju and Maegan Vazquez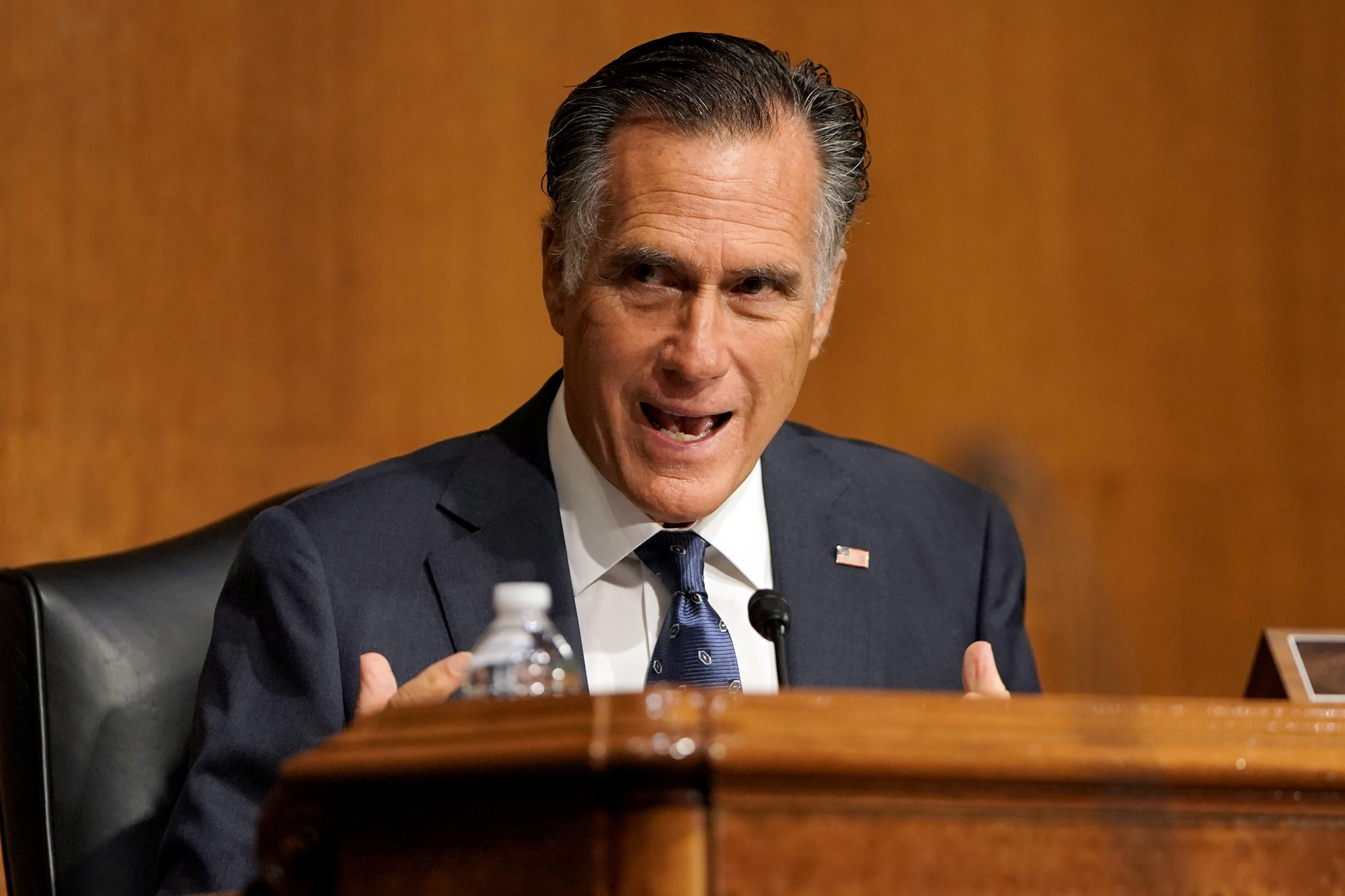 Republican Sen. Mitt Romney released a statement responding to President Trump's refusal to denounce conspiracy theories during his NBC Town Hall Thursday night. 
"The President's unwillingness to denounce an absurd and dangerous conspiracy theory last night continues an alarming pattern," the statement reads, "politicians and parties refuse to forcefully and convincingly repudiate groups like antifa, white supremacists and conspiracy peddlers." 
Romney urged parties to "expel the rabid fringes" and warned both parties "may be opening a door to a political movement that could eventually eclipse them both."  
Some context: Trump doubled down on his refusal to denounce QAnon conspiracy theorists, saying in last night's nationally televised town hall that "they are very much against pedophilia" and he agrees with that sentiment.
QAnon's main conspiracy theories — none based in fact — claim dozens of Satan-worshipping politicians and A-list celebrities work in tandem with governments around the globe to engage in child sex abuse. Followers also believe there is a "deep state" effort to annihilate Trump and that the President is secretly working to bust these pedophilic cabals.
Read Romney's statement:
2 hr 49 min ago
Michigan bans open-carry of guns at polling sites on Election Day
From CNN's Annie Grayer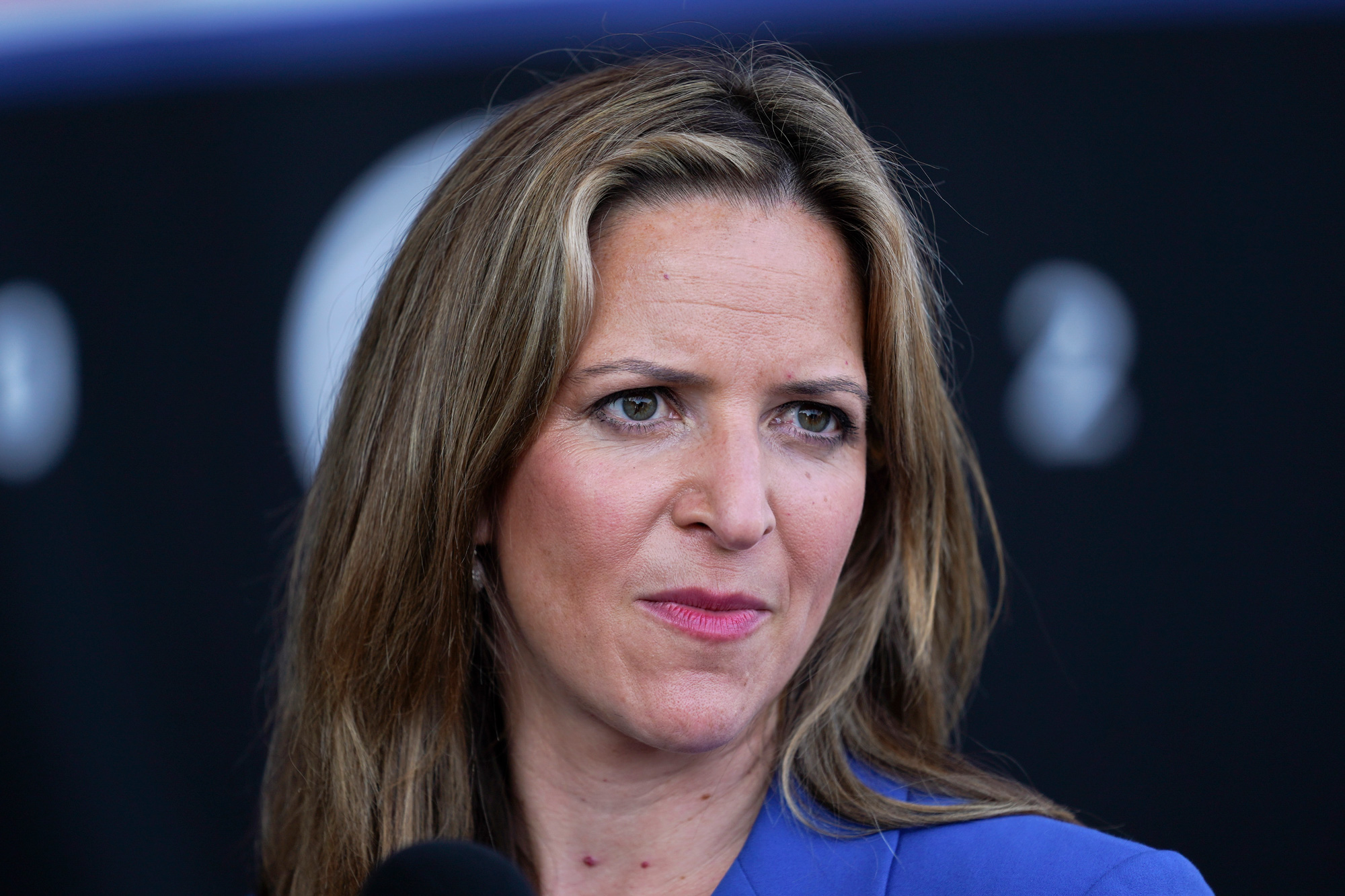 Michigan Secretary of State Jocelyn Benson announced Friday that open-carry of guns will be banned on Election Day at polling places, clerk's offices and other locations where absentee ballots are counted.
Benson's directive prohibits Michigan residents from open-carrying firearms "in a polling place, in any hallway used by voters to enter or exit, or within 100 feet of any entrance to a building in which a polling place is located."
"The presence of firearms at the polling place, clerk's office(s), or absent voter counting board may cause disruption, fear, or intimidation for voters, election workers, and others present," Benson said in a press release.
Benson continued, "I am committed to ensuring all eligible Michigan citizens can freely exercise their fundamental right to vote without fear of threats, intimidation or harassment. Prohibiting the open-carry of firearms in areas where citizens cast their ballots is necessary to ensure every voter is protected."
This guidance only applies to Election Day itself, when long lines and large crowds are expected across the state. Early voting in Michigan is limited to people dropping off or filling out absentee ballots at election offices, and Benson's guidance on firearms does not apply to these situations.
Michigan Attorney General Dana Nessel supported this decision, according to the press release. Nessel and Benson are both Democrats, and said the directive was necessary to clarify state laws already on the books. 
Michigan State Police is expected to issue accompanying guidance to law enforcement following the announcement of this directive. 
This announcement comes after 14 people were charged in a domestic terror plot to kidnap Michigan Gov. Gretchen Whitmer. Since then, pressure has been mounting on state's top election and law officials to ensure a safe election in November.
President Trump and his allies have also encouraged supporters to join an "army" of poll watchers, stirring fears of voter intimidation.
2 hr 38 min ago
More than 20 million ballots have been cast. Here are some key findings from the ballot data so far. 
From Adam Levy, Ethan Cohen and Liz Stark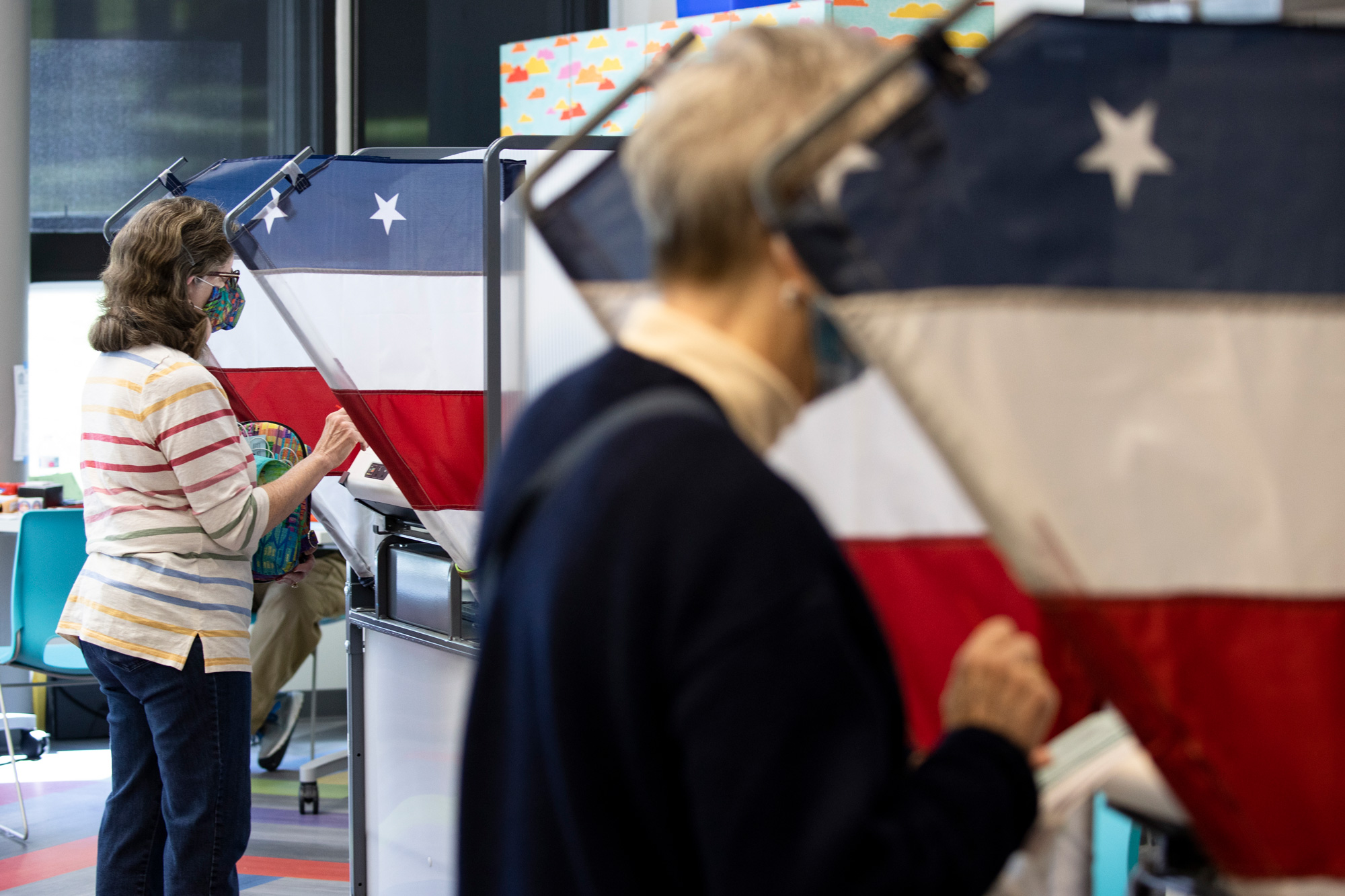 More than 20 million ballots have been cast in 45 states and DC, according to a survey of ballot data by CNN, Edison Research and Catalist.
As of Friday, ballots are available in all 50 states and DC. The votes cast so far represent about 15% of the more than 136 million ballots cast for president in 2016, though experts predict higher turnout this year.
Democrats continue to lead Republicans in ballots cast in each of CNN's key states for which there is party data available, according to Catalist, a data company that provides data, analytics and other services to Democrats, academics and non-profit issue advocacy organizations. Catalist has analyzed more than 16 million of the ballots cast so far in 36 states.
In Pennsylvania, Democrats account for more than three-quarters of the ballots cast so far. They hold a 20-point lead in Florida and a 32-point lead in North Carolina.
None of these states have seen dramatic changes in party breakdown this week, but the Florida margin has narrowed very slightly (about two points) in the last week, so we'll watch to see if that continues.
Here are insights from two key states where the candidates are campaigning today:
Florida: After his town hall last night, President Trump wakes up in Florida, where he is scheduled to deliver remarks on seniors and then hold a rally this afternoon. Trump carried the Sunshine State by just over one percentage point in 2016. 
Catalist data analyzed so far shows the number of ballots already cast in Florida has more than doubled compared to four years ago.
Florida Democrats have a major lead over Republicans in ballot returns so far and account for half of all pre-election day votes. This is a stark contrast to four years ago at this point when Republicans led Democrats 43% to 40% in their share of ballots returned.
The racial composition of Florida's early voting electorate has shifted somewhat since 2016, with White voters making up a slightly smaller share of those who've already cast ballots and Black voters making up a slightly larger share. At this point four years ago, White voters comprised 77% early voters; they now represent 72%. Black voters, meanwhile, have expanded their share of the early vote from 8% in 2016 to 11% currently. Hispanic voters comprise about 12% of those who've already voted in Florida, on par with 2016 levels.
Michigan: Democratic presidential nominee Joe Biden heads to Michigan for campaign events Friday. Trump was the first Republican to carry the Wolverine State in a presidential election since 1988, defeating Hillary Clinton by less than half a percentage point.
In the 2018 midterms, Michigan voters passed a ballot measure that allowed any registered voter in the state to cast a ballot by mail without an excuse. That was a big change from 2016, and the difference in early voting between the two elections is clear.
About 3.5 times more Michiganders have already voted this year compared to this point in 2016, according to Catalist data, with the biggest changes apparent when looking at early voters by age.
At this point four years ago, 83% of those who had cast ballots already were 65 or older. Now, those voters only account for 53% of early voters. Every other age group accounts for a greater share of the pre-election vote now than they did at this point in 2016, but the largest increase has come from voters 50-64 who were 11% of the votes cast four years ago and are now 25%.
Take a look at the numbers:
3 hr 31 min ago
McConnell says he will "proudly vote to confirm" Trump's SCOTUS nominee
From CNN's Ted Barrett, Alex Rogers and Paul LeBlanc
Senate Majority Leader Mitch McConnell said in a statement that he will "proudly vote to confirm" President Trump's Supreme Court nominee judge Amy Coney Barrett when it comes to the Senate floor next week. 
He also defends the quick timeframe and process of the confirmation, and says the threat of court packing by Democrats won't deter Republicans from moving forward.
"The Judiciary Committee and the American people just heard from one of the most impressive nominees for public office that I have ever seen," McConnell said in the statement. "Judge Amy Coney Barrett exhibited every bit of the intellectual brilliance, legal expertise, and open-minded judicial temperament that our nation needs on the Supreme Court."
Here's what happens next in Barrett's confirmation process:
Thursday: Members of the Senate Judiciary Committee will vote on the nomination.
Next Friday: McConnell said he plans to put Barrett's Supreme Court nomination on the Senate floor on Oct. 23. 
The week of Oct. 26: According to McConnell's timeline, Barrett's final confirmation vote is teed up for the first half of the week of Oct. 26. 
Some background: The battle over the vacant seat of late Justice Ruth Bader Ginsburg has become a key 2020 campaign topic. Trump and Senate Republicans have been pushing to confirm Barrett before Election Day despite the outcry of Democrats.
At the fourth day of Barrett's confirmation hearings yesterday, Democratic senators moved to indefinitely delay the proceedings because millions of Americans are voting for the next president. They argued that there's never been a Supreme Court justice nominated this close to the election and confirmed before it. The Senate has taken half the average time to consider the nomination.
Republicans disagreed, saying that a Republican president and a Republican-led Senate confirming a conservative justice on the Supreme Court is compliant with the Constitution and the Senate's history.