1 min ago
Early voting begins in Texas with long lines in some locations
From CNN's Kay Jones and Rebekah Riess
Early voting began in Texas on Tuesday, with thousands of voters casting their ballots as some locations saw long wait times.
In Harris County, which includes Houston, 50,000 votes were cast by noon local time, according to a tweet from the county clerk, Chris Hollins.
Wait times exceeded 40 minutes in several locations in the county, including the Rice University Football Stadium located in Houston.
In total, 122 early voting locations are open in the Houston-metro area, according to the county clerk's website.  
In Tarrant County, which includes Fort Worth and makes up a large part of the Dallas-Fort Worth Metroplex, 22,803 votes have been cast as of 2:30 p.m. ET, according to the Tarrant County Elections Administration.
Wait times in the county are currently showing five locations with wait times of more than 60 minutes and two with wait times between 30 and 44 minutes. 
28 min ago
Here's a look at pre-Election Day voting data in Texas and Ohio
From CNN's Ethan Cohen and Liz Stark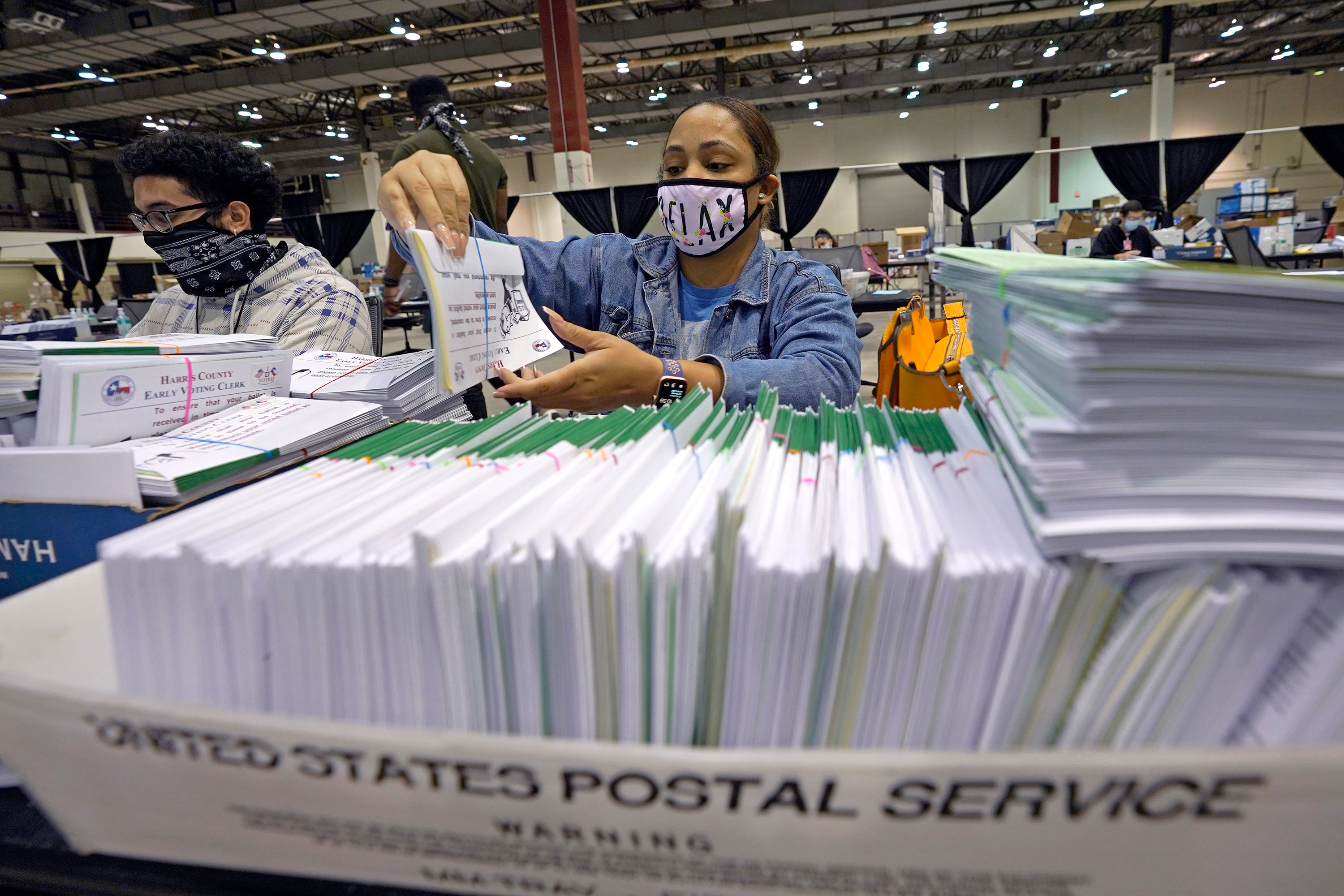 As in-person early voting gets underway Tuesday in Texas, data from mail-in ballots already returned shows a similar demographic pattern as at this point in 2016.
Here's what the Lone Star State's data shows:
About two-thirds of those who have already cast ballots in Texas are White – about the same as at this time in 2016.
Black voters make up a smaller share of the early voting population than they did at this point four years ago (11% this year, down from 17% in 2016).
Hispanic voters make up a slightly larger share (19% this year, up from 14%).
Voters 65 or older make up 90% of those Texans who have voted so far, which is on par with 2016 levels. Considering being 65 or older is a valid excuse to vote by mail in Texas, this is not a surprise.
Texas is one of five states that requires a non-Covid excuse to vote by mail, so this dataset only represents a small sample of the state's electorate.
This detailed pre-election voting information comes from Catalist, a company that provides data, analytics and other services to Democrats, academics and nonprofit issue-advocacy organizations and is giving new insights into who is voting before November.
The returns Catalist have analyzed so far represent a small fraction of the expected number of ballots to be cast in 2020, as President Trump and Hillary Clinton received about 130 million votes combined four years ago.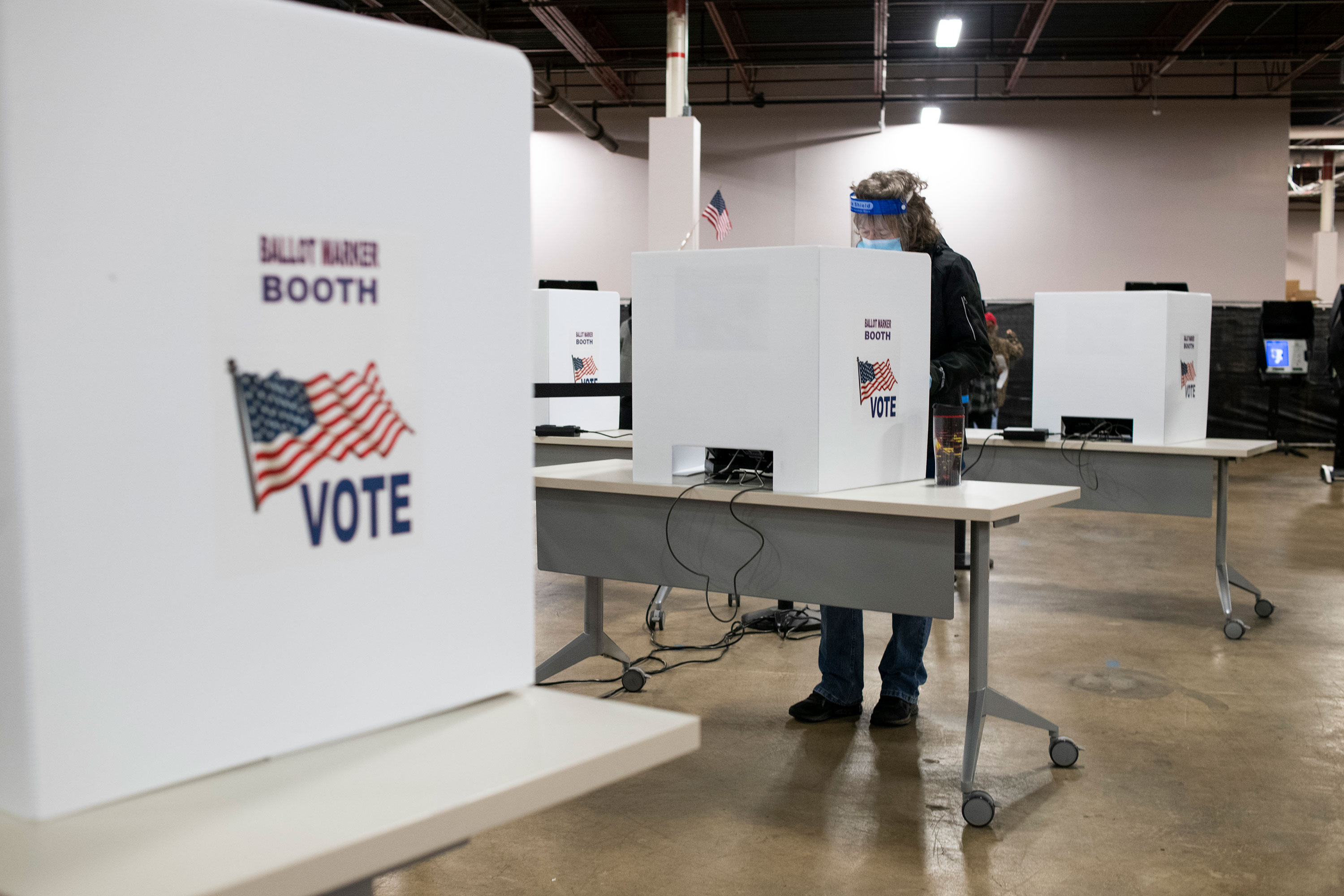 Meanwhile, a week into early voting in Ohio, a critical battleground that Trump won by about eight percentage points in 2016, here's what the data shows:
Black voters currently account for a slightly larger share of early votes compared to four years ago – 15% now vs. 11% then.
White voters, meanwhile, make up a slightly smaller share of ballots already cast in the Buckeye State, comprising 82% of early votes so far compared to 86% at this point in 2016.
Voters 65 or older in Ohio comprise a smaller percentage of those who have returned ballots so far than they did at this point in 2016.
This age group's share has dropped from 61% of the pre-Election Day ballots at this point in 2016 to 47% currently. All other age blocs have seen upticks in their shares of the early vote compared to 2016.
Note: This data is not predictive of the ultimate outcome of any race, and polling shows that Democrats strongly prefer voting early or by mail, while Republicans prefer to vote on Election Day.
Here's which states offer early, in-person voting: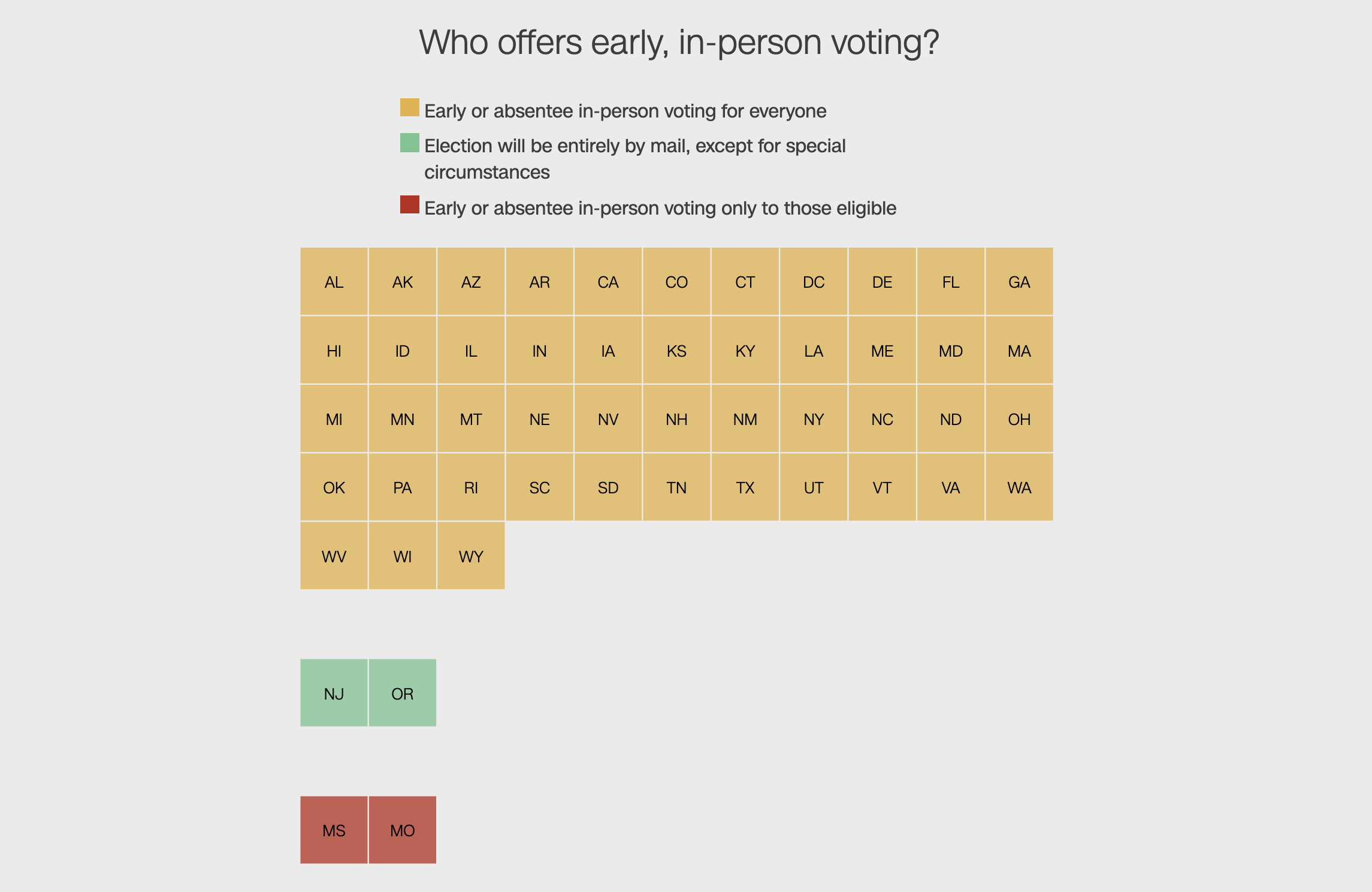 1 hr 50 min ago
White House Halloween will happen "as usual" despite pandemic, source says
From CNN's Kate Bennett
The annual White House Halloween festivities are going ahead "as usual," despite the pandemic, a source familiar with the planning tells CNN.
"It is full-steam-ahead," says the source.
The event draws several dozen families to the White House South Lawn each year for games and trick-or-treating with the President and first lady, who pass out candy. The guests invited to attend are in large part White House staff and military families, as well as local schoolchildren. 
Trump and Melania Trump announced on Oct. 2 they had tested positive for Covid-19. White House physician Sean Conley said yesterday that Trump has tested negative for Covid-19 on consecutive days.
A White House official confirms the Halloween event will be taking place, adding it will be "modified" to follow CDC guidelines. The official said those guidelines will include face masks and other protective elements, but did not expand on specifics at this time.
54 min ago
Obama will hit campaign trail soon for Biden, aide says
From CNN's Arlette Saenz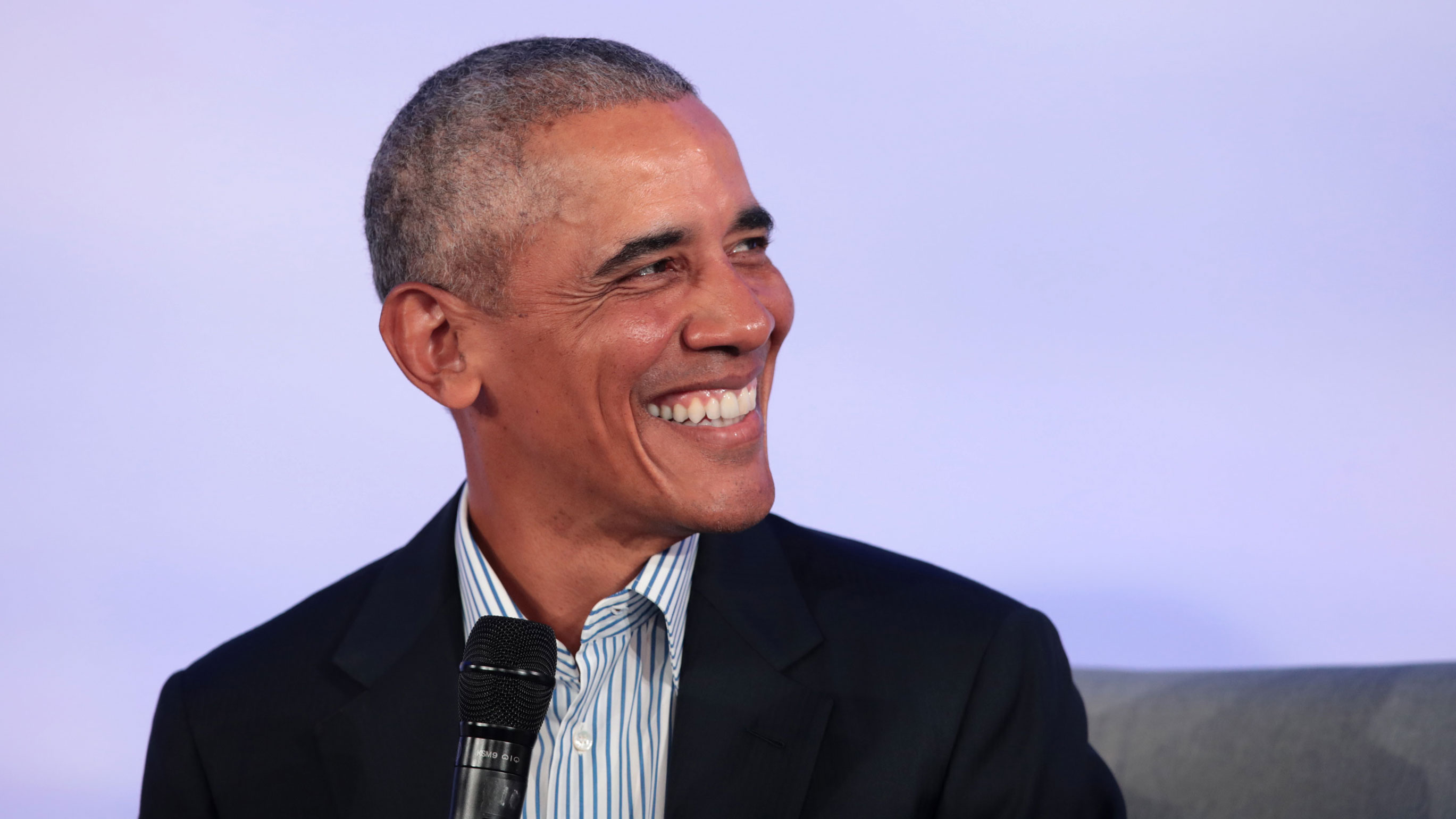 President Barack Obama plans to hit the campaign trail soon, an aide to the former president said.
This comes after Democratic presidential nominee Joe Biden told reporters earlier today that his former boss would be "out on the trail."
The aide would not detail how soon Obama would appear on the campaign trail or where he might travel.
Since endorsing his former partner in April, Obama's work for the former vice president has largely been conducted on digital platforms, participating in virtual grassroots fundraisers with Biden and his running mate Kamala Harris and taping campaign videos with each of the candidates in recent months.
Earlier today, the Democratic National Committee released new digital videos featuring Obama urging Americans in 24 key states to make plans to vote.
In August, Obama traveled to Philadelphia where he delivered his speech to the Democratic National Convention remotely.
1 hr 31 min ago
Army chief says there has been no planning for military police to handle election security
From CNN's Michael Conte
Army Chief of Staff Gen. James McConville said the Army has not directed any specific guidance for active duty military police units to begin training for handling election security.
"There's been no planning guidance given out from the Department of the Army directing any military police units to begin training for any situation, but our soldiers and our units are always prepared in training to conduct the missions," McConville responded to questions from reporters at the Pentagon. "But if the question is, has there been specific guidance given from us – there has not been."
Army Secretary Ryan McCarthy further said here had not been any requests for the Washington DC National Guard to support other federal agencies in DC to prepare for potential civil unrest. 
"But we're always available to support, whether it's Metro PD or other federal agencies," said McCarthy.
2 hr 18 min ago
A contested election could cost America its AAA credit rating, Fitch says
From CNN's Matt Egan
Fitch Ratings will closely monitor the US presidential election for "any departure" from America's history of orderly transitions of power, the ratings firm said in a report published Monday. 
The United States has a perfect AAA credit rating from Fitch in part because of its track record for strong governance, including "well-understood rules and processes for the transfer of power," the report said.
"Fitch would view a departure from this principle negatively in considering the US rating," the credit ratings firm said. 
Why this matters: A credit rating downgrade could cause an erosion of confidence among investors, potentially setting off turbulence in financial markets. It could also make it more expensive for the United States to finance its mountain of debt.  
For months, investors have been bracing for post-election chaos that could rattle financial markets. Those worries have been amplified by President Donald Trump's baseless claims that the election is "rigged" because of unfounded concerns about mail-in ballots. 
How we got here: The popularity of mail-in voting due to the Covid-19 pandemic means that uncertainty over the winner of the election "could conceivably last for weeks" after the November 3 election, Fitch said.
"The challenges surrounding the voting process increase the likelihood that results at a state or national level will be disputed by one or both of the candidates or party organizations," the report said. 
In July, Fitch lowered its outlook on the United States to negative in part because of the "ongoing deterioration" in the nation's public finances – and the lack of a plan to address it. 
"The potential for a disputed election result reflects deepening political polarization, which could affect the next administration's policymaking scope and how it approaches public policy decision making on key issues," Fitch said.
2 hr 18 min ago
Virginia's online voter registration system is down on the final day to register
From CNN's Greg Wallace
A computer outage on the final day of voter registration in Virginia has taken down the online registration system statewide.   
Visitors to the state's citizens portal website are met with this message: "Due to a network outage the Citizen Portal is temporarily unavailable."  
The site is used for first-time registrations as well as registration updates. It also allows Virginians to apply for an absentee ballot and see the location of their in-person polling place.  
Tuesday is the deadline for new voters to register.  
Elections department spokeswoman Andrea Gaines did not have an ETA on when it would be fixed but said work to restore the service is underway.  
"This morning the Department of Elections was alerted by the Virginia Information Technology Agency that a fiber cut near Rt. 10 in Chester near the Commonwealth Enterprise Solutions Center (CESC) was impacting data circuits and virtual private network (VPN) connectivity for multiple Commonwealth agencies," Gaines said in a statement.  This has affected the Department's citizen portal along with local registrar's offices across the Commonwealth."  
The elections department also allows registration through a paper form that can be mailed in, and must be postmarked today.  
4 hr 18 min ago
Beto O'Rourke announces 2,942,597 calls made to Texas voters
Tuesday is the first day of early voting in Texas, and in the lead up, former Texas Rep. Beto O'Rourke teamed up with Stacey Abrams, Julián Castro, Willie Nelson, Bernie Sanders, Oprah Winfrey and Andrew Yang to call Democrats in the state and encourage them to vote early.
The effort was organize by Powered by People, O'Rourke's grassroots organization.
4 hr 36 min ago
Here's how you can track your mail-in ballot
From CNN's Jessica Campisi
This election is shaping up to be a record-breaker in the number of Americans who will be voting by mail.
Millions have made early ballot requests despite concerns some have about mail-in voting and as President Donald Trump continues to stoke baseless fears about election integrity, though there is no widespread fraud in US elections and voting by mail is very secure.
But what happens after you fill out your ballot and put it back in the mail — or in an official drop-box? According to a CNN review, 45 states and the District of Columbia allow you to track your ballot just like an Amazon package or food delivery.
Here's what you need to know about ballot tracking:
Each ballot gets a specific number: Most states, with the help of USPS, send ballots envelopes with a unique set of numbers for each individual voter. Those numbers are often known as Intelligent Mail Barcodes, which allow the Postal Service to track the ballot.
You can register to track them: They also enable states and localities to use ballot-tracking websites. The tracking technology isn't automatic, though — you'll have to register through your state's voter website to be able to track your ballot. You'll also have to enter some basic information into the website, including your name, birthday and zip code.
The tracking sites vary in what they do: Some states show updates for each step of the mail-in voting process, while others simply indicate a ballot has been "sent" or "accepted" by local election officials.
In some cases, this technology can also be used to notify voters when there's an issue with sending or accepting their ballot, giving you notice to fix it before it's too late.
See which states have ballot tracking technology here.